Can you believe that a month has passed since the first edition of Three Cooks One Kitchen?  If you are not familiar with 3C1K, it is a monthly cooking series where Erin, Joanna, and I get together, talk, cook, and eat.  And we want to invite you into our kitchens each month to hang out.  I promise it is a good time!  We make really good food, too!
This year has been flying by, but I am not complaining too much because we have made it to June and one of my favorite times of the year: Summertime.  With Summer comes a plethora of good things, but one of the best parts of Summer is definitely grilling with friends at barbecues.  It was a no-brainer for us when we were planning our second installment of Three Cooks One Kitchen.  June = Summer, which = grilling.
On the menu for today: Chicken and vegetarian kabobs, grilled corn, and watermelon!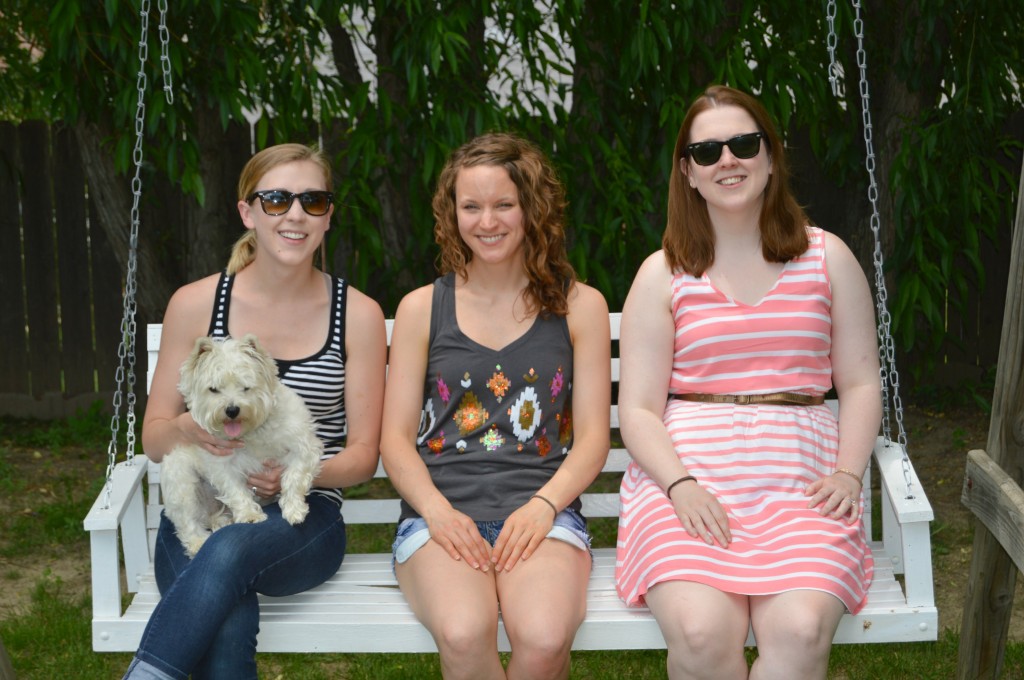 Sorry for the squinty eyes.  I feel like this is proof that I, too, need a pair of Ray-Bans 😉
This past Sunday, the three "cooks" got together at Joanna's house.  Erin and I both live in apartments, so grilling was kind of out of the question at our places.  Joanna's house was the perfect location, though, since she has an open kitchen and a fabulous back porch with a retractable awning.  I am slightly jealous of her backyard.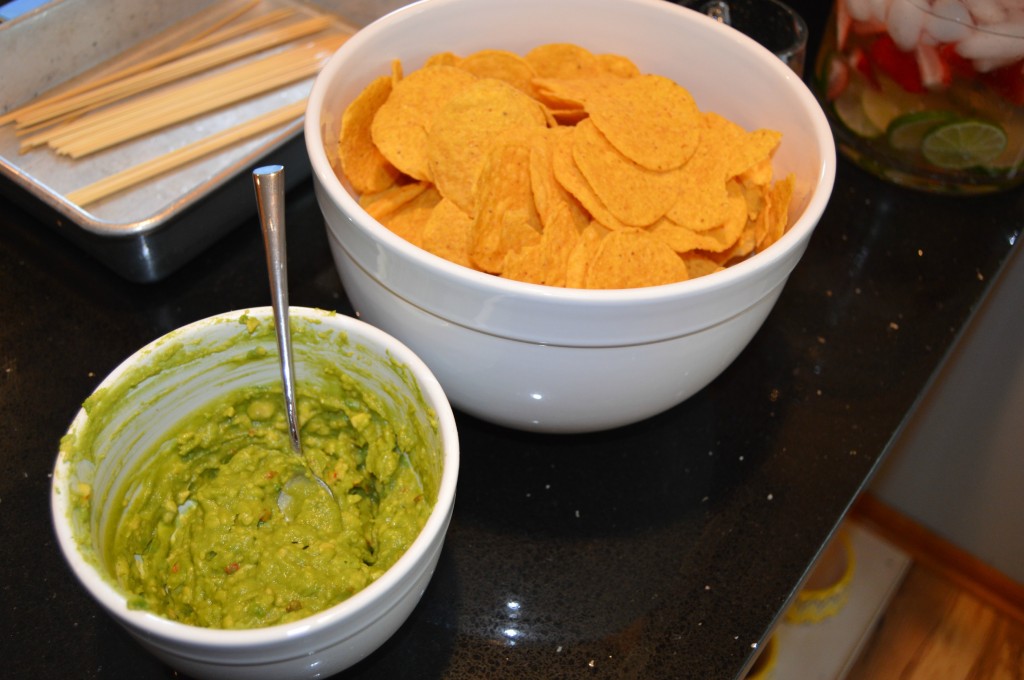 Before we got things started, Joanna whipped up some guacamole for us to snack on with chips.  There is nothing quite like snacking while cooking.  Can you tell we like food?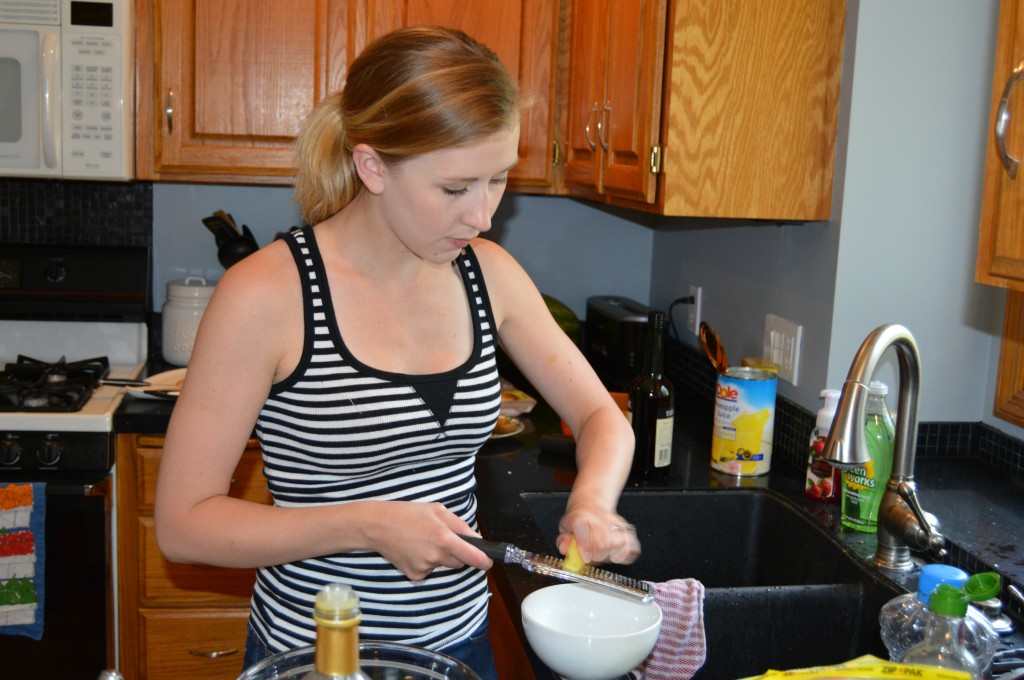 After we primed our stomachs for the meal to come, we got busy prepping the marinade…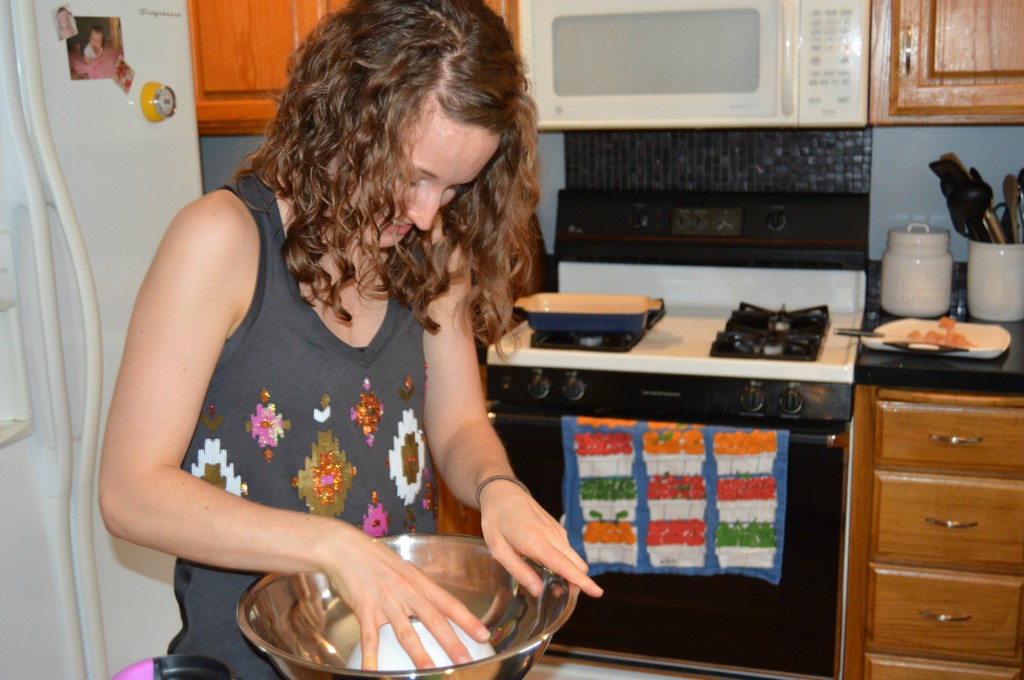 …removing the garlic peels (this seems to be a reoccurring event at 3C1K get-togethers)…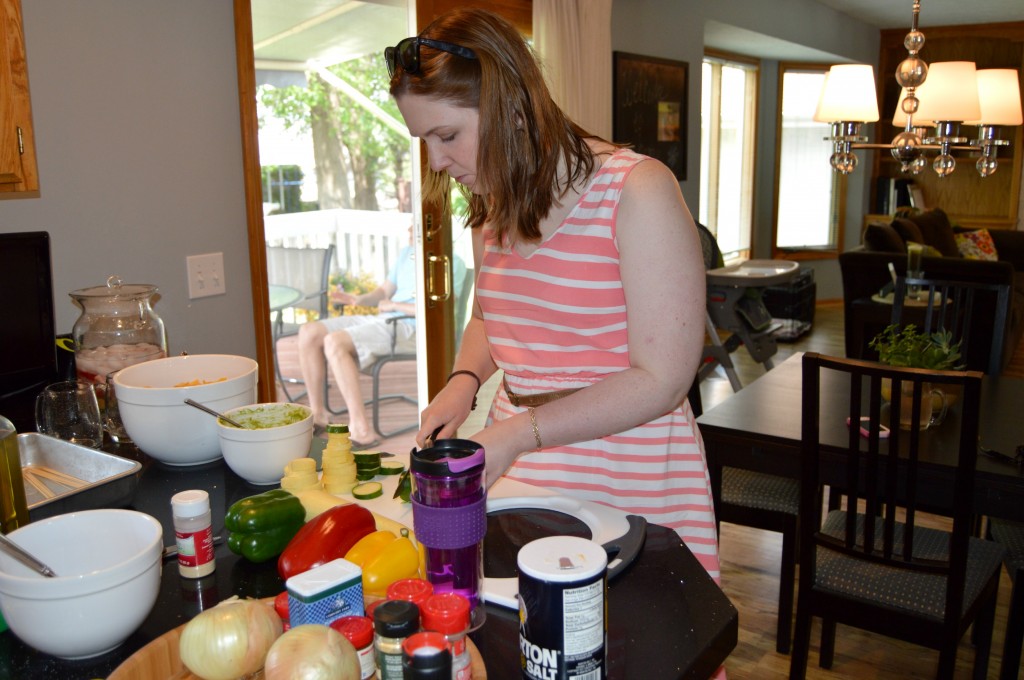 …and chopping the vegetables.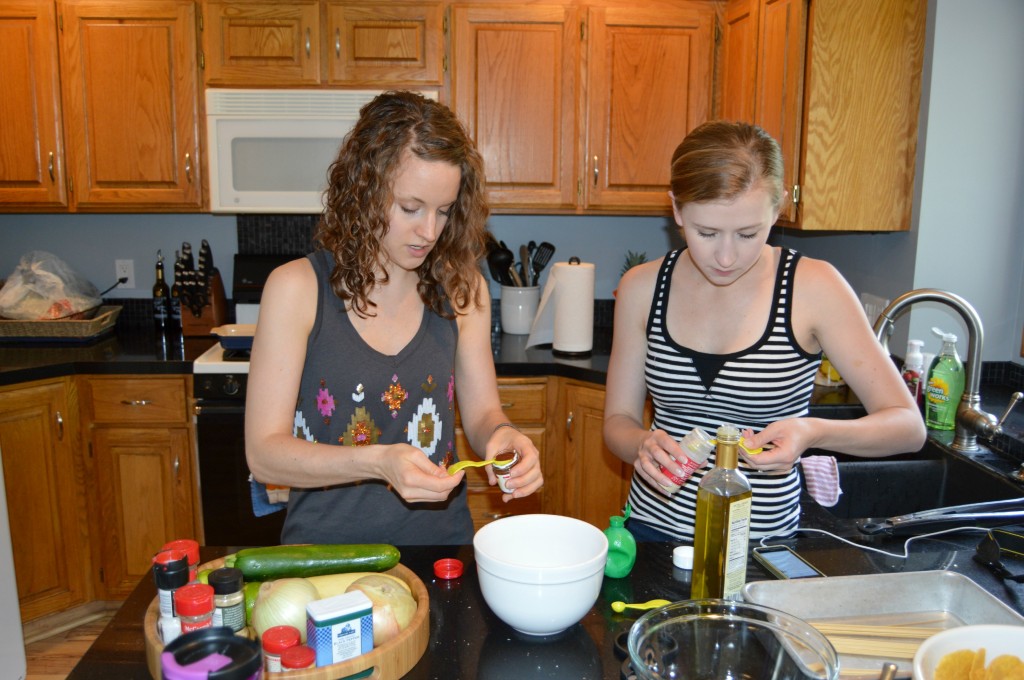 It's all about teamwork in our kitchens!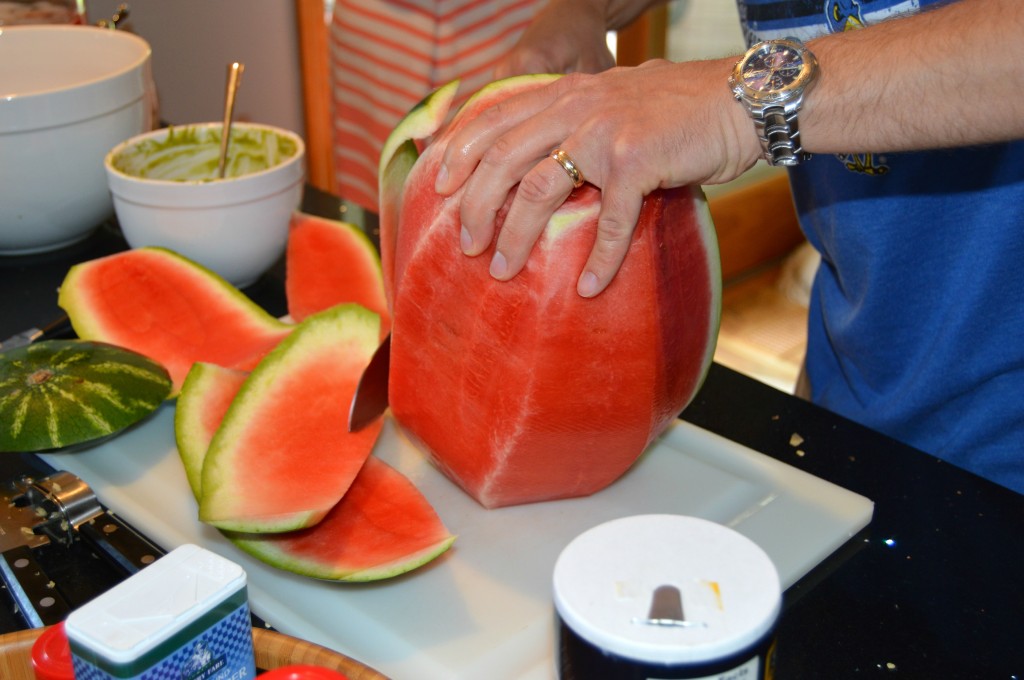 While everything was marinading in the fridge, we put Erin's husband, Josh, to work on cutting up the watermelon.  Thank you Google for providing us with a "how to cut a watermelon" tutorial 😉  Watermelon is definitely one of those fruits that I have avoided buying in the past because it always seems like such a pain to cut.  Josh made it look easy, though.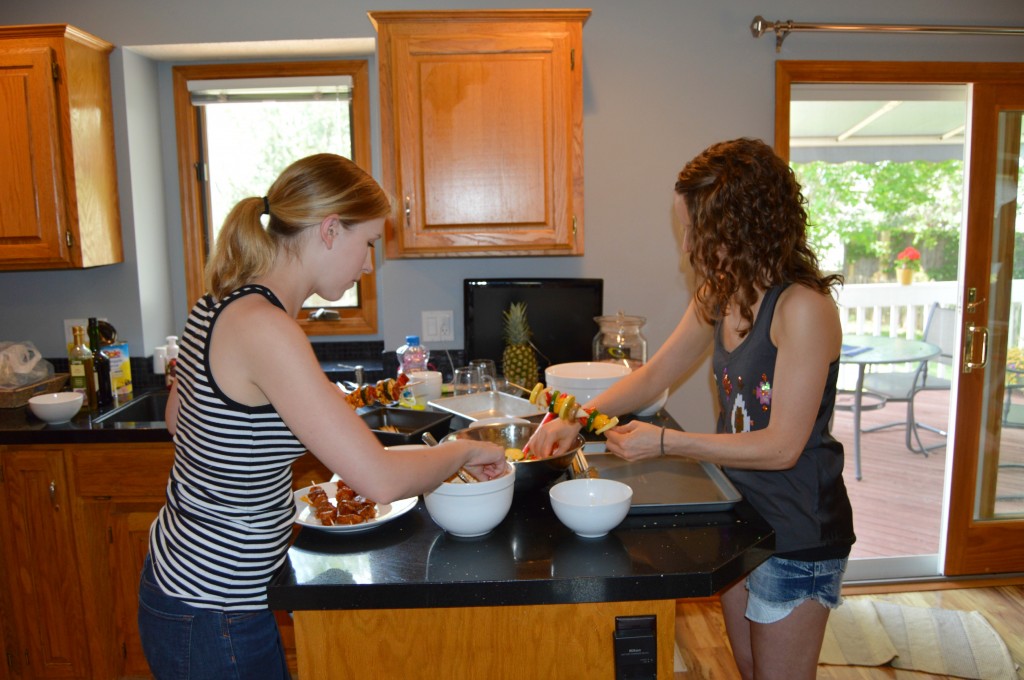 Once the meats and veggies were done swimming in the pool of marinades, Joanna and I got everything put onto the pre-soaked skewers while Joanna's husband, Jeff <– my awesome site designer!, fired up the grill.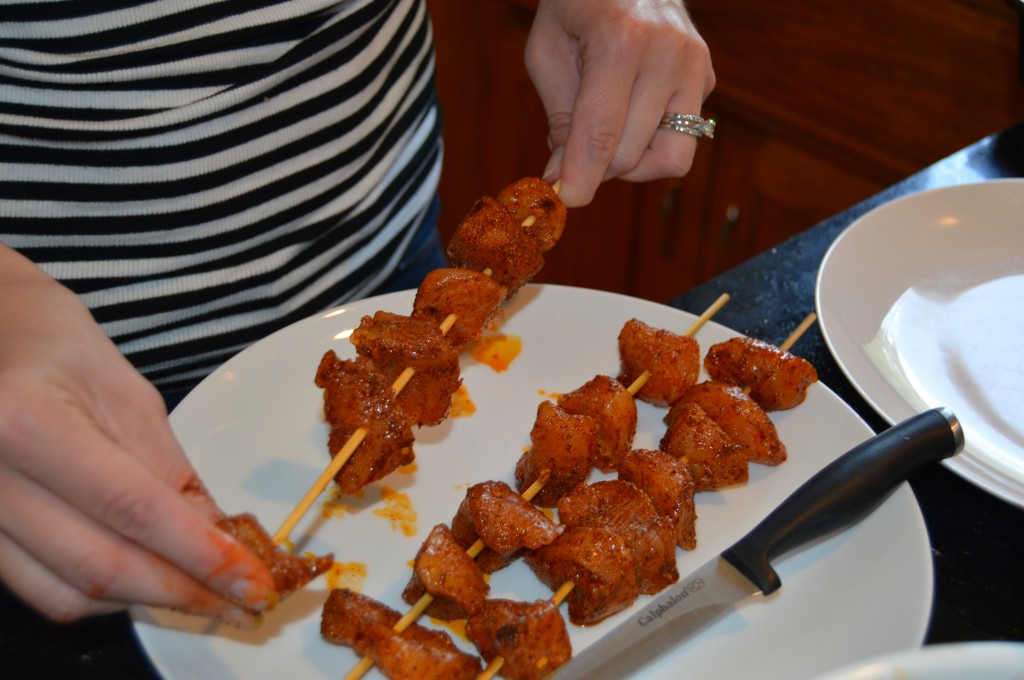 We made grilled chicken fajita kabobs for the meat eaters.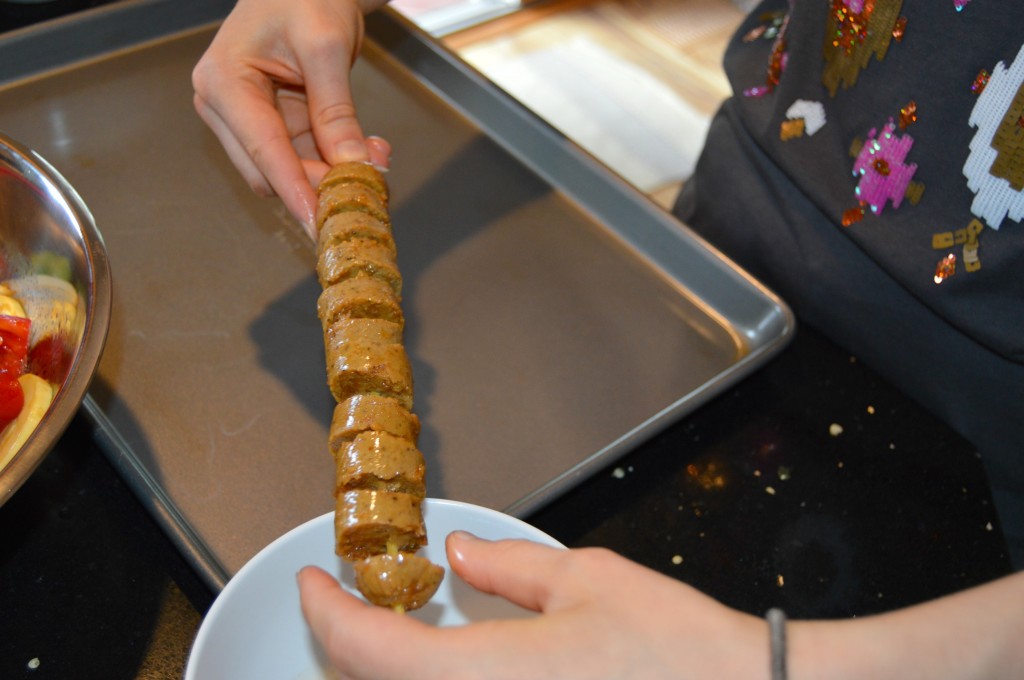 And for us veggies, we used this recipe for Hawaiian Teriyaki Kabobs with Field Roast Meatless Sausage.
The vegetables we used for both recipes included yellow squash, zucchini, yellow onions, red peppers, green peppers, yellow peppers, and mushrooms.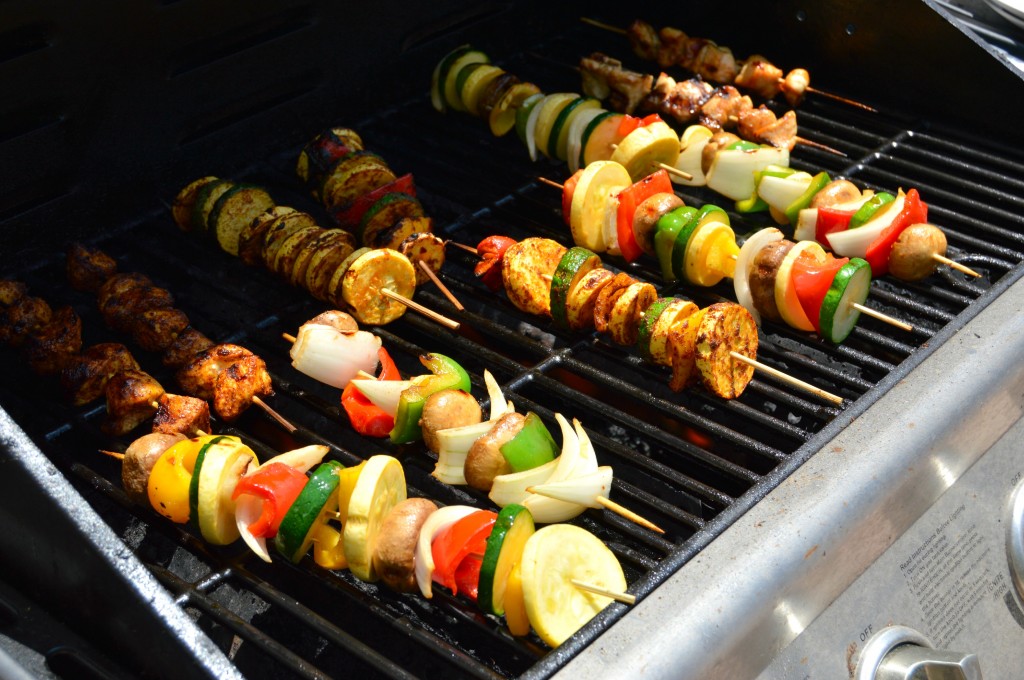 Once everything was skewered, it hung out on the grill for about 10 to 15 minutes.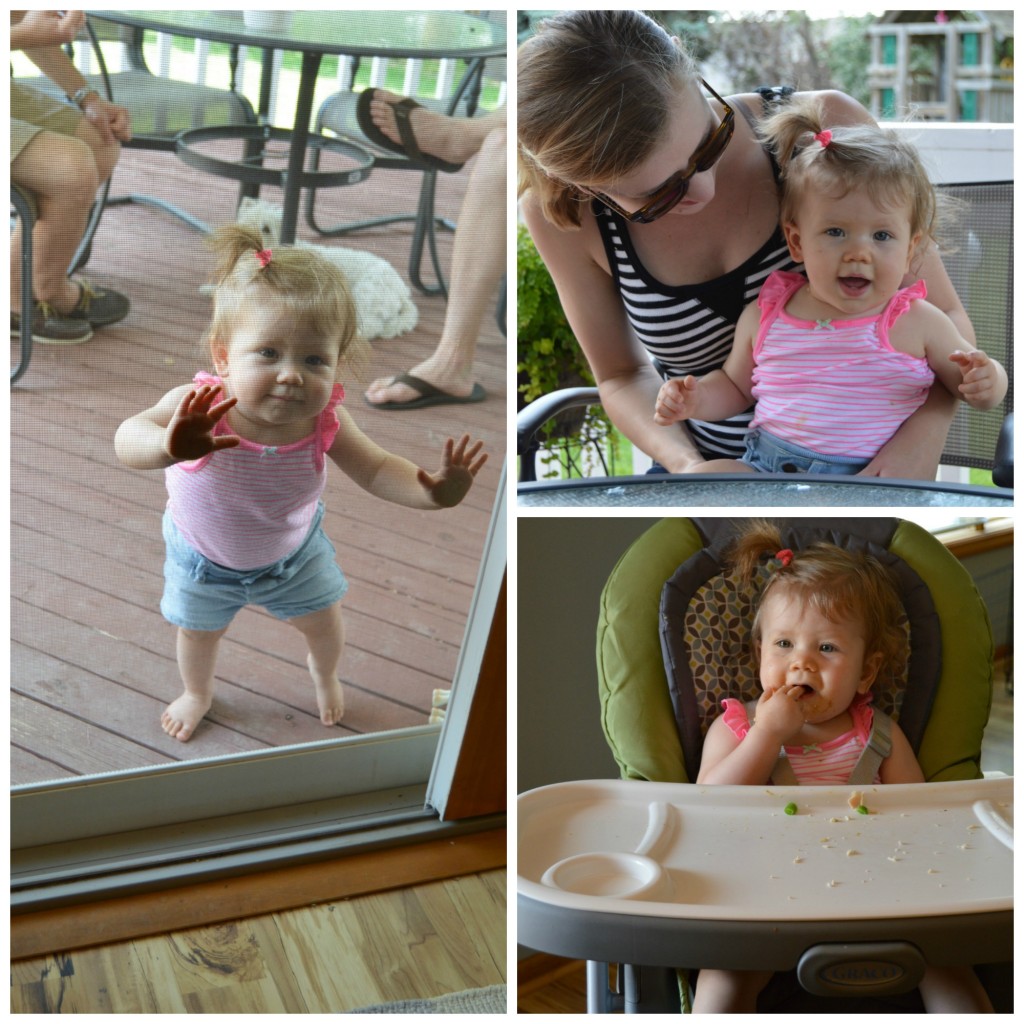 We left the grilling to the guys and spent time with Joanna's sweet baby girl, Eleanor.  Isn't she the cutest?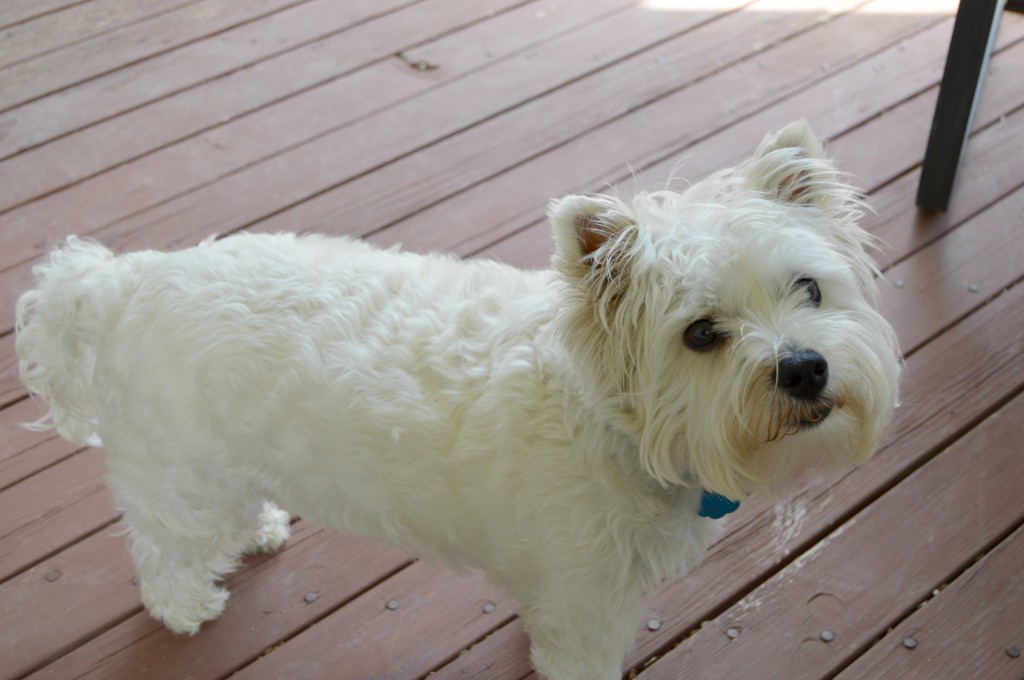 Ruby wanted to hang with the girls, too!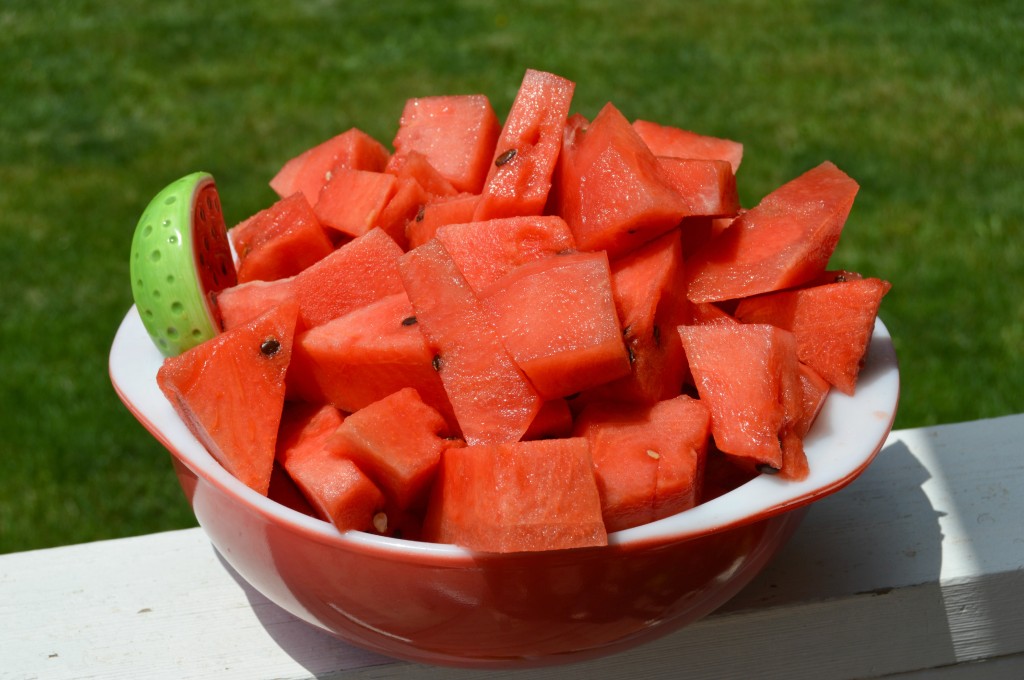 Just 20 minutes later and we had a bowl full of fresh watermelon.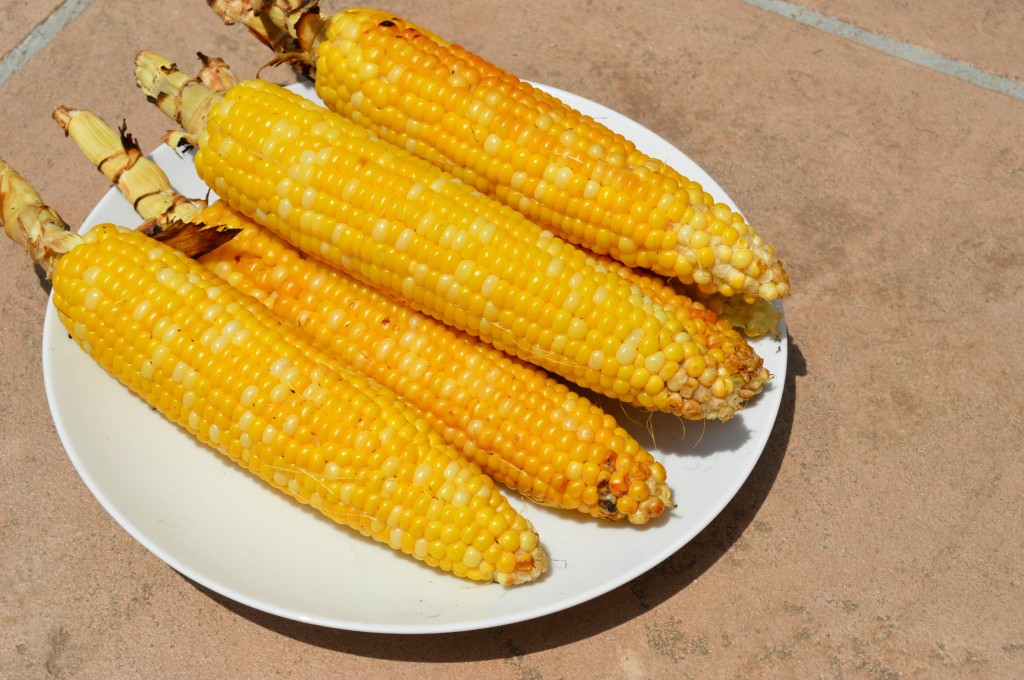 Ears of grilled sweet corn.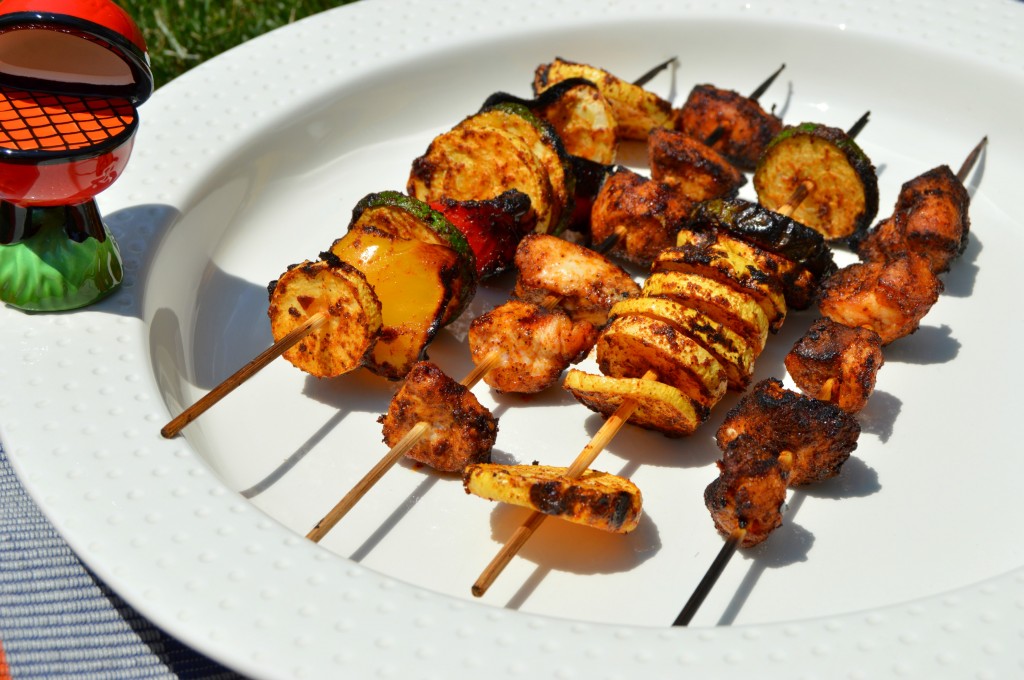 A tray of spicy (more like very spicy– I tasted some of the veggies) fajita chicken and veggie kabobs.
And a platter filled with teriyaki "sausage" and veggie kabobs.   P.S. How cute is Joanna's serving platter?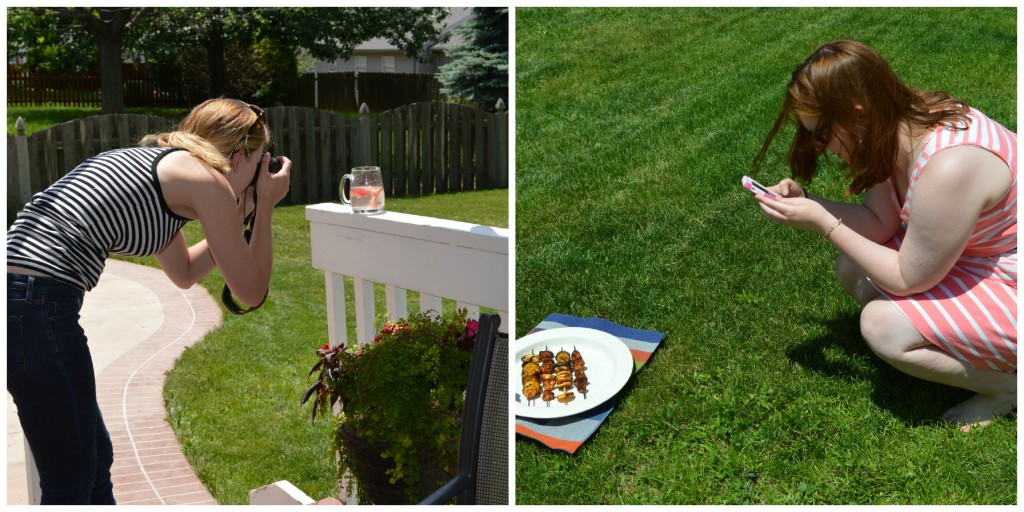 Of course there was plenty of picture taking to be had before we plated everything up and dug in.  I mentioned how funny it would be for Joanna's neighbors to walk outside and see us.  They probably would have thought we were a bunch of weirdos.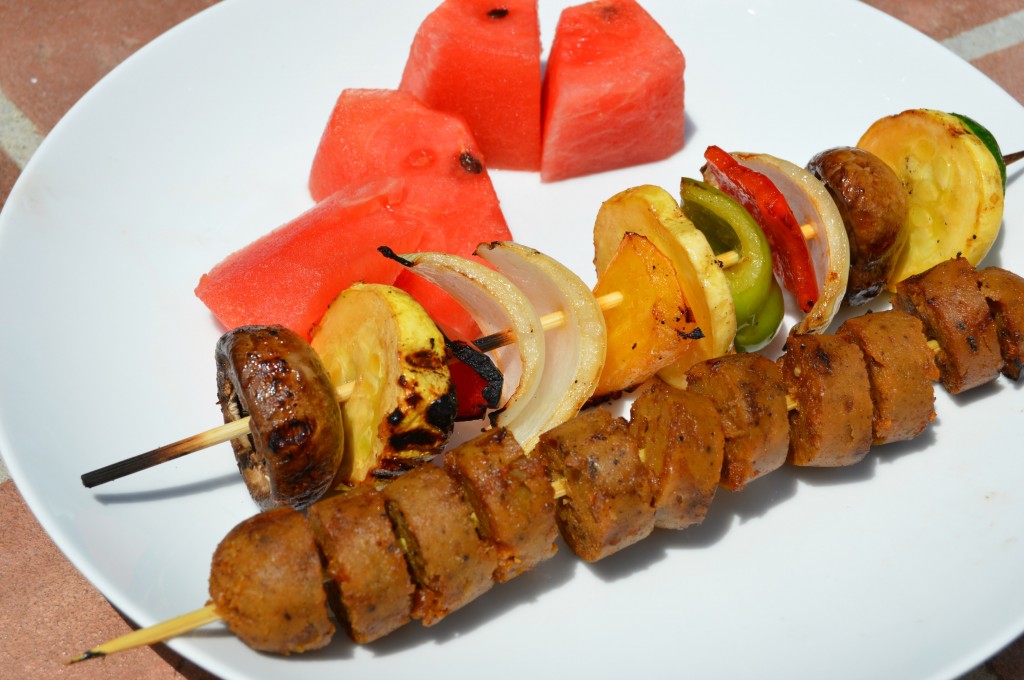 My plate of goodness (plus an ear of sweet corn).
I have been a long-time fan of Field Roast, but I especially loved it marinated and grilled.  It was flavorful and the texture was perfect.  I rounded the "meat" out with plenty of veggies and a serving of refreshing watermelon for dessert.
After we finished eating, we spent the remainder of the afternoon chit-chatting and enjoy Joanna and Jeff's back porch.  It was seriously the perfect Summer afternoon with great friends.  Hopefully there will be plenty more just like it in the coming months.  I think I may have already convinced them that we have to make grilled pizza sometime soon.  And since I don't have a grill… well, hopefully they like the idea too! 😉
Check out Erin and Joanna's Three Cooks One Kitchen posts here: