So… remember when I said that I was going to start posting my weekly meal plans more frequently?  Yyyeah, so that has not really happened, huh?  I did pretty well during the months of March and April and then… nothing.
Now I am going to attempt to redeem myself and get back on track.  Even though I do not always share them, I almost always have a weekly meal plan.  Some weeks are more exciting than others, but they almost always have a pretty good deal of variety and a new recipe or two to try <– that is the most exciting part for me!
For this week's meal plan, I tried to focus on meals that I could prepare ahead of time or that would be rather simple to make on a work night.  I am prepping up for a big vacation to Colorado on Saturday and know that I will be busy with work, packing, and last-minute blogging.  This is definitely one of the most important parts about meal planning.  Having a meal plan that requires a lot of effort during a super busy week is definitely not ideal.  Hmm, maybe I should do a post about how to meal plan?  I suppose it is somewhat of an art!
But that is a whole other post.  Let's get down to the nitty gritty.
Weekly Meal Plan: Monday, June 9th to Sunday, June 15th
Lunches
Monday: Sweet and Sour Lentils over Brown Rice (recipe to come)
Tuesday: Mulligatawny Soup (future Friday Foodie Favorites post)
Wednesday: Mulligatawny Soup
Thursday: Hoppin' John (future Friday Foodie Favorites post)
Friday: Veggie/hummus Wrap + Salad
Saturday: Lunch on the drive to Colorado- possibly Subway?
Sunday: Brunch in Denver
Dinners
Monday: Quinoa + Veggies + Baked Potato
Tuesday: Dinner with friends at Kitchen Table
Wednesday: Hoppin' John
Thursday: Avocado/Tomato Bagel Sandwich
Friday: Avocado/Tomato Bagel Sandwich
Saturday: Dinner in Denver
Sunday: Dinner in Denver
And now, because I cannot just leave you with a meal plan, how about I share my current favorite beyond-easy dinner?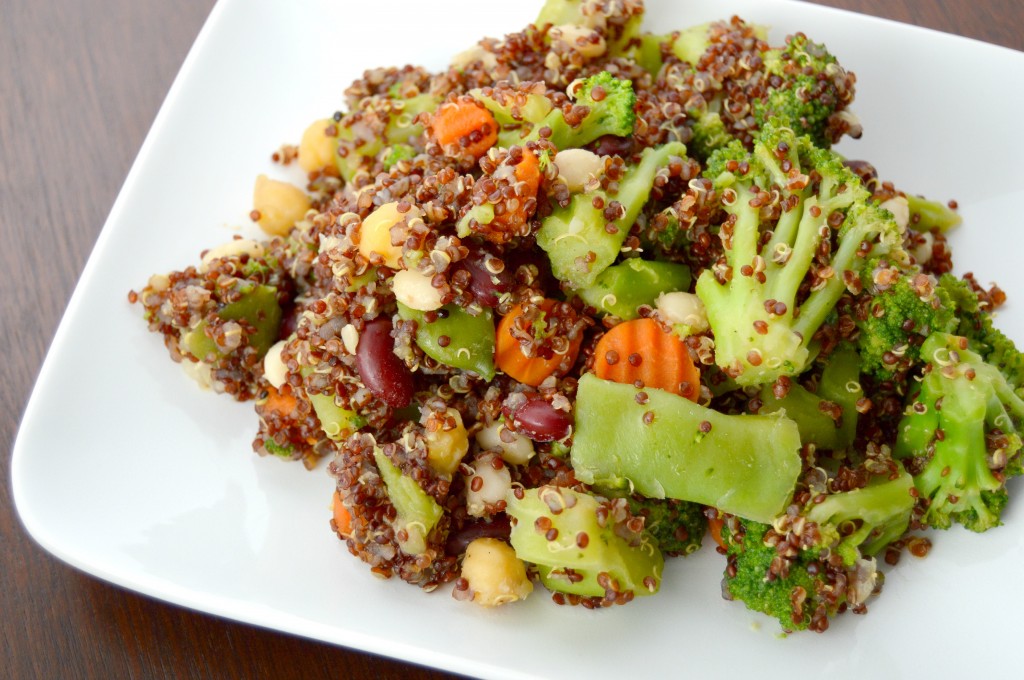 3-Ingredient Quinoa and Vegetable Stir-Fry
Serves: 2
Ingredients
1/2 cup red quinoa, dry
1 cup water or vegetable broth (P.S. This doesn't count as an ingredient!)
16 oz package of frozen Italian blend vegetables*
1/4 cup Bragg's Liquid Aminos or low-sodium soy sauce
*The blend I purchased included broccoli, onions, carrots, snow peas, kidney beans, white beans, and chickpeas.  I love that it contained both vegetables and beans for and extra punch of protein.
Directions
1. Cook quinoa and vegetable broth according to package directions.  Set aside.
2. While the quinoa is cooking, cook the vegetables in a medium sauce pan according to package directions.
3. Once the vegetables are cooked, lower the heat to medium-low and drain any remaining water.
4. Stir in the cooked quinoa and Bragg's Liquid Aminos.  Cook for an additional 2 to 3 minutes, or until all ingredients are warm.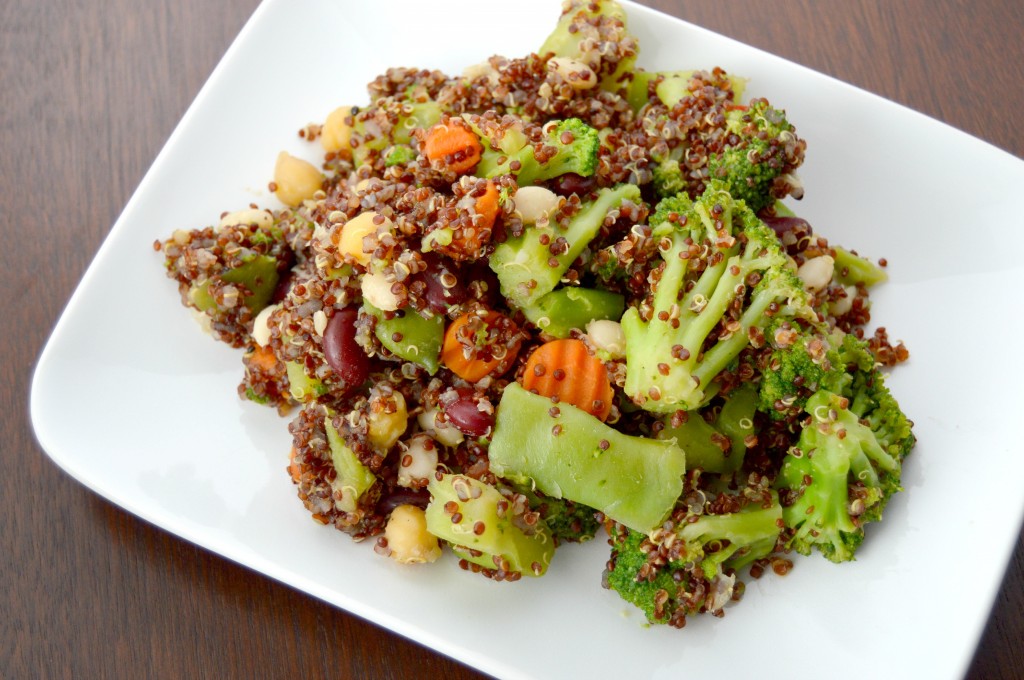 I told you it was simple and easy!  It is also extremely delicious.  A win-win for sure!
What are you favorite quick and easy dinner recipes?
Who has recommendations for veg-friendly restaurants in Denver?