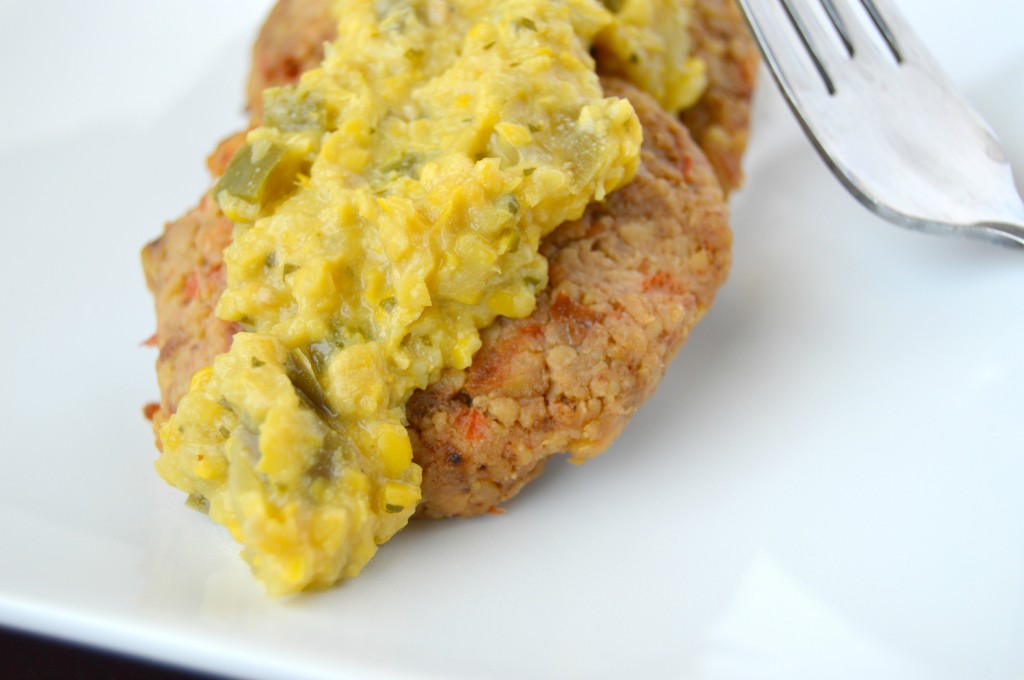 Vegetarians and vegans do not eat your typical gravies.  We do not eat turkey gravy.  We do not eat beef gravy.  And we do not eat chicken gravy.
We do, however, enjoy mushroom gravy and vegan gravy mixes from the grocery store.  While mushroom gravy is absolutely fantastic (seriously, it is!), it can become a bit boring when it is the only gravy that you use for vegan and vegetarian dishes.  I also tend to associate mushroom gravy with the Fall and Winter seasons, so it rarely sounds very appetizing between the months of April and October.
So what is a girl to do?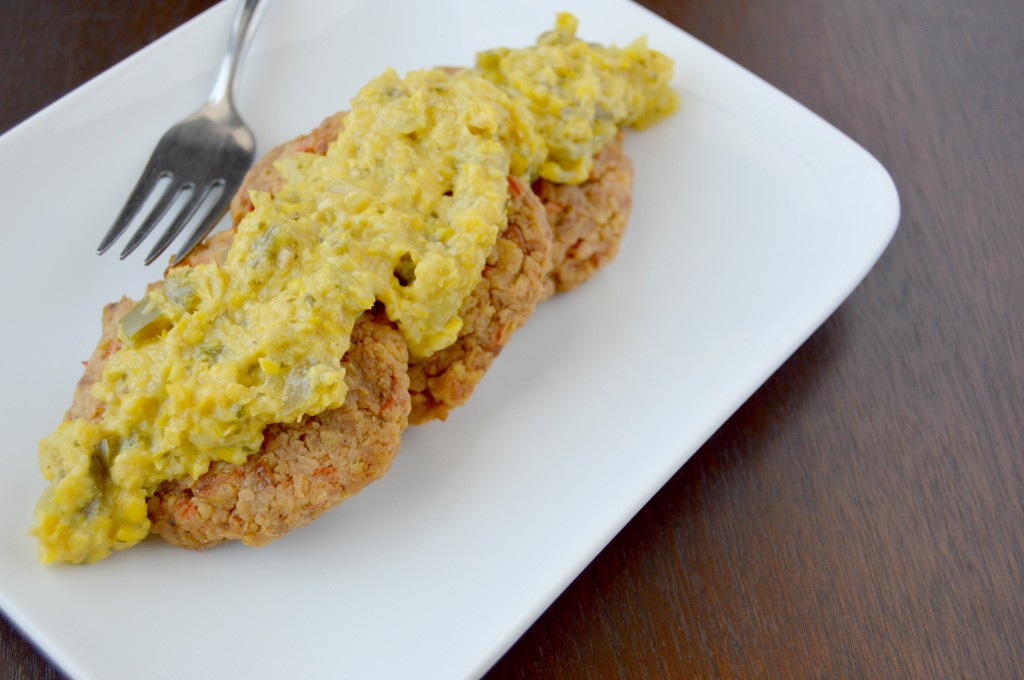 Make gravy out of corn and jalapenos… duh! <– Or maybe not so much of a duh moment, huh?
I cannot take full credit for the genius development of this Spring and Summertime-friendly gravy.  The idea to create a gravy using corn and jalapenos actually came about thanks to the Whole Foods cashier that was checking out my groceries a couple of months ago.  After looking at what I was buying she asked me if I was vegan.  I explained that I was a vegetarian who follows a mostly vegan diet.  From there, her question lead into a conversation about various vegan dishes.  One of those being a corn and jalapeno gravy that she ate at a dinner party at a friend's house.  So obviously when I heard about this creative gravy idea, I knew that I had to create my own version.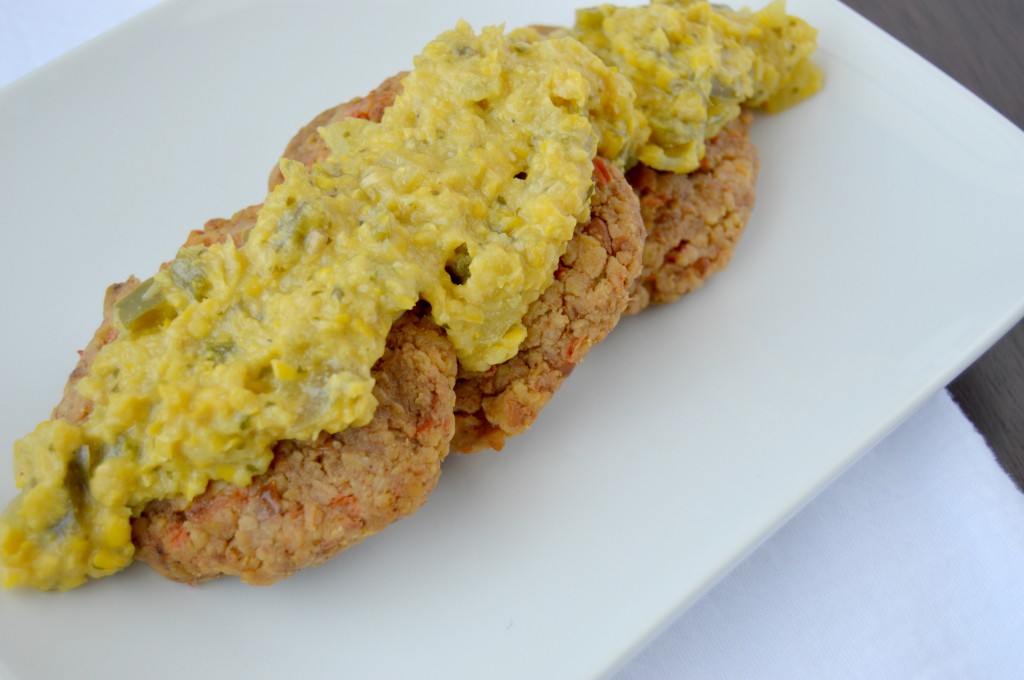 Now I couldn't just eat the gravy on its own, could I?  No way!  I needed something delicious to accompany it.
What better to top with a sweet corn gravy than slightly spicy tempeh fritters?  Yes, I know…  It is theeee perfect combination.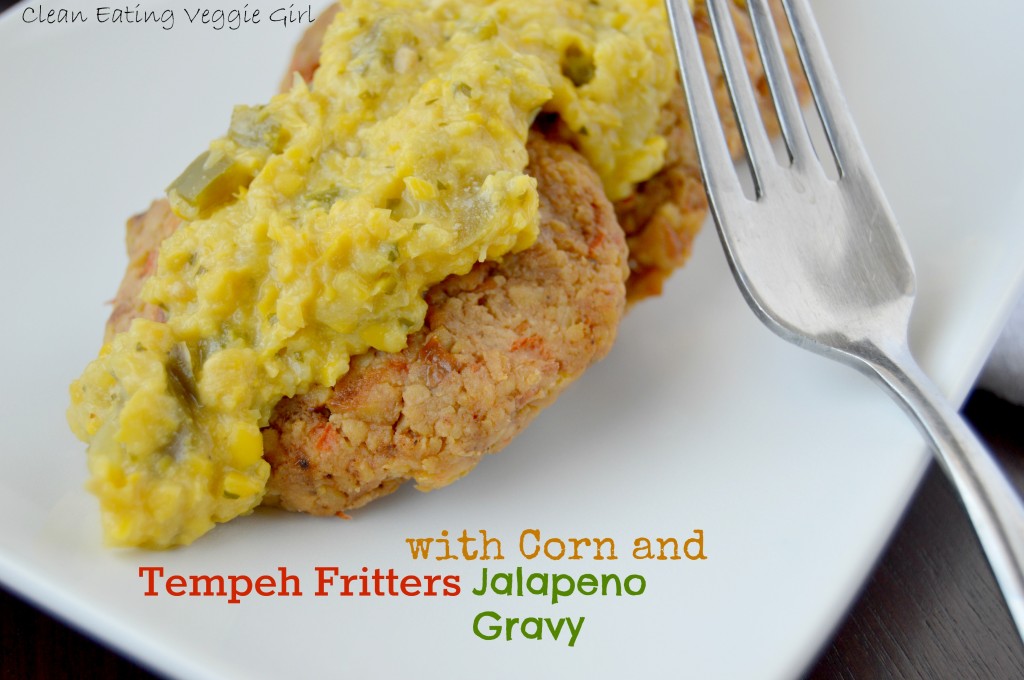 Tempeh Fritters with Corn and Jalapeno Gravy
Serves: 2 to 3
Ingredients
For the fritters:
olive oil cooking spray
1 8 oz package of tempeh
1/2 cup cooked pinto beans (I used canned, drained and rinsed)
1/2 red bell pepper, roughly chopped
2 TB red pepper hummus (or other "spicy" variety)
1 TB Bragg's Liquid Aminos or low-sodium soy sauce
1/4 tsp chili powder
1/8 tsp garlic powder
1/8 tsp onion powder
fine sea salt, to taste
black pepper, to taste
For the gravy:
vegetable broth, for cooking
2 cloves garlic, minced
2 TB yellow onion, diced
3/4 cup frozen corn, thawed (fresh sweet corn would be amazing too)
1 jalapeno, diced with seeds removed
1/4 cup vegetable broth
1/4 cup plain unsweetened almond milk
1 TB lemon juice
1/2 tsp horseradish (optional)
1 TB agave nectar (or honey if not vegan)
2 TB fresh cilantro, roughly chopped
2 TB nutritional yeast
fine sea salt, to taste
black pepper, to taste
1 tsp cornstarch + 2 tsp cold water, mixed together well
Directions
1. Preheat oven to 400 degrees F.  Spray baking sheet with cooking spray.  Set aside.
2. Combine tempeh, beans, and peppers in a large food processor.  Process for approximately 45 to 60 seconds, or until all ingredients are finely chopped.
3. Add remaining fritter ingredients to the food processor and process for an additional 15 to 30 seconds, or until all ingredients are well-mixed.
4. Form the fritter mixture into 6 equal patties and place onto the baking sheet.  Bake for approximately 25 minutes, flipping once halfway through, or until golden brown.
5. While the fritters are baking, line a small skillet with a thin layer of vegetable broth.  Heat over medium-high heat until hot.  Once hot, lower the heat to medium and add garlic and onions to the pan.  Cook for approximately 8 to 10 minutes, or until softened.  Add additional vegetable broth if necessary.
6. Place corn, jalapeno, 1/4 cup vegetable broth, almond milk, lemon juice, horseradish (if using), agave nectar, cilantro, and seasonings into small food process or blender (I used my mini food processor).  Process for approximately 30 seconds, or until a gravy has formed.  You will still want some jalapeno and corn pieces to remain intact.
7. Once the onions are finished cooking, add the corn and jalapeno mixture to the skillet with the garlic and onions.  Turn the heat to low and simmer for approximately 5 minutes.  Stir in cornstarch and water mixture in order to thicken the gravy.  Cook for an additional 2 to 3 minutes, or until it has thickened to your liking.  Add additional cornstarch and water, if necessary.
8. After the fritters are baked, compile them onto each plate and top with the corn and jalapeno gravy.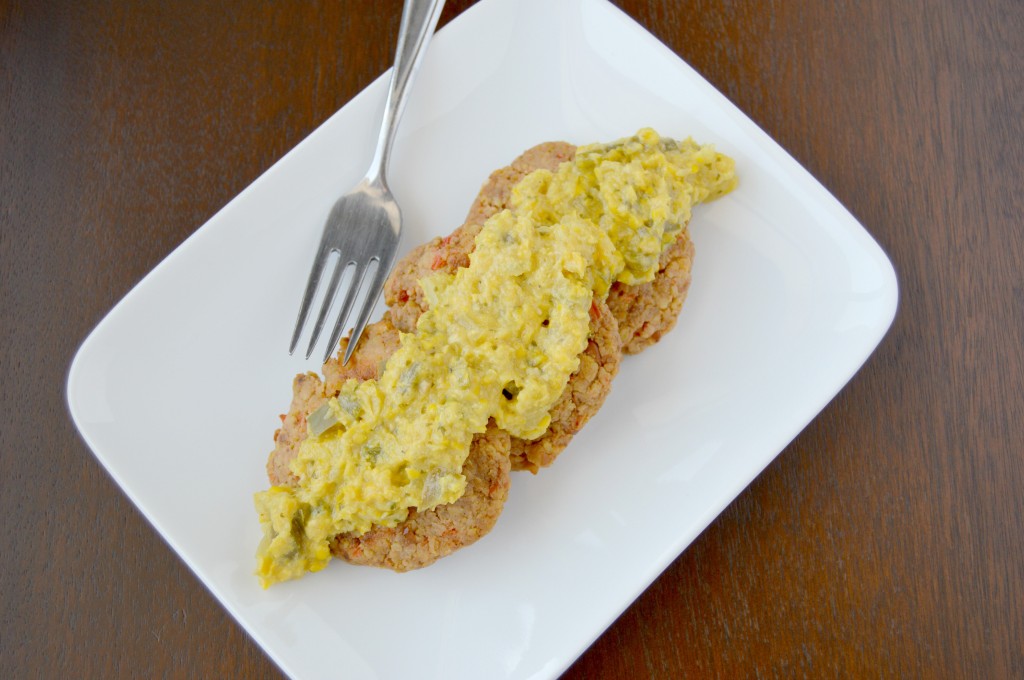 The right amount of spice with the perfect amount of sweetness.  These two make for the perfect pair.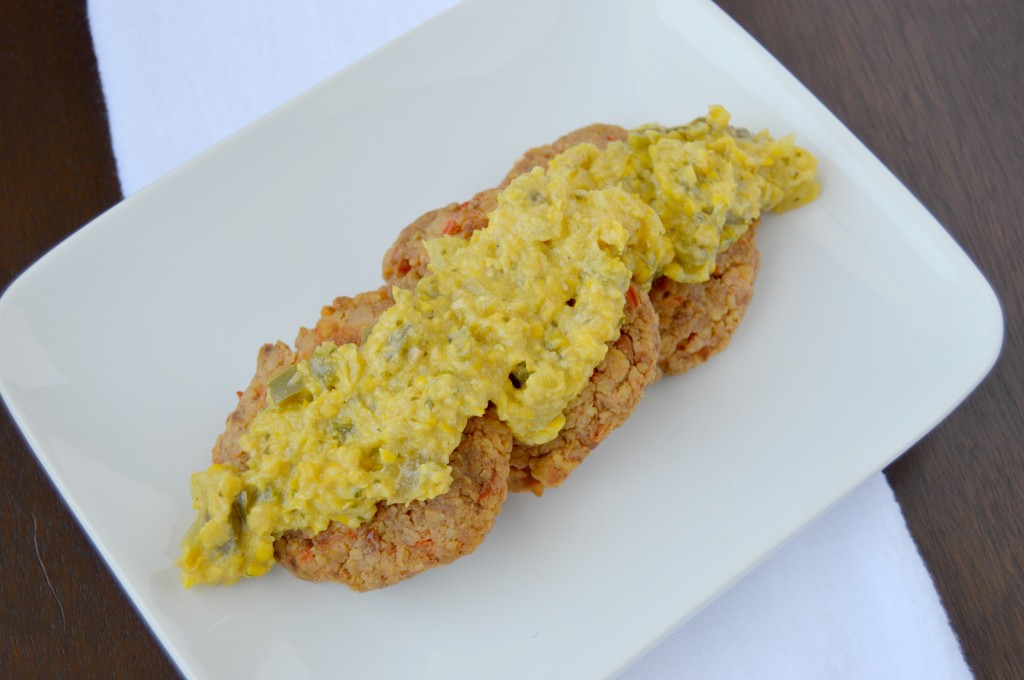 I really really wanted to eat all six fritters and the entire pan of gravy at once, but I decided that I would be angry with myself the next day if I did not have any leftovers.  Good call Hannah, good call.
Oh, and remember that cold photography trick of mine?  Yyyup, these babies and the gravy were right out of the fridge in this picture.  Who knew cold food could look so good?  I'm not so sure they would have tasted as good that way, though.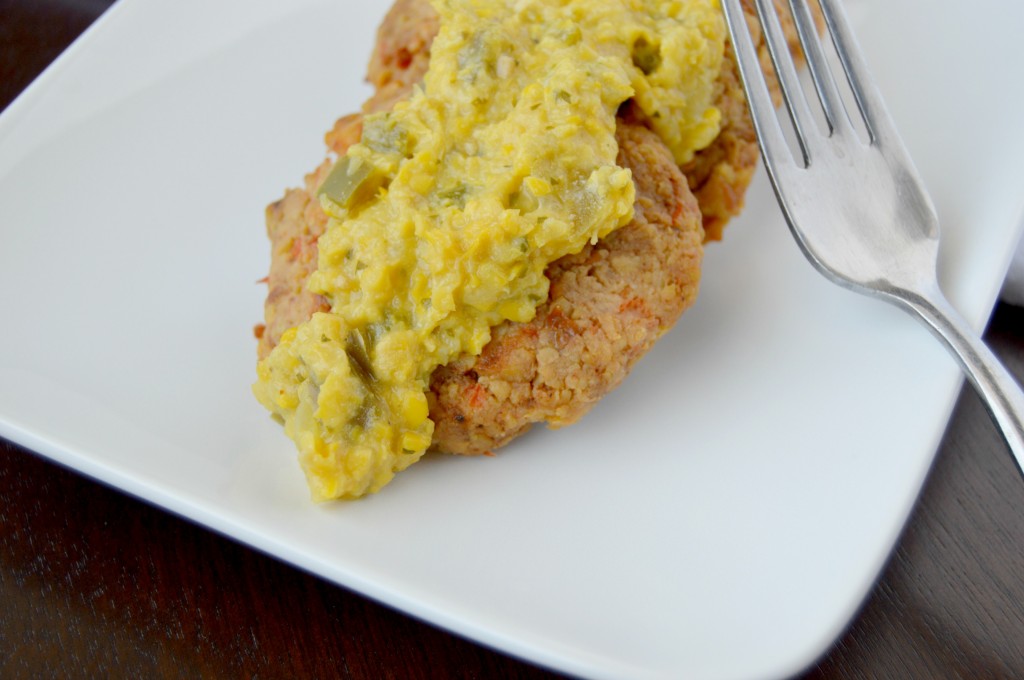 I am now officially obsessed with any and all burgers/fritters made with tempeh (seriously, try it!), and am so excited to have a creative Summertime gravy to go with them.  Now I just need to make this gravy with fresh sweet corn.  That would be fantastic!
What is your favorite kind of gravy?
Would you try gravy made from corn?
Don't answer that one.  Just do it!