A super simple, 3-ingredient vegan taquito recipe and a meal plan!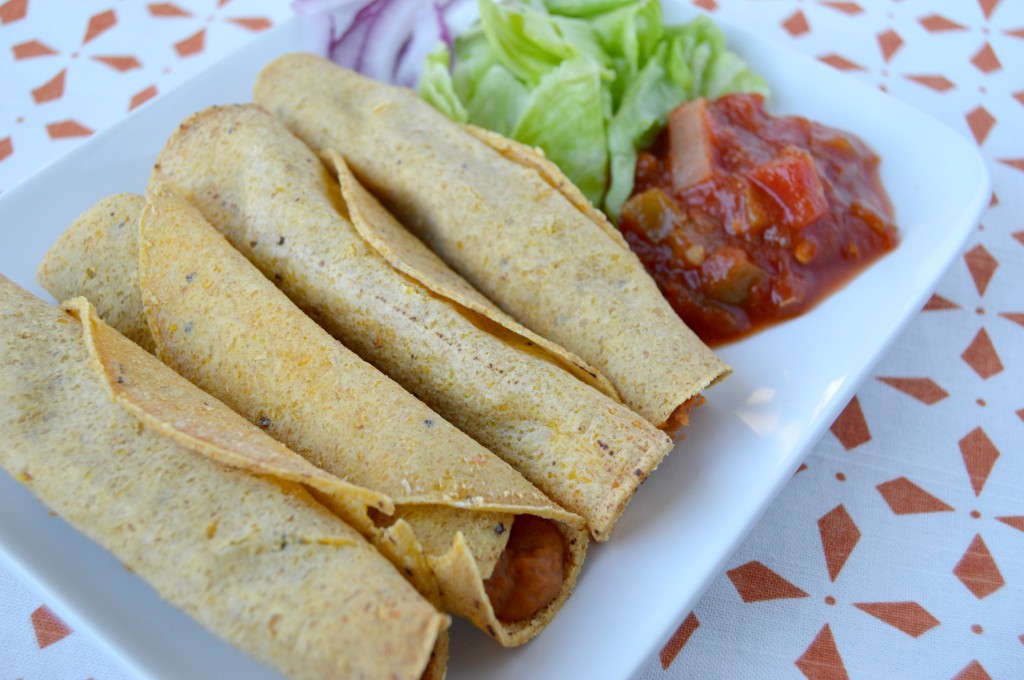 Three ingredients?  Check!
Ready in 20 minutes?  Check!
Tasty vegan taquitos?  Check!
But more on this healthy lunch/dinner/snack recipe in a bit…
First, let's talk about this week's meal plan!
Weekly Meal Plan: August 4th to 10th, 2014
Monday: Vegan, Lentil, Kale & Salsa Verde Enchiladas
Tuesday: "Chicken" Nuggets with Sweet & Sour Sauce
Wednesday: Salad with Veggies and Lentils
Thursday: Chipotle Peach BBQ Farro Sandwiches
Friday: Vegan Field Roast "Sausage" + Baked Potato + Veggies
Saturday: Out in Des Moines
Sunday: Leftovers
Now about that simple and delicious recipe…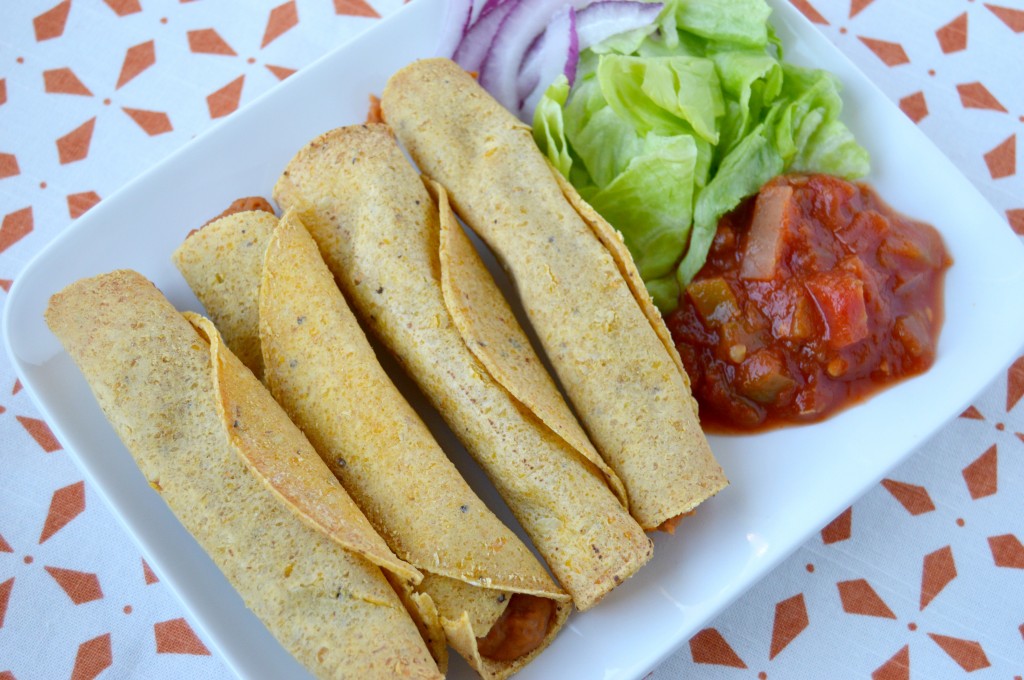 Refried Bean and Hummus Taquitos
Vegan
Servings: Makes 8 taquitos
Ingredients
1 cup of vegetarian refried beans (I used Trader Joe's "salsa" variety)
1/3 cup of your favorite hummus (I recommend a roasted red pepper or other spicy variety)
8 corn tortillas
Directions
1. Preheat oven to 400 degrees F.  Lightly spray a baking dish with cooking spray.  Set aside.
2. In a medium bowl, combine the refried beans and hummus.  Stir until well-combined.
3. Microwave the tortillas for 30 seconds prior to filling them, as they tend to break easily (I actually microwaved mine in two separate batches).
4. Fill each tortilla with one eighth of the bean/hummus mixture.  Carefully roll each tortilla into the shape of a taquito.  Place the taquitos seam-side down into the baking dish.
5. Bake the taquitos for approximately 15 to 20 minutes- flipping once halfway through- or until golden brown and crispy.
6. Serve alongside your favorite toppings (salsa, vegan sour cream, etc.).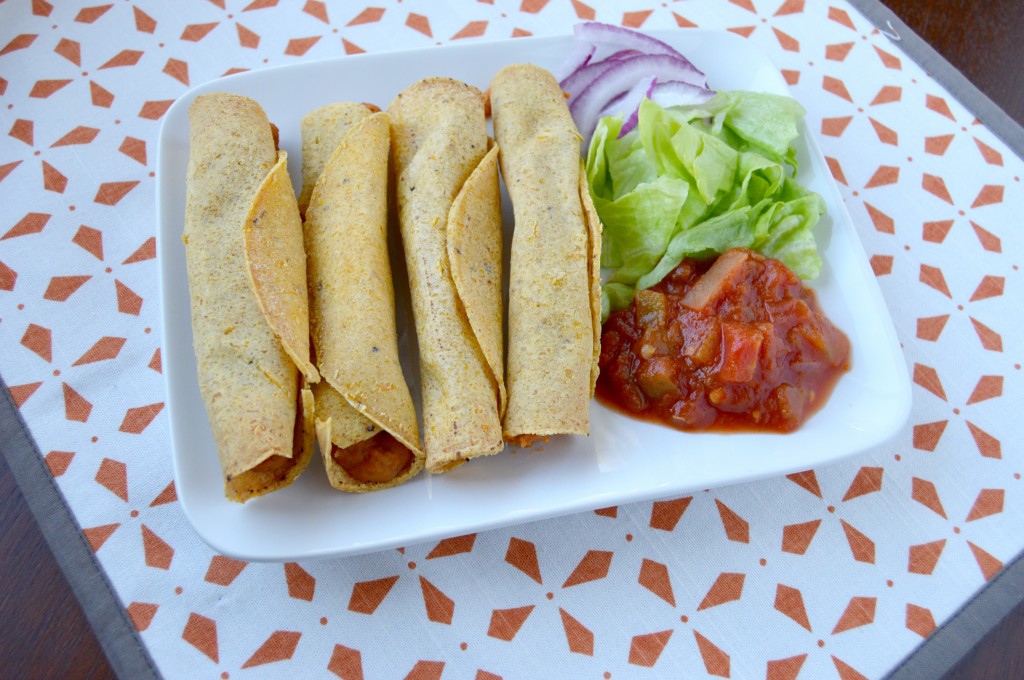 The hummus in this recipe is the perfect replacement for the cheese that you might normally find in burritos or taquitos.  No cheese is necessary in these babies.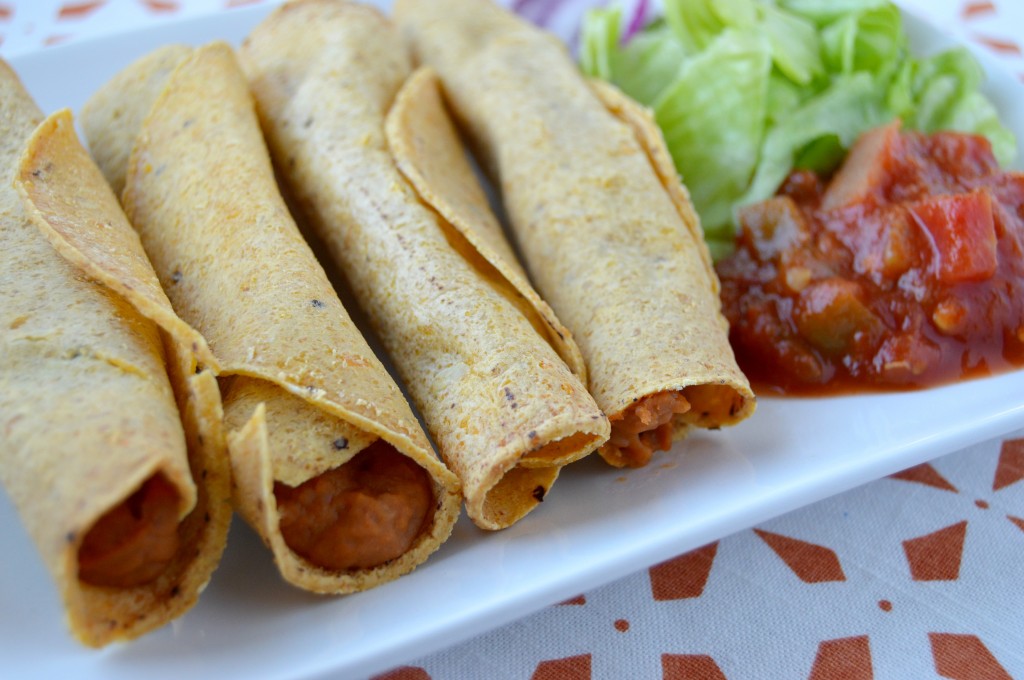 The simplicity, affordability, and deliciousness of this recipe leads me to believe that these are most definitely going to become a staple in my household.
What is on your meal plan this week?