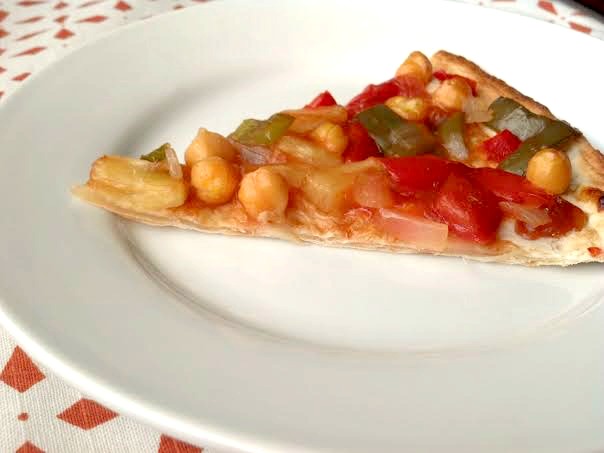 Chinese food…on pizza?  I know, I know.  To some it may sound like a strange combination.  But if you are adventurous and cool different like me, then you just might look at this combination and think…"hmm, now that is something that I need to try!"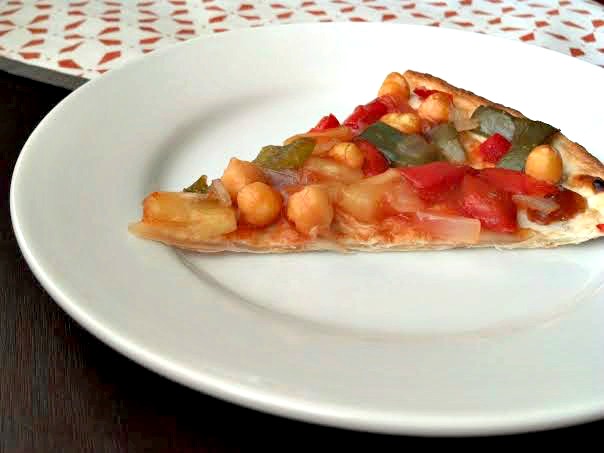 Naturally, as I often do when I sit down at my dinner table couch, my mind wanders to potential future recipe ideas.  On a particular Sunday evening when I was eating a bowl of my Sweet and Sour Tempeh over rice, an enticing idea came to mind.  What would happen if I combined sweet and sour chicken (chickpeas in my case) with another favorite of mine …. pizza?  Yes, pizza.  And the more that I thought about it, the more I was starting to become convinced that I was, in fact, a genius.  Not to sound full of myself or anything 😉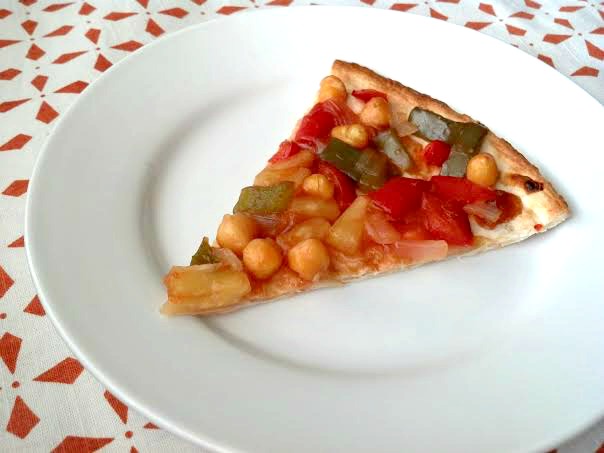 Making and tasting this pizza did nothing to deflate my ego.  If I'm being honest, I was pretty much loving anything and everything about this pizza.  If you like pizza, you are going to want to make this.  If you enjoy the sweet and savory combo, you pretty much need to make this.  And if you love chickpeas and Chinese food like I do…
…have you left to go buy the ingredients for this yet?  Oh, I suppose it would help if I gave you those first, right?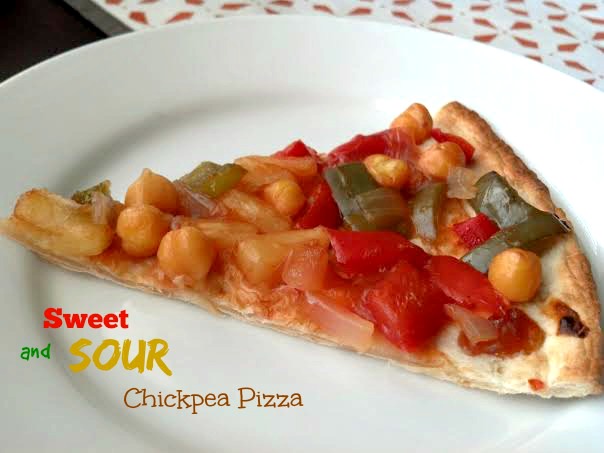 Sweet and Sour Chickpea Pizza
Vegan
Makes 1 pizza (serves 2 to 3, 2 in my case)
Ingredients
2 TB seasoned rice vinegar
2 TB Bragg's Liquid Aminos (or low-sodium soy sauce)
2 TB ketchup
1/4 tsp ground ginger
2 tsp light brown sugar
1 8 oz can pineapple tidbits (with juices reserved)
1 premade thin pizza crust
water, for cooking
1/2 red bell pepper, chopped
1/2 green bell pepper, chopped
1/8 cup diced yellow or white onion
1/2 TB cornstarch + 2 TB cold water, mixed together
2/3 cup chickpeas, cooked
Directions
1. Preheat oven to 350 degrees F.
2. Wisk together vinegar, Bragg's, ketchup, ginger, brown sugar, and pineapple juice.  Set aside.
3. Line medium skillet with a thin layer of water.  Heat over medium-high heat until very hot.  Once hot, lower the heat to medium and add the peppers and onions to the pan.  Cook for approximately 6 to 8 minutes, or until softened.  Add additional water, as necessary.
4. While the peppers and onions are cooking, bake the pizza crust for approximately 3 to 5 minutes, or until it becomes slightly crispy.  Remove from oven and set aside.
5. Once the peppers and onions are cooked through, stir in the marinade and cornstarch/water mixture.  Lower the heat to medium-low and cook for approximately 3 to 5 minutes, or until the sauce has thickened to your liking.  Add additional cornstarch/water, if necessary.
6. Turn off the heat and stir in the pineapple tidbits and chickpeas.
7. Top the pizza crust with the sweet and sour mixture.  Bake for approximately 6 to 8 minutes, or until hot and the crust has started to crisp up.  Turn the broiler on low and broil for approximately 3 minutes, if a crispier crust is desired.  Watch the pizza carefully to ensure that it does not burn.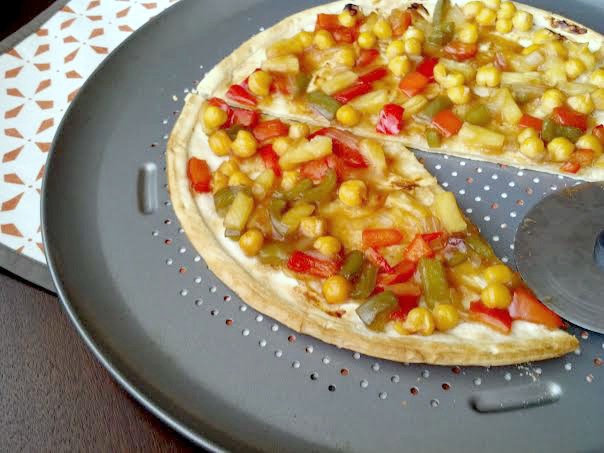 A crispy crust.
A sweet, yet sour sauce.
Lots of veggies.
Protein-packed chickpeas.
Serious deliciousness.
Not only does she look pretty, but she tastes pretty darn good too!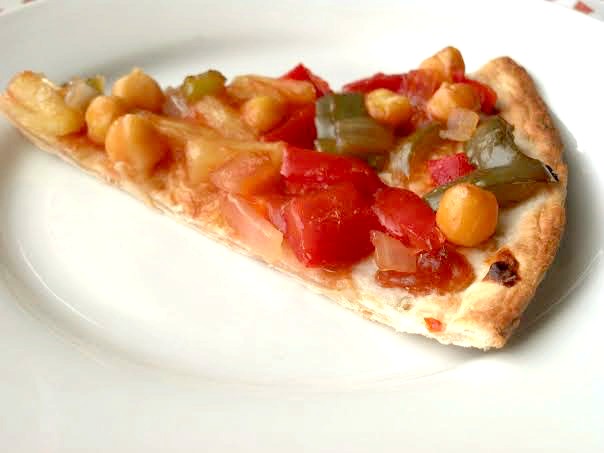 This is definitely not your traditional pizza.  But I think that is a good thing, right?
My other sweet and sour recipes that might interest you:
Sweet and Sour "Meatball" Subs
Sweet and Sour Tempeh
Sweet and Sour Veggies with Rice (an oldie, but a goodie!)
What is the most "untraditional" pizza topping that you have tried?