Do not worry.  You are not lost, nor are you seeing things.  Everything is, in fact, looking quite different around here in Clean Eating Veggie Girl land.  After about a four month process, CEVG got a major face lift.  She is now sporting a new header and layout, "About Me" and "Contact" pages, and categorized posts that you can now find on designated "Recipe," "Friday Foodie Favorites," and "Workouts" pages.  Oh, and the entire face-lift would not be quite complete without a new tagline.  Sure, I am still a vegetarian, but instead of focusing on that label, I am highlighting how I cook, dine, and live in my mostly plant-based world.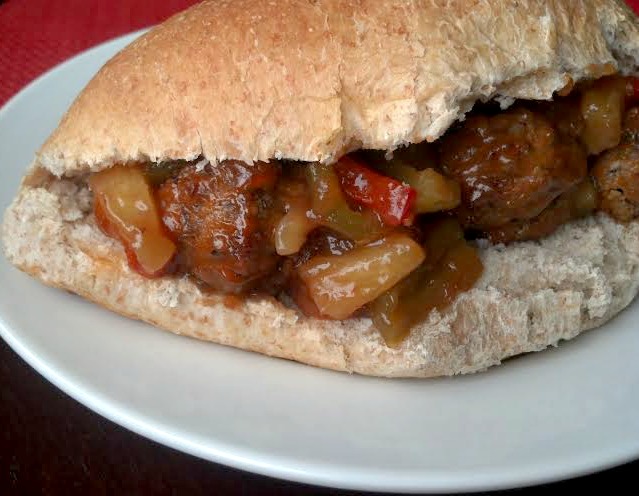 Now lets celebrate Clean Eating Veggie Girl's brand new look with a darn good recipe- a recipe that I cannot wait to make again very soon.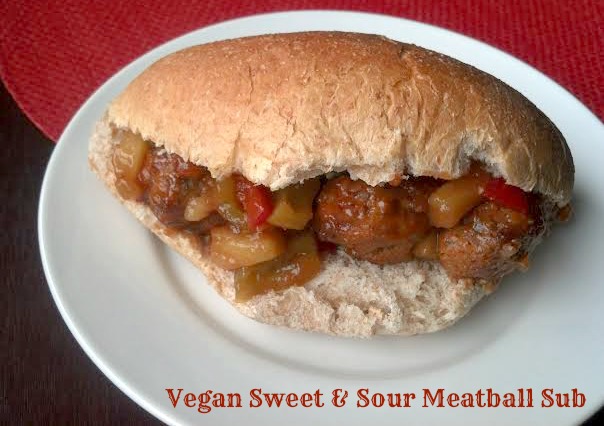 Vegan Sweet and Sour Meatball Sub
Servings: Makes 2 sub sandwiches
Ingredients
2 TB seasoned rice vinegar
2 TB Bragg's Liquid Aminos (or low-sodium soy sauce)
2 TB ketchup
1/2 tsp ground ginger
2 tsp brown sugar
8 oz can pineapple tidbits in natural juices, drained with juices reserved
water, for cooking
1/2 red bell pepper, sliced
1/2 green bell pepper, sliced
1 TB cornstarch + 2-3 TB cold water, mixed well
8 vegan "meatballs"*
2 whole wheat sub/hoagie buns
*You can either make your own vegan meatballs, or be lazy like I was and buy pre-packaged vegan meatballs.  I chose a frozen variety that had the fewest and most natural ingredients that I could find: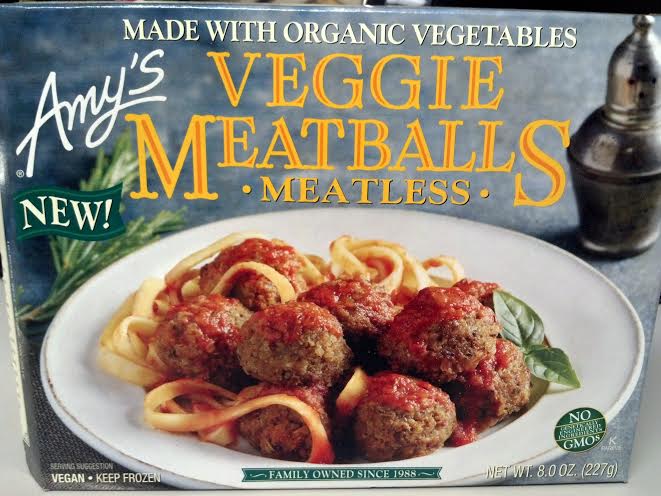 I really enjoyed the Amy's meatless meatballs and I also love the Trader Joe's variety.
Directions
1. Combine vinegar, liquid aminos, ketchup, ginger, brown sugar, and reserved pineapple juice in medium bowl.  Whisk until well-combined.  Set aside.
2. Preheat oven to 350 degrees F.
3. Line medium skillet with thin layer of water.  Heat over medium-high heat until very hot.  Once hot, lower heat to medium and add peppers to the skillet.  Cook for approximately 8 minutes, or until softened.  Add additional water, as necessary.
4. Once the peppers are cooked through, stir in the sweet and sour sauce and lower the heat to medium-low.  Simmer for approximately 3 minutes.
5. Stir in cornstarch + water mixture.  This will help thicken the sauce.
6. Add pineapple tidbits and meatballs.  Cook until all ingredients are warm, for approximately 3-5 minutes, stirring frequently.
7. Toast the buns in the oven for approximately 3-5 minutes, or until lightly browned and warm.
8. Place half of the sweet and sour meatball mixture into each bun.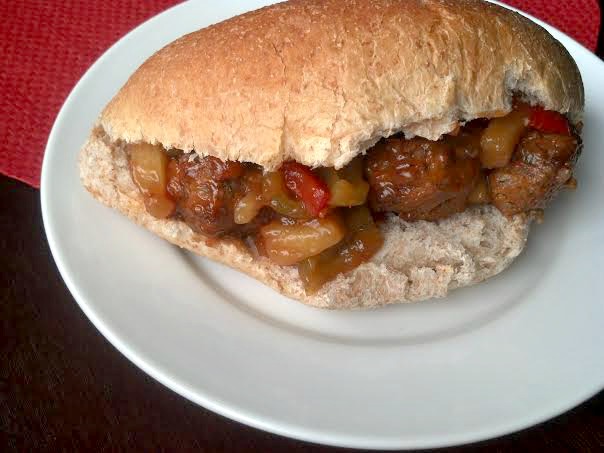 Yes, these are messy.  But, more importantly, they are deeelicious!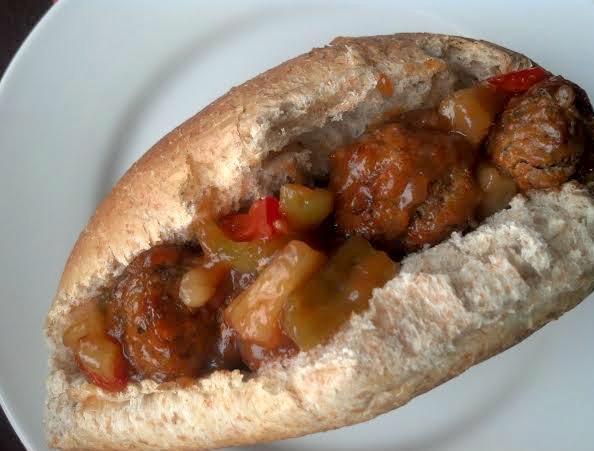 Sure, this may not be the most conventional combination- "meatballs," sweet and sour sauce, and a sub bun all in one- but I would like to think that I have become somewhat decent at creating some seriously tasty dishes from some rather unconventional combinations.  This one is definitely a winner of a combination.  Sweet and sour sauce is delicious with rice, so why wouldn't it be delicious on toasted bread?  And sure, sweet and sour sauce is great with peppers, pineapples, and tofu, but I would bet that you just might agree with me when I say that it is even better with meatless meatballs!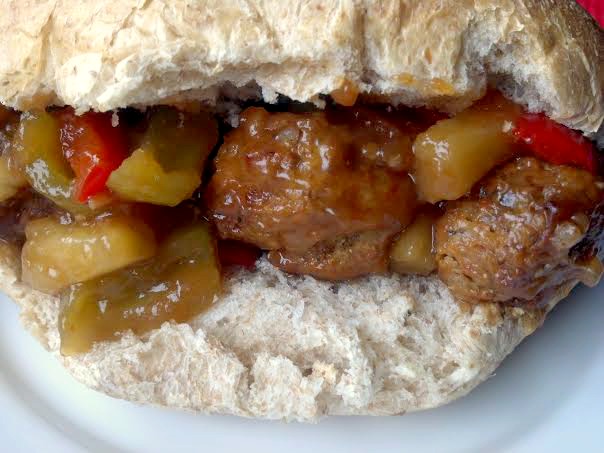 Yes.  This is as good as it looks.