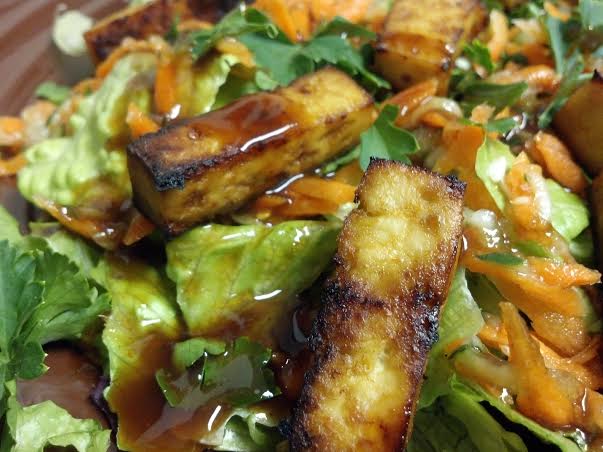 Tofu, anyone?  No?  You don't like tofu?  Tofu scares you?  Tofu intimidates you?  Well, it is about time that we change that, don't you think?  With just a little bit of practice, you will come to find that tofu is actually super simple to prepare and it is also super delicious.  I love tofu baked by itself, in stir-fries, on sandwiches, and now in salads.    Tofu is high in protein, takes on the flavors of whatever you season it with, and is honestly one of my favorite additions to make the ordinary just a little bit (okay, a lot) better.  Many of you already know how great tofu is, but I'm sure a lot of you are still uncertain about it.  Don't worry.  I used to be the exact same way.  In fact, knowing that I now crave tofu makes me laugh.  It is true what they say: your taste buds really can change and evolve!
I have made a Vietnamese-inspired Banh Mi Sandwich in the past, and have fallen in love with the Vegan Banh Mi sandwich at Gateway Market Cafe.  Basically, anything banh mi-related makes me happy.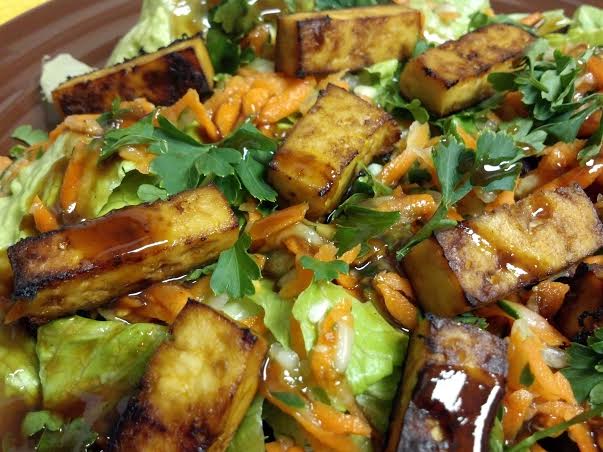 We know that banh mis are great in sandwich form, but what about in a lighter form?  Say…in a salad form?  Yyyup, I went there.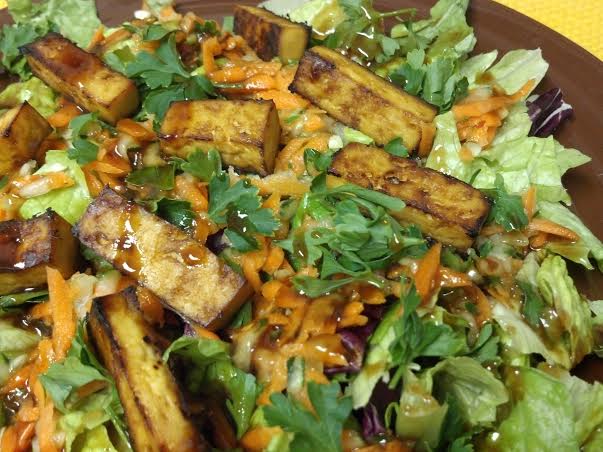 Tofu Banh Mi Salad
Servings: Makes 2 salads
Ingredients
1/2 block extra-firm tofu, pressed and cut into strips
For tofu marinade:
1/4 cup Bragg's Liquid Aminos or low-sodium soy sauce
1 1/2 TB seasoned rice vinegar
1 tsp sriracha sauce
2 TB barbecue sauce (divided in half)
For marinated vegetables:
2 medium carrots, peeled and shredded
1/2 medium cucumber, peeled and shredded
2 TB seasoned rice vinegar
1 tsp agave nectar or honey
1/4 tsp red pepper flakes
For dressing:
1/4 cup of reserved tofu marinade
2 TB barbecue sauce
your favorite bagged salad or fresh greens
1 handful of cilantro, roughly chopped
Directions
1. Press and cut tofu.  Combine Bragg's Liquid Aminos, 1 1/2 TB seasoned rice vinegar, sriracha sauce, and 2 TB barbecue sauce in medium bowl to make marinade.  Whisk until mixed well.  Reserve 1/4 cup of the marinade to use in the dressing.
2. Place tofu in shallow dish and cover with remaining marinade.  Place in refrigerator for at least 30 minutes.
3. Preheat oven to 400 degrees F.  Remove tofu from refrigerator and place on foil-lined baking sheet.  Bake the tofu for 25 to 30 minutes, flipping halfway through, or until the tofu is crispy and golden brown.
4. While the tofu is baking, combine the carrots, cucumber, 2 TB seasoned rice vinegar, agave nectar/honey, and red pepper flakes.  Stir until the vegetables are coated well.  Refrigerate until it is time to compile the salad.
5. To make the dressing, combine the 1/4 cup of reserved tofu marinade and 2 TB of barbecue sauce.  Whisk well.  Add additional marinade or barbecue sauce to make the dressing to your desired thickness.
6. Build you salad in the following order: lettuce/greens, marinated vegetables, cilantro, baked tofu, and dressing.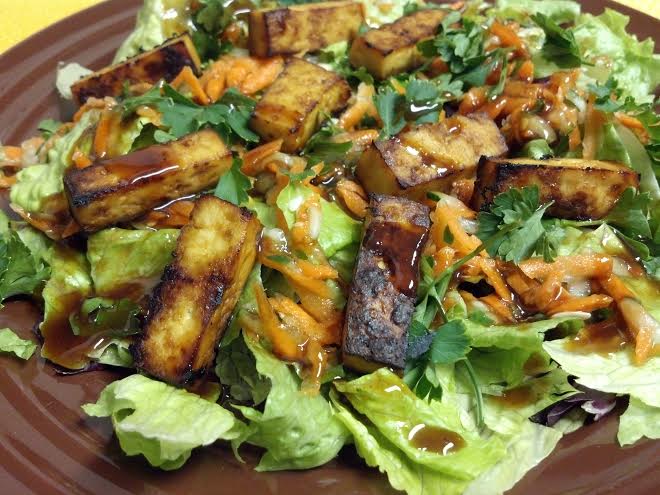 I don't know about you, but I get tired of the same old boring salad topped with conventional toppings and dressed with bottled salad dressing.  This is a salad that is far from conventional.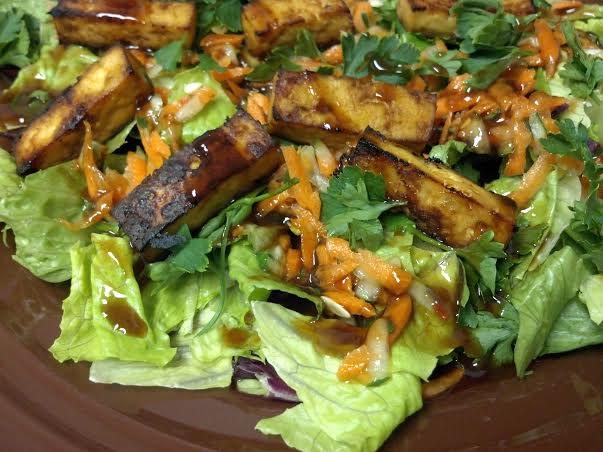 Whether you have tried and loved banh mi sandwiches in the past, or if you are simply bored with the same monotonous salad, this is definitely a recipe to help perk up your taste buds.  Trust me, you will not be bored with this salad.  And please don't be afraid of the tofu.  I think that I have many fellow bloggers/blog readers who can and will vouch for just how delicious it is.  When you season it well the results can be fantastic.  I am a major fan of Vietnamese-inspired flavors, so this salad was right up my alley.  Plus, when you put barbecue sauce and sriracha sauce into something…well,you can almost guarantee that I'll love it.