A bright, colorful, and healthy Purple Paleo Mayo-Free Coleslaw perfect for vegan, gluten-free, and Paleo diets alike.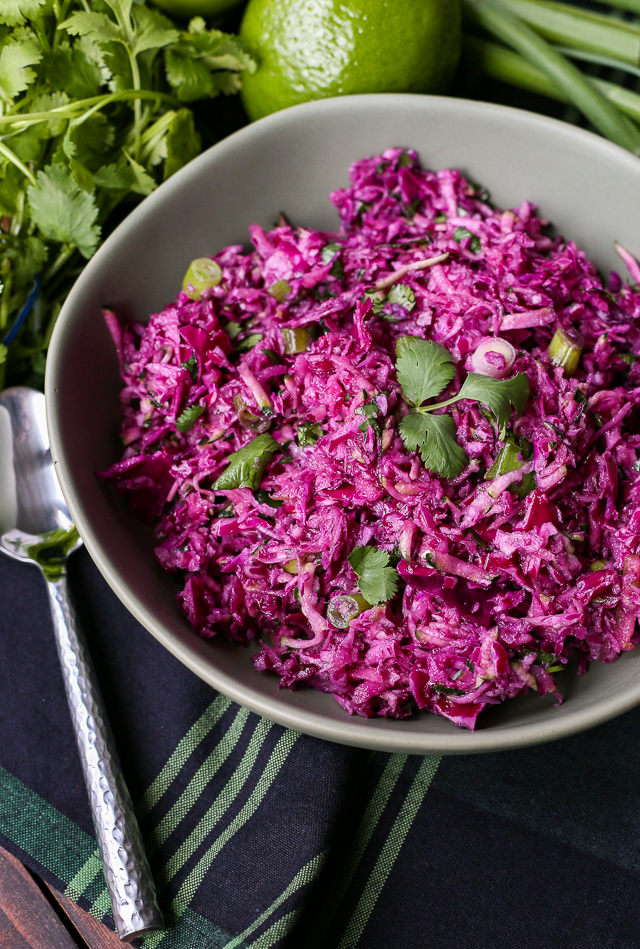 So. much. purple.
Now if all of this purple doesn't just scream Spring, I am not sure what does.  The temperatures here in the Midwest sure haven't been very Spring-like, so I figure we need to welcome the season in with some extremely colorful and bright food.  Come on, Mother Nature.  Bright and cheery food calls for some bright and cheery weather!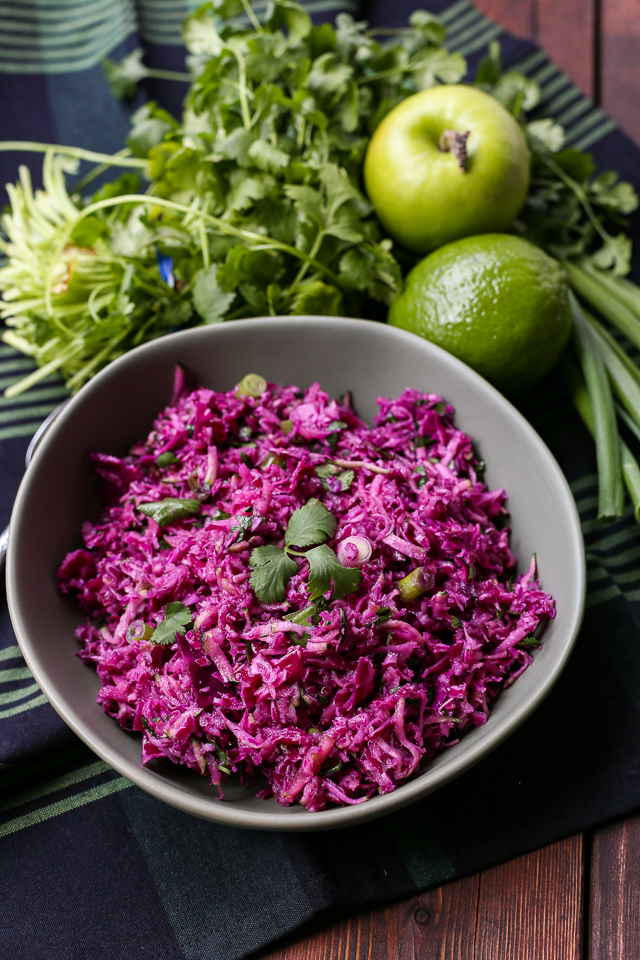 Growing up, the only coleslaw I would even touch was good 'ole KFC coleslaw.  It is a classic, right?  To this day, I am not ashamed to say that I think it just may be the best coleslaw ever.  Probably not the healthiest (duh), but it is oh so delicious!  In fact, for a little while during my pregnancy, it was one of the few things I could stomach.  I tell you what.  The body craves strange things during pregnancy.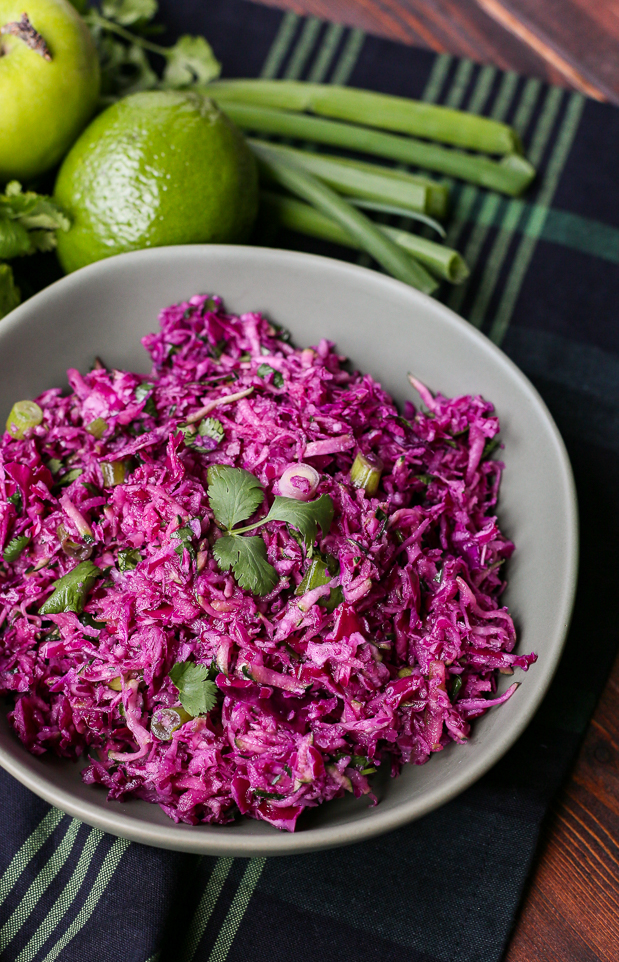 This coleslaw definitely isn't KFC coleslaw.  But in a way, I think that is a good thing.  It is prettier, tangier, and healthier.  And most importantly (for me and many of you), it is mayo-free, which also means it is egg-free.
I recently had an updated food sensitivity test run about a month ago and my results came back showing that I have sensitivities to both egg whites and egg yolks.  This honestly came as no surprise to me.  In fact, I haven't been eating eggs for the last several months because I know they just don't sit well with my body.  Not eating eggs makes me sad, especially around breakfast time and when making mayo-based salads, but I am learning to enjoy my meals without them.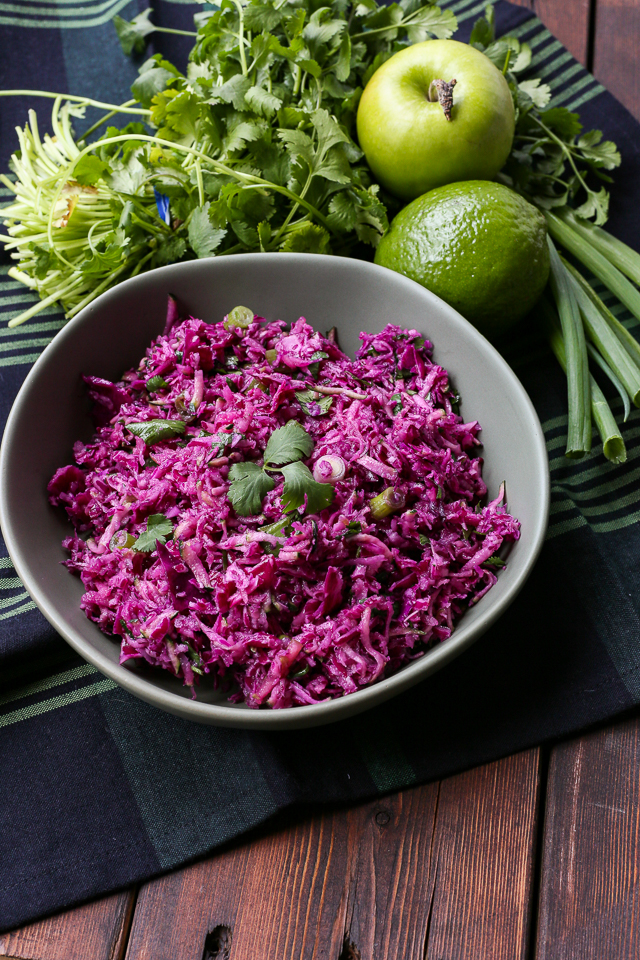 Naturally (as with most recipes on this blog), this coleslaw is pretty veggie-packed.  To the traditional coleslaw cabbage, I added zucchini, green onion, and cilantro.  And to add a hint of soury sweetness: a Granny Smith apple.  To keep this coleslaw recipe mayo-free, I used a combination of lime juice, extra virgin olive oil, and Dijon mustard.  It is pretty amazing what a little mustard can do to make everything come together and taste extra good.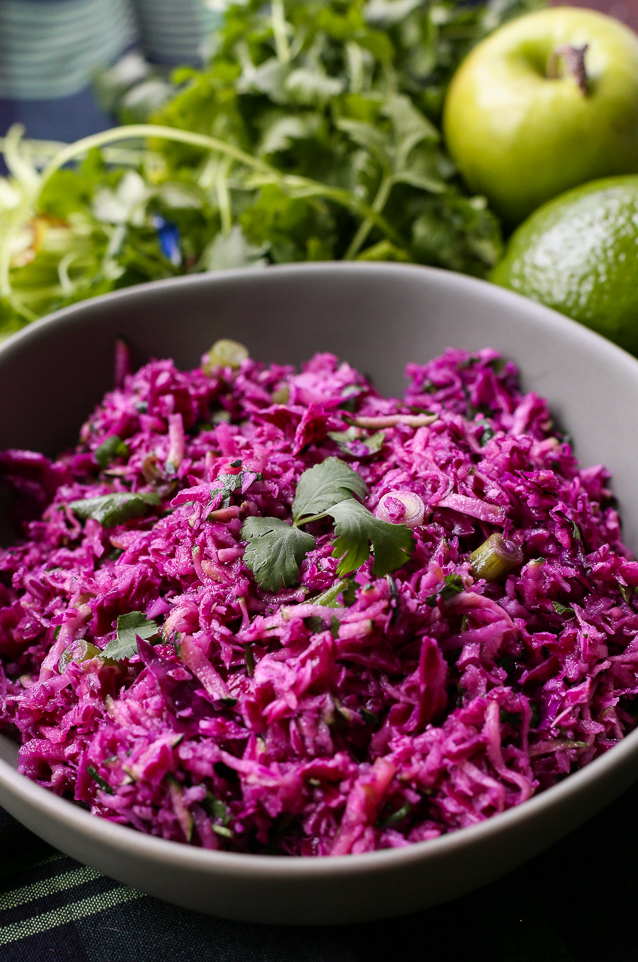 A couple of side notes:
1. Feel free to add in the traditional shredded carrots to the mix.  Carrots weirdly are another food that came up on my sensitivity test, so I left those out, but I know they would be delicious in this dish.
2. Definitely mix this coleslaw with some avocado or guacamole.  That is how I have been eating it this past week and I am loving that combination.
3. And finally, make this and take it with you to every Summer barbecue or gathering this year.
Now go make this Purple Paleo Mayo-Free Coleslaw because it is delicious.  And purple.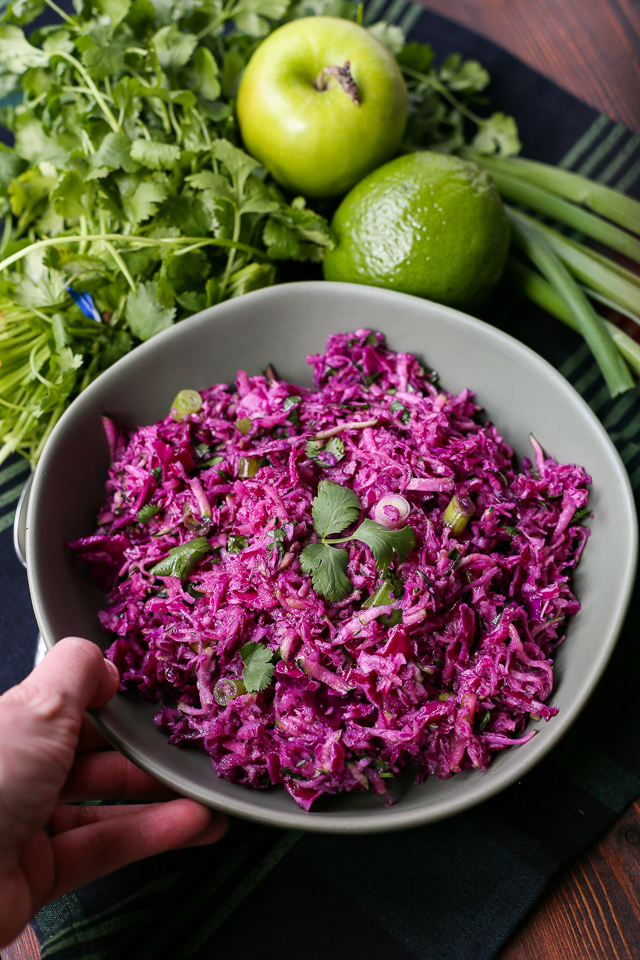 Purple Paleo Mayo-Free Coleslaw
Paleo, Gluten-Free, Grain-Free, Dairy-Free, Egg-Free, Soy-Free, Nut-Free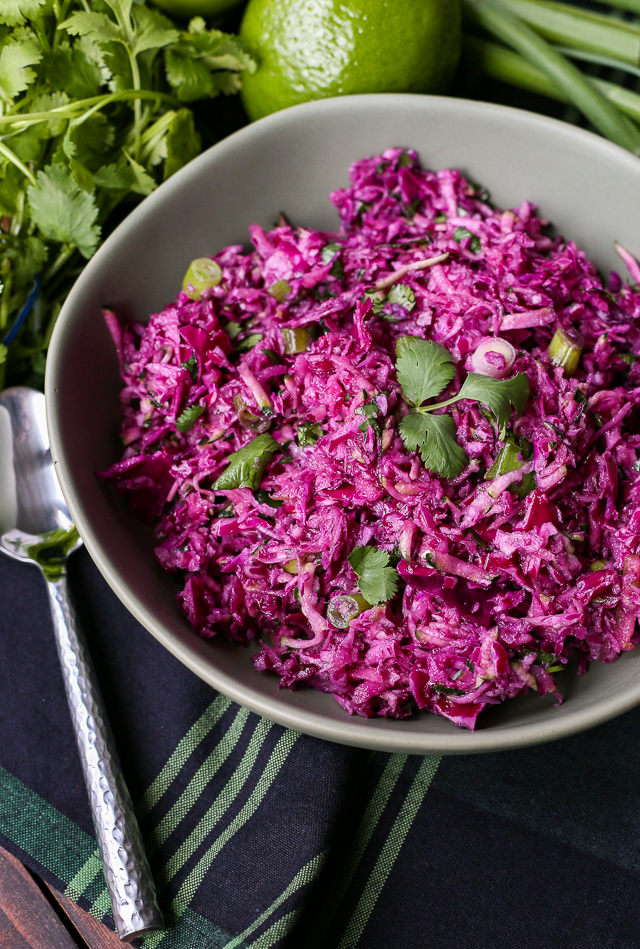 Ingredients
1 medium head of organic red cabbage*
2 medium organic zucchini
2 medium organic Granny Smith apples, peeled
4 organic green onions, chopped
1/4 cup packed of organic cilantro, minced
4 cloves of fresh garlic, minced
1/4 cup of extra virgin olive oil
the juice from one large lime
1 tsp of organic raw apple cider vinegar
1 TB of raw honey or pure maple syrup (optional, depending on desired sweetness level)
1 tsp of fine sea salt
Instructions
Using the shredding attachment on your food processor or a box grater, shred the cabbage, zucchini, and apple.
In a large bowl, combine shredded cabbage, zucchini, and apple with the green onions, cilantro, and garlic. Set aside.
In a small bowl, combine EVOO, lime juice, ACV, and sweetener. Whisk together. Pour over the cabbage and veggie mixture.
Season with salt. Add more to taste. Refrigerate for at least two hours before serving.
Notes
*You can also sub in green cabbage or do half and half.
7.8.1.2
19
https://cleaneatingveggiegirl.com/2018/04/04/purple-paleo-mayo-free-coleslaw/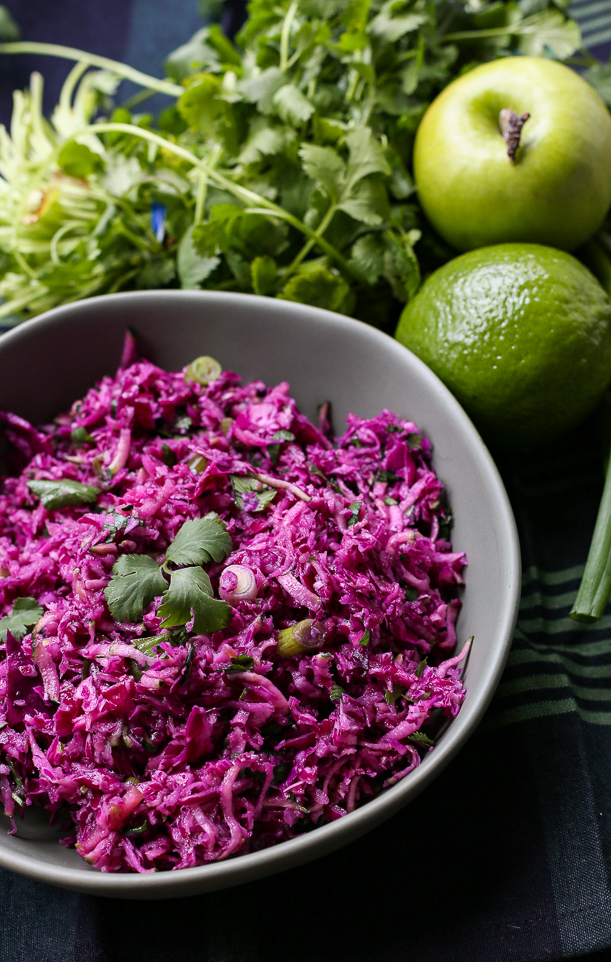 A healthy Purple Paleo Mayo-Free Coleslaw recipe #Paleo #coleslaw #bbq #Spring
Click To Tweet