The ultimate low-sugar AIP Paleo Sour Patch Berry Smoothie for a sweet, then sour breakfast, snack, or dessert.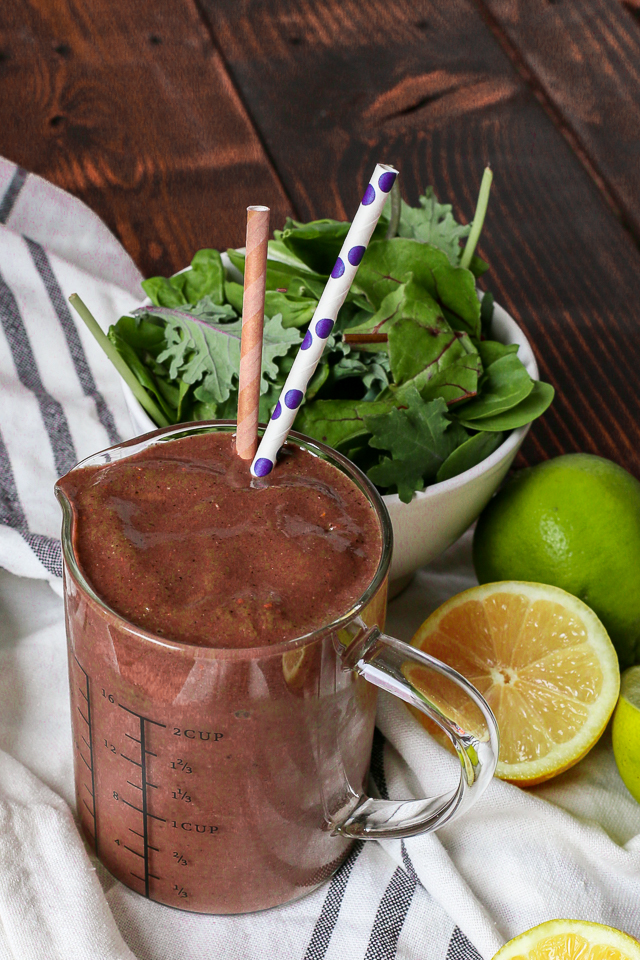 Now that I am back to trying out the AIP Paleo diet, things have gotten a little less sugary and a lot more restrictive.  I'm not going to lie, I have been struggling big time this first week back into it.  I am feeling the restriction, and it is hard.  Really hard.  But I am giving it my full effort, while trying my best to not make things overly complicated.  Easier said than done.  But smoothies always seem to make meal planning easier on the AIP diet.  Oh, and more delicious.
Either this smoothie legit tastes like it could be Sour Patch Kids candy in smoothie form, or it has just been way too long since I have eaten processed foods or sugar.  It's probably the latter.  But if you do a Whole 30 or eat AIP/Paleo for a while, your taste buds will totally trick you into thinking you just ate (or drank?) a piece of berry Sour Patch Kids candy.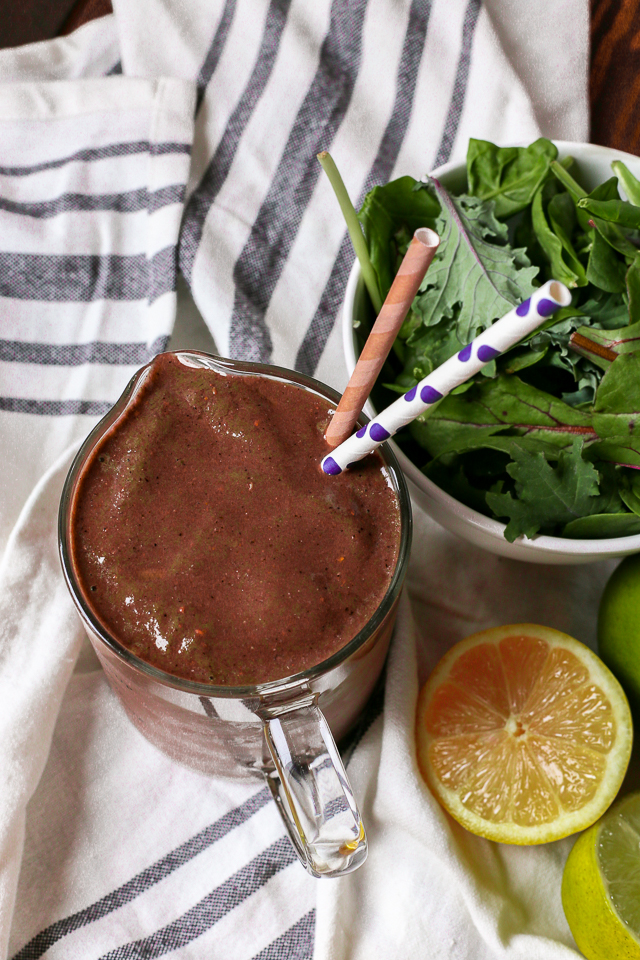 The trick to making that sweet and sour combo?  Super sweet berries and super sour lime or lemon juice.  You could also throw in a Granny Smith apple to take the sourness up a level, but I'm trying to keep sugar low (even natural sugars), so we are just sticking with berries here.
Luckily, berries are just so perfectly sweet and help give this smoothie that sweet, then sour, taste.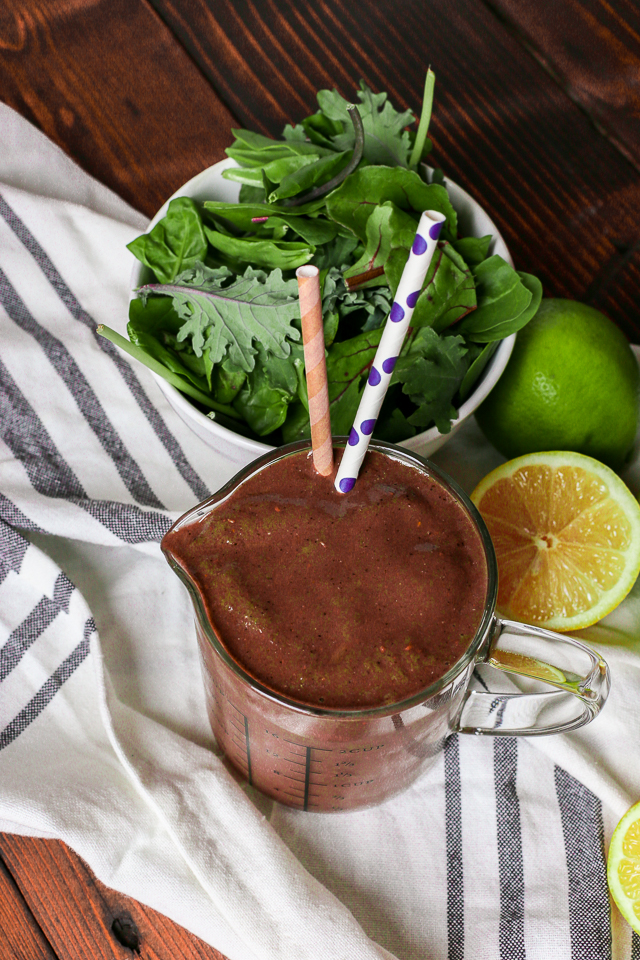 If you are an avid smoothie drinker, you know that a good smoothie has to meet three requirements: 1) it has to taste good, 2) it needs protein, and 3) it must contain plenty of healthy fats.  Smoothies are pretty much worthless as a meal unless they can keep you full for longer than 30 minutes.  Oh, and this isn't a requirement, but generally the best smoothies look a little meh.  Not everything that tastes good can look amazing, right?
This Paleo Sour Patch Berry Smoothie meets all of the above requirements.  Check, check, check, and check!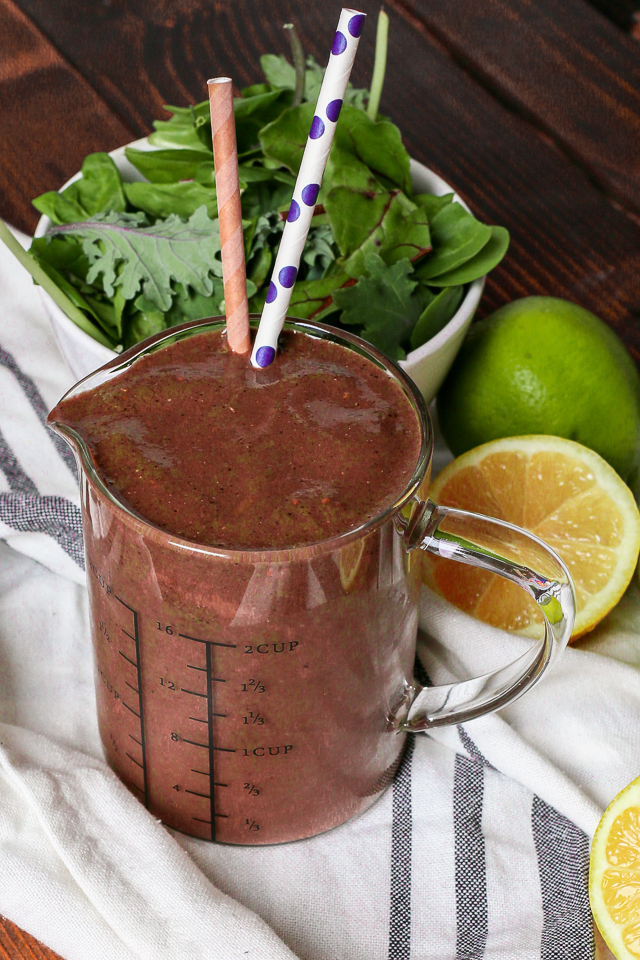 Paleo Sour Patch Berry Smoothie
AIP Paleo, Paleo, Gluten-Free, Grain-Free, Dairy-Free, Soy-Free, Nightshade-Free, Nut-Free, Egg-Free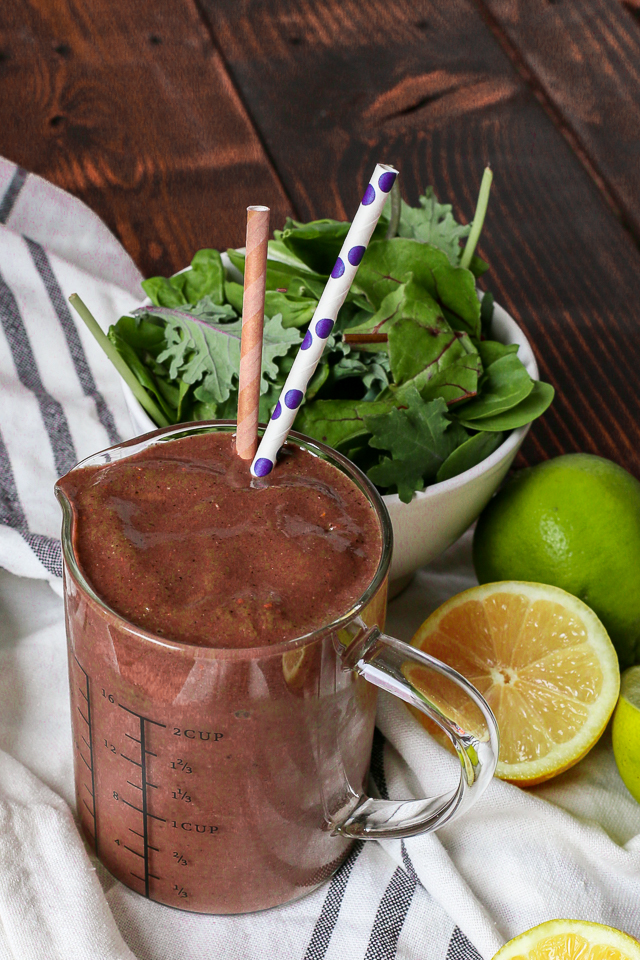 Ingredients
1 cup of filtered cold water
2 TB of organic virgin coconut oil, MCT oil, or coconut butter
the juice from one small organic lime or lemon
2 TB of collagen peptides
1 cup of frozen organic mixed berries
3 cups of organic mixed greens*
Instructions
Add all ingredients in the above order to a high-powered blender.
Blend on high speed for approximately 60 seconds, or until smooth.
Notes
*Spinach, kale, and Romaine lettuce all work great!
7.8.1.2
18
https://cleaneatingveggiegirl.com/2018/03/19/paleo-sour-patch-berry-smoothie/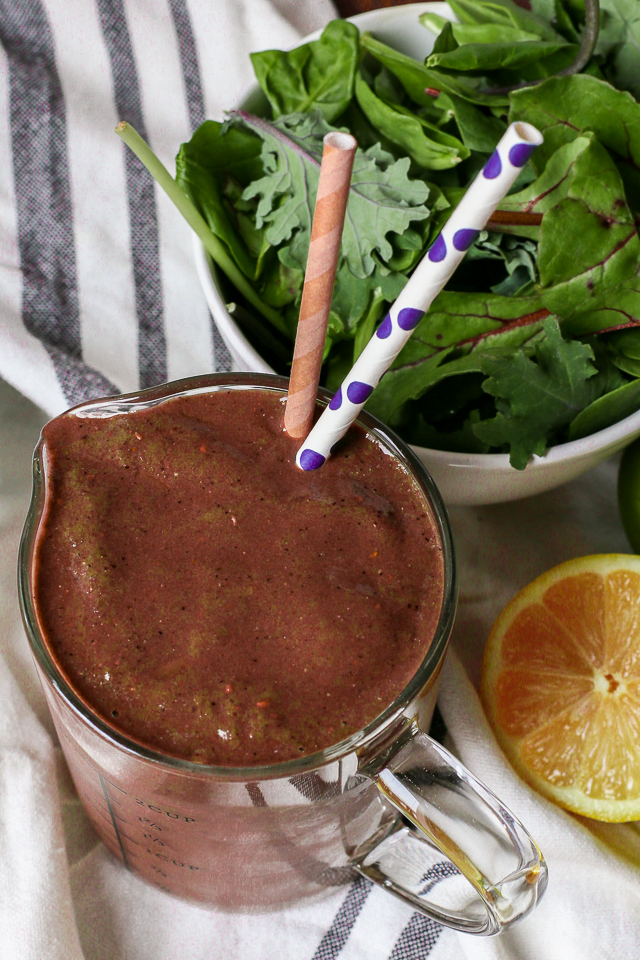 Paleo Sour Patch Berry Smoothie for breakfast! #Paleo #smoothie #SourPatchKids #glutenfree
Click To Tweet
If you could make a smoothie in candy form, which candy would you choose?