Sheet Pan Sausage and Cabbage with Sauerkraut that only dirties a cutting board, knife, and one sheet pan.  This is easy Paleo food at its finest!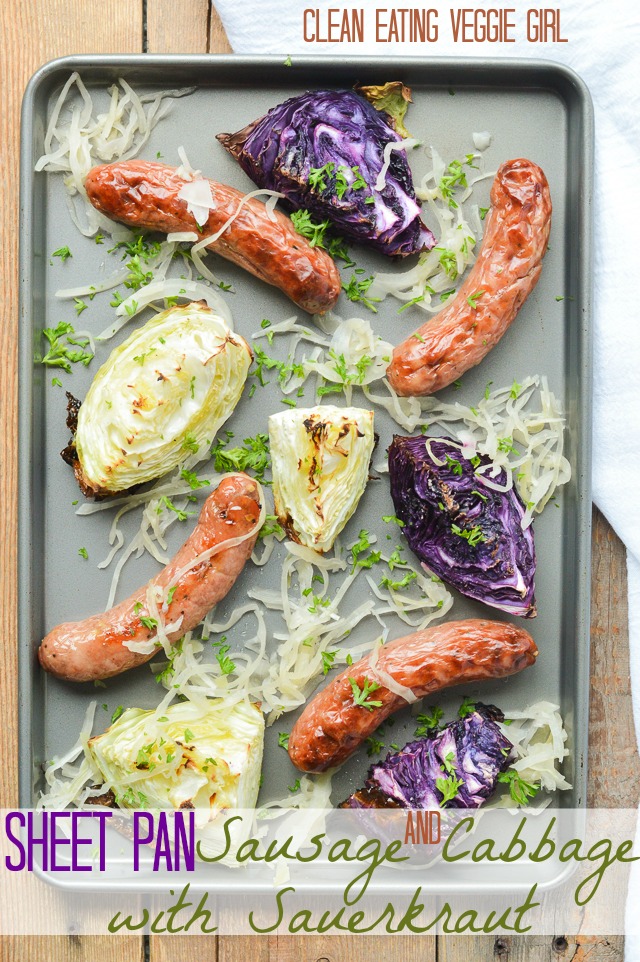 As much as I would love to say that eating healthy is "easy," it really does take a great deal of work.  I probably spend a good 30 minutes on meal planning each week, a couple of hours of meal prepping on the weekends, and another 45 minutes to an hour cooking dinner each night after a full day of work.  It takes thought, organization, planning, and time to truly make these meals happen.  It is not always easy, but it is nearly always worth it (except when a recipe flops).  Though Lord knows I would snap my fingers and have dinner on the table in 2.2 seconds if that was humanly possible.  Or hire a personal chef.  I'd be cool with that, too.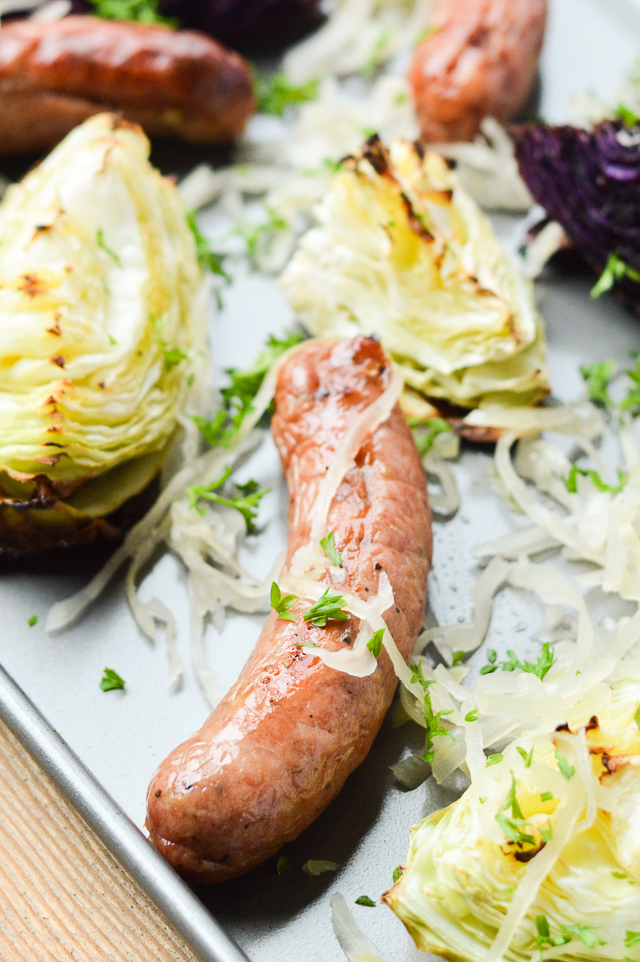 BUT, that is the "average" meal that I cook.  This little recipe here that I am sharing today?  Not so much.  Try minimal thought, three main ingredients, five minutes (max) of prep time, and 45 minutes of completely hands-off cooking.  Gosh, I just LOVE a good sheet pan meal.  And yes, that is ONE sheet pan.  AKA: very few dishes to be had.  Jeremy should be thrilled about that because he is normally my dishes guy.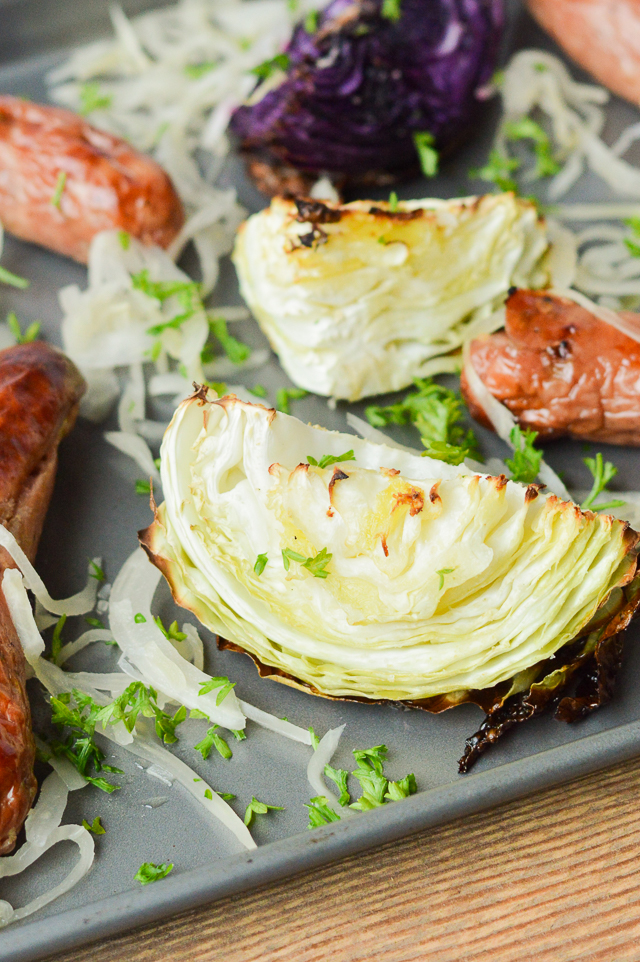 And yes, I 100% realize this meal looks like we should be in the month of March as opposed to the month of October.  But honestly, I really don't care.  I was craving some darn sausage, cabbage, and 'kraut, and I run the show here, so this St. Patty's Day-esque meal is coming at you now.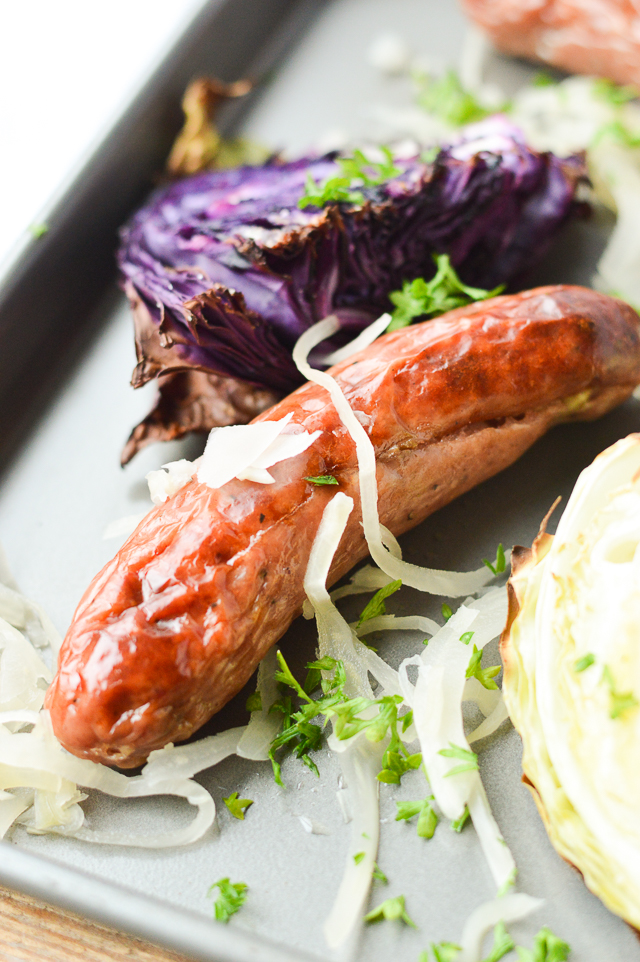 If you truly cannot handle that, Pin this baby for March.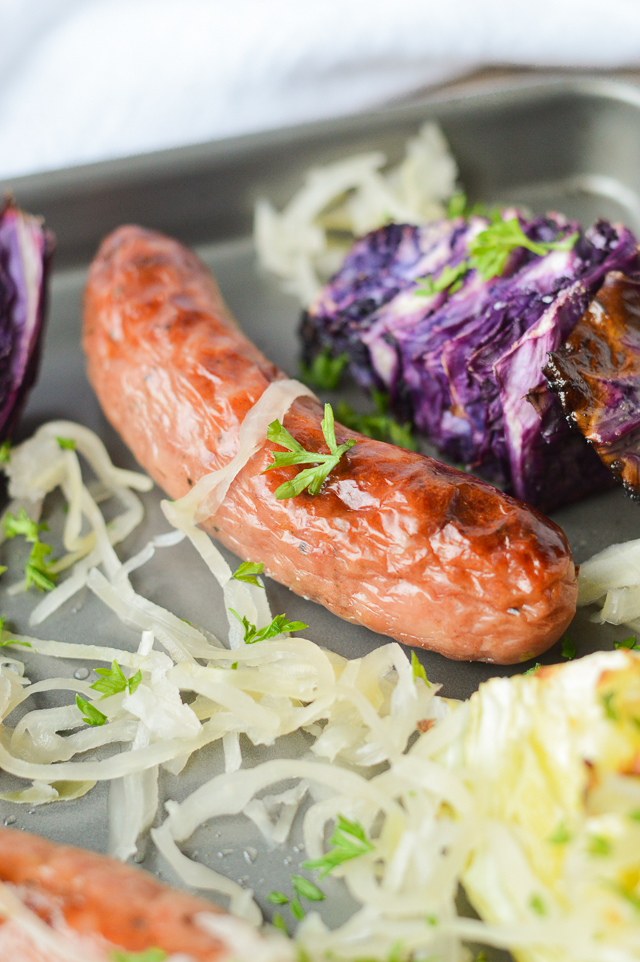 I have a feeling if you are anything like me, you will totally forget about the fact that this is a bit "off-season" when you realize how simple and easy it really is.  Sheet pan meals are pretty much the best thing ever.  Heck, maybe I should just make this for Thanksgiving, too.
I kid… kind of?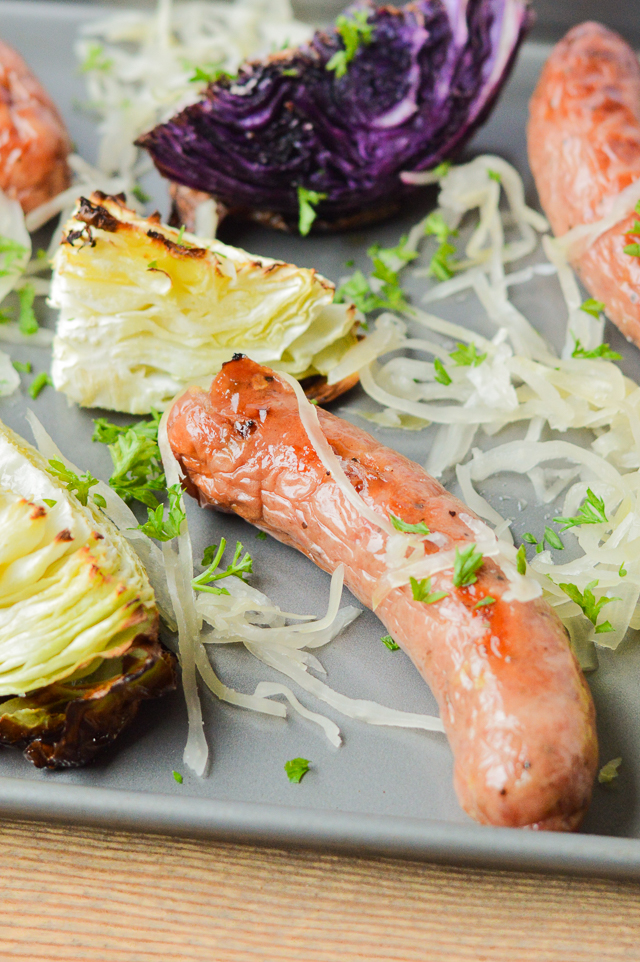 Sheet Pan Sausage and Cabbage with Sauerkraut
AIP Paleo, Gluten-Free, Grain-Free, Dairy-Free, Egg-Free, Soy-Free, Nut-Free, Nightshade-Free, Whole 30
Serves 4
Ingredients
1 medium head of green cabbage
1 medium head of red cabbage
1/2 cup of extra virgin olive oil
2 tsp of fine sea salt
2 tsp of onion powder
2 tsp of garlic powder
4 chicken sausages (I used these chicken and apple sausages because they are Whole 30-approved)
1/2 cup of sauerkraut
1/4 cup packed of curly parsley, chopped
Directions
1. Preheat oven to 400 degrees F.  Line two baking sheets with parchment paper or silicone baking mats.
2. Cut the stems off of the cabbage and quarter the cabbage.  Then cut each quarter in half to make approximately eight cabbage pieces from each head.  Set on the baking sheets, drizzle with olive oil, and season with salt, onion powder, and garlic powder.  Roast for 30 minutes.
3. Remove baking sheets from the oven, add sausages, bake for an additional 15 minutes.
4. Add sauerkraut to the baking sheets.  Cook for an additional three to five minutes, or until the sauerkraut is warm.  Sprinkle with parsley.
If you can tolerate eggs, a runny egg would be the perfect accompaniment to this dish!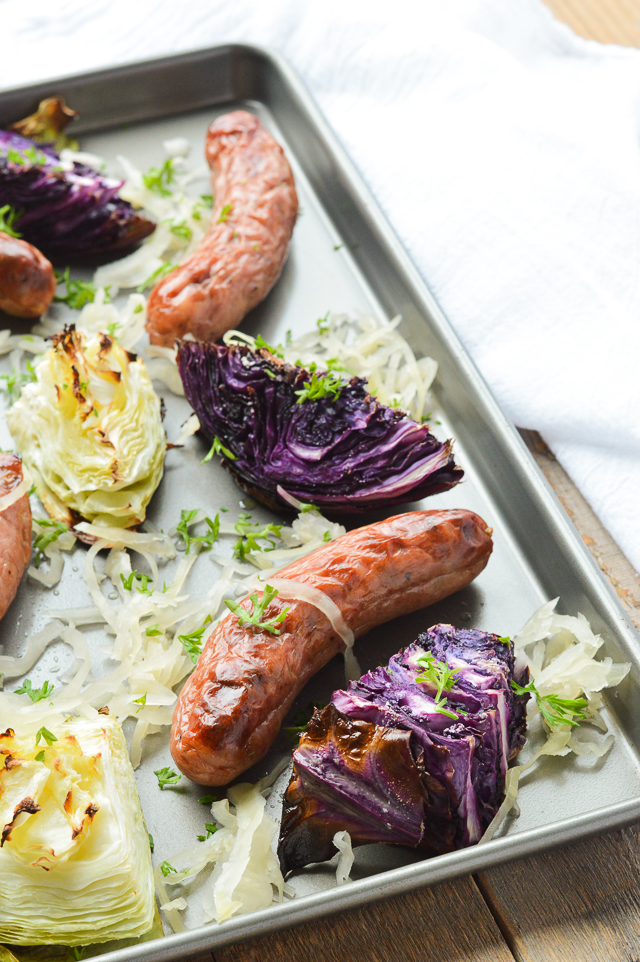 This might appear on our household meal plan for the next four weeks or more.  And since Jeremy is a sausage and sauerkraut kind of guy, I honestly don't see him complaining.
P.S. Cook any leftovers that you have into this and thank me later.
Sausage and Cabbage with Sauerkraut made with only ONE pan! #Paleo #glutenfree
Click To Tweet
This post contains affiliate links.  Thank you for supporting CEVG and enabling me to continue working towards better health!