Ring in the start of Fall with this Nightshade-Free Vegetable Beef Soup.  It's pure comfort on a cool night!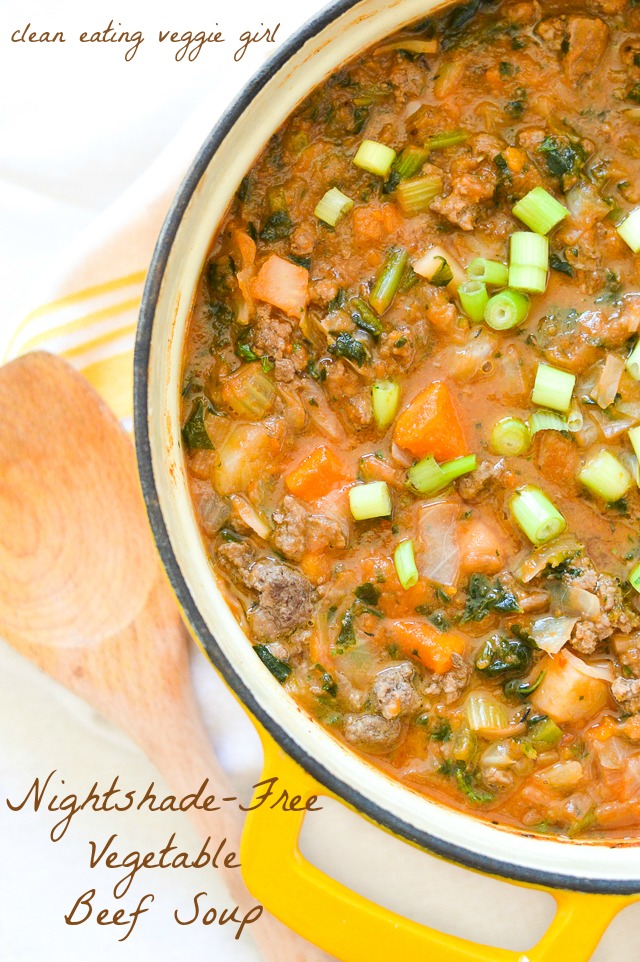 Hallelujah!  Soup season is here!
Granted, I totally eat soup in the middle of Summer, but to be socially acceptable, today is "officially" soup day.  It is the first day of Fall, after all.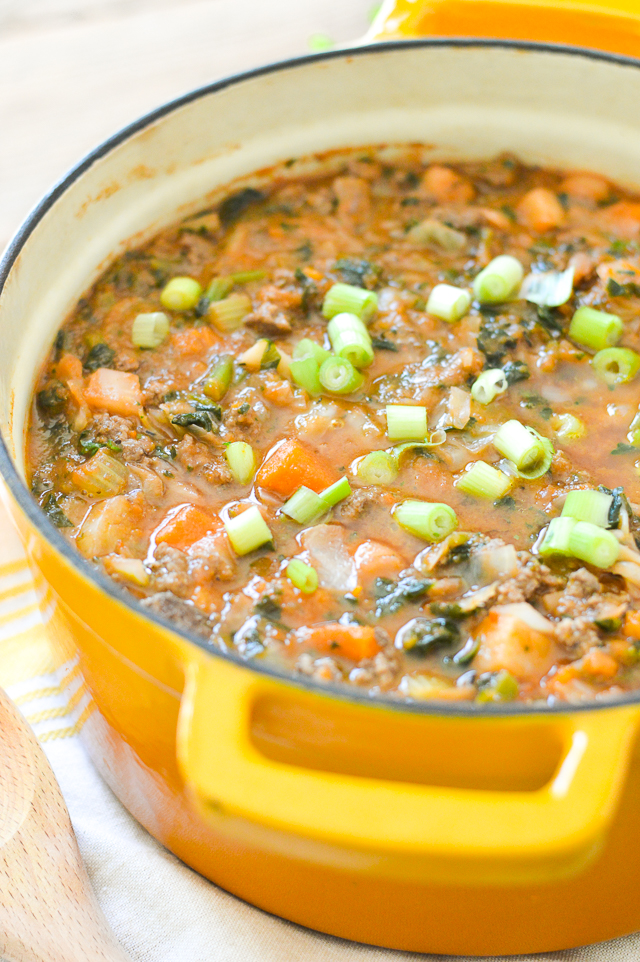 Growing up, my dad was the big cook in our household.  Maybe that is why I am all for equal duties between a man and a woman in the home.  If a woman can cook then a man can cook.  And if a man can mow the grass then a woman can, too <– just don't tell Jeremy this because I don't particularly want to mow the grass.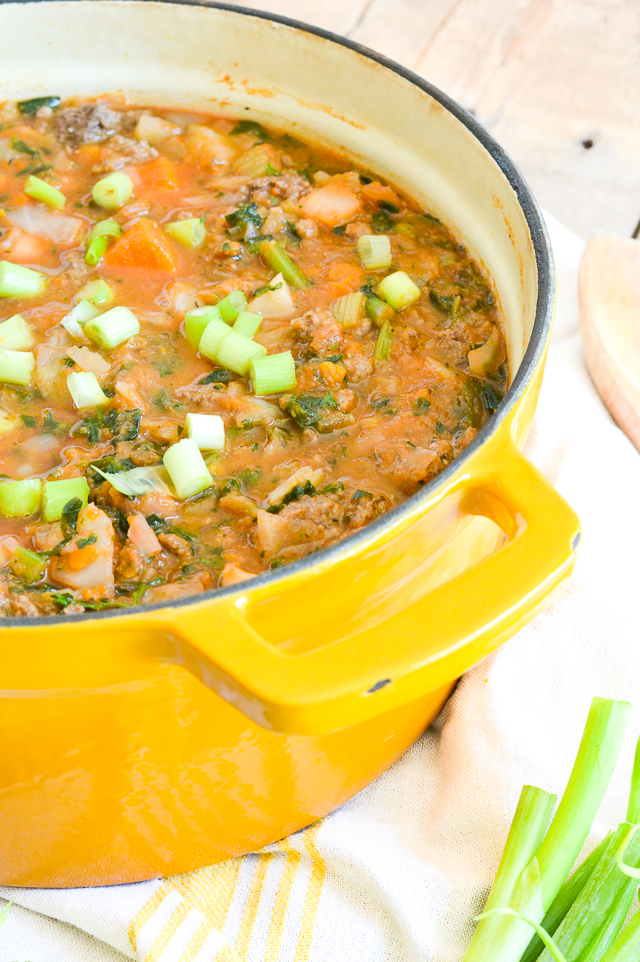 Back to the topic of my dad.  When I think of all of the different meals he ever cooked for us, for some reason three meals really come to mind: his meatloaf, chicken and vegetable foil packets on the grill, and vegetable beef soup.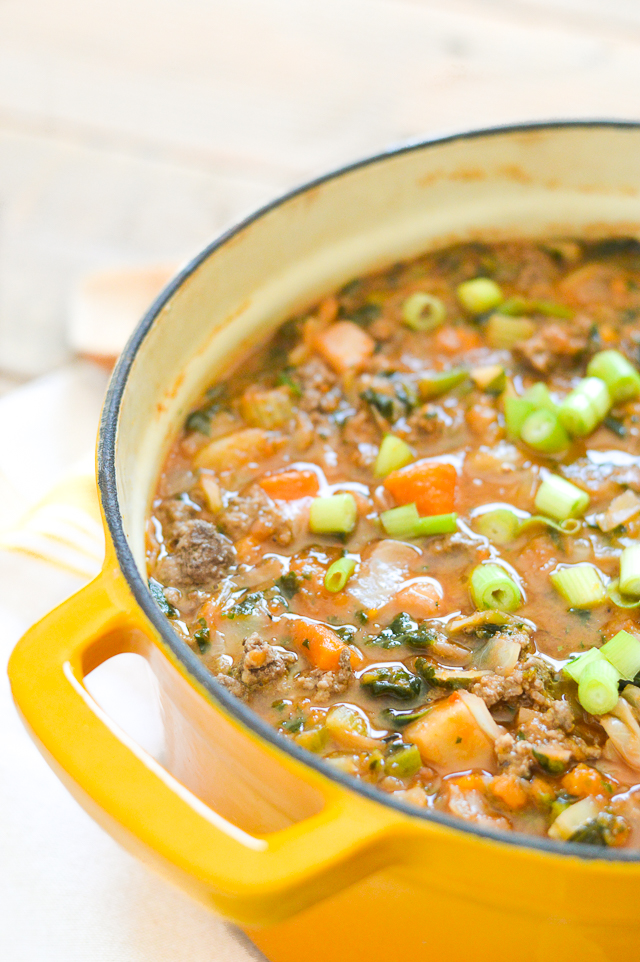 Since all of these recipes remind me of my dad and being at home, the idea of them generally brings me comfort.  And who doesn't love comfort food, especially when it is healthy?  With the Recipe Redux theme for September being to cook up a favorite dish that reminds you of one of your first cooking experiences, a recipe inspired by my dad seemed pretty fitting.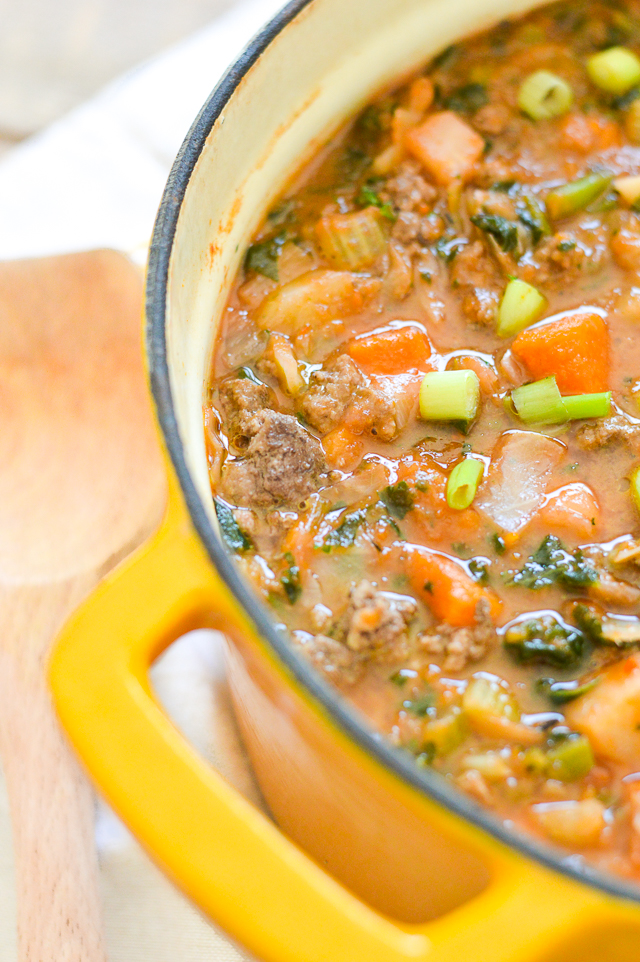 Since traditional vegetable beef soup calls for tomato juice, it is a heck of a lot easier to make since it simply involves opening a can.  Maybe I need to start canning my nightshade-free "nomato" sauce… ?  But until then, we'll have to make our own.  I personally like making my "nomato" sauce the night before so it is all ready to go when it's time for soup making.  A little preparation goes a long way.  But do whatever meets your fancy!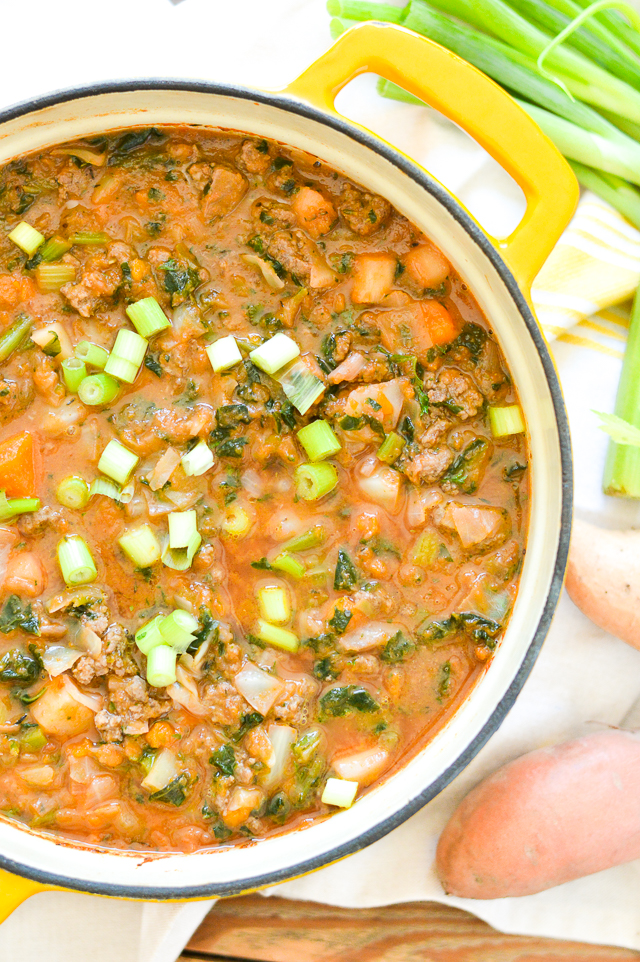 Nightshade-Free Vegetable Beef Soup
AIP Paleo, Gluten-Free, Grain-Free, Dairy-Free, Egg-Free, Soy-Free, Nightshade-Free, Whole 30
Serves 6 to 8
Ingredients
For the "nomato" sauce:
2 cups of frozen or fresh butternut squash, cubed
2 cups of raw carrots, chopped
1/2 of a medium red onion
2 TB of extra virgin olive oil
2 tsp of fine sea salt
5 small steamed beets (I used one package of these)
1 cup of broth (I used leftover mushroom broth from my fridge)
For the soup:
1 LB of organic, grassfed ground beef (can also use beef stew meat)
2 TB organic virgin coconut oil
1 large leek, chopped
1 small yellow onion, chopped
4 stalks of celery, chopped
1-inch piece of fresh ginger, grated
4 medium parsnips, peeled and chopped into half-inch pieces
2 large sweet potatoes, peeled and chopped into half-inch pieces
1 small head of green cabbage, chopped
6 cups of bone broth (I used turkey)
2 tsp of fine sea salt
2 tsp of onion powder
2 tsp of dried thyme
1 tsp of dried basil
10 oz of frozen kale
1/4 cup of fresh curly parsley, diced
chopped green onions, optional
Directions
1. Begin by making the "nomato" sauce.  Preheat the oven to 425 degrees F.  Line a baking sheet with a silicone baking sheet or parchment paper.  Toss butternut squash, carrots, onion, olive oil, and salt until well-coated.  Roast for approximately 30 minutes, flipping once halfway through, or until golden.
Combine the roasted vegetables, steamed beets, and broth in a food processor.  Process for approximately one to two minutes, stopping to scrape down the sides, or until creamy.  Set aside, or refrigerate overnight.
2. Brown beef in a large skillet over medium heat.  While the beef is cooking, wash, peel, and cut the veggies.  Refrigerate the cooked beef until you are ready to add it to the soup.
3. In a large stock pot or dutch oven, heat coconut oil over medium-high heat.  Once hot, lower to medium and add leek, onion, celery, and ginger.  Saute for three to five minutes, or until softened.
4. Stir in parsnips, sweet potatoes, and cabbage.  Saute for an additional three to five minutes.
5. Add broth and seasonings, raise the heat to medium-high, and bring to a boil.  Once boiling, lower the heat to medium-low, cover, and simmer for 45 minutes.  Be sure to stir the soup every 15 minutes.
6. Stir in frozen kale.  Continue cooking for an additional ten minutes, or until heated through.  Add "nomato" sauce, cooked beef, and fresh parsley.  Simmer until warm.  Top with green onions, if desired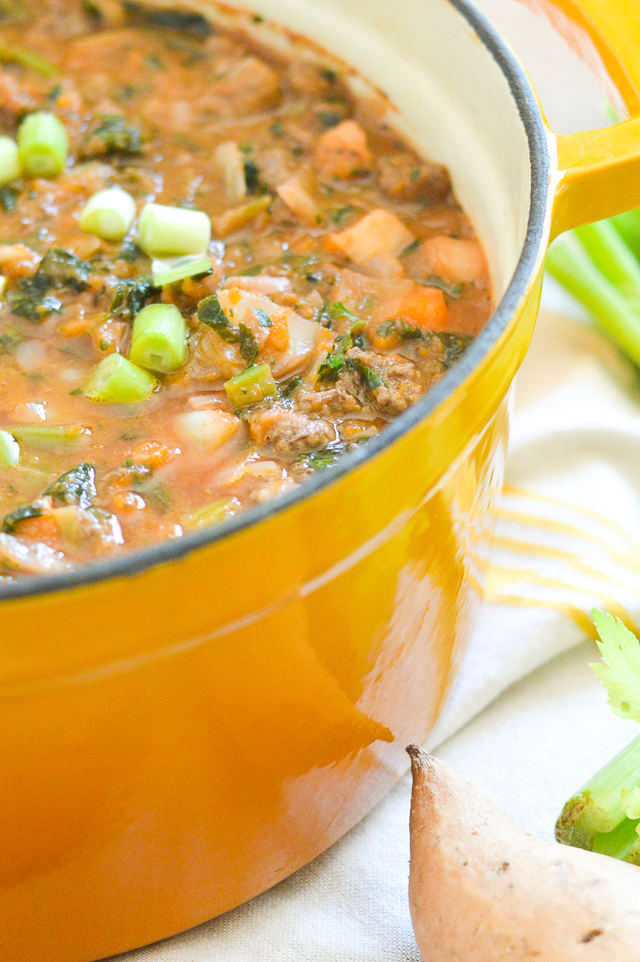 Nightshade-Free Vegetable Beef Soup for #Fall! #thereciperedux #glutenfree #Paleo Click To Tweet
This post contains affiliate links.  Thank you for supporting CEVG and enabling me to continue working towards better health!