A  little run-down of several allergy-friendly restaurants in Colorado, specifically in the Denver and Colorado Springs areas.
It's my third and final Colorado recap.  And while it is hard to believe that it all went down almost three weeks ago, it feels like I can still taste so much of the delicious food.
As I mentioned in my first recap post, I love writing these recaps because I hope they will help others who have food allergies or sensitivities and live in or are traveling to Colorado.  It honestly still amazes me how little information I found in my Google searches prior to our trip.  I am hoping to change that a bit.
This post is by no means exhaustive.  You will find several other Colorado recap posts on my blog since we love visiting, but this depicts my experiences with several "allergy-friendly" restaurants in the Denver and Colorado Springs areas from our most recent trip.  Some were better than others.  Luckily, some were downright fantastic.
Allergy-Friendly Restaurants in Colorado
Ophelia's Electric Soapbox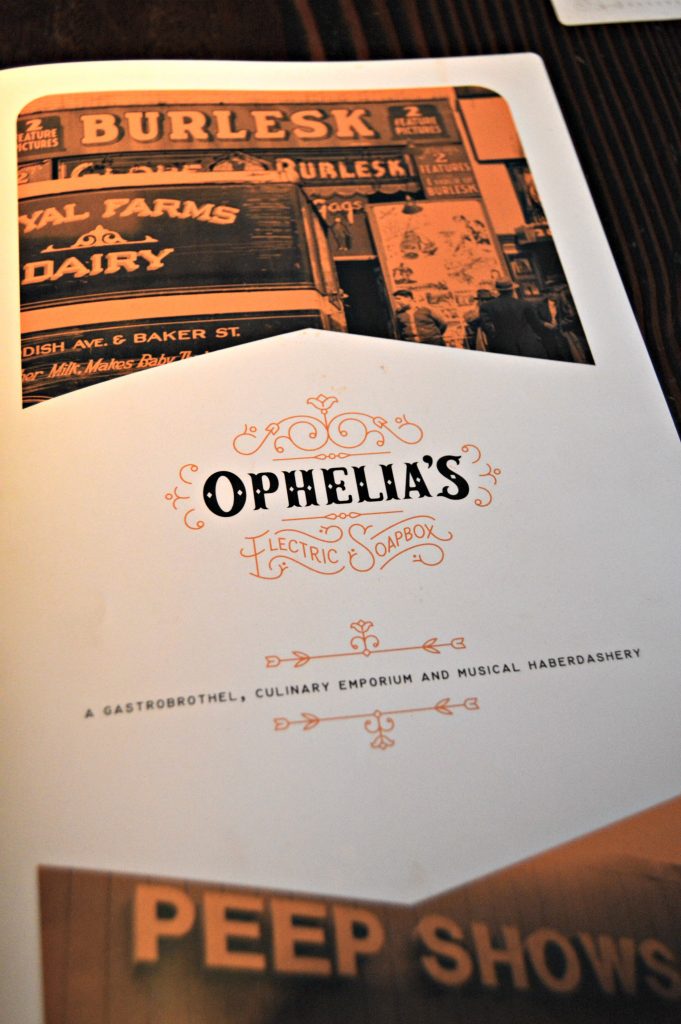 After a trip to Linger last year, we knew we had to visit their sister restaurant, Ophelia's, for our first dinner out in Denver.  We called ahead and determined there were several menu items I could eat with my dietary restrictions (gluten, dairy, eggs, spinach, avocados, almonds, bananas/plantains).  One reason Jeremy is my person is because he will always call restaurants for me to ask about my food restrictions.  What a man!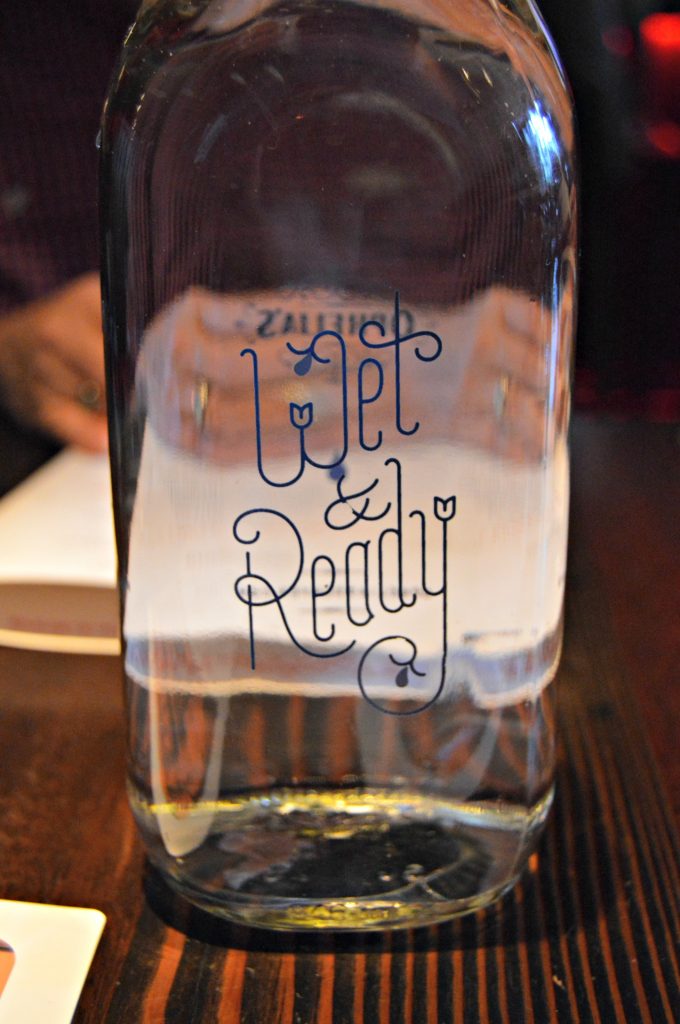 Ophelia's is housed in an old brothel, so the decor and atmosphere was definitely a bit risqué.  I personally thought the water jug was quite creative.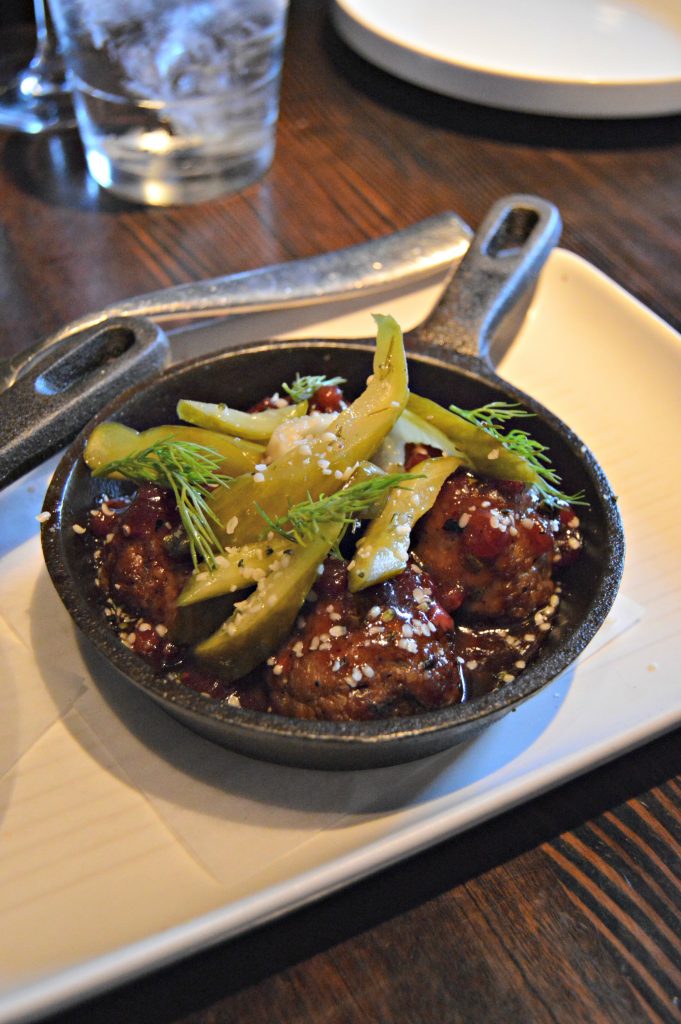 I have to take a moment to completely brag up our waitress.  She was friendly, attentive, and went above and beyond to ensure my dietary needs were met.  She was in good communication with the chef, which made selecting my meal quite easy.  We started off by sharing the Scandinavian duck meatballs.  They served the accompanying parsnip grits on the side since they contained dairy.  I definitely wished I was able to eat more than one because they were delicious.  But I had plenty more food coming…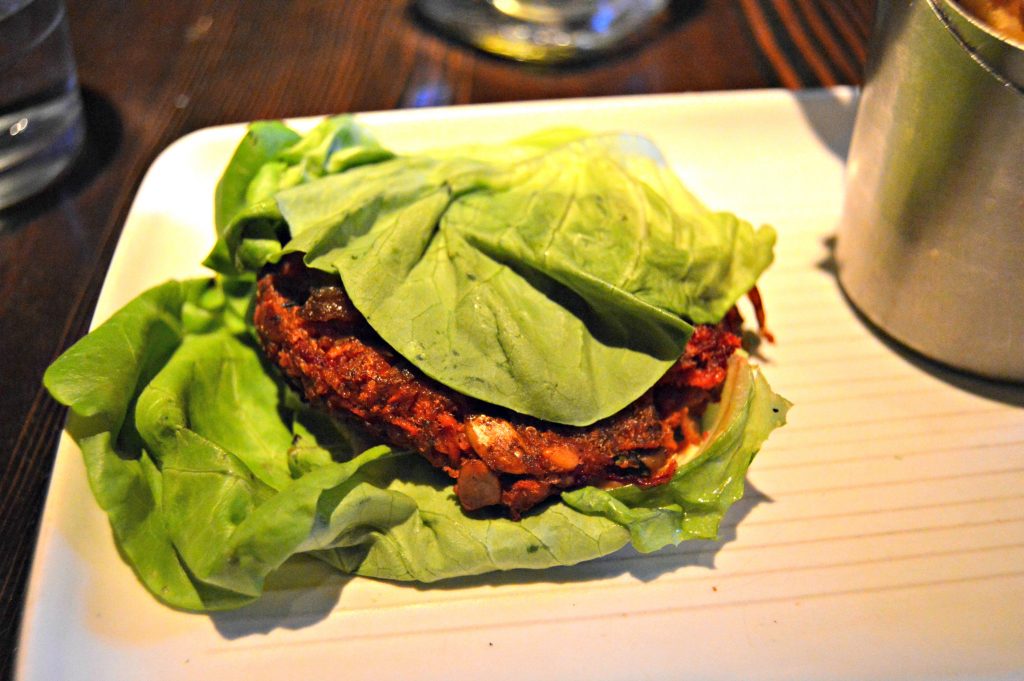 My main entrée was the beet and super seed veggie burger with some modifications.  I ordered it without the bun, cheese, slaw, and green goddess dressing (so basically most of what came on it), and had it served on a lettuce bun with hummus added.  This was so, so good.  I did not even miss the other toppings or bun.
And of course it came served with french fries and the most delicious Vindaloo ketchup.  It was a bit sweet, which I loved.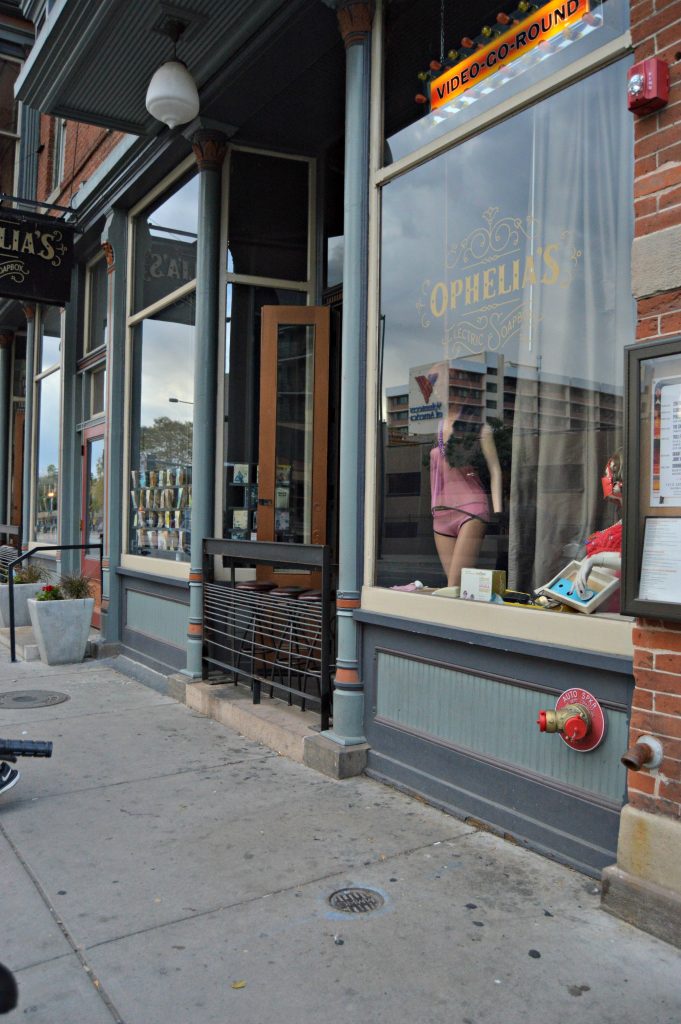 If you are in the Denver area, you most definitely need to eat at Ophelia's- whether you have special dietary needs or not.  Every one of us loved our meal, the atmosphere, and the service.
Coors Field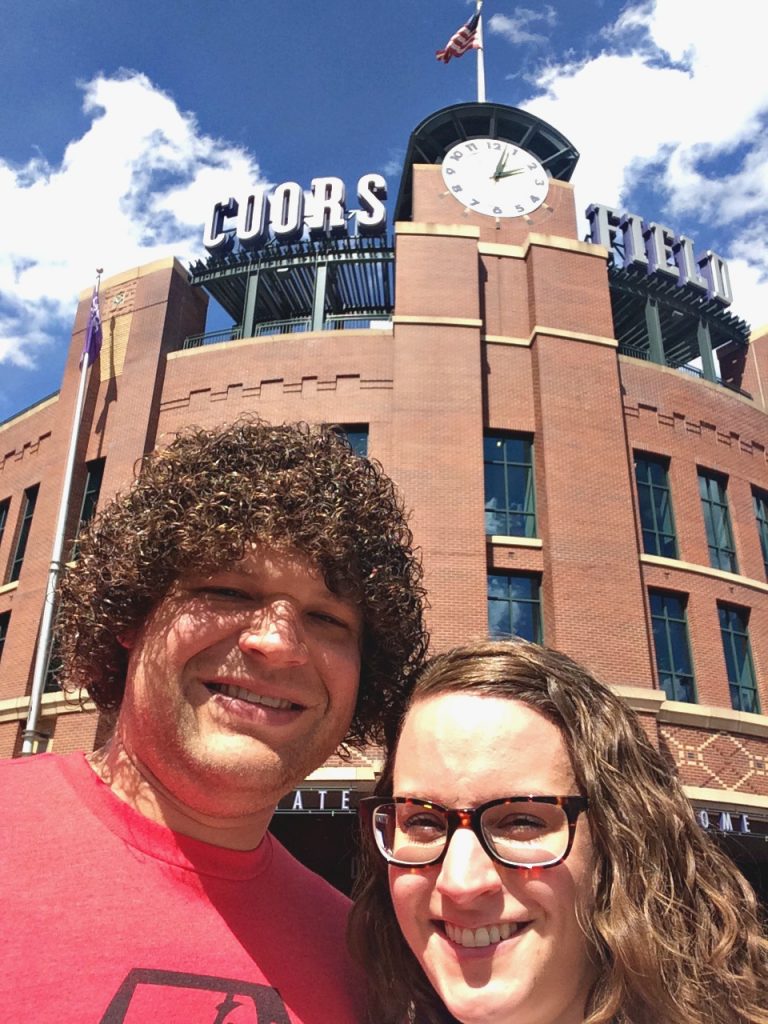 Of course it's not a trip to Denver without attending a Colorado Rockies game at Coors Field.  Coors Field has a designated gluten-free stand on the left field concourse.  Some of the food available included hot dogs, hamburgers, chicken sandwiches, chips, beer, etc.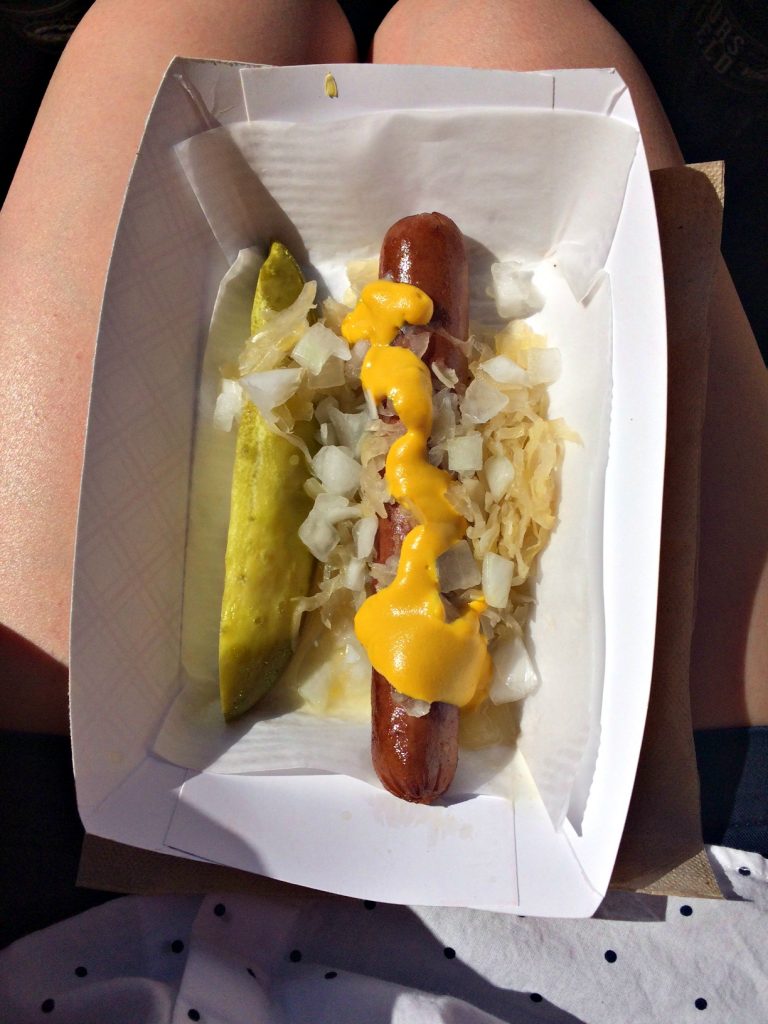 Since I was in the ballpark mood, I ordered a hot dog without the bun.  The gluten-free stand is special because they have sauerkraut and pickles slices, which you won't find at other stands.  Jeremy was a bit jealous of this.  I also added on some onions and mustard.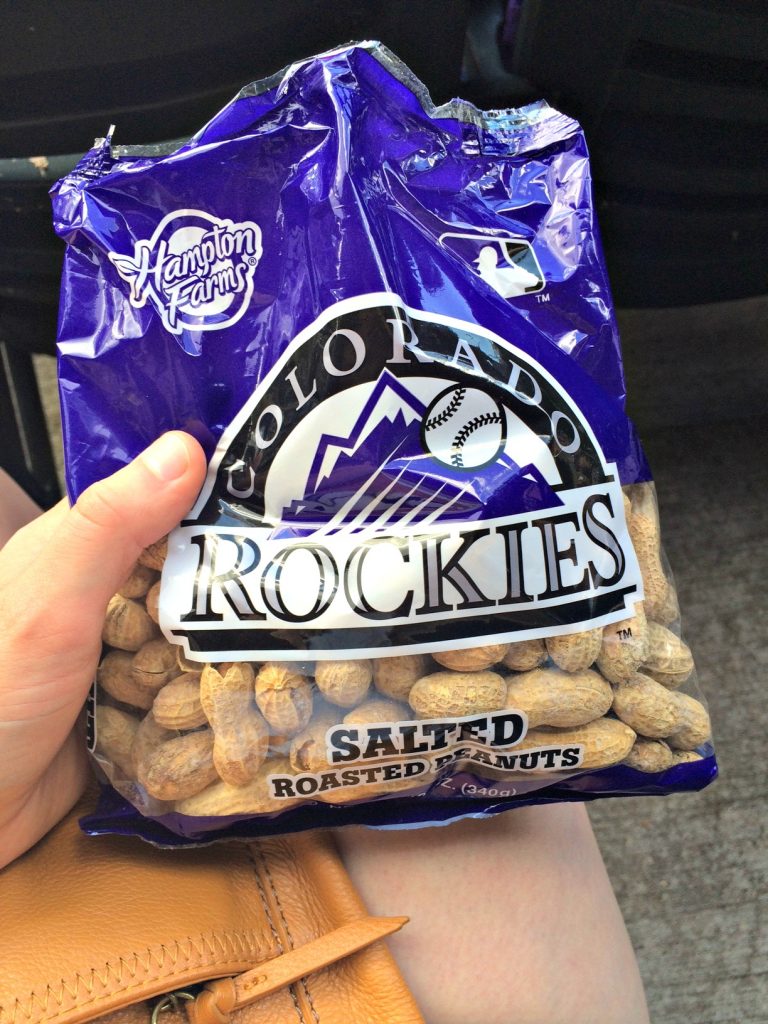 And because I was avoiding almonds but not peanuts at this time, I chose those for a snack.  The bag specifically stated these were gluten-free, and I'm pretty sure I ate my weight in them.
Work and Class
Oh, Work and Class.  How we love thee!
Jeremy and I visited Work and Class during our trip to Colorado last Summer, as well.  My diet was a bit less restrictive then, but the menu changed up a bit within the last year and we actually loved our food even more!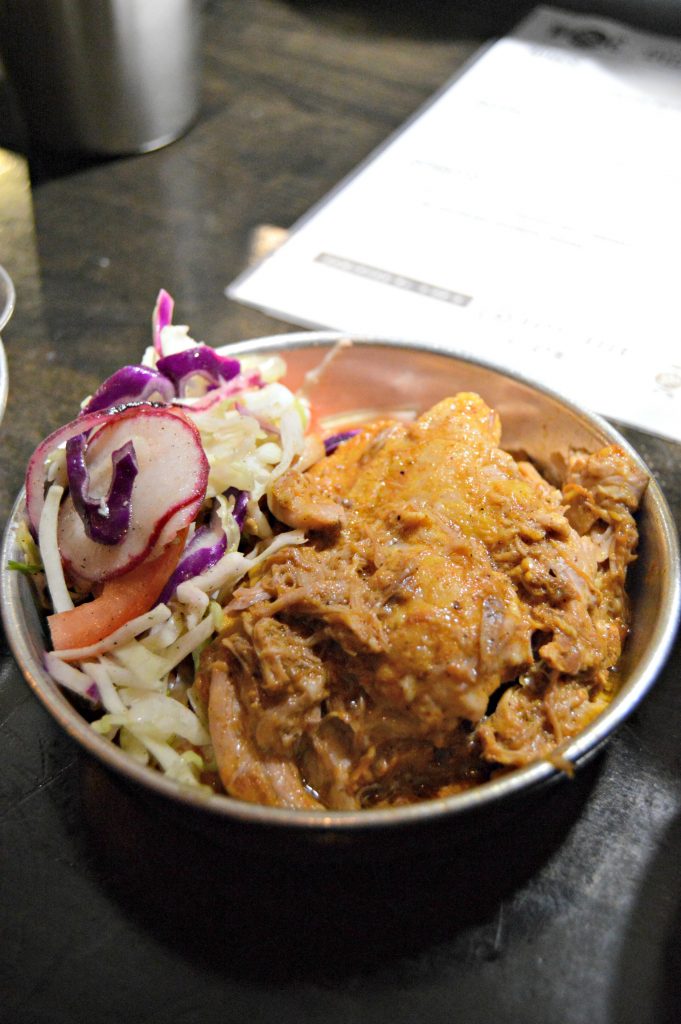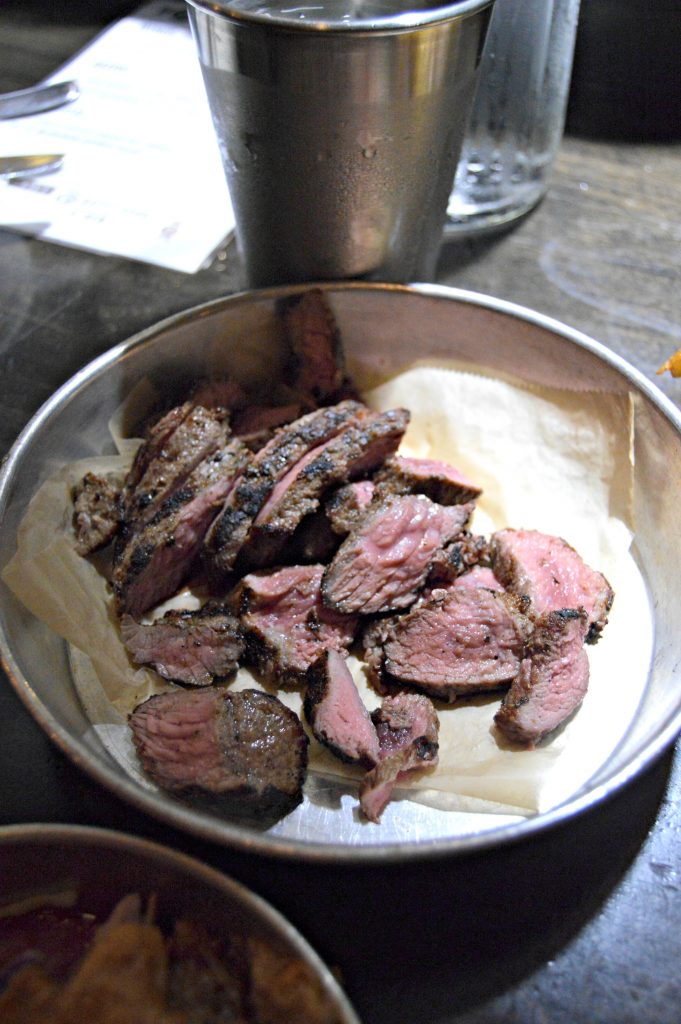 I contacted them on their Facebook page a couple of weeks before our visit to inquire about gluten-free, dairy-free, and almond-free options… and they had several!  We shared everything that we ordered, including cochinita pibil (red chile-braised pork in the top photo), roasted goat, and coriander roasted Colorado lamb.  While all three meats were delicious, the goat was my favorite, while Jeremy picked the lamb as his #1 choice.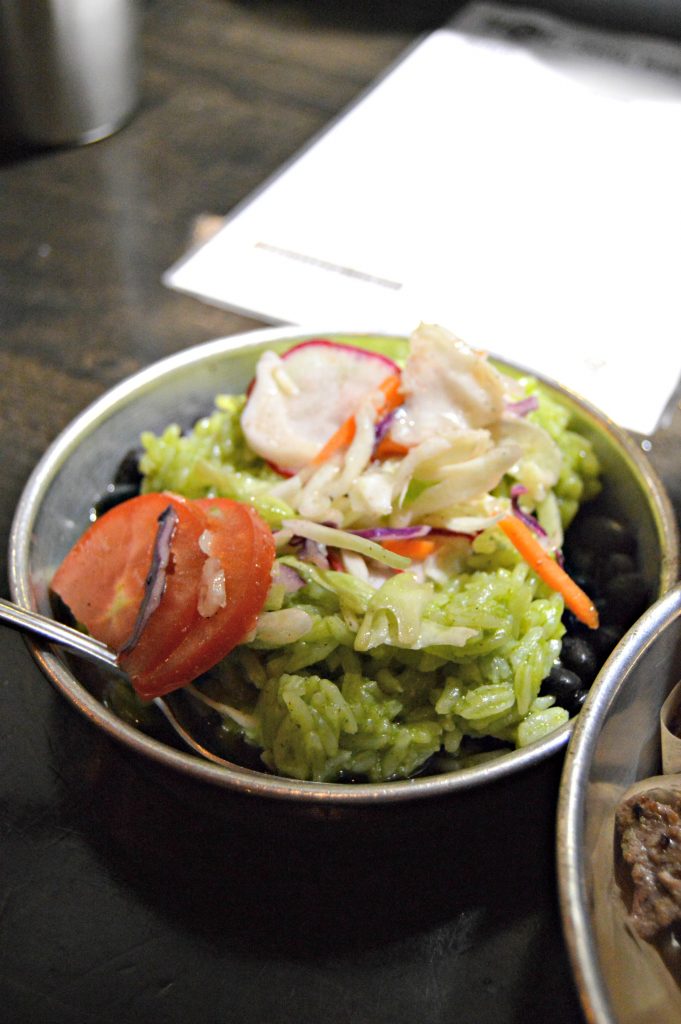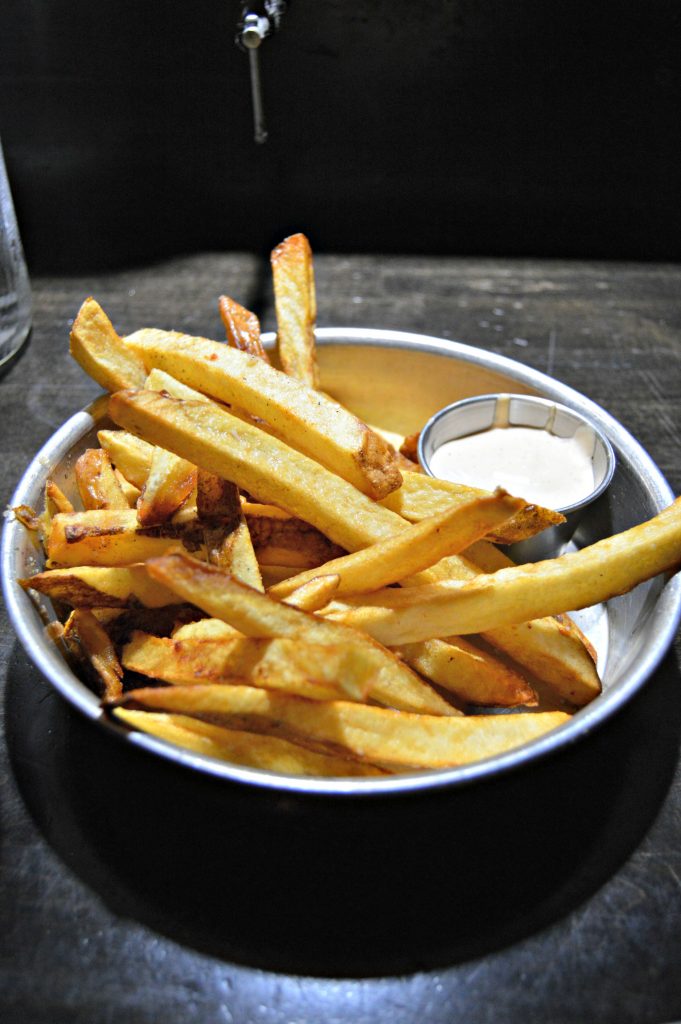 We also shared several sides, including the cilantro rice and beans (out of this world) and the hand-cut french fries.
Work and Class is a bit pricey, but the experience and food is completely worth it.  We recommend sitting at the chef's table (bar), if possible, because they always give you a little extra treat and it makes you feel like you are really in on the action.  FYI if you are only gluten-free, there are several dessert options for you.  But unfortunately dessert was a no-go for us with my long list of "avoids."
Garbanzo – Mediterranean Fresh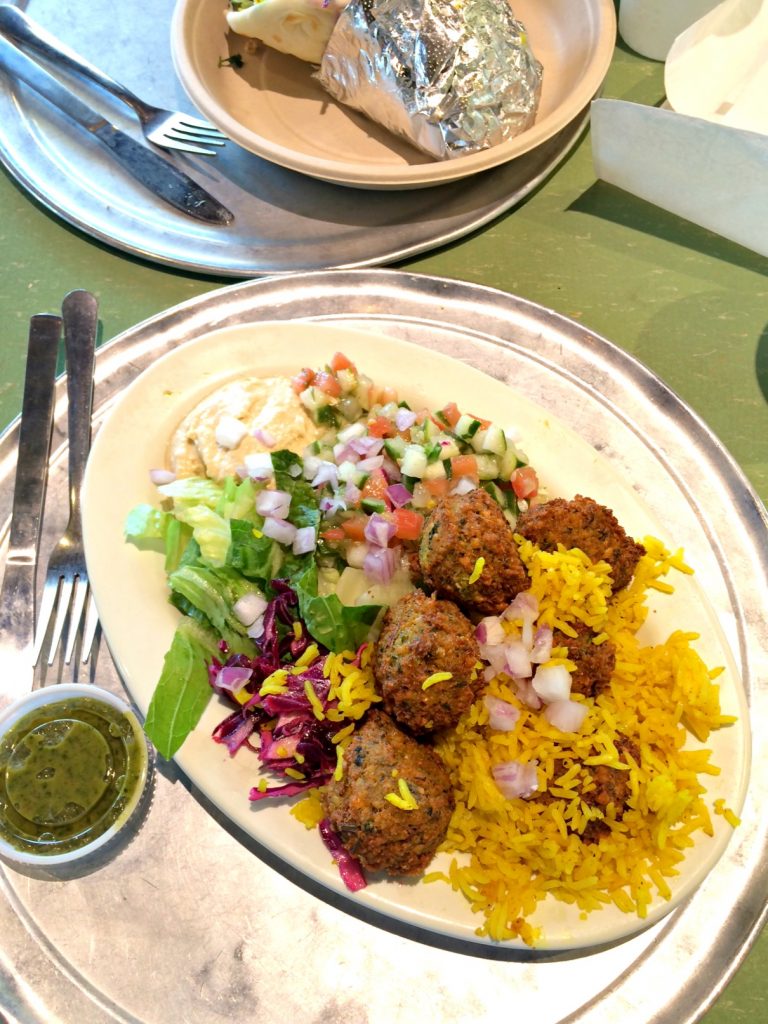 Garbanzo was a completely last-minute choice on our final day in Denver, but boy we were glad we ate there.  We compared it to a Chipotle-style restaurant (healthier fast food), but with Mediterranean cuisine.
I ordered the falafel (which I was told is gluten-free, dairy-free, egg-free, and nut-free) plate with hummus, tomato cucumber salad, Romaine lettuce, red cabbage, red onion, and seasoned rice + the cilantro sauce on the side.  The portions were large (AKA we were very full afterwards), and everything was so good.  Now if only they would come to Iowa!
Some other allergy-friendly restaurants in Denver that you may want to check out include: Root Down, True Food Kitchen, Modern Market, Larkburger, Snooze, Bacon Social House, and a million other options.  Remember: Yelp and Facebook messenger are your friends when you are researching for a trip.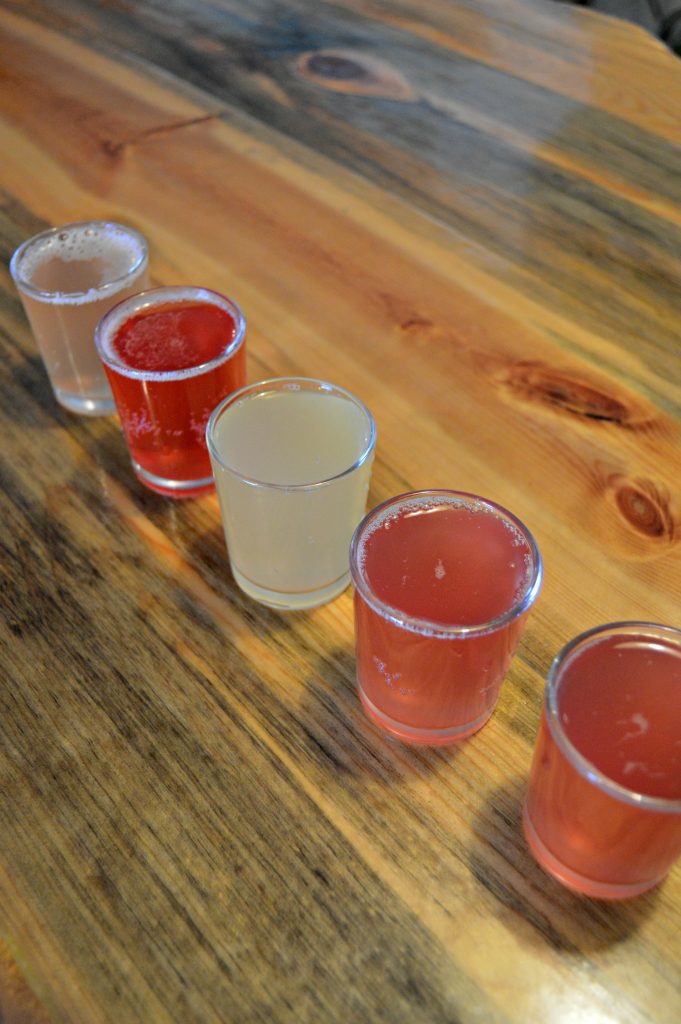 And if you're looking for a kombucha taproom in Denver that also serves allergy-friendly foods, Happy Leaf Kombucha is your place.
Moving on to Colorado Springs… Jeremy and I only spent about 24 hours in the city, but we had a great time and are already looking forward to going back.
Coquette's Bistro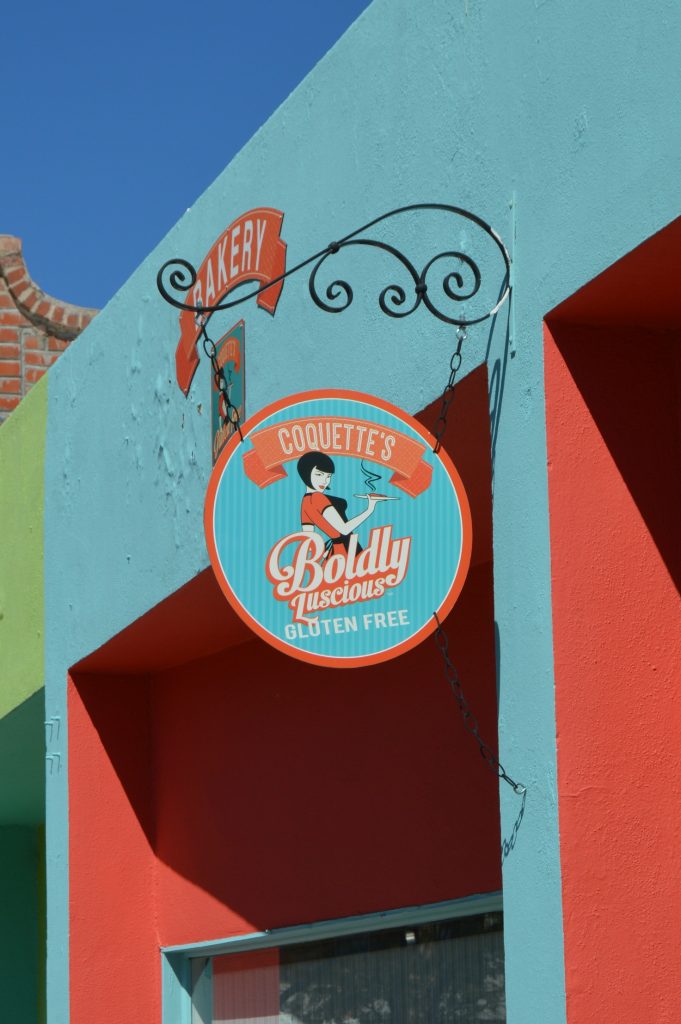 Our first stop upon arriving in town was to Coquette's Bistro, which is a 100% gluten-free restaurant.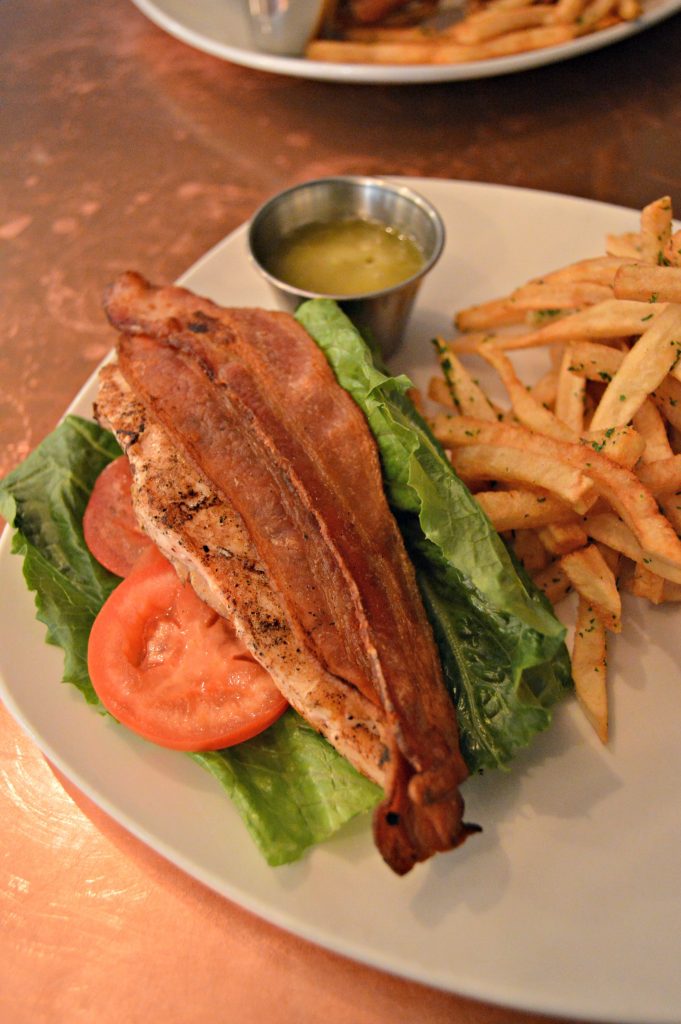 After several questions about the menu, I ordered the grilled chicken sandwich without the bun and cheese.  I also subbed in their vegan aioli in place of the basil aioli + added bacon.  I ordered the truffle fries as my side and asked them to hold off on the Parmesan cheese.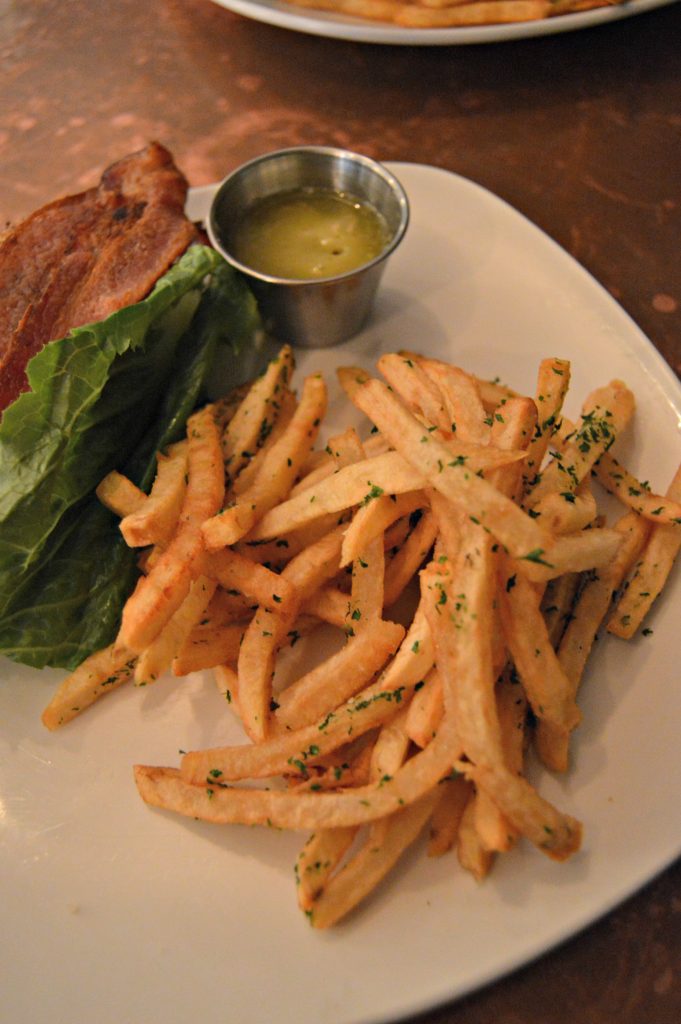 My only complaint about Coquette's is that so many of their dishes contain dairy.  While I was certainly able to modify things to create a delicious meal, it would have been nice to have more menu items that were naturally dairy-free.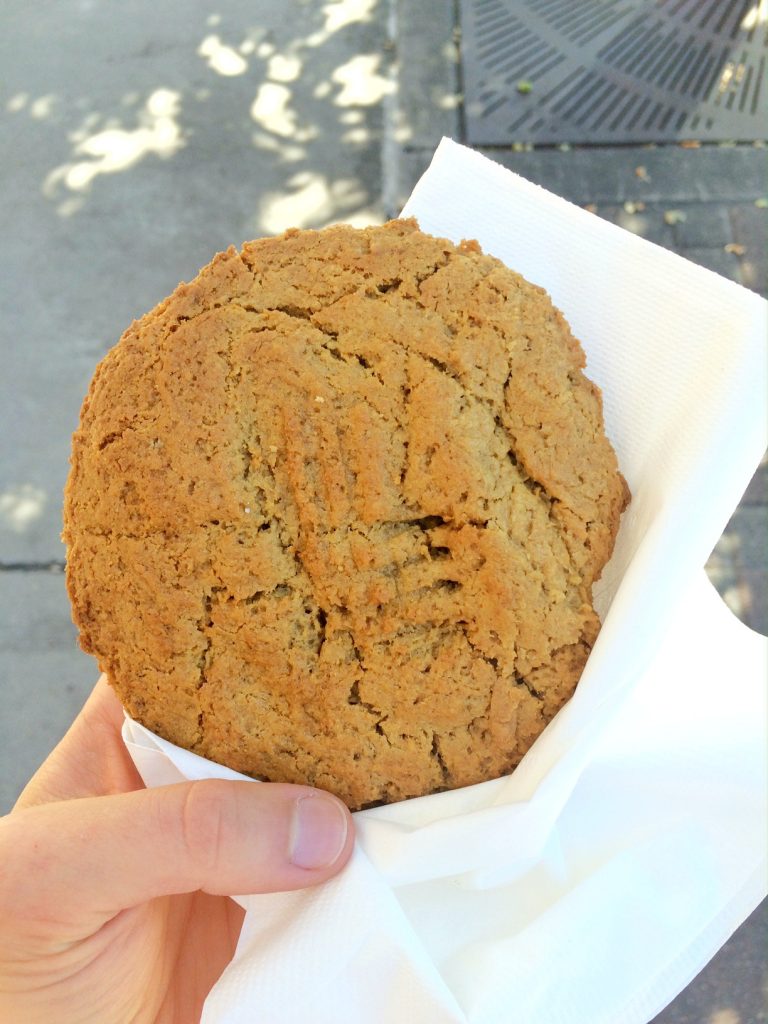 The absolute best part about Coquette's Bistro is their bakery.  All of their desserts are gluten-free, and they also had several that were both vegan and almond-free.  I was amazed and in heaven.  While I was so darn close to ordering a coconut chocolate cupcake, I ended up choosing their peanut butter cookie.  It was such a good choice.  It was honestly so amazing to be able to eat dessert and not worry about gluten, dairy, or almonds- which is SO hard to do at most bakeries (even allergy-friendly ones).  They need to start shipping their baked goods across the country.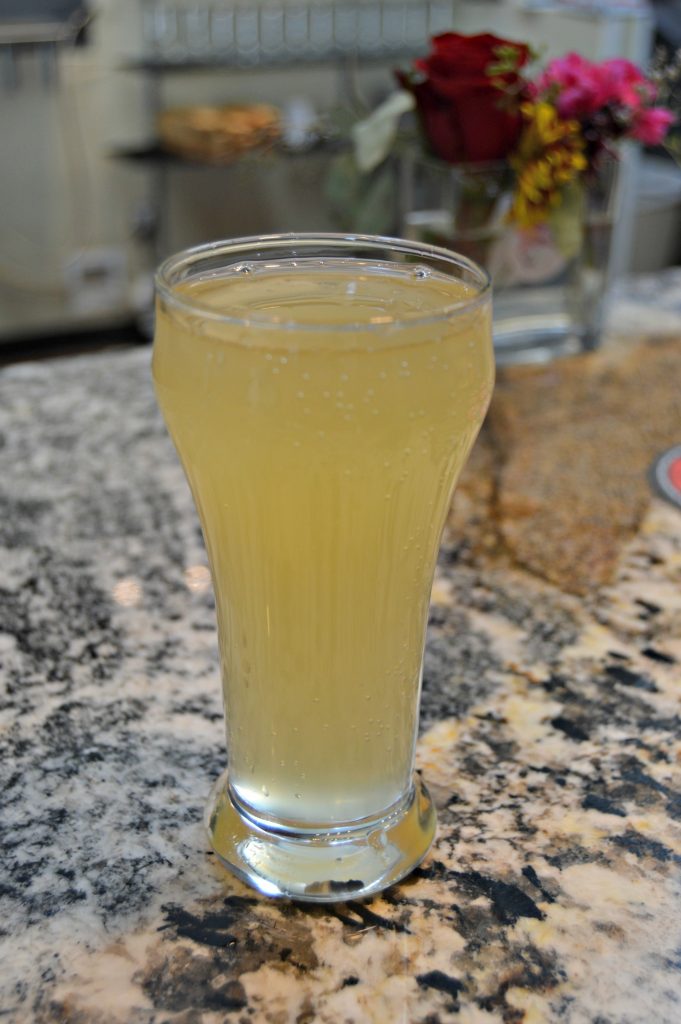 In between our lunch and dinner choices, Jeremy and I made a couple stops to Triple S Brewing Co. and the Garden of the Gods.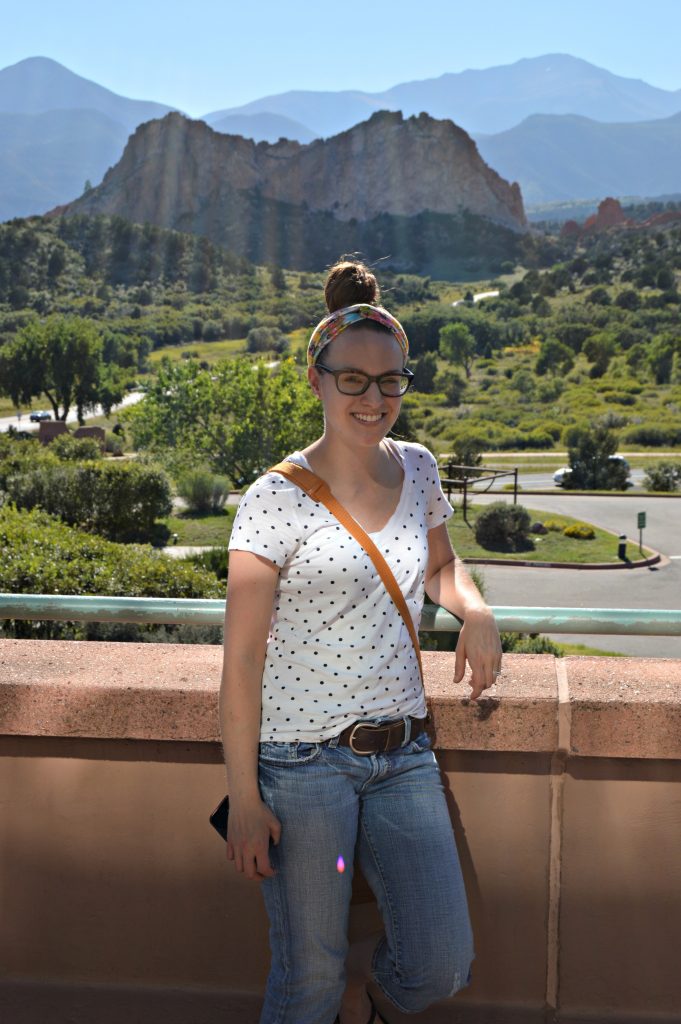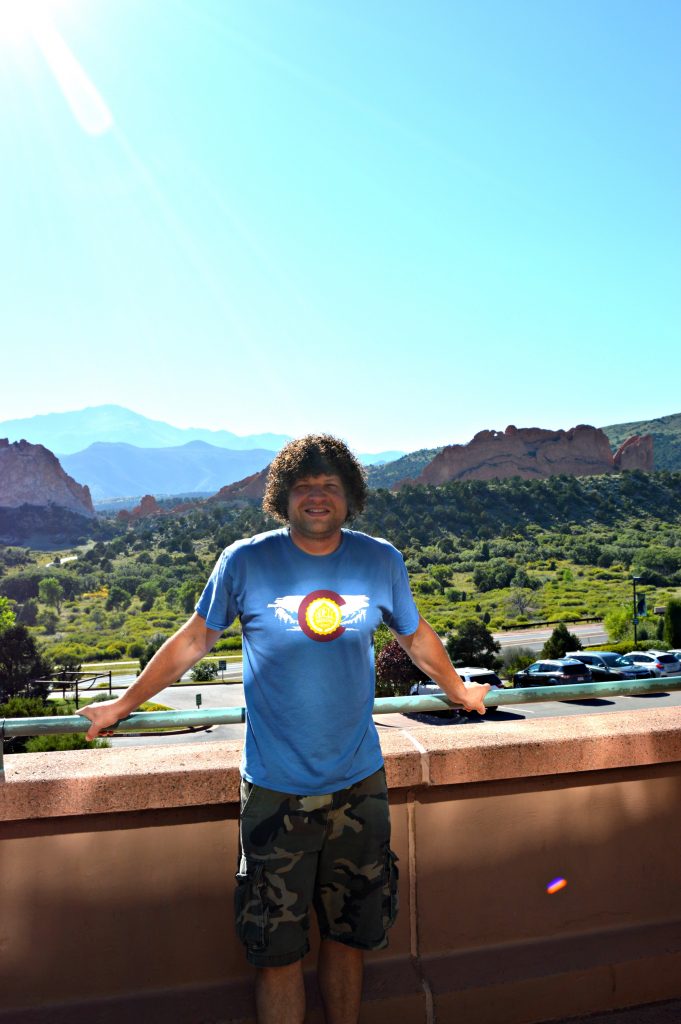 Sometimes I am just so amazed with the beauty that nature can create.
After a quick check-in at our airbnb for the night, we did a whole lot of searching for restaurants that might meet my food accommodation needs.  Colorado Springs seems to have quite a few gluten-free-friendly or vegan-friendly restaurants, but finding ones that were gluten-free, dairy-free, and almond-free was somewhat challenging.  So we went to my motto of: when all else fails, search for a barbecue restaurant.
Front Range Barbeque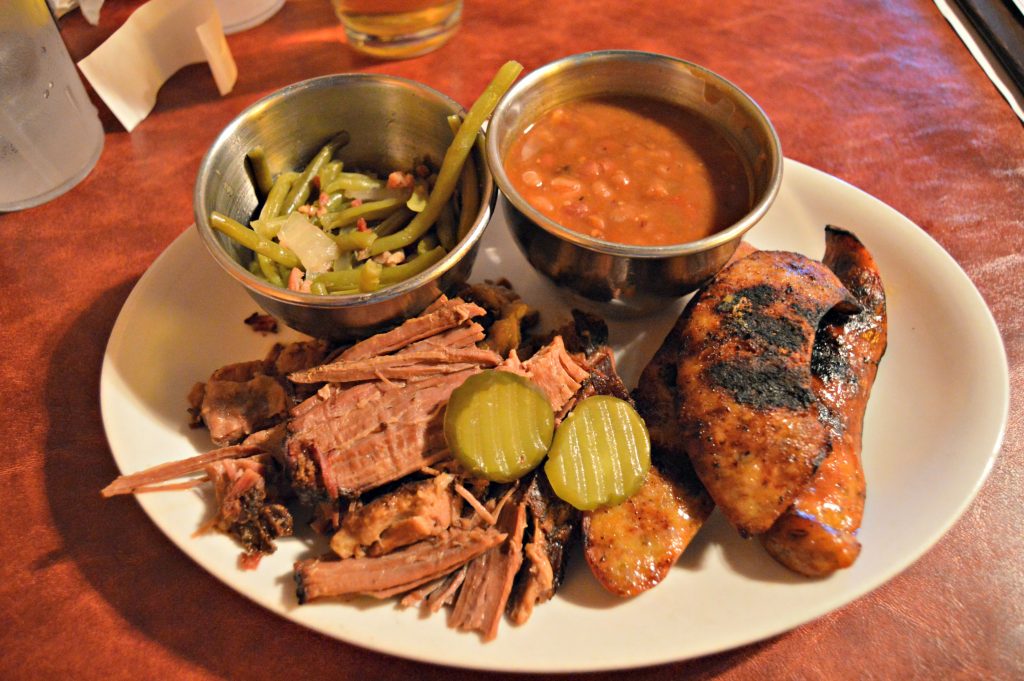 After a quick call, we decided on Front Range Barbeque, which is located in Old Colorado City.  It was super cute on the outside, and extremely eclectic on the inside.  And the food?  To die for.  We were told that all of the meats and sauces were gluten-free and dairy-free.  There were also several sides for me to choose from.
I ordered the two timer combo and choose brisket and smoked sausage for my meats.  I selected the baked beans and green beans for my sides, and gave my cheddar cornbread muffins to Jeremy.  Hands down, this meal was in both of our top three best restaurants from the entire trip, and we agreed that they served the best baked beans we had ever eaten.  I want to eat this meal all over again.
P.S. For those who aren't gluten-free, Jeremy says they have a great craft beer list and to order The Sloppy Pig (which was featured on Diners, Drive-Ins, and Dives).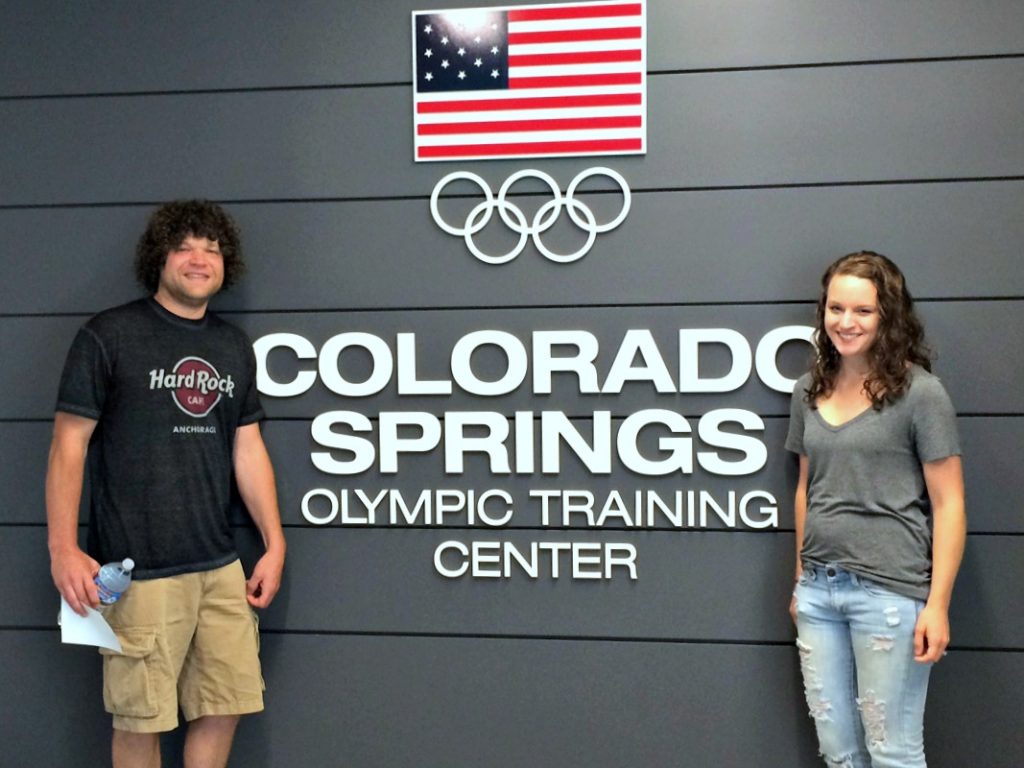 While this is not food-related, we both highly recommend visiting the Olympic Training Center while you are in town.  It was well worth the $24 total that we spent, especially when we happened to see both Shawn Johnson and Nastia Liukin in the gym.  Boy, did we pick the right day to go!
The Best Allergy-Friendly Restaurants in #Colorado #Paleo #glutenfree
Click To Tweet