Chicken Bacon Ranch Meatballs are delightful on their own as an appetizer or paired with your favorite side for a meal!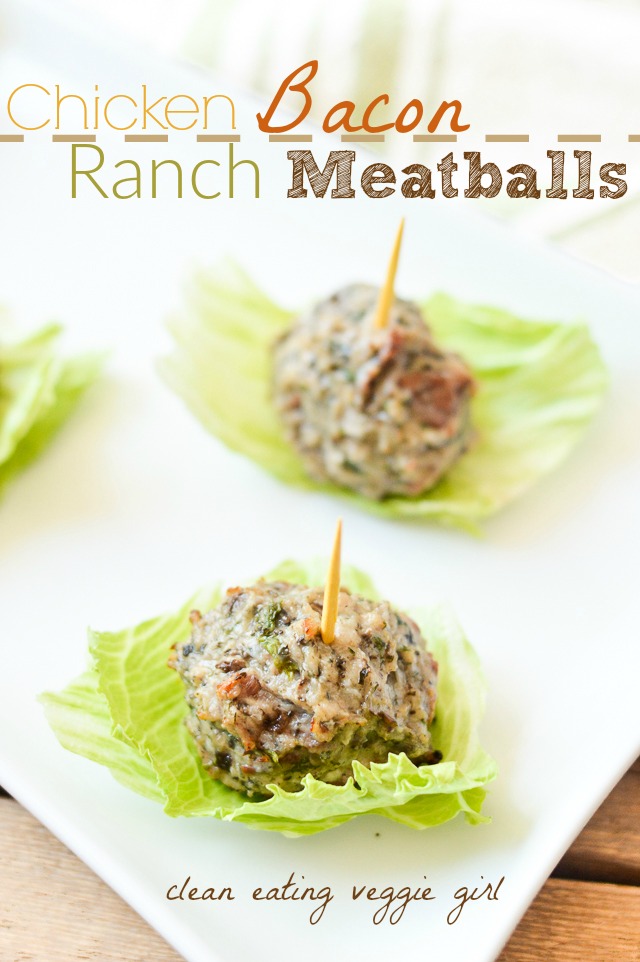 Does anyone else feel like lately ninety percent of their non-working time has been spent in front of the TV watching the Olympics?  I have been sucked in big-time.  I originally thought it was because gymnastics and swimming are my two favorite Summer events, and they were largely televised during the first week of the games.  But I really just think an obsession is an obsession.  Why else would I have spent hours yesterday watching the marathon, basketball, and golf- all events that I really thought I could care less about?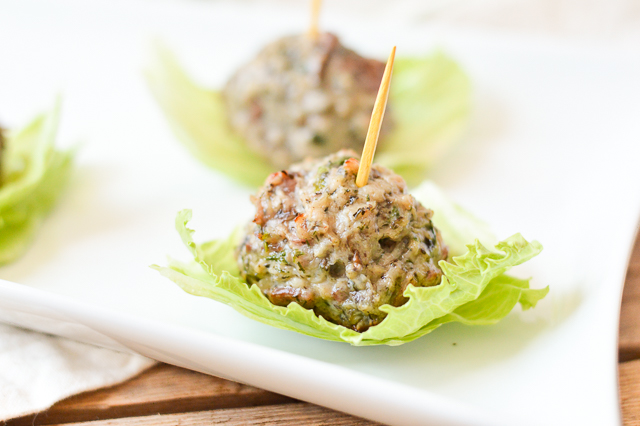 Jeremy has definitely been on board with the swimming, but most everything else he has major mixed feelings about.  Mostly because more Olympics watching equates to less Netflix watching.  I never knew a grown man could be so sad about only getting to watch one episode of One Tree Hill per night instead of three.  To clarify, this is totally not a dis.  He obviously has great taste in television shows.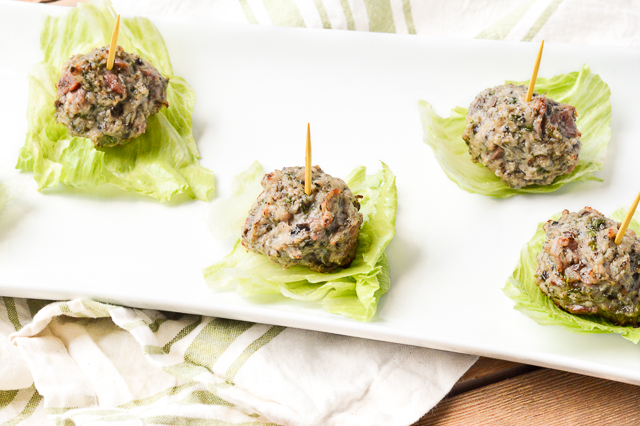 I probably shouldn't tell him that I'm currently watching Netflix while writing this post (and he is at work).  And don't worry, it's Gilmore Girls.  Trust me, I wouldn't dare watch OTH without him.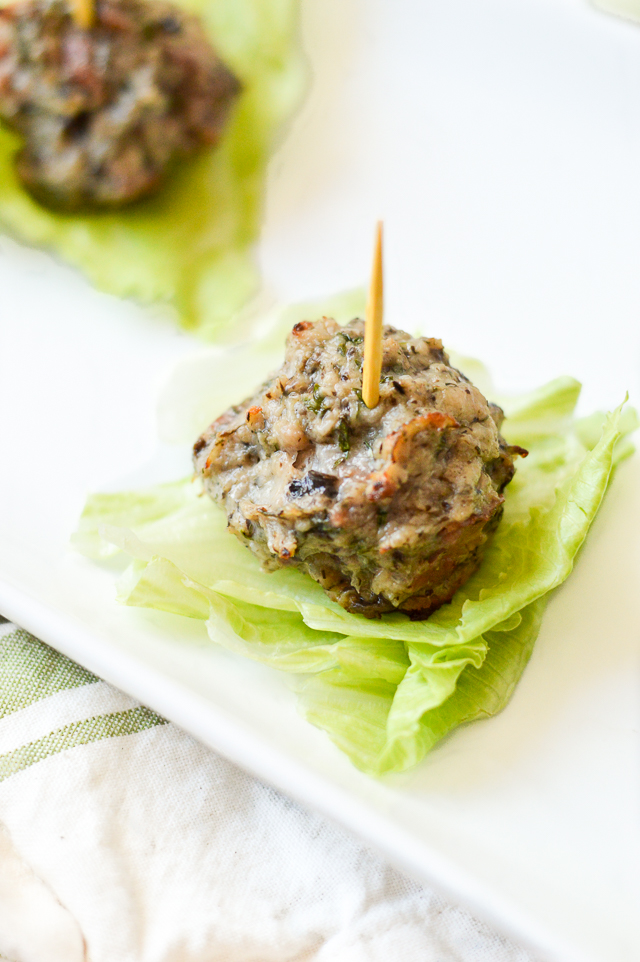 I did, however, eat these meatballs without him.  I ate them for TWO whole meals before I allowed him to even touch his portion.  You see, I needed them to photograph for this post.  Obviously the blog = more important than his cravings.
Before you think I am a terrible wife, I made him homemade pizza on the same night that I made these balls.  He had more than enough deeelish food all to himself.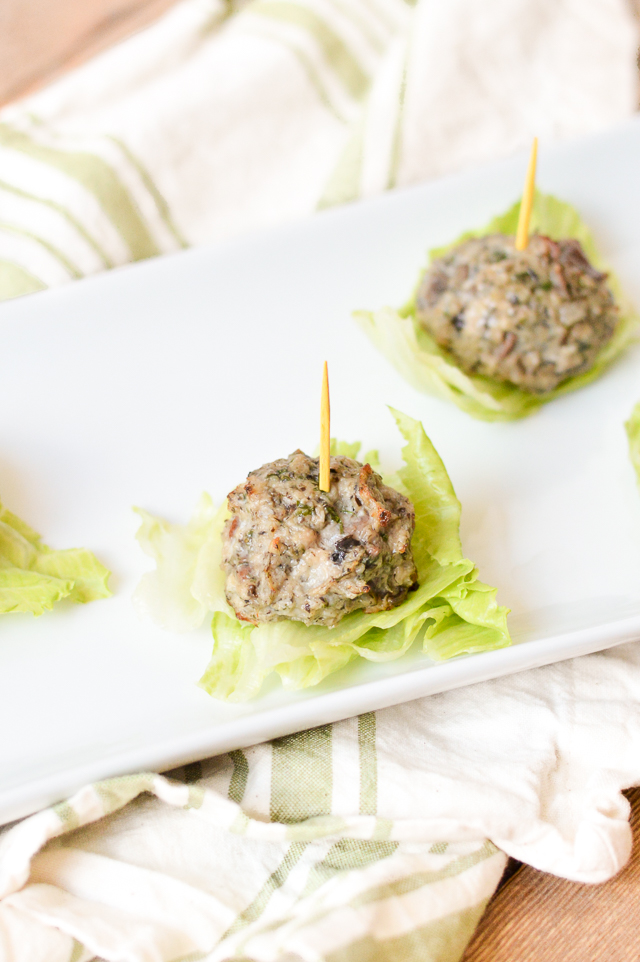 Luckily, these chicken bacon ranch meatballs still taste perfect as leftovers.  I like to reheat them in the oven so they still taste like they were just made 30 minutes before.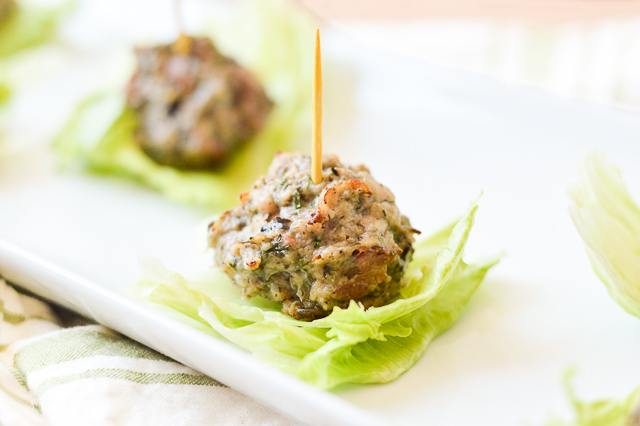 And in case you had not already figured this out, these meatballs contain organic ground chicken, ranch-esque seasonings, and BACON.  I don't think meatballs should ever be made without bacon again.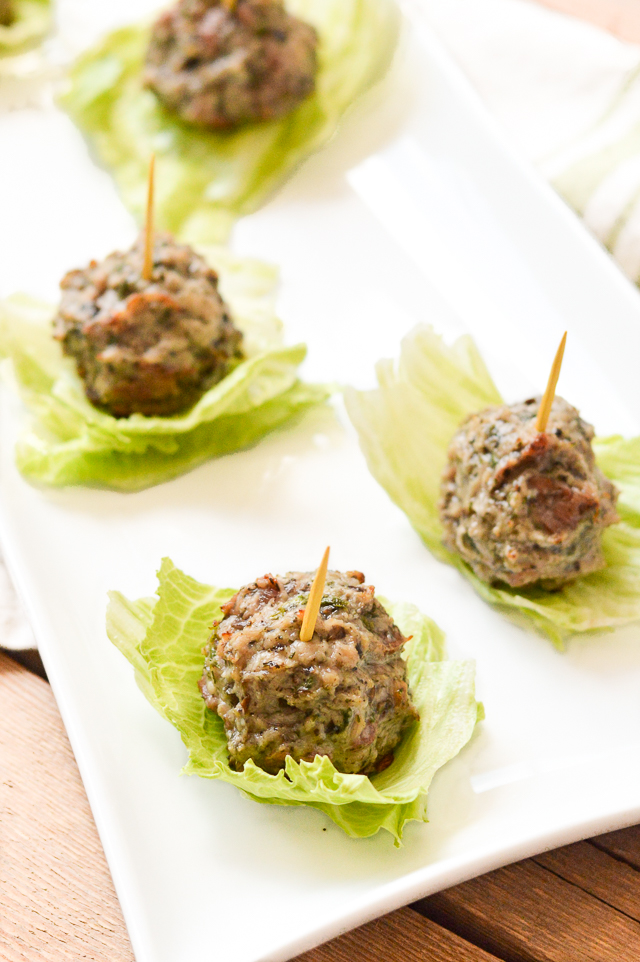 Chicken Bacon Ranch Meatballs
AIP Paleo, Gluten-Free, Grain-Free, Dairy-Free, Egg-Free, Nut-Free, S0y-Free, Nightshade-Free, Whole 30
Makes 12 meatballs
Ingredients
1 cup of baby bella mushrooms, sliced
1/2 of a small red onion, chopped
1/4 cup of fresh parsley, chopped
1 LB of organic, free-range ground chicken
1 tsp of dried dill
1/2 tsp of fine sea salt
1/2 tsp of onion powder
1/2 tsp of garlic powder
1/2 tsp of dried basil
4 strips of uncured turkey bacon (or pork bacon)
lettuce cups, optional
Directions
1. Place mushrooms, red onions, and parsley into a food processor.  Process for approximately 30 to 60 seconds, scraping down the sides.
2. Combine the chopped veggies with the ground chicken and seasonings in a large bowl.  Mix well with hands to combine.  Cover and refrigerate for approximately 30 to 60 minutes.
3. Meanwhile, cook bacon according to package instructions.  I fried mine over medium heat for approximately 10 minutes.  Remove from pan and place on a plate lined with paper towels.  Allow to cool.
4. Preheat oven to 375 degrees F.  Line a baking sheet with parchment paper.
5. Crumble or finely chop bacon into bits.  Combine with chicken and vegetable mixture.  Mix well.  Roll into meatballs and place on the baking sheet.
6. Bake for approximately 25 minutes, or until golden brown.  If desired, serve in lettuce cups.  These would also be delicious dipped into a Paleo ranch dressing!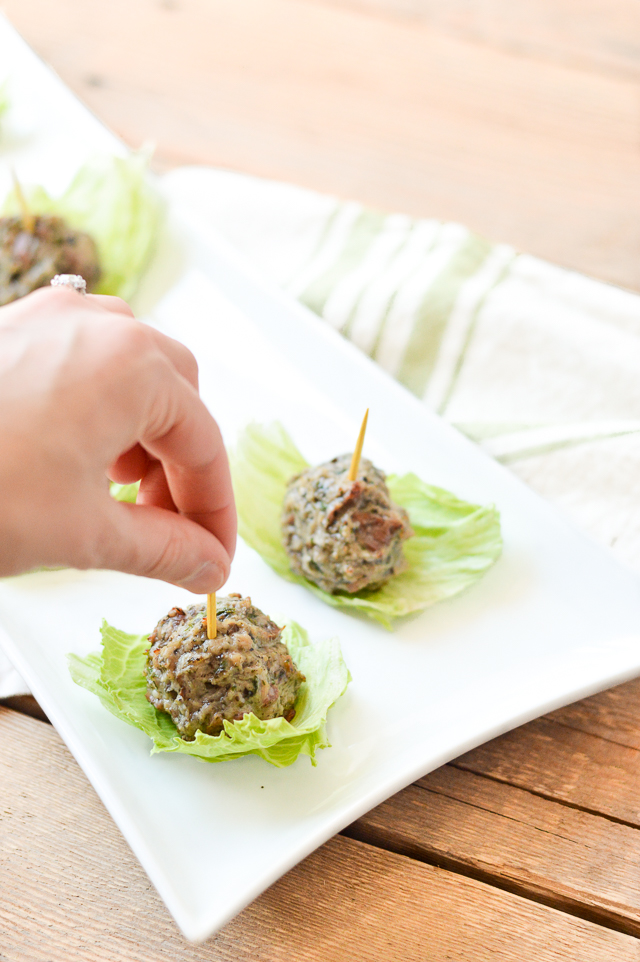 If I had to choose between the Olympics and these chicken bacon ranch meatballs, I would be in trouble.  Thank goodness I can sit on my butt, binge-watch the games, and munch on bacon-filled meatballs all at the same time.
The Chicken Bacon Ranch Meatballs of your dreams! #totesAIP #Paleo #glutenfree
Click To Tweet
This post contains affiliate links.  Thank you for supporting CEVG and enabling me to continue working towards better health!