A healthier tuna salad recipe using homemade mayonnaise and Dijon mustard.  Serve this salad in avocado boats for a protein and healthy fat-packed meal or snack.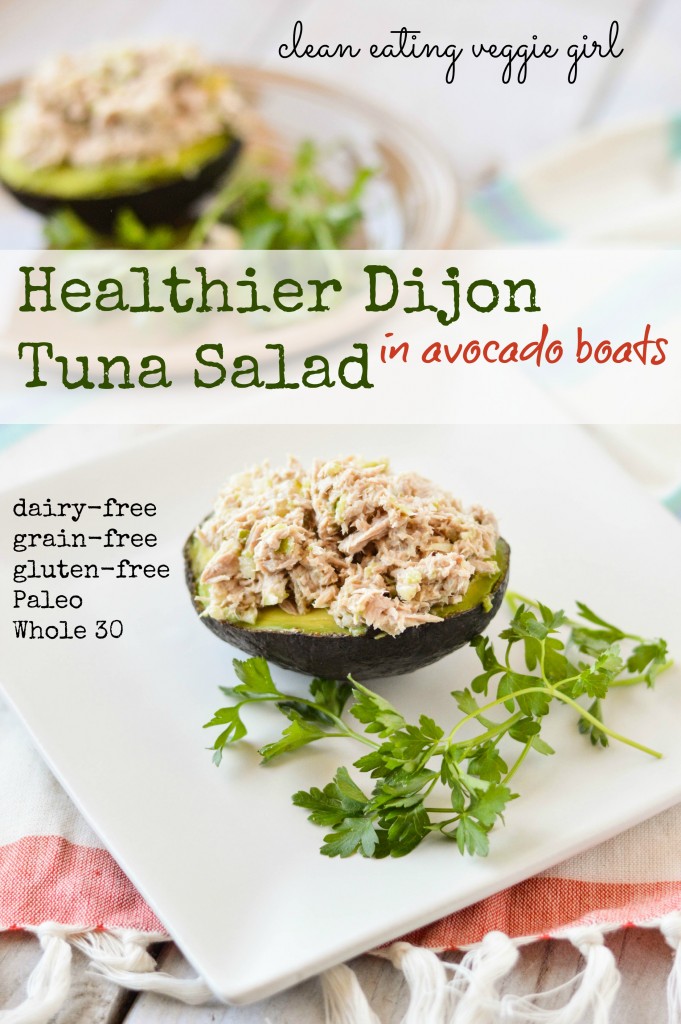 Since I started eating seafood again back in December, I have been pleasantly surprised by three things:
1. I love seafood, when I used to think I did not even like it <– It turns out you really have to try things before you can determine what you like!
2. Seafood is crazy easy to cook with.
3. Of all of the sea creatures in the market, tuna is definitely one of my favorites.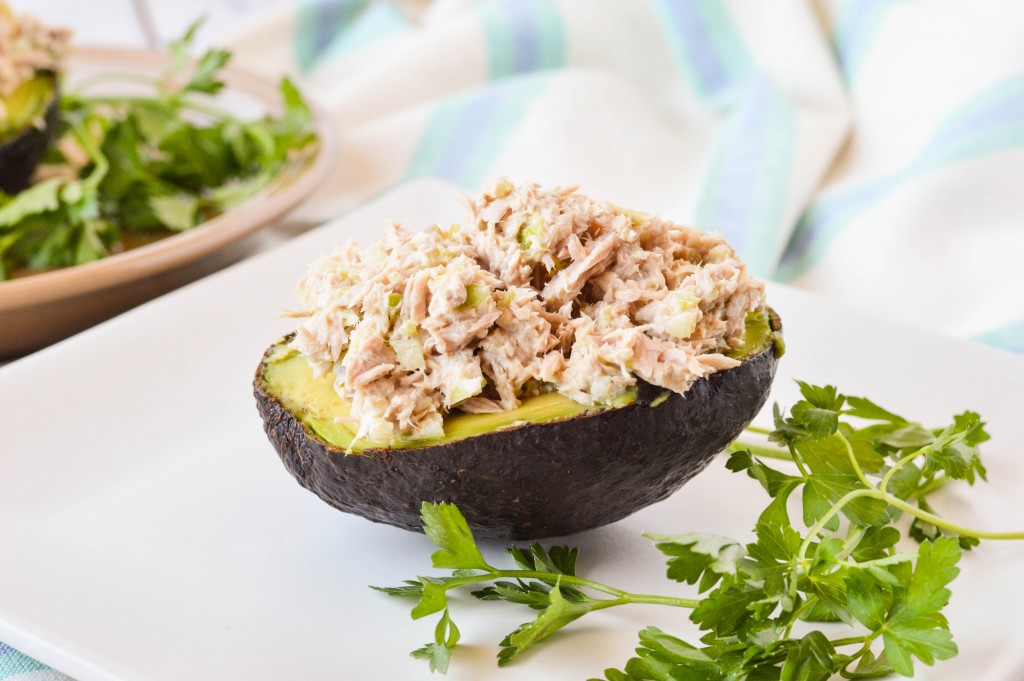 Not only am I loving tuna because it is delicious and versatile, it is also super fab since it makes eating healthy extra easy.  And delicious.  Healthy is not fun unless it is delicious.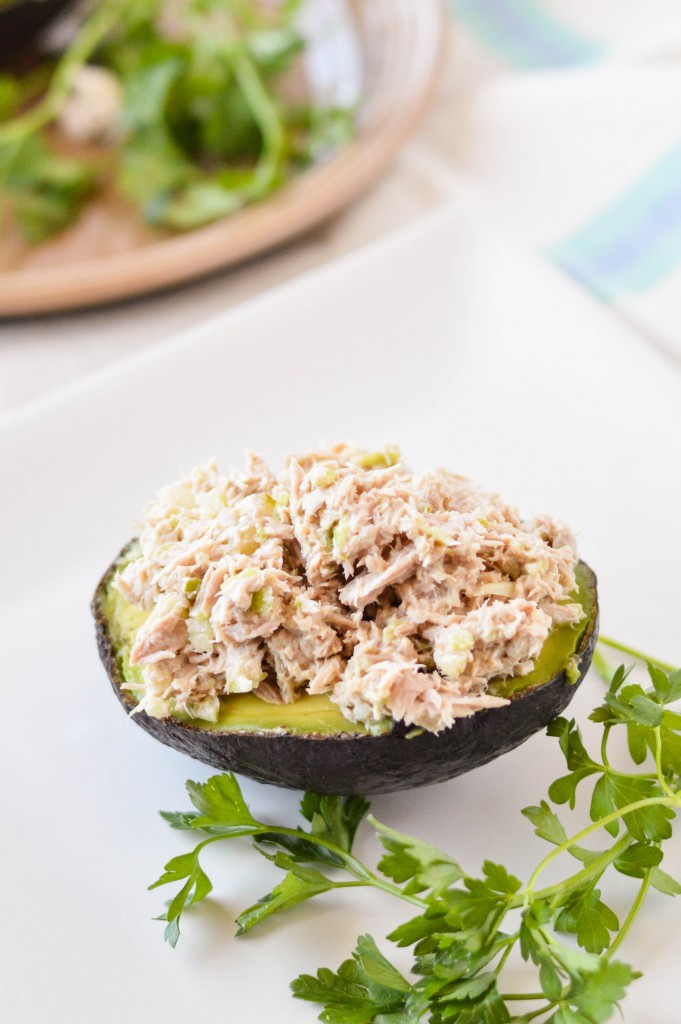 Did you know that tuna is actually one of the healthiest animal proteins that you can eat?  It turns out that one serving has 13 grams of protein and zero grams of fat.  Plus, we cannot forget all of the amazing essential Omega-3 fatty acids that are packed into a can of tuna.  I definitely think it is true what they say about how the best things come in small packages.  Canned tuna packages, that is!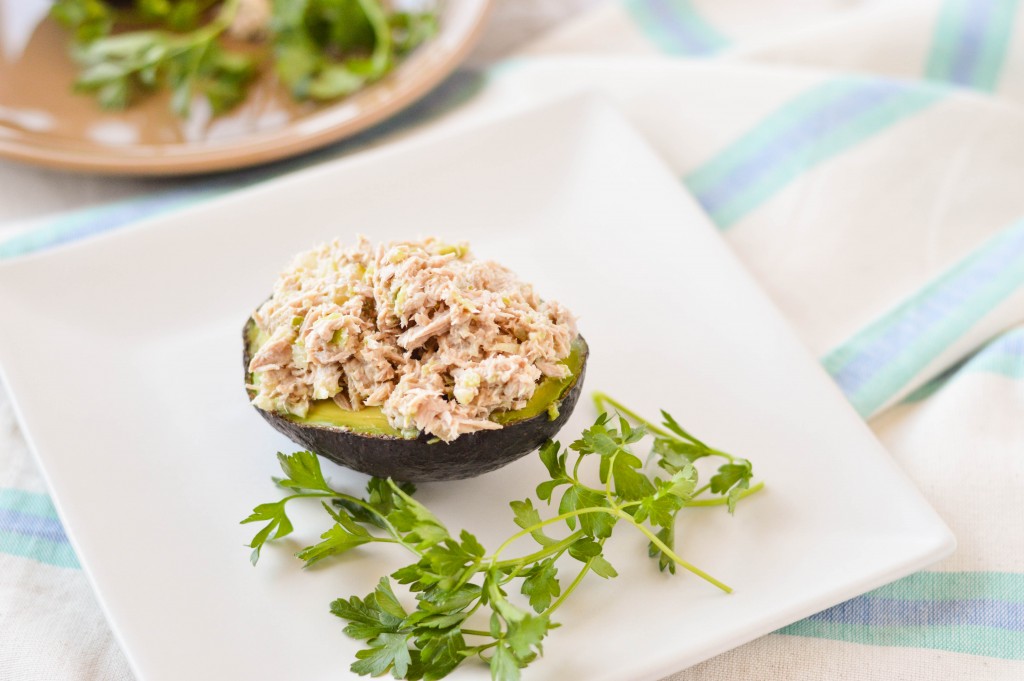 Of course, tuna on its own is not nearly as exciting as tuna salad.  I never really grew up eating tuna salad.  We were more keen on tuna and noodles.  But when I began incorporating seafood back in last year, my body suddenly decided it was time to crave tuna salad.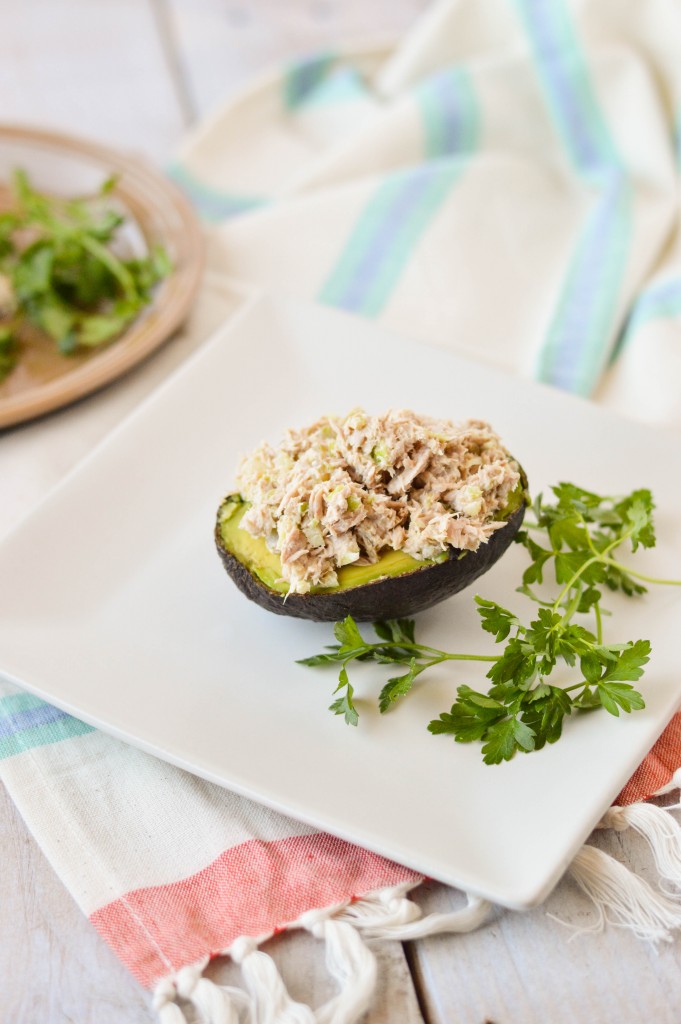 Whenever I make homemade tuna salad, I always try to incorporate healthier, whole ingredients.  I do this in the following ways:
1. I use homemade mayonnaise so that I can control what is in it.
2. I make my homemade mayonnaise with light extra virgin olive oil or avocado oil in order to incorporate even more healthy fats.
3. Instead of using all mayonnaise, I cut the mayo in half and add in Dijon mustard.
4. I add in celery for a little veggie action.
5. I serve it with plantain chips, in lettuce cups, or in my new favorite obsession: avocado boats!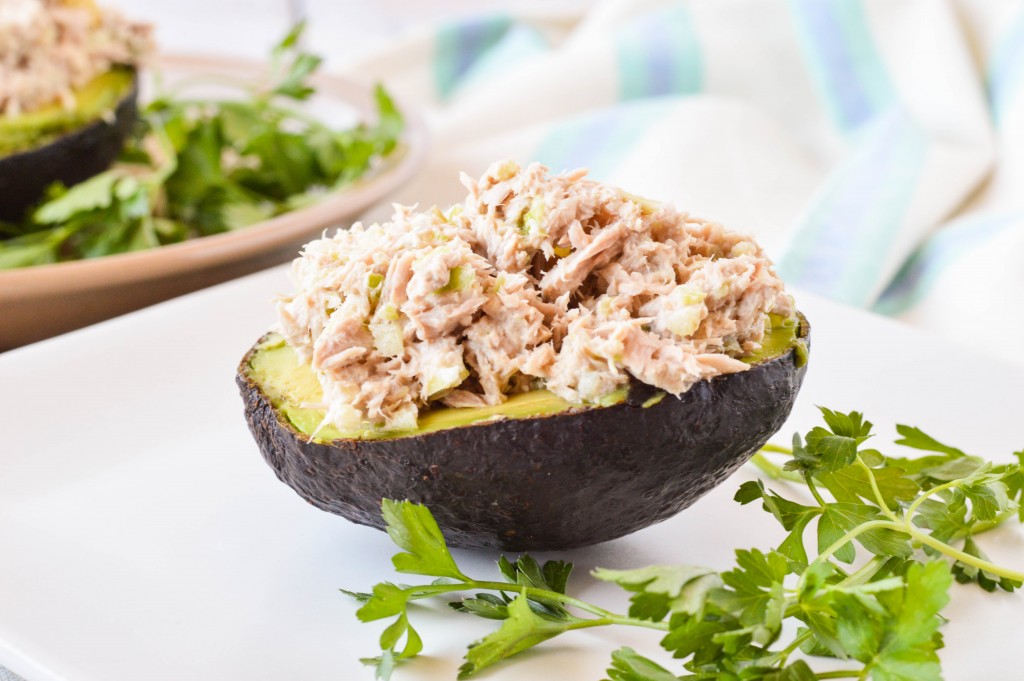 This is the epitome of a healthy lunch, dinner, or snack.  We've got protein, Omega 3's, veggies, healthy fats, and plenty of flavor.  It is no wonder I rely on tuna salad rather frequently for easy meals and snacks.  It is also amazing to travel with since you need so few ingredients, and you can pretty much take tuna with you everywhere.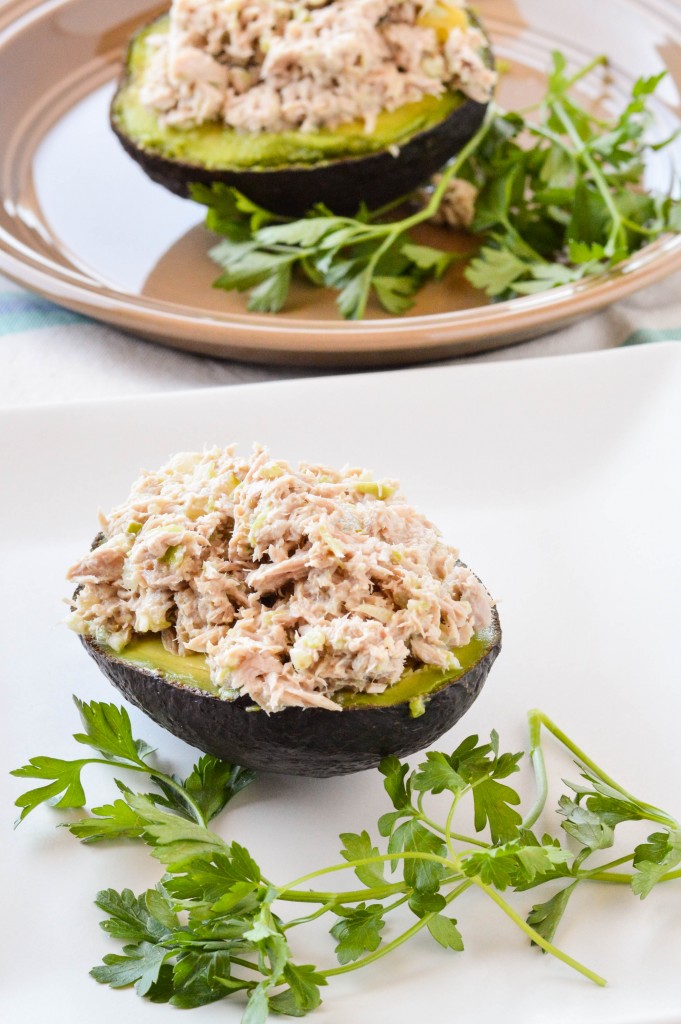 Healthier Dijon Tuna Salad in Avocado Boats
Dairy-Free, Grain-Free, Gluten-Free, Paleo, Whole 30-Compliant
Serves 3
Ingredients
2 5 oz cans of Bumble Bee tuna packed in water (check ingredients for Whole 30-compliant ingredients, if necessary)
3 stalks celery, finely diced
2 TB homemade mayonnaise (I used this recipe for Paleo/Whole 30)
2 to 3 TB Dijon mustard
1 dill pickle spear, chopped
3 ripened avocados
Directions
1. Combine tuna, diced celery, mayonnaise, Dijon mustard, and chopped pickle.  Stir well.  Refrigerate for at least 30 minutes.
2. Cut the avocados in half and remove the pits.
3. Serve the tuna salad in the avocado halves, or "boats."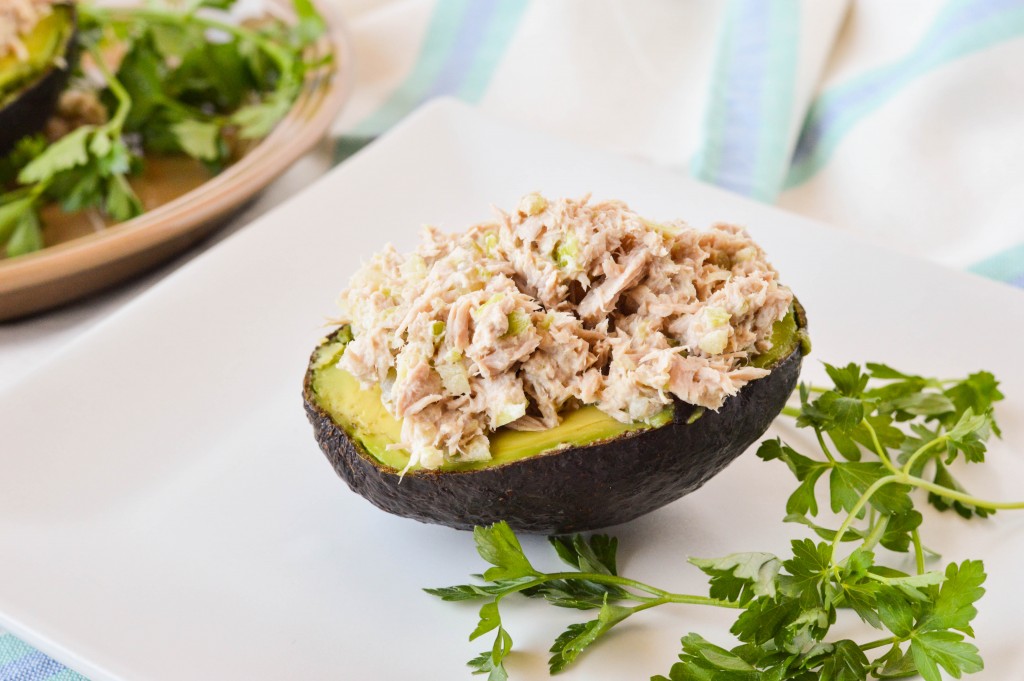 Whether you are dairy-free, gluten-free, Paleo, or just want a healthy, protein-packed option, tuna salad is for you.  I'd even go as far as to say that tuna salad could be your new breakfast buddy.  I like it alongside a couple of hard-boiled eggs as a fantastic way to start my day.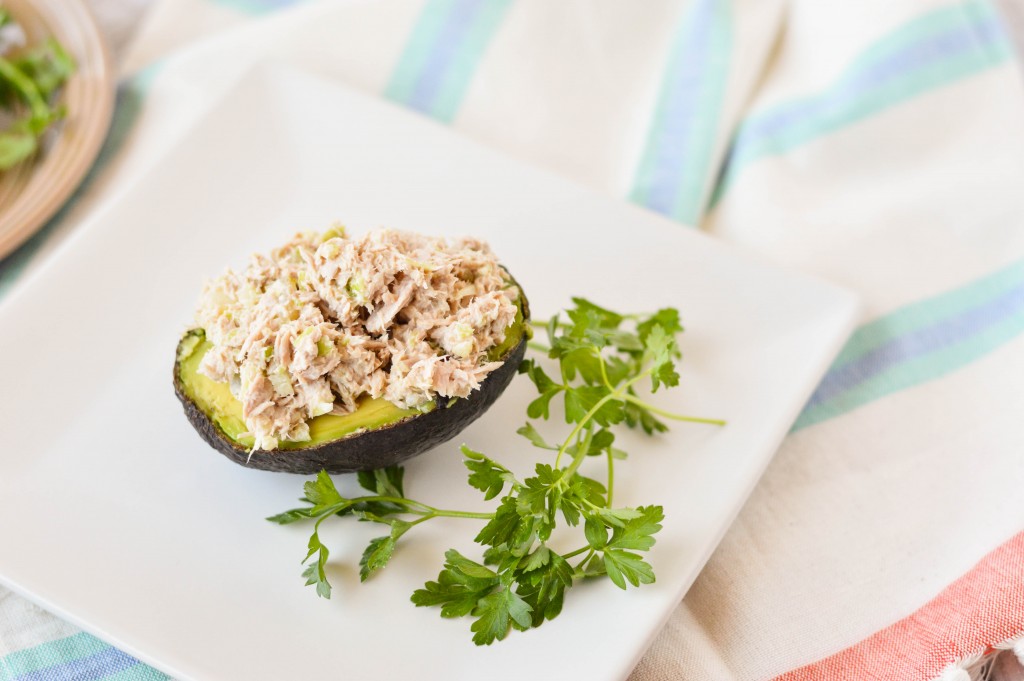 Healthier Dijon Tuna Salad in Avocado Boats = an amazing meal or snack! #Whole30 #glutenfree #paleo Click To Tweet
If you love tuna as much as I do, be sure to visit the Bumble Bee social media channels here:
Bumble Bee Facebook page
Bumble Bee Twitter page
Bumble Bee Pinterest page
To find out more about the health benefits of tuna, including recipe ideas, stop by the Tuna Strong page.
Tuna Mind… Tuna Body… Tuna Soul… Tuna Strong™
This post is sponsored by FitFluential on behalf of Bumble Bee.
Which ingredients are a part of your go-to tuna salad recipe?
Have you ever eaten tuna salad in an avocado boat?