This shop has been compensated by Collective Bias, Inc. and its advertiser. All opinions are mine alone.
#NaturallyClean #CollectiveBias
Simple ideas for how to prepare both easy and healthy grain-free snacks with the help of Clorox Green Works.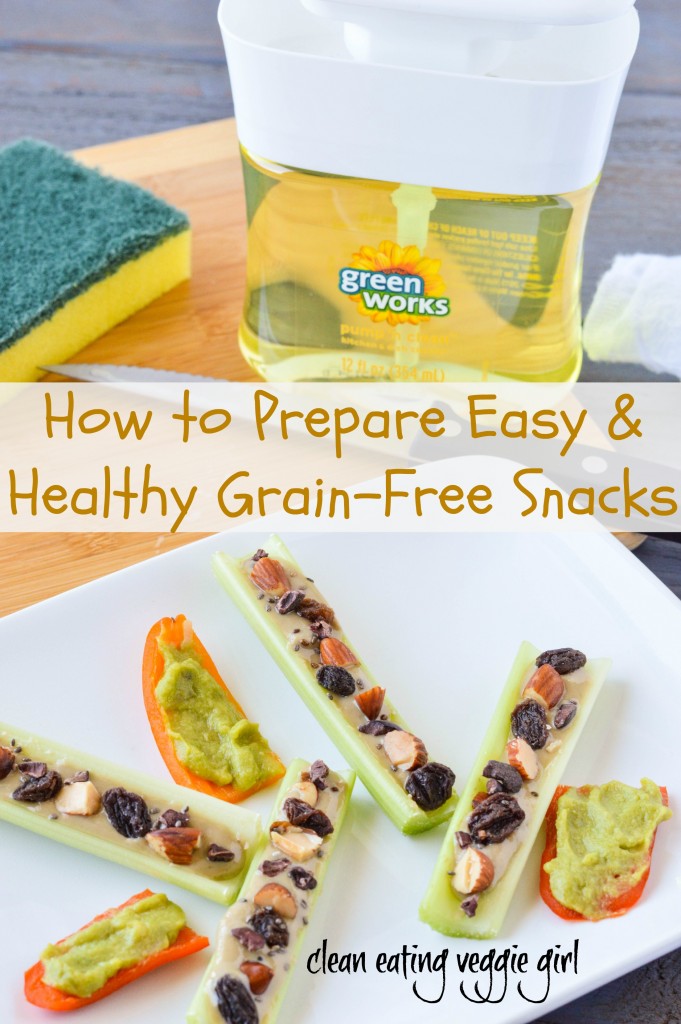 The past week of doing the Whole 30 has reinforced something I already knew about myself: I am a snacker.  And while snacks generally are not a large component of the Whole 30, it is simply not realistic for me to only eat three meals each day.  While I have continued incorporating one or two snacks throughout my days, I am doing my best to keep my snacks healthy and veggie-focused as much as possible.  I am also trying to keep these snacks easy and simple in an effort to not get burnt out in the kitchen.
Over the last seven days, I have discovered two veggie-packed snacks that also happen to be a cinch to prepare.  And they both contain plenty of healthy fats that tide me over in between meals.  Let's get to prepping and snacking!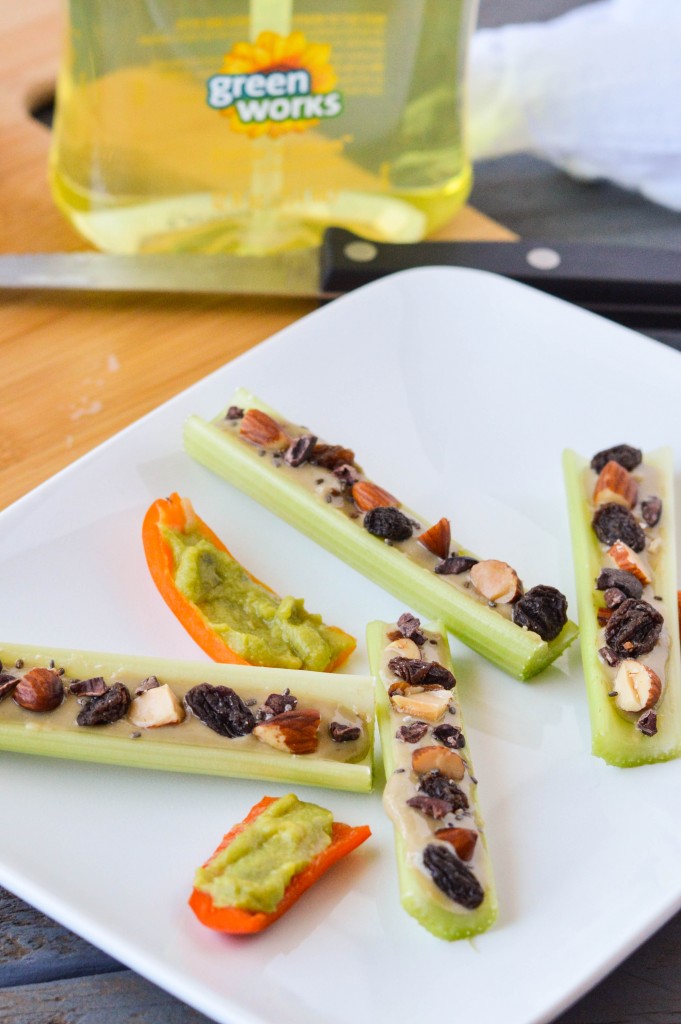 How to Prepare Easy and Healthy Grain-Free Snacks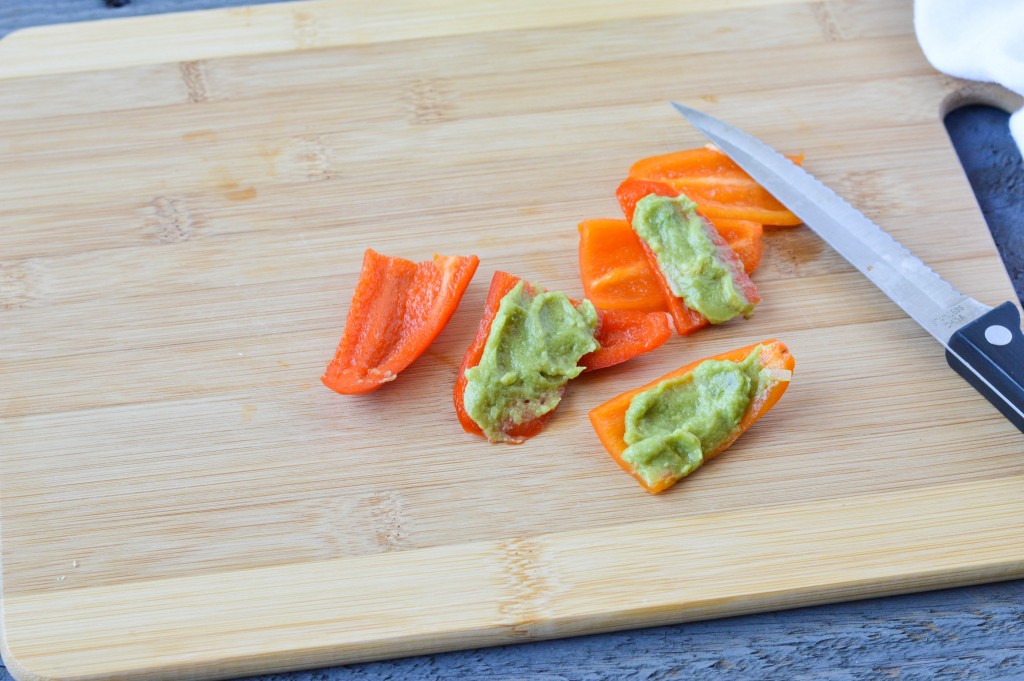 I like to call these babies guacamole stuffed peppers.  And guess what?  They only require a whopping two ingredients!  I prefer to use several different colored peppers to keep things pretty because I definitely eat with my eyes first.  Simply stuff halved sweet peppers with homemade or store-bought guacamole.  You can stop here and you have a delicious snack.  I also sometimes like to add salsa, tomatoes, and/or green onions on top for extra flavor.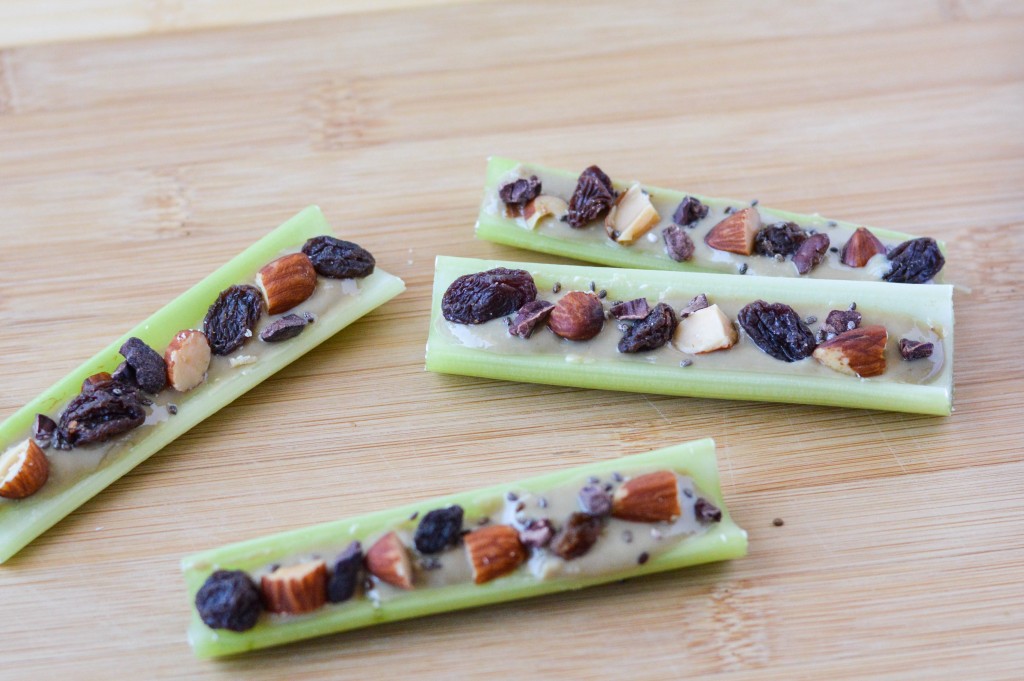 The second snack that I have been loving lately are these "fancier" ants on a log.  These are easy-peasy to throw together, too!  Scoop your favorite nut or seed butter (sunflower seed, cashew, and almond butter can all be Whole 30-compliant) onto celery sticks and top each one with your favorite dried fruits, seeds, and nuts.  I generally go with sunflower seed butter or almond butter, chopped almonds, cacao nibs, raisins, and chia seeds.  It is the perfect balance of sweet and salty.
Both of these snacks are quick to prepare, but I love being a food-prepping queen on Sundays to get the ingredients prepared and ready to compile during the week while I am at work.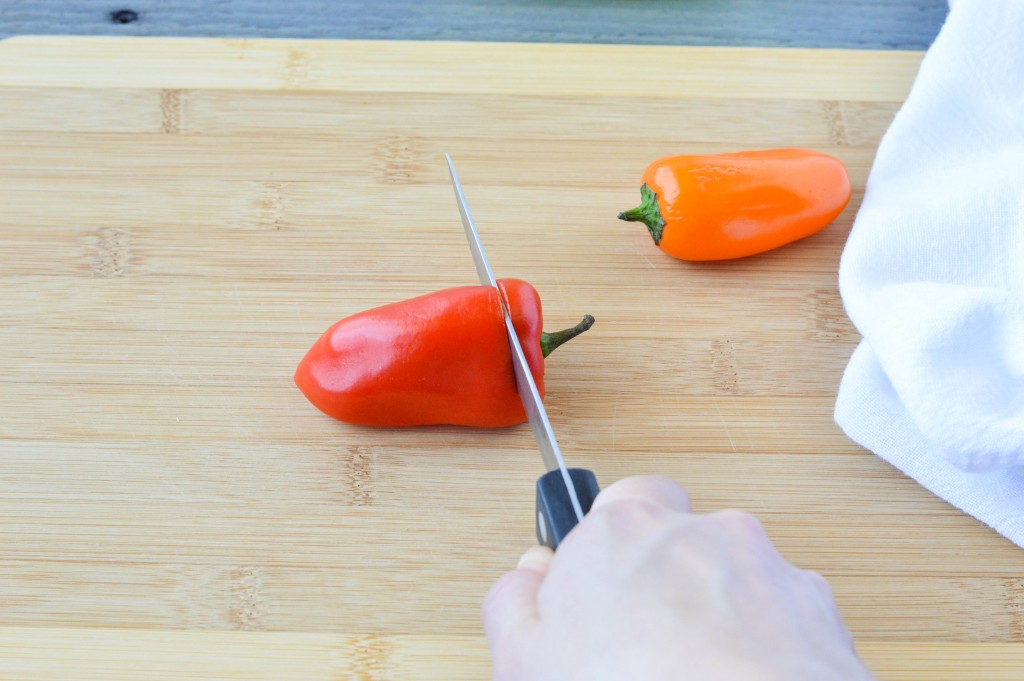 It's pretty simple, really.  I start by slicing the stem off of each pepper, cutting them in half, and scooping out the seeds.  I then place several pepper halves into containers to use throughout the week.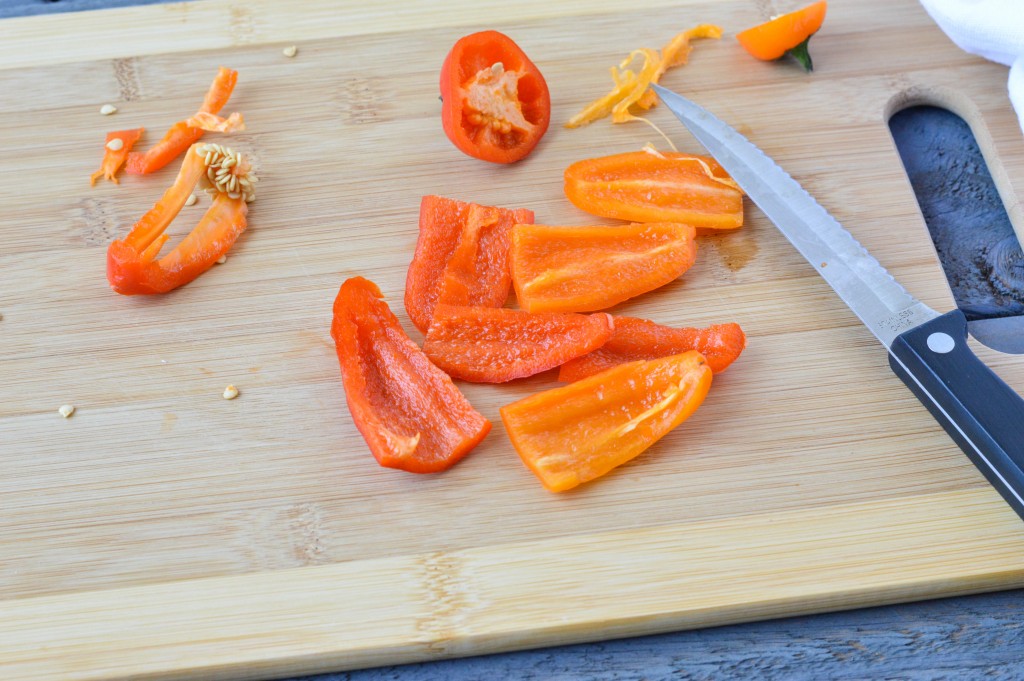 Since the juice from peppers can be pretty messy, I always clean up my knife and cutting board before going to work on prepping my celery.  My new favorite kitchen partner is the Clorox Green Works Pump 'n Clean Kitchen and Dish Cleaner.  Since it is made from natural plant-and mineral-based ingredients, it is food safe and makes cleaning while you cook a breeze.  I love that it cleans powerfully without leaving behind chemical fumes or residue.  Who wants to continue using a knife that tastes or smells like chemicals?  Not me!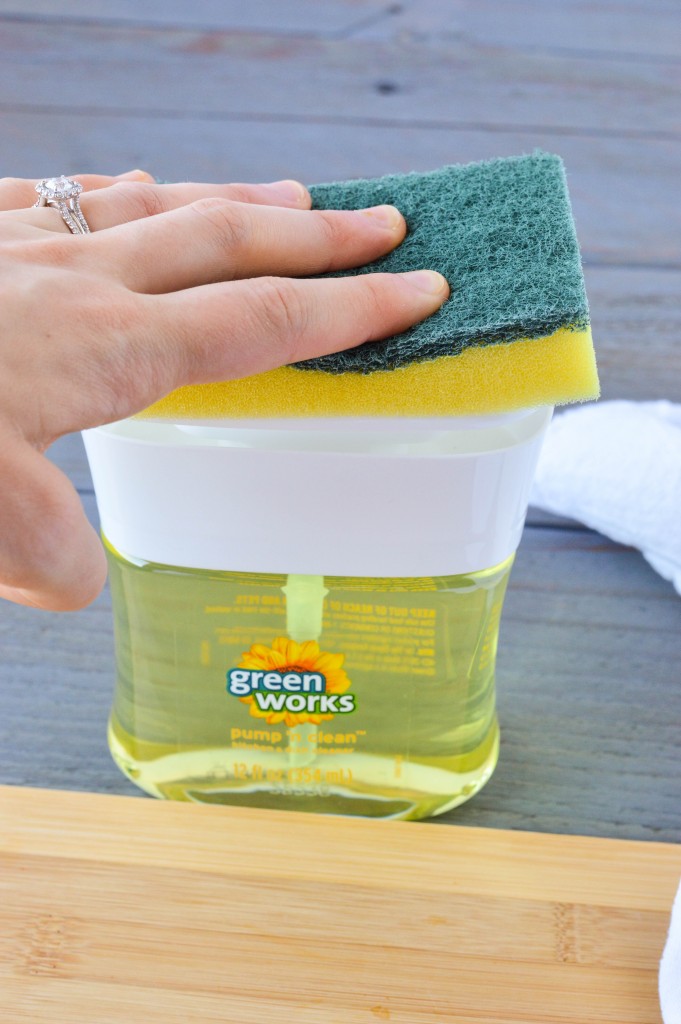 The pump feature of this product makes one-handed cleaning simple, which is important when I am handling knives.  I just pump a bit of the cleaner onto a sponge and wipe my knife clean.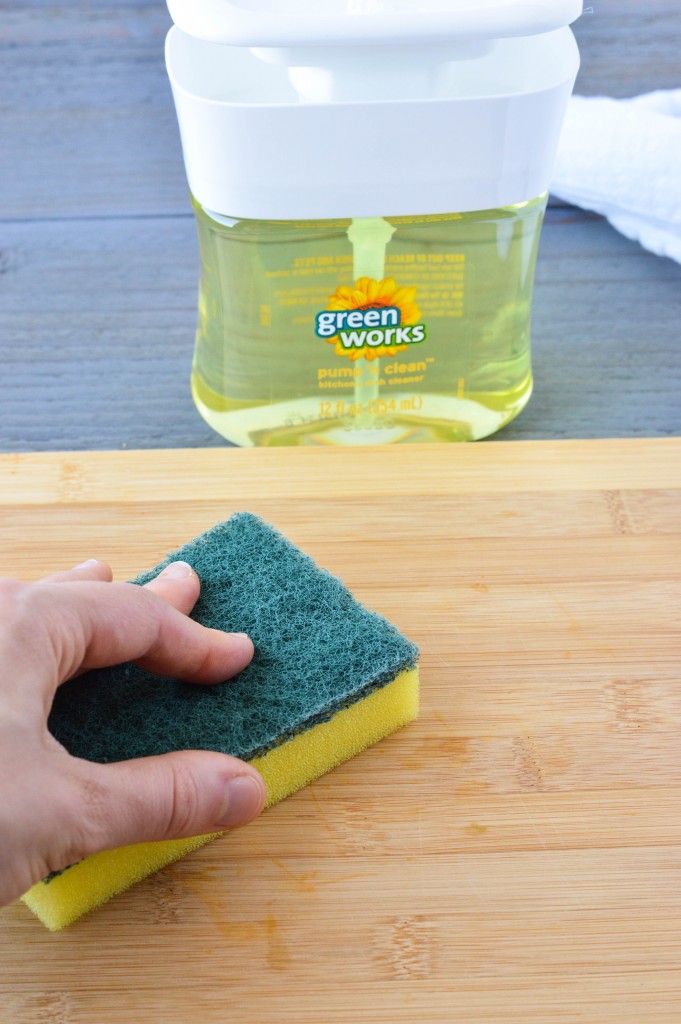 I also prefer to wipe my cutting board so that my celery is not covered in pepper juices.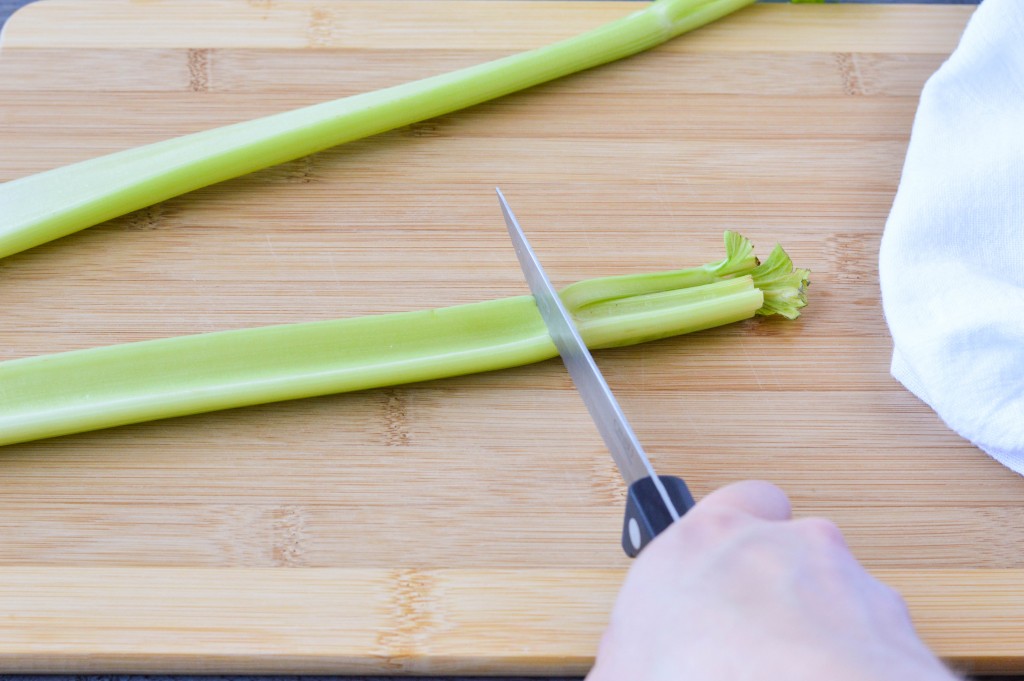 Then I am back to chopping!  Pretty cool, right?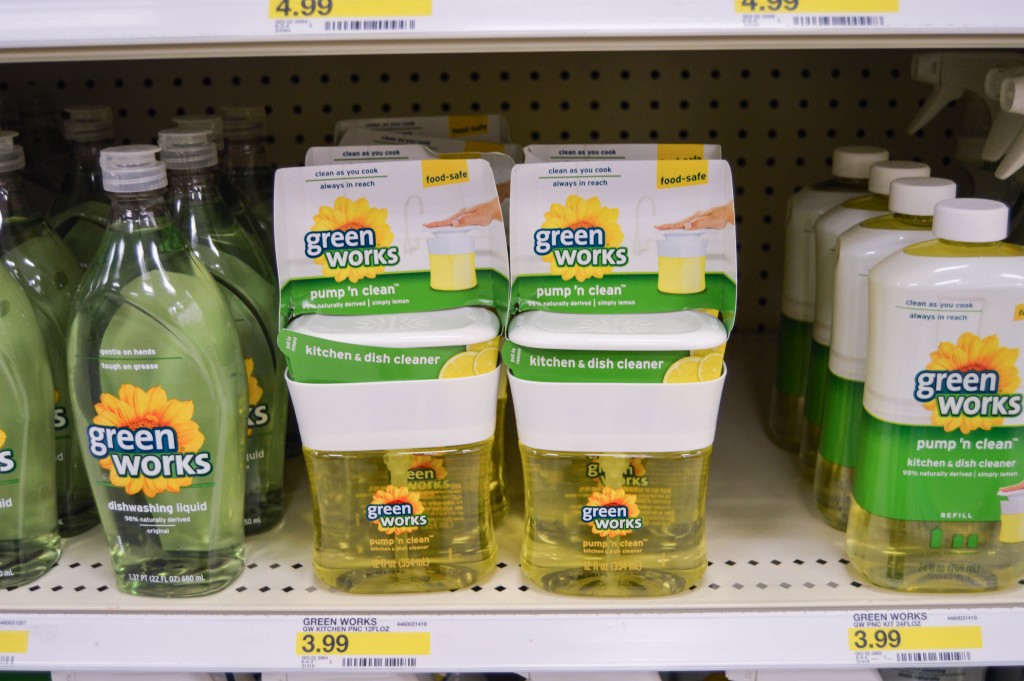 I found the Pump 'n Clean product at Target in the natural section of the cleaning aisle.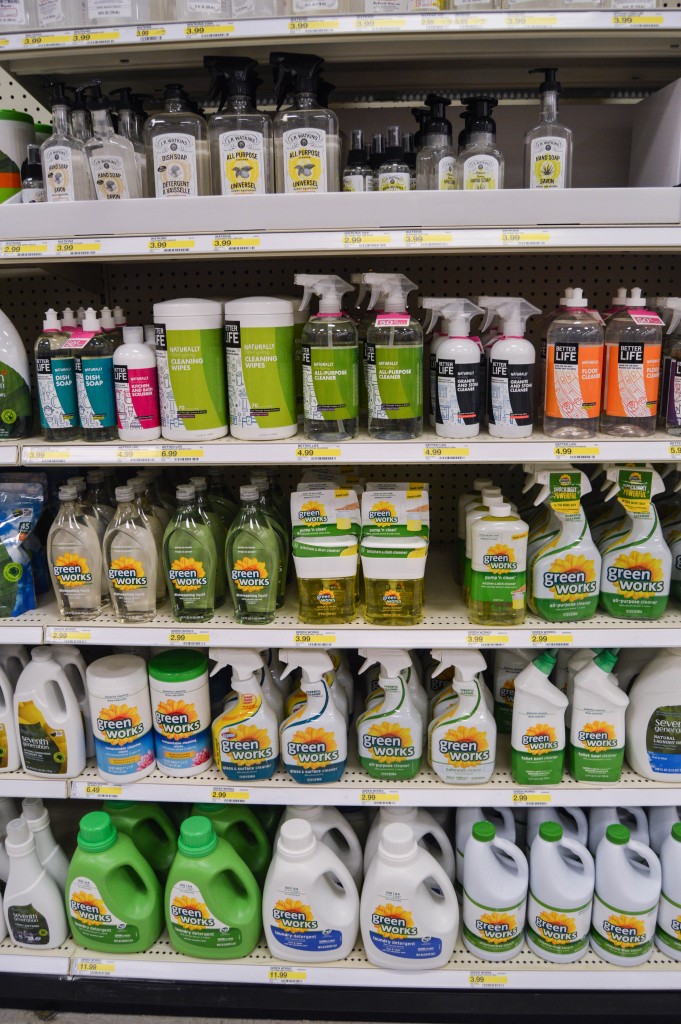 Target also carries Clorox Green Works sprays, wipes, soaps, and detergents, and they are the only retailer to carry the entire Green Works line.  As if I needed another reason to love Target!
I hope this post introduced you to three new amazing things: two easy and healthy grain-free snacks + one amazing effective and affordable cleaning product that you can feel good about using.  It is natural, it is not tested on animals, and environmentally sustainable packaging is used whenever possible.
I love clean snacks and a clean cooking environment!
*This product is not appropriate when cooking with raw fish or meat.  I recommend sticking with fruits and veggies.
How to Prepare Easy and Healthy Grain-Free Snacks with Green Works @Target #ad #NaturallyClean
Click To Tweet
What are your favorite easy and healthy grain-free snacks?
How do you easily clean your kitchen while food prepping on the weekend?  Any tips?