Paleo, gluten-free, grain-free, and dairy-free beef tacos stuffed in a veggified cabbage shell and topped with a cool and creamy salsa dressing.  These are perfect for lunch, dinner, and any and every Taco Tuesday!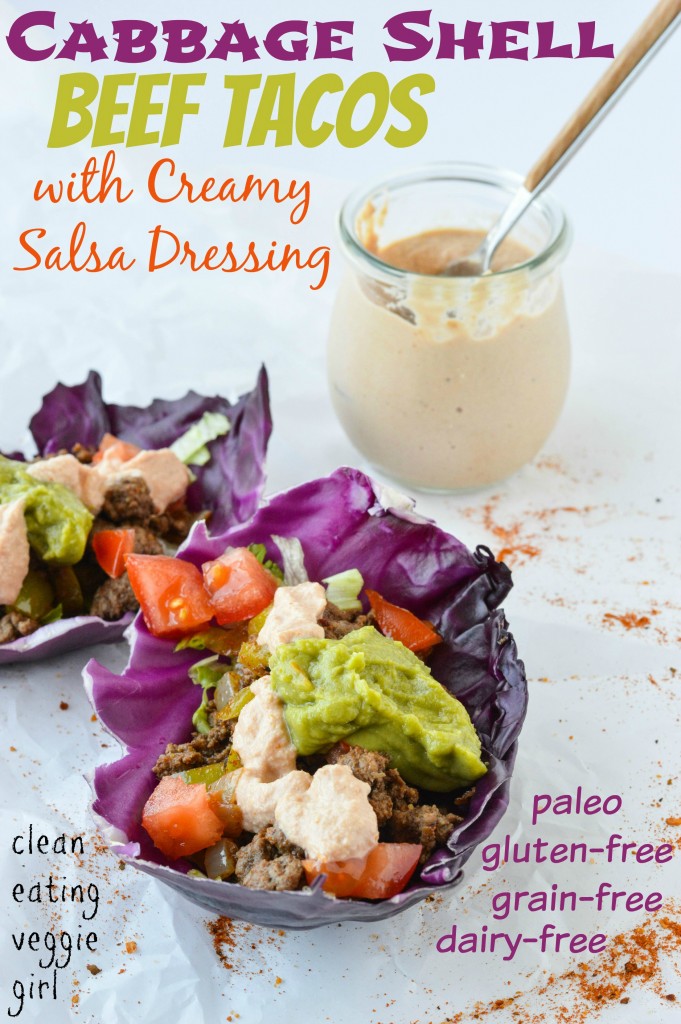 Say hello to the first ever beef recipe to make its appearance on Clean Eating Veggie Girl!
Come on, say it with me:
"Hi beef tacos!"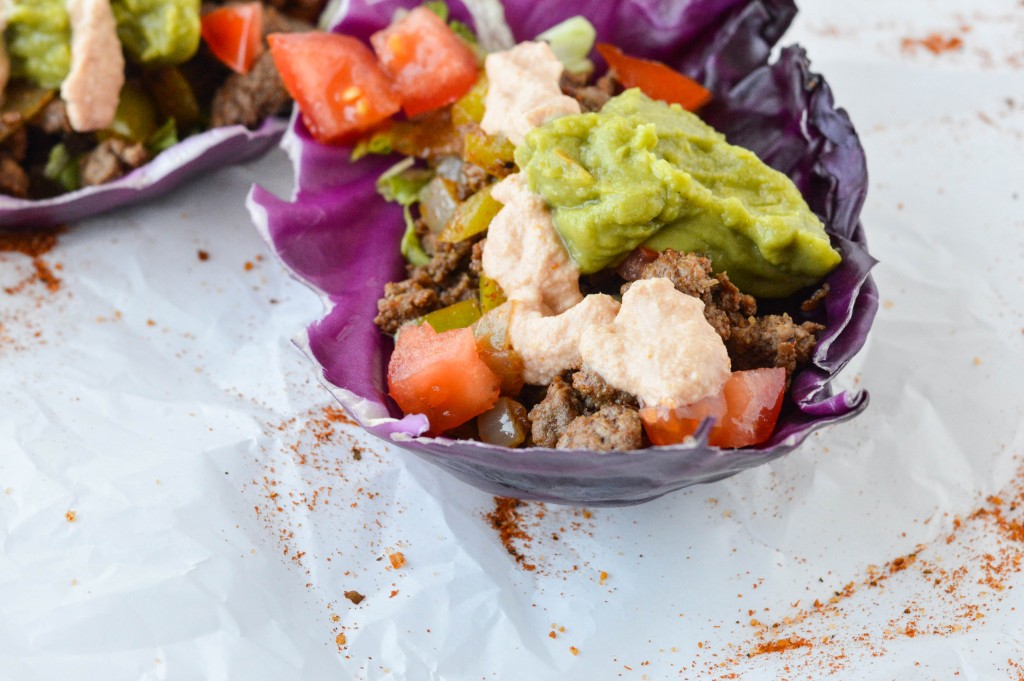 Try to be nice to them.  They are a bit nervous to be here.  You see, they feel different.  They feel a tad out-of-place and unwanted.  And they feel like they might be judged.
Truth be told, I am the one who feels a bit different, out-of-place, and judged for posting these.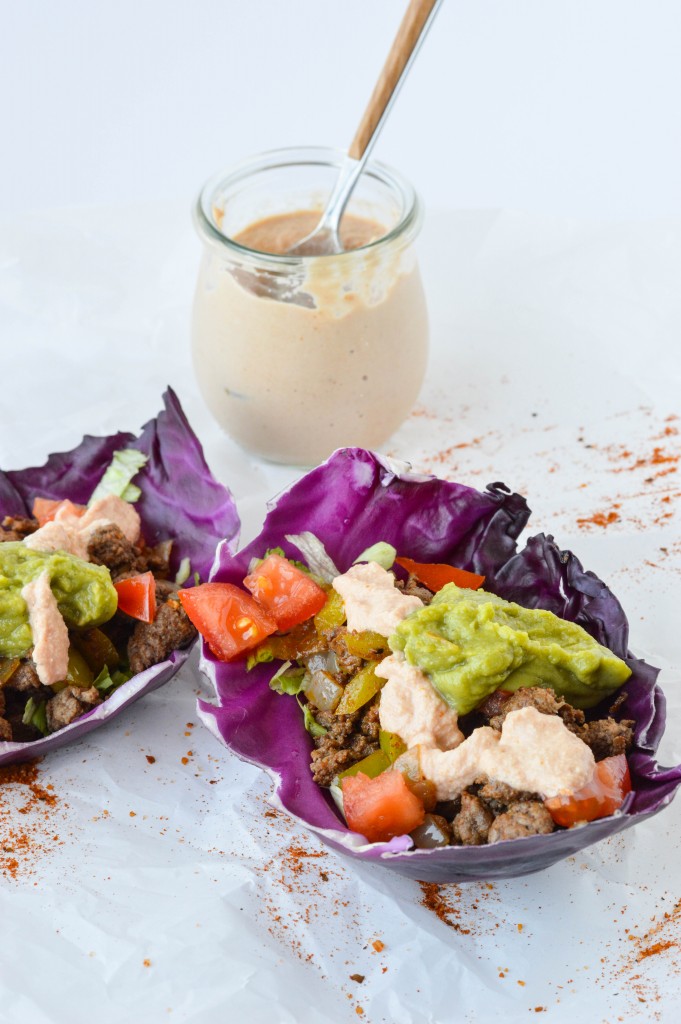 Even though I am making a conscious choice to experiment with adding meat back into my diet for health purposes, I cannot help but feel a bit ashamed for it.  Sometimes I feel like I failed at being a vegetarian.  I thought I was doing everything right: eating a healthy diet, focusing on veggies instead of meat, and trying to live as plant-based as possible.  I guess my body thought differently!
While I have no idea if eating meat, eating grain-free, or eating legume-free will make a positive difference, I will be finding out.  I would hate to live on as a vegetarian who never knew if something so simple could make a difference.  My fingers are crossed that good things will come of this transition.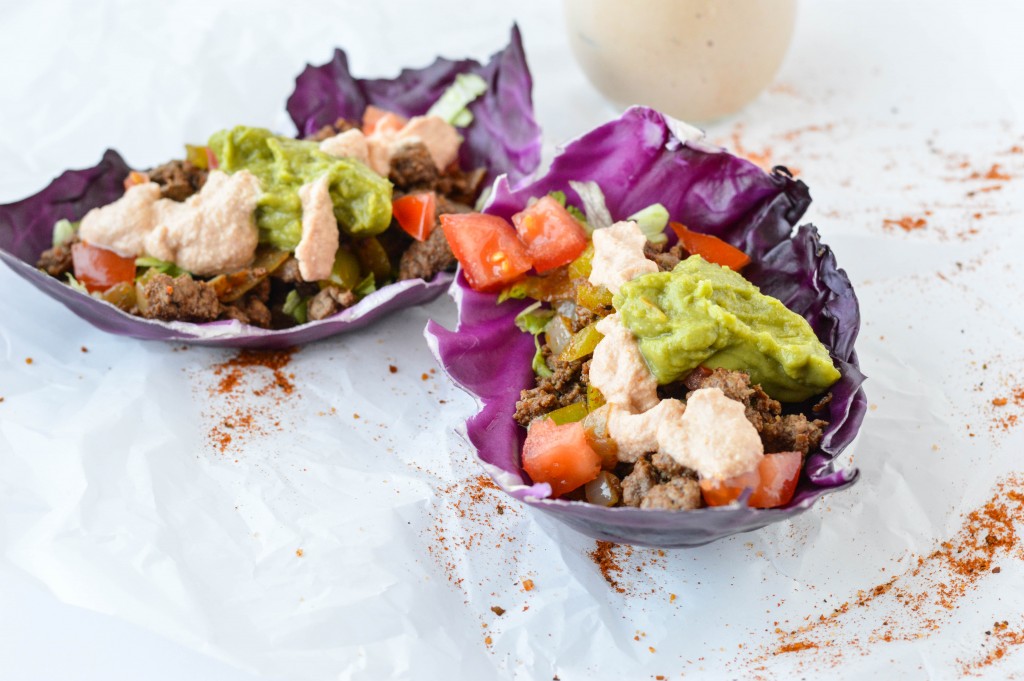 As I embark on this meat-eating journey, I plan to continue incorporating veggies into my meals as much as possible.  Whether or not I am a vegetarian certainly does not change my thoughts on veggies.  I just freakin' love them.  Period.
So when I saw Simi share a meal of steak tacos wrapped in cabbage leaves on her Instagram several weeks back, I knew I had to try out the concept for myself.  I'm still working on the basics of cooking with and eating meat, so I did not want to make anything overly complicated (which I am sure you appreciate, as well).  Therefore, the filling on these tacos is pretty traditional, while the shells and creamy dressing give them a bit of a unique twist.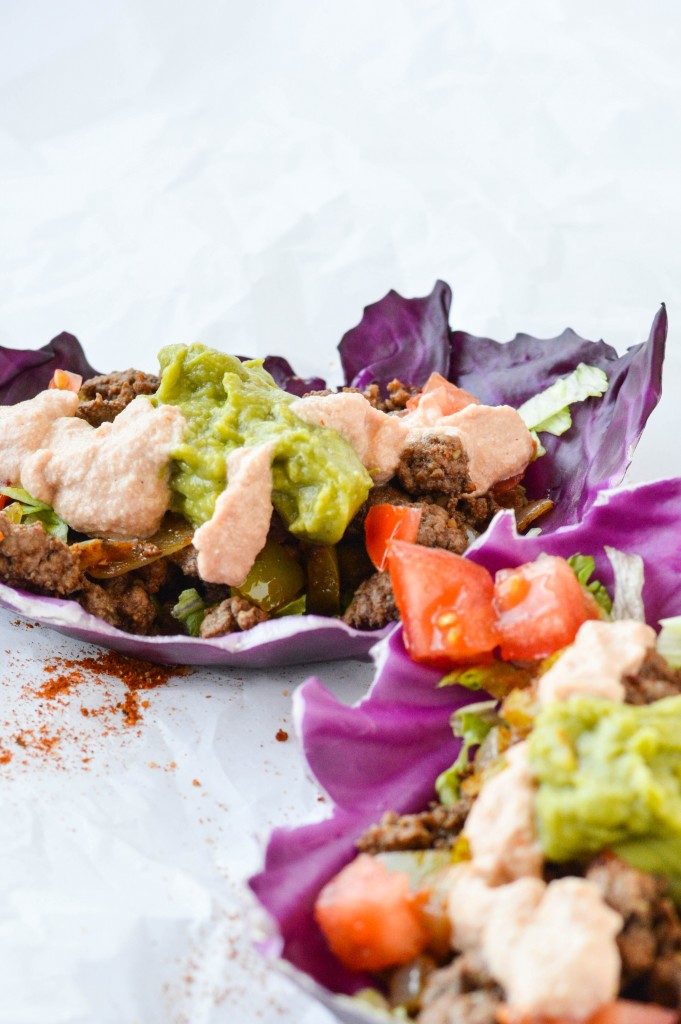 Once you bite into these tacos, I do not think you will have to try too hard to be nice to them.  I hope you will continue to be nice to me, too!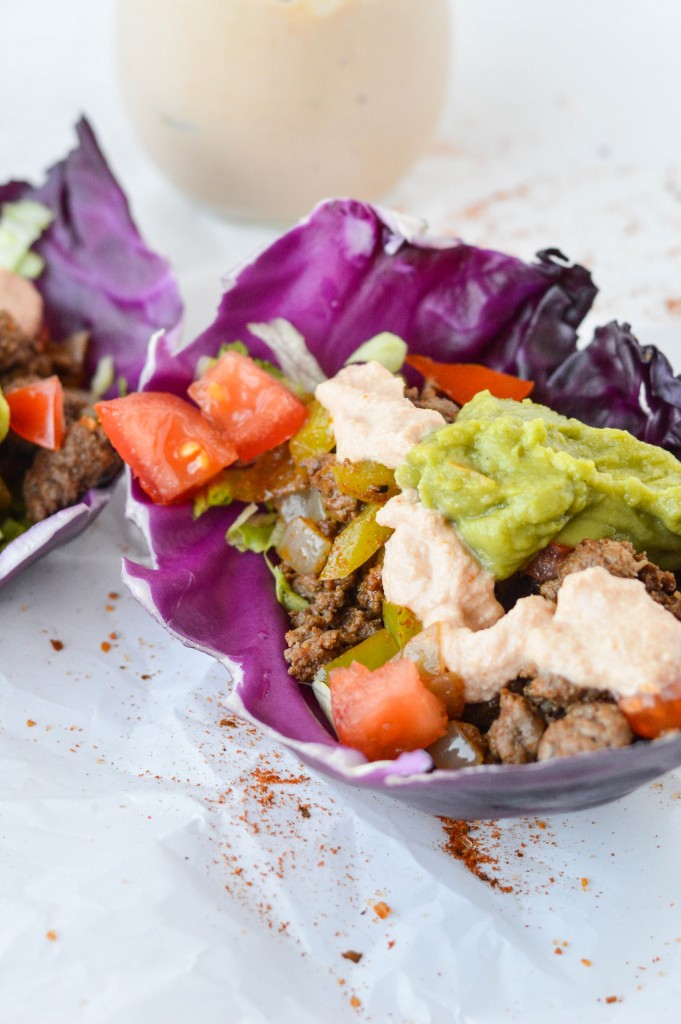 Cabbage Shell Beef Tacos with Creamy Salsa Dressing
Paleo, Gluten-Free, Grain-Free, Dairy-Free
Makes 8 tacos
Ingredients
1/2 cup cashews
1/3 cup unsweetened plain almond or coconut milk
2/3 cup of your favorite salsa (no sugar added, if paleo)
1 TB coconut oil
1 green bell pepper, diced
1/2 small yellow onion, diced
1 pound ground beef (organic and grass-fed whenever possible)
2 TB of your favorite taco seasoning (I used the Trader Joe's brand <– this is spicy!) (no sugar added, if paleo)
1 small head red cabbage, torn into taco "shells"
desired taco toppings
Directions
1. Soak cashews in water overnight, or for at least 4 hours prior to making the dressing.  Once soaked, drain the cashews.  Combine them with the milk and salsa in a high-powered blender (I used my Vitamix <–affiliate link).  Blend for approximately 30 to 60 seconds, or until smooth and creamy.  Add additional milk if you want the dressing to be thinner.  The amount of milk needed will depend on how thin the salsa is that you use.  Place the dressing in a sealed container in the refrigerator.
2. In a large skillet, heat coconut oil over medium-high heat.  Once hot, lower the heat to medium and add peppers and onions to the pan. Cook for approximately 8 to 10 minutes, or until softened.  Once cooked through, remove from heat and place the peppers and onions in a separate bowl.
3. Return the skillet to the stove.  Add ground beef and cook for approximately 10 minutes, or until browned and cooked through.  Using a spatula, break up the ground beef into small pieces as you cook it.  Drain any remaining fat at this time, if desired.
4. Add pepper and onion mixture to the ground beef.  Stir in taco seasoning.  Lower heat to medium-low and continue cooking for about 3 minutes.
5. While the vegetables and beef are cooking, prepare the cabbage shells and any toppings you prefer.
6. Scoop the beef and veggie mixture into the cabbage shells and add toppings.  Top each taco with the creamy salsa dressing.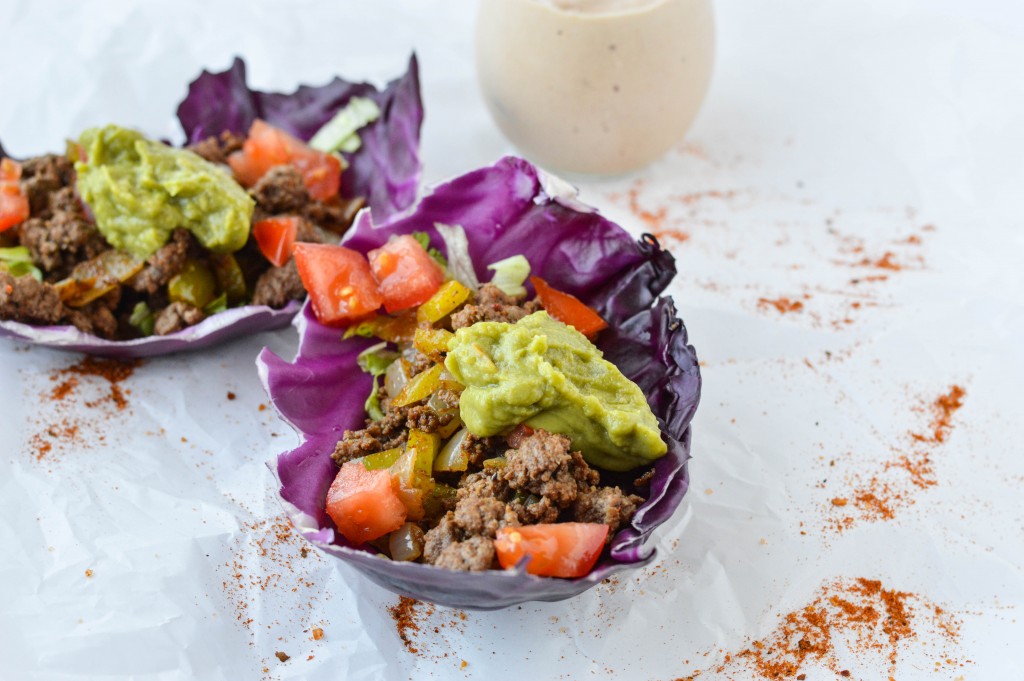 The taco topping options are, of course, endless.  I highly recommend some shredded lettuce, diced tomatoes, and plenty of guac.  Fresh green or red onions and/or black olives would be nice additions too.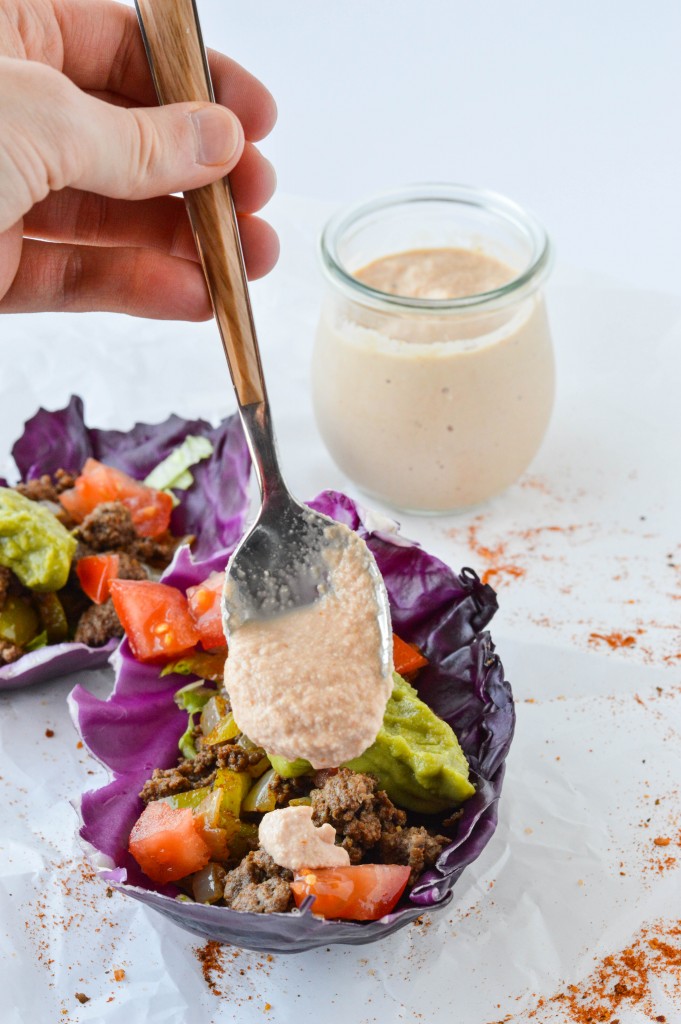 But whatever you choose to top your cabbage shell tacos with, please be sure not to leave off the creamy salsa dressing!  It helps cool off the spiciness of the tacos while avoiding dairy-laden sour cream.  Trust me.  You do not need the sour cream!
Eating tacos in cabbage "shells" has become my new favorite thing.  Lettuce wraps are so last year.
Do you have any go-to beef recipes (dairy and GF) that I should try?  Please share the links in the comments!
Cabbage Shell Beef Tacos perfect for celebrating Taco Tuesday! #paleo #glutenfree #recipe
Click To Tweet