A protein and veggie-packed Mexican skillet that has summer written all over it… even if you choose to eat it at the start of spring!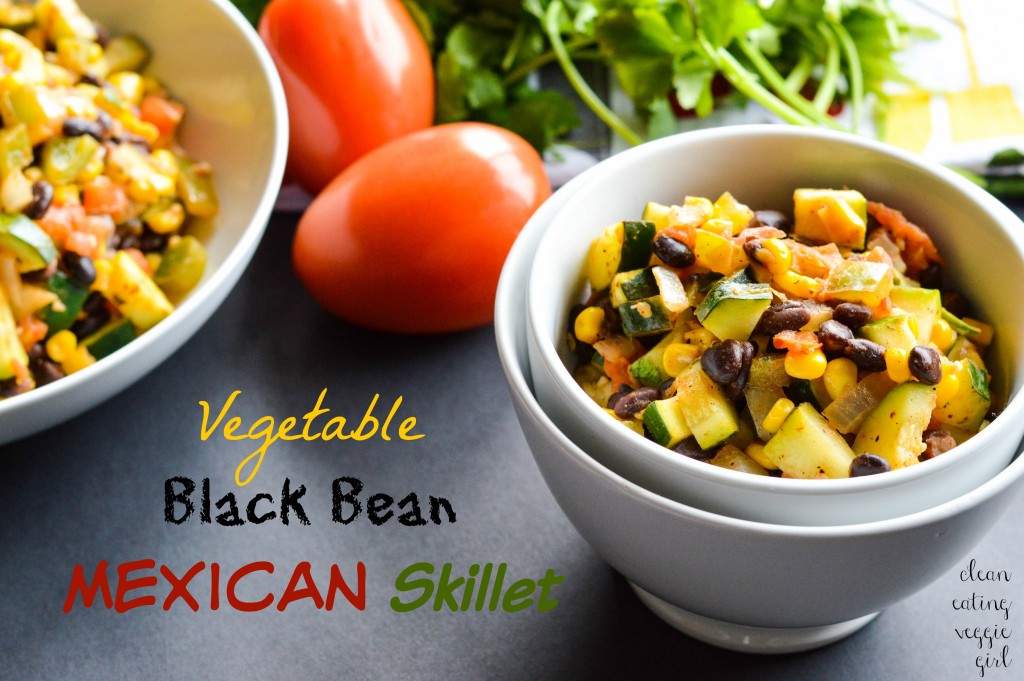 This dish looks like all sorts of summertime.  It tastes like it, too!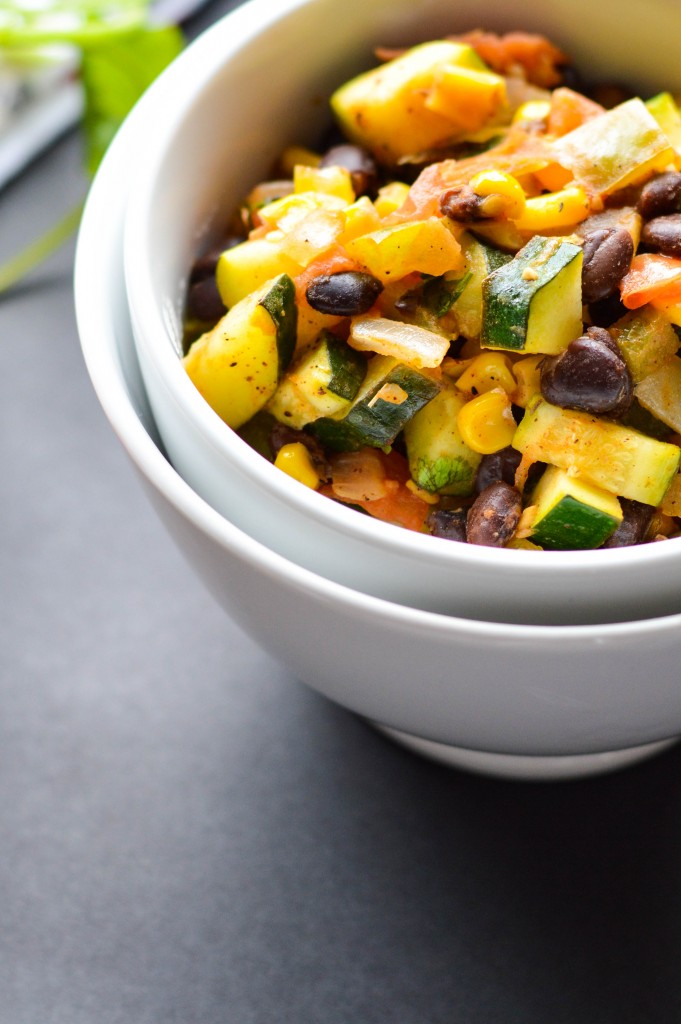 About two weeks ago, Omaha enjoyed 88 degree weather in the middle of MARCH.  It was slightly nuts, but so glorious.  Unfortunately, it did not last long.  We were back to the upper 50's for highs the very next day.  Despite the return to cooler weather, my body decided that it was time to crave all things summer.  Corn, tomatoes, peppers, squash, and fresh herbs.  You name it, I wanted it.  Once I got the first glimpse of summer, I could not get it out of my mind.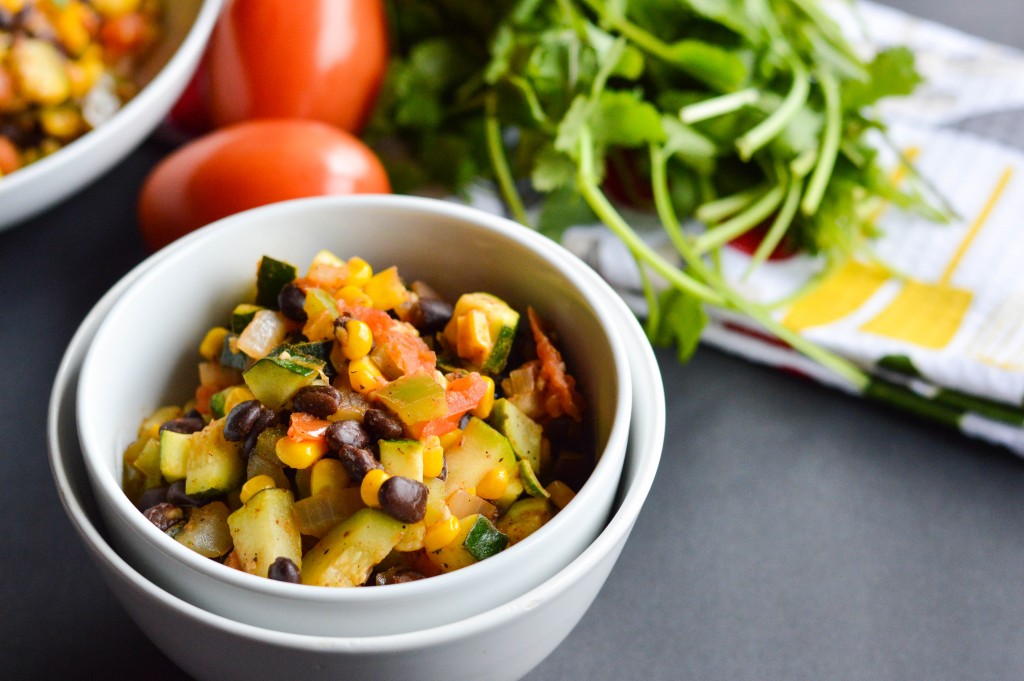 When I decided that I just had to cook something with my favorite summer veggies, this Zucchini with Tomatoes and Corn Salad from a recent Three Cooks One Kitchen edition instantly came to mind.  I loved everything about that salad and wanted to eat it again and again.  And while I was obsessed with it, I knew that it would not keep me full as a meal unless I ate the entire pan.  Trust me, the thought crossed my mind, but I instead decided to bulk it up with a protein source and some extra veggies.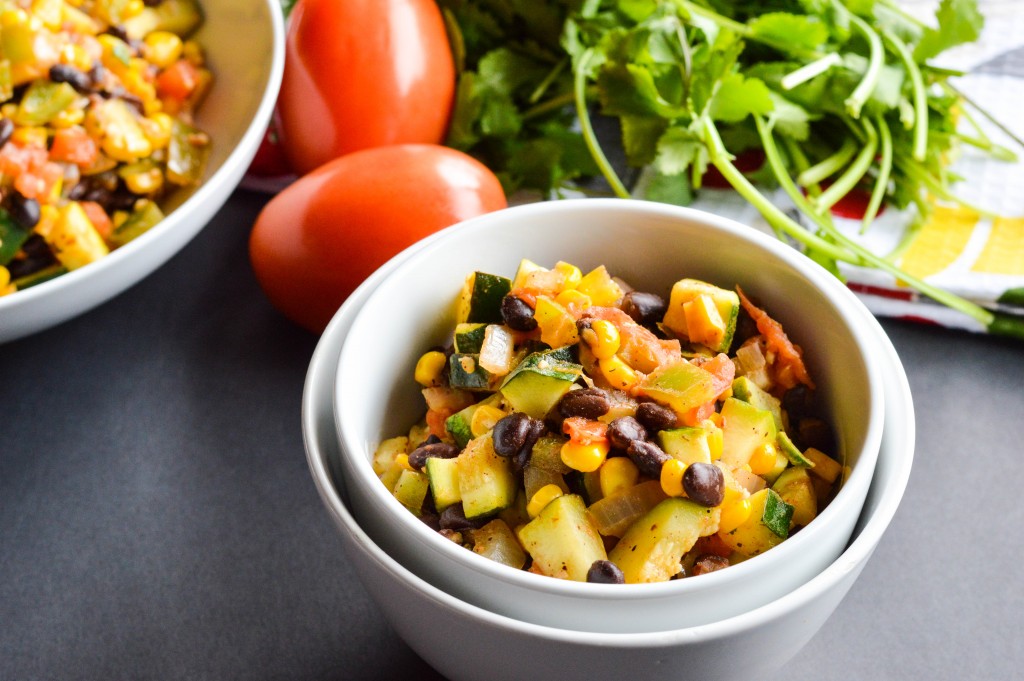 Black beans and peppers to the rescue!  Seriously, how could they not work in this dish?  That's right… it'd be impossible.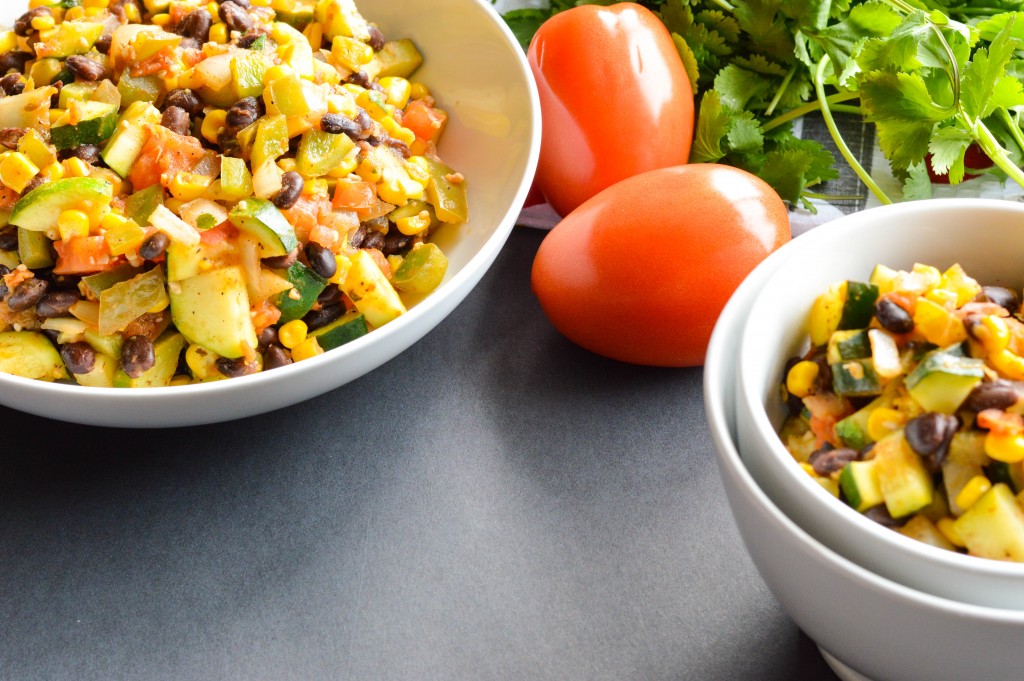 I know I cannot be the only one who is itching for summer weather and jumping at the chance to cook with fresh veggies.  I had to resort to frozen for a few of the ingredients listed below (since it is March, after all), but I cannot wait to make it again when I have access to fresh sweet corn and perfectly ripened tomatoes.  It is going to be even better!
Vegetable Black Bean Mexican Skillet
Vegan and Gluten-Free
Adapted from this recipe.
Serves 3 to 4
Ingredients
1 TB coconut oil or vegan buttery spread (I like Earth Balance)
1/2 small yellow onion, diced
1 green bell pepper, diced
2 cloves garlic, minced
2 Roma tomatoes, chopped
1 TB sriracha sauce or hot sauce
2 medium zucchini, chopped
15 oz can black beans, drained and rinsed
1 cup corn (fresh or frozen both work)
1/8 cup packed fresh cilantro, roughly chopped
1/2 tsp dried oregano
1/2 tsp fine sea salt
fresh lime juice, optional
Directions
1. Add coconut oil or buttery spread to a large skillet and heat over medium-high heat.  Add onion, peppers, and garlic to the pan.  Saute for approximately 6 to 8 minutes.
2. Lower the heat to medium.  Add tomatoes and sriracha sauce or hot sauce.  Stir well.
3. Stir in zucchini and cook for an additional five minutes.
4. Lower the heat to medium-low and add black beans and corn to the skillet.  Cook for an additional 3 to 5 minutes, or until warm.
5. Finish off the dish by adding cilantro, oregano, and sea salt.  Add a few squirts of lime juice, if desired.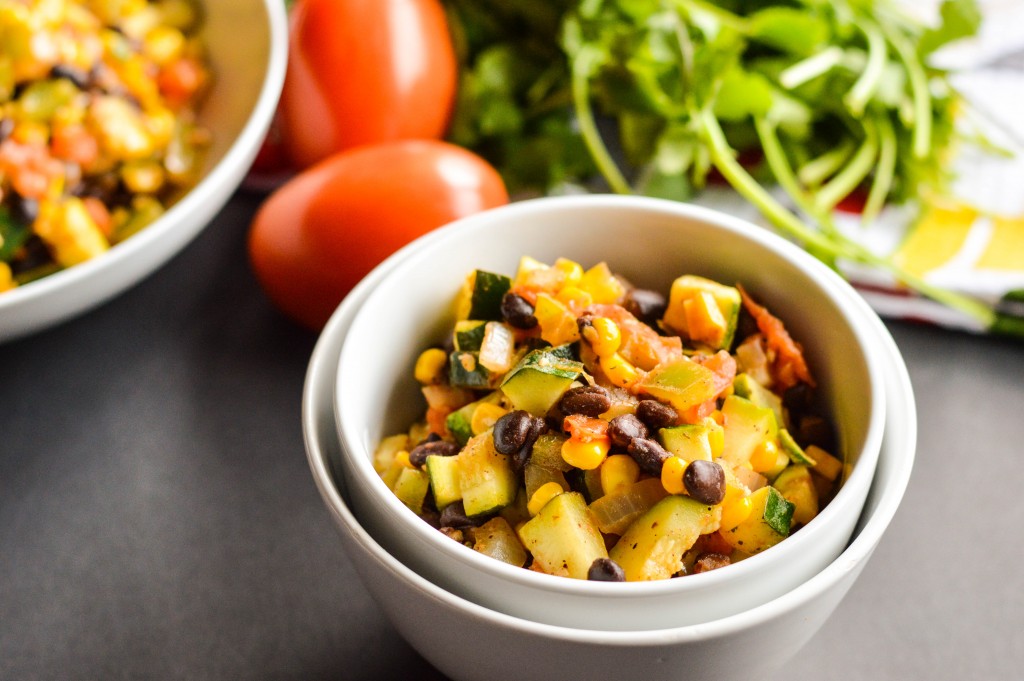 I ate my serving all on its own.  There is enough going on that it can be served as a full meal.  Even still, I am dying to try it wrapped up in tortillas for enchiladas, piled high on tostada shells, or scooped up with chips.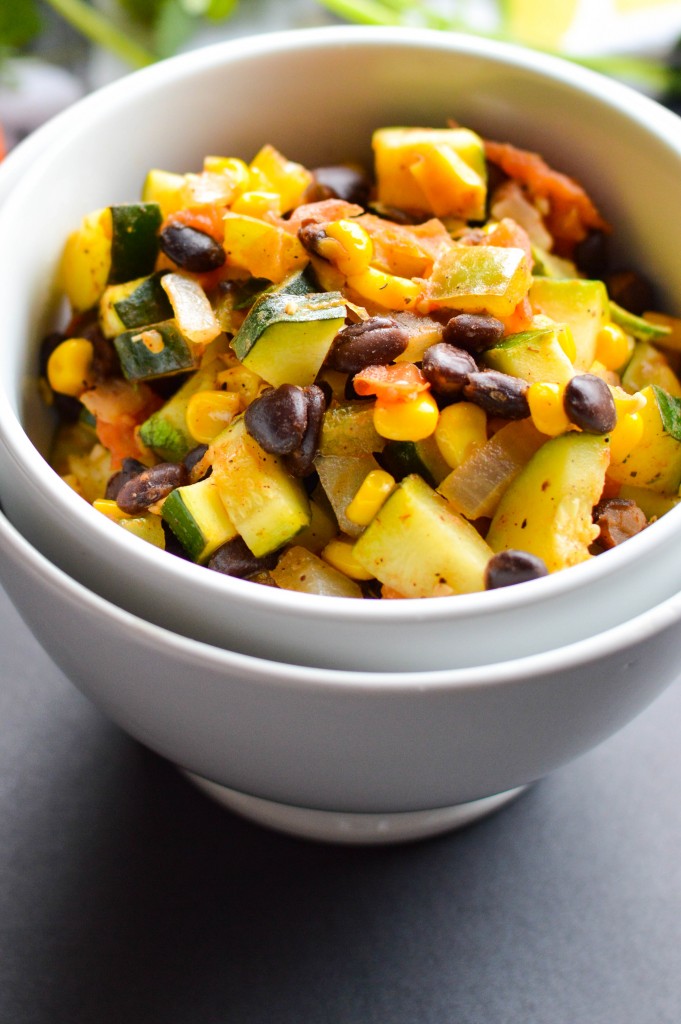 I have officially brought the summer food cravings to you.  Now if only Mother Nature would bring us summer weather and keep it around for the next six months!
Which foods remind you of summer?
Please pin me and share me on Facebook and Twitter using the buttons below!