A super simple fried rice recipe that is gluten-free and chicken-free, but is certainly not skimping on flavor!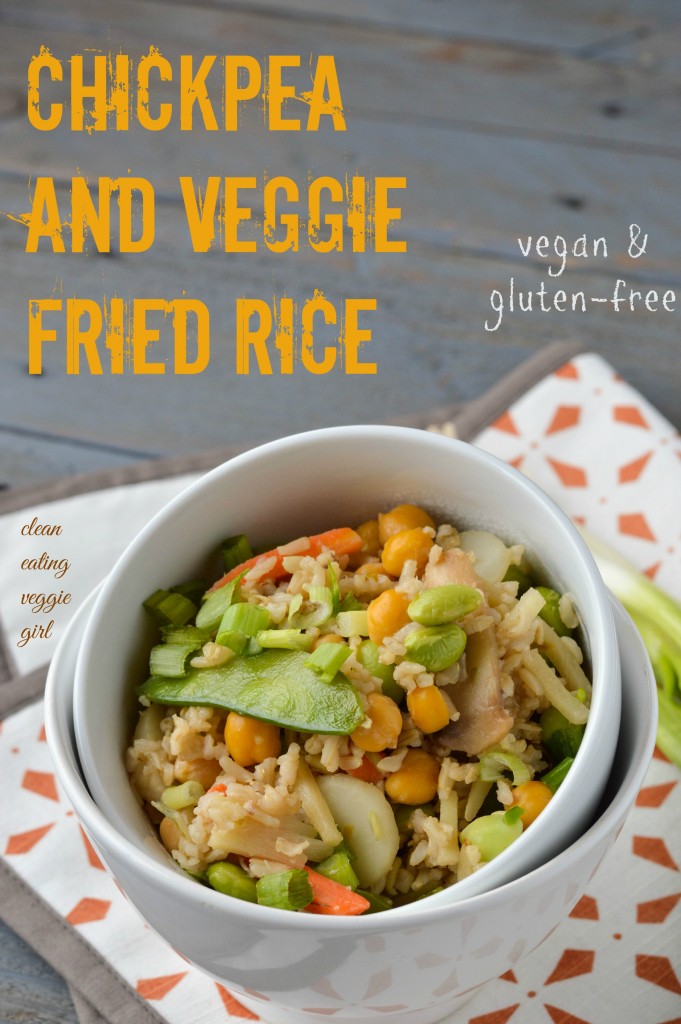 Last week I mentioned that I recently made the decision to try out a gluten-free diet.  I have been working with a functional medicine center for the past month, and in speaking with my nurse practitioner and reviewing my blood work and health history, we decided it would be worth a shot.  I promise that I will share more of an in-depth explanation of this decision and an update on my health in a post this Thursday (I have another appointment this evening that I want to attend before I write that post), but for now it is important that I preface the fact that you will be seeing a lot of gluten-free recipes here in Clean Eating Veggie Girl land… at least for the time being.  I have already shared a couple recently, and there are plenty more to come.  But don't worry.  I promise that they will all still be easy, healthy, mostly plant-based, and delicious!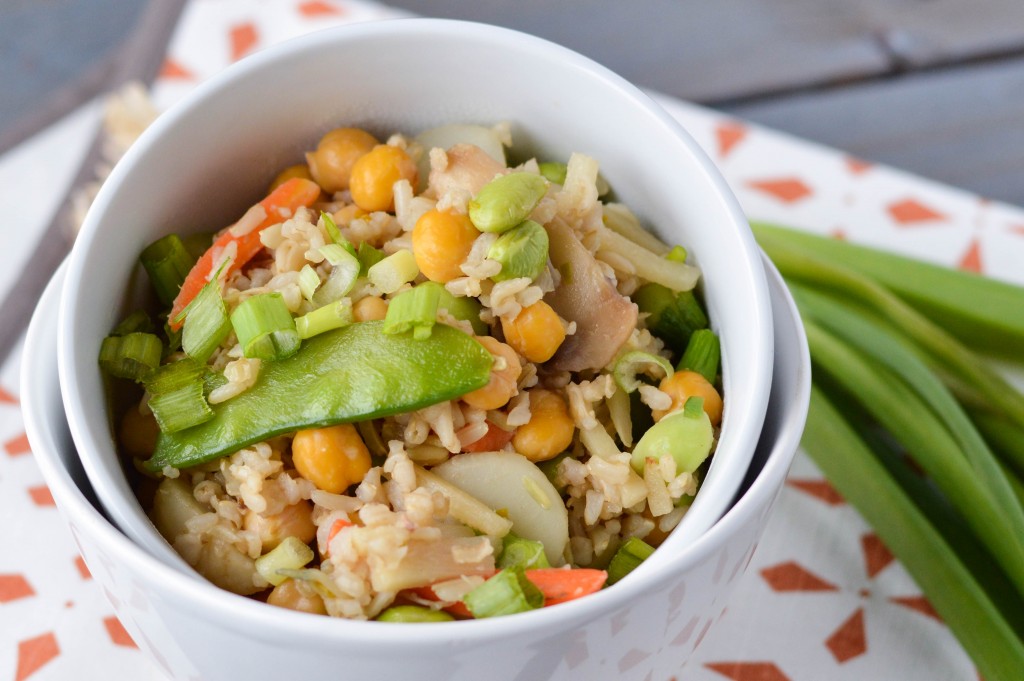 When you suddenly jump from eating gluten one day and cutting it out completely the next, you find yourself in a bit of a state of confusion.  I have gotten used to being a label reader during my time as a vegetarian (now pescetarian) who follows a mostly plant-based diet, but now I am not just on the lookout for hidden animal products and dairy.  Instead, I am also on the lookout for any product that contains or may contain wheat, barley, or rye.  Let's just say that it can all be a bit overwhelming.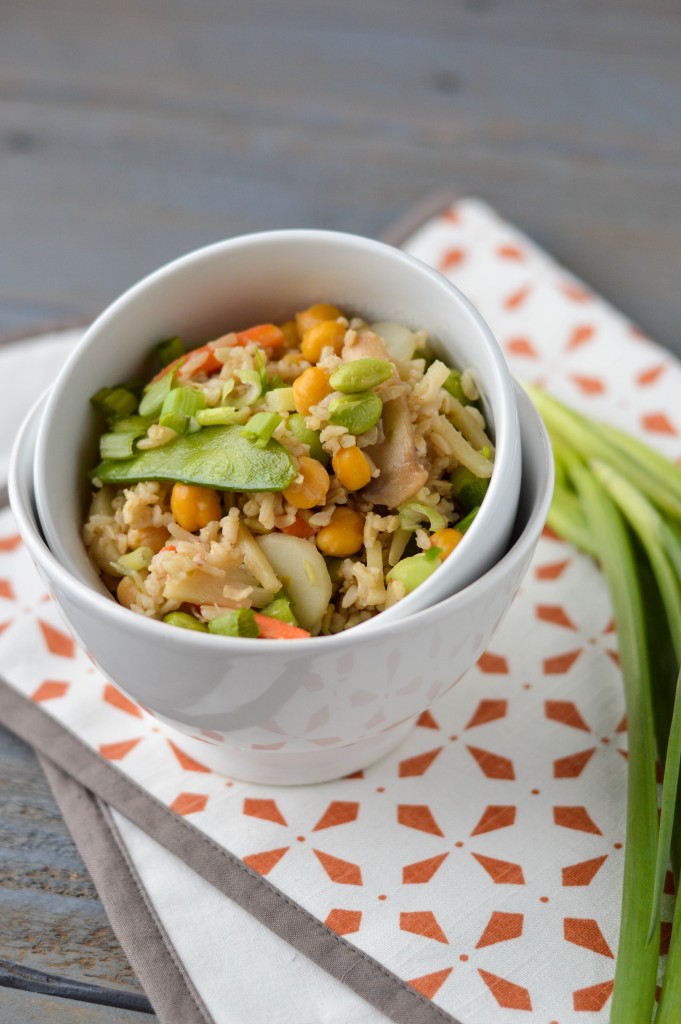 In an effort to ease my way into a gluten-free diet, I have decided that I need to get back to the basics.  I already know that meals do not have to be fancy or elaborate in order to be delicious.  I also know that some of the simplest ingredients can come together to create truly delicious meals.  So when I set out to create a meal plan for my first gluten-free week, I decided to whip up the simplest of recipes.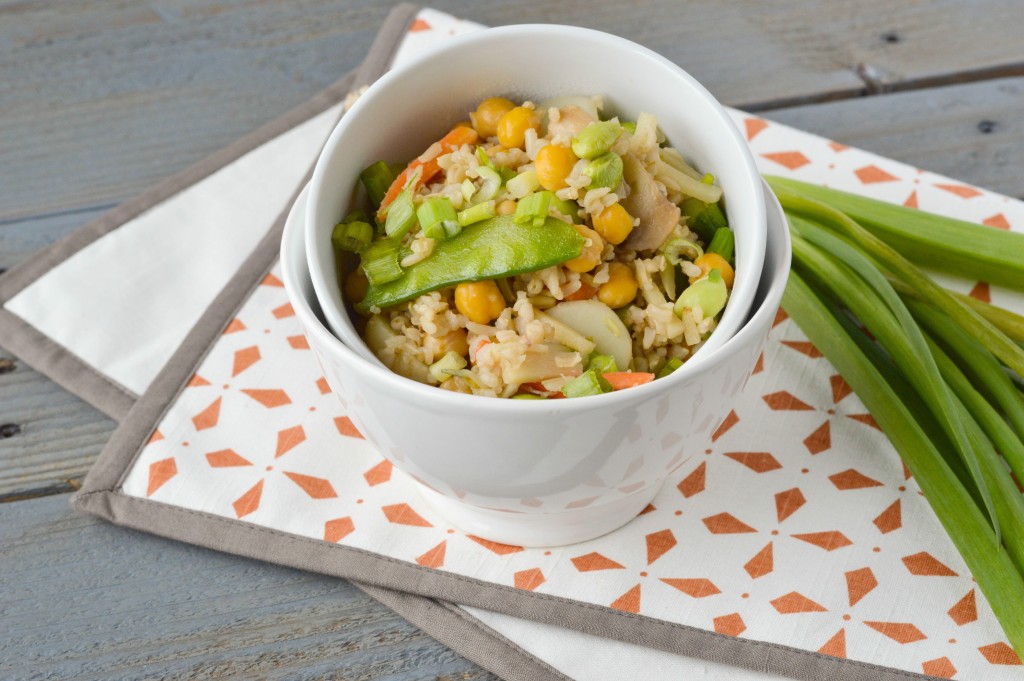 This Chickpea and Veggie Fried Rice came about when I was thinking of what grains I could eat, as opposed to which grains I could not eat.  Positive thinking, right?  Whole brown rice seemed like the perfect grain to choose for a carby, yet gluten-free meal.  Of course rice can play a role in about a million different recipes.  But the first thing that came to mind for me was fried rice.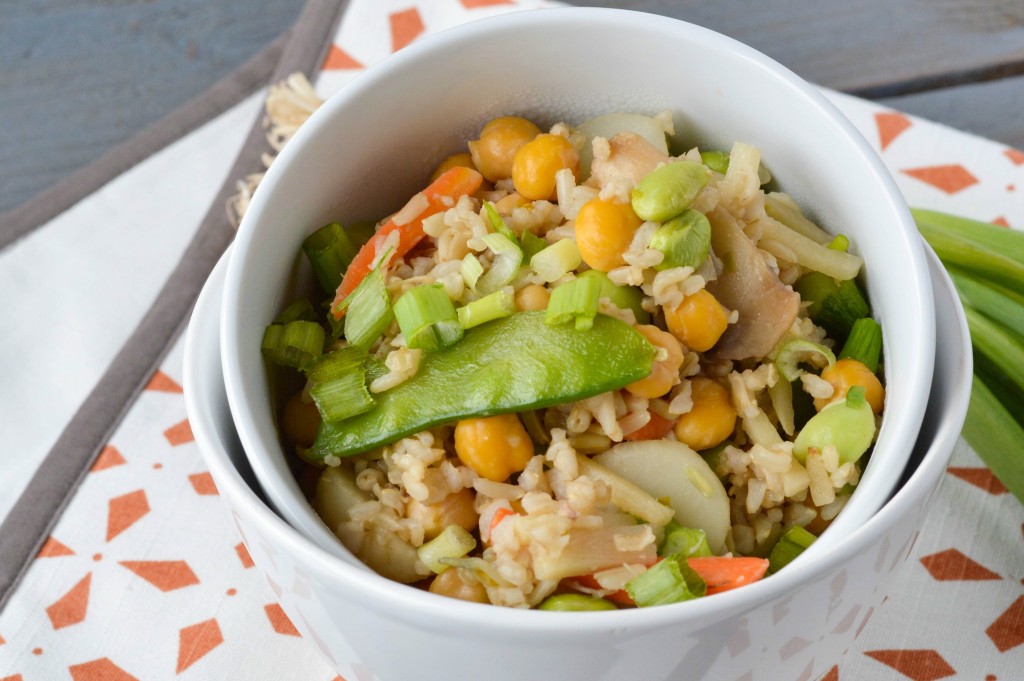 I have almost (I say almost because I was a super picky child) always been a fan of chicken fried rice.  It contains carbs, a protein, veggies, and tons of flavor.  What's not to love, right?  Now that I do not eat chicken, it's been quite awhile since I have enjoyed a big 'ole bowl of the fried goodness.  Of course you know that a little animal protein in a recipe never stops me from making a meal.  So instead of chicken, I have turned to my absolute favorite vegan chicken substitute: chickpeas!  And thus, this gluten-free, chicken-free fried rice came about.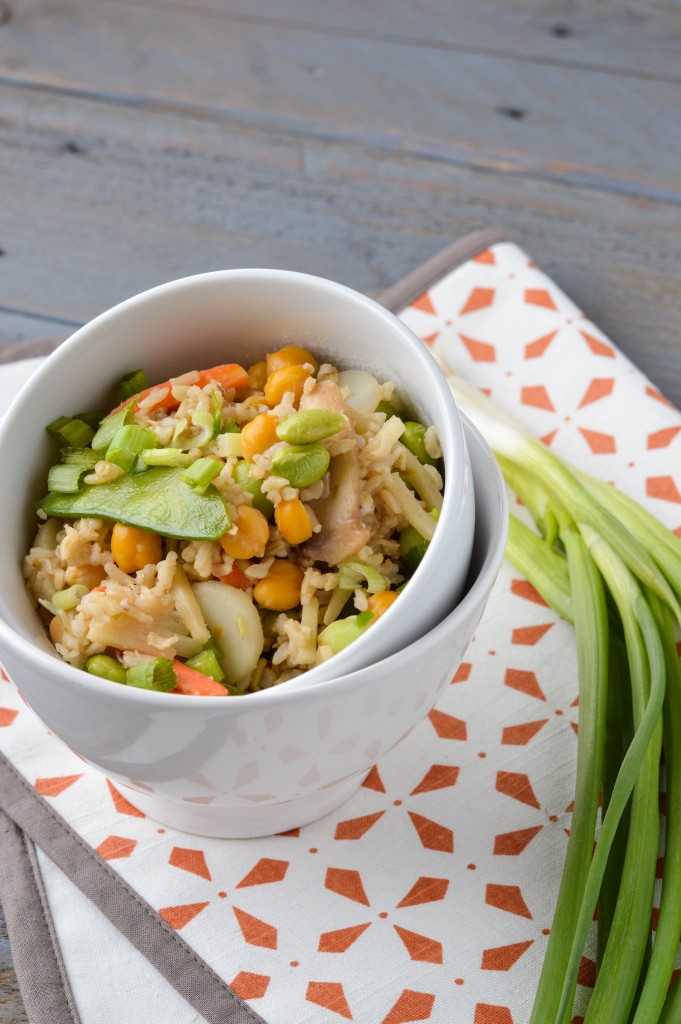 Chickpea and Veggie Fried Rice
Vegan + Gluten-Free
Serves 4 to 6
Ingredients
2 TB sesame oil
16 oz package of frozen stir-fry veggies (any variety you prefer)
1/2 green bell pepper, chopped
3 TB Bragg's Liquid Aminos (coconut aminos or certified gluten-free soy sauce also work)
2 TB seasoned rice wine vinegar
1/2 tsp garlic powder
15 oz can chickpeas, drained and rinsed
3 cups cooked whole brown rice*
1/4 cup green onions, diced
*It is best if you use leftover rice, though you can make it fresh if needed.  I cooked a batch in my rice cooker the night before I made this and refrigerated the rice until it was frying time.
Directions
1. Heat sesame oil in a wok or large skillet over medium-high heat until very hot.
2. Add frozen vegetables and green bell peppers to the wok.  Cover with a lid and cook for approximately 8 minutes.  Stir the vegetables halfway through to prevent sticking.
3. While the vegetables are cooking, combine the liquid aminos, seasoned rice wine vinegar, and garlic powder in a small bowl.  Wisk until well-combined.  Set aside.
4. Once the vegetables have cooked for 8 minutes, remove the lid and continue cooking an additional 2 to 3 minutes, or until most of the moisture has evaporated.
5. Lower the heat to medium.  Stir in the chickpeas, rice, and, sauce.  Continue cooking for 3 to 5 minutes.
6. Add half of the green onions to the wok.  Lower the heat to medium-low and cook for an additional minute.
7. Garnish each bowl with remaining green onions.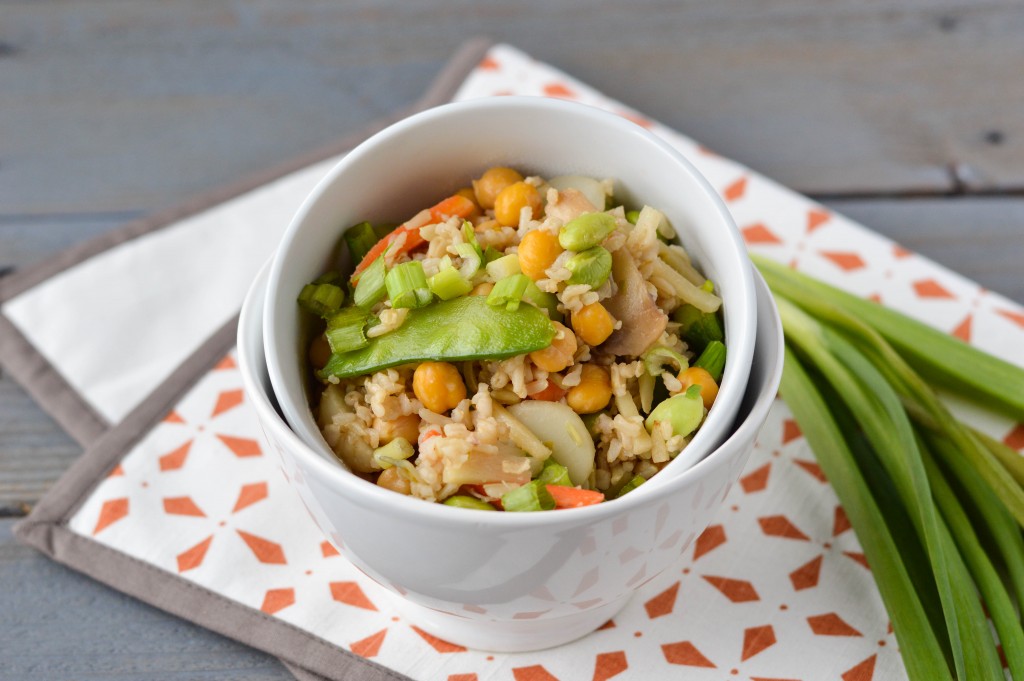 My Chickpea and Veggie Fried Rice is gluten-free, chicken-free, and healthy, but it is also seriously delicious… not to toot my own horn or anything!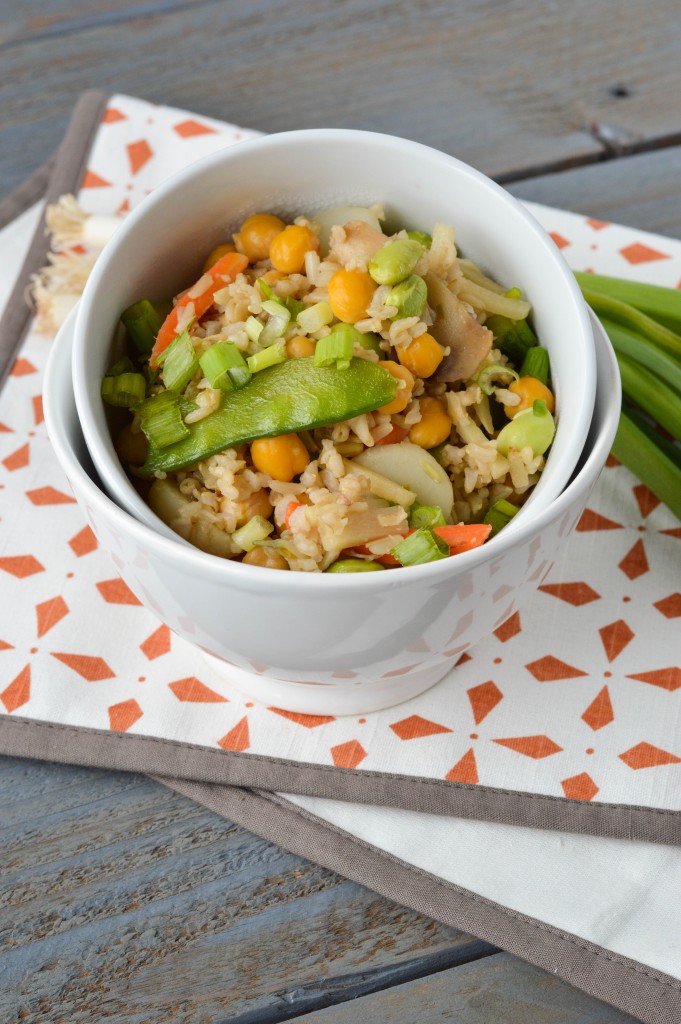 Right now I may be a gluten-free, mostly plant-based eater, but that sure as heck doesn't mean I'm not eating good food.  In fact, I only take those "limitations" as challenges.  I will keep making us all tasty eats!
Be sure to check back on Thursday for a full recap of my diet and health updates.
Do you have a favorite vegetarian recipe that is also gluten-free?  Please share the link in the comments!