I think (?) you guys have been enjoying my recent posts about my grocery hauls, so I am planning to continue sharing them a couple of times each month.  I like to assume that I am not the only complete weirdo out there who likes to snoop in others' pantries, refrigerators, and grocery carts.  Lucky for you, I am going to make the snooping part extra easy.  You can sneak a peek inside of my grocery bags from last weekend and nobody will even know!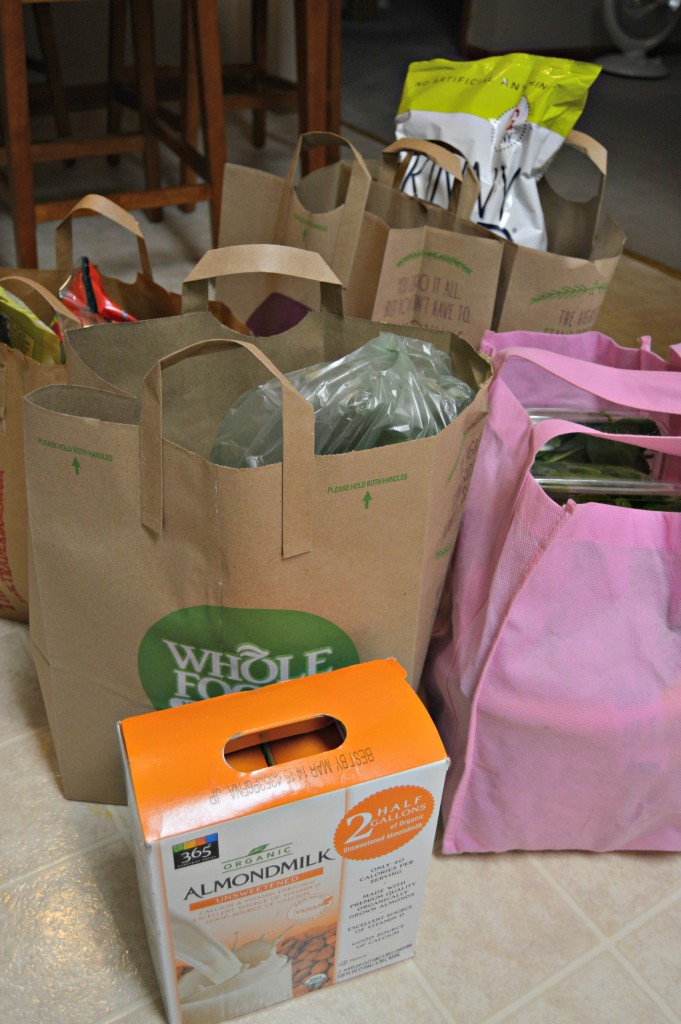 What's in My Grocery Bags (January 25, 2015)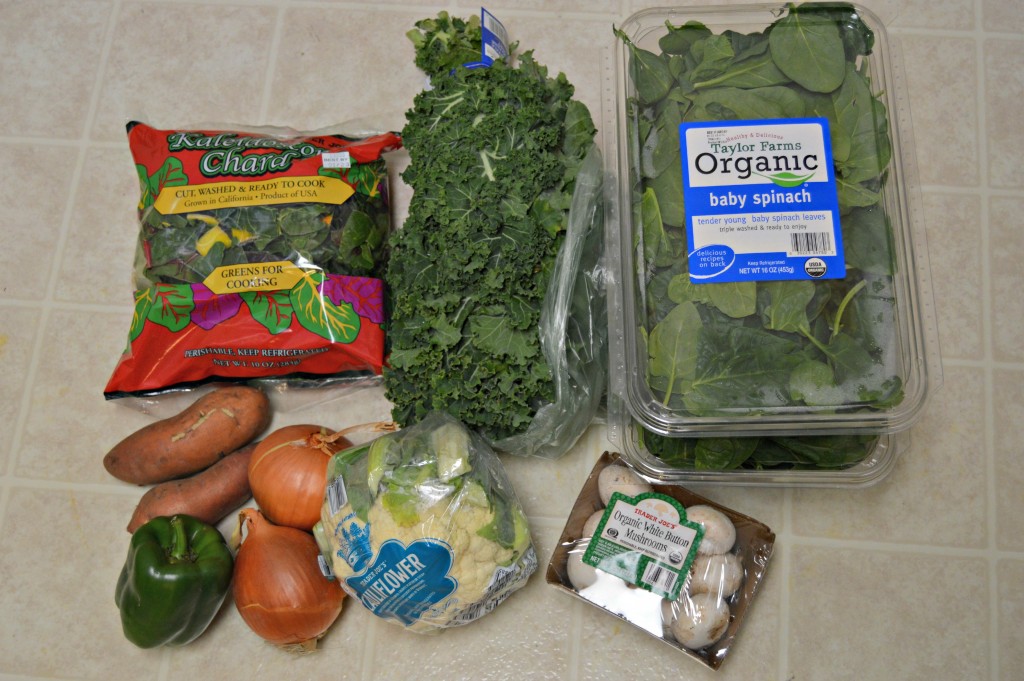 My first stop in the grocery store: the produce aisle!  I picked up tons of fresh produce, including: rainbow chard, sweet potatoes, a green pepper, onions, cauliflower, kale, spinach, and mushrooms.  That was just the veggies!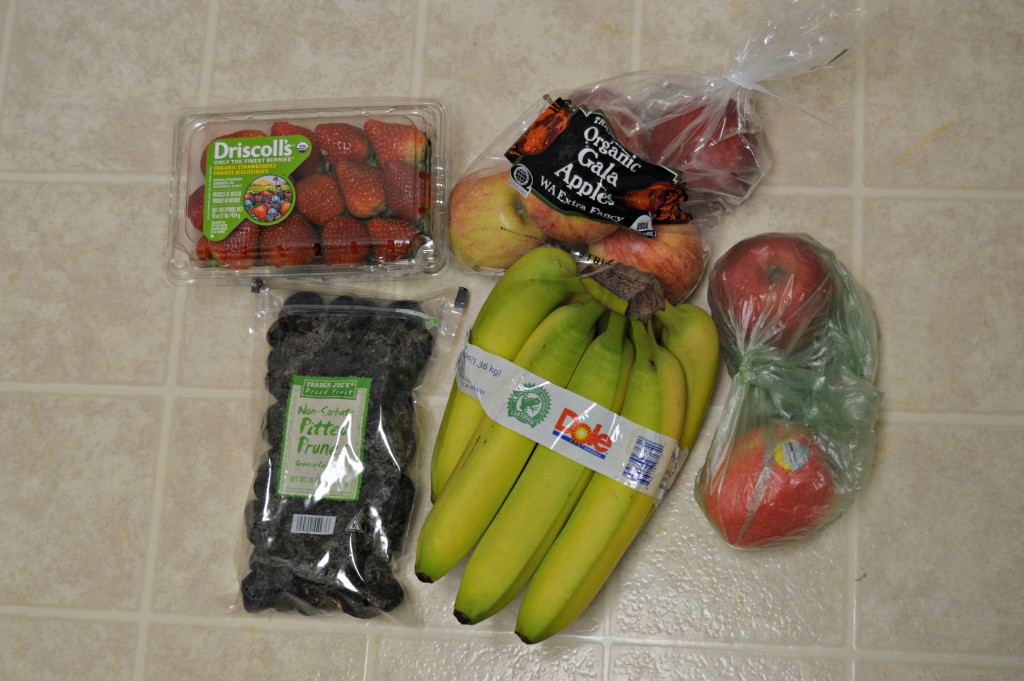 My fruit purchases included: strawberries, dried prunes, bananas, and apples.
I did not need much to stock my fridge and freezer, but I purchased: almond milk, hummus, frozen spinach, and Alexia french fries (they were on sale and I had a coupon!).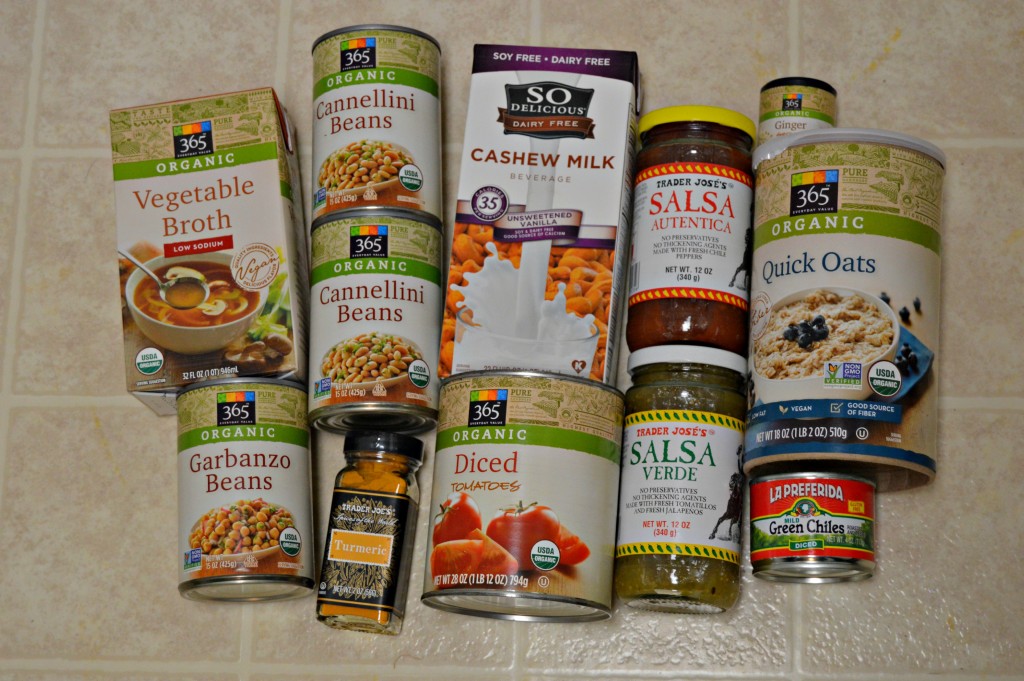 I had quite a few pantry staples to stock up on, including: vegetable broth, chickpeas and cannellini beans, turmeric, cashew milk (I wanted to try something new!), diced tomatoes, salsa, ground ginger, quick oats, and green chiles.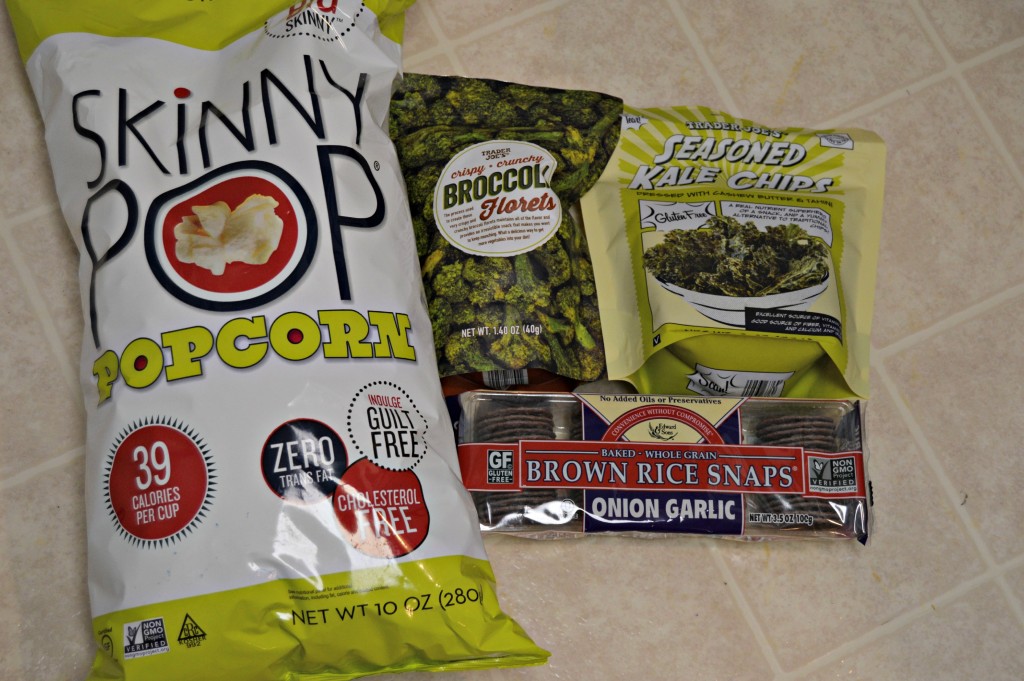 Finally, I could not pass up some of my favorite snack foods: popcorn (of course), a new broccoli florets snack from TJ's (I thought they were okay, but not awesome), kale chips, and brown rice snaps.  The onion and garlic flavor might be my new favorite variety!
I shopped at Trader Joe's, Whole Foods, and Sam's Club for everything seen above.  My grand total was somewhere around $84.00.  Lucky for me, I had $30 in Whole Foods gift cards.  Only paying $54.00 out of pocket felt a lot better!
*This grocery haul was from last week and does not correspond with the coming week's meal plan.
Weekly Meal Plan for the Week of January 26, 2015
Monday: Loaded BBQ Black Bean & Pineapple Potato Skins (recipe to come)
Tuesday: Jamaican Jerk Tempeh with peppers and rice
Wednesday: Spicy Wasabi Chickpea Salad on rice cakes + veggies
Thursday: Dinner with my girlfriends
Friday: Veggie burgers from my freezer + veggies
Saturday: Lentil Tempeh "Reuben" Bowl
Sunday: Spaghetti Squash with Vegan Tomato Basil Cream Sauce
I should be all set for a healthy and delicious week.  Hopefully you gathered some recipe ideas for your own meal plan, and have a few new food items to add to your grocery list.  Have a great rest of your weekend!  May your Sunday meal prep (if you partake) be quick and enjoyable!