This post is sponsored by Omaha Performing Arts.  As always, all thoughts and opinions are 100% my own!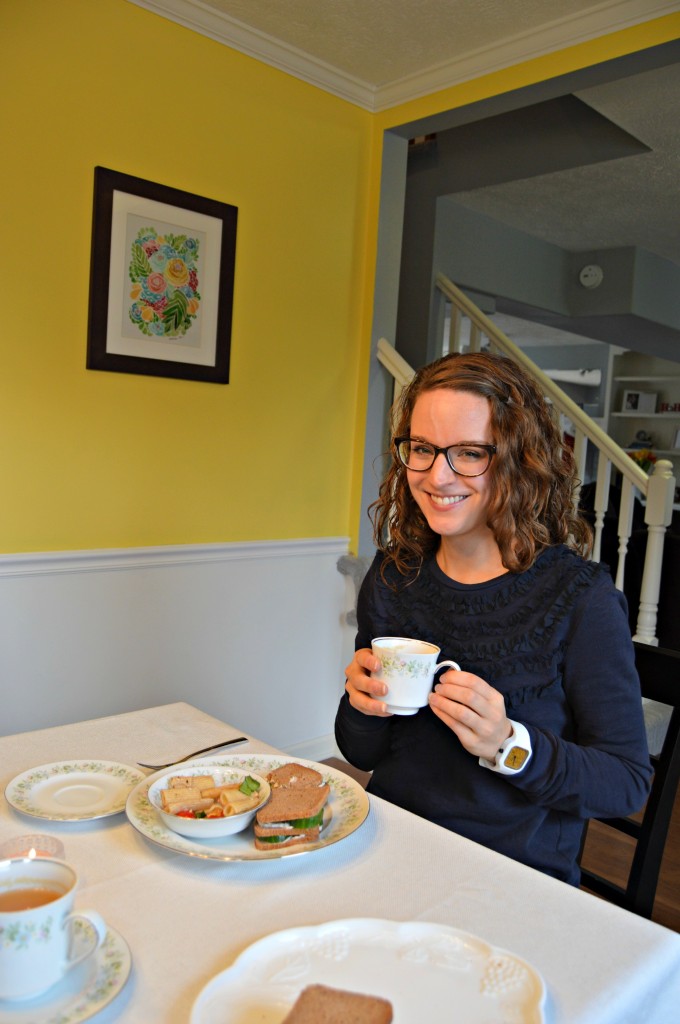 How often do I get to drink fake "tea" out of teacups at a girls' day tea party?  Try never, until now…

Three Cooks One Kitchen got a little bit of a makeover this month.  Instead of cooking up something elaborate, we decided to go simple with the recipes and focus more on the experience.  Last Saturday, Erin and I met at Joanna's house where we threw ourselves a tea party.  Tea parties aren't just for children!  Either that, or we are all three just really big kids at heart.  Regardless, we had a blast cooking, eating, drinking out of fancy teacups, and gabbing.  In other words, we spent a couple of hours doing some of the things we enjoy the most!  We did it all in celebration and anticipation of an exciting event that is coming to Omaha next week (read on for more deets).
Will you be our guest?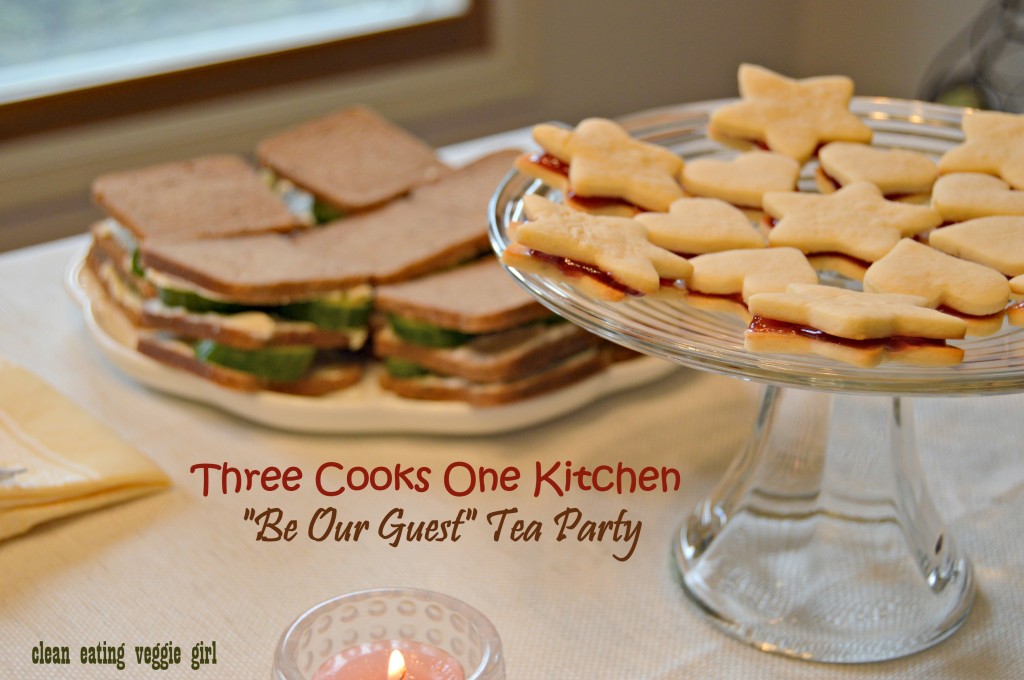 A Three cooks One Kitchen "Be Our Guest" Tea Party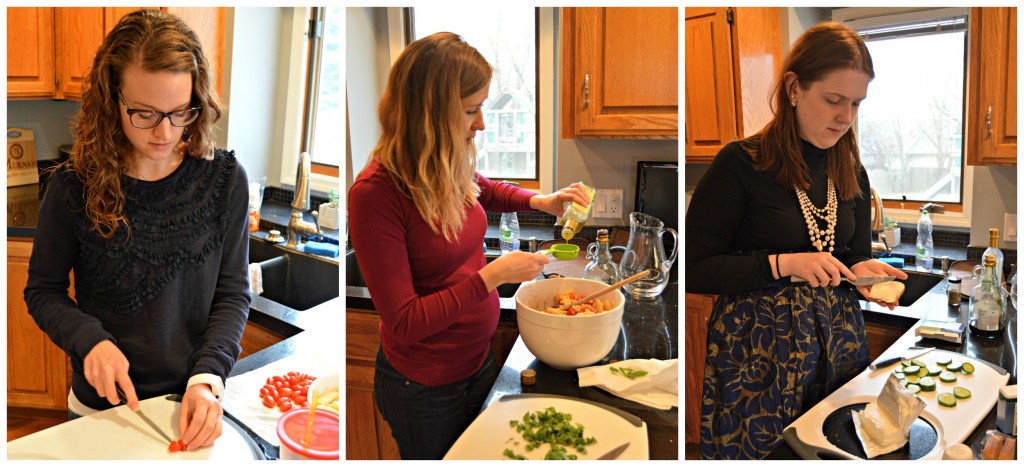 Upon arriving to Joanna's, we got right to cooking… and talking… and photographing.  You know, the "normal" things that bloggers do.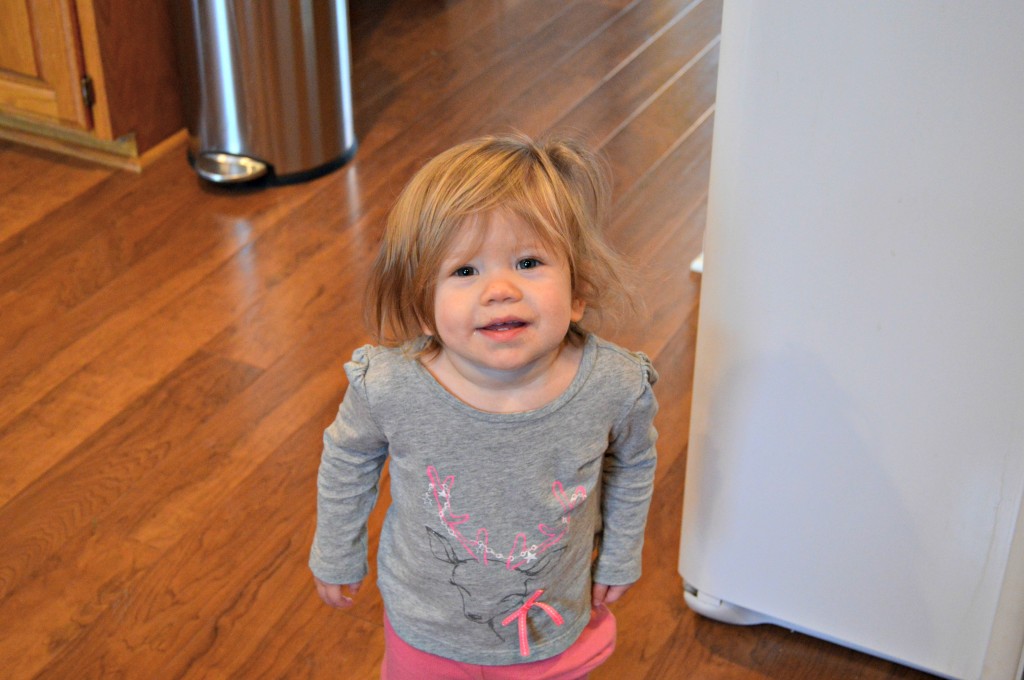 We had a cute little helper with us in the kitchen, too.  It was Three and a Half Cooks One Kitchen!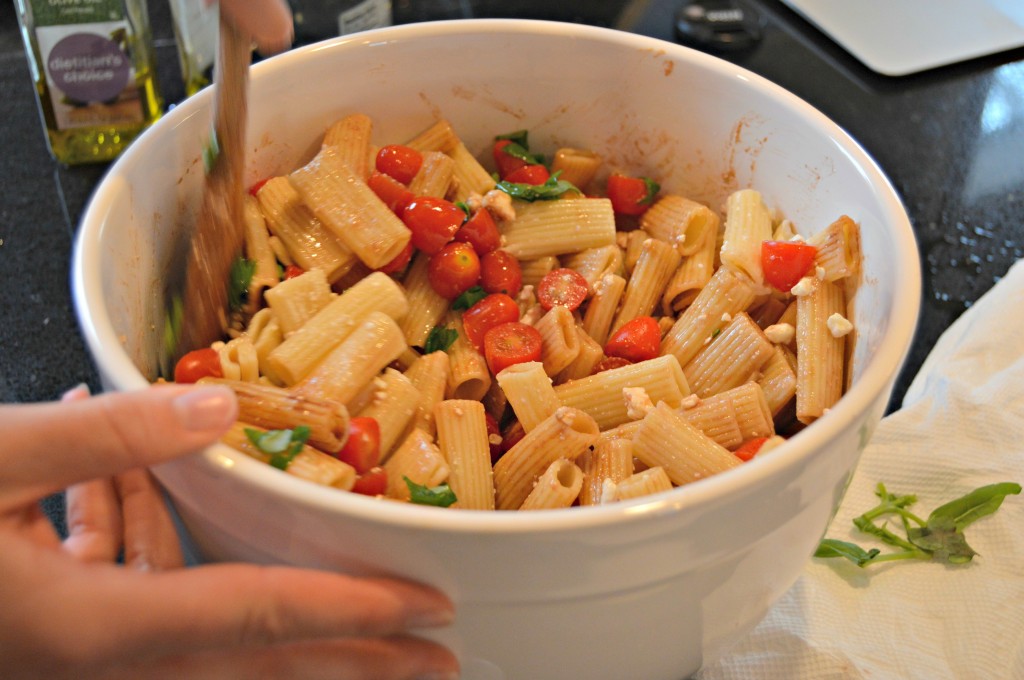 If you are looking for a healthy, easy, and delicious pasta salad recipe, I'd definitely recommend this Feta Basil Balsamic Pasta Salad.  It came together in under 30 minutes (cooling time included).  Plus, we eat with our eyes first and the colors in this one are gorgeous!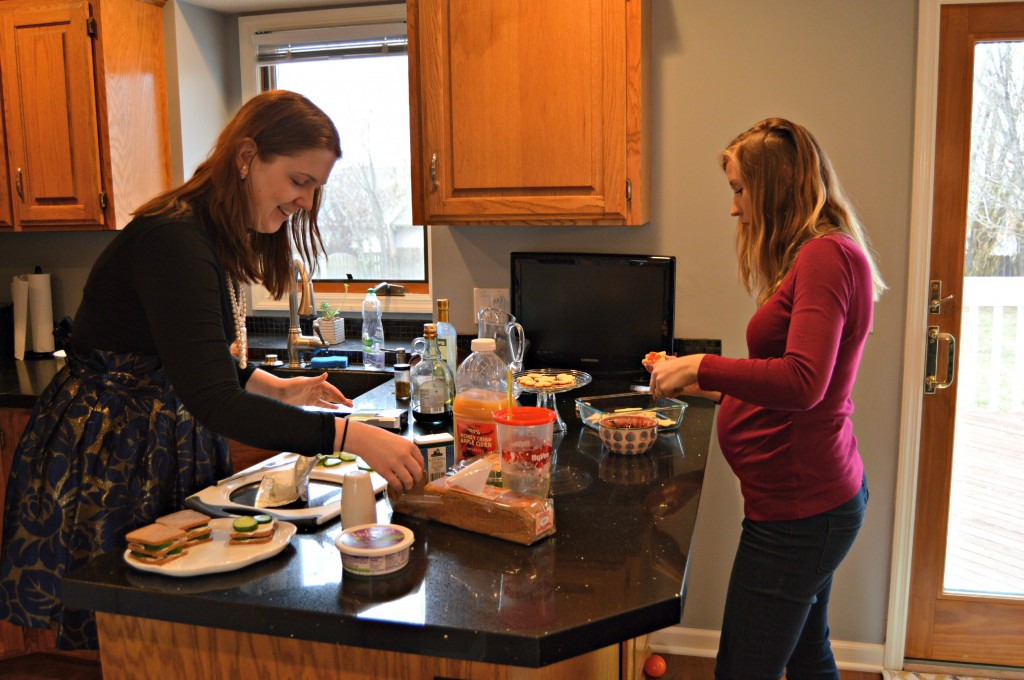 After the pasta salad was made and chillin' in the fridge, Erin and I got to work on the cucumber and cream cheese tea sandwiches (recipe below), while Joanna finished making these Fruit "Galette" Cookies.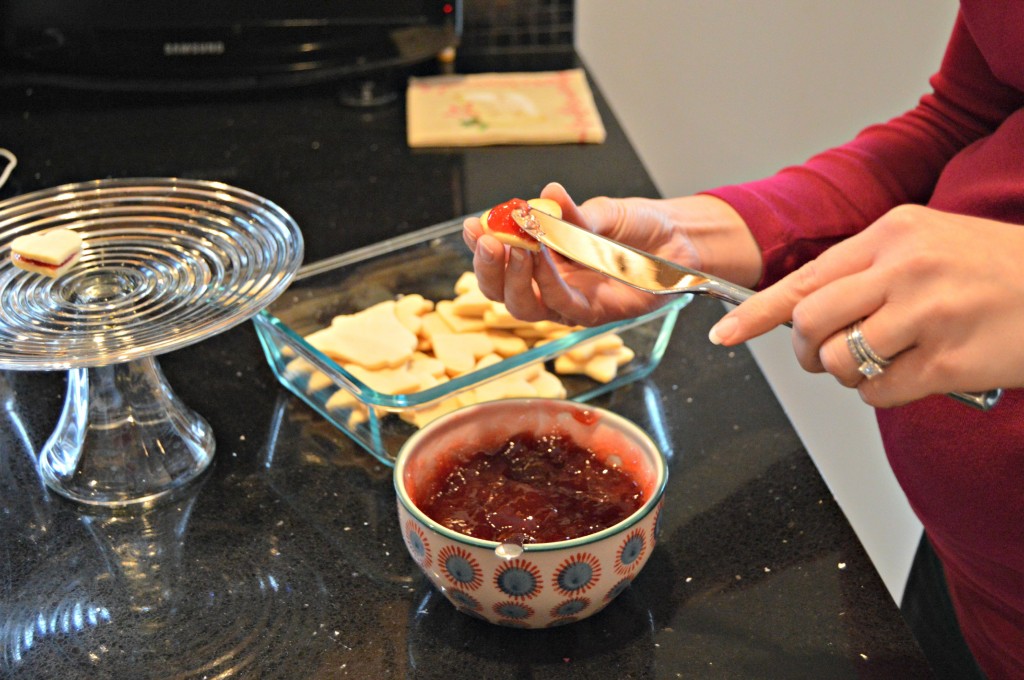 We left the job of baking and adding the raspberry jam to these to Joanna since she is the master baker.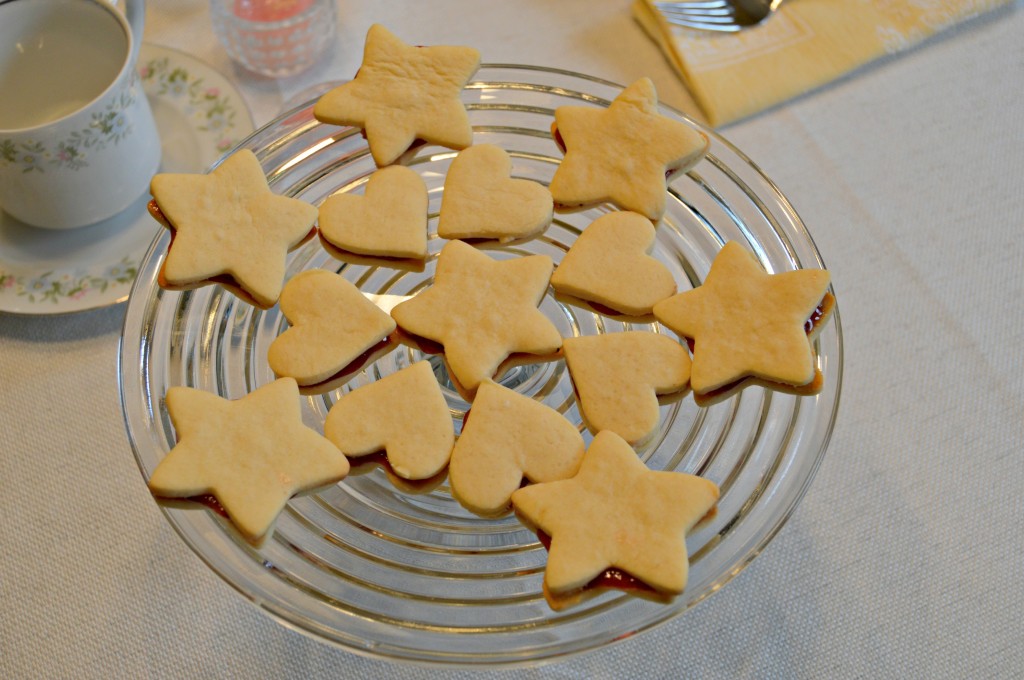 Aren't they gorgeous?!  I can only imagine what a mess they would have been if Erin and I had been in charge of the filling 😉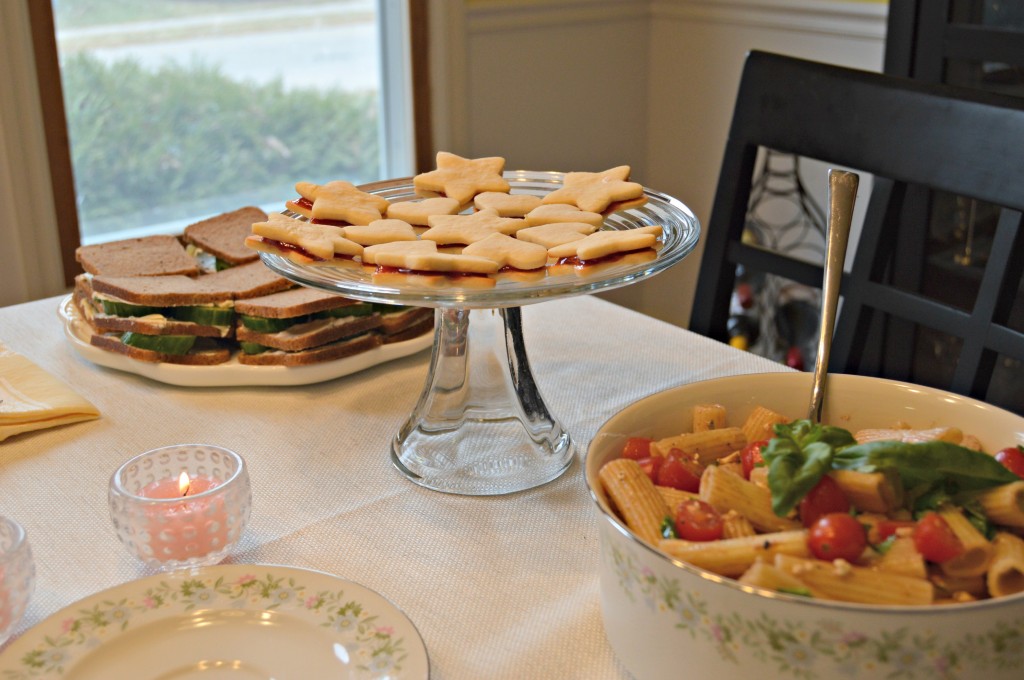 Once the sandwiches, cookies, and pasta salad were all ready, we set the table for our tea party.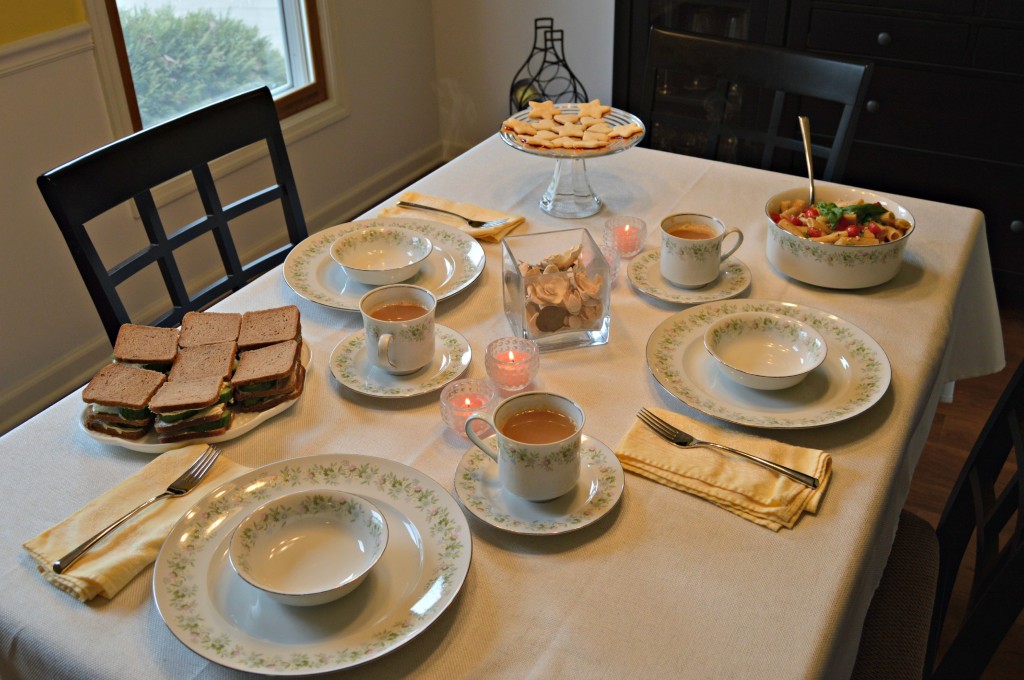 It wasn't your traditional "tea" party.  I am not a tea person and Joanna is not drinking it right now while she is pregnant.  Instead, we rolled with the season and drank hot apple cider in our teacups.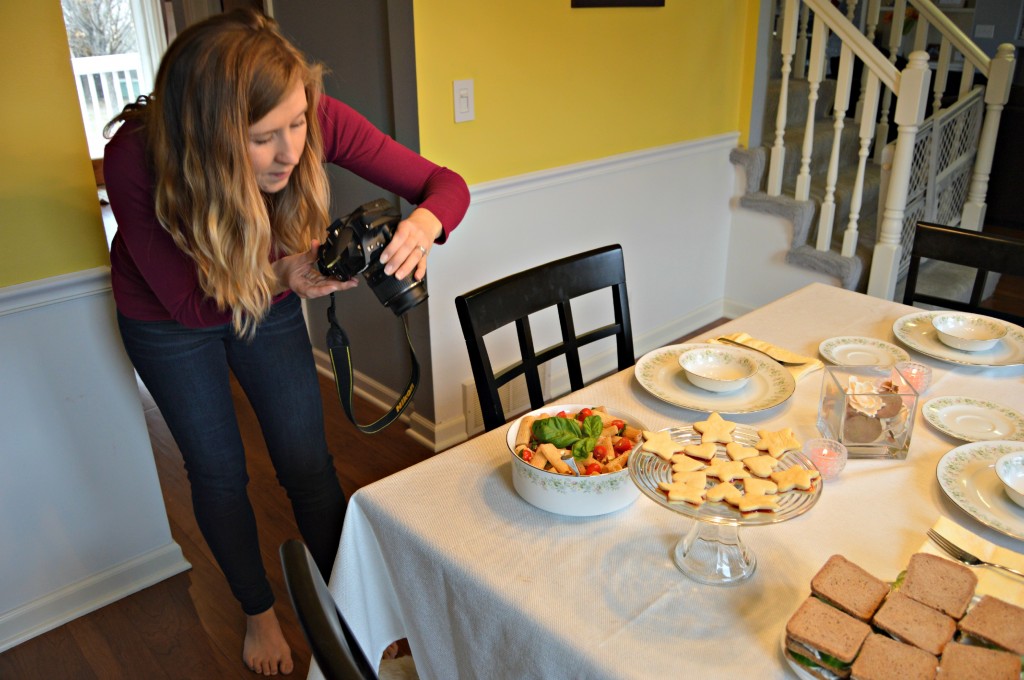 It's not a Three Cooks One Kitchen event without tons of picture taking prior to eating.  If Joanna's neighbors could have been looking through her windows, they would have thought we were all nuts!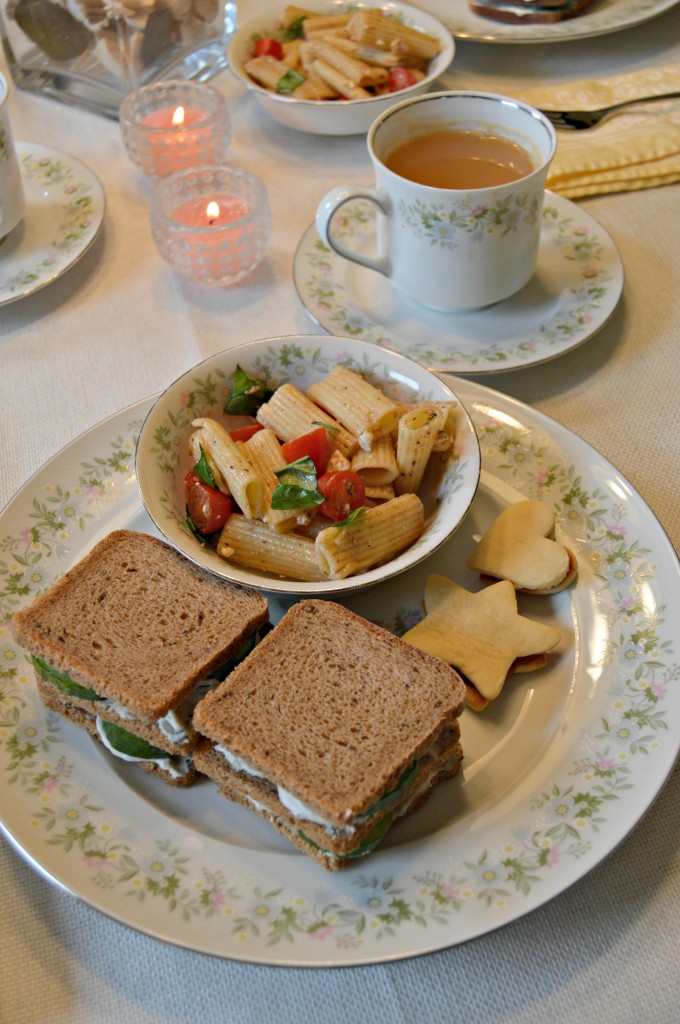 Eventually the picture taking had to come to an end because our tummies were grumbling.  We served ourselves up a little bit of each dish.  How adorable are our little finger foods on Joanna's hand-me-down china?  Everything tasted just as delicious as it looks!
And now to those cute little tea sandwiches…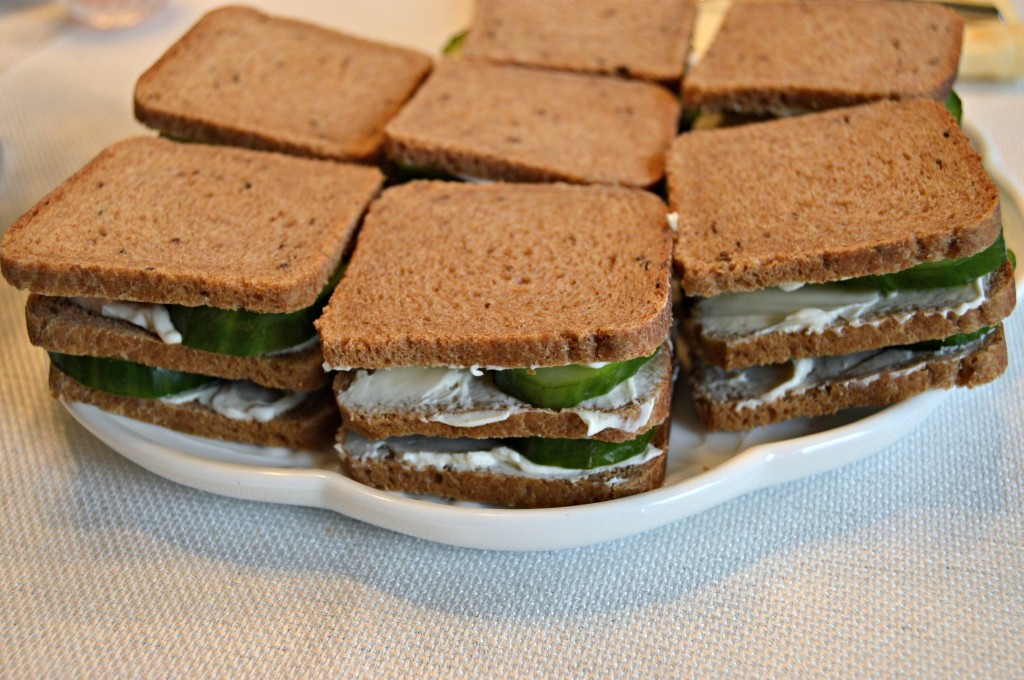 I have a difficult time even calling this a recipe, but I have to share what went into these sandwiches because they are the perfect finger food for your next party (tea or not).
Cucumber and Cream Cheese Tea Sandwiches
Makes 8 sandwiches
Ingredients
24 slices rye cocktail bread
1/2 cup cream cheese (I used Go Veggie!'s vegan Chive & Garlic Cream Cheese <–awesome!)
1 English cucumber cut into 1/4 inch thick slices
fine sea salt and black pepper, optional
Directions
1. Spread one slice of cocktail bread with cream cheese.
2. Top the cream cheese with one to two slices of cucumber, depending on their size.  Sprinkle with salt and pepper, if desired.
3. Add another slice of bread on top.  Top this slice with additional cream cheese and cucumbers.
4. Top your tea sandwich with a third slice of bread.
5. Repeat for remaining seven tea sandwiches.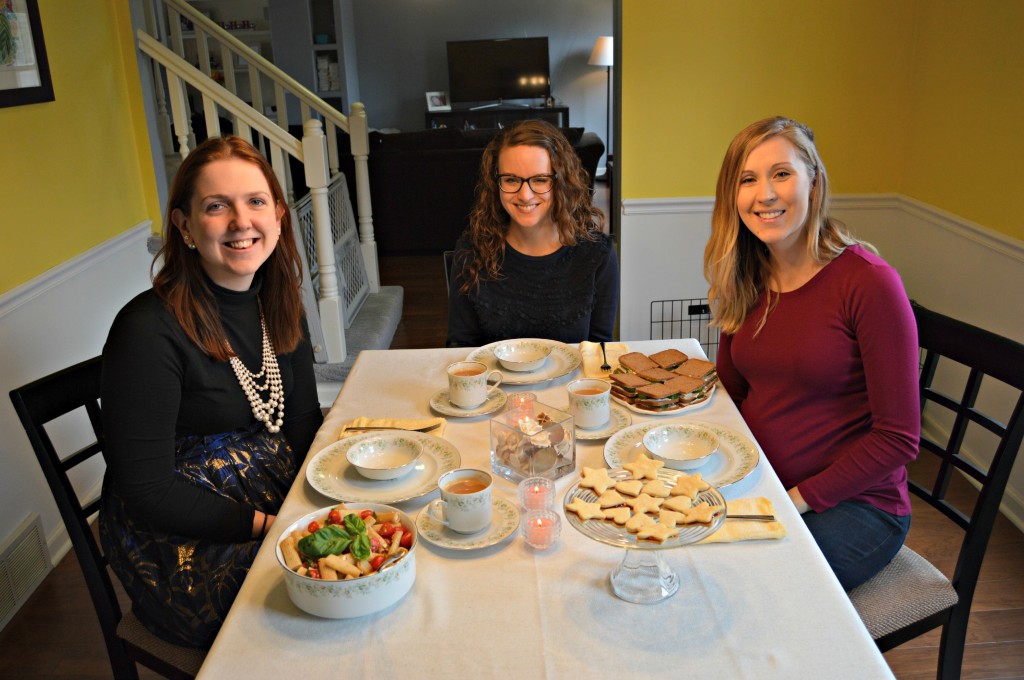 You might be wondering how in the world we decided to throw ourselves a tea party.  It was not because we love tea.  It had a little bit to do with the fact that finger foods are incredibly fun to make and eat.  But the main reason for our tea party was in celebration and anticipation of our upcoming girls' night out next week for the musical, Beauty and the Beast.  You cannot hear about Beauty and the Beast and not think of tea parties, right?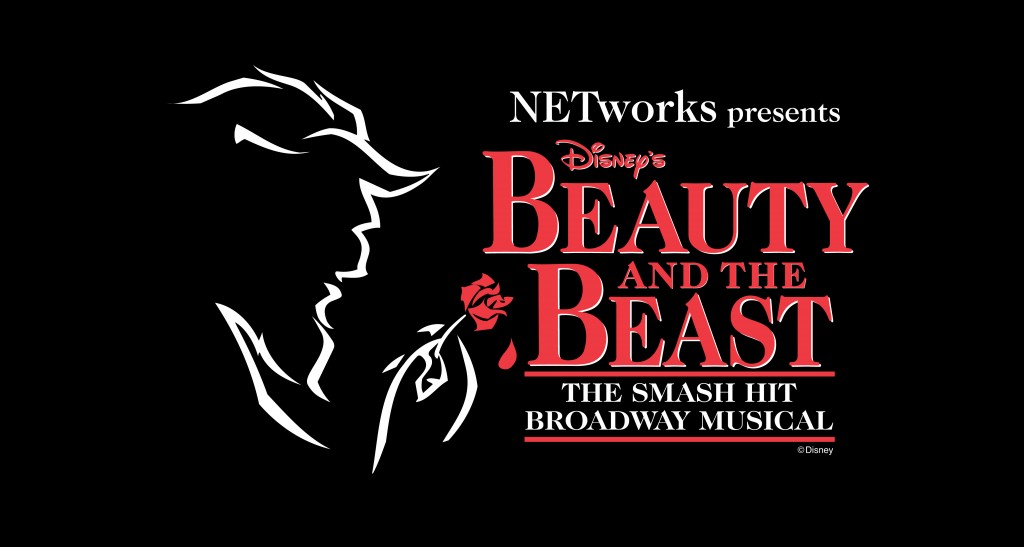 Beauty and the Beast: The Musical is coming to the Orpheum Theater (409 S. 16th Street, Omaha, NE) for three days next week.  Performances will be held at 8:00 on Friday, the 19th; 2:00 and 8:00 on Saturday, the 20th; and 1:30 and 7:00 on Sunday, the 21st.  Purchase your tickets here: http://www.ticketomaha.com/productions/Beauty-and-the-Beast.  If you are anything like me, your five year old self won't be able to resist!
And for our Omaha friends, it is your lucky day!  We won't be the only ones attending Beauty and the Beast.  Omaha Performing Arts wants one of you (and a friend) to be their guests for the Beauty and the Beast performance on Sunday, December 21st at 7:00 p.m.  To enter, simply leave a comment on this post!  The giveaway will be open until Monday, December 15th at 11:59 p.m. CST.  You must be an Omaha resident or able to travel to the show on the specified day in order to win.
Be sure to head over to Erin and Joanna's blogs to check out their 3C1K posts and to enter the giveaway there, as well.  You may enter on all three sites!