Crunchy, spicy, and bold chickpeas that will warm you right up on a brisk Fall day.  These chickpeas are the perfect addition to a classic salad.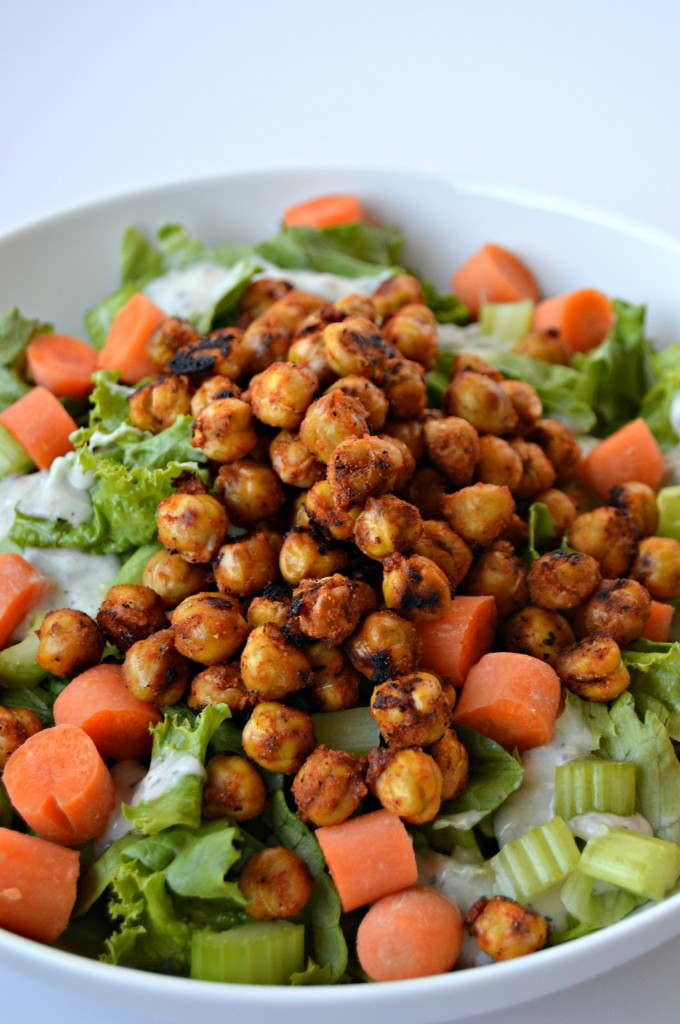 I am a roasted chickpea aficionado.
I love them in tacos.  I love them in salads.  And I love them on their own as a snack.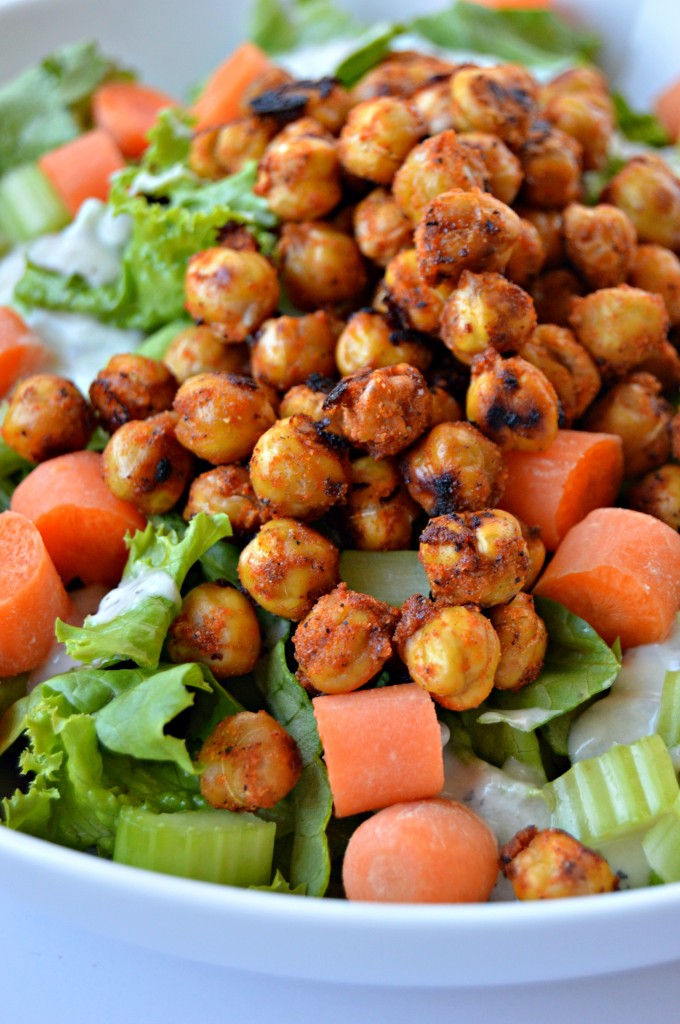 It turns out that there are about a million ways to eat roasted chickpeas and about a billion ways to season them.  Coconut sugar and cinnamon come together to make perfect snacking chickpeas.  And chili powder, paprika, garlic powder, and onion powder seasonings are amazing for roasted chickpeas in Mexican dishes.
I like them sweet and I love them spicy, but lately I have been craving a different kind of spicy.  A buffalo kind of spicy.  My buffalo sauce obsession is in full swing and I have no desire for it to stop.  So why wouldn't I carry the buffalo sauce addiction over to my favorite legumes?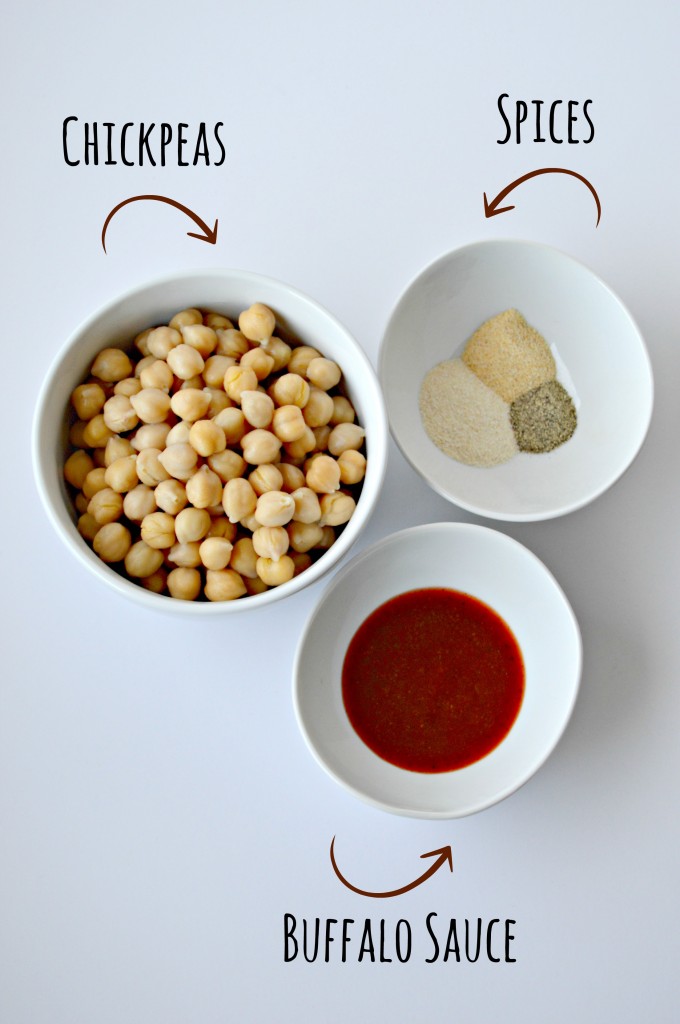 My Roasted Buffalo Chickpeas only call for five ingredients.  In other words, these can easily be made with ingredients that you may already have in your kitchen!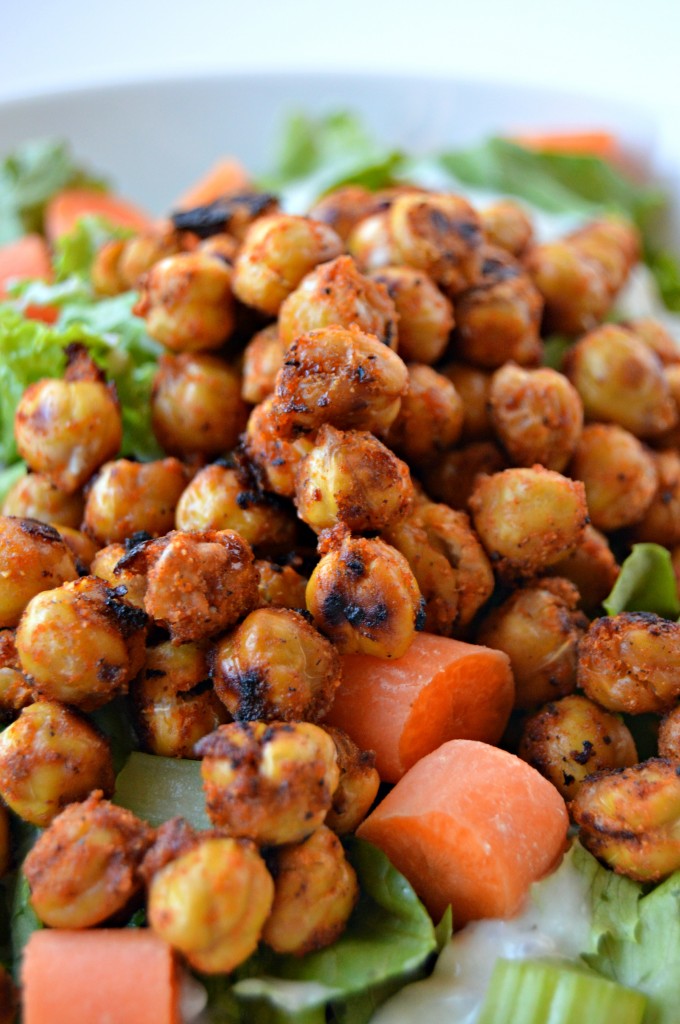 These chickpeas are:
Crispy
Crunchy
Spicy
Flavorful
Healthy
Bold
Addicting (in a good way)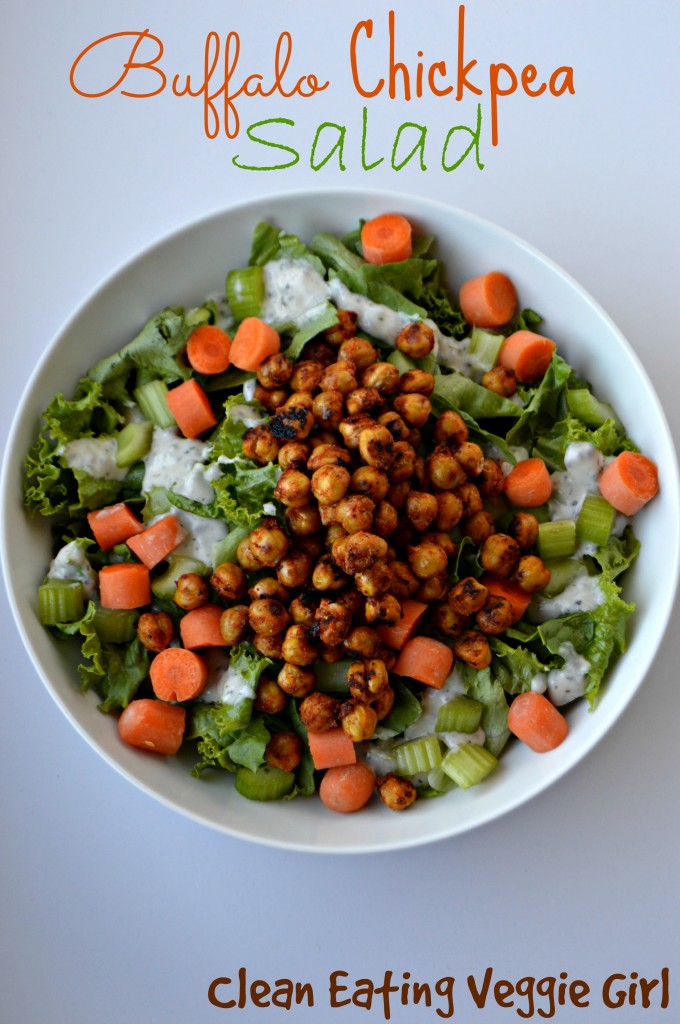 Roasted Buffalo Chickpeas + Buffalo Chickpea Salad
Vegan
For the Chickpeas
Ingredients
olive oil cooking spray
1 15 oz can chickpeas, drained and rinsed
2 to 3 TB of your favorite buffalo sauce
1 tsp onion powder
1 tsp garlic powder
1/2 tsp black pepper
Directions
1. Preheat oven to 400 degrees F.  Line a large baking sheet with foil and spray with olive oil cooking spray.  Set aside.
2. In a small bowl, combine buffalo sauce, onion powder, garlic powder, and black pepper.  Whisk until well-combined.
3. Stir in chickpeas and coat evenly.
4. Pour chickpeas onto the baking sheet in an even layer.
5. Roast the chickpeas for 15 minutes, remove from the oven, toss, and continue roasting for an additional 5 to 10 minutes.  Your chickpeas are finished with they are slightly crispy and crunchy!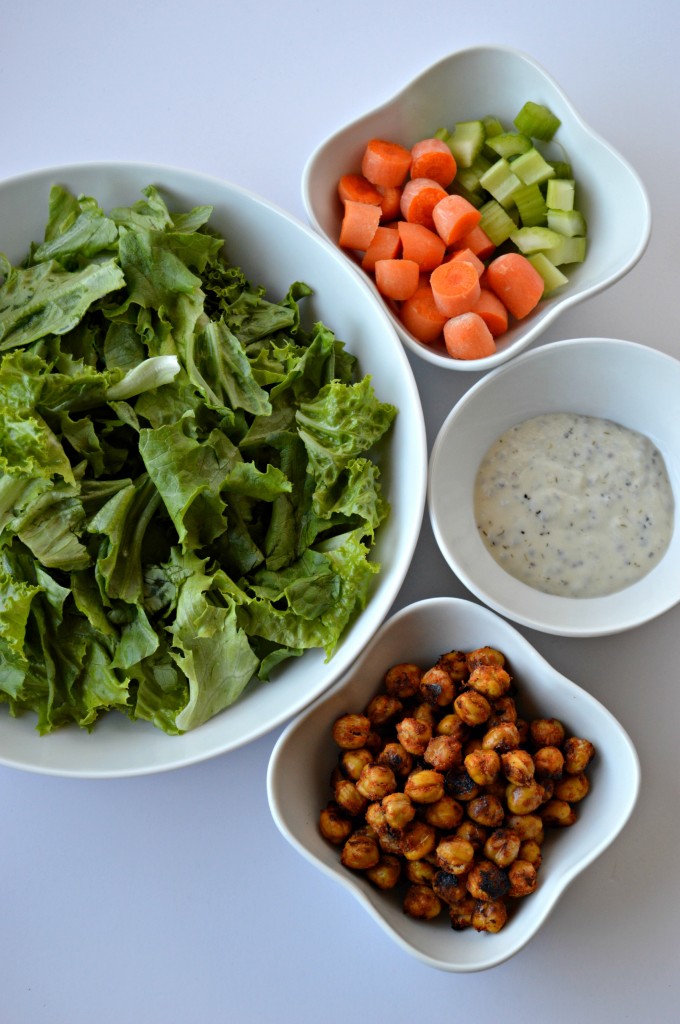 For the Salad
Serves 2
Ingredients
1 head green leaf lettuce, washed and chopped
2 whole carrots (peeled) or 6 baby carrots, sliced
2 stalks celery, chopped
1 batch of Roasted Buffalo Chickpeas
1/3 to 1/2 cup Vegan Dill and Ranch Dressing or your favorite ranch dressing
Directions
Compile salad ingredients in the following order: lettuce, carrots, celery, and ranch dressing.  Top your veggies with a generous serving of the Roasted Buffalo Chickpeas.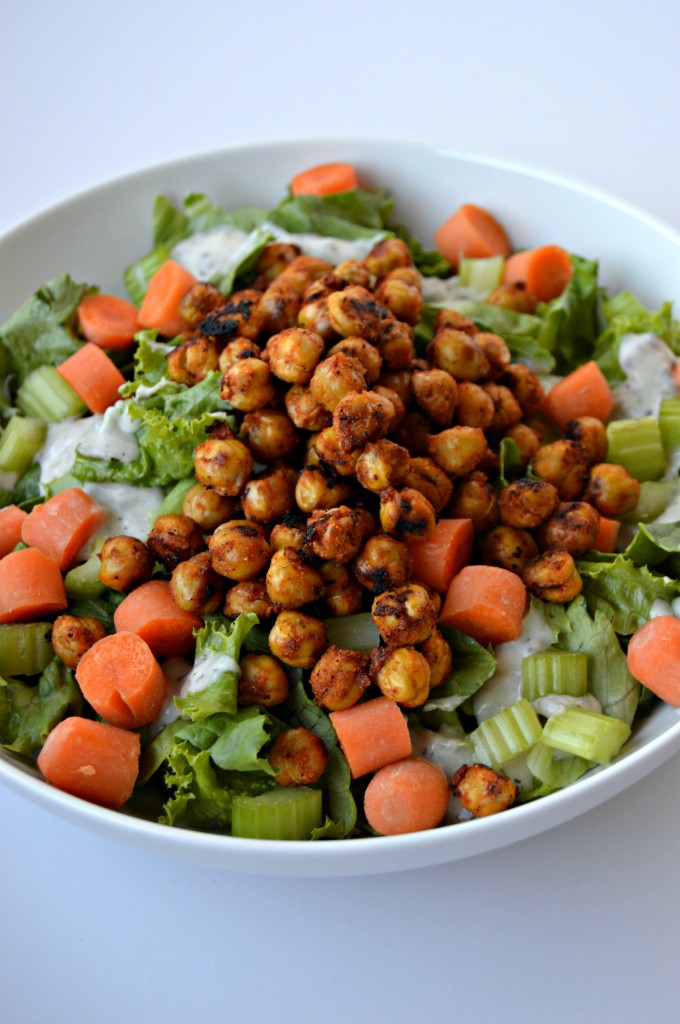 I recommend pouring yourself a large glass of water or almond milk to accompany your meal.  This salad definitely has a bit of a kick to it!  But do not let that scare you off.  It is just perfectly spicy.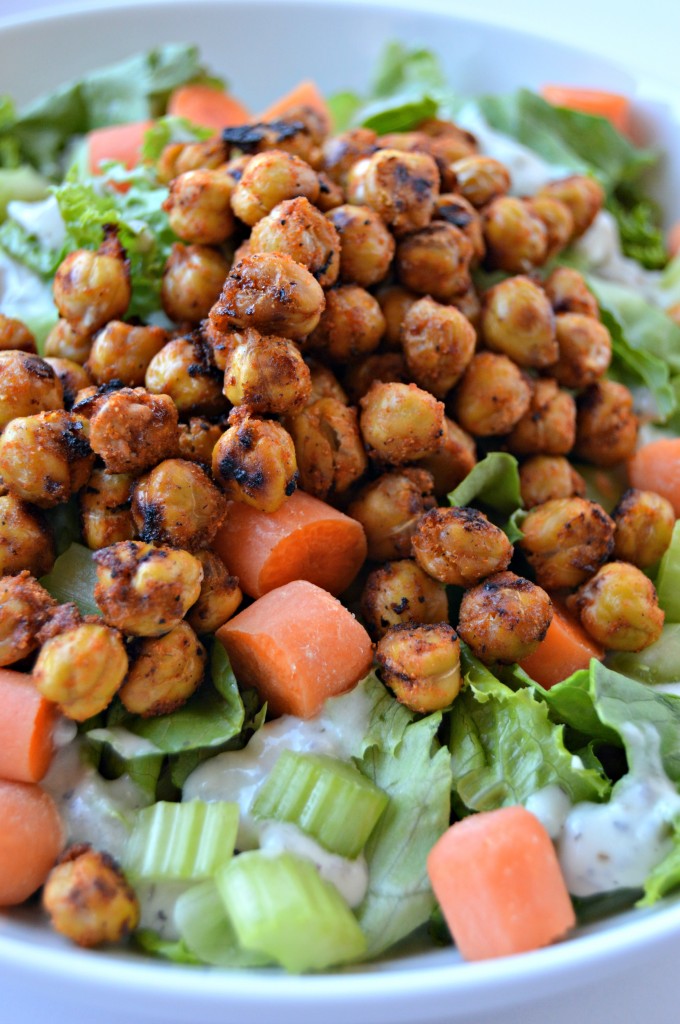 Whether you plan to eat the chickpeas on their own or as an addition to a salad, I think it is safe to say that boring salads are so last year, and chickpeas are anything but boring.
What is your favorite buffalo flavored recipe?  Share your links in the comments!
Do your taste buds like what they see?  Please Pin, Tweet, and share me on Facebook using the buttons below!