A warm and cozy bowl of oats made for the chocolate lover in your life… or just for you.  It is entirely okay to hog these oats for yourself!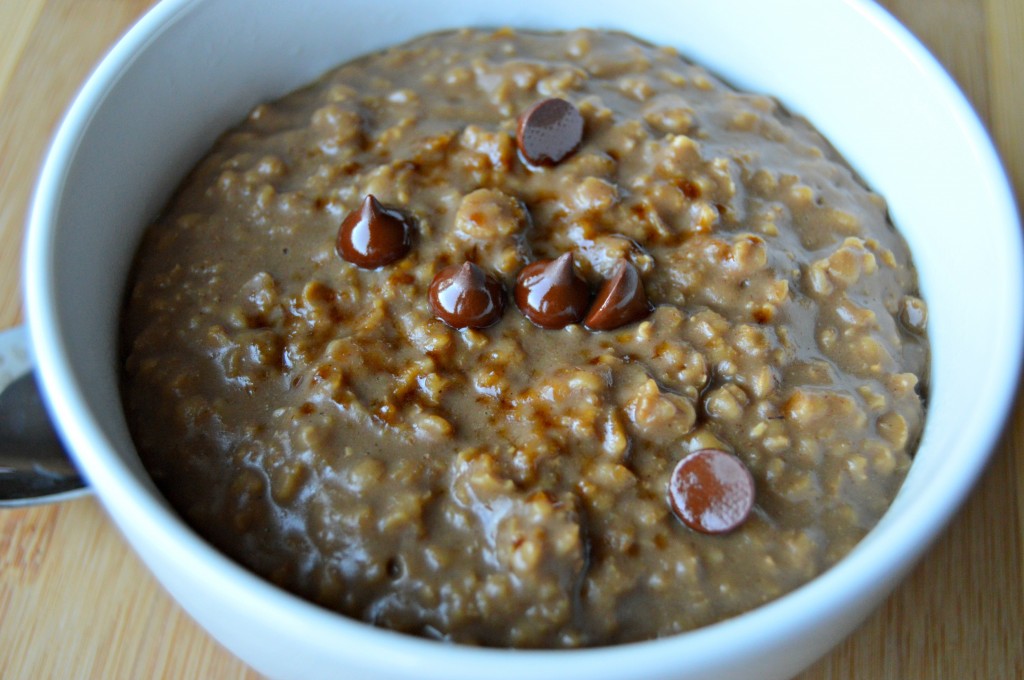 I have a confession to make.  I did not like hot oatmeal for the first 26 years of my life.  In fact, I actually hated it!
I am pretty sure that over those 26 years, I had tried hot oats at least a dozen times.  Each time that I tried them, I got one bite in and decided that they were just not. for. me.  I figured that oatmeal and I were simply not meant to be.  Peanut butter and I were meant to be.  Carrots and I were meant to be.  But oatmeal?  No can do.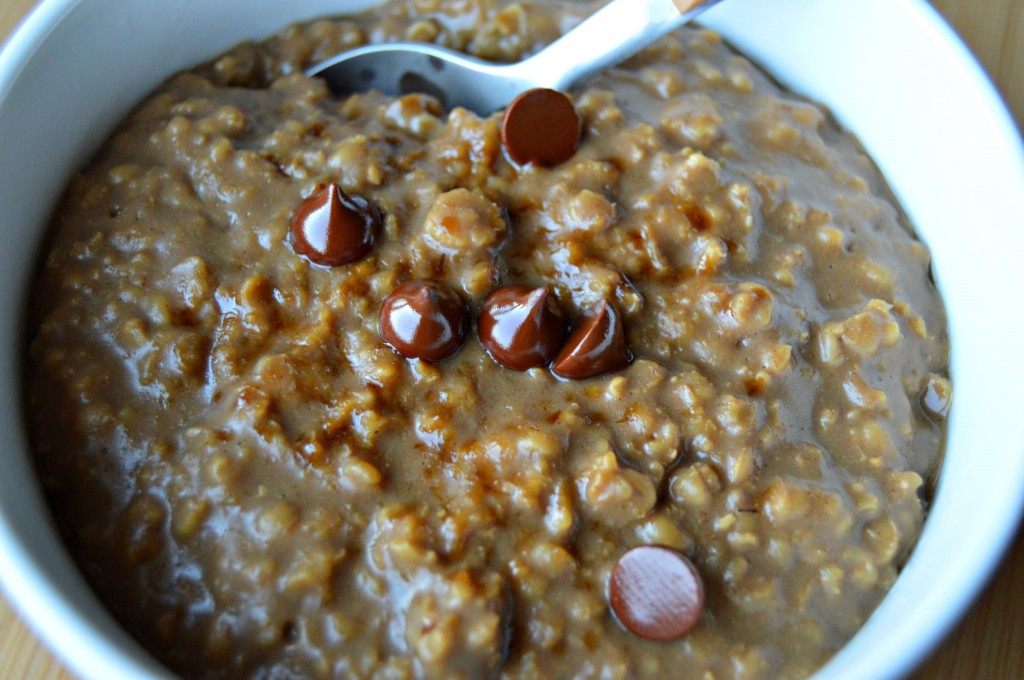 I turned 26 1/2 in September, and apparently it was at that moment that I finally decided to not only like hot oatmeal but love it.  Maybe what they say about needing to try some foods over and over again is true.  Or, maybe I just needed to add pumpkin, coconut sugar, and nut butter to my oats.  Yeah, those things just might have something to do with this new-found love.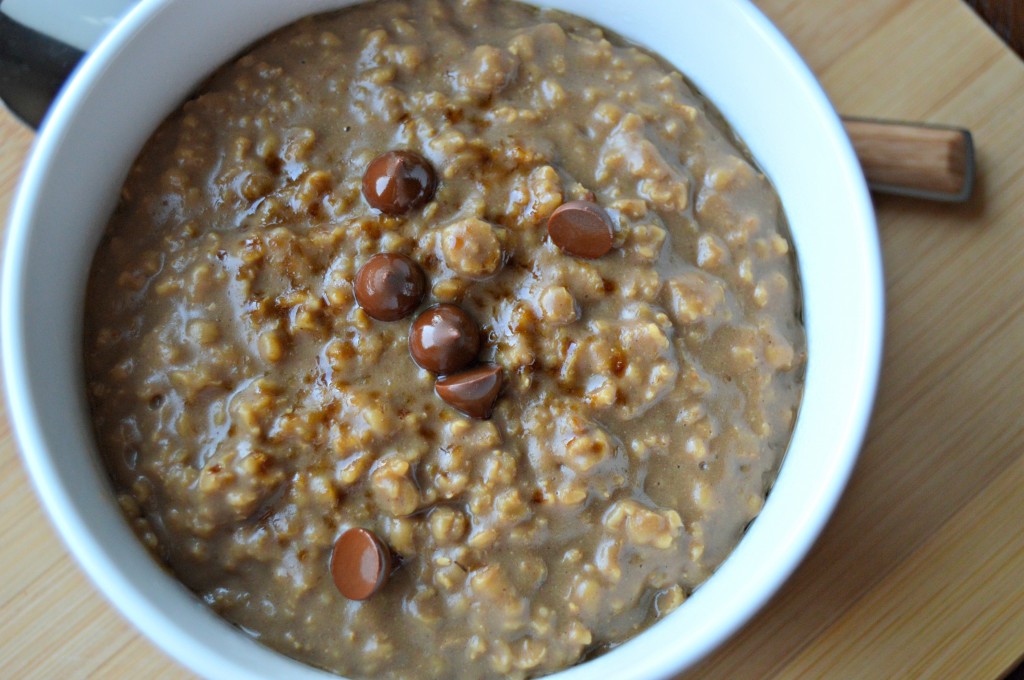 After I established that I had a thing for pumpkin oats, I decided to try out another favorite flavor of mine: chocolate!  You can never go wrong with chocolate.  I am certainly all about pumpkin during the Fall months, but with November here and Winter right around the corner, a hot cocoa-flavored bowl of oats is just what this freeeeezing cold girl needs!
Serves 2
Ingredients
2 cups unsweetened vanilla almond milk
1 1/2 TB cacao or cocoa powder
1 TB molasses
1 tsp cinnamon
1 cup quick oats
2 tsp coconut sugar (brown sugar will also work)
1 tsp pure vanilla extract
2 TB dark chocolate chips
extra dark chocolate chips for topping, optional
nut butter, optional
Directions
1. In a medium sauce pan, whisk together milk, cacao powder, molasses, and cinnamon until well combined.  Heat over medium heat until it comes to a low boil.
2. Add quick oats and cook for approximately 3 to 5 minutes, or until desired thickness is reached.
3. Stir in coconut sugar, vanilla, and dark chocolate chips.
4. Top each serving with extra dark chocolate chips and your favorite nut butter, if desired.  If you are feeling extra crazy, add in some mini marshmallows or marshmallow fluff!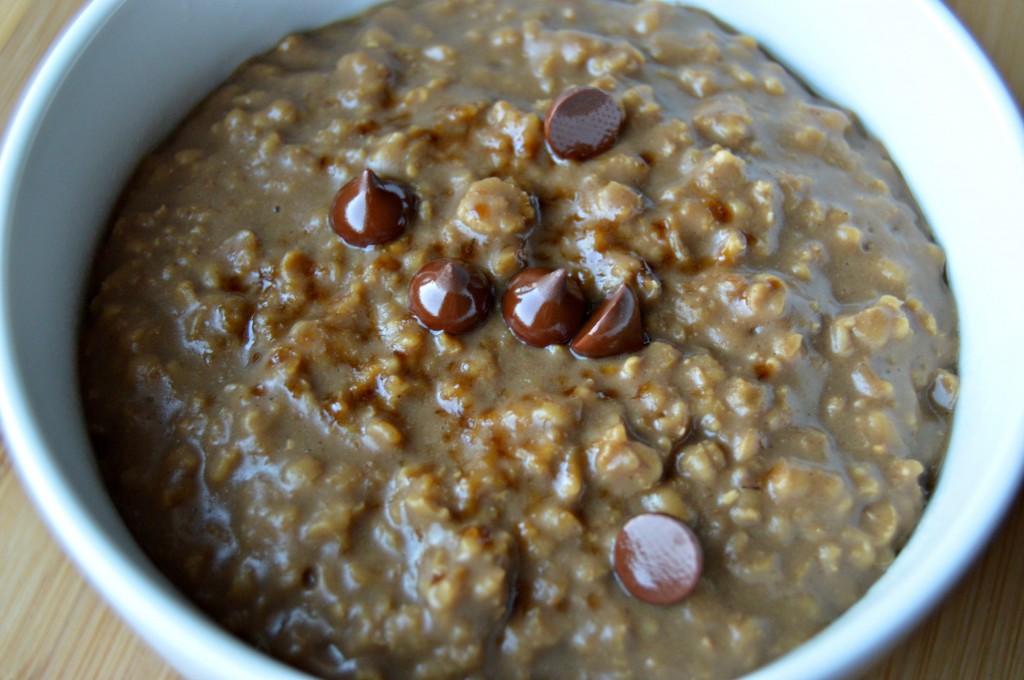 I said that the chocolate chips are optional, but let's be honest… nothing about the chocolate chip part is optional.  Melted chocolate is exactly how I like to start out my mornings, especially when it takes everything that I have to make it out of my extra warm bed.  Chocolate will definitely get me out from under the covers and into the kitchen!  Though I would not say no to somebody making and delivering these oats to me in bed… hint, hint!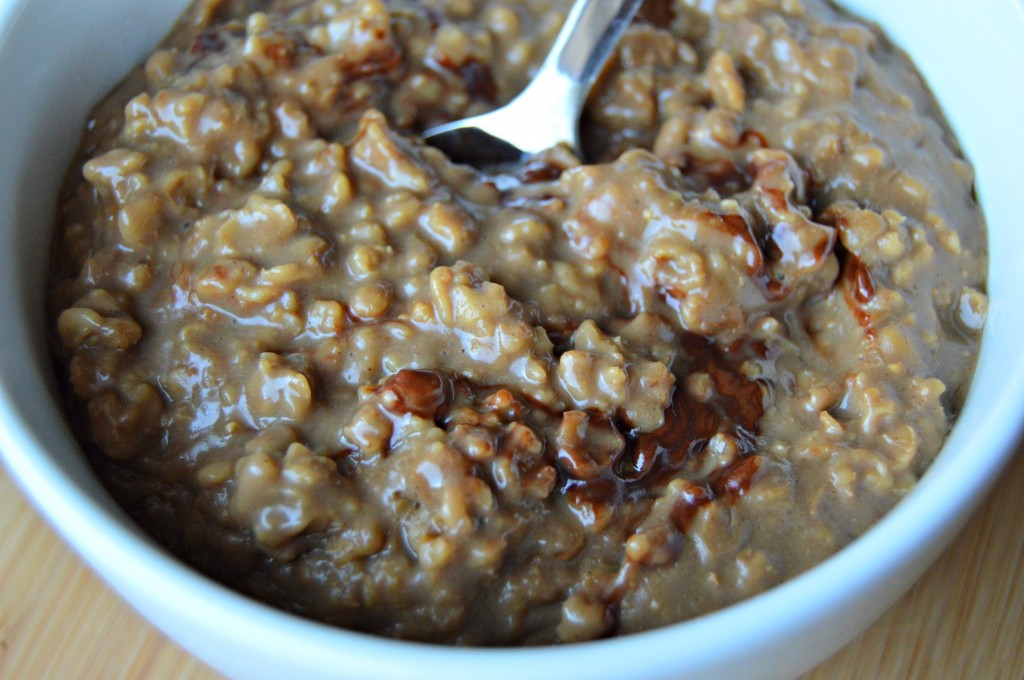 I find it hard to believe that there could be anything better than this bowl of Hot Cocoa Oatmeal on a bitter cold morning.  Maybe adding in a fireplace, warm blanket, Christmas lights, and a good book wouldn't hurt!
Are you excited to try Hot Cocoa Oatmeal this Winter?  Pin and share the recipe on Facebook and Twitter using the share buttons below!
Do you have any favorite hot oatmeal recipes to share?  Leave them in the comments for this new oatmeal-loving girl!