It's Friday!  What's not to love?  The work week is coming to a close.  I have fun pumpkin picking/carving plans with my girlfriends, and I am more than ready to do some eating, drinking, and relaxing (along with school work) over the next several days.  The weekend is almost upon us and I think that is something we can and should all be extremely happy about.
I have several recipes on my "to make" list for this weekend from other bloggers and I imagine that I will be sharing them with you shortly.  You all never fail me.  Sometimes it amazes me just how many cooking successes I have thanks to you.  But should I really be surprised?  Food bloggers are awesome <– I might be slightly biased 😉  While I expect to have several recipe successes to share with you in the future, I won't be leaving you empty handed today.  I have four delicious recipes from around the blogosphere that I tried last month and I just know you are going to love them.  Enjoy!
Friday Foodie Favorites: October 10, 2014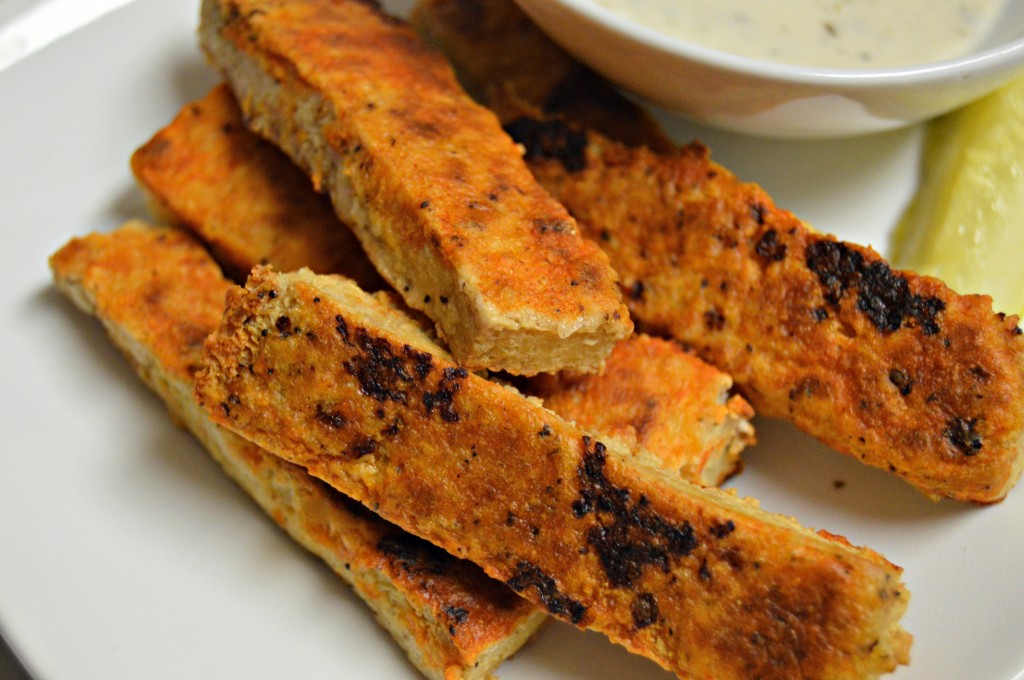 I go through food phases from time to time.  When I first became a vegetarian I ate tofu a lot!   I inevitably got tired of it and moved on to other plant-based protein sources (lentils, tempeh, etc.).  And while I am still majorly obsessed with lentils and tempeh, my cravings for tofu have returned!  Back in August I ran across Kiersten's recipe from Buffalo Tofu Wings.  My buffalo sauce obsession had been in full swing, so I figured it was the perfect thing to flavor my tofu with.  I am going to be honest.  I used bottle buffalo sauce and bottled vegan ranch dressing.  What can I say, I was feeling a bit lazy.  But the results were still fantastic.  Buffalo sauce is a delicious, flavorful way to season tofu.  I also love that Kiersten recommends that you saute the tofu first and then bake it.  The texture (which can either be awesome or not-so-awesome with tofu) was fantastic and I was really digging the spiciness.  I dipped my tofu "wings" in ranch for dinner and then in sundried tomato ketchup the next day for lunch.  These reheated quite well, too.  I think I found my new favorite way to prepare tofu!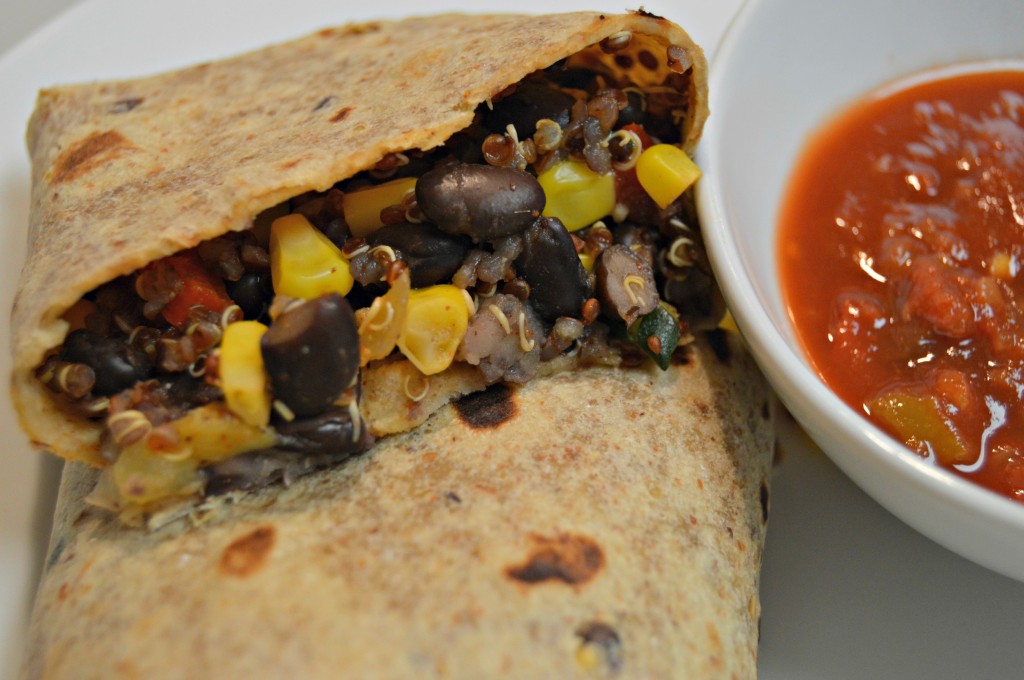 A couple of Saturdays ago I did some major food prepping.  I made Katie's Black Bean and Quinoa Freezer Burritos for dinner and for many meals to come.  I love that these burritos hit up all of your major food groups: veggies, protein, healthy fats, and carbs.  Plus, they taste delicious when paired with a side of salsa.  I followed Katie's recipe exactly (except I used red quinoa because it is what I had on hand) and ended up with eight burritos instead of six.  I was definitely not complaining about that!  I have a whole gallon-sized plastic bag full of burritos in my freezer just waiting and ready for lunches and dinners to come.  Sometimes you just do not feel like cooking, you know?  These will definitely become a staple in my weekend meal prepping over the years to come.  You really cannot beat making eight meals in 30 minutes!  I highly recommend adding these to your next food prepping day.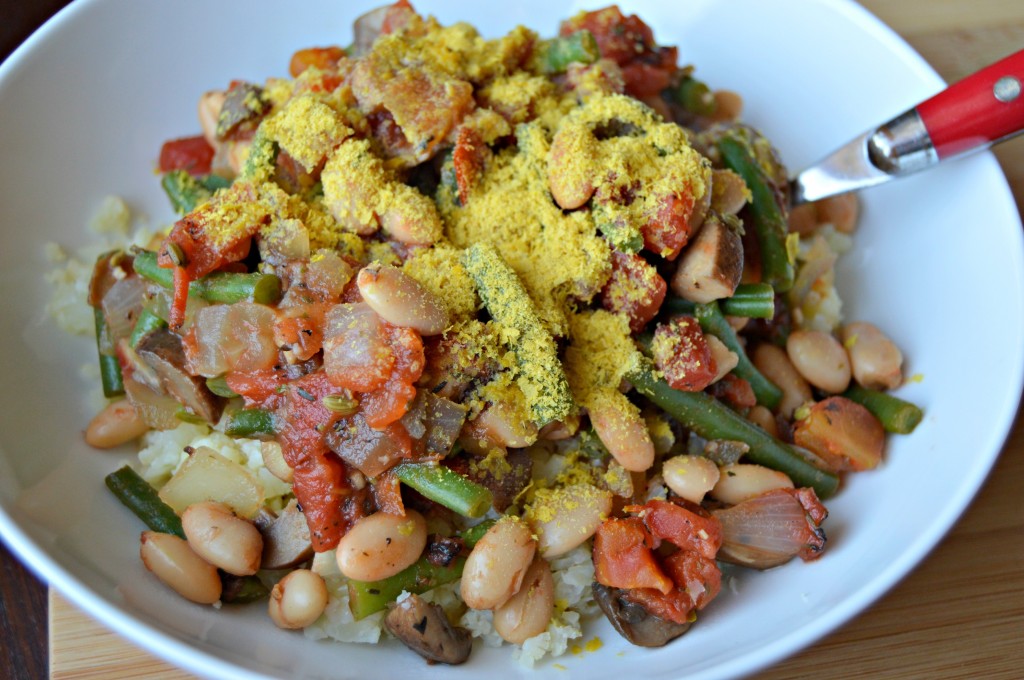 Next up: A delicious stew that is perfect for the chilly Fall and Winter weather ahead of us!  I made Kalyn's Mushroom, White Bean, and Tomato Stew and loved it!  I left out the parmesan cheese and topped mine with nutritional yeast instead in order to keep it vegan.  I also upped the veggies by adding in French-style green beans that I had in my fridge and serving it over cauliflower rice.  I imagine that it would be absolutely fantastic over brown rice or quinoa, too!  Stews are not just for meat-eaters and Kalyn has certainly proven that with this dish.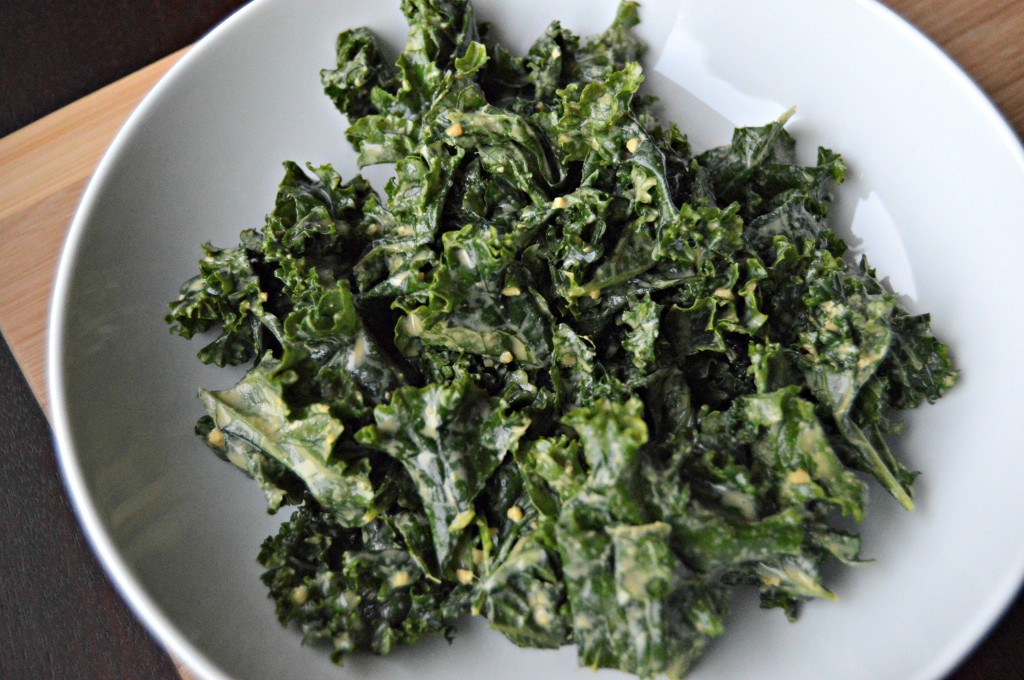 My final favorite pick for delicious recipes that I have tried lately is Brittany's Garlicky Kale Salad.  Similar to tofu, I go through phases where I crave kale like mad and the past couple of weeks have been one of those times.  Brittany stated that this was "the best kale salad," so I knew that I had to give it a try.  She created it using the Garlicky Kale at Whole Foods for inspiration.  Whole Foods and I are pretty  much BFFs, so I knew I would love it.  I also happened to have a jar of tahini in my pantry that I needed to put to use.  I kind of figured that it must be a sign or fate… or something like that.  I am so glad that I gave this recipe a try.  Kale on it's own can be so bland, bitter, and boring.  This salad was anything but that.  It was flavorful and complex, but also light.  Basically, it was perfection when it comes to kale salads.  I paired the salad with a side of broccoli pancakes.  Random?  Maybe.  But both made for a delicious dinner and leftovers for lunch the next day.
Have a great Friday and a wonderful weekend, everyone!
Have you made any recipes from around the blogosphere that you have loved?
Please share the links in the comments below!