A simple, yet hearty chickpea salad recipe that is perfect for vegans and non-vegans alike!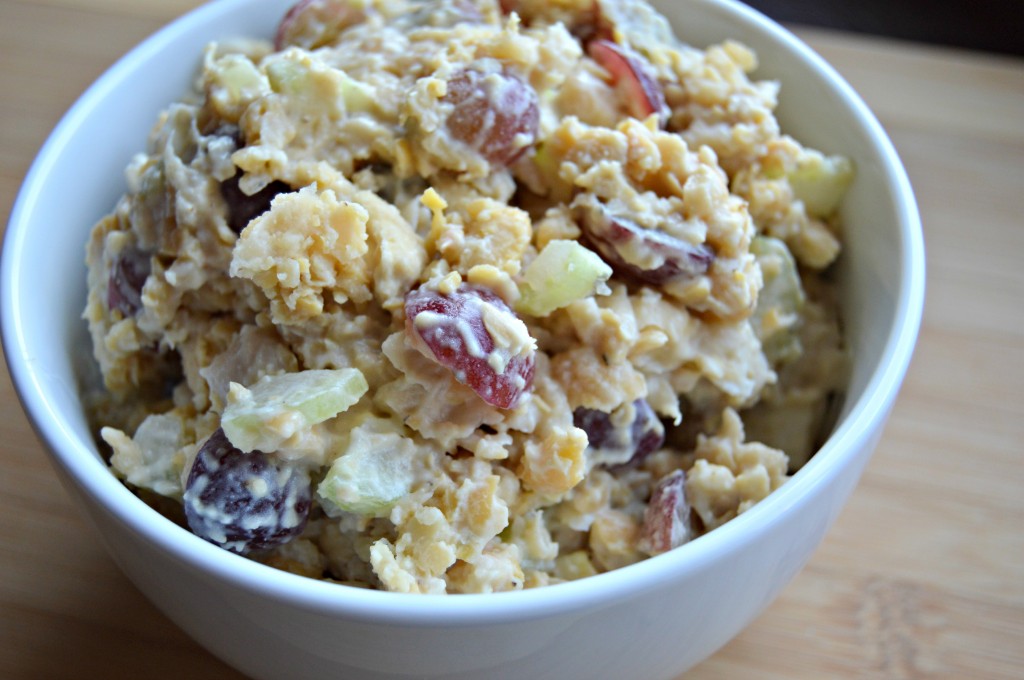 Some of you are probably thinking… "not another chickpea salad!"  Or if you are like me, you may be thinking… "Yes!  Another chickpea salad!"
There are plenty of chickpea salads floating around the blogosphere- so many of which are extremely delicious- but this one has a bit of a twist to it.  Let's just say that this chickpea salad hits up all of your major food groups, even the fruit group.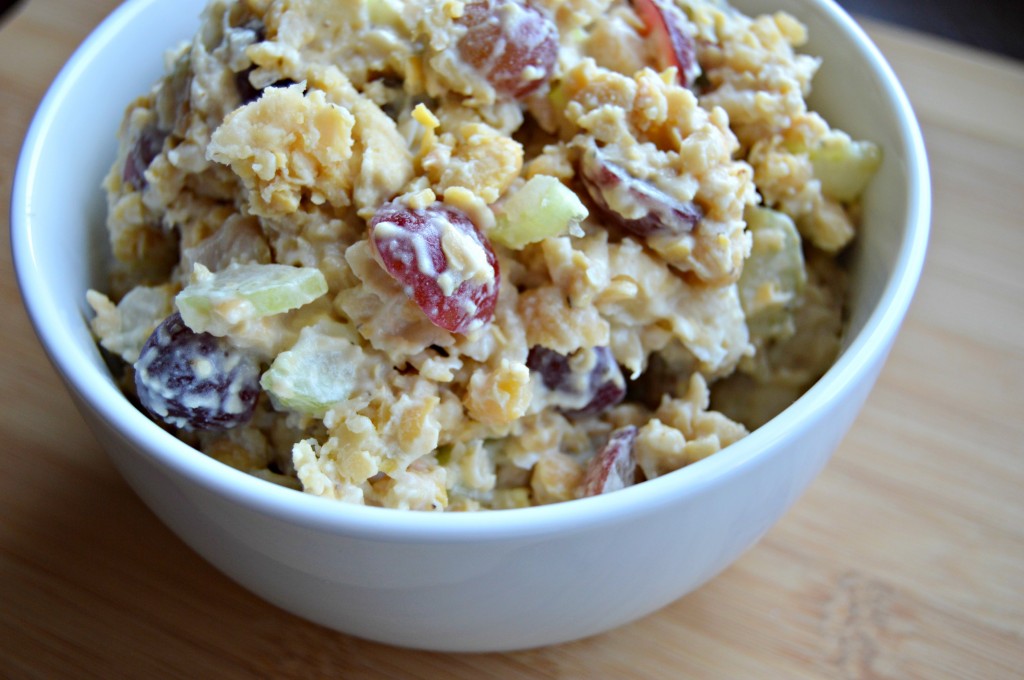 While I was never a chicken salad lover growing up (mayo scared me), I remember seeing and reading about recipes for chicken salad that contained fruit.  Normally grapes or apples were involved and I inevitably thought that was "weird" and sounded unappetizing.  Why in the world would you combine chicken and fruit?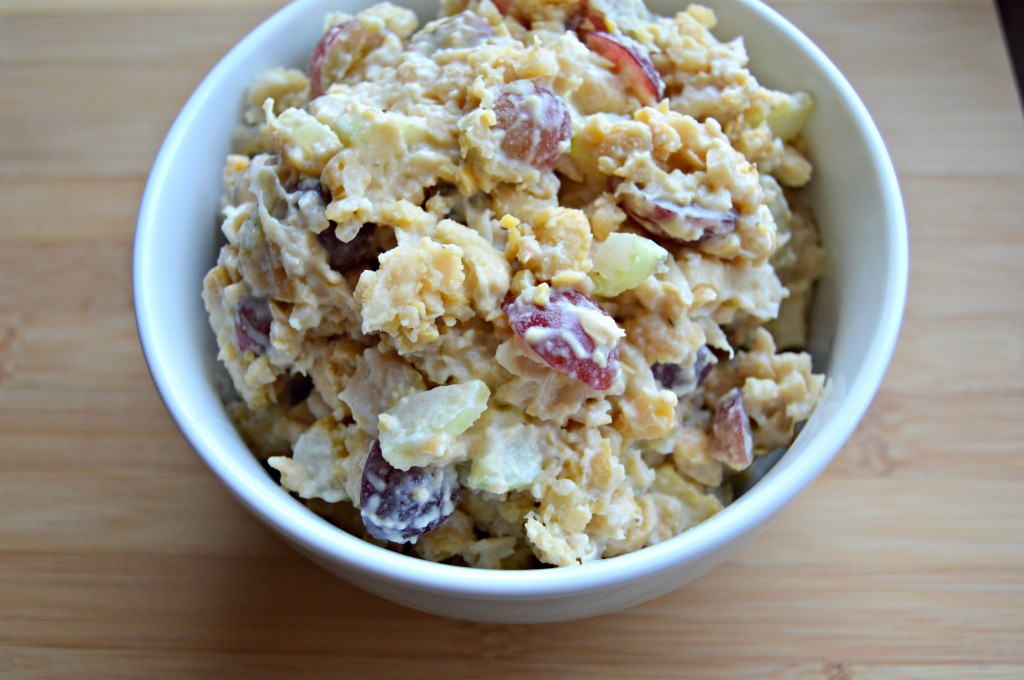 Ten years later and I do not eat chicken at all anymore, but my thoughts on fruit with savory foods have drastically changed.  So when I came across a fruit-filled chicken salad recipe on a blog a few weeks back, I had an instant hankering for chickpea salad with fruit!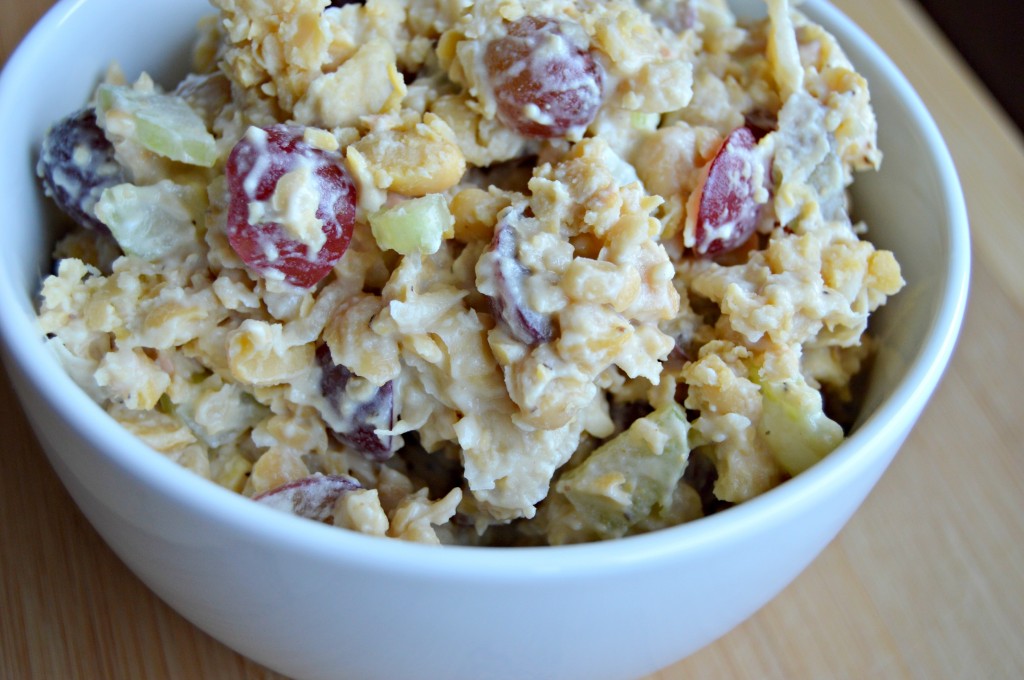 I could not just leave it at fruit, though.  I wanted an added protein-packed crunchy element, too.  Enter one of my favorite nuts: cashews!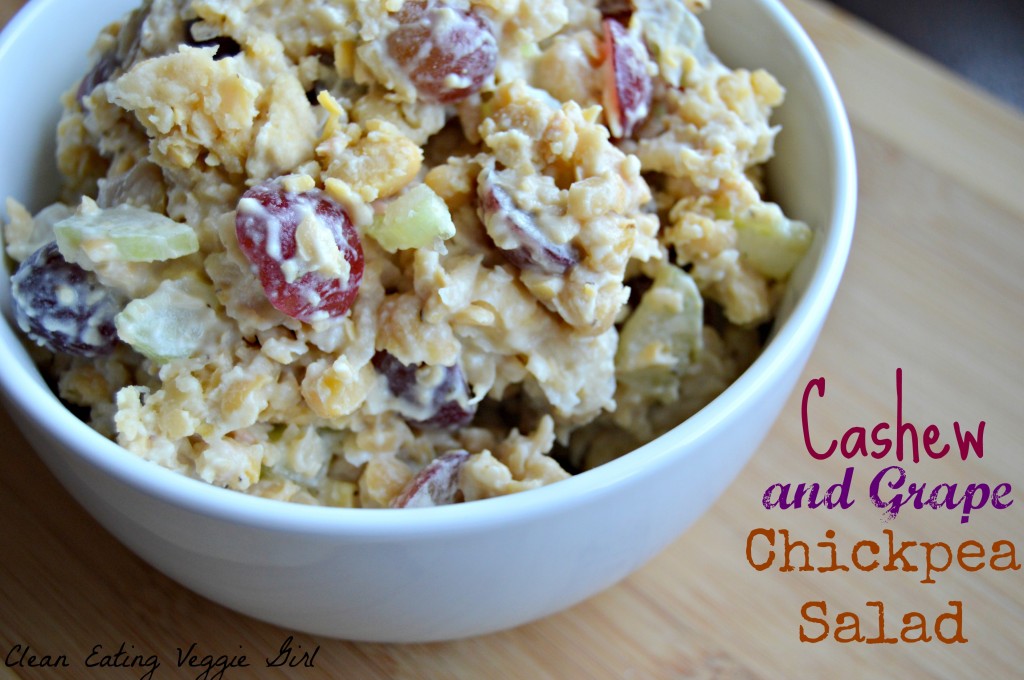 Cashew and Grape Chickpea Salad
Vegan + Gluten-Free
Serves 2 to 3
Ingredients
15 oz can chickpeas, drained, rinsed, and outer shells removed
1 stalk celery, diced
1/2 cup red seedless grapes, quartered
1/2 TB dried onion flakes (optional)
2 to 3 TB vegan mayo (I prefer Vegenaise)
1 tsp Dijon mustard
2 TB cashews, chopped
fine sea salt, to taste
black pepper, to taste
Directions
1. Place chickpeas in a medium bowl.  Mash with a fork until desired texture is reached.  I like mine mostly mashed but with some pieces still intact.
2. Once chickpeas are mashed, add celery, grapes, and onion flakes to the bowl.  Stir until well-combined.
3. Stir in vegan mayo and mustard.
4. Gently fold in chopped cashews.
5. Season with salt and pepper.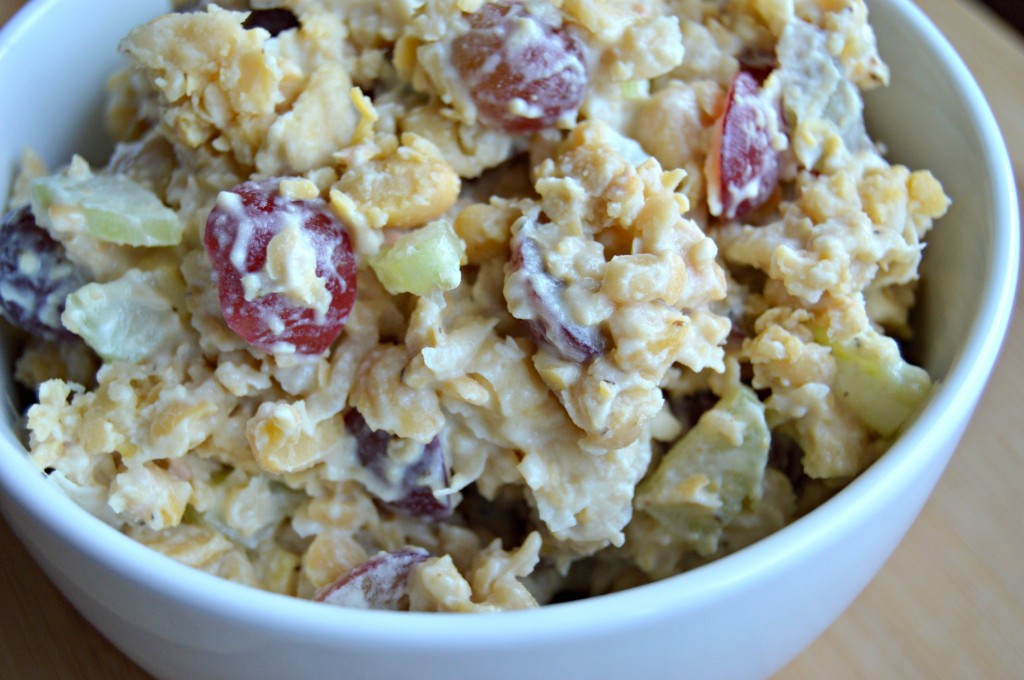 I served this salad on lightly salted rice cakes.  If you have not tried chickpea salads on rice cakes yet, you really need to!  I imagine it would also be delicious in Romaine lettuce wraps, on toasted bread, or scooped up with crackers/tortilla chips.  Or heck, just eat it by the spoonful.  I might be talking from experience when I say that it tastes delicious all on its own 😉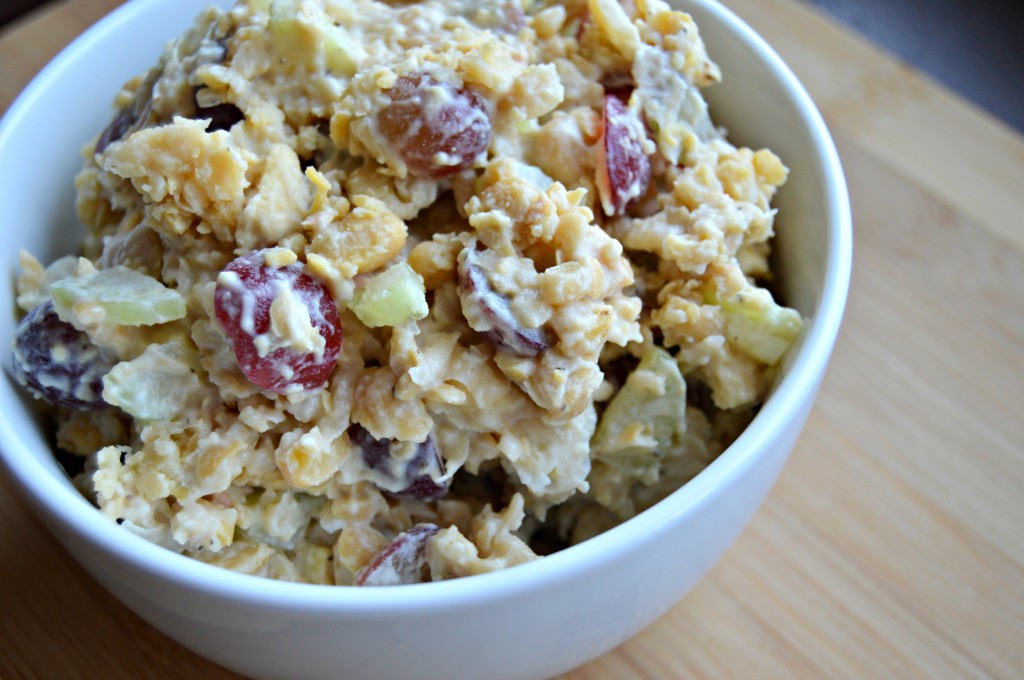 I was not kidding when I said I had your food groups covered:
Protein from the chickpeas and cashews
Veggies from the celery
Fruit from the grapes
Whole grains from your bread/dipper of choice
Healthy fats from the cashews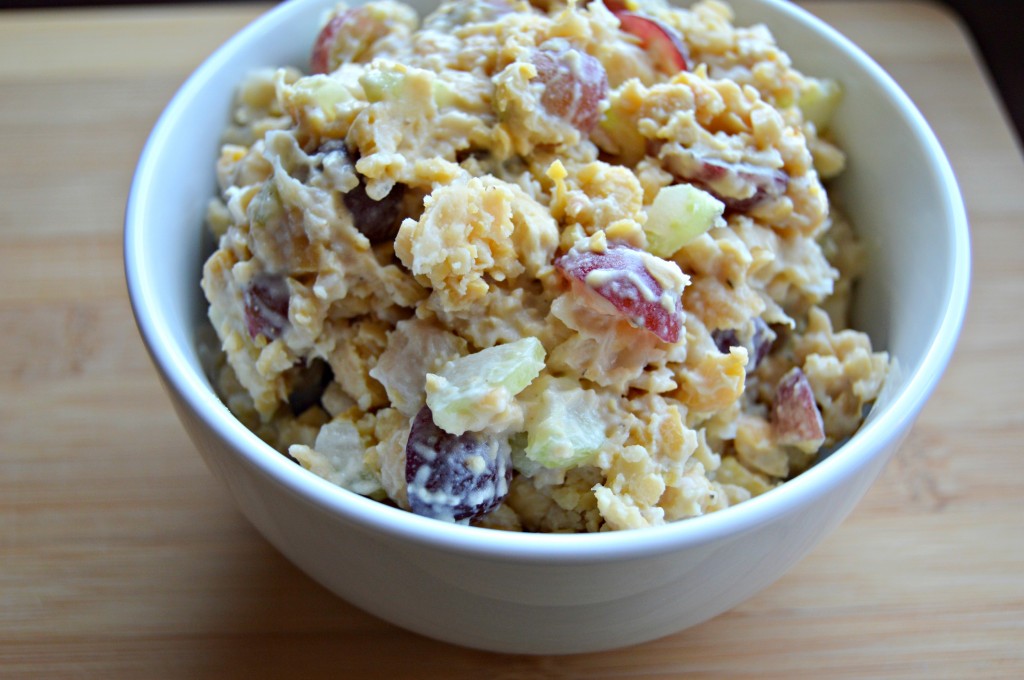 Do you think you don't like the sweet/savory combo?  Are you certain you can't live without your chicken salad?  Try this on for size.
Do you have any favorite chickpea salad recipes?  I'm hooked so I would love for you to share your favorites in the comments!
Please pin this recipe and share it on Facebook and Twitter to save for on-the-go, simple, and quick snacks and lunches!  Sharing buttons are below!