Is there anything better than a BLT sandwich?  Maybe a vegan "TLT" in the form of a salad, perhaps?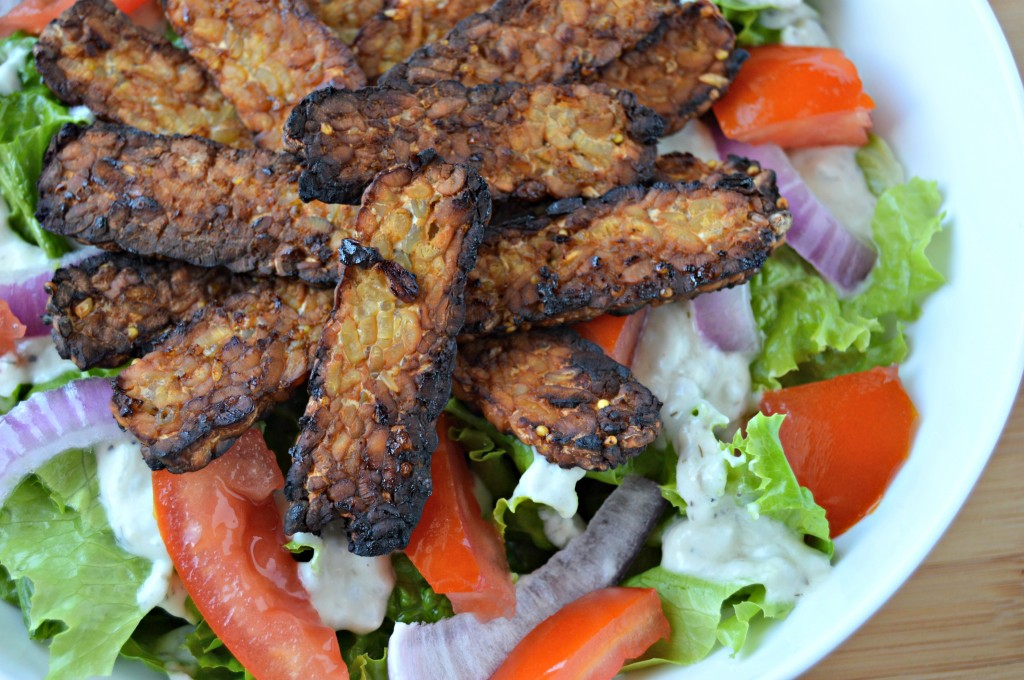 BLTs are just one of those staple sandwiches in the American diet, you know?  But maybe not so much for us veggie-eating folks…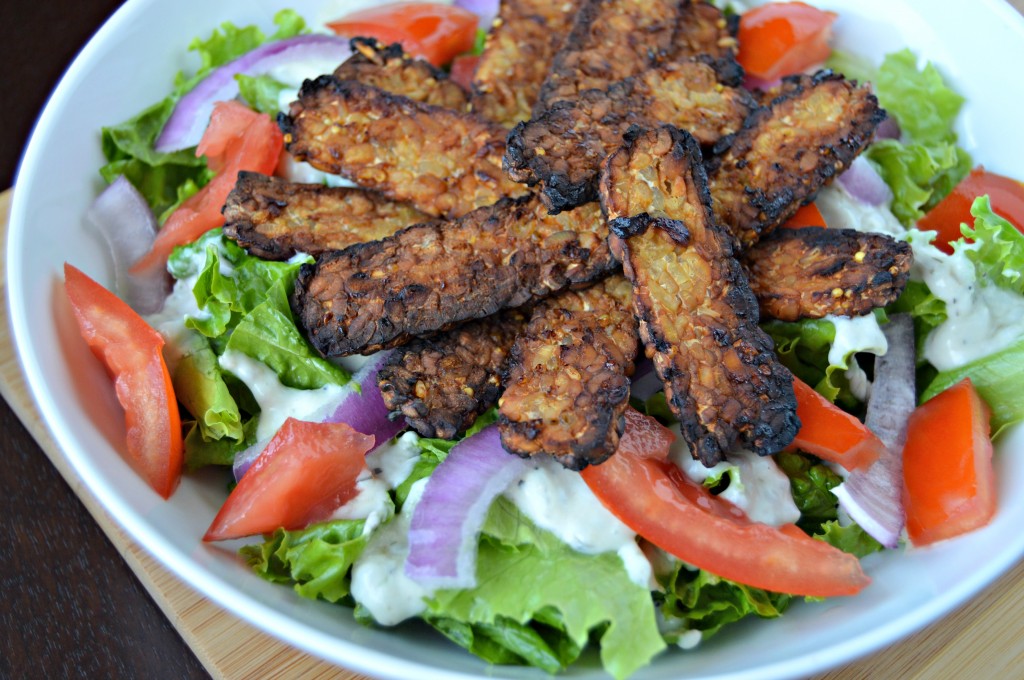 Just because we do not eat bacon does not mean that vegetarians and vegans (heck, meat-eaters, too!) cannot partake in the BLT craze.  Vegan "TLTs" are hands down one of the most delicious sandwiches.  But do you know what else is just as good?  A TLT in salad form.  Oh yes.  So good!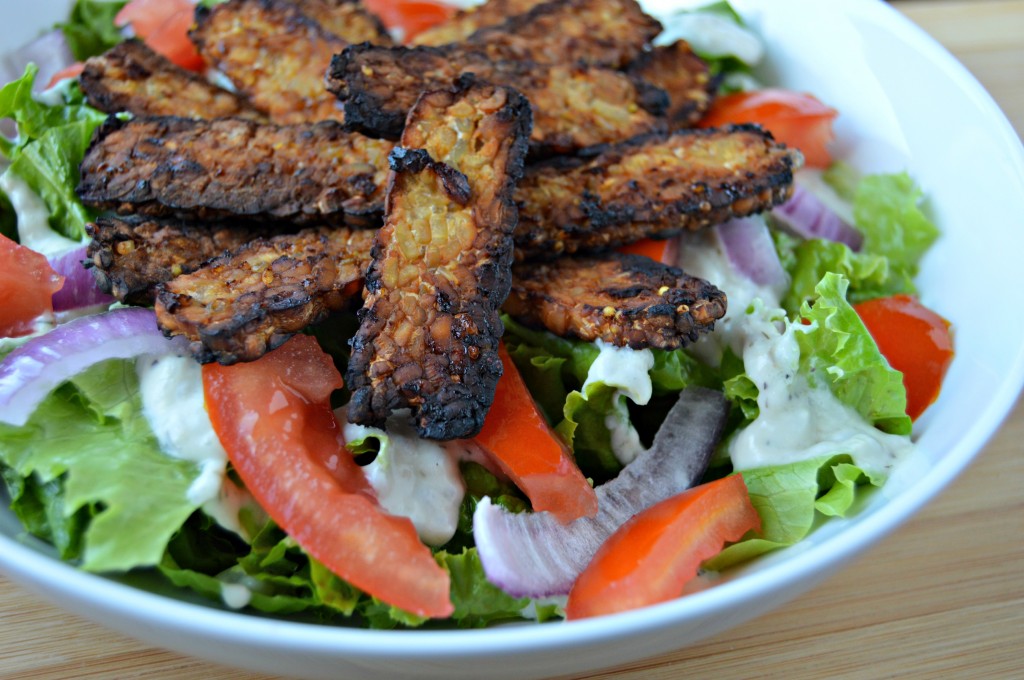 This salad may look fancy or complex, but it is anything but that.  Using only six ingredients, a knife, and an oven, you can produce an amazing meal.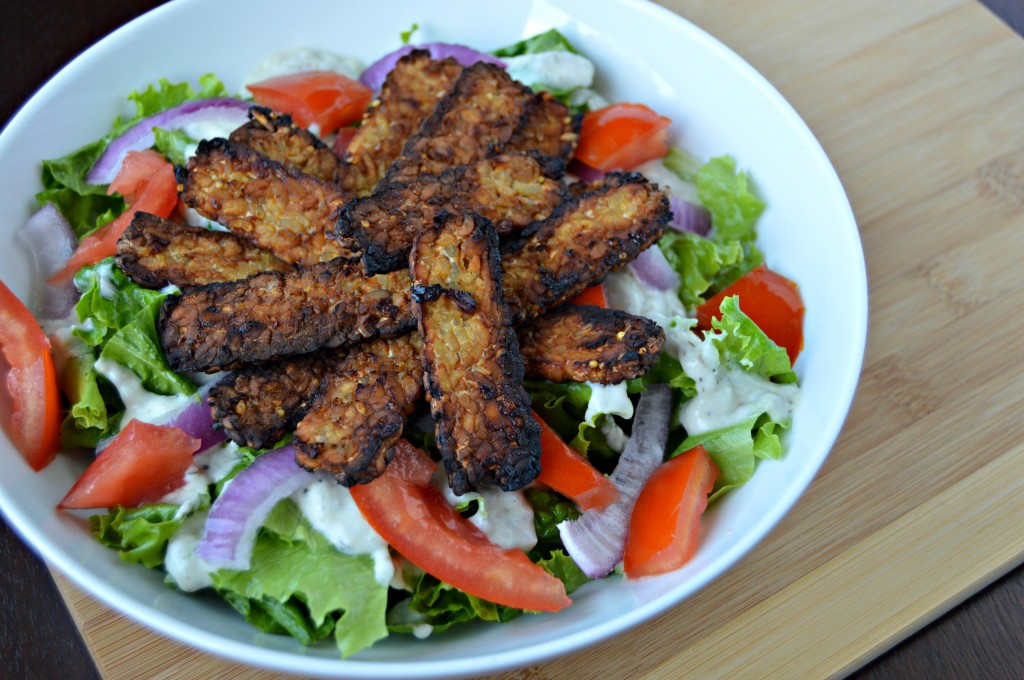 If you have never cooked with tempeh but have been curious about it, this is the perfect way to give it a try.  Tempeh "bacon" could not be easier to prepare and it is wonderfully delicious.  Plus, let's not even forget about how versatile it is.  It is not only great on a salad but is the perfect addition to a sandwich or as a main protein for a meal.  Don't knock tempeh until you have tried tempeh "bacon."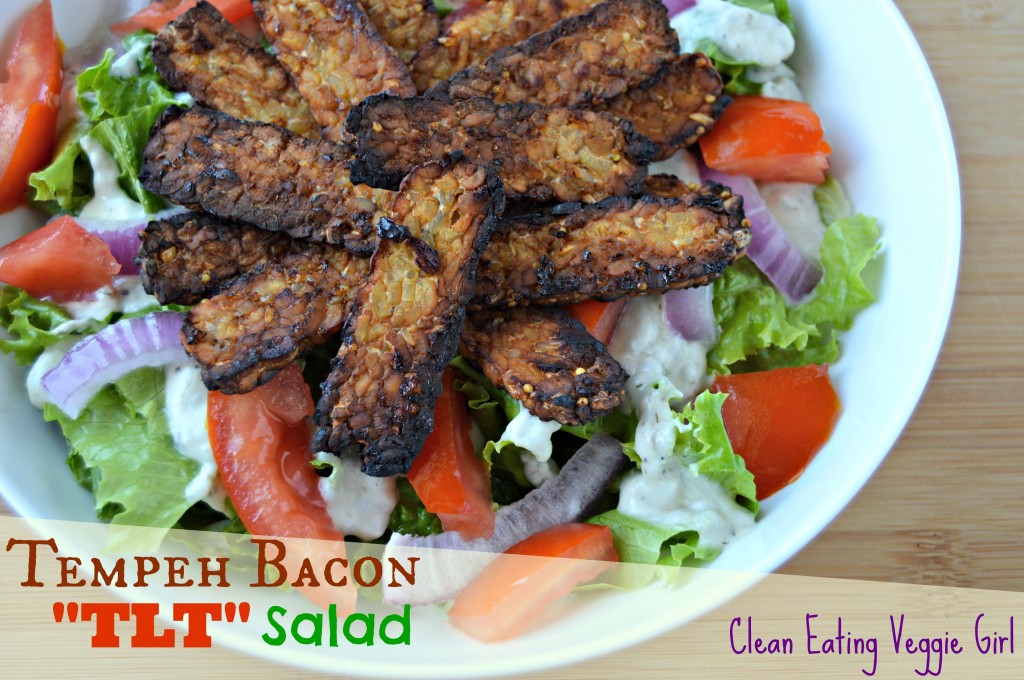 Tempeh Bacon "TLT" Salad
Vegan
Serves 2
Ingredients
olive oil cooking spray
8 oz package tempeh
1/2 cup Bragg's or coconut aminos (low-sodium soy sauce would work too)
1 bunch Romaine lettuce, chopped
1 large tomato, sliced or chopped
1/4 small red onion, sliced
vegan ranch dressing (this recipe or Hillary's vegan chia ranch dressing)
Directions
1. Preheat oven to 400 degrees F.  Spray a foil-lined baking sheet with olive oil cooking spray.
2. Slice tempeh into thin strips.
3. Place aminos in a shallow bowl.  Place tempeh strips into aminos and coat both sides.  I marinated approximately four strips at a time.  Place each tempeh strip onto the baking sheet.
4. Bake tempeh strips for approximately 20 minutes, flipping once halfway through.  The tempeh should be slightly crispy resembling bacon.
5. While the tempeh is baking, prepare the rest of your salad ingredients.
6. Compile the salad in the following order: lettuce, tomatoes, onions, and dressing.  Top it all off with your strips of tempeh "bacon."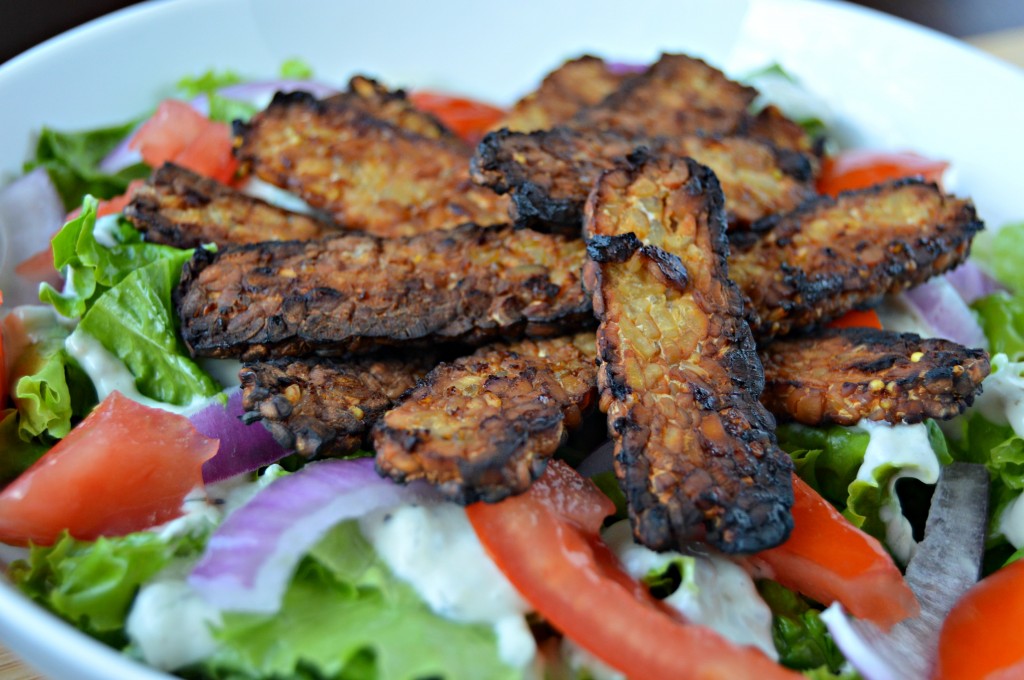 This salad is:
Light
Green
Healthy
Flavorful
Refreshing
Crispy
Crunchy
Creamy
Delicious
Are those enough adjectives for ya?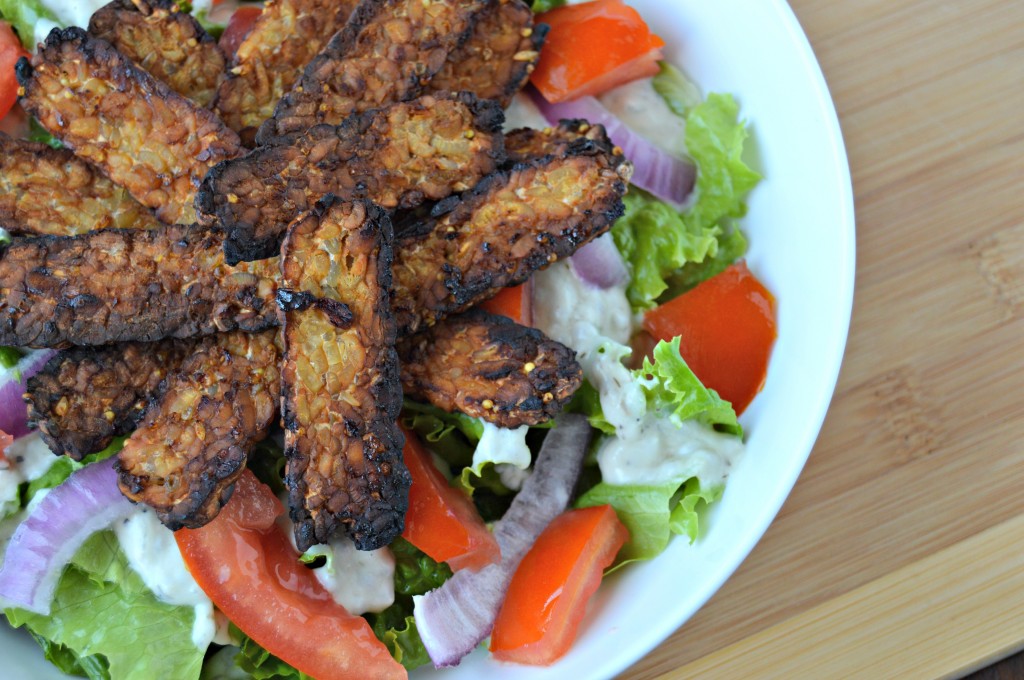 If you have any leftover tempeh "bacon" after making this salad, it is absolutely fabulous on a "TLT" sandwich or a breakfast "bacon" and egg sandwich (more on that one later!).  You can essentially use this tempeh for any recipe that calls for bacon.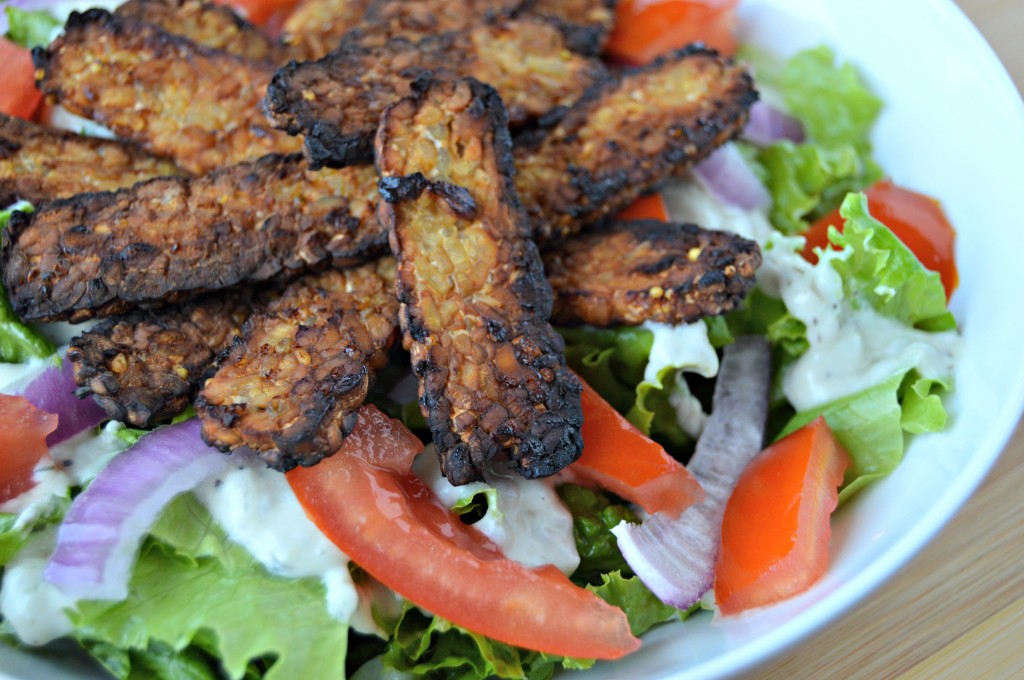 Grab what is left of the tomatoes from your garden (or your grocery store's "garden") and make this salad!
Are you interested in trying tempeh "bacon" in salad form?  Pin this recipe on Pinterest and share it on Facebook and Twitter using the buttons below!