A sneak peak into my meal plan for this week and a simple, quick, and delicious recipe for a Mexican-themed pizza for one.  Check it out!
I'd like to think that I eat good every week.  And by "good" I do not mean "perfect."  I mean that I eat relatively healthy and deeelicious meals.  I am always fascinated by what others are eating and often use it for inspiration with my own meal plans.  As a result, I like to share my weekly meal plans with you every now and then.  Hopefully you gain some inspiration and ideas for healthy meal planning, prepping, and eating a long the way!
Weekly Meal Plan
Monday: Buffalo Cauliflower "Chicken" Sandwich + Veggies
Tuesday: Chickpea Salad on Rice Cakes
Wednesday: Veggie Pizza on Cauliflower Pizza Crust
Thursday: Leftover Vegetarian Runzas (more on these on Thursday)
Friday: Gigantic Salad with Veggies, Soynuts, and Vegan Chia Ranch Dressing
Saturday: Out
Sunday: Field Roast Vegan "Sausage" + Baked Potato + Veggies
Sometimes the dishes on my meal plans are elaborate and sometimes they are… well, lazy.  But the way I look at it, lazy is just fine when it is healthy and tastes good!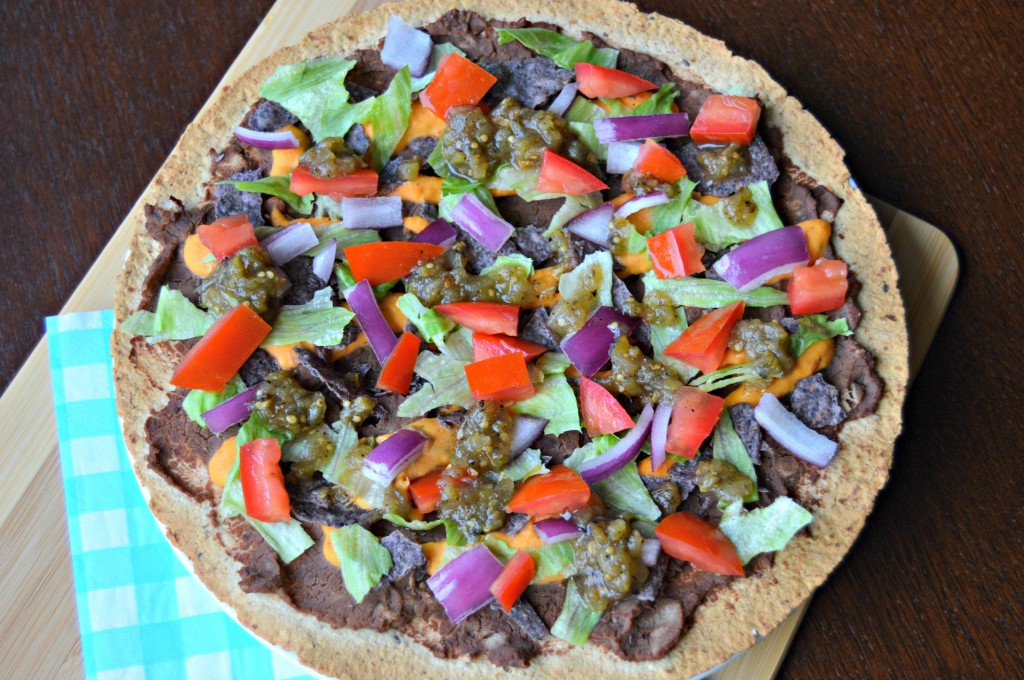 One of my recent go-to "lazy" meals has been a vegan single-serve pizza that I put a Mexican twist on.  It contains carbs from the crust, protein from the beans, and plenty of colorful and nutrient-rich vegetables.  I am also in love with the fact that it only takes about 15 minutes to make this flavorful pizza pie.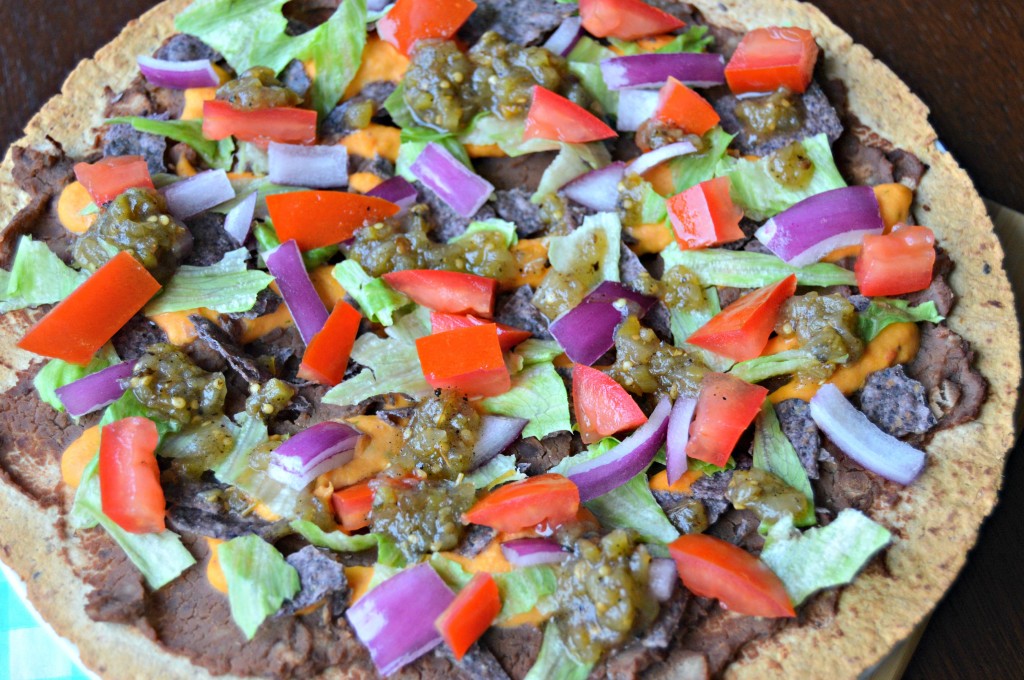 Single-Serve Mexican Tortilla Pizza
Vegan
Ingredients
1 whole wheat or sprouted tortilla (I like the Ezekiel brand)
1/2 cup vegetarian refried beans (I used spicy jalapeno refried black beans)
2 TB hummus (I recommend a spicy or red pepper version)
1 to 2 tsp plain unsweetened almond milk
5 tortilla chips (I used blue corn)
shredded lettuce
red onions, chopped
tomatoes, chopped
salsa (I used salsa verde)
Directions
1. Preheat the oven to 375 degrees F.  Once preheated, place the tortilla on a nonstick baking sheet and bake for approximately 5 minutes.
2. While the tortilla is baking, prepare your toppings.
3. Remove tortilla from the oven and spread with refried beans.
4. Combine hummus and milk in small microwaveable dish.  Stir to combine.  Microwave for approximately 20 seconds.  Spread hummus "cheese" onto refried beans.
5. Crush tortilla chips and place on top of beans and "cheese."
6. Bake for approximately 3 to 5 minutes.
7. Turn the broiler on low and broil for approximately 1 minute.  Watch carefully to ensure that the tortilla does not burn.
8. Remove the pizza from the oven and top with lettuce, onions, tomatoes, and salsa.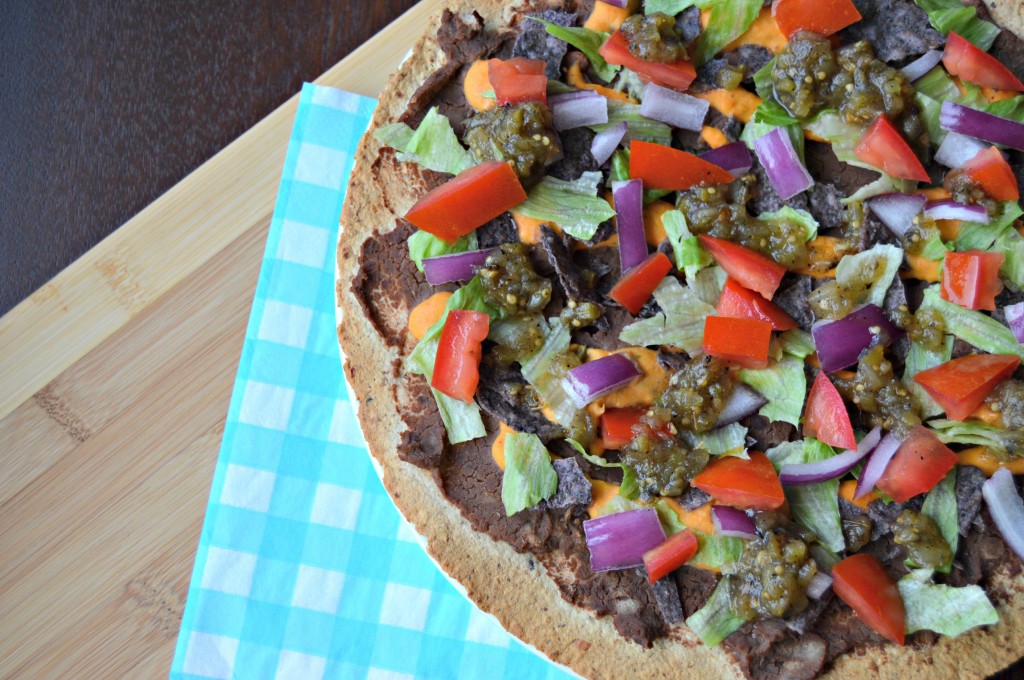 A perfectly crispy crust
Spicy beans
Vegan hummus "cheese"
Fresh veggies
A kick of salsa
= Perfection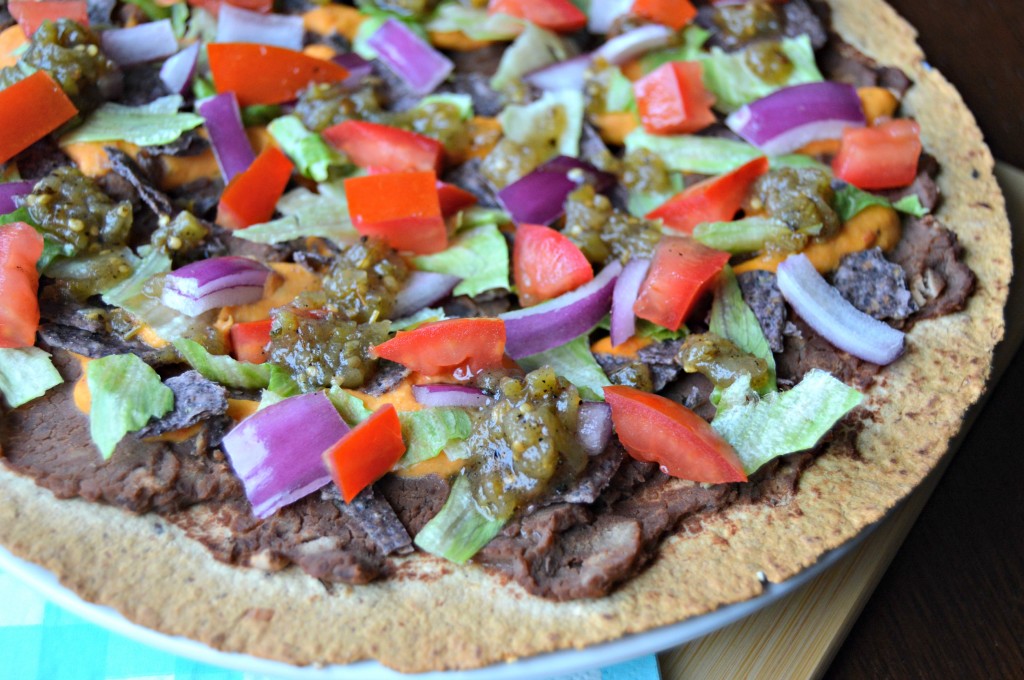 My other favorite single-serve pizzas:
Black Bean and Pineapple Pizza
Tortilla Veggie "Meatball" Pizza
What is on your meal plan for this week?
Are there any other Mexican pizza lovers out there?