The perfect hearty, flavorful, just-spicy-enough bowl of vegan chili soup.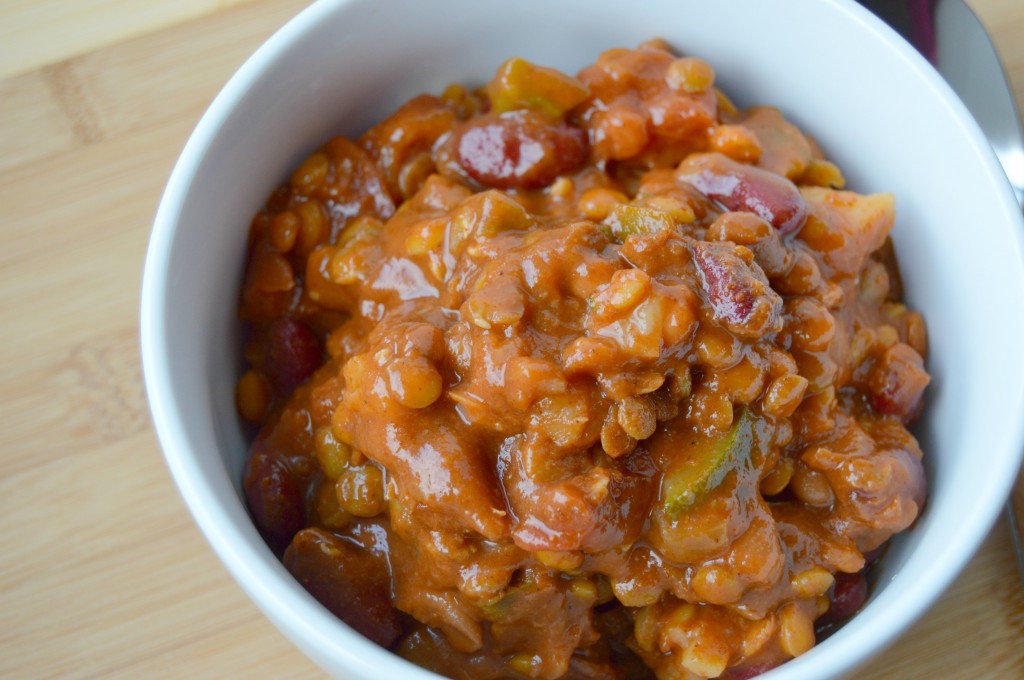 It is officially soup and chili season and I could not be more excited about it!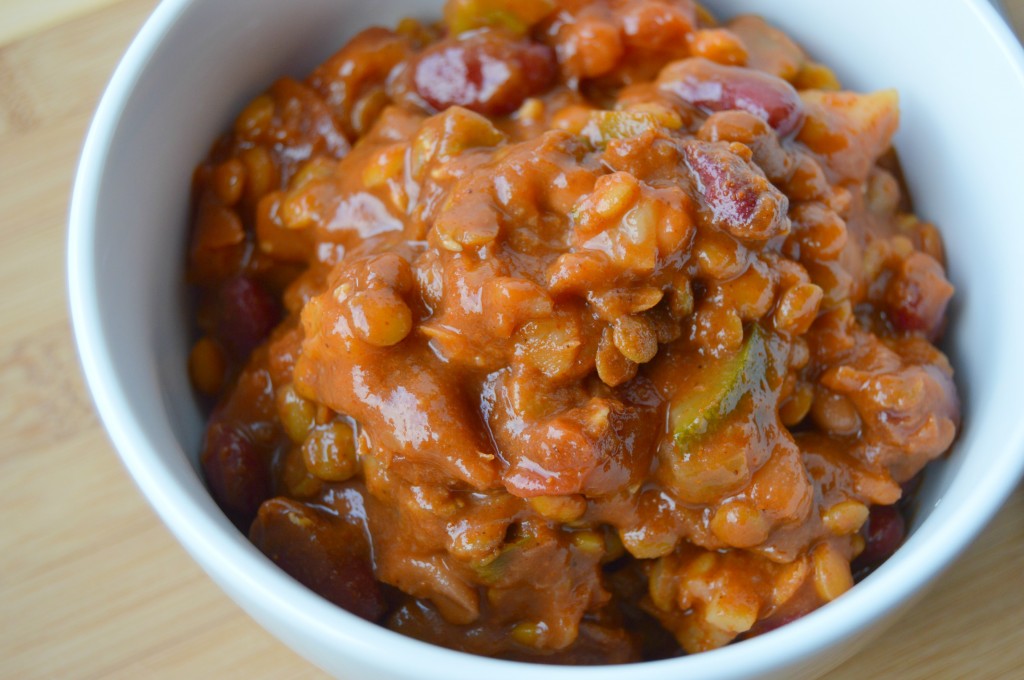 Who am I kidding?  I eat chili year round.  But for you more "normal" individuals, it is time to dive into a hot bowl of chili goodness.  And no I am not talking about beefy chili.  I am talking about chili that is chocked full of vegetables, lentils, and beans.  There is no lack of protein, fiber, or nutrients with this meal.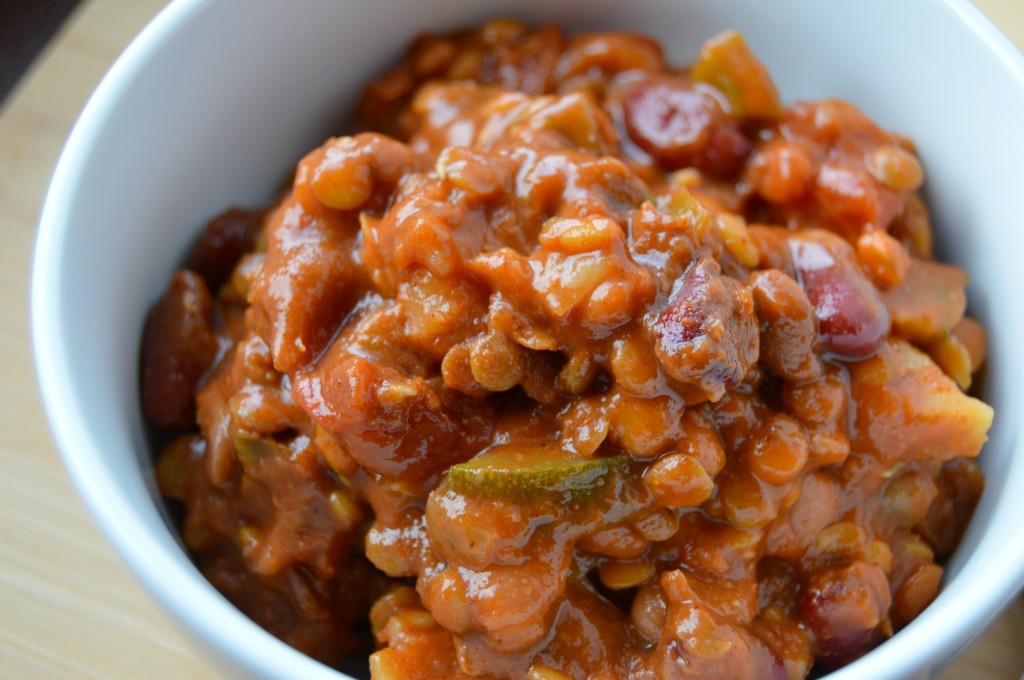 A lot of vegetarian and vegan chili soups contain soy crumbles or extra beans to give them the meaty effect.  But I wanted to "beef" things up (no pun intended) by using lentils in addition to hearty vegetables and traditional chili beans.  I am convinced that lentils were made for soup.  Do not try to tell me that I am wrong on this one.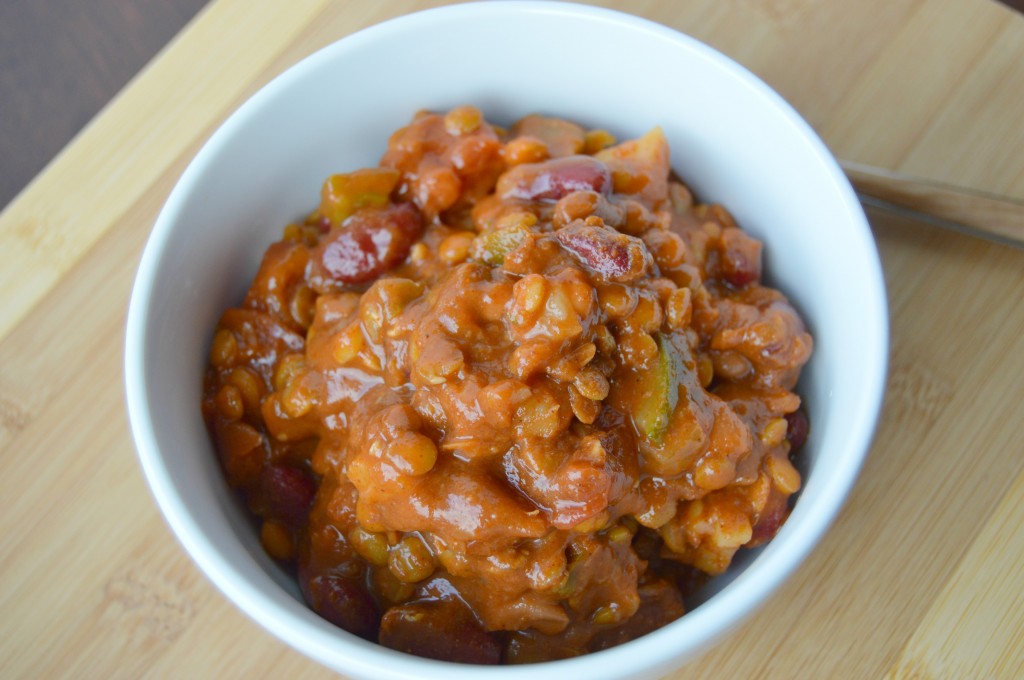 Is there anything more warming and comforting than a good bowl of chili?  The correct answer to that question would be "no."  And thank goodness because these chilly September evenings have left me wanting nothing more than a warm bowl of soup.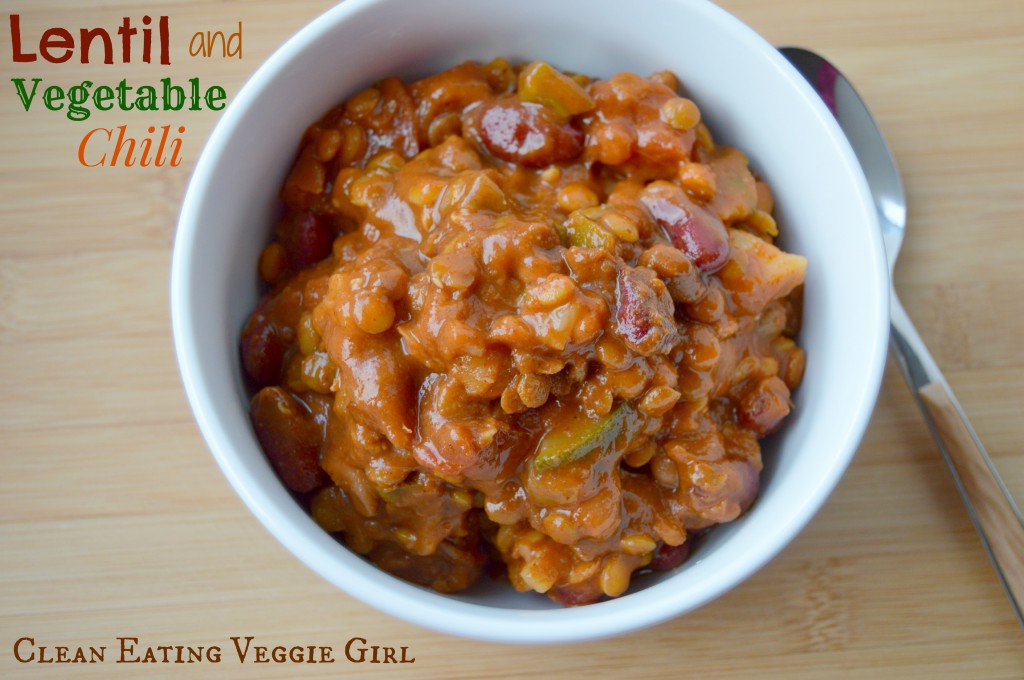 Lentil and Vegetable Chili
Vegan + Gluten-Free
Serves 4
Ingredients
water, for cooking
2 cloves garlic, minced
small yellow onion, diced
green bell pepper, diced
small zucchini, chopped into 1/2 inch pieces
large russet potato, chopped into 1/2 inch pieces
14.5 oz can chili-ready diced tomatoes
14.5 oz can chili beans (I used a Tex Mex variety)
14.5 oz can dark red kidney beans (no salt added), drained
1 oz chili seasoning packet (or your favorite chili seasoning blend) <– look for real ingredients!
3 cups tomato juice
1 cup dried green/brown lentils
Directions
1. Line a dutch oven or large pot with a thin layer of water.  Heat over medium-high heat.  Once hot, lower the heat to medium and add garlic, onion, and pepper to the pot.  Cook for approximately 5 minutes, adding additional water as necessary.
2. Add zucchini and potato to the pot and cook for 5 minutes.  Add additional water to prevent sticking when necessary.
3. Add tomatoes, beans, chili seasoning, and tomato juice to the pot.  Stir well to combine.  Turn the heat back to medium-high and bring the soup to a boil.
4. Once boiling, add lentils to the pot.  Stir to mix all of the ingredients together.  Lower the heat to medium-low, cover with a lid, and simmer for approximately 45 to 60 minutes, or until the lentils are cooked.  Stir occasionally throughout the cooking time.
5. Serve warm with your favorite side.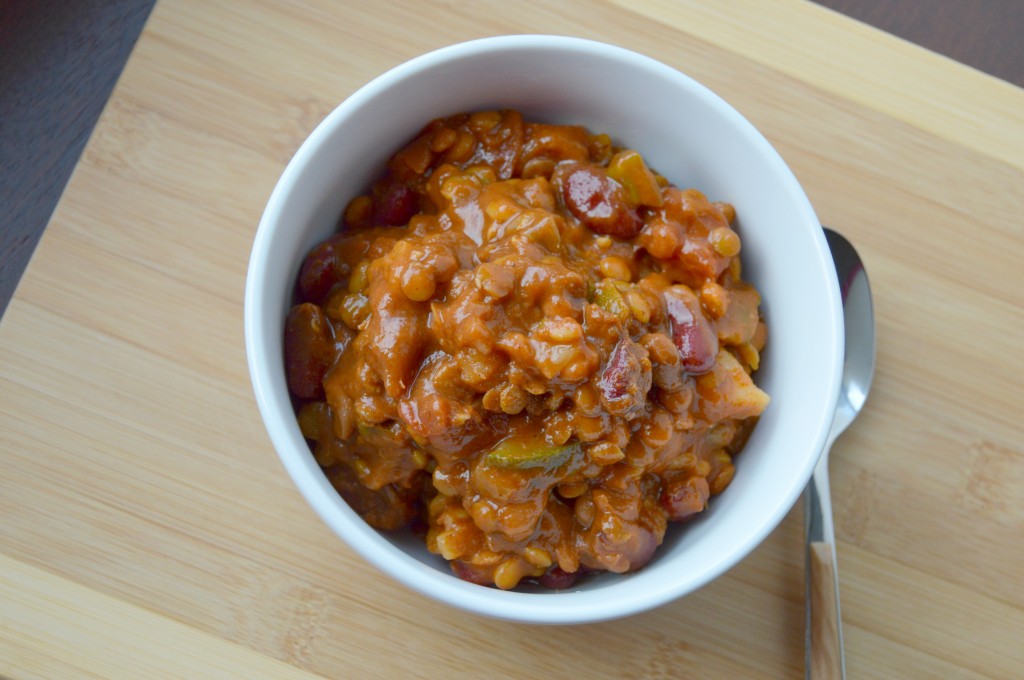 Make sure you serve your chili with your favorite bread, roll, cornbread, crackers, and/or chips.  Basically, eat your carbs!  I served mine with my Summer Vegetable Cornbread a couple of nights and ate it with blue corn tortilla chips for lunches.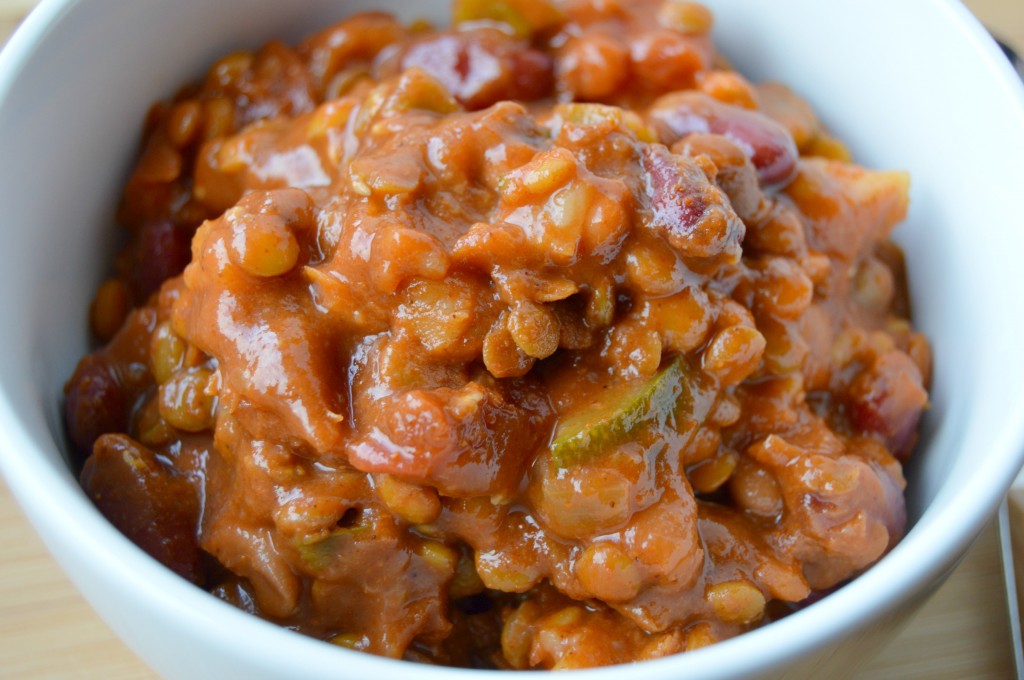 So, again with the photographing soup thing…  It is not my forte.  But I must say, I am most proud of these pictures out of all of the soup pictures I have taken.  Maybe it was my cold food photography trick?  I am totally down for hearing your soup photography tips and tricks, so lay 'em on me!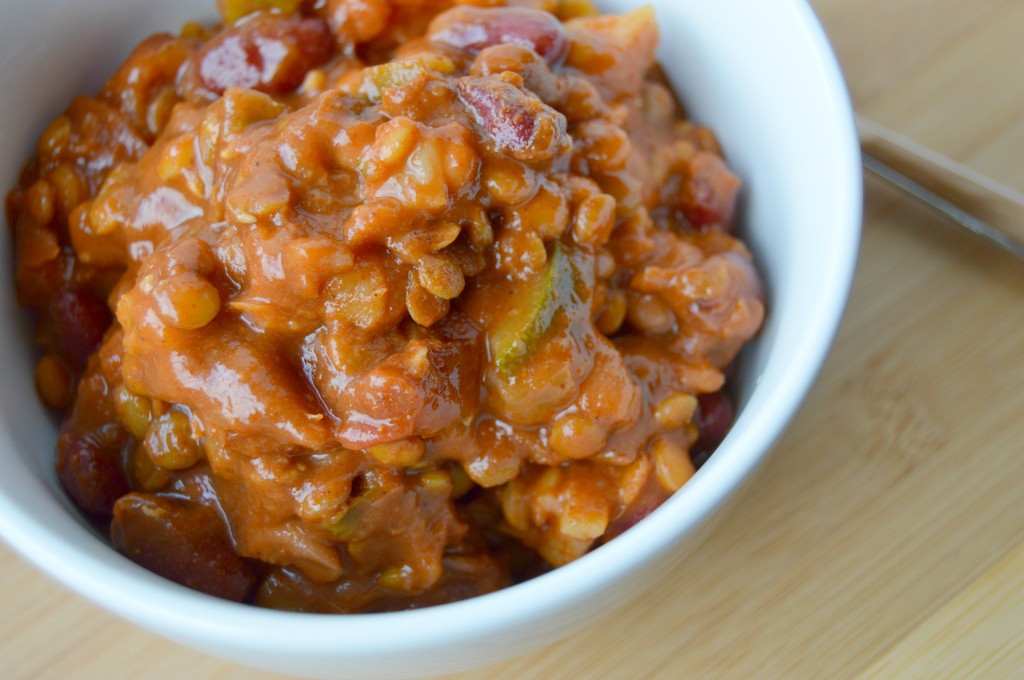 What are your favorite chili ingredients?  Are there any "secret" ingredients out there?
Are you excited to dive into a bowl of chili?  Please pin this hearty bowl on Pinterest and share it on Facebook and Twitter using the buttons below!