When we last left off on my Colorado adventure, the boyfriend and I had spent two glorious days in Denver.  Let's take a peek at all of the fun we had in Denver on Monday!  Oh, and most importantly… the eats!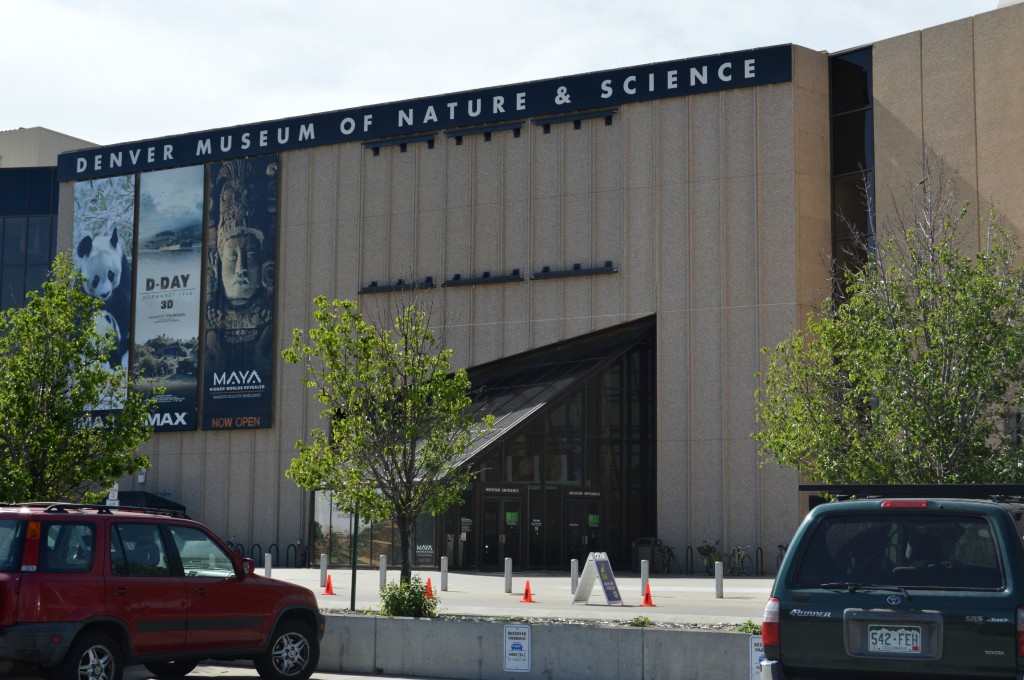 After a much-needed sleep in, we headed to the Denver Museum of Nature and Science.  We are both kind of nerds when it comes to those topics, so we were pretty excited!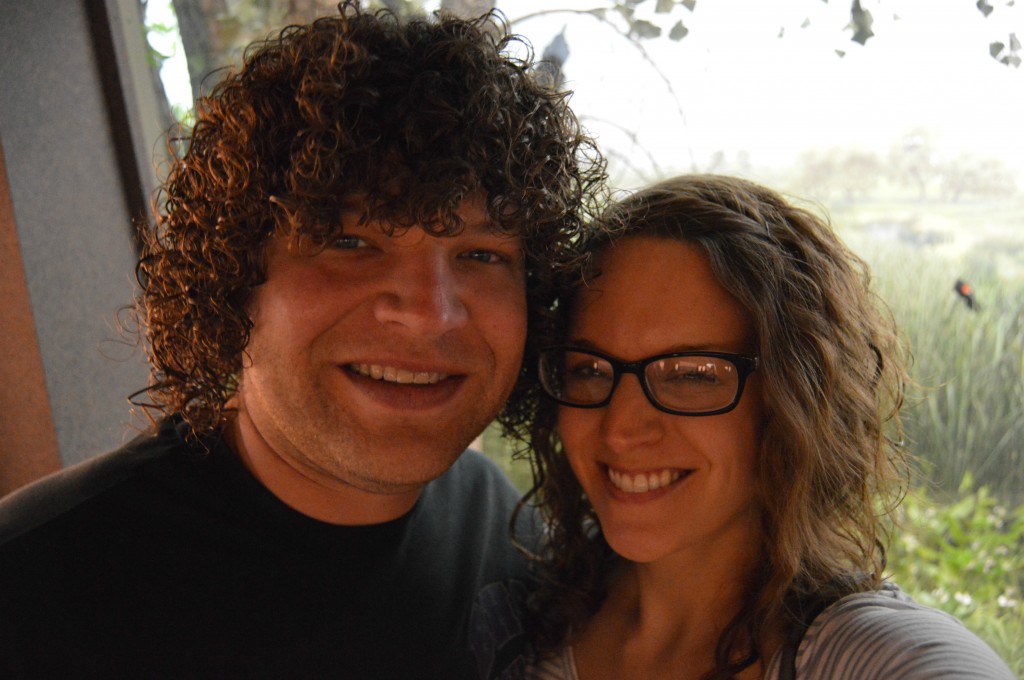 Our attempt at taking a picture in front of one of the exhibits.  Clearly we did not get much of it in the picture, but if you look to the right then you will see that it was one of the bird exhibits.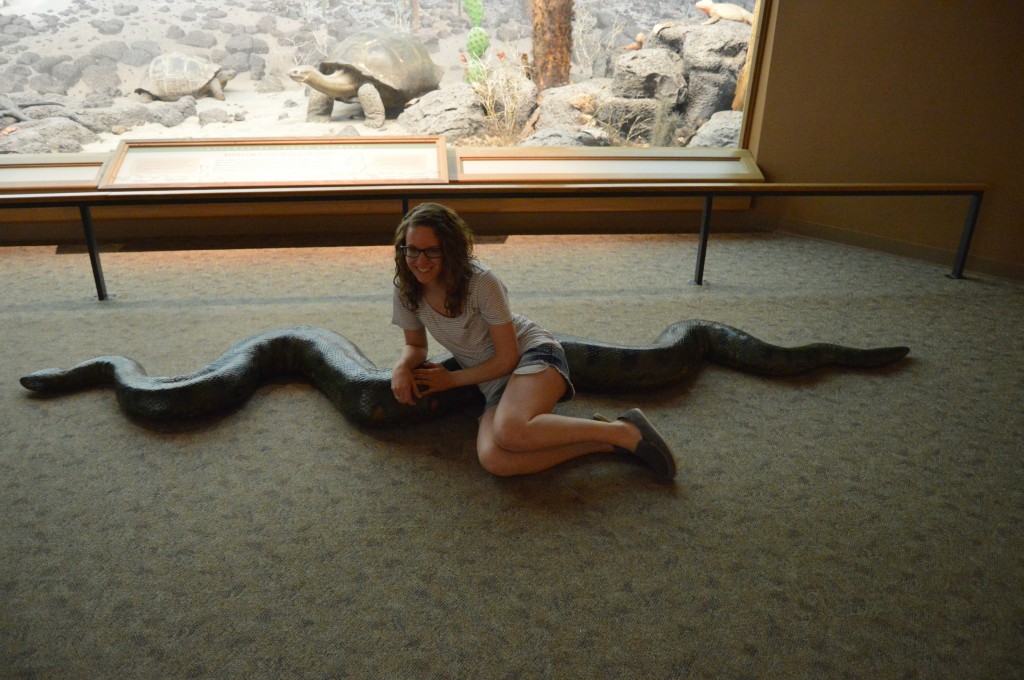 Then we found this disgustingly creepy (and obviously fake) giant anaconda snake.  Naturally, I had to take a picture with it!  I don't plan to EVER be that close to a real snake.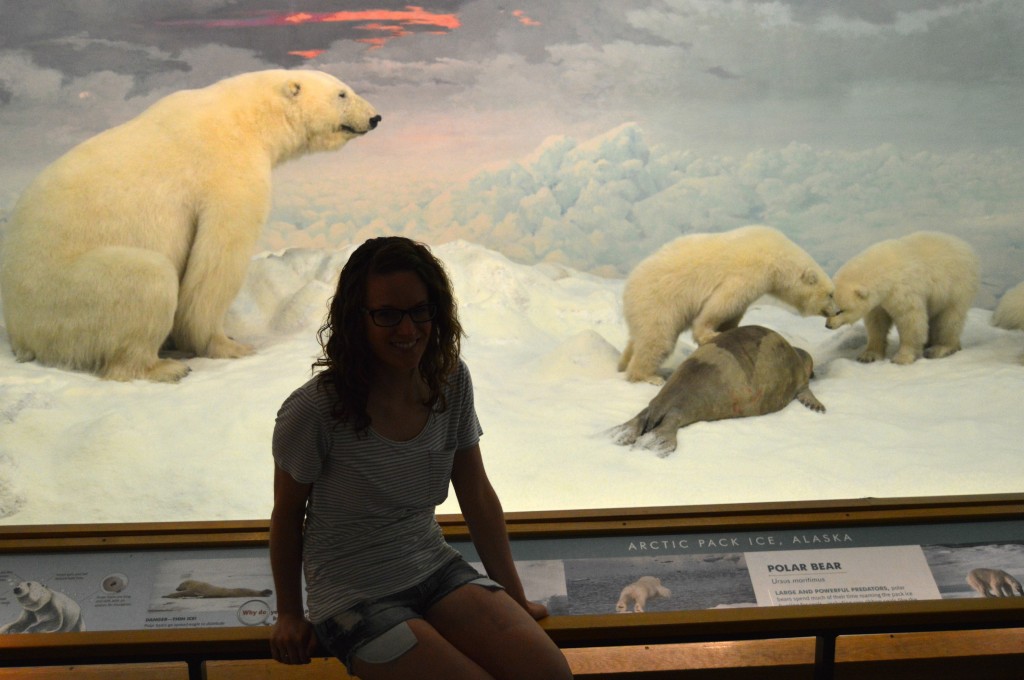 Next, I really REALLY had to get my picture with this exhibit!  Polar bars are my absolute favorite animal to see at zoos/museums.  They are just so stinkin' cute!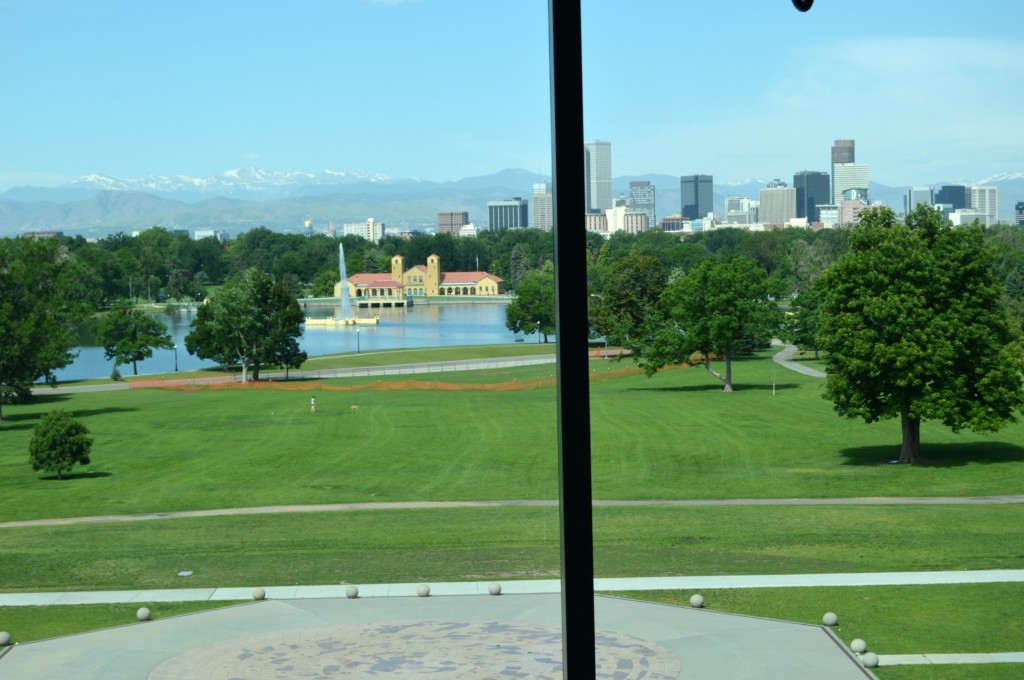 The DMNS has a huge viewing area on the side of the building that has gorgeous scenery of Downtown Denver and the mountains.  I am pretty sure we stood there for several minutes just taking it all in.  It was truly breath-taking!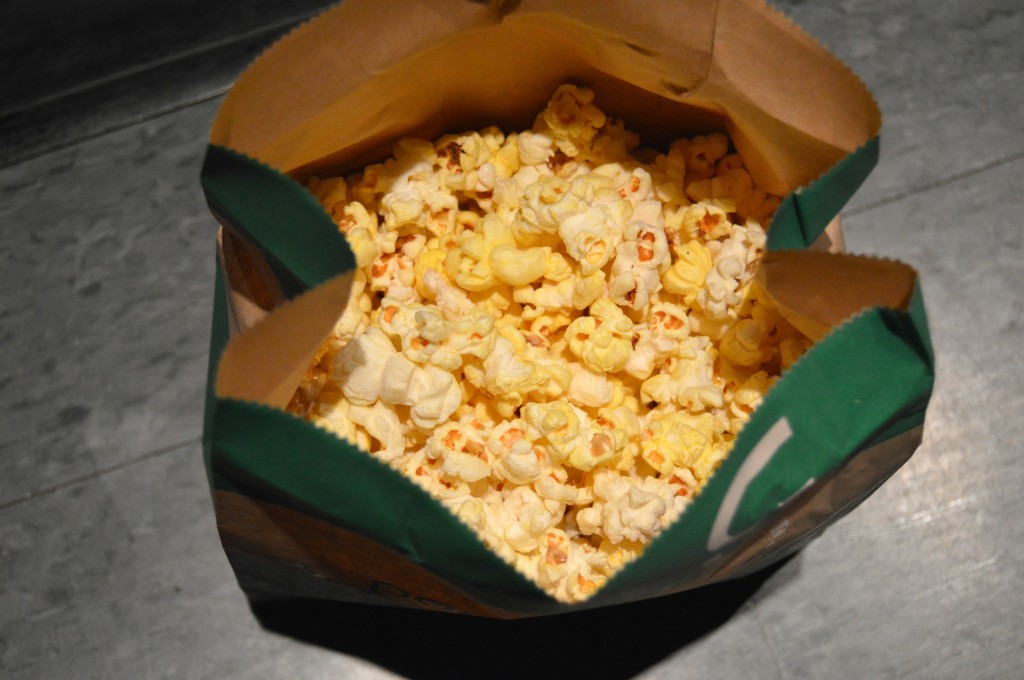 Now not only do I have a love for polar bears, but I am also a major panda bear lover.  When we saw that Pandas: The Journey Home was playing at the IMAX theater, we snatched up tickets.  It was a wonderful documentary and I love how the IMAX movies make you feel as though you are really there.
Oh, and popcorn was obviously a must because…well, it's popcorn! 😉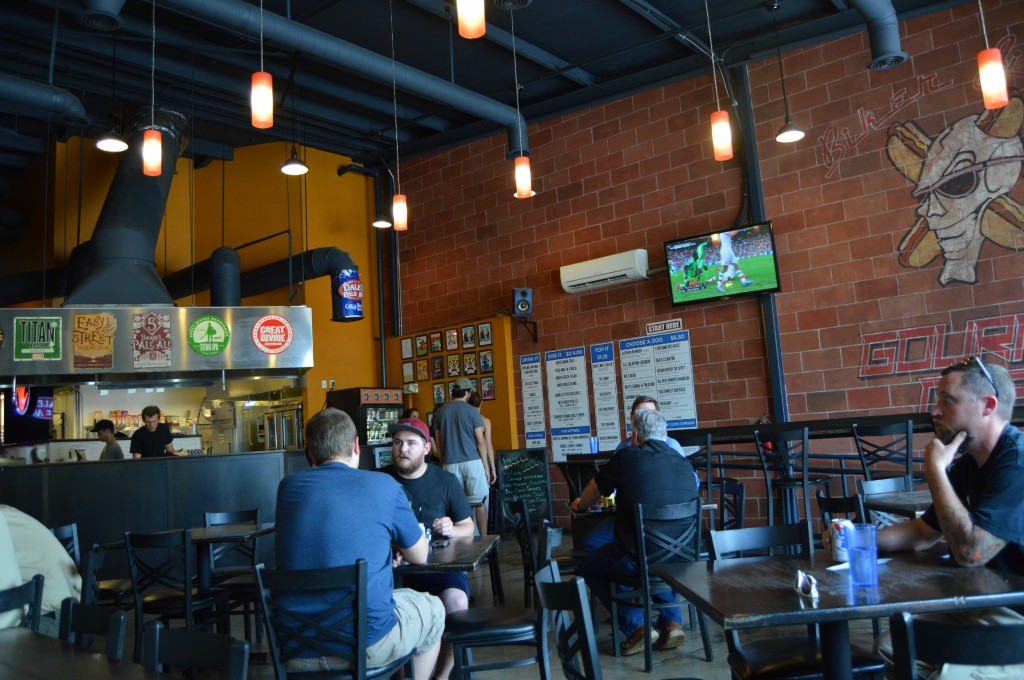 We did not get out of the museum until around 1:00 so our appetites were in full swing.  I had on our plan to eat at a popular and highly-recommened restaurant in downtown Denver: Biker Jim's Gourmet Dogs.  You have to check out their menu!  They have crazy (but delicious-sounding) dogs and all sorts of creative toppings.  And yes, vegan options for me and you!  Their side dish menu is pretty killer too!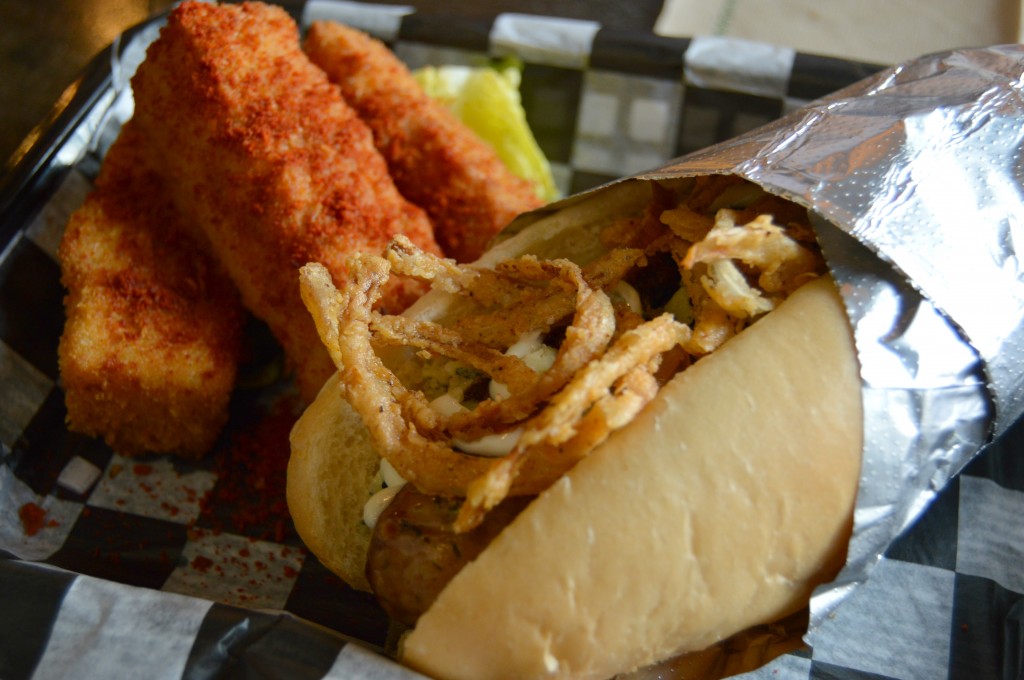 Jeremy ordered the rattlesnake and pheasant dog with the "Conspiracy" toppings (bleu cheese, bacon red onion marmalade, lemon zest, and french fried onions).  He ordered the fried mac and cheese for his side.  I tried the mac and cheese (it was white cheddar!) and it was amazing!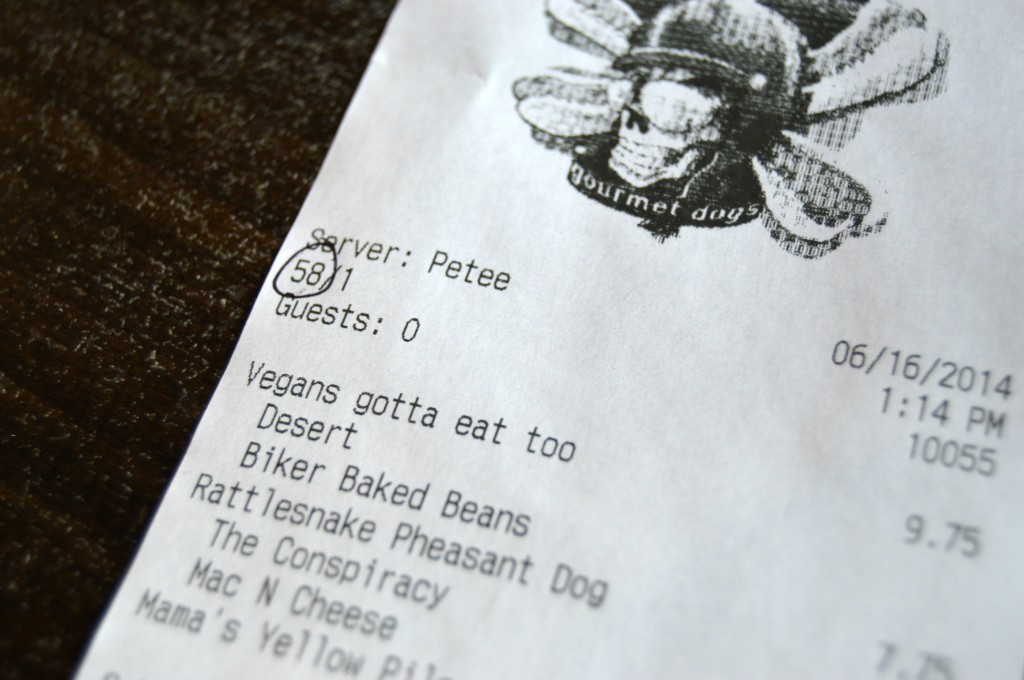 As I mentioned above, Biker Jim's is vegan-friendly.  They also have quite the sense of humor.  Vegans DO 'gotta eat too!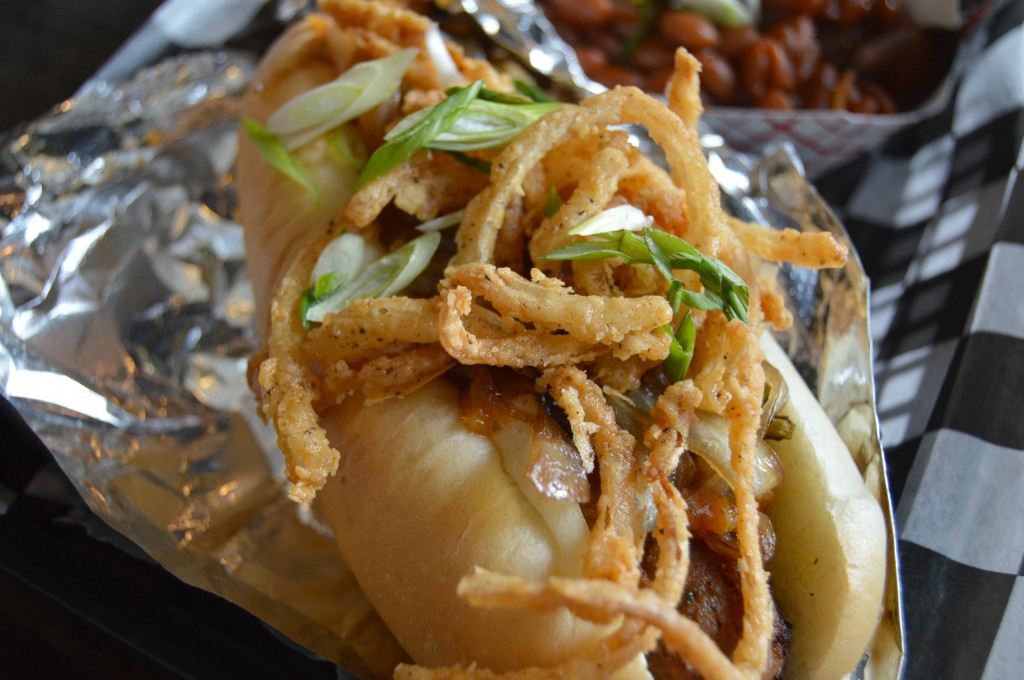 I ordered the herby vegan dog with the "Desert" toppings (harisa roasted cactus, Malaysian curry jam scallions, cilantro, and onions two ways ) <– FYI the fried onions are not vegan, but when in Rome.  I ordered their vegan baked beans and was in heaven.  It is not that often that I can order baked beans at a restaurant and have them be vegetarian or vegan so I definitely took advantage of that.
After lunch, we headed back to his aunt and uncle's house and relaxed for a few hours.  Traveling, drinking, and eating sure does make you tired doesn't it?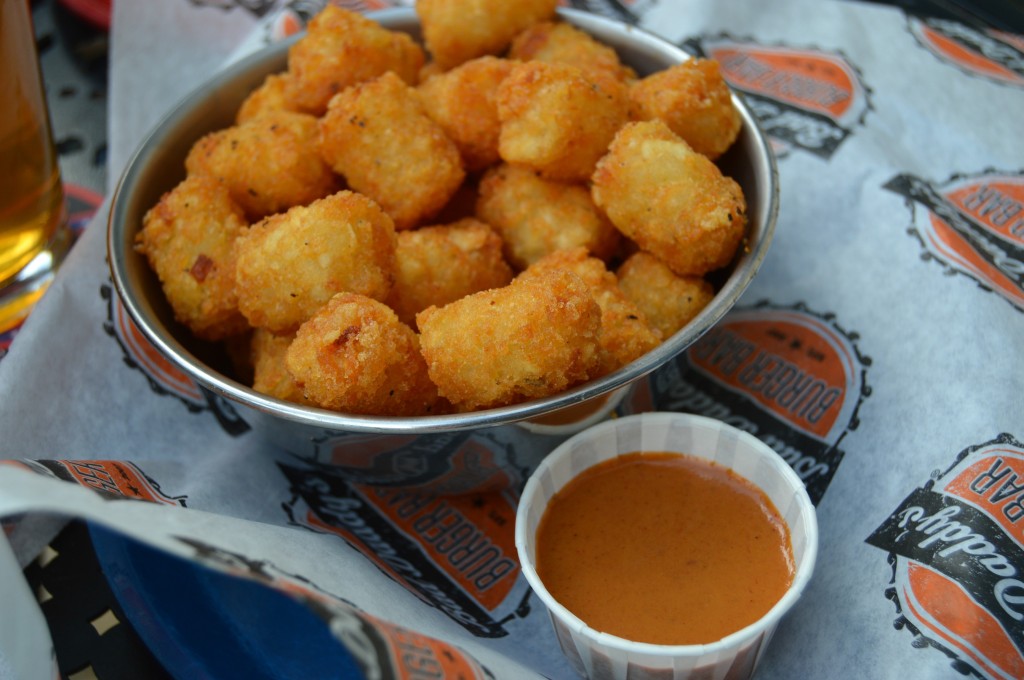 And then dinner rolled around… and after so much heavy food, I was craving a salad.  We walked down to the Cherry Creek District and ate at one of their newer restaurants: Bad Daddy's Burger Bar.
Despite my salad craving, we had to get in a little fried food first.  When you see tots on a menu with a spicy dipping sauce then you are pretty much required to order them.  Just saying!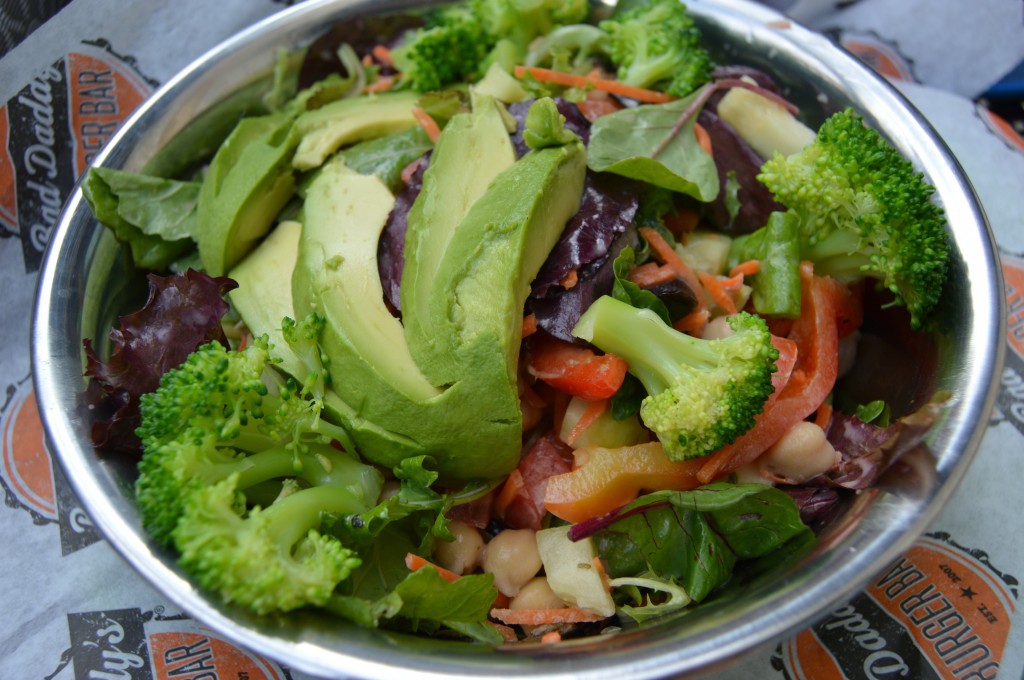 And here is theee salad.  They have build your own salads with tons of toppings, so I went to town.  I ordered mixed greens, cucumbers, broccoli, tomatoes, carrots, chickpeas, red peppers, avocado, and balsamic vinaigrette dressing.  It was so good.  And just an FYI, they also have  build your own burgers (veggie included) with tons of bun, cheese, and topping options.  For both the salad and burger building options, they have scratch pads on the table and you check off which ingredients you want.  Pretty genius if you ask me!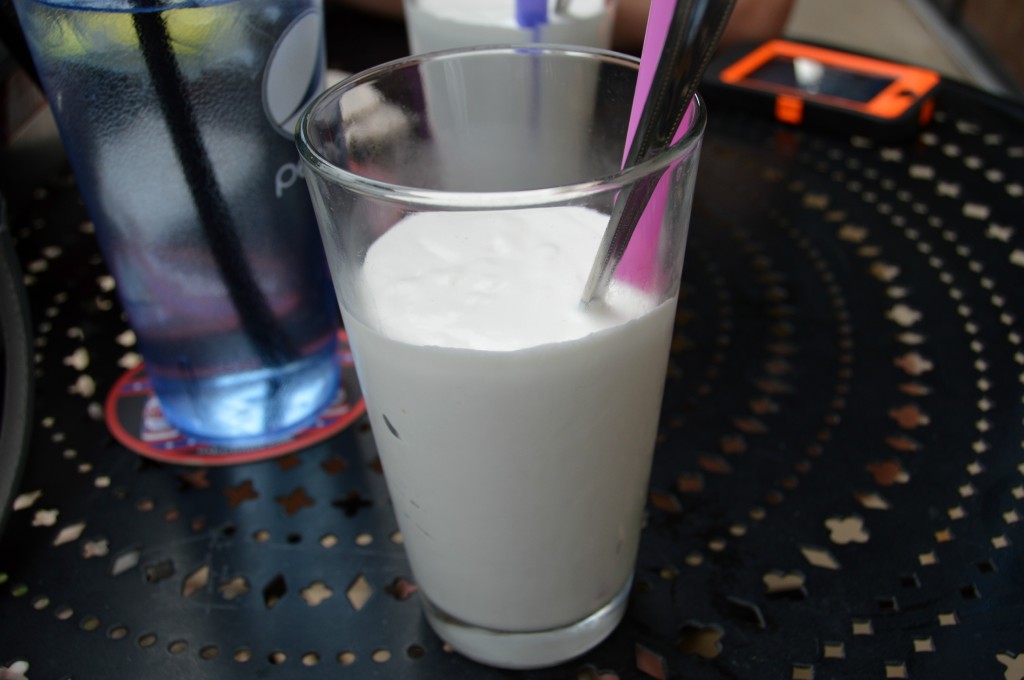 Apparently eating a mostly healthy dinner makes you crave dessert 😉  We split a vanilla milkshake.  No regrets.  It was deliciously creamy and sweet.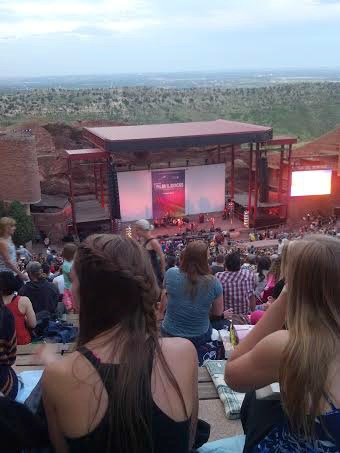 We finished off our Monday night by driving out to the Red Rocks Amphitheatre.  We were both wanting to go experience the venue but did not see any concerts that were of interest to us while we were there.  Instead, we attended the Film on the Rocks event and saw the movie Labyrinth.  I had never seen it and while it was slightly cheesy, I truly enjoyed the experience.
After a late night out we crashed into bed around midnight (yes, that is late for us!).  We had to get all rested up for our coming Tuesday in Fort Collins and Boulder.  More on that later!