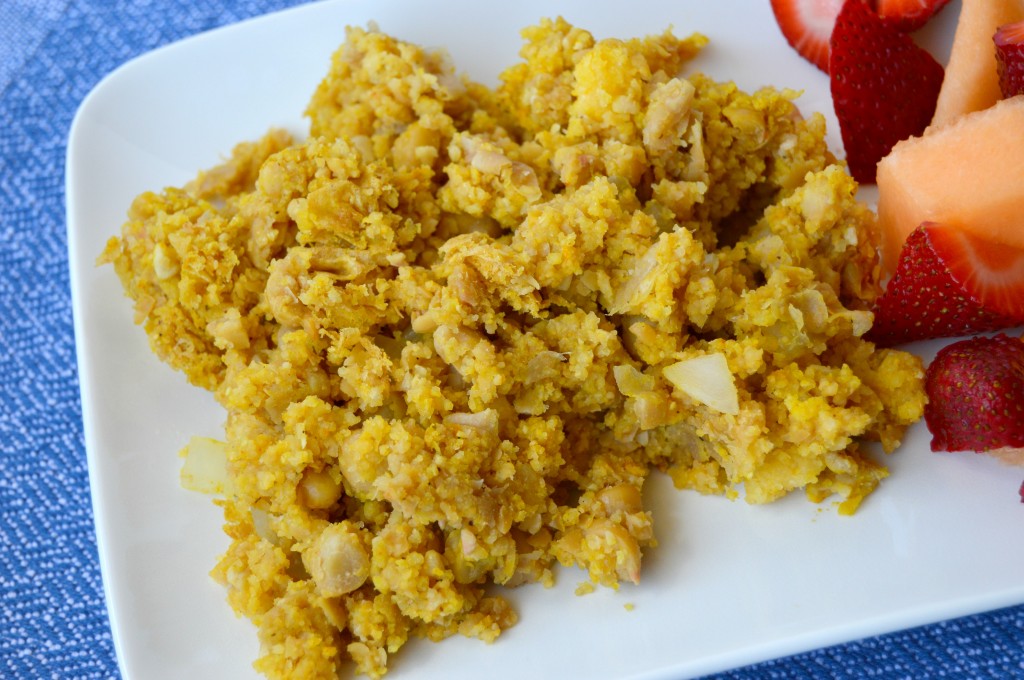 As most of you already know, I am a vegetarian who tries my best to follow a mostly plant-based diet.  I feel better physically and mentally when I do so, and I have also found that is has helped me to adopt a healthier lifestyle and a more creative side in the kitchen.
So you may be wondering… "why are you not fully vegan?"  There are a few reasons why (eating out, convenience, pizza, etc.), but the main reason why I still incorporate some animal products into my food routine is because I am a big-time egg lover.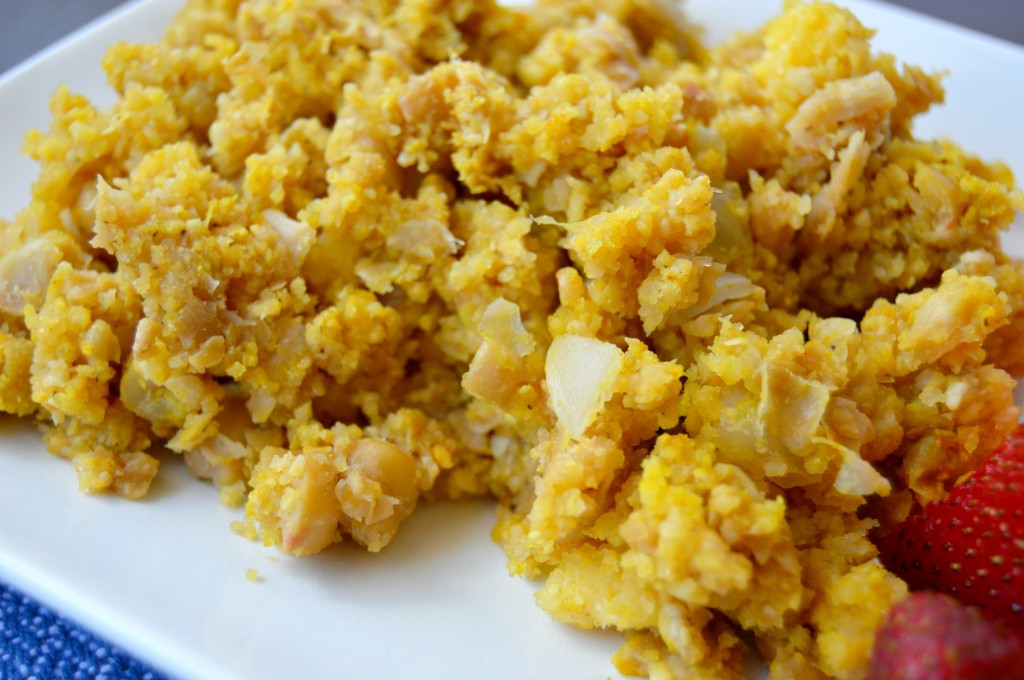 Despite the fact that I am a-okay with eating eggs several times per week, I like to challenge myself in the kitchen.  I have pretty much accepted the fact that there is really no substititue for a good dippy egg, but I have found that making scrambled "eggs" without the real deal is actually fairly simple.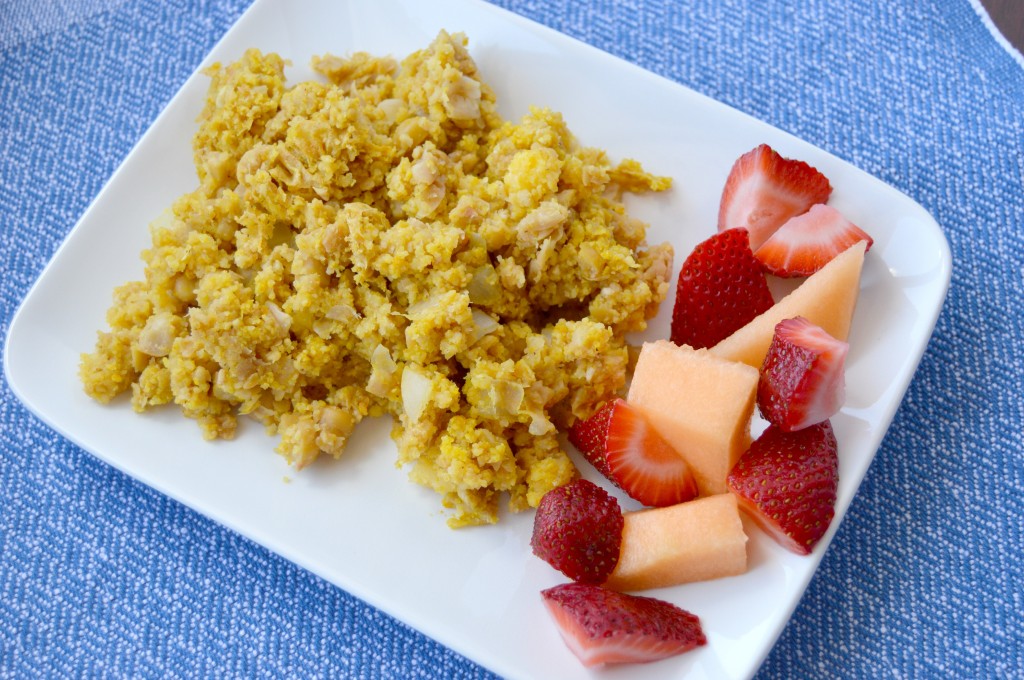 The most common vegan alternative to scrambled eggs is probably the tofu scramble.  And while I love a good tofu scramble as much as the next person <– er, maybe not because a lot of people are freaked out by tofu- I really wanted to develop a vegan and soy-free alternative to one of my favorite breakfast staples.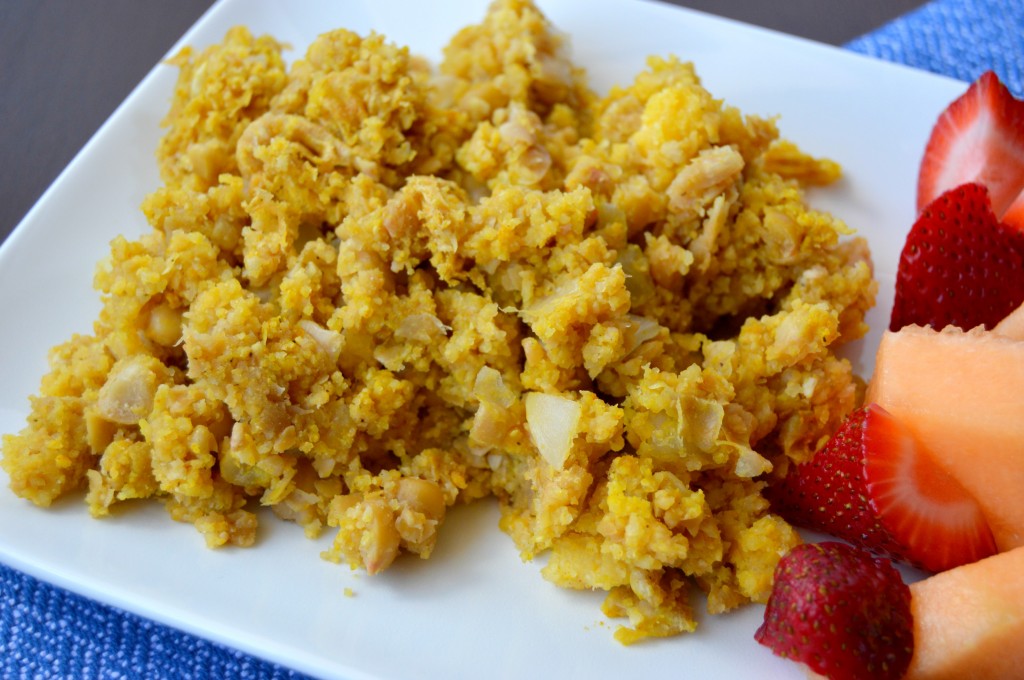 With just a little bit of creativity and experimentation in the kitchen, I came up with a mighty delicious scramble for egg-loving vegans and aspiring vegans.  Oh heck, who am I kidding?  This is perfect for everyone.
A can of chickpeas.
A little polenta.
And a few spices.
=Perfection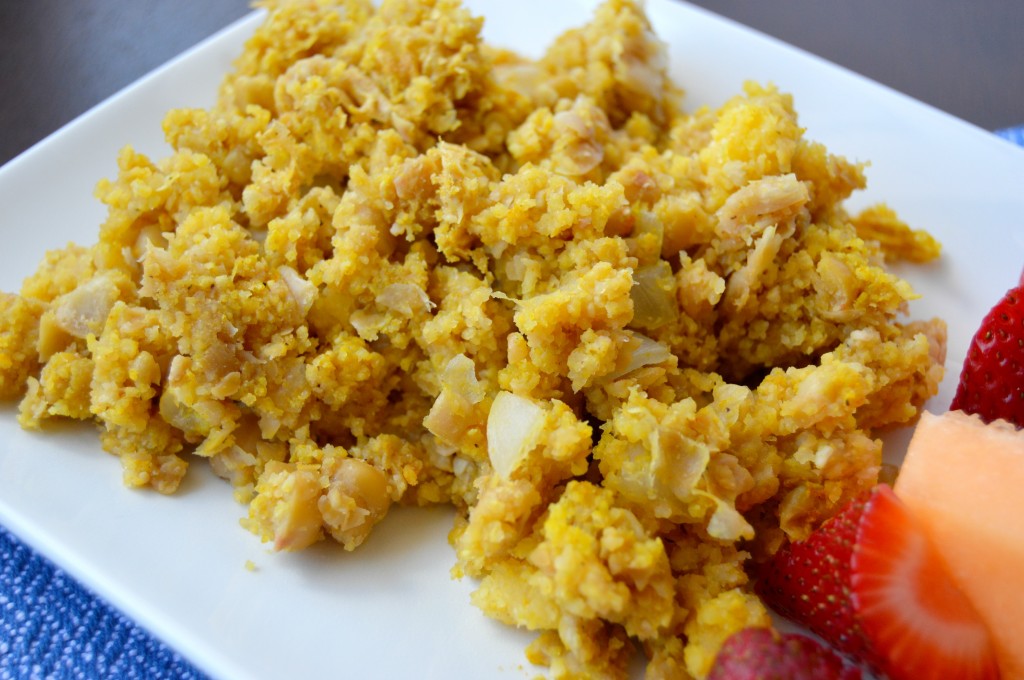 Chickpea Polenta Breakfast Scramble
Vegan
Servings: 3 to 4
Ingredients
water, for cooking
2 cloves garlic, minced
2 TB yellow onion, diced
1 15 oz can of chickpeas, drained and rinsed
half of a 16 oz tube of prepared polenta (I normally find it in the produce section)
2 TB Bragg's Liquid Aminos or low-sodium soy sauce
1 tsp sriracha sauce
1 TB nutritional yeast
1/4 tsp garlic powder
1/4 tsp onion powder
1/4 tsp turmeric
fine sea salt, to taste
black pepper, to taste
Directions
1. Line large skillet with a thin layer of water.  Heat over medium-high heat until very hot.  Once hot, lower the heat to medium and add garlic and onions.  Cook for approximately 6 to 8 minutes, or until softened.  Add additional water, as necessary.
2. Add chickpeas to the skillet.  Mash partially with a potato masher or a fork, leaving some larger pieces intact.
3. Crumble polenta into the skillet.  Stir until well combined with the chickpeas.
4. Stir in Aminos, sriracha, and seasonings.
5. Lower the heat to medium-low and saute for approximately 5 minutes, stirring frequently to prevent sticking.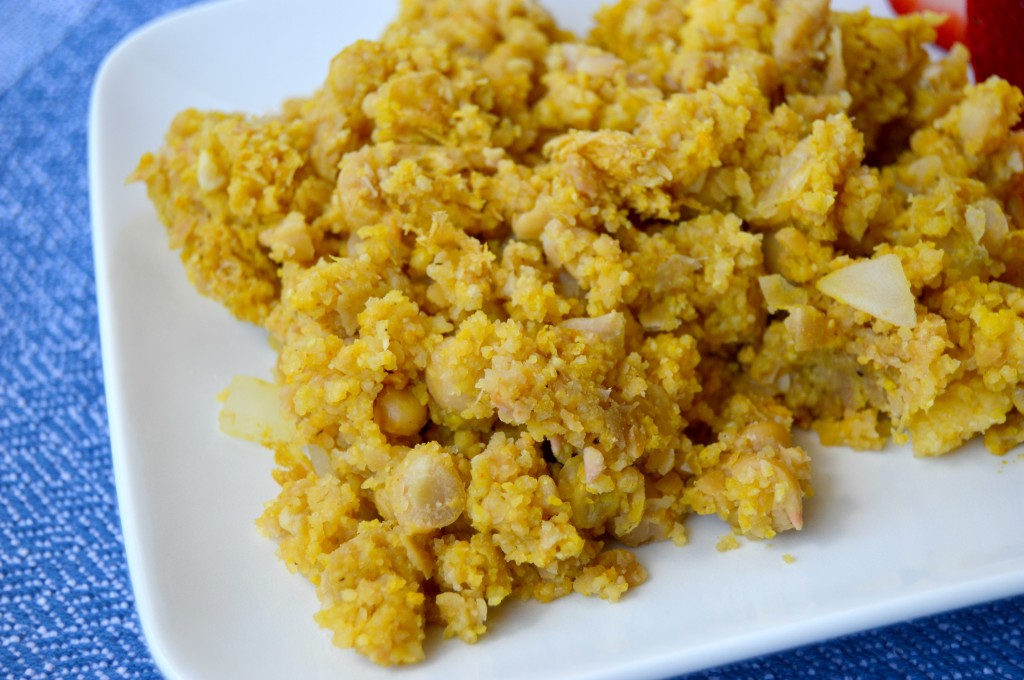 It sort of even resembles scrambled eggs, doesn't it?
Okay, that might be pushing it… but either way, it is delicious!  And if I am being honest, it definitely hits the spot when it comes to egg and savory breakfast cravings.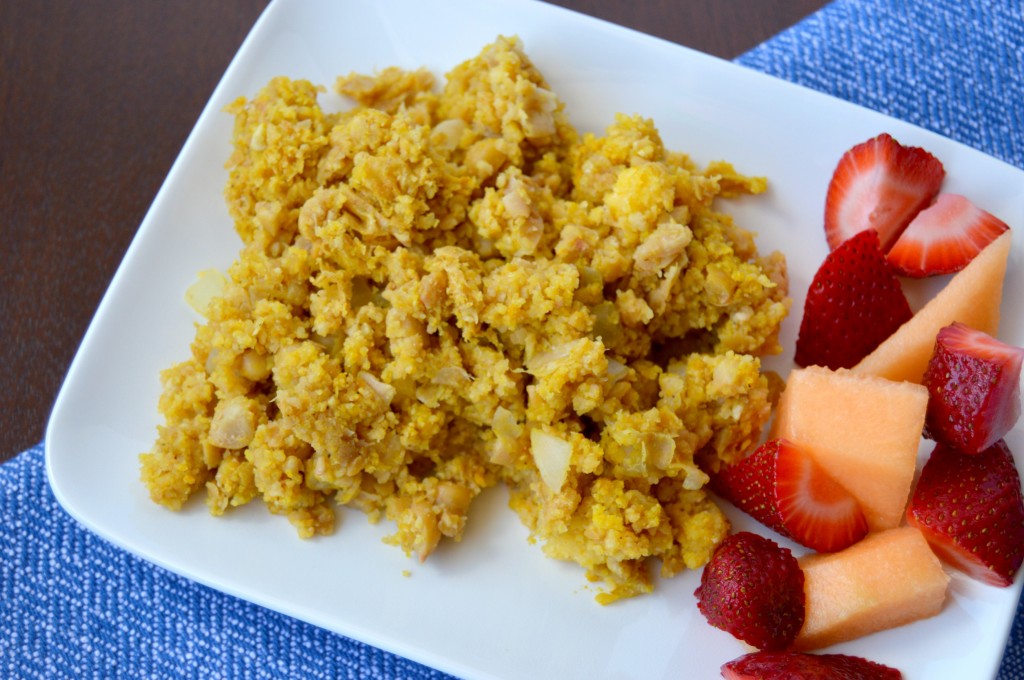 Of course you are going to want to serve your scramble alongside anything that you would normally serve scrambled eggs with.  It is great paired with toast, English muffins, bagels, and fresh fruit.  Probably not all at once, though… unless you are really hungry!  No judgement here.  I definitely like to put away a lot of food!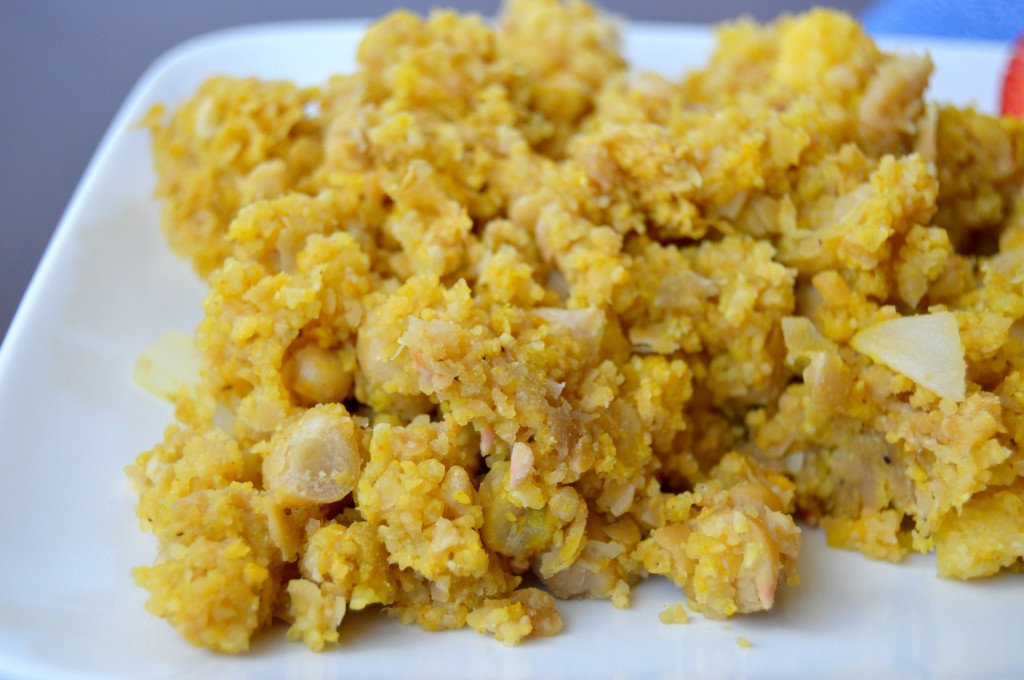 It may not be eggs, but it sure is one delicious breakfast dish that is the perfect plant-based alternative.
Are you an eggs lover?  What is your favorite way to prepare them?