Ahh, where were we when we last left off?  That's right!  My boyfriend and I had just finished off our third day in Colorado with lots of adventures and good eats in Denver.
Next up: a Tuesday in two small and quaint (okay small and quaint compared to Denver!) Colorado cities.  Expect lots of beer and tasty food ahead!  What can I say… we like our drinks and we like our eats!  Let's take a walk around Fort Collins, shall we?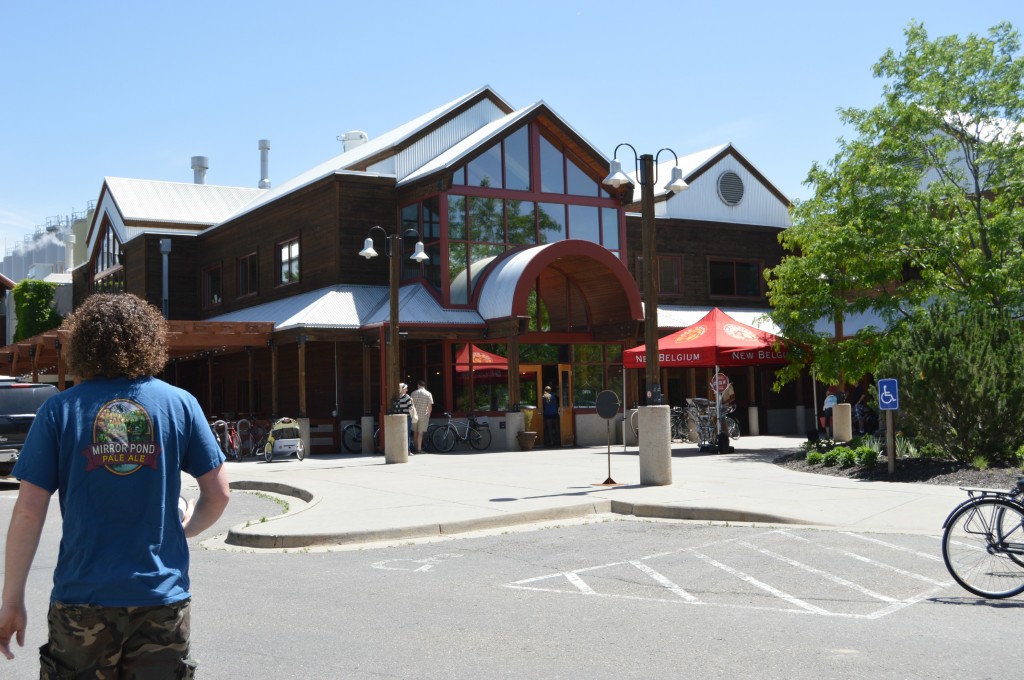 Our First stop in Fort Collins was picked out by Jeremy.  We had an 11:30 (<– that we just barely made it to thanks to sleeping in a bit too long) brewery tour at New Belgium Brewing.  I have been to a decent amount of brewery tours so far in my life and I must say that this one was definitely the best.  The tour lasted approximately 90 minutes and I would guess that we ended up drinking a total of around two to three beers… for free!  There is nothing quite like drinking before noon, right?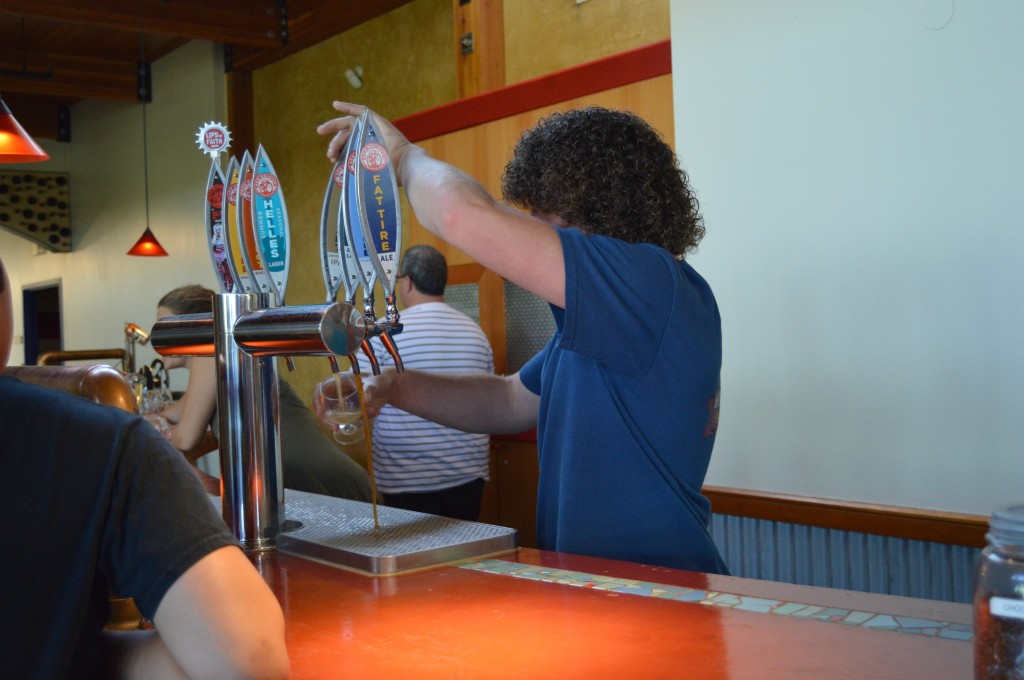 I tried the Yuzu, Ranger, La Folie, and Fat Tire.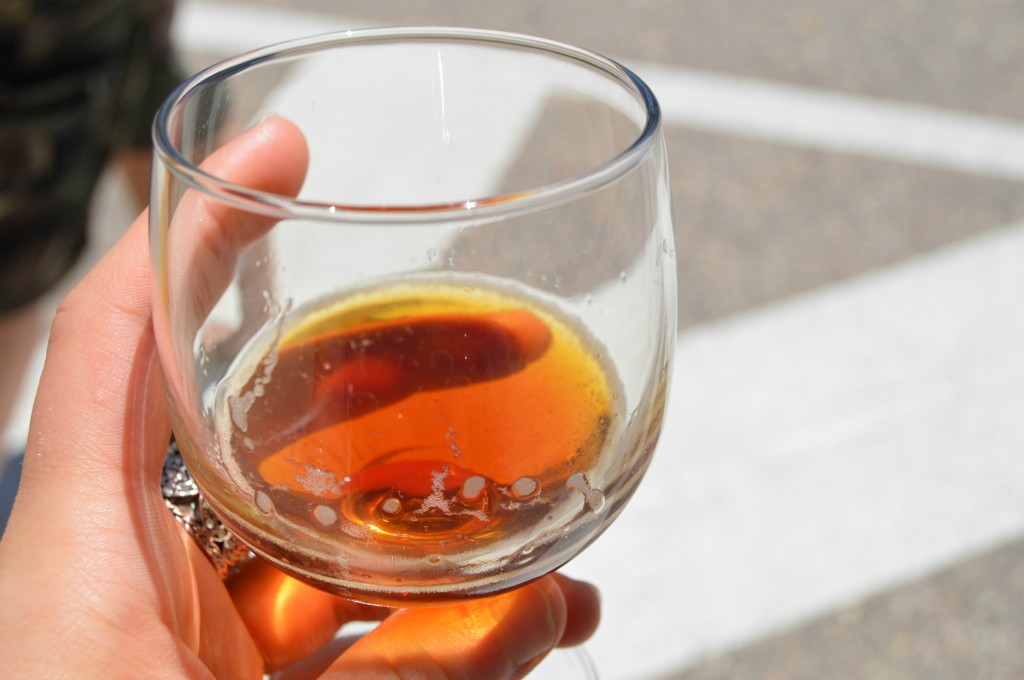 My favorite was the La Folie.  La Folie is aged in oak barrels (that are often previously used for wine or whiskey) for approximately one to three years.  As their website says, this is "not a beer for the timid."  I must not be "timid" because I loved it!  Over the past year or so I have discovered that I have a major love for sour beer.  I also found out that, unfortunately for me, sour beer is bottled a lot less frequently than other varieties.  Not cool, my friends.  Not cool.
Yes.  We like beer.
After riding down a slide to finish off the tour (seriously, their tour is awesome) and another beer at the bar, we headed off to our next stop for lunch.  But not before we took a picture of our matching shorts.  I made him wear his camo shorts on the same day that I wore mine.  Aren't we awesome? 😉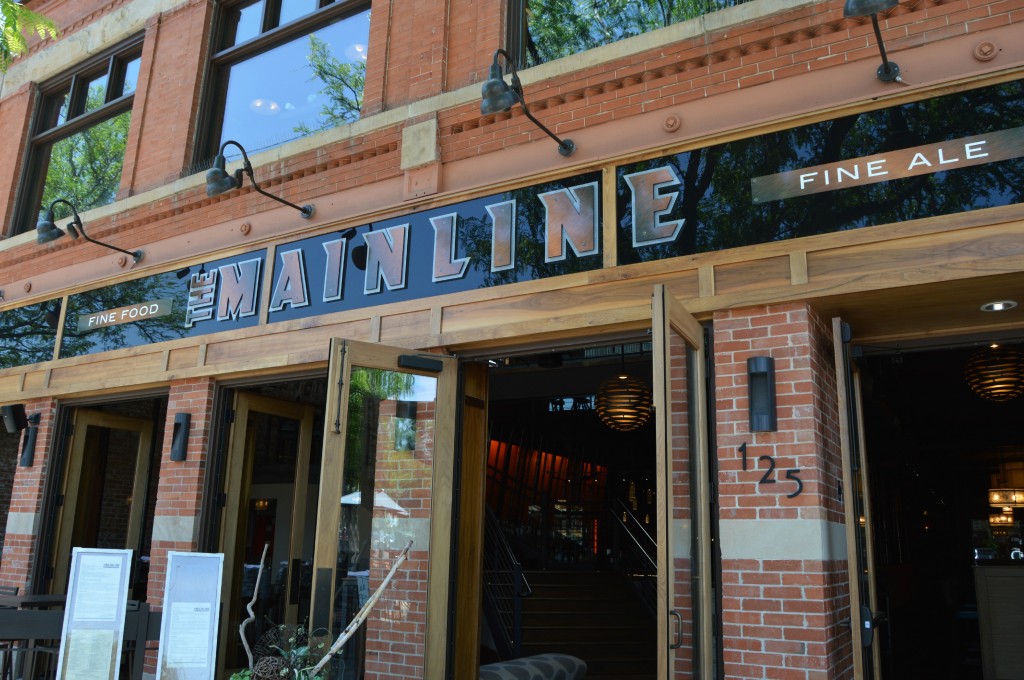 I did a little research before our trip and had my eyes (and stomach) set on The Mainline, which serves "Southern comfort" food and is quite vegetarian/vegan friendly.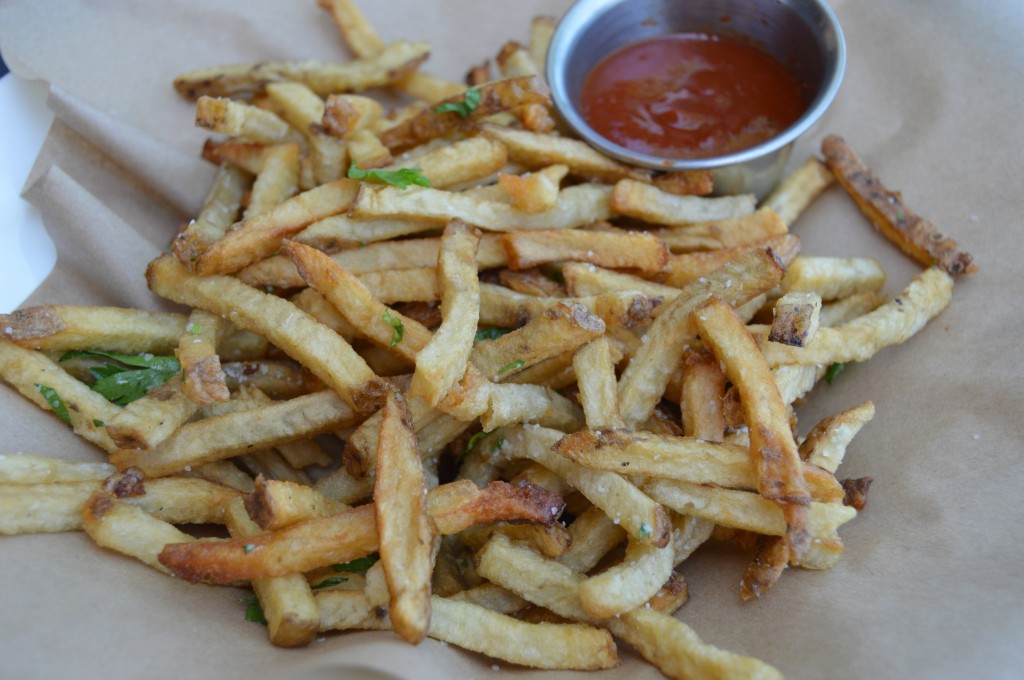 We were quite hungry after the beer, so we started things off with an appetizer.  We originally planned to order the Fried Okra n' Buttermilk Ranch Orange Marmalade but they were out of okra, so we went with the Hand-Cut Fries n' Hot'chup.  Essentially these were salty and perfectly crispy fries served with a spicy ketchup.  While I love me some spice, I ended up eating the majority of mine with a mixture of the hot'chup and regular ketchup.  I loved these… a lot.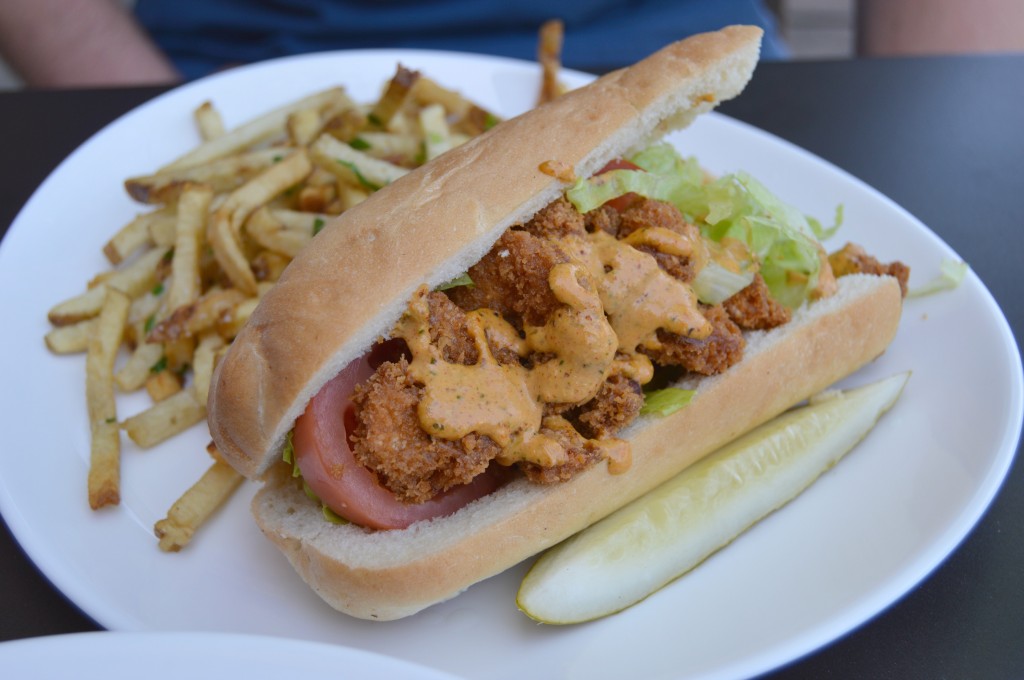 Our lunch selections came out a short time later.  Jeremy ordered the Shrimp Po'Boy which came with… you guessed it: more fries!  As a shrimp lover, he really enjoyed it.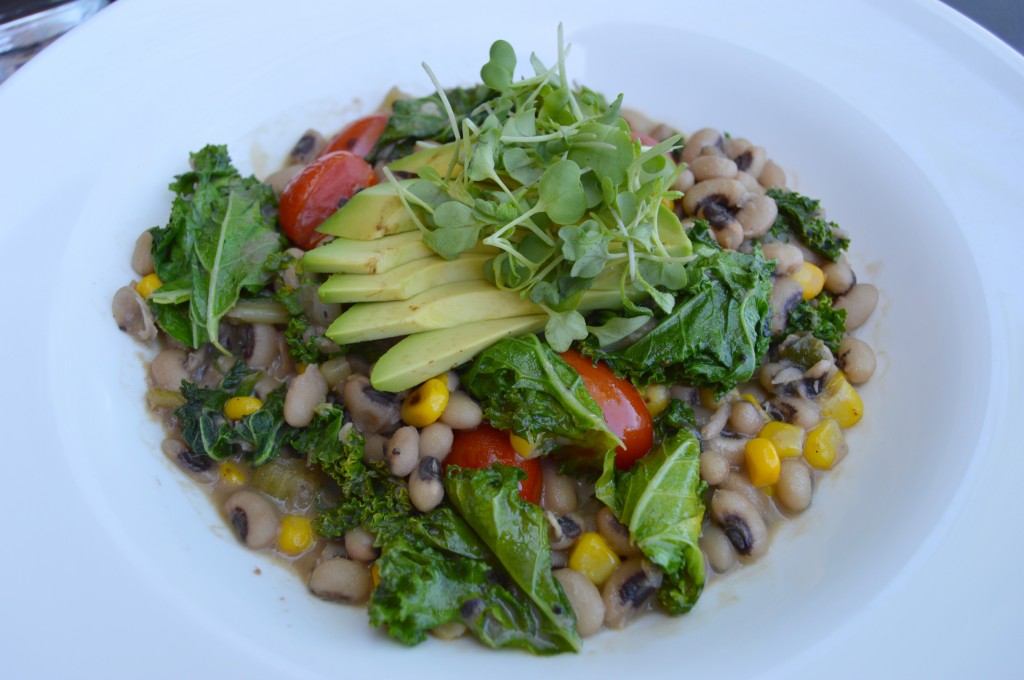 I was tempted to order the BBQ Tofu Sandwich but am sometimes leery of how tofu is cooked at unfamiliar restaurants (if it is bad, it is bad) and I wanted to try something a bit out of the norm for me, so I chose the Black Eyed Peas n' Green.  It was a great choice!  I loved this dish and felt great about eating it after so much heavy food and beer over the previous couple of days.
We both really enjoyed our food at The Mainline, but did think that the service could have been better since we were one of the only groups of people in the entire restaurant.  I don't know about you, but I am not a fan of having to ask to have my water refilled several times.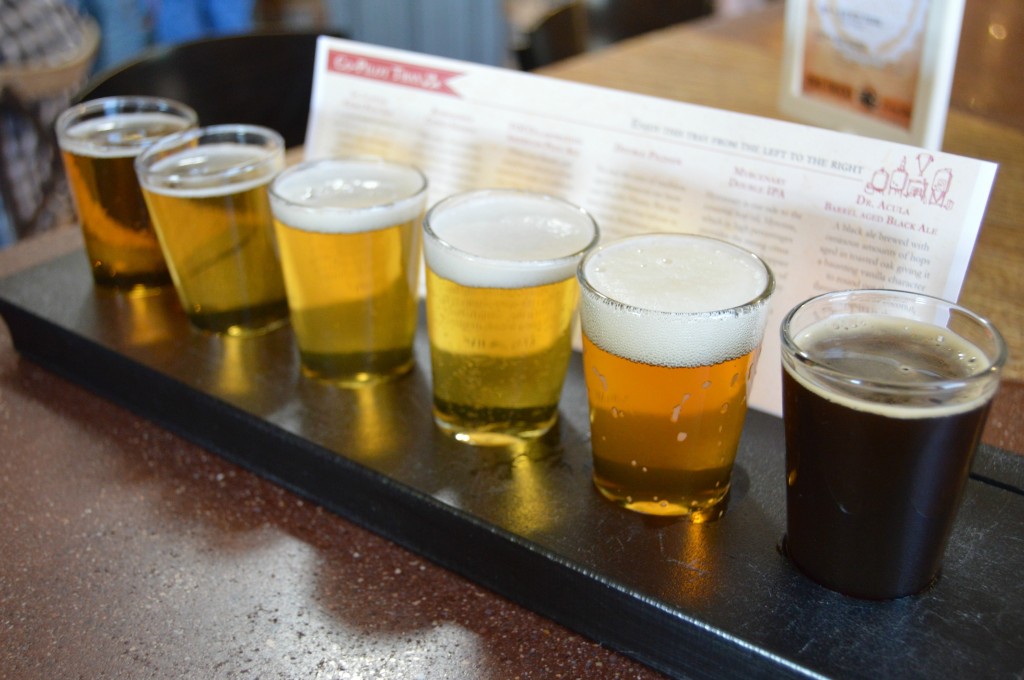 Once our bellies were full, we finished off our time in Fort Collins with one more stop to another great brewery: Odell Brewing Company.  Not only is their brewery gorgeous, but we tried some really great beer.  And… (drum roll please)… I finally found a dark beer that I like!  I looked at the Dr. Acula beer like I do with most dark beers and thought, "definitely not 'gonna like this one!"  But then I tried it and was so pleasantly surprised.  It had hints of fruit, vanilla, and coconut and I really truly enjoyed it.  Unfortunately, Jeremy tells me that I will almost likely never be able to find it in a store here in Nebraska.  Figures, right?
After we wrapped things up in Fort Collins, we drove southwest over to Boulder.  More on that second "quaint" town in the next recap post!