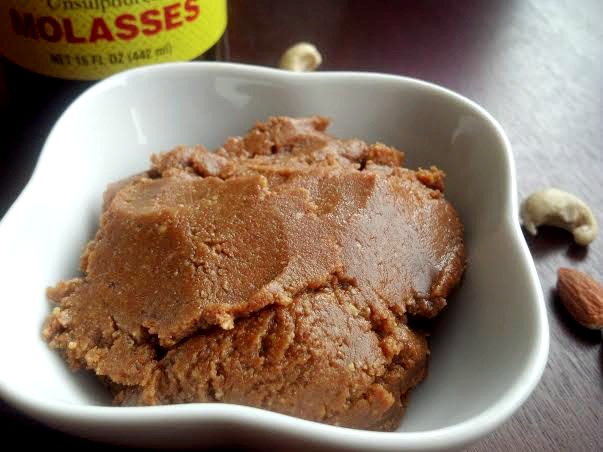 It is official.  I am obsessed.
If you could not already tell from previous recipes I have posted, my recent What I Ate Wednesday posts, and my Twitter and Instagram feeds, I like gingerbread flavored foods…a lot.  But lucky for me, I have noticed that you like them a lot, too!  And there really is no shame in that.  First of all, they are delicious.  And second of all, it is December, a.k.a. the Christmas season.  Gingerbread just screams Christmas to me.  Therefore, being gingerbread obsessed is a-okay!  Bring on the gingerbread.
Last weekend I cooked up several gingerbread recipes.  Tomorrow I am bringing you a tasty Gingerbread Breakfast Cookie (yes, I am making you wait just a little bit longer for that one), and today you are getting TWO new Wintertime recipes: a nut butter and a hot cocoa to drink alongside it.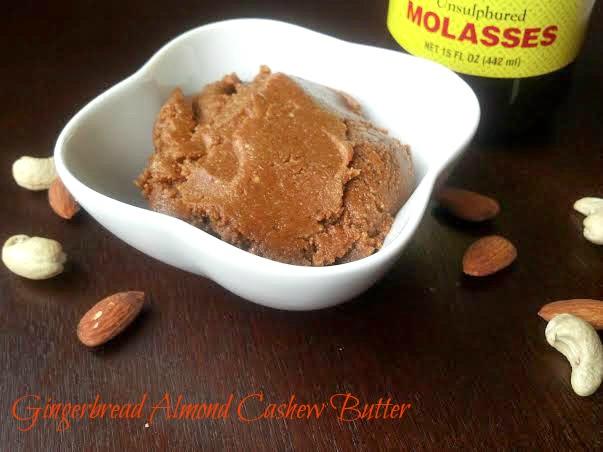 Gingerbread Almond Cashew Butter
Ingredients
1/2 cup raw whole almonds
1/2 cup raw whole cashews
1 TB blackstrap molasses
1/4 tsp cinnamon
1/8 tsp ground ginger
1/8 tsp nutmeg
Directions
1. Add all ingredients to a high-powered blender (Ninja Ultima or Vitamix) or food processor.
2. Process for approximately 5 to 10 minutes, or until it reaches desired consistency.
I processed mine for approximately 5 minutes because I wanted a thicker nut butter, but process it longer for a creamier consistency.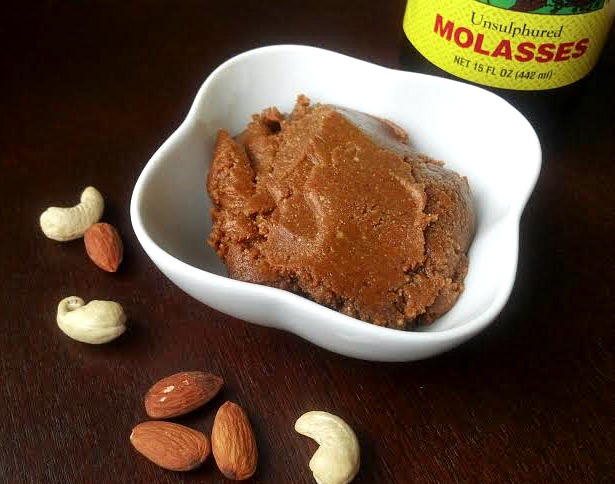 So far this tasty nut butter has been spread on toast, stirred into overnight oats, melted onto a baked sweet potato, and dipped into with apple slices.  Basically, what I am trying to say is that is is good…with everything.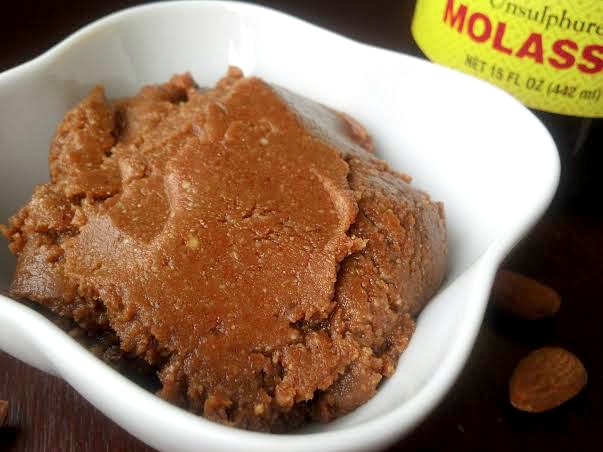 Once you are finished eating your very gingerbready snack, you will need to heat yourself up a mug of gingerbread hot cocoa.  Yes, that's right.  You will need too.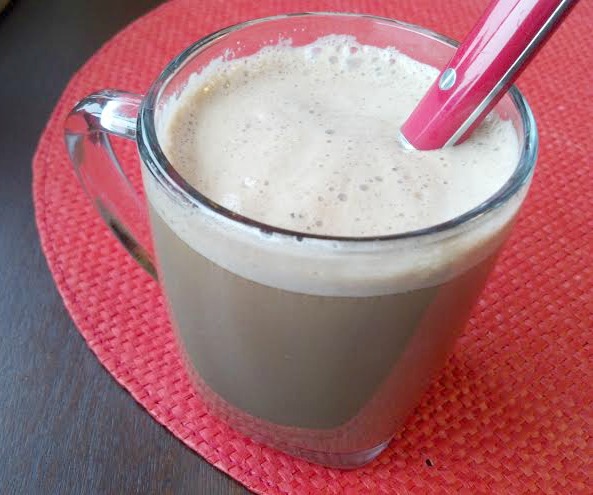 Gingerbread Hot Cocoa
Vegan
Makes one serving
Ingredients
1 1/2 cups unsweetened vanilla almond or soy milk
1 TB cocoa powder
1/2 tsp coconut sugar
1 packet Stevia or 1 tsp brown or white sugar
1/8 tsp ground ginger
1/16 tsp ground nutmeg
1/8 tsp pure vanilla extract
1/2 tsp blackstrap molasses*
*If you really like gingerbread flavors, feel free to increase this to 1 teaspoon (ditto with the cocoa powder).
Directions
1. Combine all ingredients into a blender (I used my Ninja) and pulse until mixed well.
2. Heat in a saucepan over medium heat until hot.
3. Serve in a mug and sprinkle with additional cocoa powder or cinnamon, if desired.
I drank this after a long chilly walk yesterday afternoon and it warmed me right up!
Have your gingerbread cravings been met yet?  If not, check back tomorrow… ;).
And finally, don't forget to enter the giveaway for The Happy Herbivore Light and Lean cookbook!
Related articles