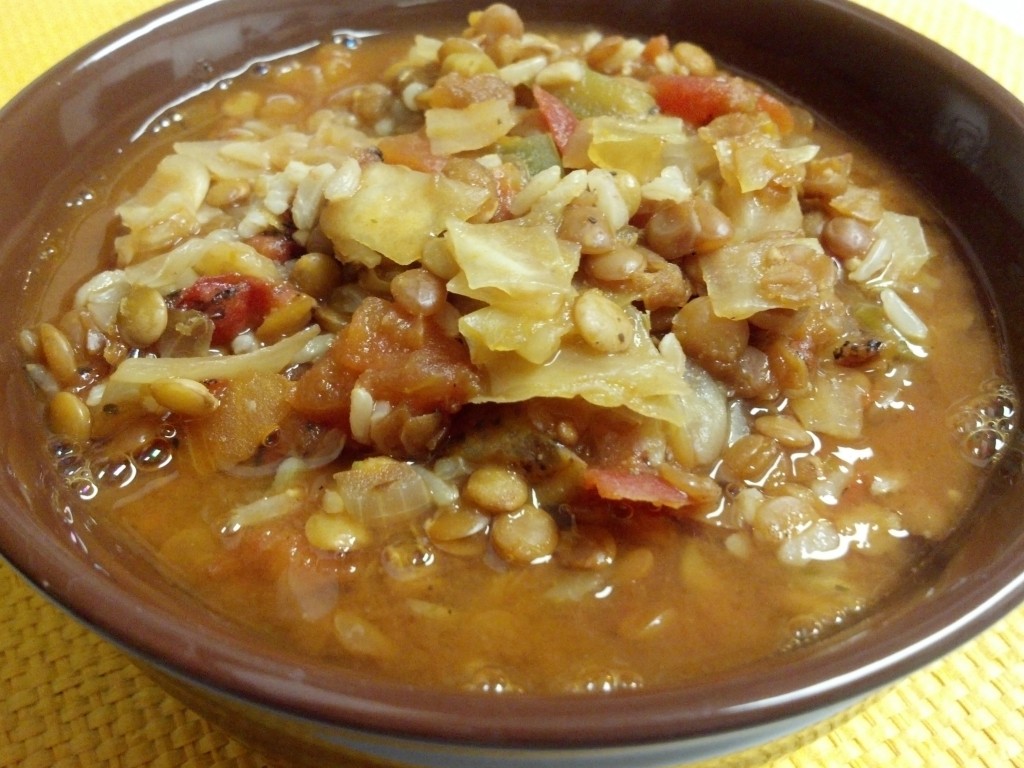 Cabbage is one of those foods that is very underrated.  I was guilty of assuming that I did not like cabbage in the past, simply because it seemed like everyone around me only had negative things to say about it.  But this past year I sucked it up and tried cabbage and now there is no going back.  I will forever be a cabbage lover :).
I have heard from a lot of meat-eaters that cabbage rolls are quite tasty.  Obviously, since I do not eat meat, I have not given them a try.  I have seen some vegetarian versions, but haven't made them yet.  For some reason, the whole process of stuffing and rolling everything into the cabbage seems a bit messy/intimidating.  If I am wrong about this process being difficult and time-consuming, please correct me! 😉  Since I am a bit afraid of prepping the actual cabbage rolls, I decided to give them a try in a much easier and season-appropriate way: in soup!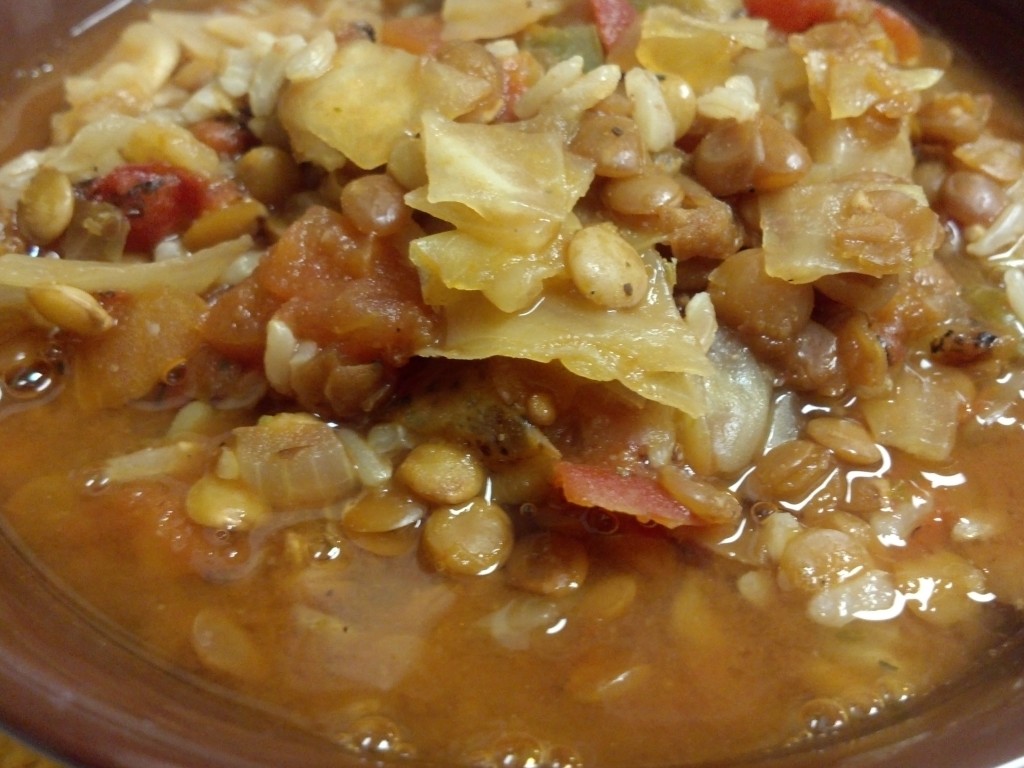 Slow Cooker Cabbage Roll Soup
Servings: 4 to 6 (4 for me, but I like BIG servings!)
Ingredients
2 cloves garlic, minced
1 yellow onion, diced
1 green bell pepper, diced
10 oz can condensed tomato soup
1 15 oz can fire roasted diced tomatoes
1 15 oz can Italian diced tomatoes
1 cup dry green lentils
1 small head green cabbage, shredded
3 cups vegetarian "chicken" broth or vegetable broth
1 tsp Italian seasoning
1 tsp garlic powder
fine sea salt, to taste
black pepper, to taste
1/2 cup brown rice
water, for cooking rice (per the package directions)
Directions
1. Place all ingredients into the slow cooker.
2. Stir until well-combined.
3. Cover and cook on high heat for approximately 6 to 8 hours, or until the lentils are cooked through.  Add additional broth, if necessary.
4. Cook rice just before serving.
5. Stir the rice into the soup.  Serve.
I have never had actual cabbage rolls, but if this soup is any indication of whether or not I would enjoy them, I am thinking that I most definitely would!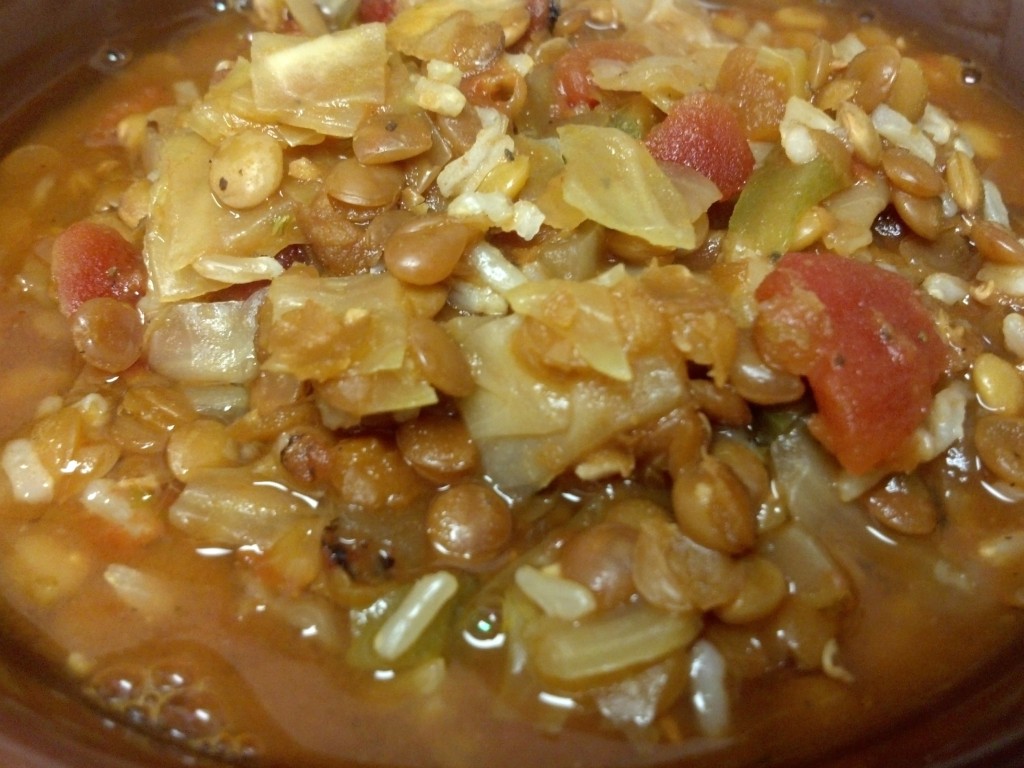 Oh, and did I mention that this soup is pretty much a nutritional powerhouse?  We are talking vitamins and nutrients from the tomatoes and veggies, and tons of fiber and protein from the lentils and brown rice.  Anything that is tasty and nutritious is a winner in my book.  It also definitely means that it will be added to my "to make again" recipe list…man, that list is getting awfully loooooong.  Oops! 😉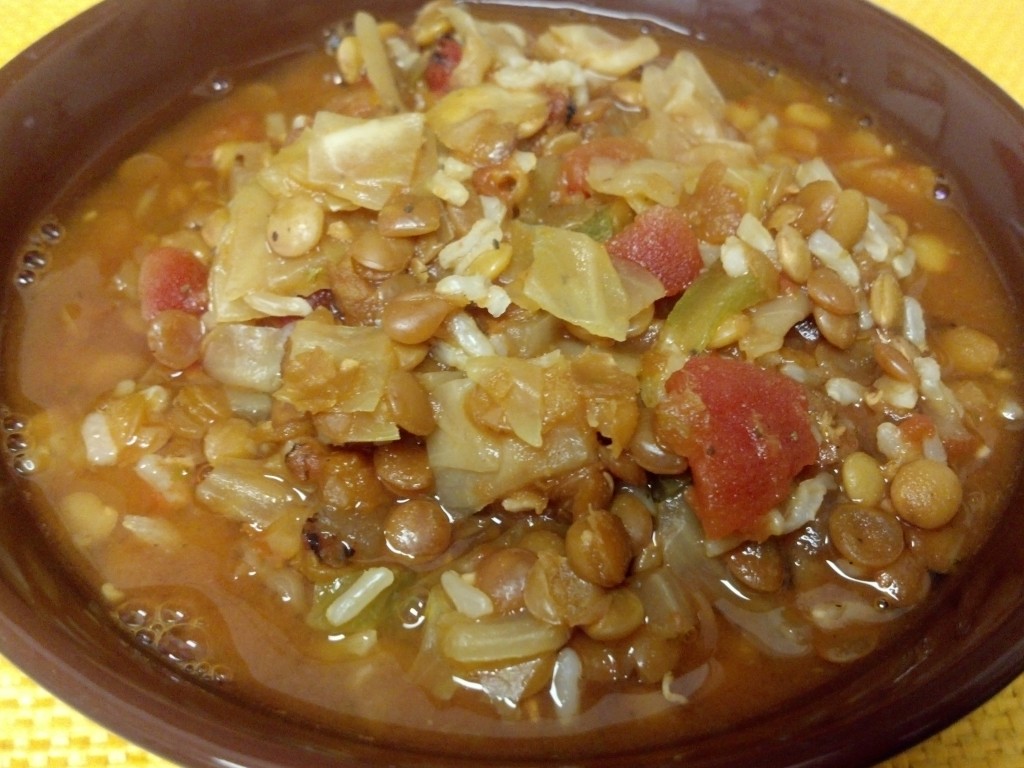 Oh, and I just have to say that while I realize I am no professional photographer, I am quite pleased with the way these photos turned out.  You see, soup and my camera are kind of enemies.  It looks like this time they actually decided to get along.  It's about time!
And finally, as promised, a picture of my Halloween costume with most of the co-workers on my team: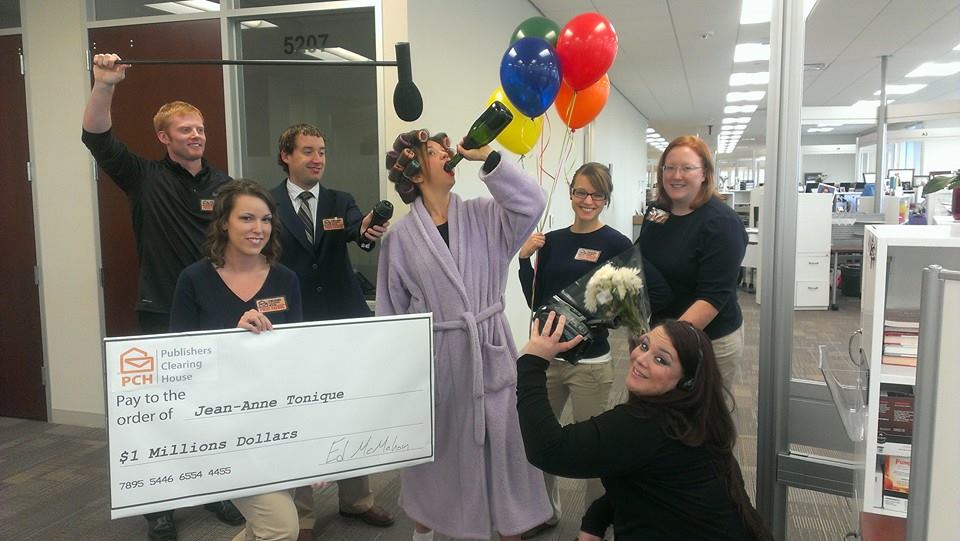 We were the Publisher's Clearinghouse Prize Patrol!  Pretty awesome, am I right?  We entered the group costume contest but haven't heard the results yet.  There were some pretty great costumes, but we are hoping to take home the prize :).
Have a great Friday and a fun, but relaxing, weekend!
Related articles