I am coming at you this Sunday morning with a super quick spur of the moment post.  Why, you ask?  Well, I have two reasons.  One involving food (shocking, I know), and one involving blogging.  Basically, I am in need of your advice when it comes to blog design.  But before we get to that, I am going to attempt to bribe you for your advice with a quick and tasty breakfast recipe that I inhaled this morning.
Oh, and remember when I said this was a "spur of the moment" post?  Yyyyeaaaah, that explains the very obvious spur of the moment pictures.  They aren't very pretty.  But the deliciousness of this recipe will make up for that!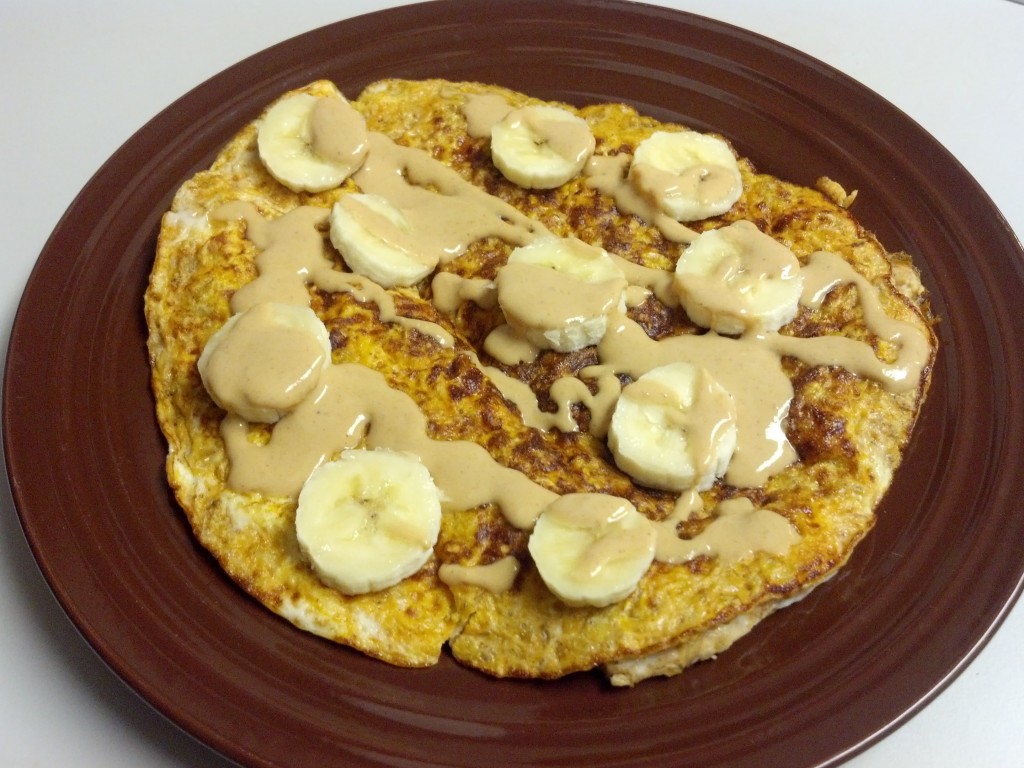 Today's breakfast consisted of a Pumpkin Egg White and Oatmeal Protein Pancake, which I adapted from Julie's recipe.  Her recipe sounds incredibly tasty on its own, but let's be honest, I needed some pumpkin in my life this morning.  Good decision?  You betcha!
Pumpkin Egg White and Oatmeal Protein Pancake
Servings: Makes 1 GIANT pancake
Ingredients
1 cup egg whites (about 8 egg whites), beaten
1/4 cup pumpkin puree (not pumpkin pie mix)
1/3 cup whole rolled oats
1/4 tsp baking powder
1 packet Stevia or 2 tsp sugar
pumpkin pie spice, several sprinkles
cinnamon, several sprinkles
cooking spray (I used coconut oil spray)
Optional toppings:
peanut butter (I used peanut flour to make it into a peanut "sauce")
fresh fruit (I used banana slices)
Directions
1. Combine egg whites, pumpkin, oats, baking powder, Stevia, and spices in a medium bowl.  Stir until well-combined.
2. Refrigerate the mixture for at least 10 minutes.  I kept mine in the refrigerator for about 30 minutes.  This helps to soften the oats and thicken the batter.
3. Heat a medium to large skillet over medium heat.  Spray the skillet with cooking spray.
4. Pour the batter into the pan in the form of one giant pancake.  Cook for approximately 5 to 7 minutes, or until the bottom is golden brown.
5. Carefully flip the pancake.  This is the most difficult part.  I actually used two spatulas in order to accomplish this, which worked out pretty well.  It also helps if you have some super quick flipping moves, otherwise things may get messy!
6. Cook for an additional 5 to 7 minutes, or until the bottom side is golden brown.
7. Plate the pancake.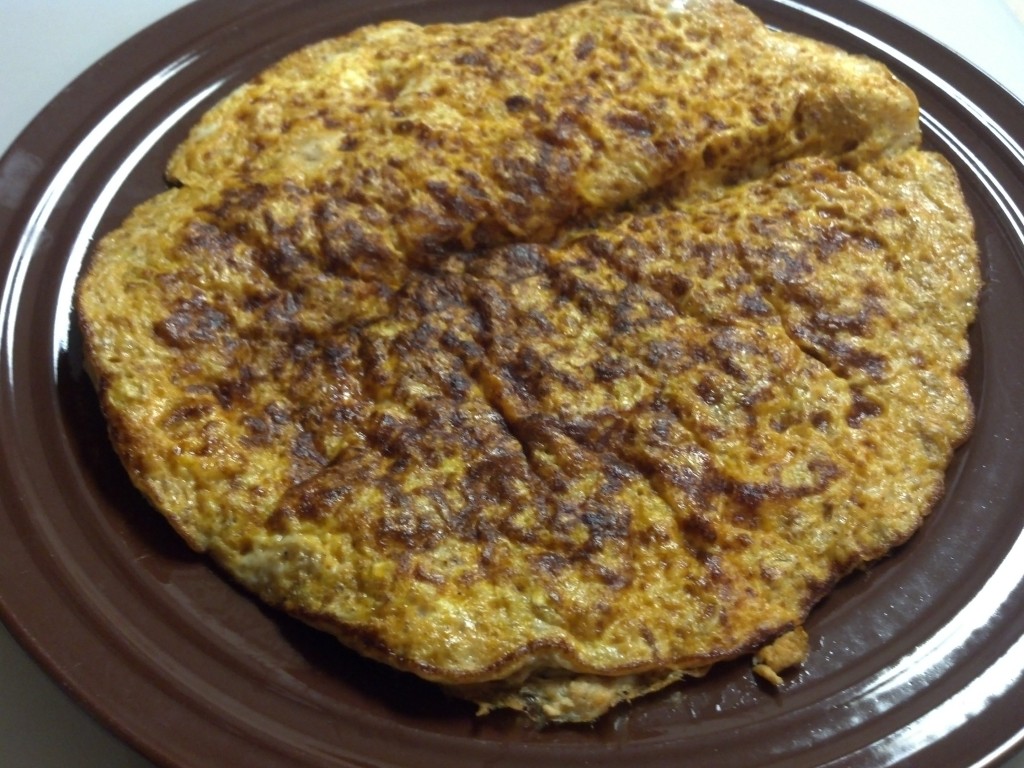 To give you an idea of just how GIANT this pancake really is, that is a full-sized dinner plate.  Basically, this thing is huge.  And in my book, a giant pancake equals an amazing pancake.
8. Finally, if desired, top your pancake with your favorite yummy toppings.  Nut butter is a must for me.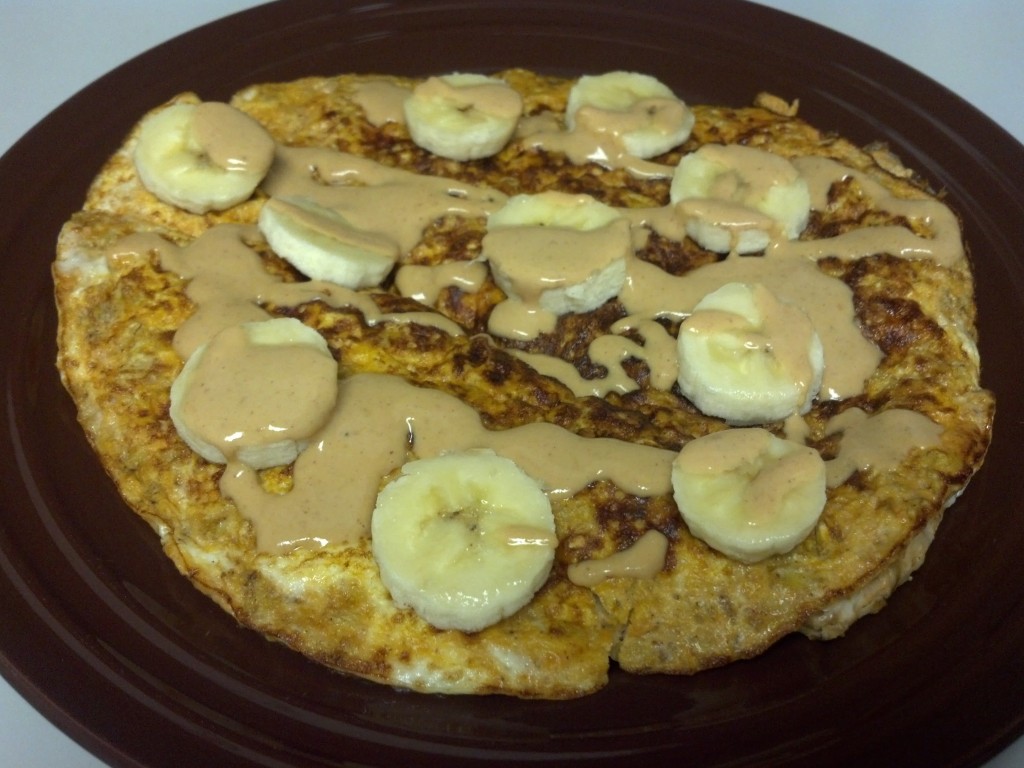 Oh, and I just have to share that this pancake (with the toppings) clocks in at around 38 grams of protein.  Crazy, right?  And to think people are worried about my protein intake! 😉
So…now that I have shared a tasty recipe with you, it is your turn to share your blogging advice!
Essentially, I am after your thoughts/opinions/recommendations when it comes to blog design.  Now that I am switched over to self-hosted, it is time for me to get a new spiffy design for the blog.  I am a little unsure of how to even get started with this process, though.  So, for those of you who have custom designs on your blog, can you help me out?
1. Did you design your blog yourself?  If so, what site(s)/tools did you use to help you?
2. Did you hire someone else to design your blog for you?  If so, who do you recommend?
3. If you hired someone else to design your blog, how costly was the process for you?
Thanks so much in advance for your help fellow blogging buddies!  I sure do appreciate it.  Have a great rest of your weekend! 🙂
Related articles