Halloween has come and gone.  October really flew by, didn't it?  Now the month of November is here and I am really starting to get into the holiday spirit.  You see, I am a big-time fan of the Thanksgiving and Christmas seasons.  I can easily say that these next couple of months are one of my most favorite times of the year.  The Fall colors – especially on the trees – are gorgeous.  The holiday decor makes me smile.  Our tables are filled with tasty and comforting foods.  Christmas music is playing all around me- and yes, I have already started listening to it (Blake Shelton's Cheers, It's Christmas! at that).  The first snowfall is a beautiful sight (but only the first one, let's not get too carried away ;)).  And most important of all, the holiday season means spending tons of quality time with my family and friends.
Despite all of these wonderful characteristics of the holiday season – or maybe in spite of them – it is still important that we continue to keep our health a top priority.  One way that we can do this is by staying active and fit.  Now that it is getting dark out so early (does anyone else absolutely hate this?) and the weather is turning cold, getting a workout in outside is not as realistic for many of us as it was during the Summer months.  As a result, visiting our local gyms will help keep many of us in shape until Springtime rolls around.  We can take advantage of exercise classes, personal trainers, strength training equipment, and cardio machines, or ideally, a combination of all of these.
Several weeks ago I began a new relationship with the elliptical machine.  Since my knee will not enable me to run and I am currently experiencing inner shin pain during cycling classes (I swear, my body really dislikes me), I decided to give the elliptical a go.  In the past I always found elliptical workouts to be unbelievably boring and, as a result, never stuck with them.  While I am sure that it doesn't hurt that the elliptical machines at my local YMCA have TVs built into them ;), I have found that the key to keeping elliptical workouts feeling new and fun is to develop and follow interval plans.
Last week I created a 45-minute interval workout for the elliptical that I tried out during one of my 5:30 a.m. (rough, I know) workouts.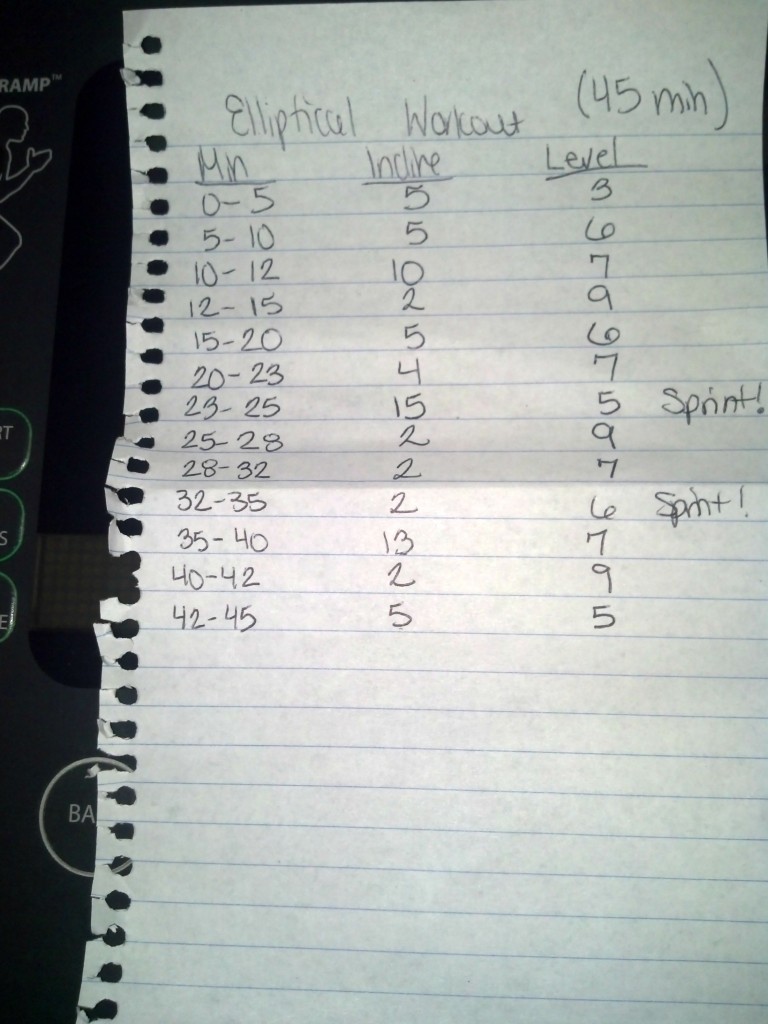 Working out so early in the morning is not always the most fun, but I really enjoyed this one.  The changes in the incline and level kept things interesting, and the periods of sprinting really challenged me and helped push me through the workout.  And a workout it was.  Let's just say, I was a sweaty mess when I was finished with this one.  It sure feels great to start the day out right with some cardio.  While I may not be able to perform the cardio workouts that I really want to perform right now, I have found that interval elliptical workouts are doing the trick!
Since my handwritten workout on a piece of paper isn't the prettiest of things, I decided to make my first graphic for all of you: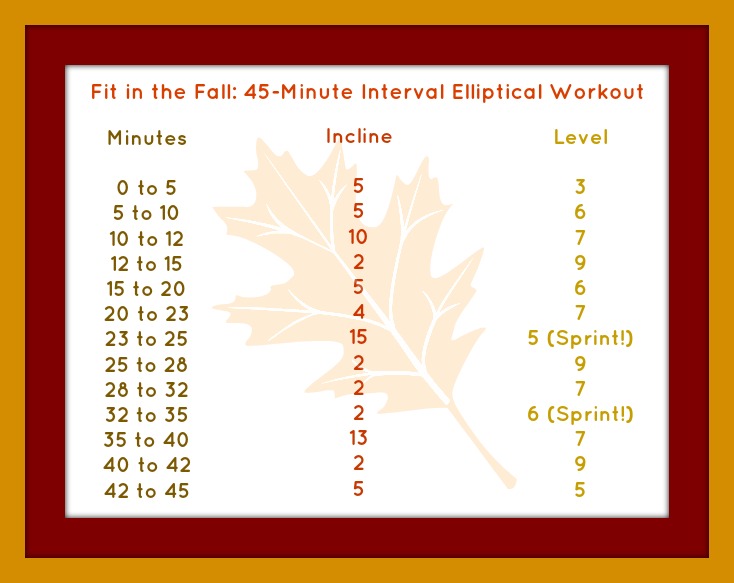 If you are already an avid fan of elliptical workouts, I hope you enjoy this one.  And if you are not such a fan of the elliptical, I hope you will give this interval workout a try.  You just may find that the elliptical isn't so bad after all.  If I can be convinced of that, then I think you can be too!
Let's make this a great Monday and a fabulous week!