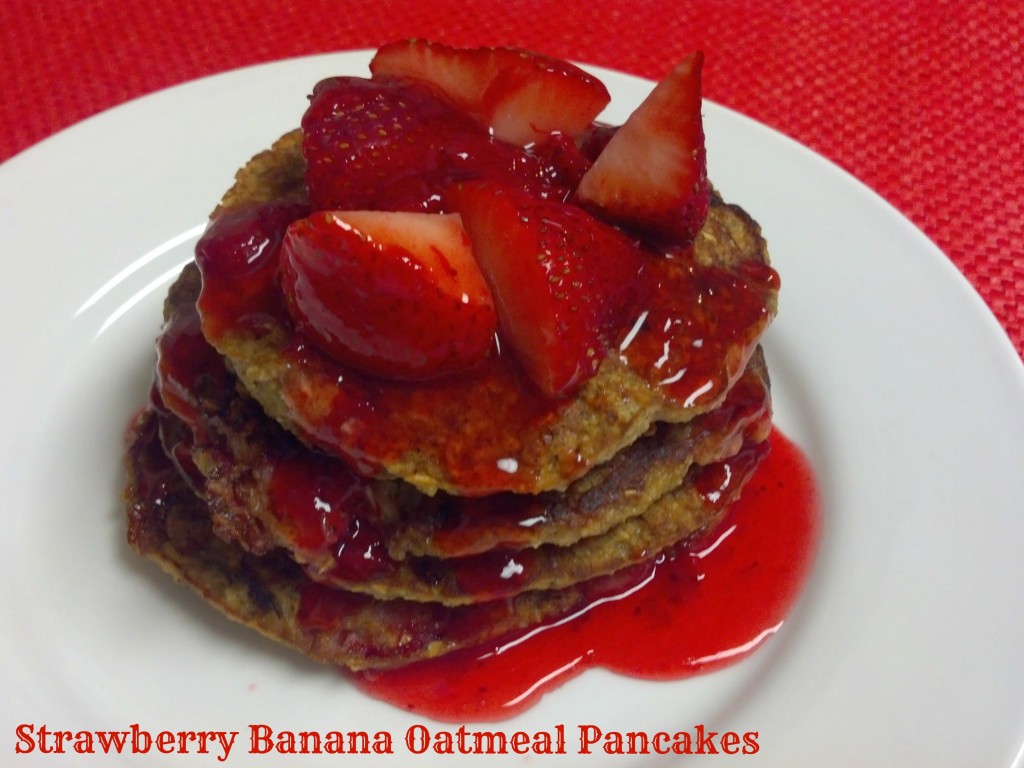 Guess what today is y'all? (no I'm not Southern, I just love that word! ;))  That's right.  Today is Tuesday.  Now, normally I would severely dislike this day.  You see, Tuesdays and I really don't get along.  Tuesdays keep me from being close to Fridays and, thus, normally tend to make me a bit unhappy.  But this Tuesday is no ordinary Tuesday.  Nope, this Tuesday is National Oatmeal Day!
A year ago I would not have been all that excited about this day.  However, since I have discovered the great ways to utilize oats other than in hot oatmeal (I'm just not a fan), oatmeal and I have become bffs.  Oatmeal is amazing in overnight oats, and I have recently discovered that it makes some seriously rocking pancakes.  Add in some fresh fruit and I am over the moon with happiness.
Of course when it comes to fruit I don't like to settle.  There is nothing worse than spending money on fresh fruit only to have it be flavorless and spoiled within a day.  As a result, I purchase organic fruit whenever possible and I stick with my favorite brand, Driscoll's.  Let's be honest, when it comes to berries they are doing something right.
At first I had a difficult time deciding which berries I wanted to buy for my pancakes.  I love their strawberries, blackberries, raspberries, and blueberries, and am absolutely delighted when I have the rare chance to enjoy their golden raspberries.  But since I knew that I was including bananas in my pancakes, it only made sense for me to compliment them with Driscoll's hand-picked sweet and juicy organic strawberries.
I know that organic is generally more expensive, but the taste and naturalness is totally worth it!  Not to mention the fact that Driscoll's does not genetically modify their berries – something that I truly appreciate.
Now that we have established that berries are amazing, especially Driscoll's, let's make some pancakes!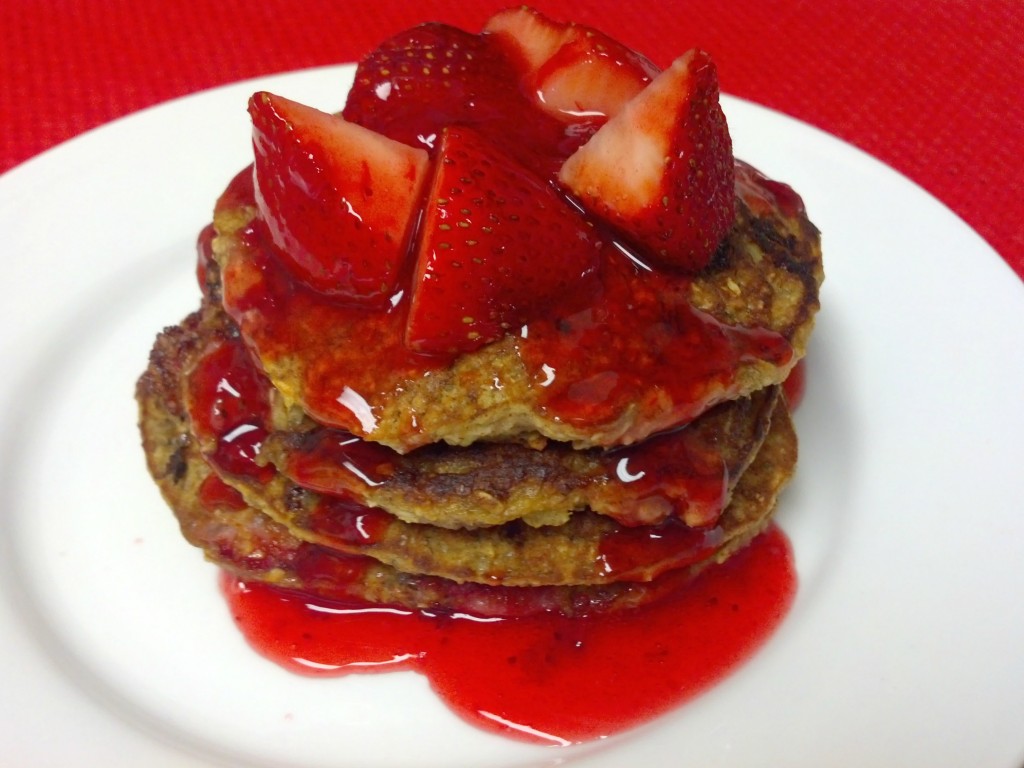 Strawberry Banana Oatmeal Pancakes
Servings: Makes 4 pancakes (aka one serving for me!)
Ingredients
1/2 cup oat flour (pulse whole rolled oats in a food processor or blender until they resemble a flour consistency)
1/2 tsp baking powder
1/4 tsp baking soda
1/4 tsp fine sea salt
1/4 tsp cinnamon
1 packet natural sweetener (I used Stevia)
1 very ripe banana, mashed
1 egg white
1/4 tsp vanilla
1/4 cup unsweetened vanilla almond milk
1/3 cup diced strawberries + more for topping
olive oil cooking spray.
2 to 3 TB strawberry preserves
Directions
1. Combine oat flour, baking powder, baking soda, sea salt, cinnamon, and sweetener in a large bowl.  Stir until well-combined.  Set aside.
2. Combine mashed banana, egg white, vanilla, and almond milk in a medium bowl.  Stir until well-combined.
3. Stir the wet ingredients into the dry ingredients.
4. Stir in diced strawberries.
5. Heat a griddle pan over medium heat until hot.  Spray generously with cooking spray.
6. Pour the pancake batter onto the griddle pan to make four pancakes.  Each pancake should consist of between 1/3 cup to 1/4 cup of the batter.
7. Cook the pancakes for approximately 3 to 5 minutes, or until small bubbles start to form on the top and the bottom of the pancakes are golden brown.
8. Flip the pancakes and cook an additional 3 to 5 minutes.
9. While the pancakes are cooking, cut up some strawberries for topping and melt the strawberry preserves in the microwave (it should only take about 30-45 seconds to melt).
10. Once the pancakes are cooked, stack them up into a pretty pile and top them with the strawberries.
11. Drizzle Pour the melted strawberry preserves onto the pancakes and strawberries.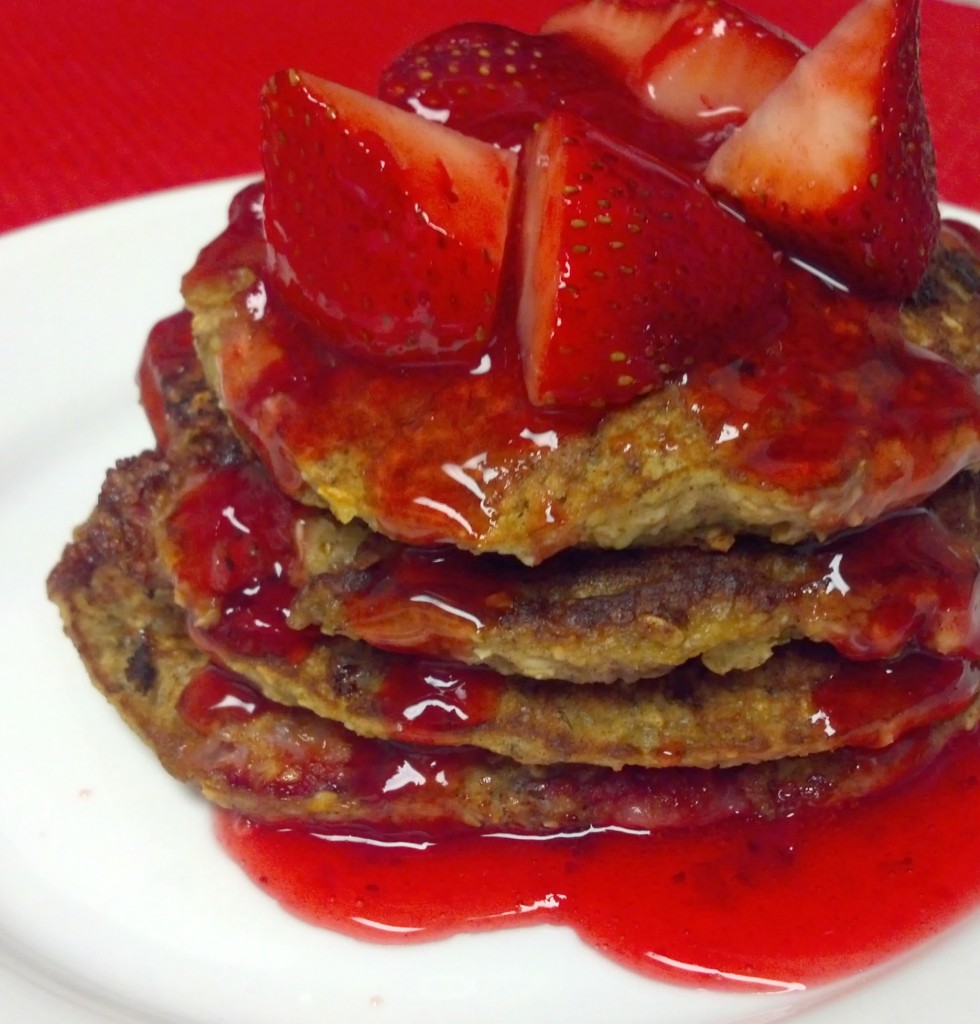 12. Marvel at how absolutely delicious and pretty your pancakes look.
But don't stare at the pancakes for too long.  They will get cold.  Instead, grab a fork and drive right in.  And if you are anything like me, try not to be too sad when you get to the last bite.
Surprisingly, this was the first time that I made pancakes with berries in them, but you can bet that it won't be the last.  Next time, I think I will add in some Driscoll's blueberries.  Don't blueberry banana pancakes sound heavenly?
Happy National Oatmeal Day everyone!
What is the best pancake combination that you have created with fresh berries?
Did you eat oatmeal today?  In what form?
I am eating overnight oats for today's breakfast!
{Disclaimer: I was provided with coupons for free berries from Driscoll's, but all thoughts and opinions expressed in this post are my own.}