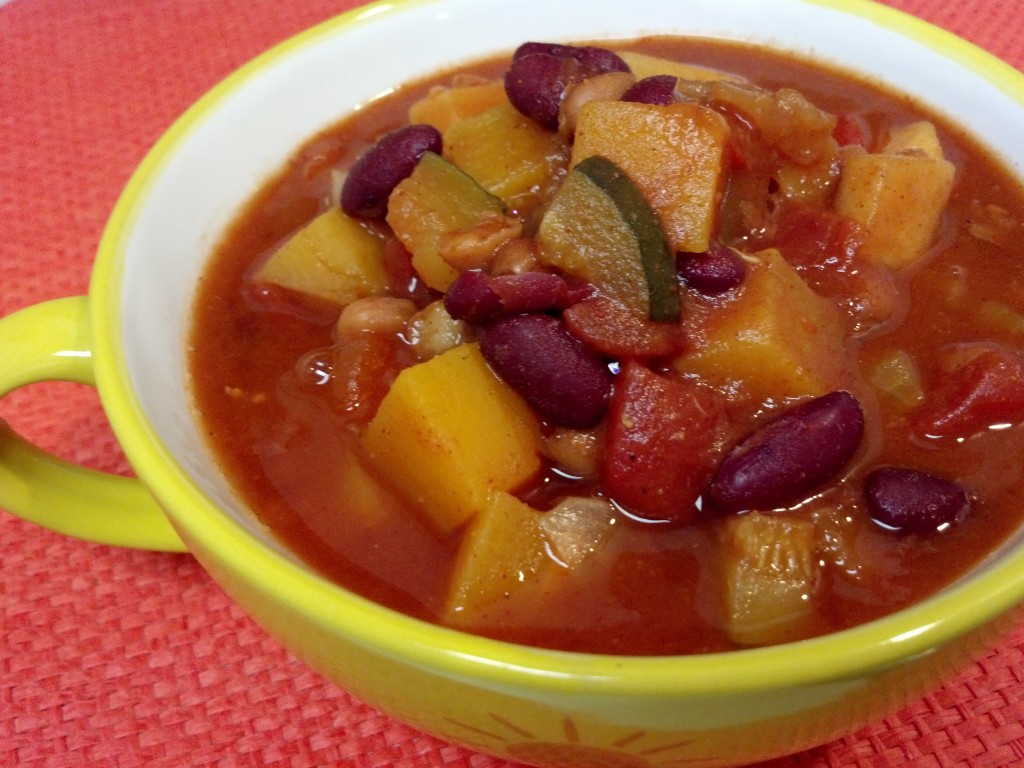 Fall is officially here.  The weather in the Midwest the past week has been chilly and rainy with highs only into the upper 50's and lower 60's.  You know what this means…Winter is right around the corner.  As much as I don't want to say that, it is the truth people!!  But we don't have to hate everything about Winter.  Instead, we can be excited for the first snowfall (only because it looks pretty from inside our warm offices and homes), the holidays, family time, and amazing comfort foods and soups.  I don't know about you, but when I think of Fall and Winter I always think of chili.
I love a delicious traditional vegetarian chili.  You know the drill- beans, onions, peppers, tomatoes, chili seasoning… it's all good.  But sometimes I like to mix things up a bit.  I love adding soyrizo to my chili to make it spicy, and I love adding in tons of seasonal vegetables to bulk it up.  One of my current favorite vegetables this year has been squash, specifically butternut squash.  The sweetness of this vegetable is super tasty.  I am also completely hooked on one of my favorite fruits: apples.  Apples have been so perfectly sweet lately and you can't beat the prices now that they are in season.  So when I decided that I wanted to cook up my first batch of chili for the season, I knew that I wanted it to be a bit different…a bit sweeter, perhaps.  Enter: butternut squash and apples!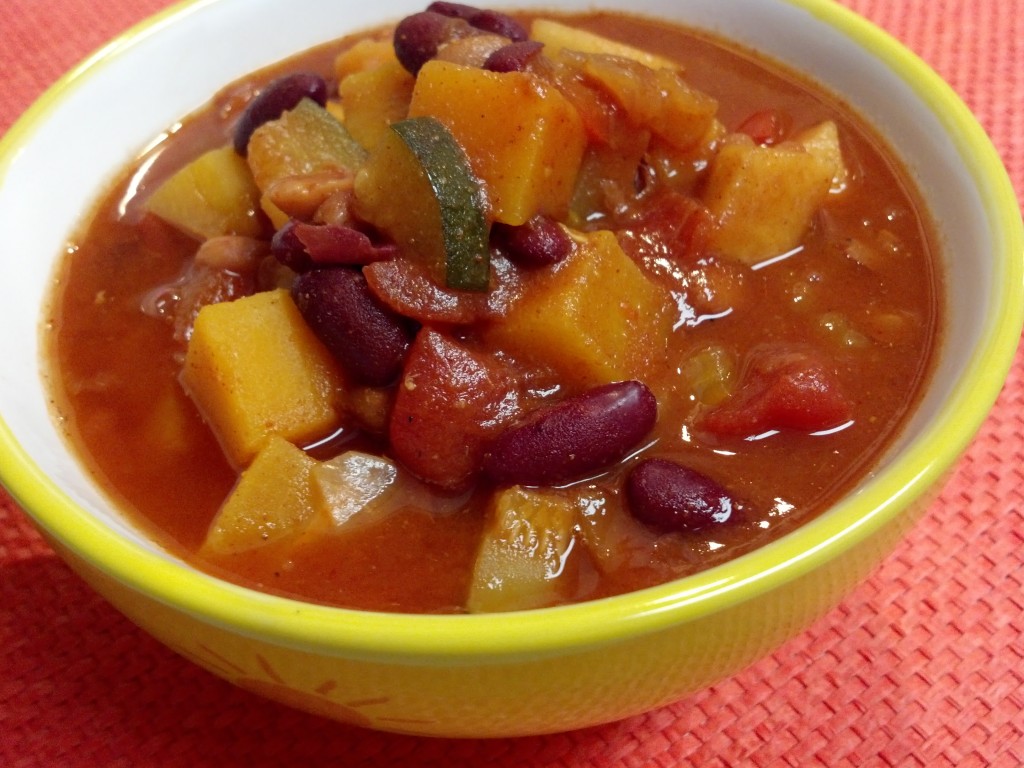 Slow Cooker Butternut Squash and Apple Chili
Servings: 4-6
Ingredients
1 yellow onion, diced
1 bell pepper, diced (I used half of a red and half of a yellow)
4 cups butternut squash, cubed (you can find pre-cut at Trader Joe's and Walmart)
1 zucchini, diced
2 apples, peeled and chopped (I used Jonathan)
1 15 oz can diced tomatoes
1 15 oz can dark red kidney beans, drained and rinsed
1 15 oz can pinto beans, drained and rinsed
1 packet chili seasoning (look for low sodium and the fewest ingredients, or make your own)
16 oz tomato juice
1 cup vegetable broth
1/4 tsp cinnamon
black pepper, to taste
Directions
1. Add all ingredients to the slow cooker.
2. Stir the ingredients until they are well-combined.
3. Place the lid on the slow cooker and cook on low for 6 to 8 hours, or until all ingredients are cooked through.
4. Fill up a big bowl with the chili.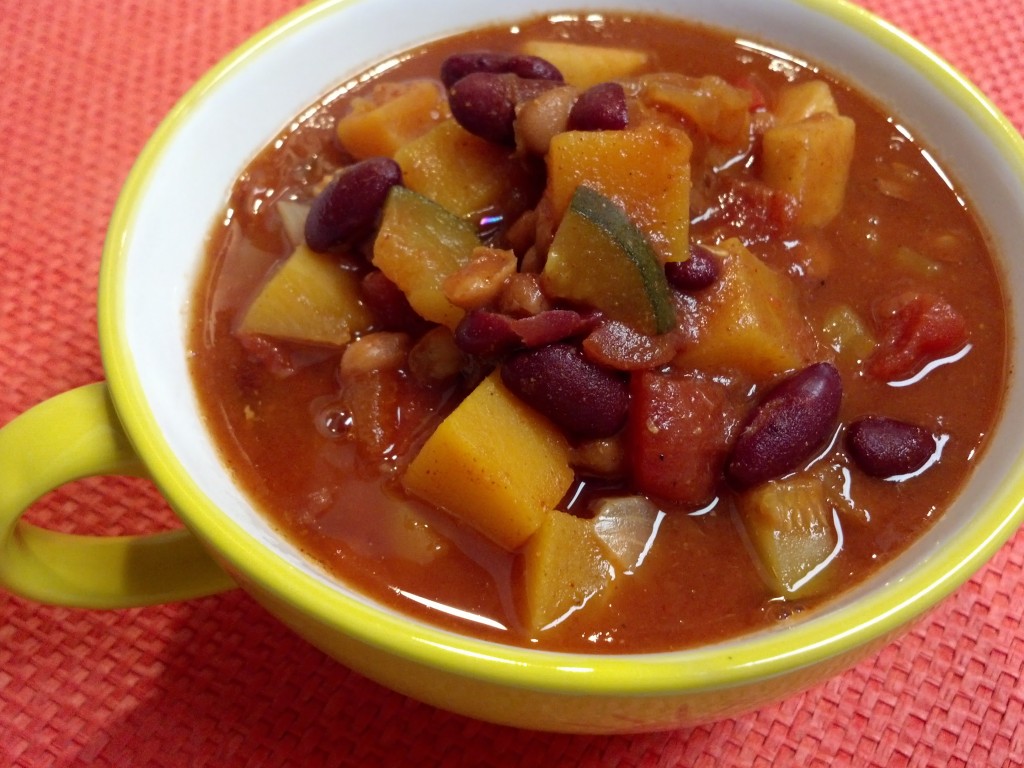 5. Go back for seconds ;).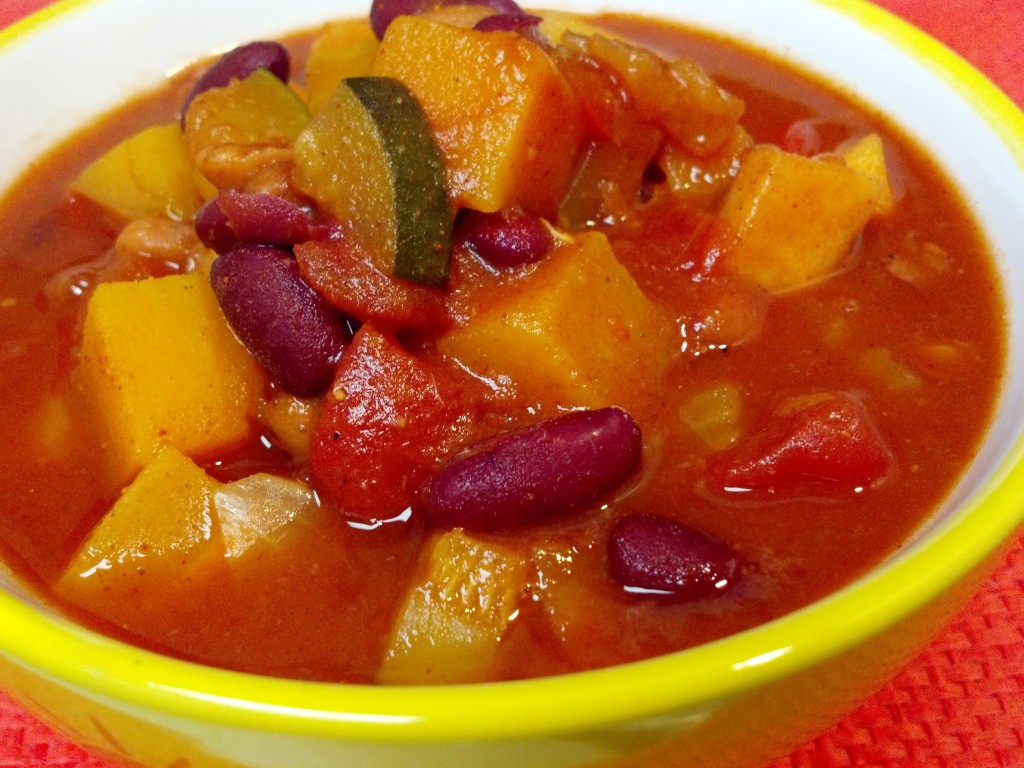 Ahh, the colors of Fall.  They make me so happy…and hungry!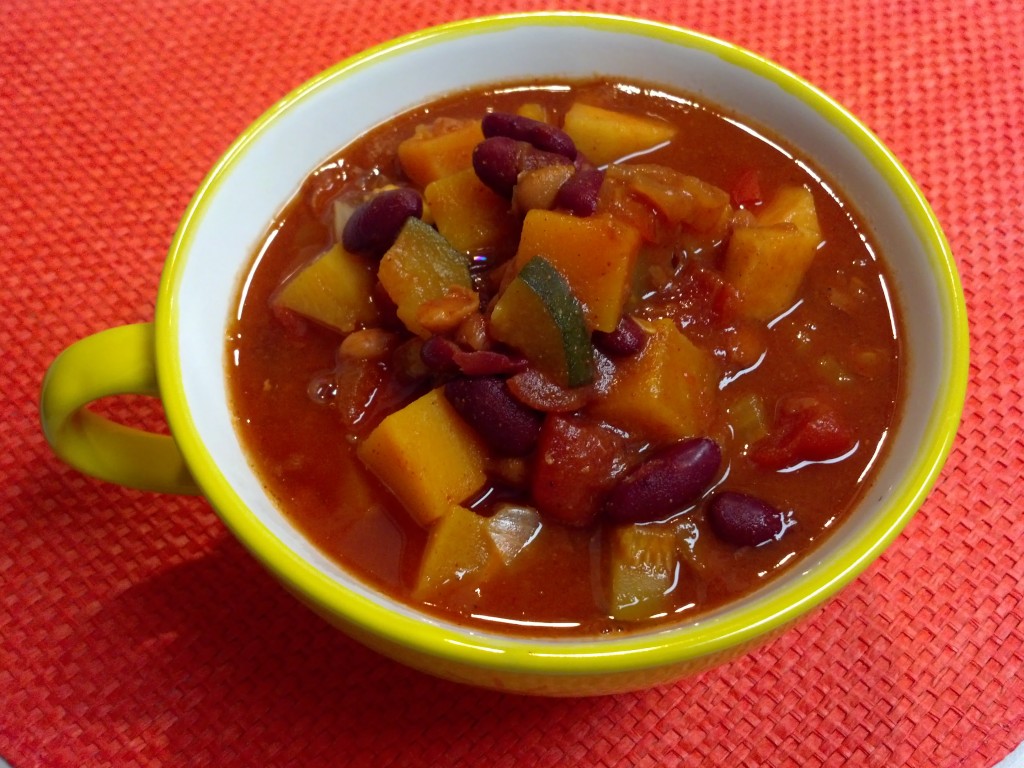 Let's face it.  Chili is good.  And if you don't think so…well, you sure are missing out!  I love traditional chili, I love spicy chili, and now I love sweet and spicy chili.  Slow Cooker Butternut Squash and Apple Chili  is flavorful, comforting, and oh so cozy.  If cooler Fall and Winter weather means that I get to eat food that is this good, then maybe I won't complain as much…maybe ;).