The perfect AIP Paleo carob chocolate wafer cookies to make for your favorite person or yourself for dessert, as a snack, or during special occasions.  These are AIP, gluten-free, grain-free, nut-free, soy-free, egg-free, and dairy-free!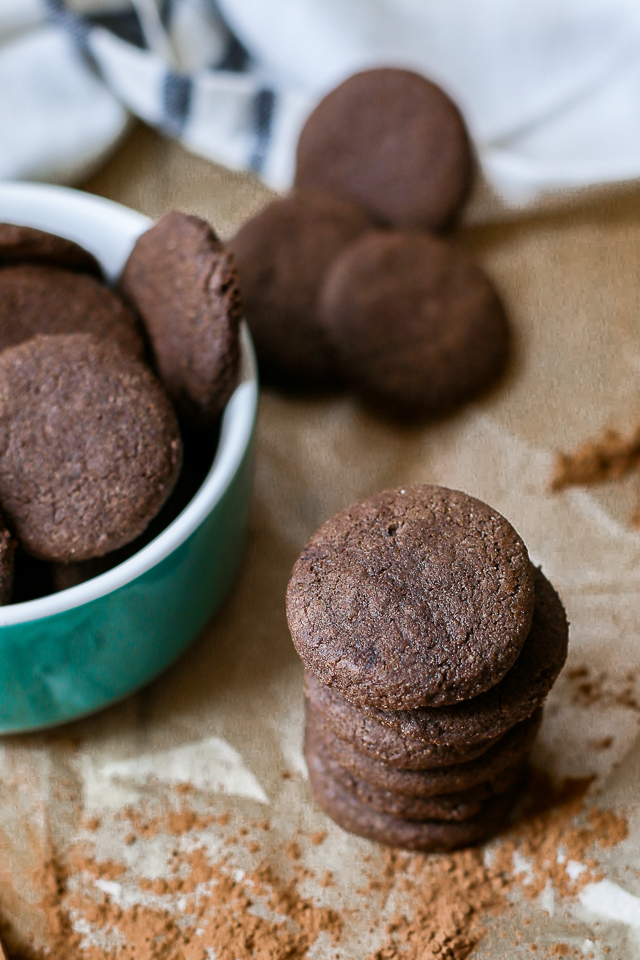 Wafer cookies totally take me back to my childhood.  Except 25 years ago they were vanilla wafers and full of gluten, dairy, and a whole bunch of other crap.  These wafer cookies are not.  They are chocolately (sort of), allergy-friendly, and cute as a button.  They also happen to be extremely delicious and just perfectly sweet.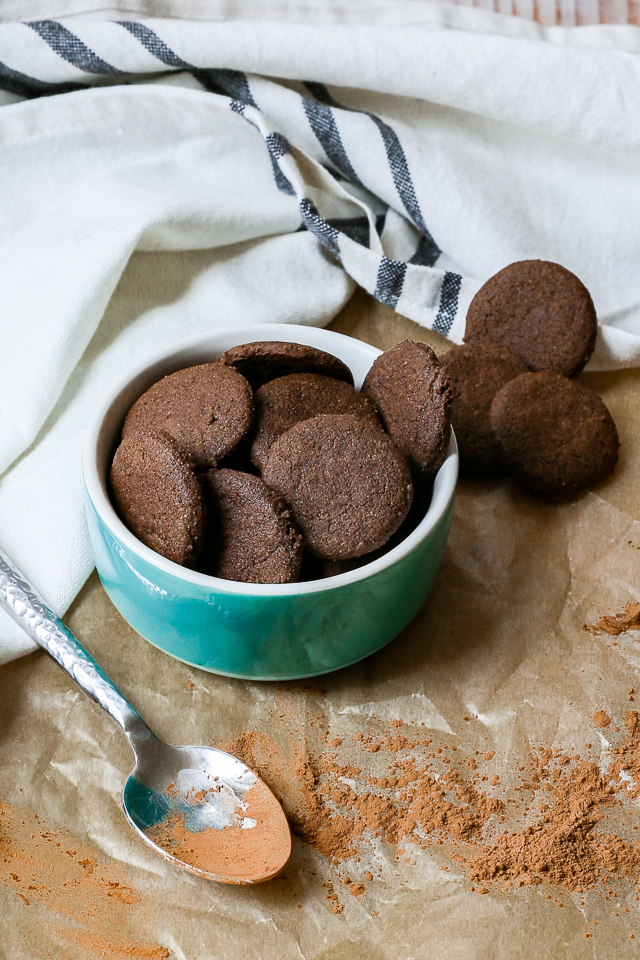 I mentioned in my latest health updates post that I dabbled with the AIP Paleo diet again about a month ago.  Granted, the very strict aspects of the diet only lasted about two weeks for me, but I'm still eating relatively compliant except for a few seeds, spices, and nightshades here and there.  As a result, I have definitely been feeling the restriction of the diet at times.  And I don't like that feeling!
So any chance I get, I am treating myself to compliant (yet delicious) meals, snacks, and desserts.  These cookies are definitely one of those treats that have been happening rather often.  Like often enough that I almost always have a batch sitting in my fridge.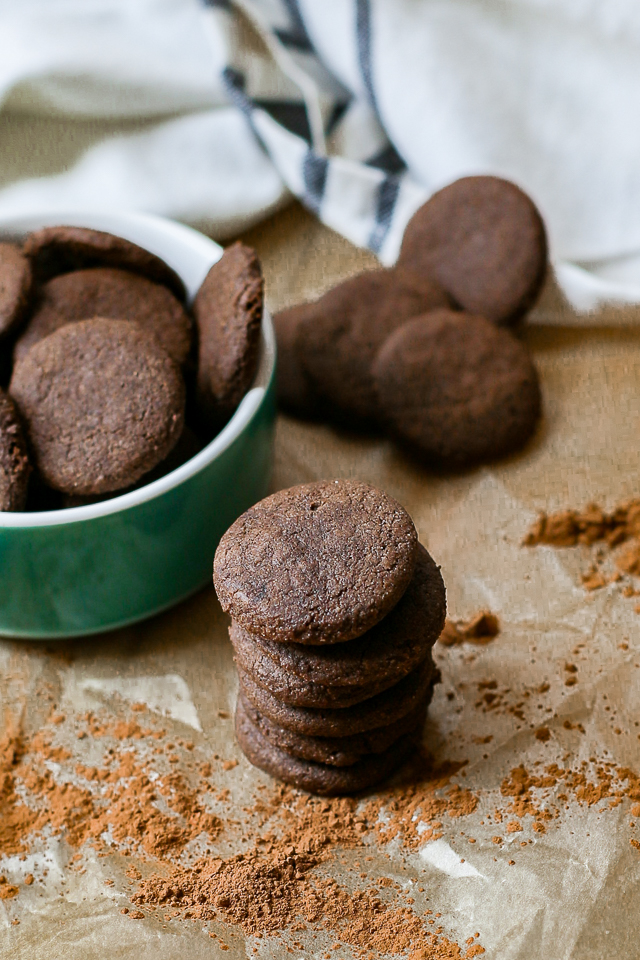 If you know anything about the AIP diet, you know that chocolate is a no-no until you hit the reintroduction phase.  So you might be wondering how I made a chocolate wafer cookie without chocolate.  Either that, or you are an AIP expert and instantly knew how I gave these cookies that chocolatey flavor: carob powder!
Does the carob powder taste like perfectly creamy milk chocolate?  Maybe not.  But I honestly think it does a pretty darn good job of lending the chocolate flavor.  So much so that I would never guess they did not actually contain chocolate unless you told me so.
I refer to these chocolate cookies as wafer cookies for two reasons: 1) the texture reminds me a lot of a classic vanilla wafer cookie and 2) they are "mini" cookies and seriously so cute.  Which leads me to another point I think is worth making.  You can absolutely use a larger cookie cutter and turn these into average size cookies.  They probably wouldn't necessarily be considered "wafers" then, but who cares!  You will also likely need to increase the cooking time a bit if you do.
You should make these cookies.  Because when you are following the AIP Paleo diet, any sort of chocolate cookie is going to taste bomb.  Even if it is not technically made with chocolate.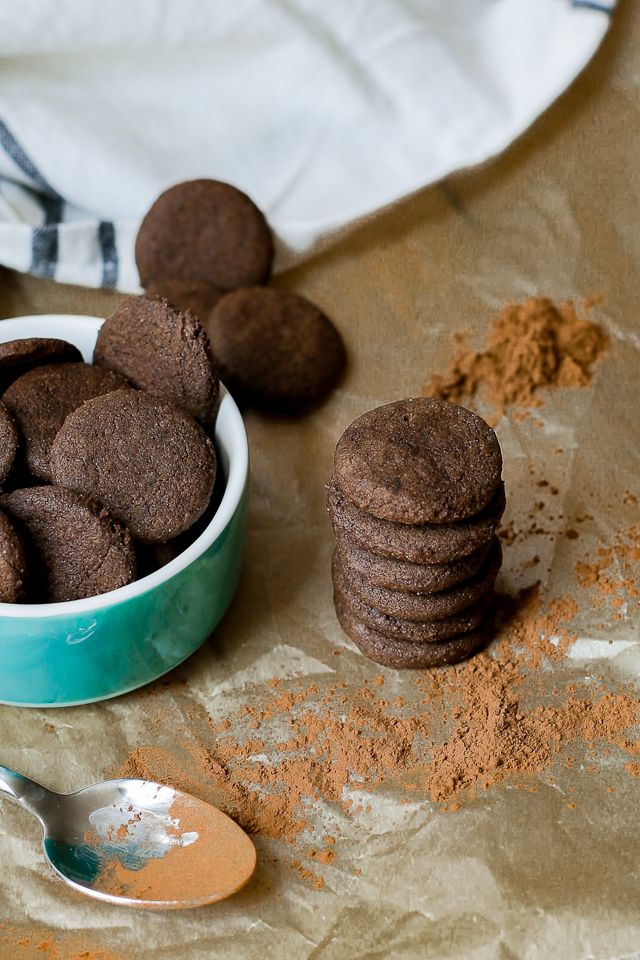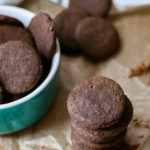 Homemade AIP Paleo Carob Chocolate Wafer Cookies
AIP Paleo, Gluten-Free, Grain-Free, Dairy-Free, Soy-Free, Nut-Free, Nightshade-Free, Egg-Free
Servings
:
24
wafer cookies
Ingredients
1

cup

tigernut flour

1/4

cup

arrowroot powder

(plus extra for flouring)

3

TB

carob powder

(or cacao or cocoa powder if not AIP)

1

TB

dry gelatin powder

1/8

tsp

baking soda

1/8

tsp

sea salt

1/3

cup

virgin coconut oil

(measure in solid form)

1/4

cup

pure maple syrup

1/2

tsp

pure vanilla extract

(alcohol free if AIP)
Instructions
Preheat oven to 350 degrees F.

Sift together tigernut flour, arrowroot powder, carob powder, gelatin powder, baking soda, and sea salt in a large bowl.

Melt coconut oil and whisk together with maple syrup and vanilla extract.

Add wet ingredients to dry ingredients. Stir until combined. Refrigerate "dough" so that it is easier to work with. Refrigerate for 10 to 15 minutes, but no longer as it will harden.

Spread a dusting of arrowroot powder onto a sheet of parchment paper. Place the dough ball onto the sheet. Cover with a second piece of parchment paper. Use a rolling pin to roll out to approximately 1/8" thick.

Use a small circle cookie cutter to cut out wafers. Place onto a parchment paper-lined baking sheet. Bake for approximately 6 to 8 minutes. Watch carefully, as oven times vary.

Remove from oven, let cool, and store in the refrigerator.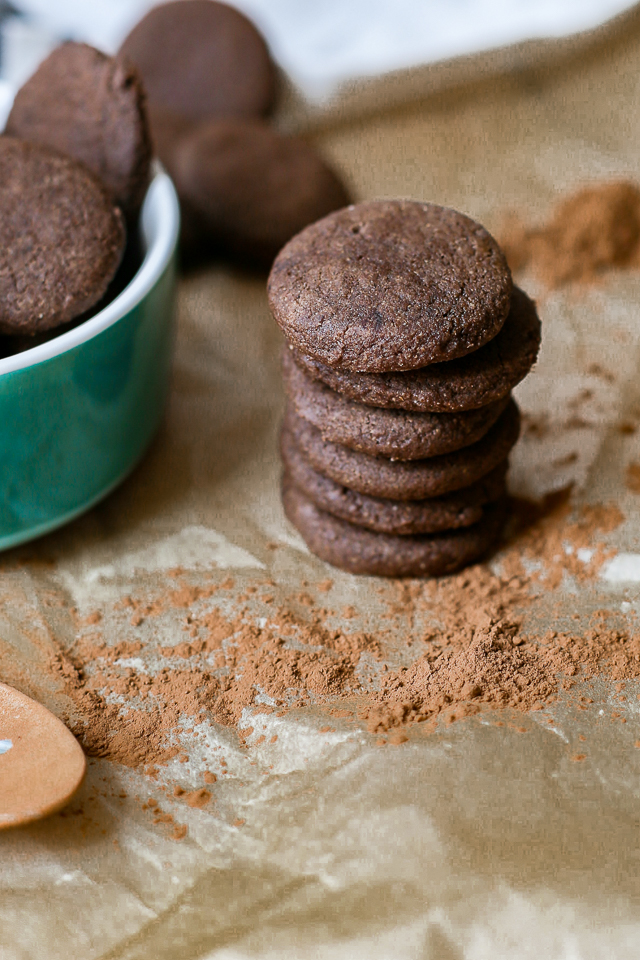 Lately, I have been loving dipping these into creamy coconut butter.  If you eat nuts, these would be amazing with some almond or peanut butter smeared in between two wafer cookies!  Oh, and if you CAN do chocolate, feel free to sub in cacao powder or dark cocoa powder!
AIP Paleo Carob Chocolate Wafer Cookies for the win! #aip #paleo #cookies #chocolate #glutenfree
Click To Tweet