As I sat down to write this update post, I got to thinking that this could legitimately be the last update post I write.  Crazy, right?  The 38 week mark hit last Thursday, so I am actually 38 weeks and four days today.
It is so weird to think that baby could come TODAY, or could be stubborn and come in three weeks.  The uncertainty is driving me a bit bonkers, but if I had to guess, I would not be at all surprised if I went over 40 weeks.  I don't know why, but it's just the feeling I have.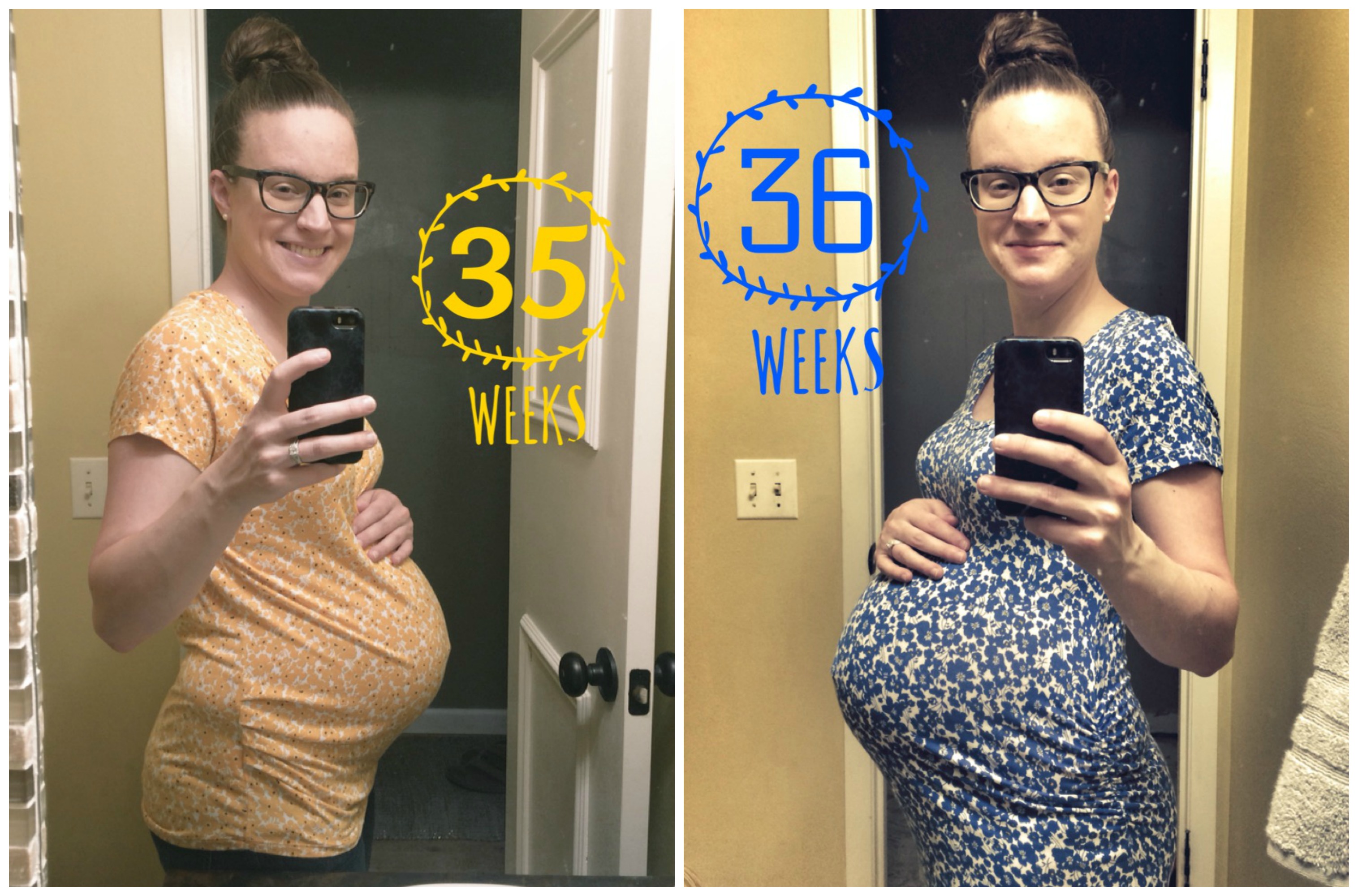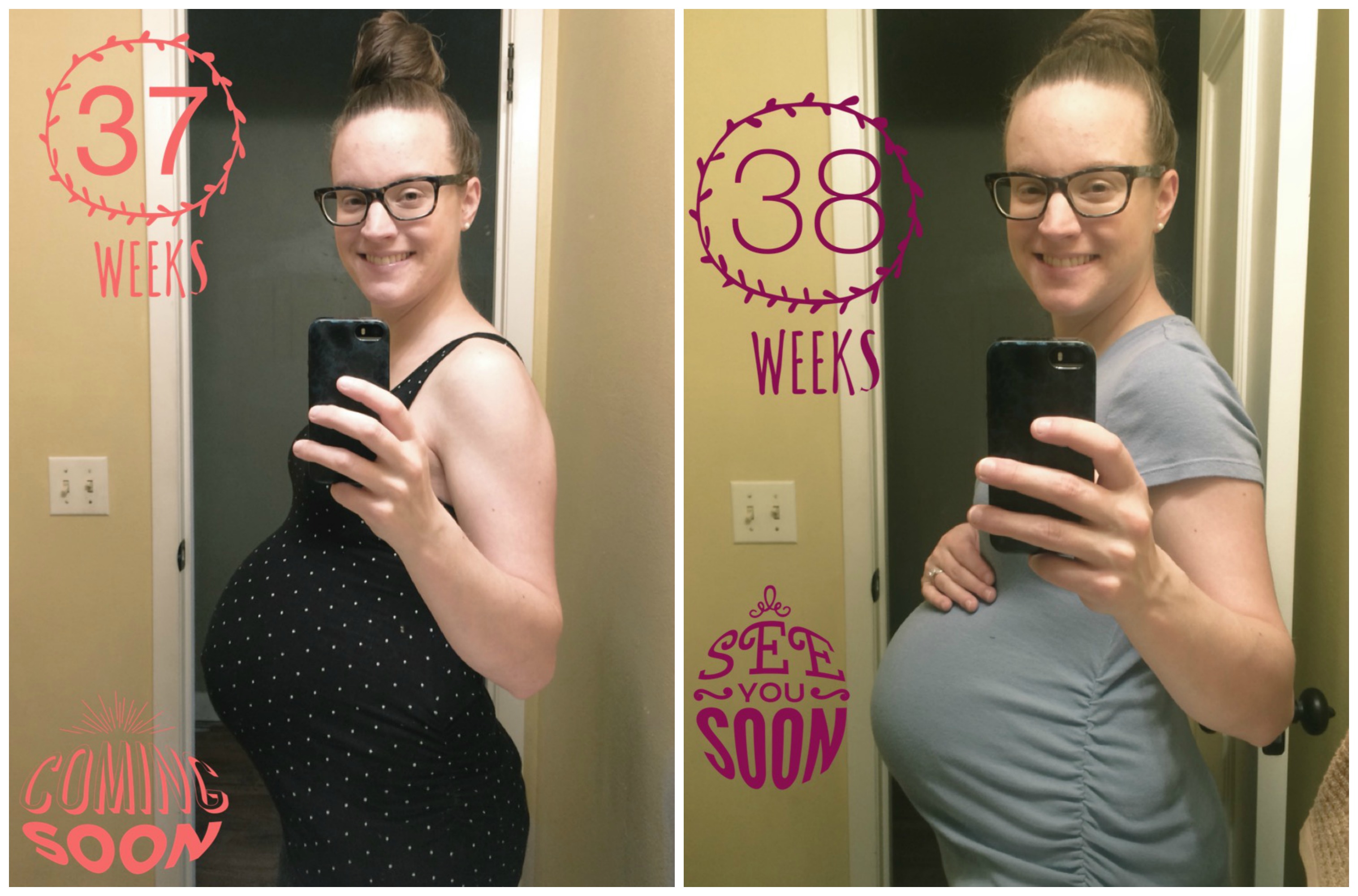 This week, baby is the size of a: leek (or approximately 19.75 inches and 6.8 pounds).
Due date: July 13, 2017 <– and assuming I did not go into labor between the time I wrote this and the time it was posted, it looks like we will officially have a July baby!
Gender: We are so eager to find out at this point!  If you remember, I was certain it was a boy during the first trimester.  I switched to girl around our 19 week ultrasound.  Now I just feel completely unsure.  Luckily, we shouldn't have to wait too much longer to find out!
Exercise: I'm not sure that anything I am doing is considered "exercise," but walking 15-20 minutes into my office each day and prenatal yoga on Sundays has been working for me.  That and still making attempts to use the stairs instead of elevators.  So far so good!
Maternity clothes: I have essentially reached the point where I am in maternity clothing all of the time now.  Leggings are out with the warmer weather, so it has been maternity jeans/shorts and dresses for the win.
Belly button: Definitely still out and with some stretch marks around it.
Sleep: I have to admit that I am honestly kind of amazed that I am sleeping as good as I am.  I generally only get up twice to use the restroom, and while my sides/hips ache a lot at night, I am still averaging between seven to nine hours of sleep each night.  I hope this keeps up and I don't jinx myself!
Food cravings/aversions: My aversions are essentially gone at this point.  I even ate some pizza with red sauce, which was a bit of a miracle!  My biggest cravings lately have been cereal and whole milk.  I cannot remember the last time I just drank a glass of milk (maybe college?), but now I feel like I could drink several glasses each day.
Symptoms: I don't have too much to complain about this week.  I definitely have experienced general aches and pains, continued bladder pressure/frequency of urination, shortness of breath, and have been pretty exhausted, but ultimately am feeling good.  I've had some sinus issues the last week with head/face pressure that has not been fun, but I'm pushing through.  It also has become nearly impossible to bend down to tie my shoes without feeling like my upper abdomen might explode.
Movement: Baby is still moving and rolling around.  It has gotten to the point where a lot of these movements (especially in my sides) can actually be quite painful at times.
Labor signs: I have not experienced any labor signs yet.  I was checked at almost 37 weeks and my cervix was closed, but we all know how quickly things can change!
What I miss: I am not really missing much at this point.  I am, however, already thinking about how I am going to miss my pregnant belly after the baby is born.  I won't miss the symptoms that go along with pregnancy, but I will miss that part!
I'm also actually missing the ability to have a drink now and then.  It didn't bother me the majority of pregnancy, but now that Summer has hit, I would just love to be able to enjoy a margarita every now and then!
What I'm loving: I am loving that the house projects are near completion, the house is CLEAN, everything is packed and ready for the hospital, and I have wrapped up my "to do" list at work.  Essentially, I am just loving the fact that we both feel pretty ready, or at least as ready as we can be!
I'm also loving that we ended up with an ultrasound after our 37 week appointment because my midwife was not certain that baby was head down.  Luckily, baby is head down and we got to see him or her, even if it was only for about two minutes!
What's coming up: With all of the major things on our "to do" list completed, I feel like the rest of this pregnancy will hopefully be spent relaxing and just enjoying our last little bit of time as a family of two.
Maybe I will also get some food prepping done.  But then again, maybe not…
Things are getting REAL in my 38 Week Pregnancy Update post #thirdtrimester #julybaby #pregnancy
Click To Tweet