A savory pescetarian breakfast sandwich that hits all of the major food groups.  This Tuna and Egg Scramble Sandwich is protein-packed, perfectly crispy, and just a tad bit spicy!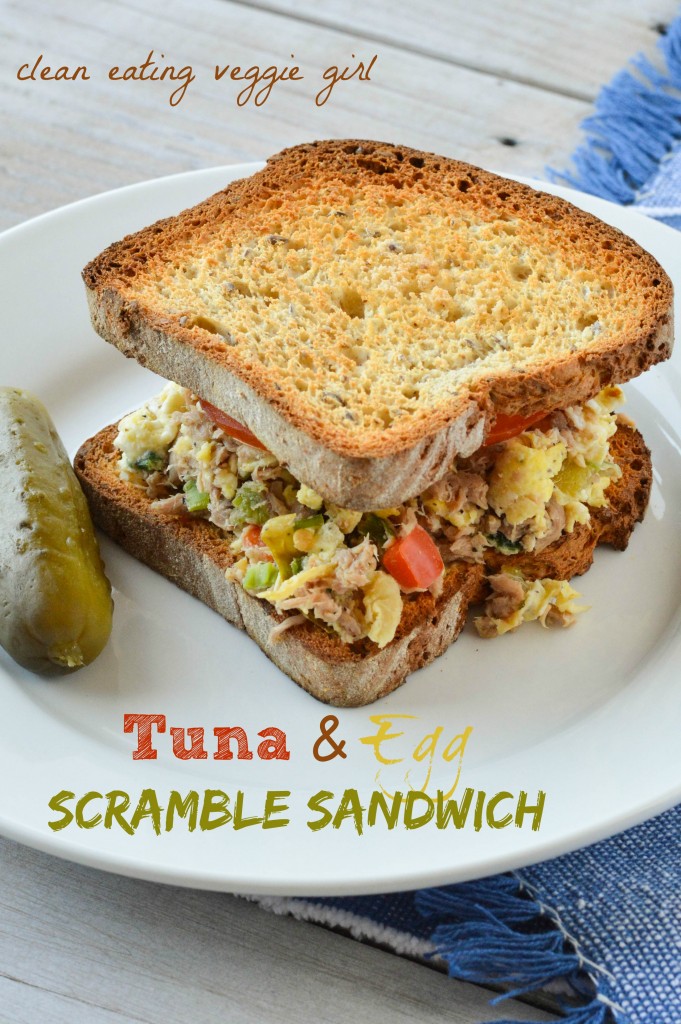 Still being rather new to eating fish, I am always trying to come up with creative ways to cook with one of my favorite fish choices: tuna!
I have already determined that tuna salad is delicious, tuna and split pea soup over toast is beyond comforting (I swear it is good), and tuna cakes dipped in homemade tartar sauce are fan-freakin-tastic!
So what happened one Saturday morning when I realized I was craving tuna for breakfast?  I followed my intuitions, and rolled with it.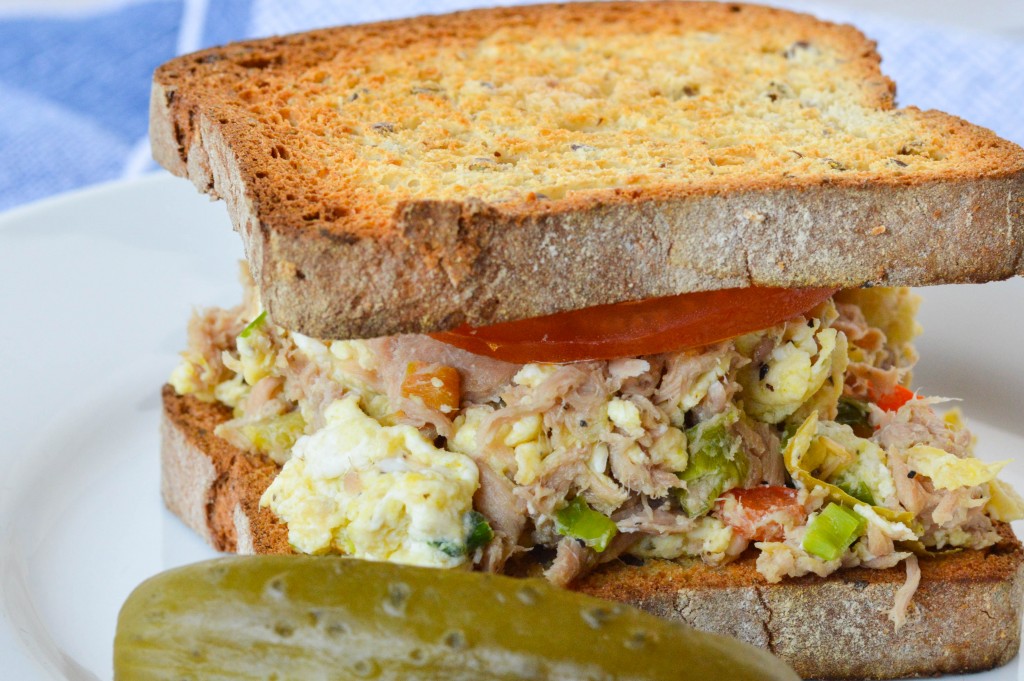 Of course I could not simply eat plain tuna out of the can.  If that is your thing then by all means, go for it!  But I wanted something with a bit more substance and a lot more flavor.
Almost any type of protein can successfully pair well with eggs, so I decided that a tuna and egg scramble was in order.  Just eating scrambled eggs and tuna would be a bit boring though, right?  So I added in veggies, seasoned 'er up, squished it between two slices of toasted gluten-free bread, and devoured it in under fives minutes.
Eating that quickly certainly isn't within the recommendations for "intuitive" eating, but I simply could not resist.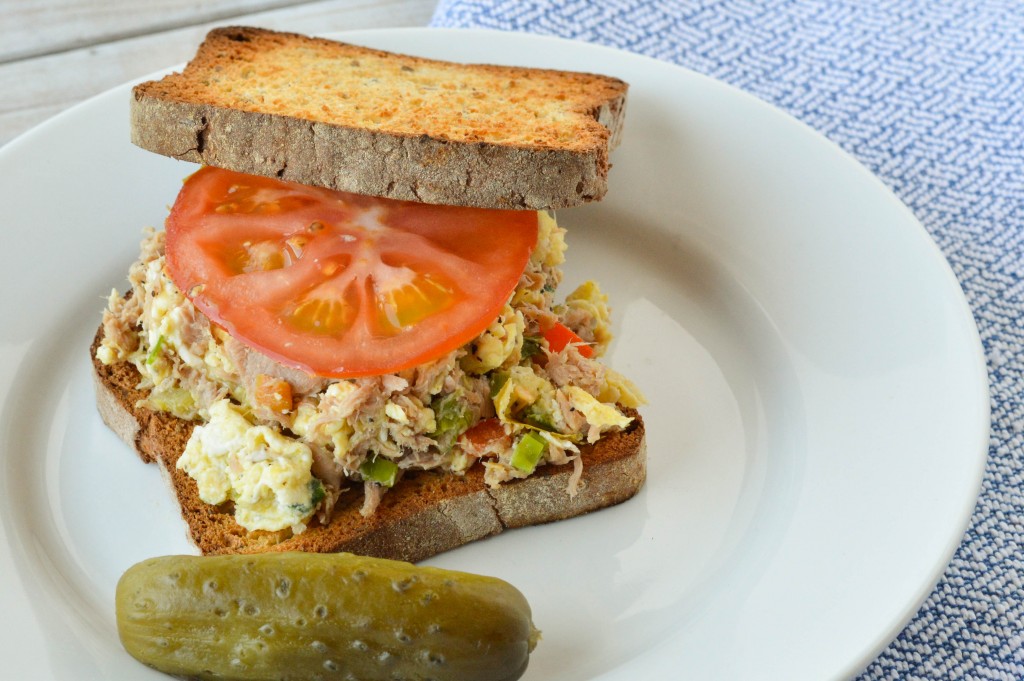 This sandwich was an utter experimentation that turned out even better than expected!  Don't you love it when that happens?
It's a little bit spicy.
It's a little bit crispy.
And it's a whole 'lotta savory.
Tuna and Egg Scramble Sandwich
Gluten-Free
Serves 2
Ingredients
1 tsp coconut oil
1/4 red bell pepper, diced
2 TB diced green onion
1 whole large egg
2 egg whites
1/2 tsp turmeric
fine sea salt
black pepper
5 oz can chunk tuna in water, drained
2 to 3 TB canned diced green chiles (depending on your spice preference)
4 slices of your favorite bread (gluten-free for me) + coconut oil or butter, if desired
2 tomato slices, optional
sriracha sauce or hot sauce, optional
Directions
1. In a medium skillet, warm coconut oil over medium heat.  Add peppers and onions to the pan.  Sautee for approximately 5 to 7 minutes, or until softened.
2. While the peppers and onions are cooking, whisk together egg, egg whites, turmeric, salt, and pepper.  Once the peppers and onions are softened, add your egg mixture to the pan.  Cook the eggs until they are almost scrambled to your likeness, or for approximately 3 minutes.
3. Add tuna and green chiles to the skillet.  Cook for an additional 2 to 3 minutes, or until warm.
4. While the tuna and chiles are heating up, toast your bread.  If desired, spread each slice with a smear of coconut oil or butter.
5. Assemble both sandwiches and add a tomato slice and hot sauce for a little extra flavor.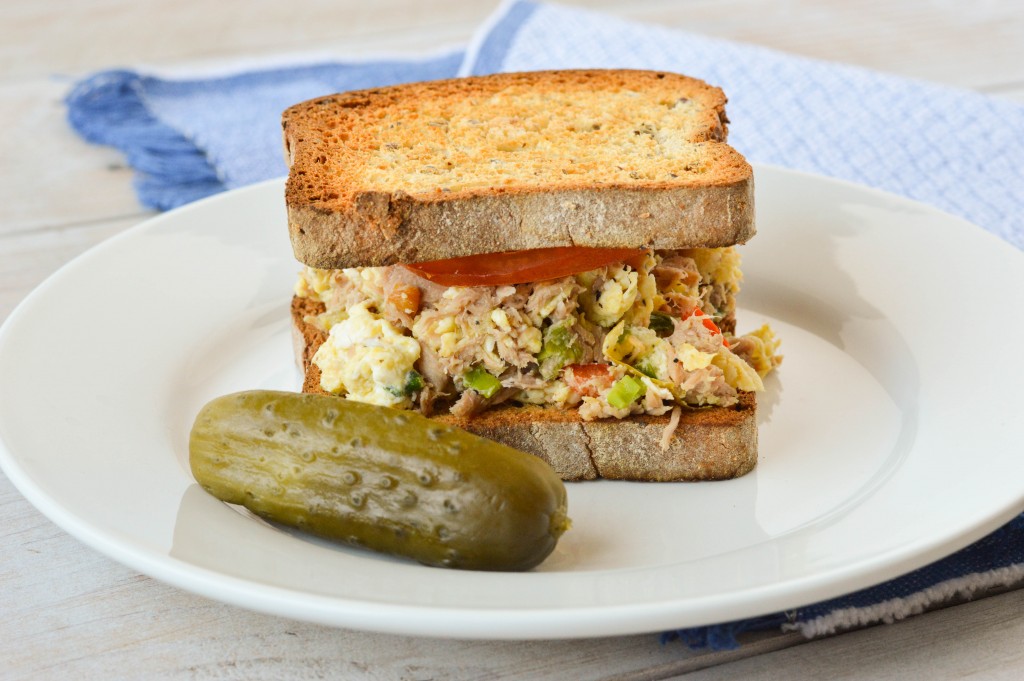 Sure, tuna is not the most traditional breakfast food, but I promise it tastes delicious when scrambled with eggs and veggies.  Plus, who can say no to pretty much anything that is made in sandwich form?
If you cannot quite get on board with eating this for breakfast, it is perfectly acceptable for brunch or brinner, too!
Please pin me and share me on Facebook and Twitter using the buttons below!
What is the "weirdest" way that you have eaten tuna?
Do you ever have strange cravings in the a.m.?