A step-by-step pictorial on how to build The Best Veggie Sandwich using nearly everything but the kitchen sink.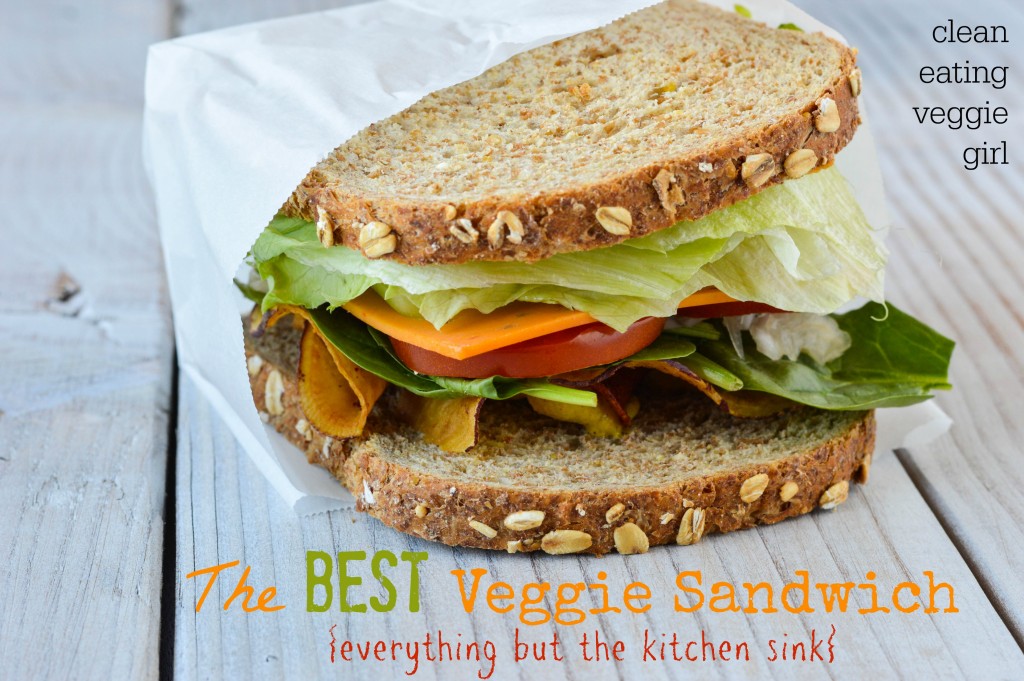 My sandwich cravings have been off the chart lately.
A couple of years ago I heard "sandwich" and automatically thought it meant "unhealthy."  Boy was I wrong.  With the right ingredients, sandwiches are not only delicious, but are also colorful, healthy, and make for a well-rounded meal.  We're talking veggies, protein, healthy fats, and carbs all in one.  Veggie sandwiches just may be the next "superfood!"
So that might be pushing it… but it's time to stop fearing the sandwich and start eating the sandwich in all its glory!  Check out my step-by-step pictorial on how to build The Best Veggie Sandwich:
Grab a slice of bread.  I used Ezekiel's sprouted whole grain bread, but choose a brand that works for you and your dietary needs.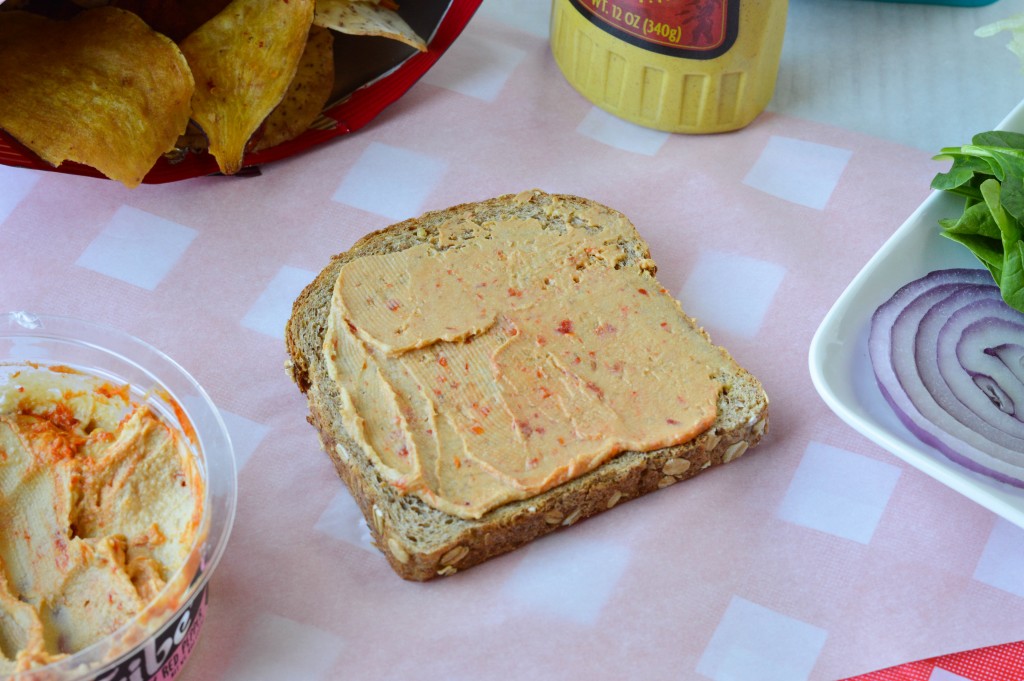 Spread the slice of bread with hummus.  I selected a spicy red pepper hummus, but any flavor will work.  If you are a mayo person, that will be just fine, too.  I am a big fan of Vegenaise vegan mayo!
Add a big 'ole stack of iceberg or romaine lettuce.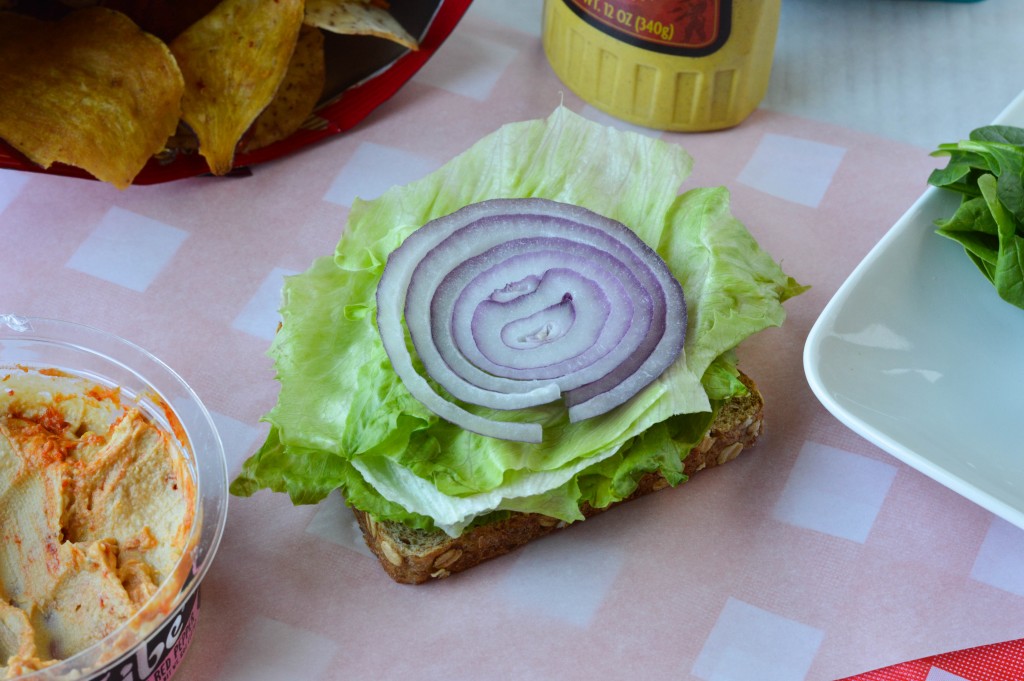 Top the lettuce with the onion rings (no, not the breaded kind) of your choice.  I selected red onions for my sandwich.
Stack two 1/2-inch thick slices of peeled cucumber on top of the onions.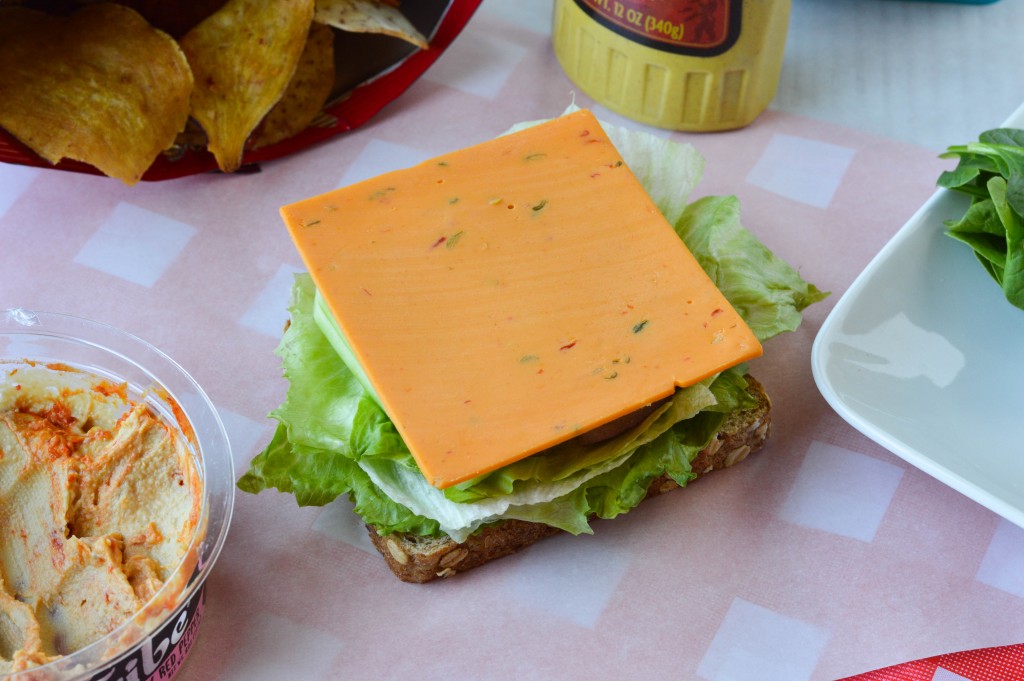 Next up: a slice of vegan cheese!  I highly, highly recommend going with the new Field Roast Chao vegan slices.  Of course, if you are not vegan than regular cheese will do.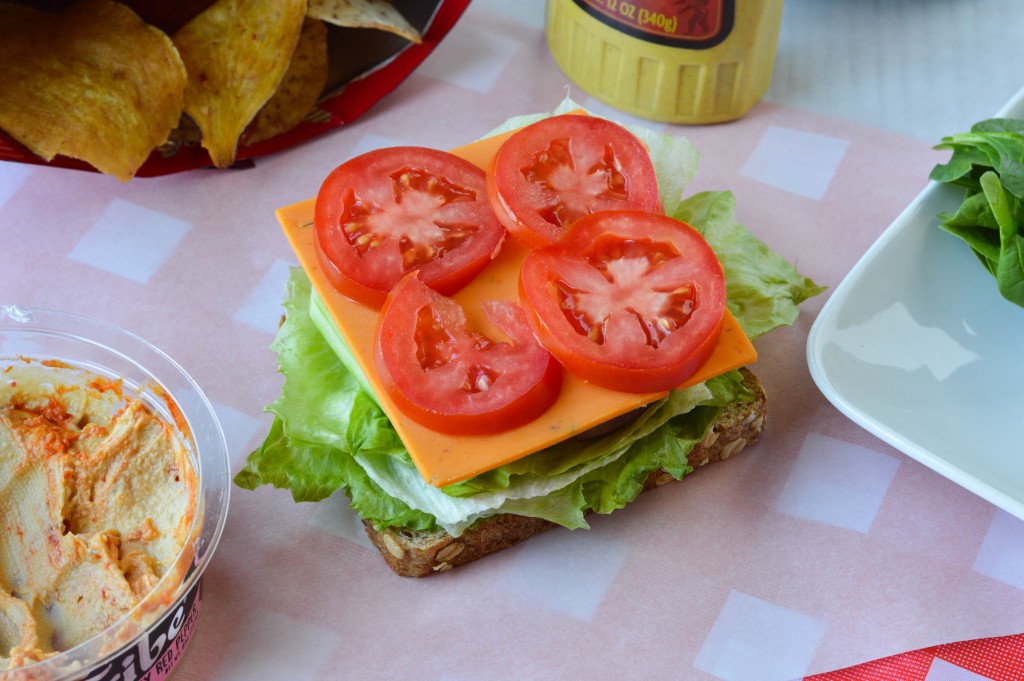 Add gorgeous, ripened red tomato slices to your sandwich.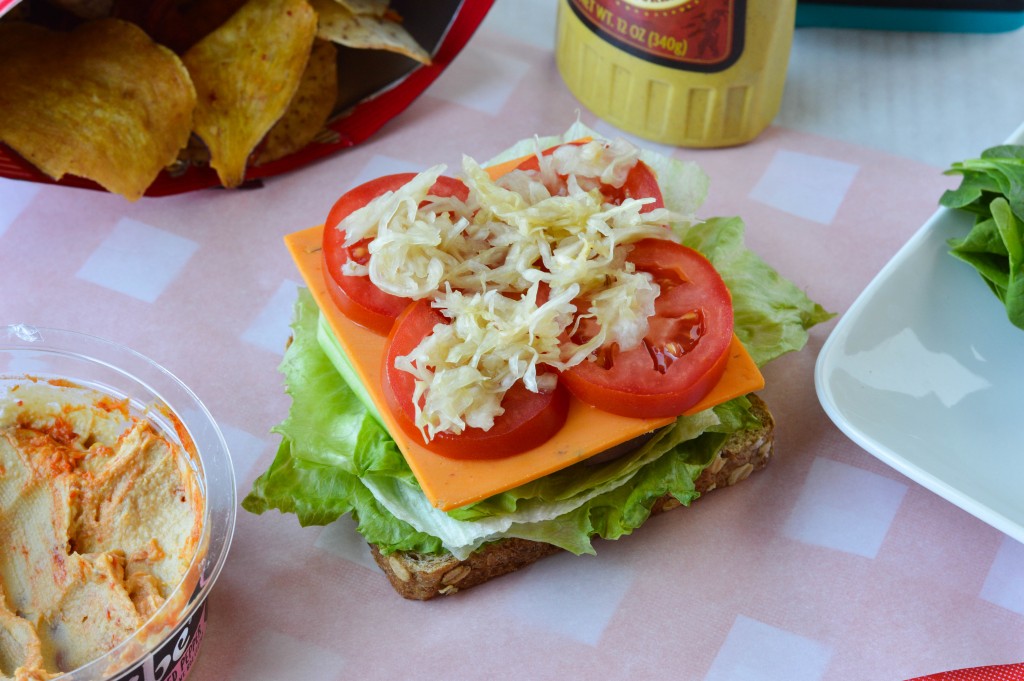 On top of the tomato slices goes one of my new favorite sandwich ingredients: raw caraway seed sauerkraut.  The sauerkraut does a great job of lending a bit of saltiness to your tomato stack.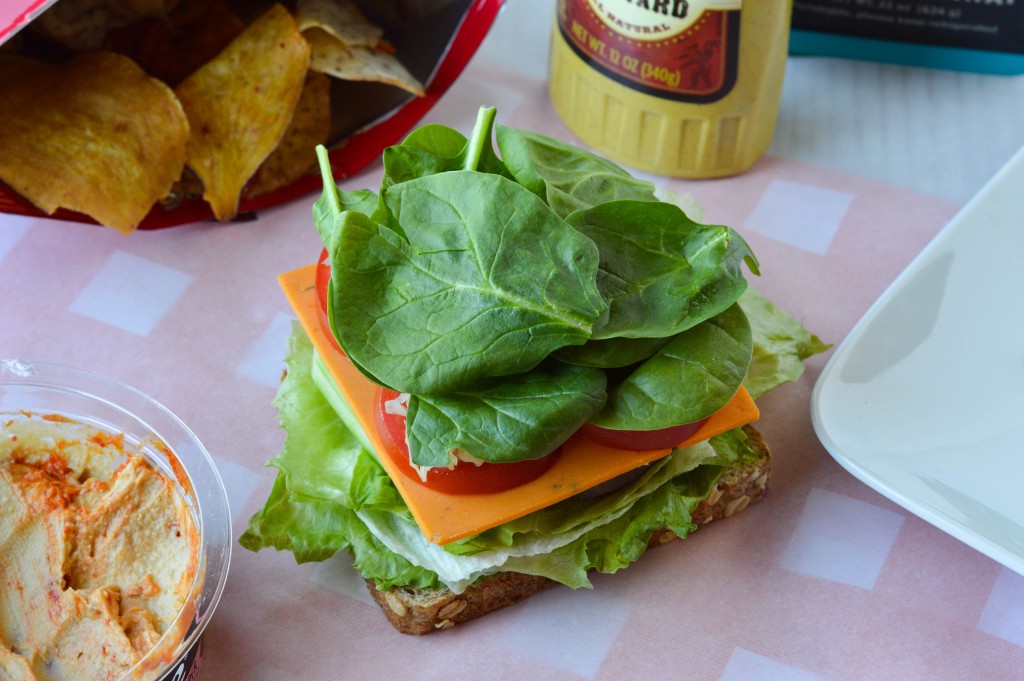 You can never have too many greens.  Add on some fresh baby spinach leaves!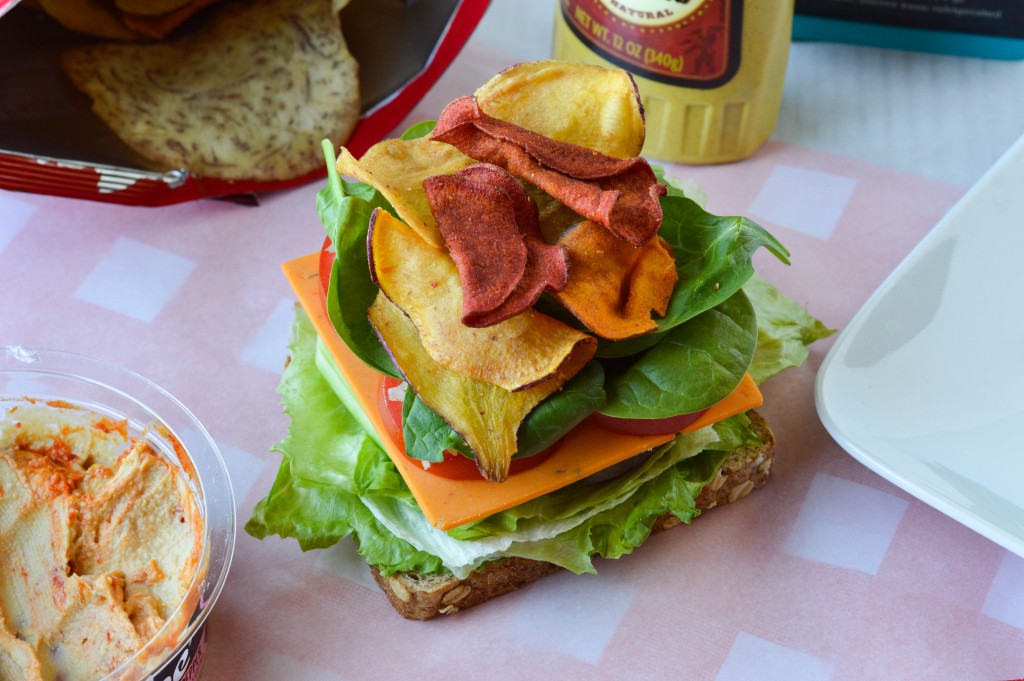 One of my most favorite non-traditional sandwich ingredients is chips!  I selected root vegetable chips.  Not only do they add gorgeous color to the sandwich, but they provide the perfect crunch.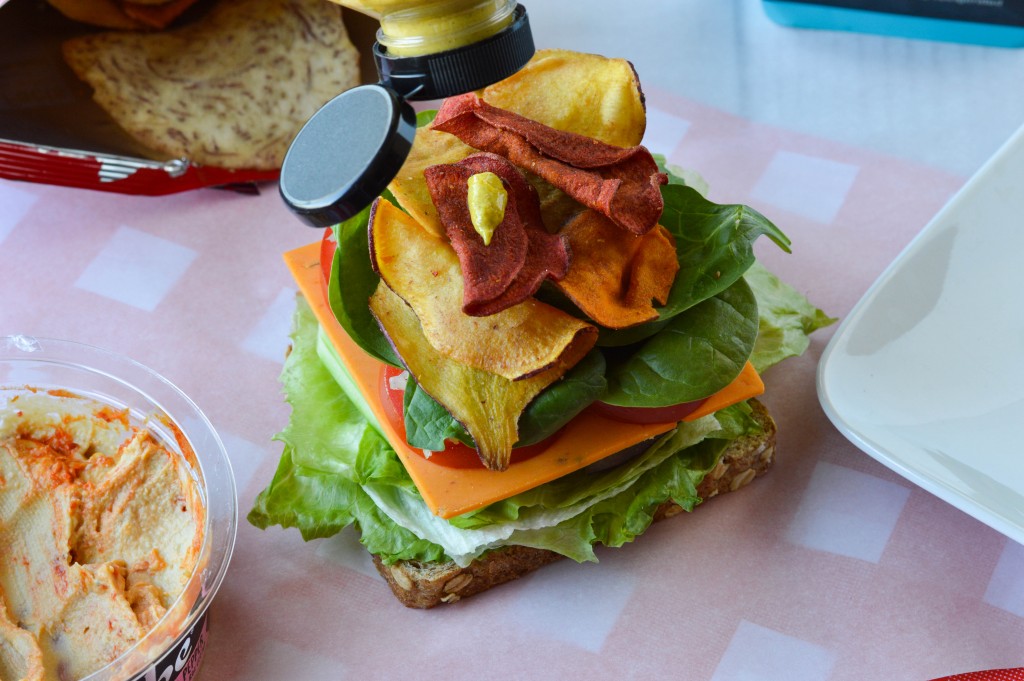 Finish the inside of the sandwich off with your favorite mustard.  I chose spicy brown mustard, but it would also be delicious with yellow or Dijon.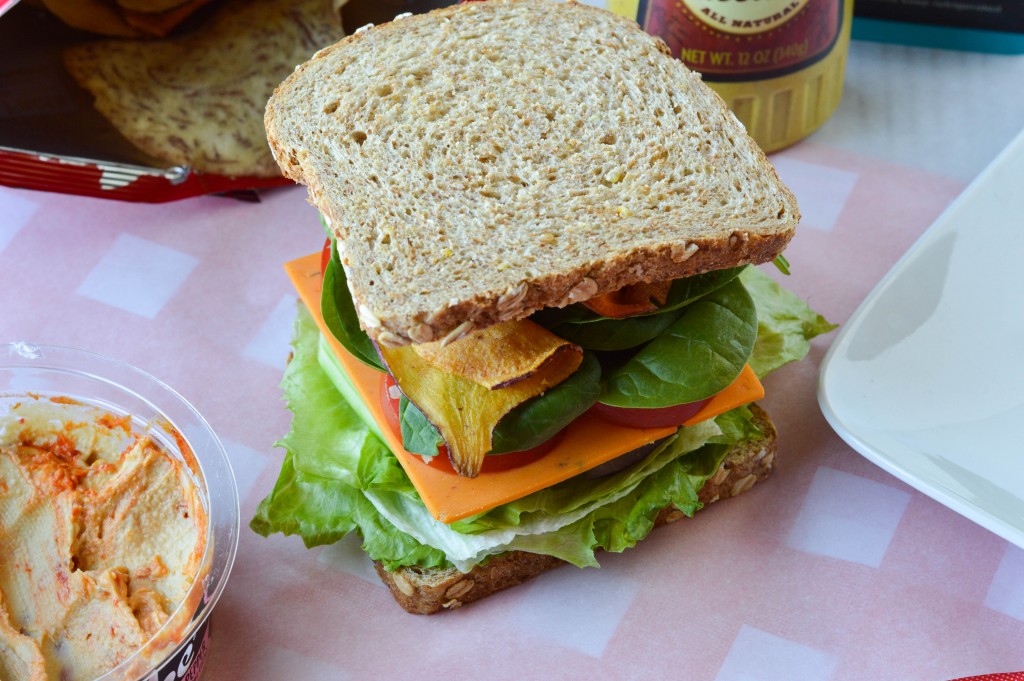 Top off your sandwich with a second slice of bread.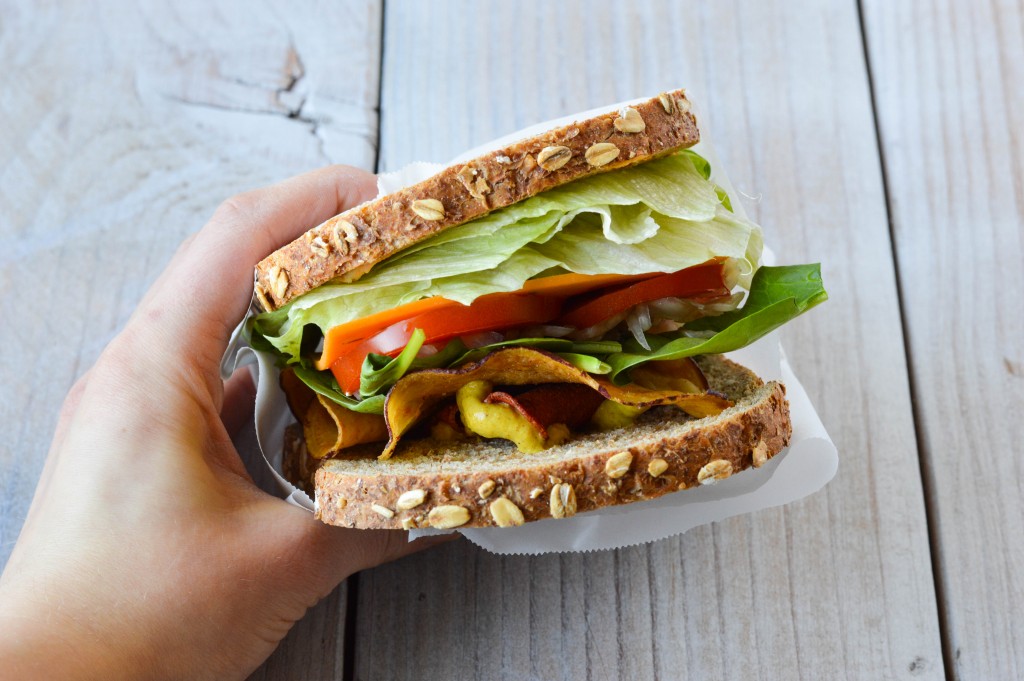 I was not kidding when I said this veggie sandwich uses pretty much everything but the kitchen sink.  I also was not kidding when I said it is one of the best veggie sandwiches.  Did I mention that it is completely vegan and gluten-free friendly (when using gluten-free bread)?  You cannot really go wrong with this bad boy.
I will warn you that once stacked, your veggie sandwich will come in at around four to five inches high.  I recommend wrapping up your sandwich in parchment paper or foil before attempting to eat it because it will be taller than the opening of your mouth, and it will be messy!
What are you favorite sandwich toppings?
Do you add any "non-traditional" ingredients to your sandwiches?