A few weeks back I shared details about my experiences so far with learning to use my DSLR camera in manual mode.  In that post, I linked to several online resources that helped me at the start of this journey.  While I truly believe all of those resources are helpful, I have since gotten my hands on an ebook that I just know you are going to love even more!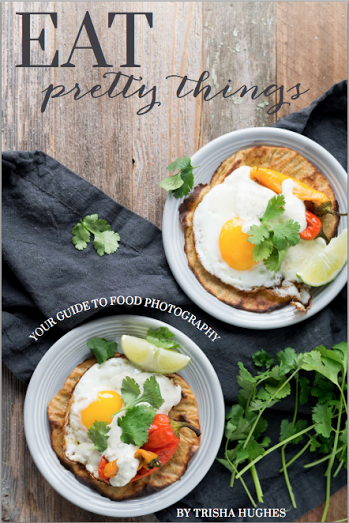 Trisha Hughes is a fellow Omahan who seriously takes the most gorgeous food photos I have ever seen.  Seriously.  I featured her in my favorite Instagram accounts post, and she continues to amaze me with her skills and creativity.  When I heard a few months back that she was releasing an ebook all about food photography, I was so, so excited.  The thought of being able to get my hands on any food photography wisdom that Trisha could share made my heart so happy.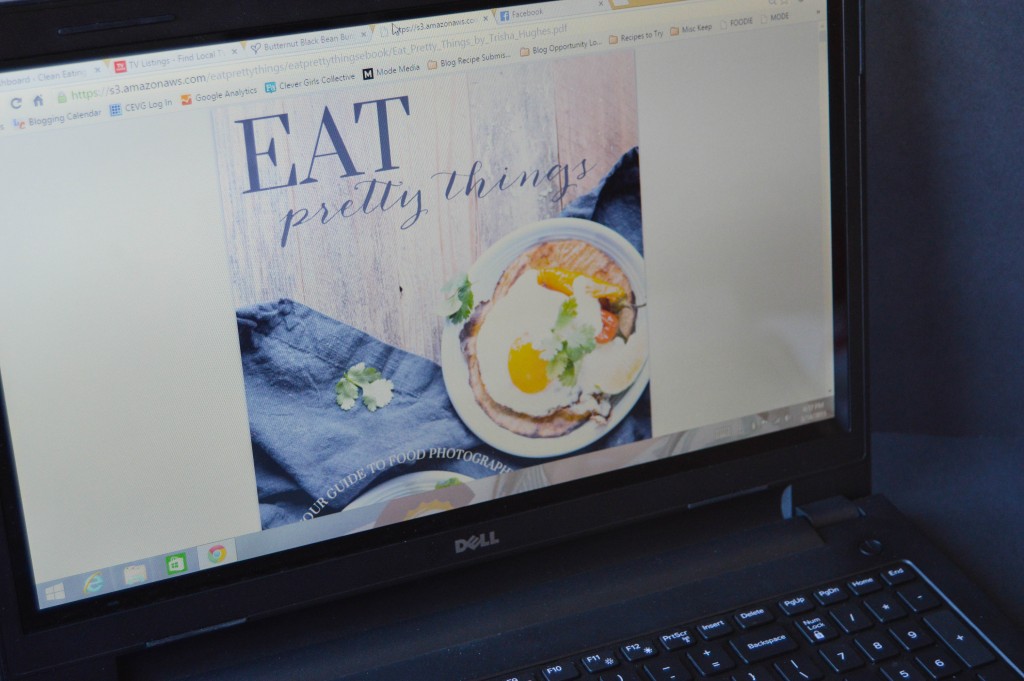 Eat Pretty Things was released a couple of weeks ago, and when Trisha was on the lookout for reviewers I (almost literally) jumped at the chance.  I spent this past weekend reading the book cover to cover, watching the accompanying videos, and putting the information to use during a couple of hours of photographing new recipes.  You guys… you are going to love, love, love this ebook.  Everything that you need to get started on your photography journey is right in the 76 pages of the book.  That's all you need.  One book, eight videos, and plenty of practice!  Let me tell you what I love the most about Eat Pretty Things:
1. Trisha, along with her photography philosophy, is 100% relatable.  Before she produced photographs of food that look good enough to eat, she was just like the rest of us.  She started out as a newbie photographer who was unhappy with how her photographs turned out.  With proper research, education, and practice, she has become a master photographer.
2. She proves that you do not have to purchase thousands of dollars of equipment in order to take beautiful photos.  In fact, throughout the book she encourages you to spend less when you can and to truly question whether or not a purchase will really enhance your photos.
3. Eat Pretty Things contains gorgeous example photos that make it easy to distinguish between the various aperture, ISO, and shutter speed settings.  This is ideal for visual learners like myself.
4. Each topic within the Manual Mode section contains takeaways and summaries in individual text boxes to help ensure that you learn the most important concepts.
5. The book contains helpful tricks to assist you in remembering the various meanings of photography terminology.
6. Trisha encourages mastering one concept at a time, which I find to be a less overwhelming approach to becoming a better photographer.  Starting small takes the pressure off of learning everything at once.
7. You will find that Trisha has included many tips and tricks to make food set-up and styling more effective.  She will make you want to add cotton balls, makeup wedged sponges, and toothpicks to your photography prop collection.
8. She uses the word "iPhoneography" in the Instagram section of the book.  This may or may not be my new favorite word.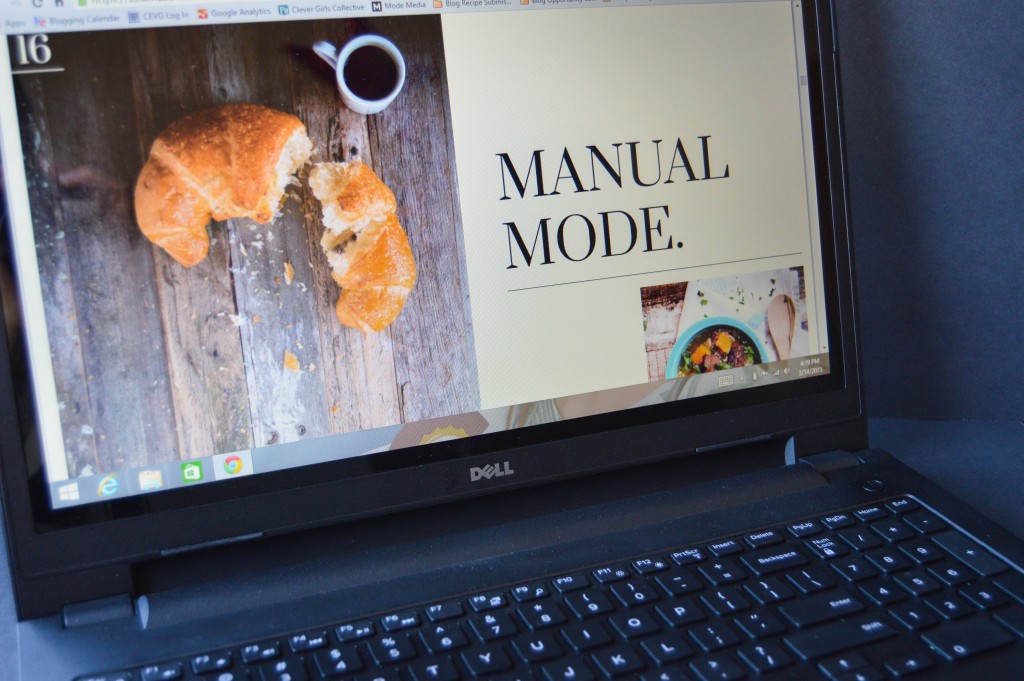 Clearly there are a lot of things that I love about Eat Pretty Things.  If my favorite things about the book have not yet convinced you to get your hands (or eyes) on a copy, let me tell you some of the topics that are covered throughout the text:
Information on how to select photography gear, including a camera body, lenses, a tripod, and accessories;
an easy to understand explanation of aperture, ISO, and shutter speed;
a summary of what white balance is and how to control it (I am most excited about working on this!);
tips and tricks on how to use lighting, including manipulating the direction and intensity of light, the use of reflectors, and the proper use of artificial light;
a description of what goes into proper composition, including the rule of thirds, balance, viewpoint, framing, cropping, and depth;
tips and tricks on how to properly style photos and tell a story (Trisha is amazing at this);
suggestions on how to start a prop collection in an affordable and strategic way;
and bonus food photography tips for those who use Instagram
As if all of this was not enough, Trisha kindly includes eight videos to help you become familiar with the editing platform she uses: Lightroom.  Some of the topics covered in the videos include white balance correction, spot removal, and cropping.  These videos are especially helpful, as they walk you through each process step-by-step.  Again, us visual people normally need to see things instead of simply reading about them!
Head on over to Trisha's blog to check out sneak peeks of some of the sections included in the ebook, to see her gorgeous food photography, and to purchase your own copy of Eat Pretty Things.  Trisha offers a generous refund policy so you truly have nothing to lose.  Though I do not think there is any way you could walk away from the book without learning something.
Happy reading, learning, practicing, and photographing, foodies!  For now I'll just be hanging out over here practicing my food photography 😉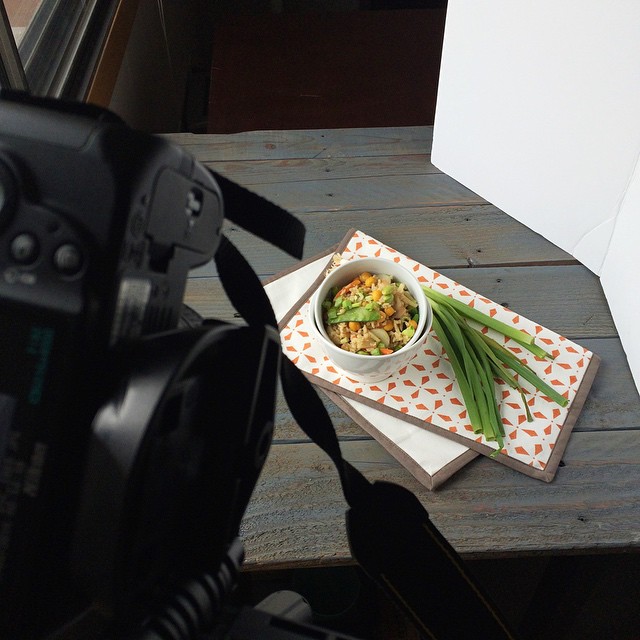 from my Instagram feed
This is not a sponsored post.  I did, however, receive a complimentary copy of Eat Pretty Things.  The above links are affiliate links.  I will receive a portion of the profits from any copies that are purchased.  As always, I appreciate your continued support of CEVG!