This Pasta Salad and Robert Irvine LIVE Giveaway are sponsored by Omaha Performing Arts.  I received free tickets to "Robert Irvine LIVE," but was not compensated in any other way.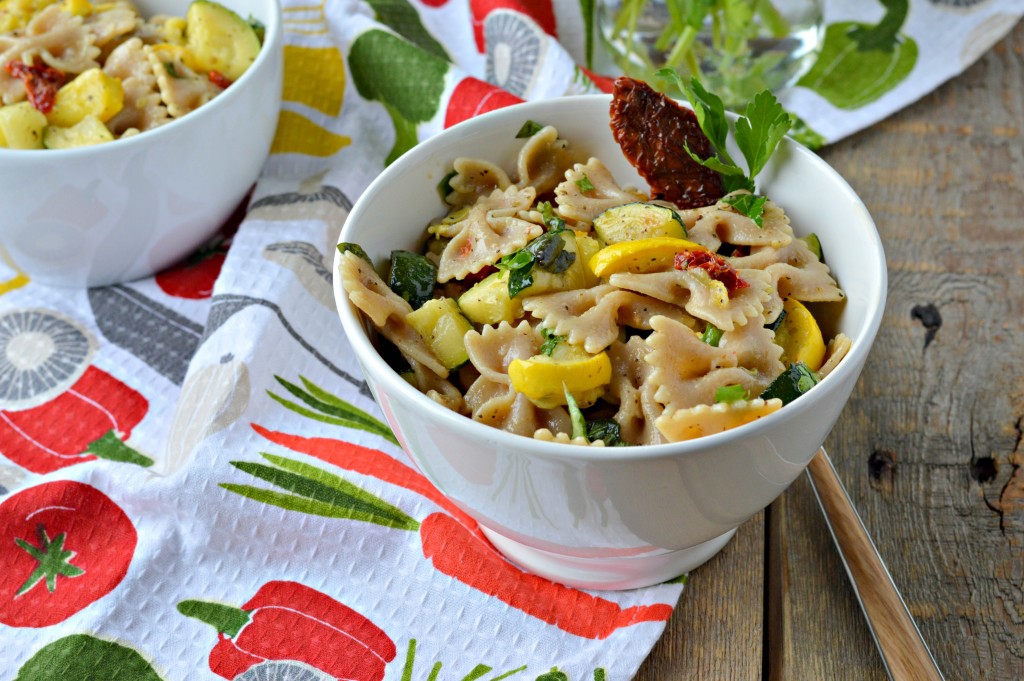 No, you're eyes aren't playing tricks on you.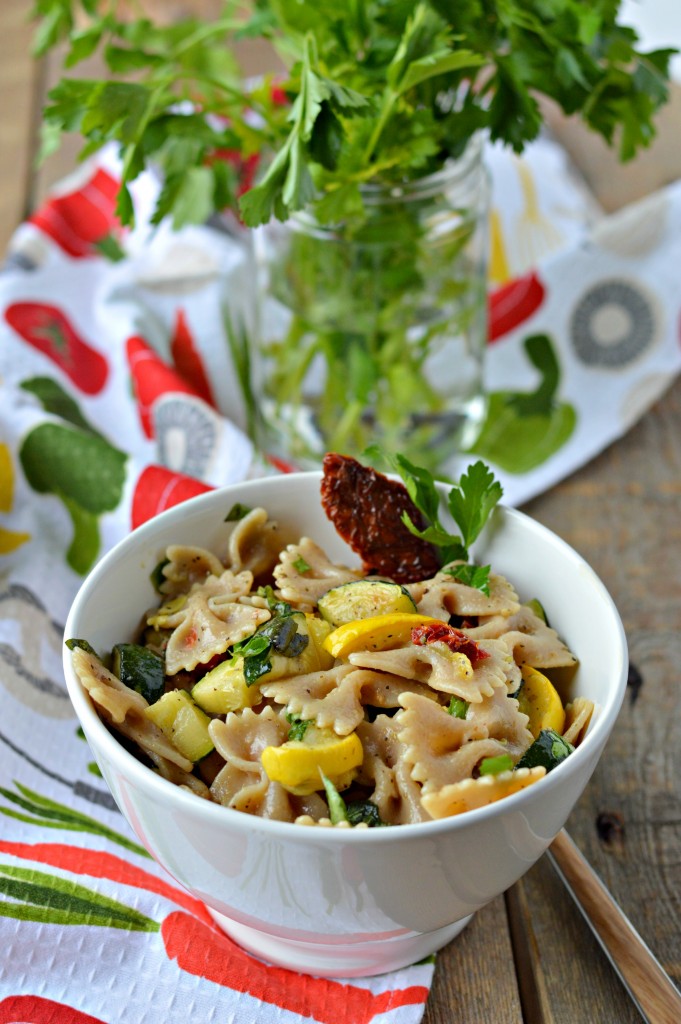 These pictures do, in fact, look like they are straight out of a Summertime meal.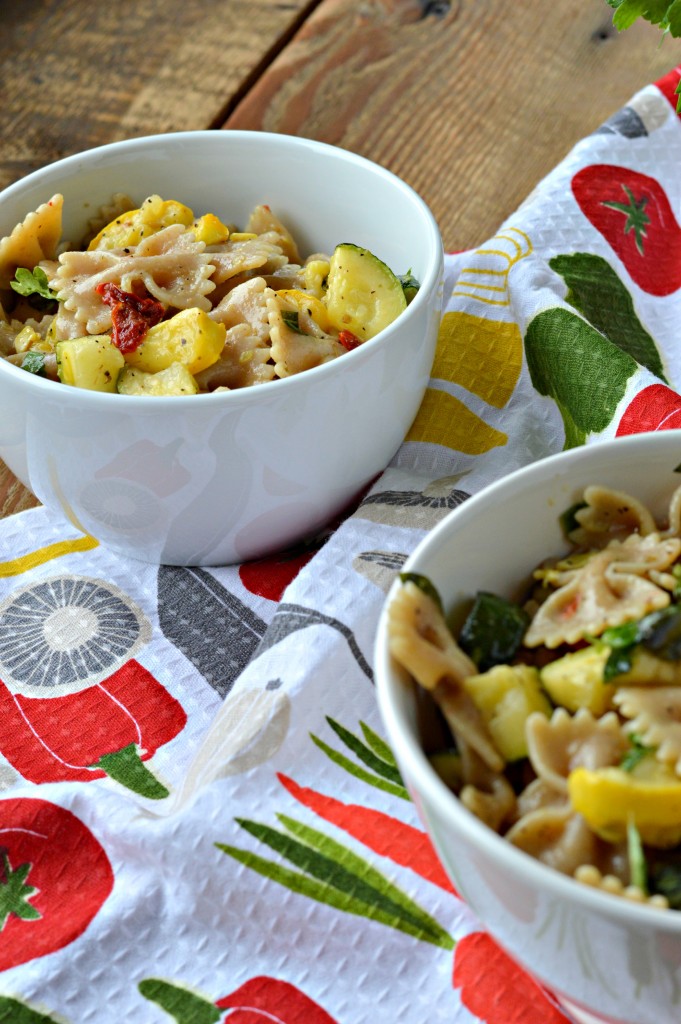 Unfortunately, this meal was cooked, photographed, and eaten this past Sunday.  During February.  In twenty degree weather.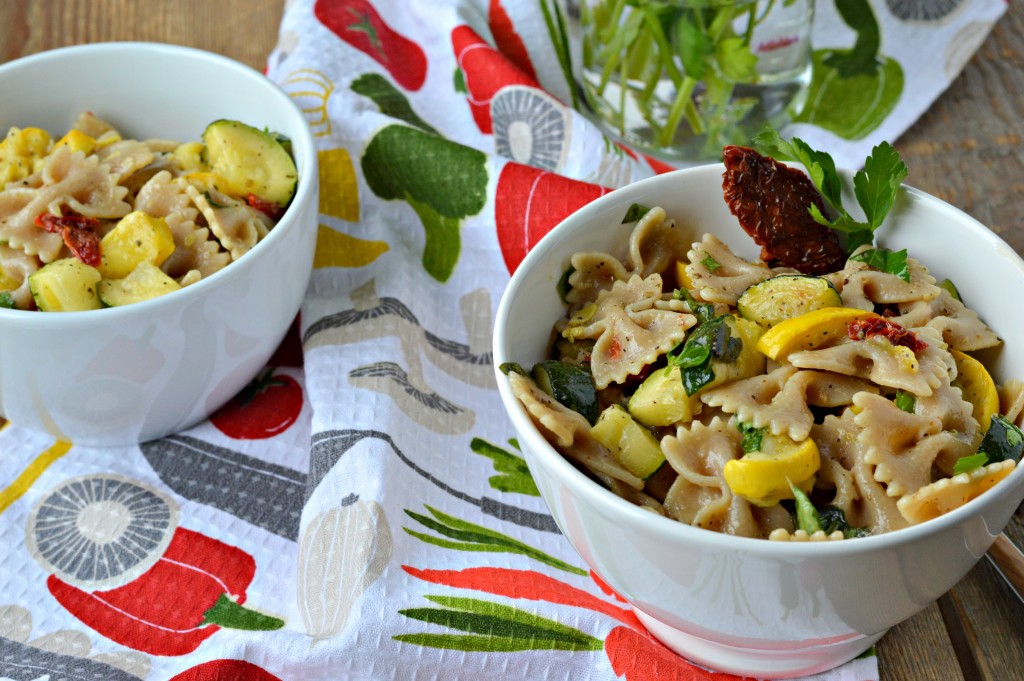 You may be wondering what lead me to choose this dish for my lunches for the week.  A large part of me wanted to pretend like it was the middle of July rather than the middle of February.  That is only a five month difference.  No biggie, right?  But the main reason I whipped up this Summery Pasta Salad was in anticipation of how I'll be spending my night in just a few short weeks.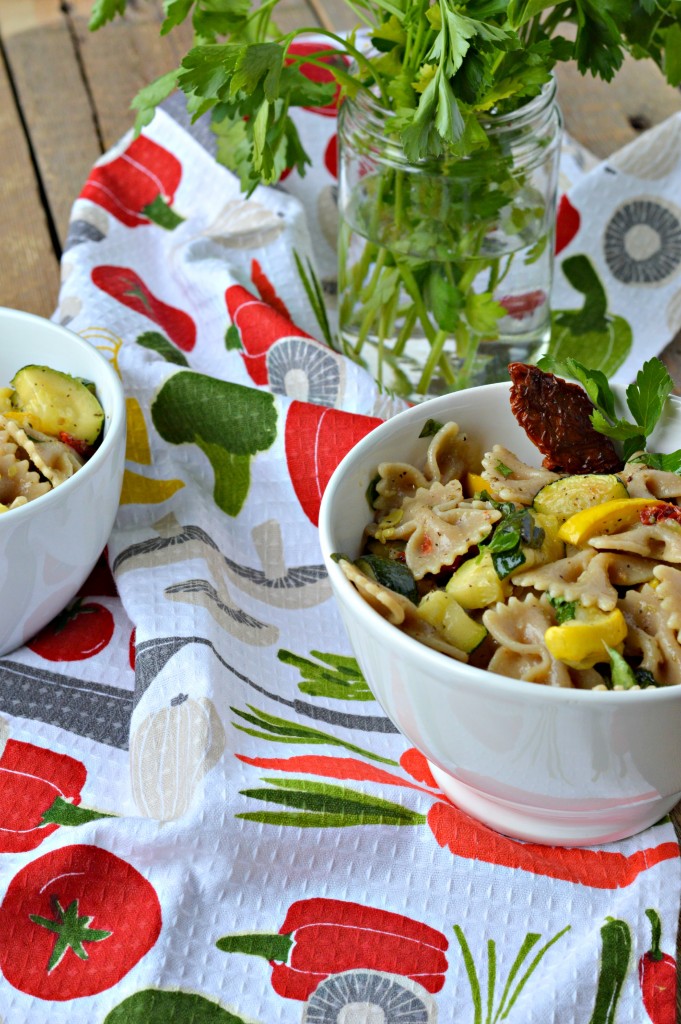 I'm so excited that I will be attending the Robert Irvine LIVE show with Joanna.  In case you aren't familiar with Robert Irvine (better known as Chef Irvine), he has been on shows like Restaurant Impossible, Next Iron Chef, Worst Cooks in America, and Dinner: Impossible.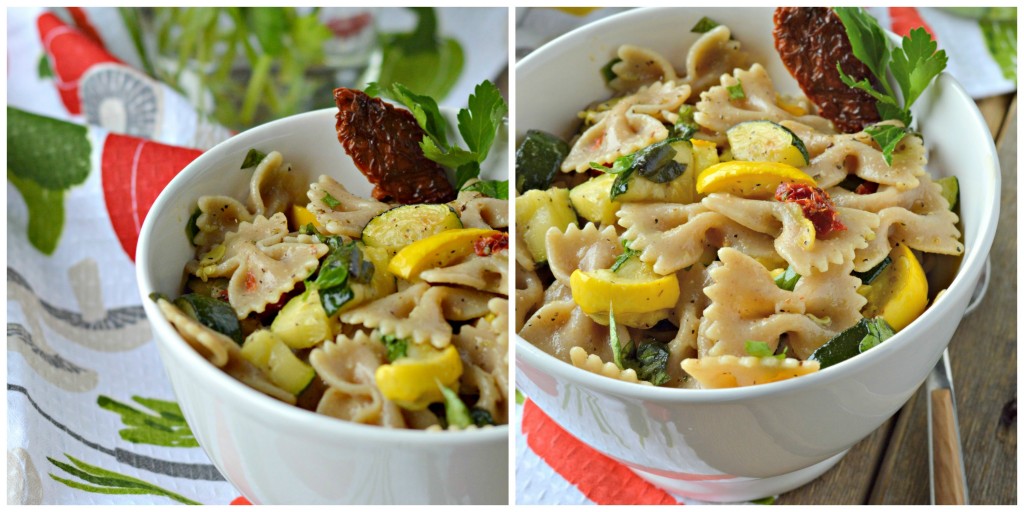 Since Chef Irvine has more than his fair share of experience in the kitchen, I was excited to try out one of his recipes for myself.  I chose this Pasta Salad because it was simple, veggie-packed, clean, and colorful.  Essentially, it sounded like the perfect lunch!
I followed Chef Irvine's recipe exactly, except I roasted my zucchini and yellow squash prior to adding it to the mix.  I'm not much of a raw squash fan, but I love it roasted!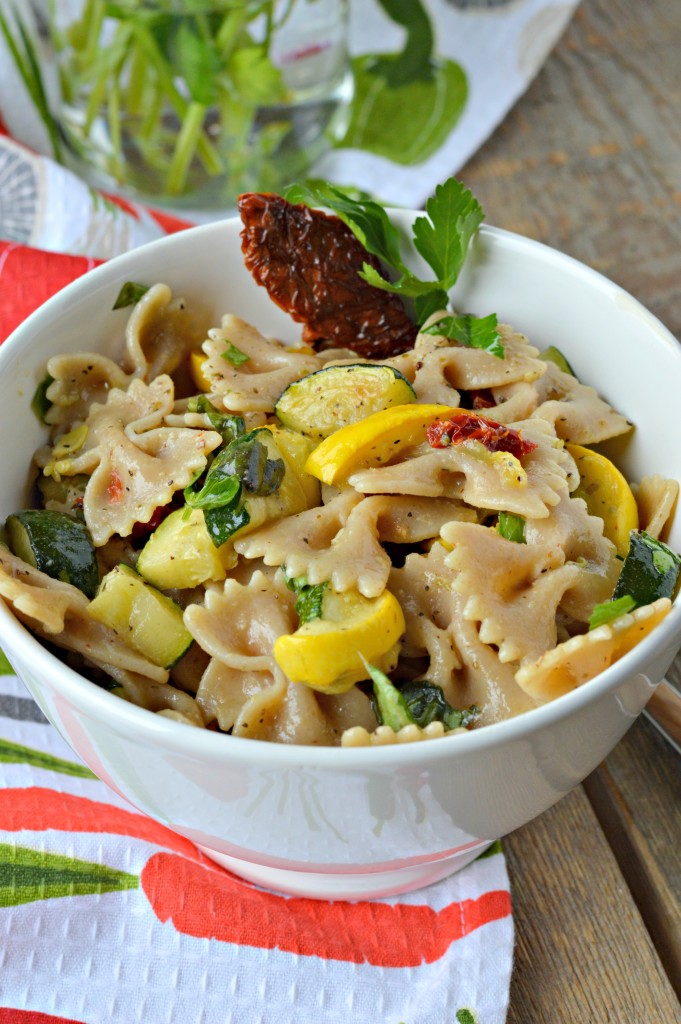 This pasta salad came together in under 30 minutes- perfect for Sunday meal prep for the week!
And while I cannot share the delicious leftovers with all of you, I am excited to be able to offer a fun giveaway to my Omaha peeps…
The Giveaway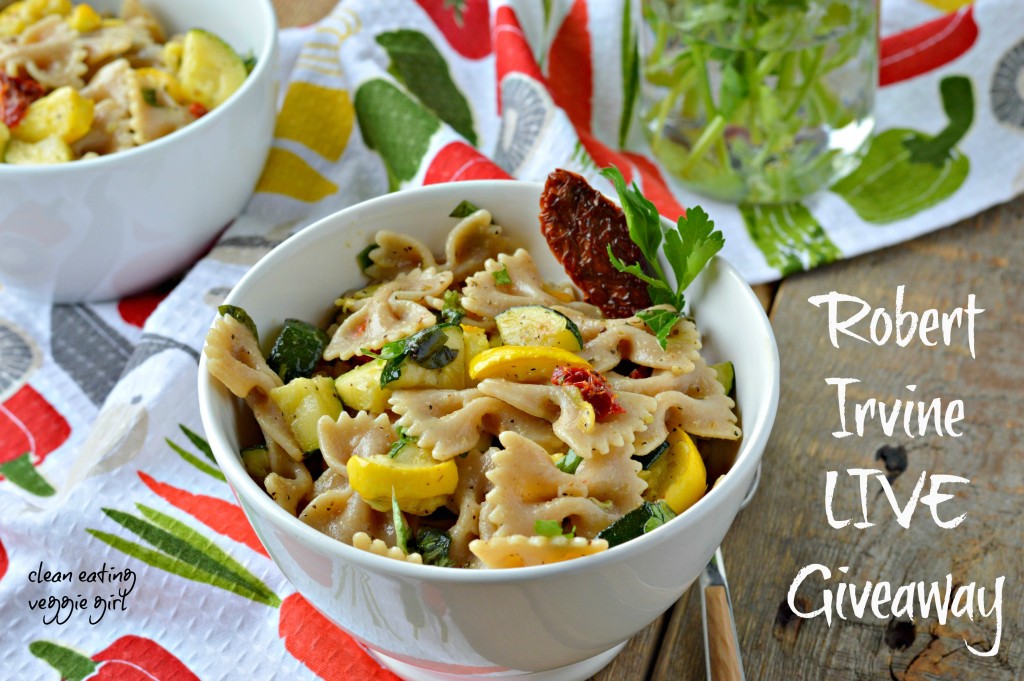 Omaha Performing Arts wants to award one lucky winner with two tickets to Robert Irvine LIVE on Friday, March 6th at the Holland Performing Arts Center.  The show begins at 8:00, and we want to see you there!  Chef Robert Irvine's website states that the experience is not  a cooking show.  "Is there cooking? Yes, but don't expect to sit back and watch Robert cook dishes for two hours. This is a theatrical event. We are taking cooking places it's never gone before, with physical challenges, culinary challenges and more. Cooking is merely the vehicle for a crazy and entertaining ride."  Chef Irvine will receive new challenges (from producers and the audience) each show, and will walk on stage knowing absolutely nothing about them.
Sounds pretty cool, right?  I know I am super excited to see what will go down that evening.  The website says that audience participation is a part of the show, so let's hope they don't make us do anything too crazy! 😉
How to enter: This giveaway is now closed.
To enter the giveaway, please leave a comment below telling me which three ingredients you would challenge Chef Irvine to make a meal with.  For additional entries, follow Omaha Performing Arts and/or me on Twitter and leave a comment stating that you followed one or both.  The giveaway is open to anyone who is able to attend the show on March 6th.  Entries will be collected until 11:59 p.m. CT on Tuesday, February 24th.  Good luck!
Should you not be the lucky winner, you can purchase tickets to the show here.