A warm and comforting stack of vegan pancakes- because pumpkin and chocolate should most definitely be eaten together for breakfast!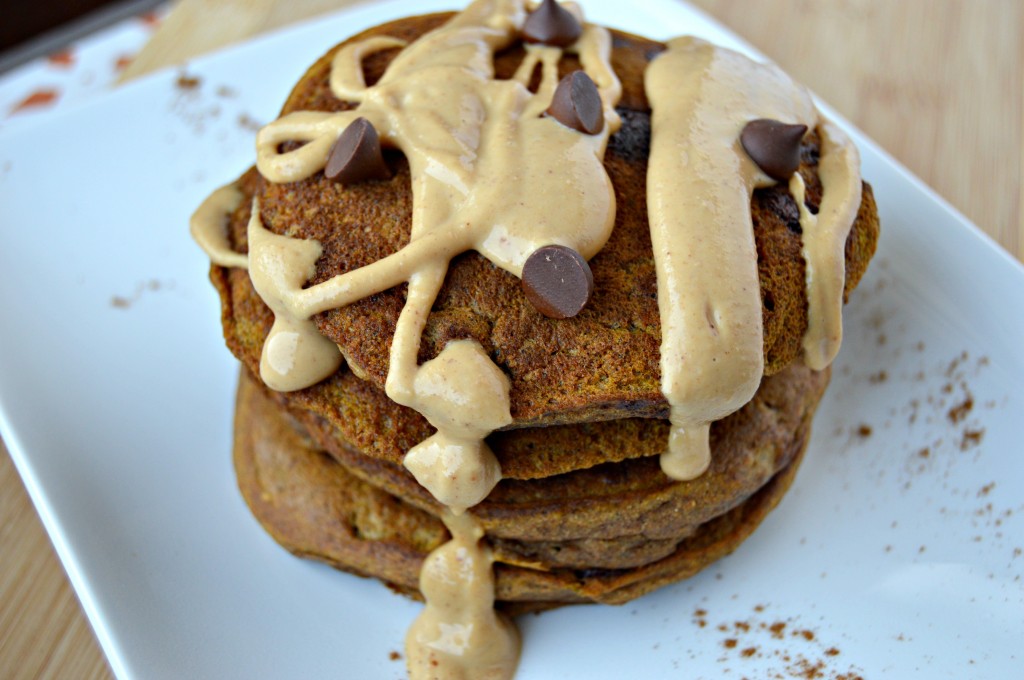 Hello Fall.  I am so glad that you are here and I hope that you stick around for awhile!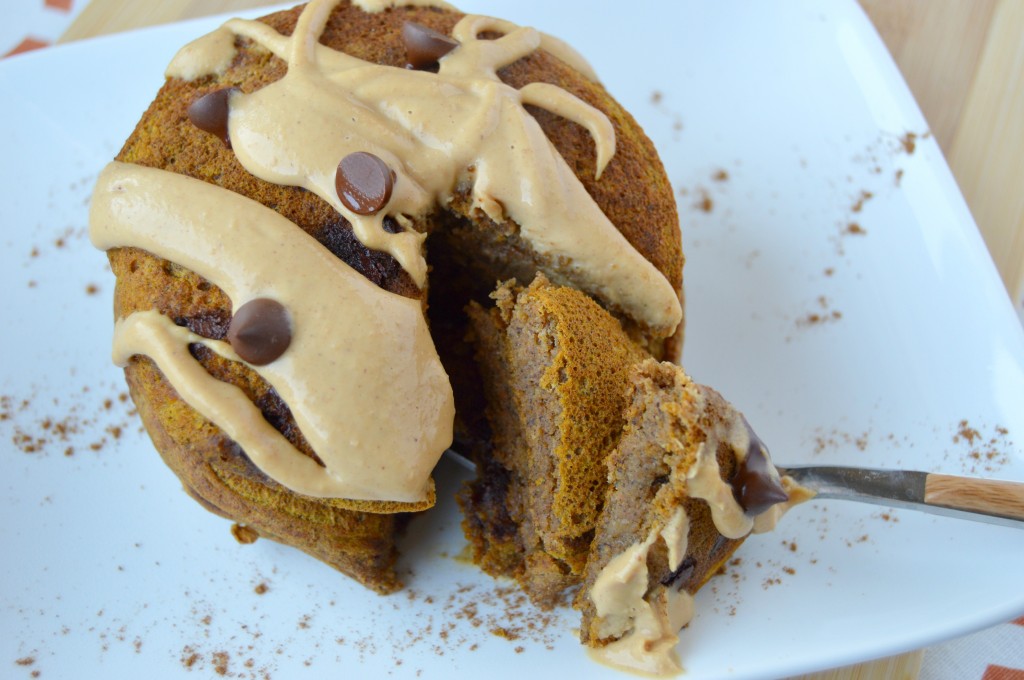 Now that Fall has officially made its appearance, you know exactly what that means on the food front.  It is pumpkin season!  And while I love pumpkin on its own, I think it is even better when it is paired with chocolate.  It is kind of like peanut butter and chocolate.  Or apples and caramel.  Or toast and avocado.  They just go together.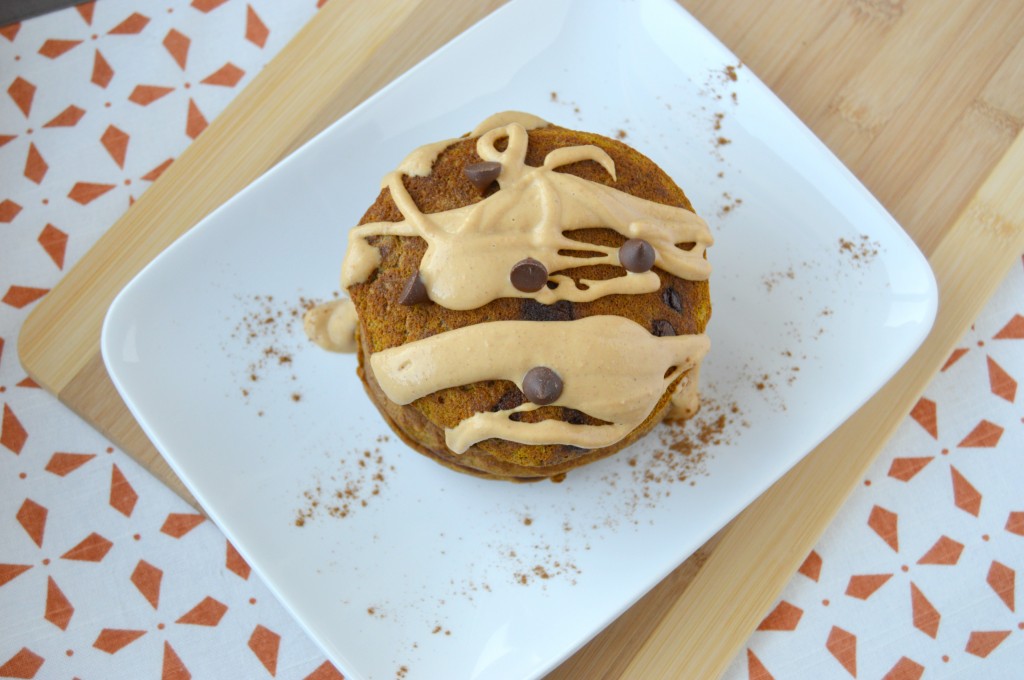 I have been eating pumpkin year round this past year.  But once I saw it hit the blogosphere like crazy, I had a sudden major craving for all things pumpkin.  I wonder how that happened?  First on my list of pumpkin creations was something for breakfast.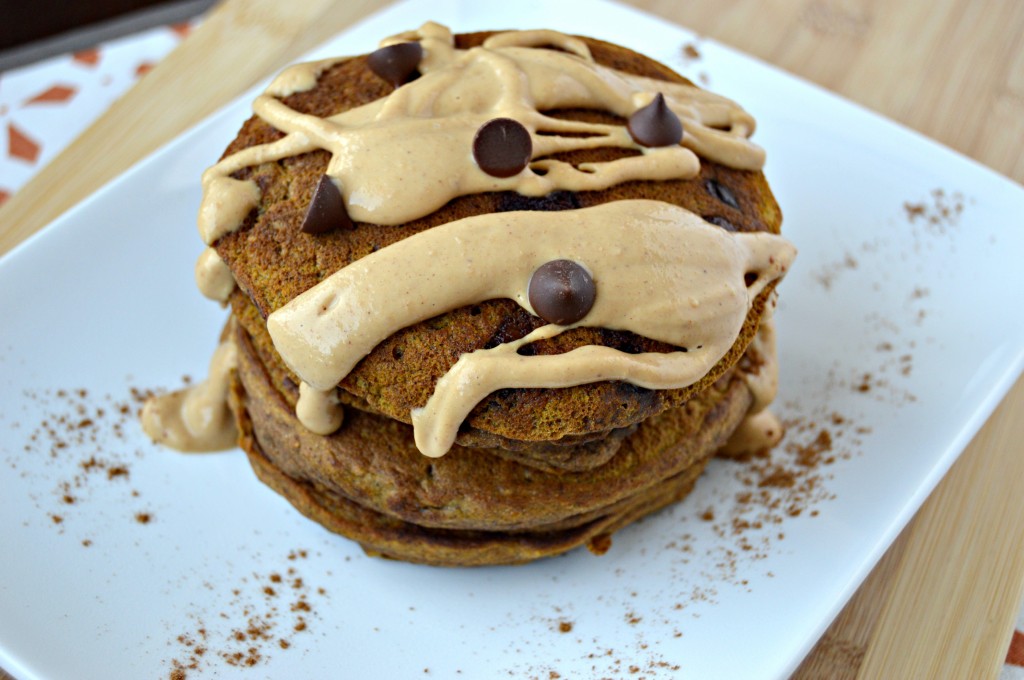 While pumpkin pancakes have been a staple breakfast (or brinner) for me over the past couple of years, I had yet to find a vegan version that I loved.  I set out to fix that and was actually pleasantly surprised when I got lucky with creating a successful recipe on my first try.  I am sure the addition of chocolate didn't hurt one bit.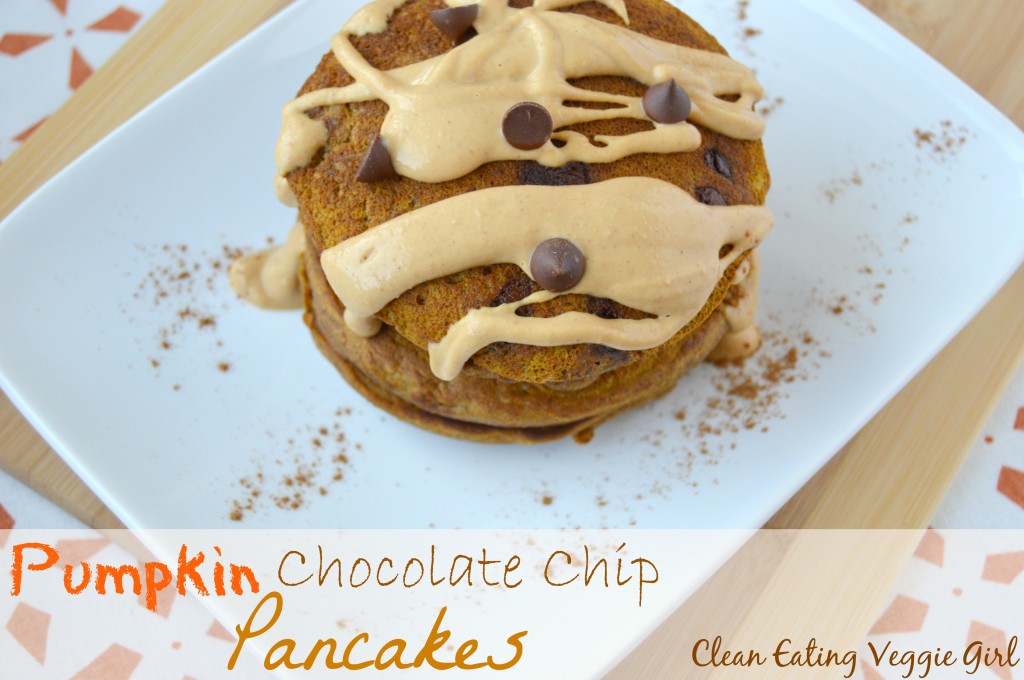 Pumpkin Chocolate Chips Pancakes
Vegan
Serves 2
Ingredients
3/4 cup whole wheat pastry flour
1/4 cup buckwheat flour (or use all whole wheat)
1/2 TB baking powder
1/2 TB baking soda
1 tsp cinnamon
1 tsp pumpkin pie spice
1 TB coconut sugar
pinch fine sea salt
1/2 very ripe banana
1/2 cup pumpkin
1 TB unsweetened or cinnamon applesauce
1 cup unsweetened vanilla almond milk
2 to 3 TB dark chocolate chips
coconut oil cooking spray
toppings (nut butter, maple syrup, extra chocolate chips, nuts, etc.)
Directions
1. In a large mixing bowl, combine flours, baking powder, baking soda, cinnamon, pumpkin pie spice, sugar, and salt.  Mix until combined.
2. In a smaller bowl, mash banana.  Add pumpkin and applesauce to the banana.  Stir until well-combined.
3. Add the banana/pumpkin/applesauce mixture to the dry ingredients.  Gently fold together.
4. Stir in almond milk until just combined.  Do not over mix.
5. Gently fold in chocolate chips.
6. Heat a large griddle over medium heat.  Spray skillet with coconut oil cooking spray if not nonstick.
7. Using a 1/4 cup measuring cup, pour batter onto griddle.  Cook for approximately 5 minutes, or until bubbles begin to form on top and the bottom is lightly golden brown.
8. Carefully flip each pancake and cook an additional 3 to 5 minutes, or until the second side is lightly golden brown.
9. Build pancakes into a giant stack… because who can eat just one?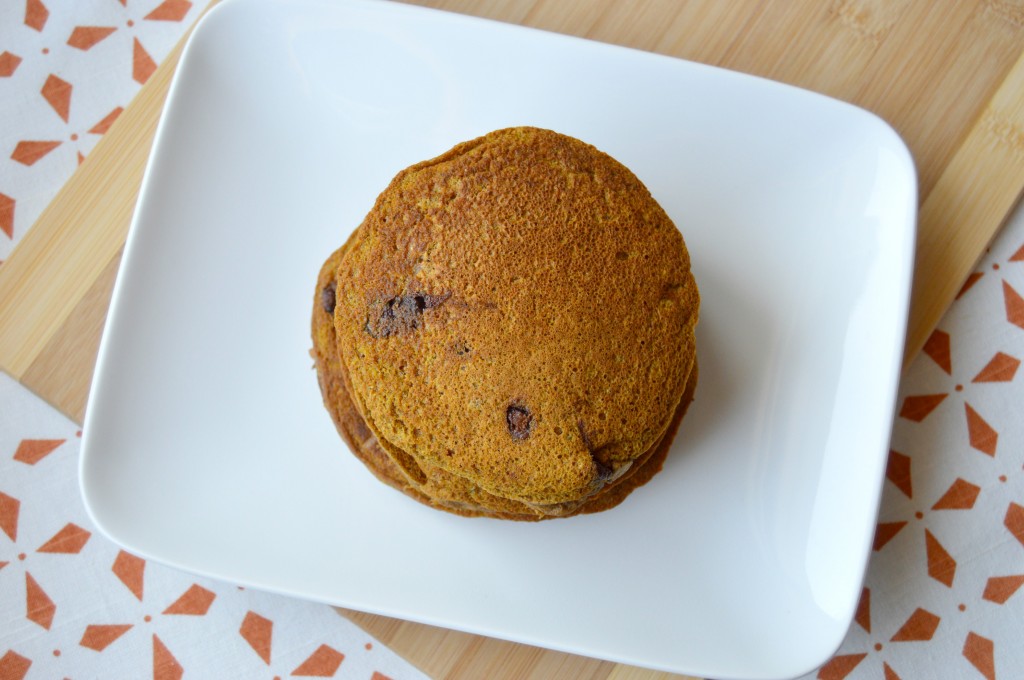 Of course you can eat your stack of pancakes like this.  But what fun would that be?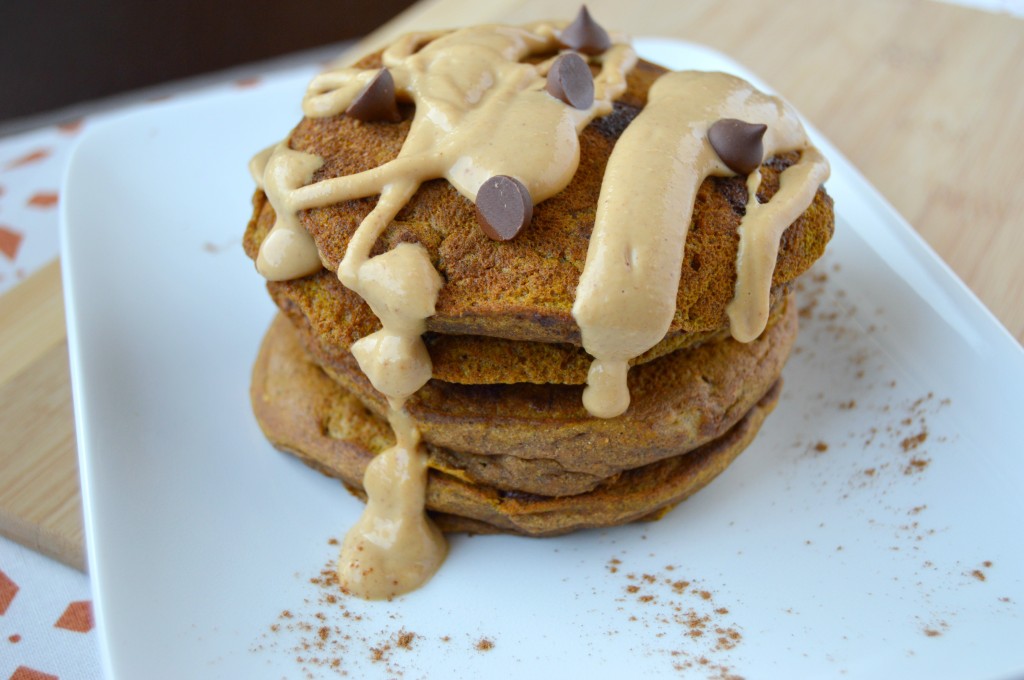 I highly recommend using nut butter (peanut butter for me), maple syrup, and/or extra chocolate chips for topping.  All three together sounds like a killer combination.  I am quite certain that some candied pecans or honey roasted vanilla almonds would be amazing additions too!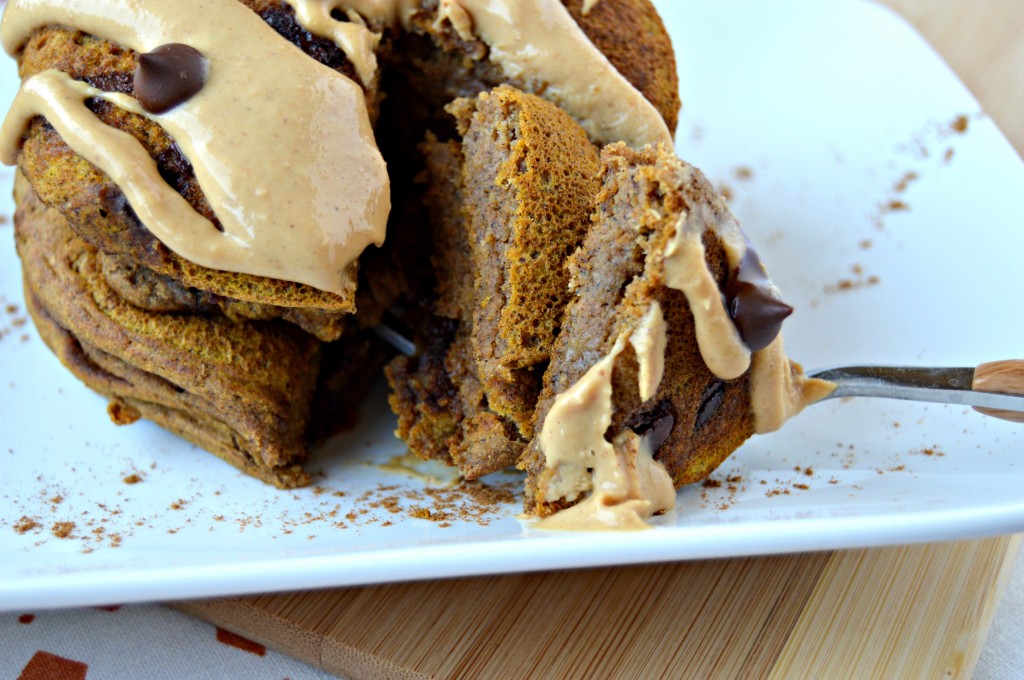 That's a big 'ole bite of pancakes.  And trust me… there is nothing better on a brisk Fall weekend morning.  Well, except maybe the addition of a fireplace, blanket, cup of coffee/cider/hot cocoa, and a good book.  That is not too much to ask, is it?
I am off to Iowa today to celebrate two of my best friends' wedding day this weekend.  I'll be back 'atcha on Monday or Tuesday.  Have a great weekend!
What is your favorite pumpkiny (yes, I made that up) recipe you have made this Fall?
Are you a fan of pumpkin and chocolate for breakfast?  Pin this recipe and share it on Facebook and Twitter using the buttons below!