This post featuring my Honey Vanilla Oatmeal Breakfast Bake is sponsored by Blue Diamond Almonds through their Tastemakers program.  I received free product and was compensated for my time but, as always, all thoughts and opinions are my own.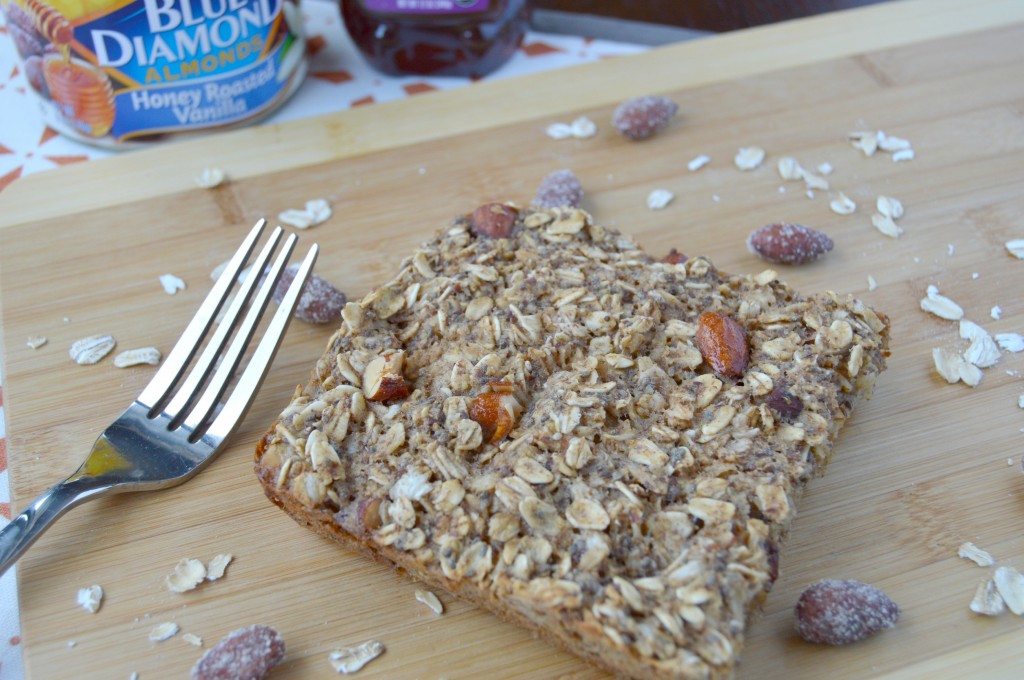 I was on a major cereal kick for the months of June and July.  I blame the hot Summer weather for that one and the fact that cereal is super easy when you are a busy working bee (no pun intended with the honey theme of this post!).  And while I am still loving on cereal, my taste buds have been itching for something a bit more substantial…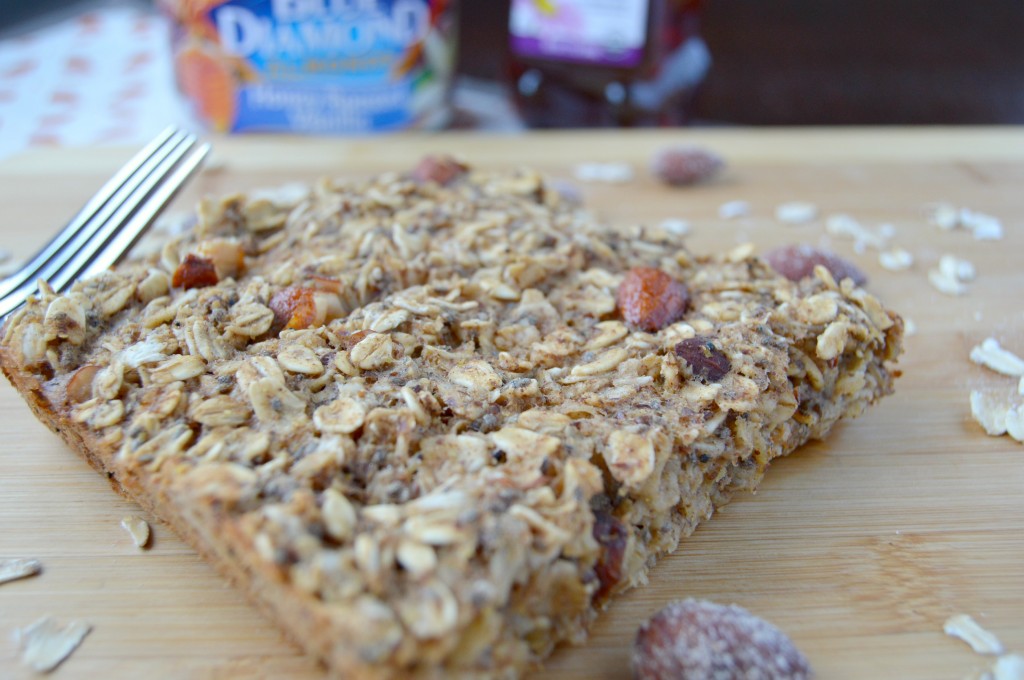 …something a bit warmer…
…something sweet…
…something baked…
…something satisfying.
Trust me when I say that there is nothing that fits those descriptions better than an oatmeal breakfast bake.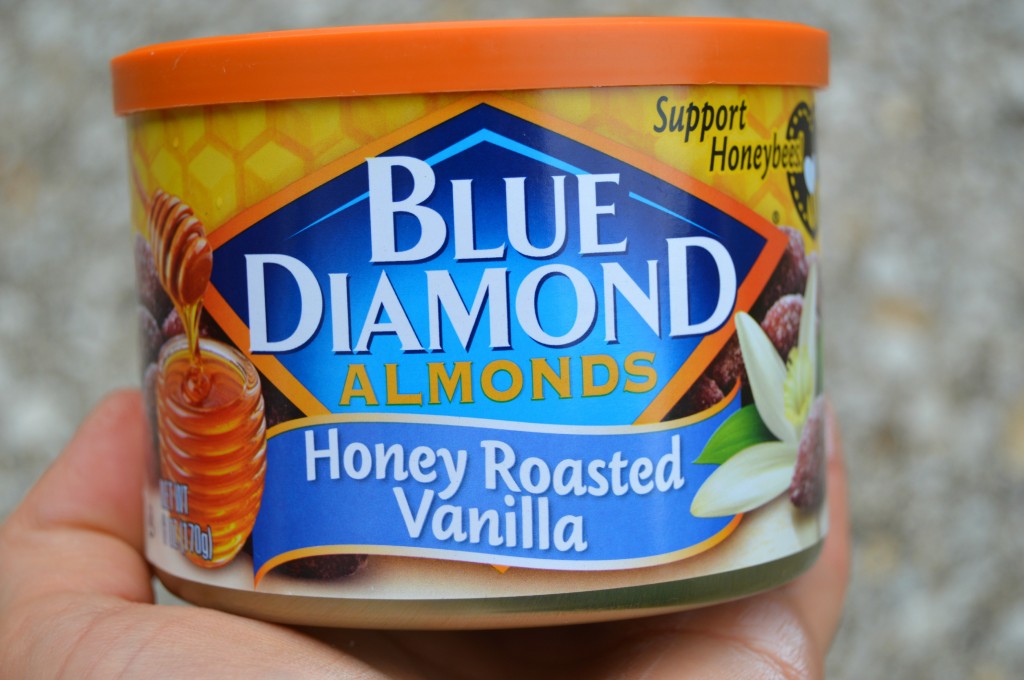 I have tried and loved numerous breakfast bakes over the past year or so- most involving pumpkin, chocolate, and/or peanut butter.  But when I got my hands on a can of Blue Diamond Honey Roasted Vanilla almonds, I knew that a honey and vanilla breakfast bake was just what I was craving.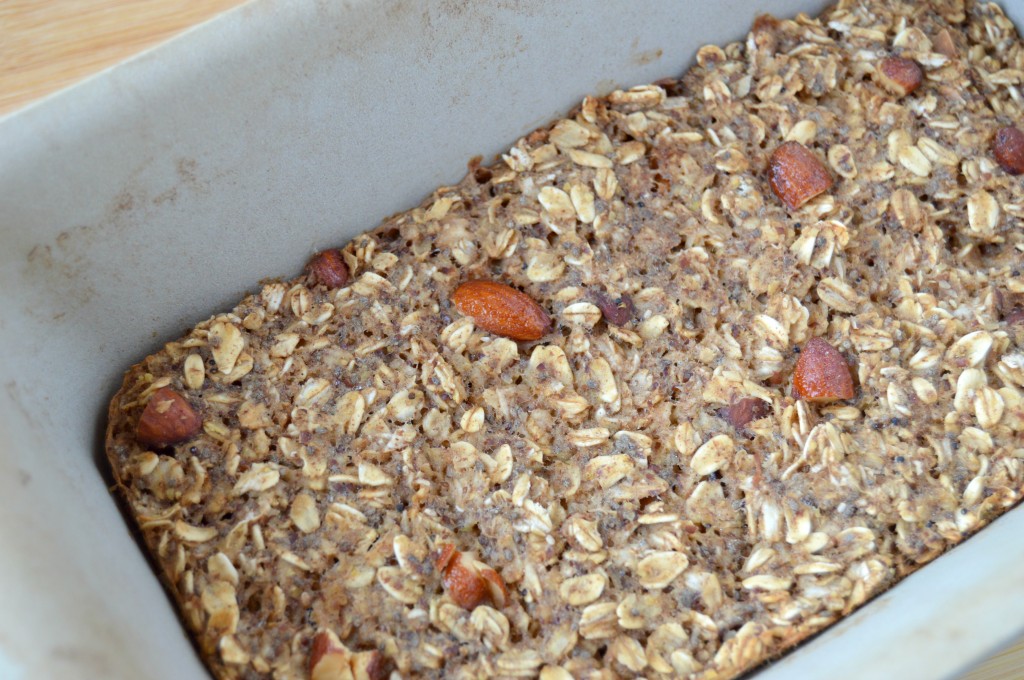 This oatmeal breakfast bake is sweet (but not too sweet) from the honey, vanilla, and apple sauce.  It is also warm and hearty from the oats and almonds.  And let's not forget about the fact that it contains heart healthy fats and omega 3's from the flax seeds, chia seeds, and almonds.  Basically, this is a winner of a breakfast.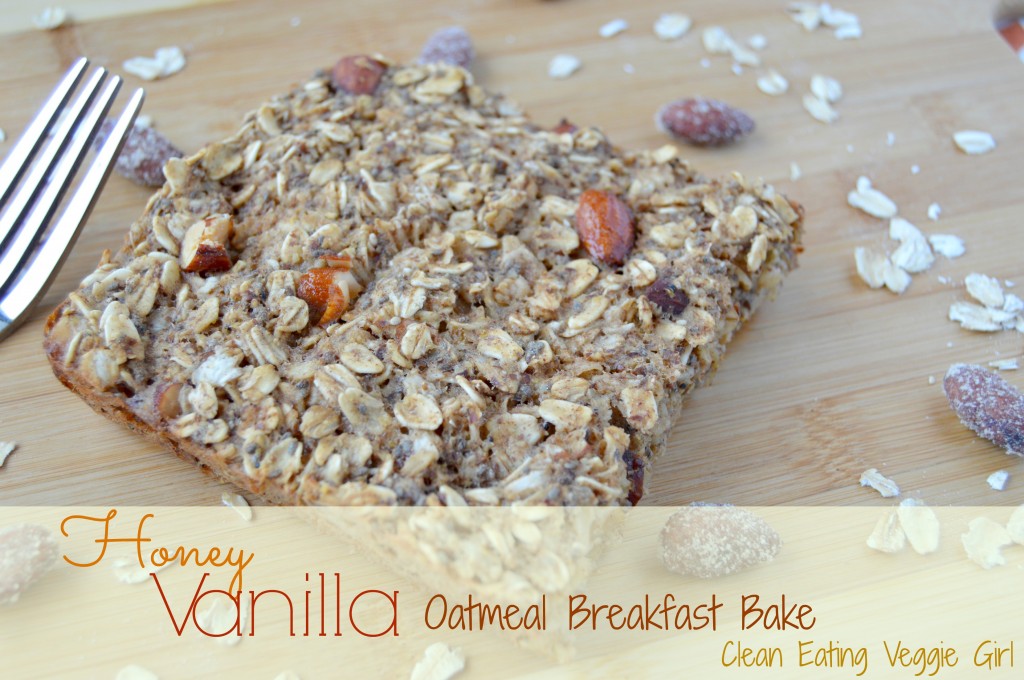 Honey Vanilla Oatmeal Breakfast Bake
Servings: 2
Ingredients
1 flax egg (1 TB ground flax seed + 2-3 TB water, mixed and refrigerated for 30 minutes)
1 cup rolled oats
1 tsp baking powder
1 TB chia seeds
1 tsp cinnamon
2 TB honey
1 tsp pure vanilla extract
1/4 cup applesauce (cinnamon or natural)
1/2 cup unsweetened vanilla almond milk
1/4 cup chopped Blue Diamond Honey Roasted Vanilla Almonds
honey and/or nut butter for topping, optional
Directions
1. Preheat oven to 350 degrees F.  Spray or grease a loaf pan and set aside.
2. In a large bowl combine oats, baking powder, chia seeds, and cinnamon.  Mix well.
3. Stir in prepared flax egg, honey, vanilla extract, applesauce, and almond milk.
4. Once the mixture is well-combined, gently stir in chopped almonds.
5. Pour the batter into the loaf pan and bake uncovered for appoximately 25 to 30 minutes, or until golden brown.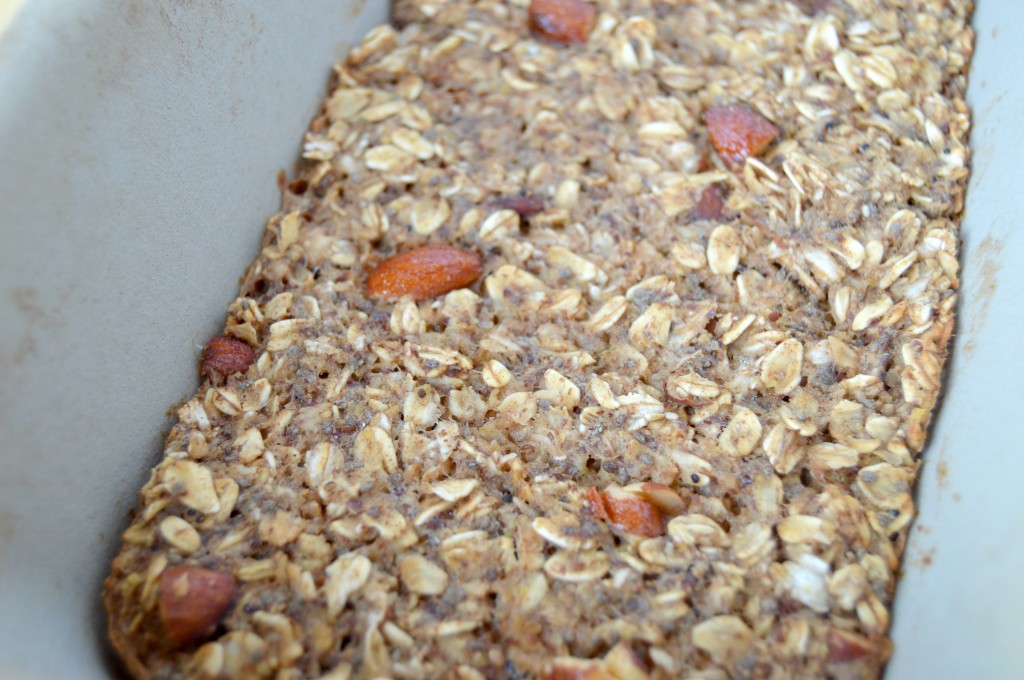 I prepared my breakfast bake on a Sunday, let it cool, and then cut it into two servings for a couple of my breakfasts for the week.  A little preparation goes a long way and can prevent you from reaching for an unhealthy breakfast in the morning.  You know what they say… starting off with a healthy breakfast can set the tone for a great day!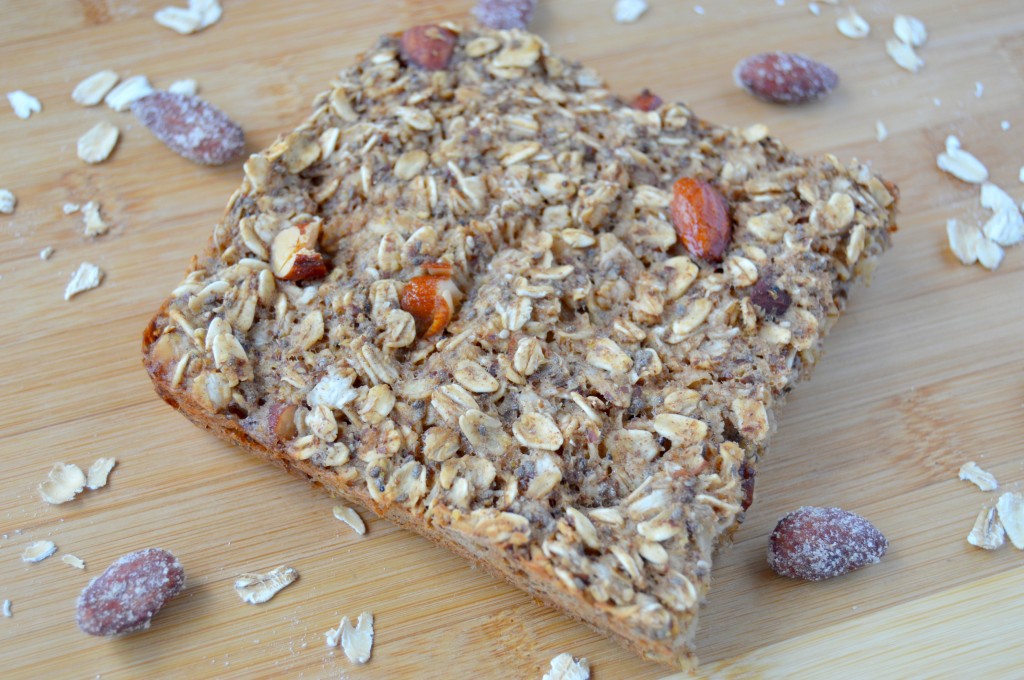 Please do not feel limited by the title and think that you can only eat this for breakfast.  These certainly make a delicious snack bar and would be a great protein-packed pick-me-up during an afternoon slump.  Think of these like a warm granola bar fresh out of the oven… yum!
Oh, and please ensure that you top your bake with some sweet goodness.  I highly recommend additional honey, vanilla almond butter, or honey peanut butter…or, all three!  You will thank me later for those suggestions.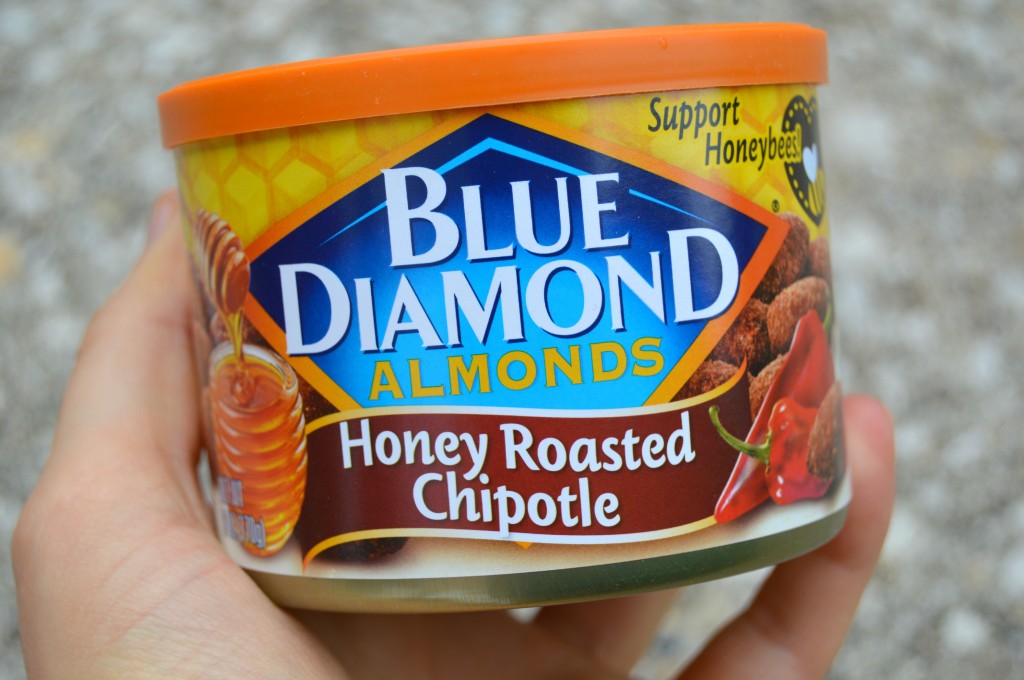 Blue Diamond also sent me their new Honey Roasted Chipotle flavor.  As soon as I opened the box I knew that I would love, love, LOVE this flavor.  I also knew Jeremy would, too!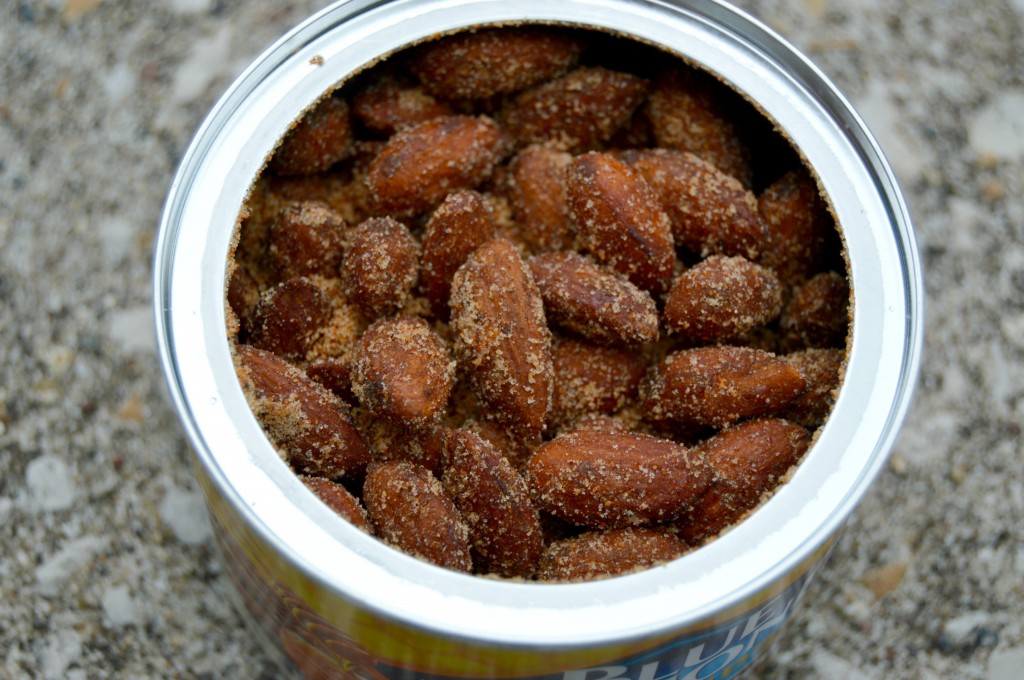 I was right!  We ate them straight out of the can.  They were dad approved too!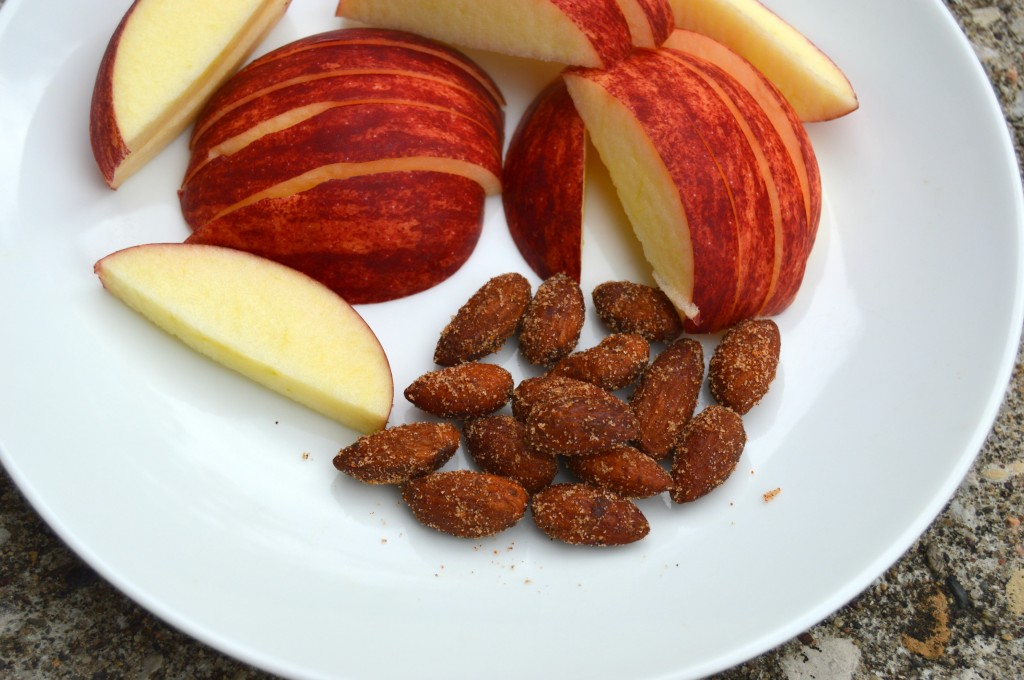 I also tried them alongside an apple for a sweet and spicy combo.  This was really good.  I am now also thinking that eating them with dark chocolate would be fantastic.  That sweet and spicy combination is one of my favorites.  I see a new trail mix in my future…
What is the most creative way that you have cooked or baked with almonds?