#spon: I'm required to disclose a relationship between my blog and Annie's Homegrown. This could include Annie's providing me w/ content, product, access or other forms of payment.
A pumpkin, corn, and pea veggified macaroni and cheese that takes comfort food to a whole new (much healthier) level.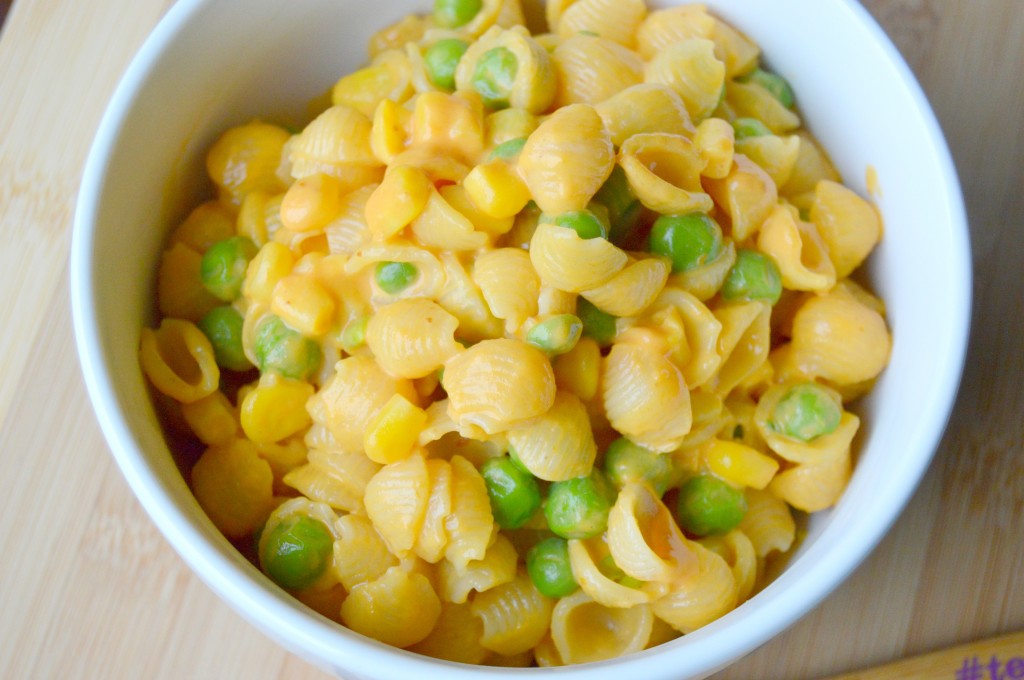 I love macaroni and cheese just as much as the next person.
While I follow a mostly plant-based diet, I make exceptions from time to time- normally when a craving for eggs or cheese hits.  I don't know what it is about macaroni and cheese, but for me it is the epitome of homey, comforting food.  Unfortunately, the foods that make me feel like a kid again are often not the healthiest options (macaroni and cheese, pb & js, grilled cheese, etc.).  Lucky for me, I am totally on board with eating these foods in moderation and have found some great healthy alternatives.  So when a craving hits… I run with it!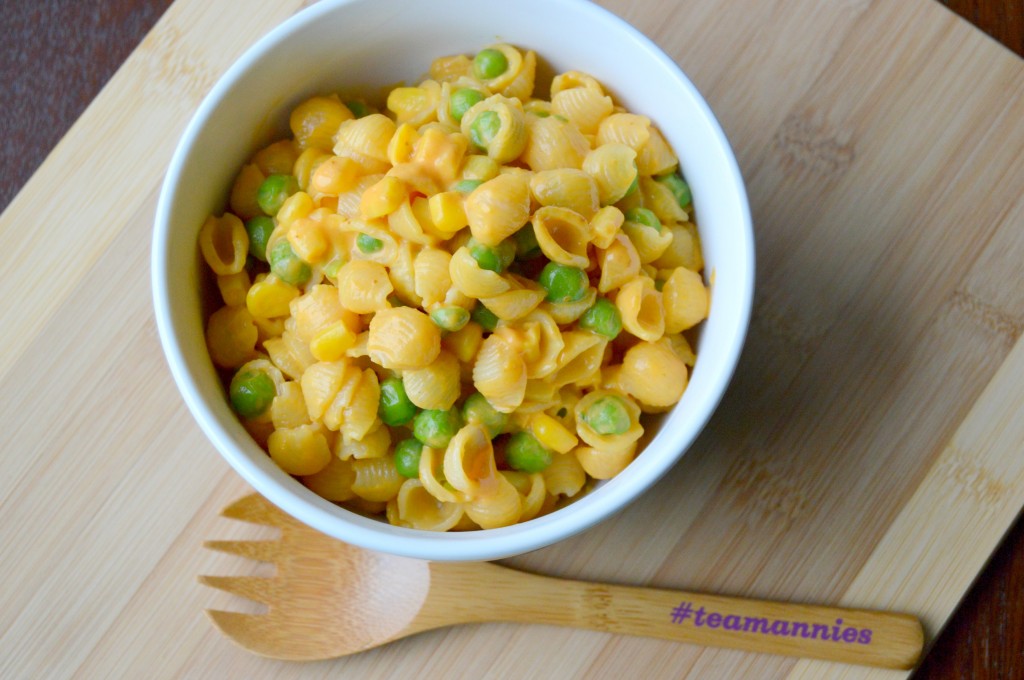 I have tried making vegan macaroni and cheese at home in the past, but have yet to find a recipe that I really love (link them in the comments if you have a good one!).  As a result, I generally tend to go for the real deal.  And by "real deal," I mean boxed mac and cheese.  It turns out that I generally lack much motivation on the days when my comfort food cravings hit… so boxed mac and cheese it is!
Not just any boxed mac and cheese, though.  I like to stick with Annie's Homegrown brand.  I have eaten other delicious brands in the past, but now that I am a health-conscious adult, I want a boxed mac and cheese that contains real ingredients.  I love that Annie's macaroni and cheese does not contain artificial ingredients (I can pronounce everything in there), colors, or preservatives.  I also love that their ingredients are non-GMO and many are organic.  Oh, and quite possibly most importantly, their cheese is REAL cheese.  If I am going to eat cheese out of a box then I definitely want it to be cheese.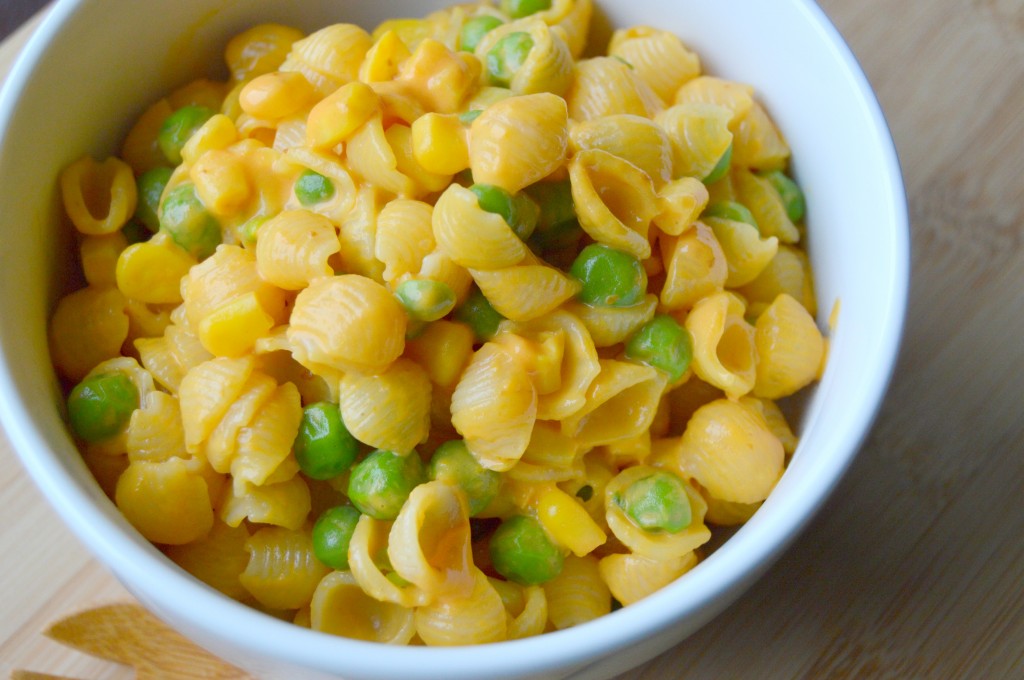 Now you know I could not just eat mac and cheese by itself though, right?  I do not call myself the Clean Eating Veggie Girl for nothing!
I used Annie's boxed mac and cheese as a base and then put my own veggified spin on it.  The more veggies the better, if you ask me.  I imagine this recipe would also be great for the not-so-big fans of veggies, too.  Those darn pesky eaters! <– That totally used to be me 😉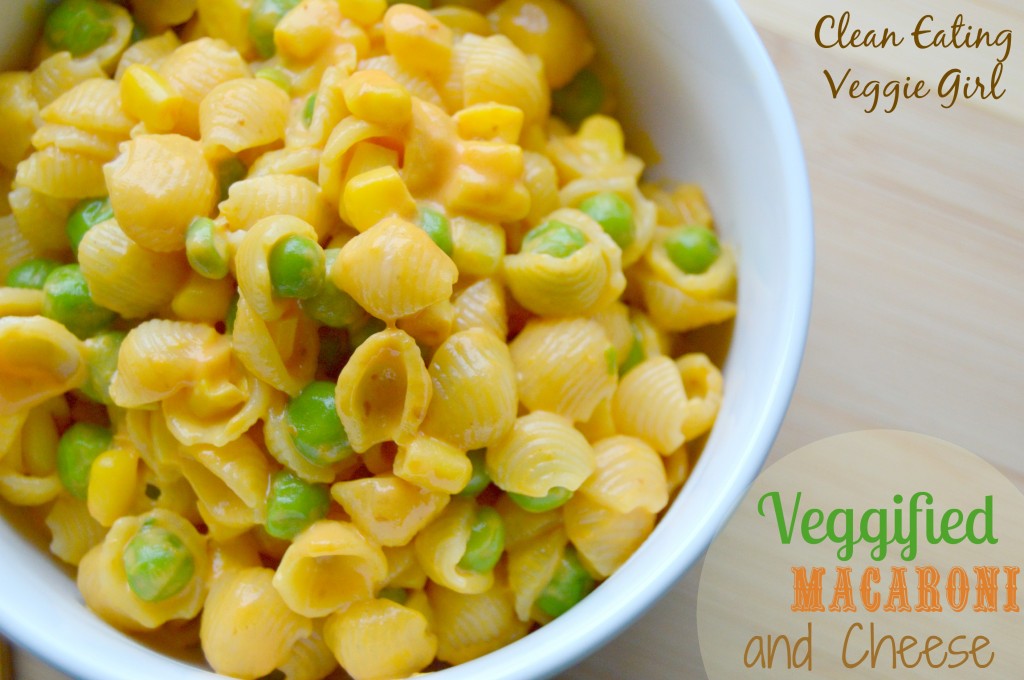 Veggified Macaroni and Cheese with Pumpkin, Corn, and Peas
Serves 2
Ingredients
6 cups water
1 box Annie's Homegrown Shells & Real Aged Cheddar Macaroni and Cheese
3 TB milk (I used unsweetened plain almond milk)
2 TB canned pumpkin
1 tsp Annie's Organic Yellow Mustard
2/3 cup cooked frozen peas
1/2 cup cooked frozen corn
Directions
1. Boil 6 cups of water in a medium saucepan.  Once boiling, stir in macaroni pasta.
2. Boil the pasta for approximately 8 to 10 minutes, stirring occasionally.
3. Once the macaroni is cooked to your liking, drain in a collander.  Set aside.
4. Add milk, pumpkin, mustard, and cheese powder into the empty saucepan.  Whisk together over medium-low heat until clump-free.
5. Stir in drained pasta, peas, and corn until well-combined.
6. Serve warm.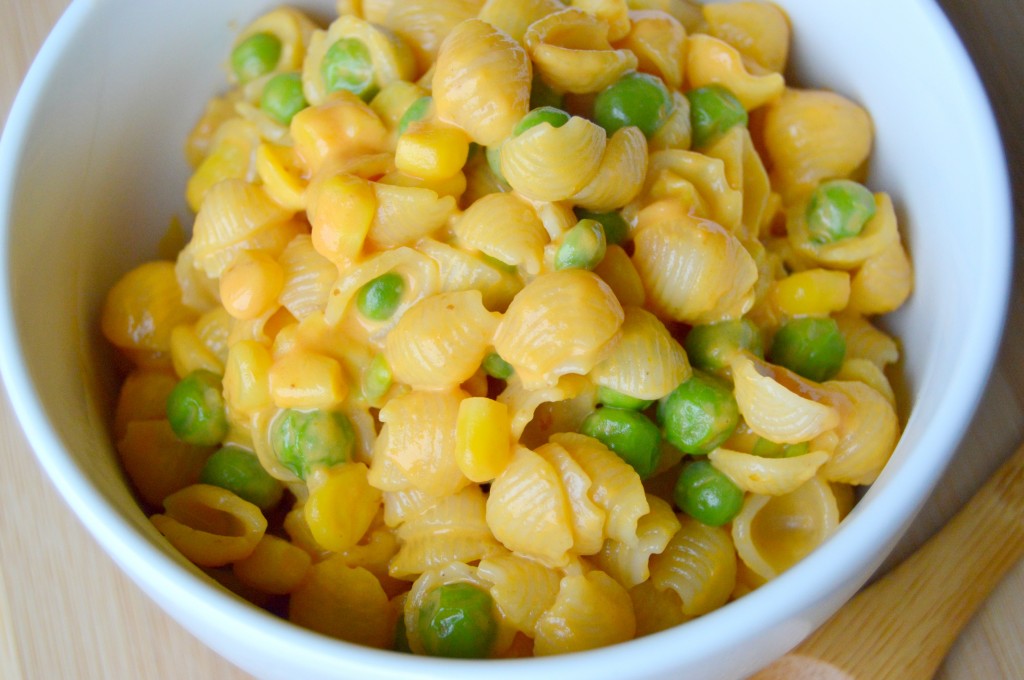 Oh, to feel like a kid again!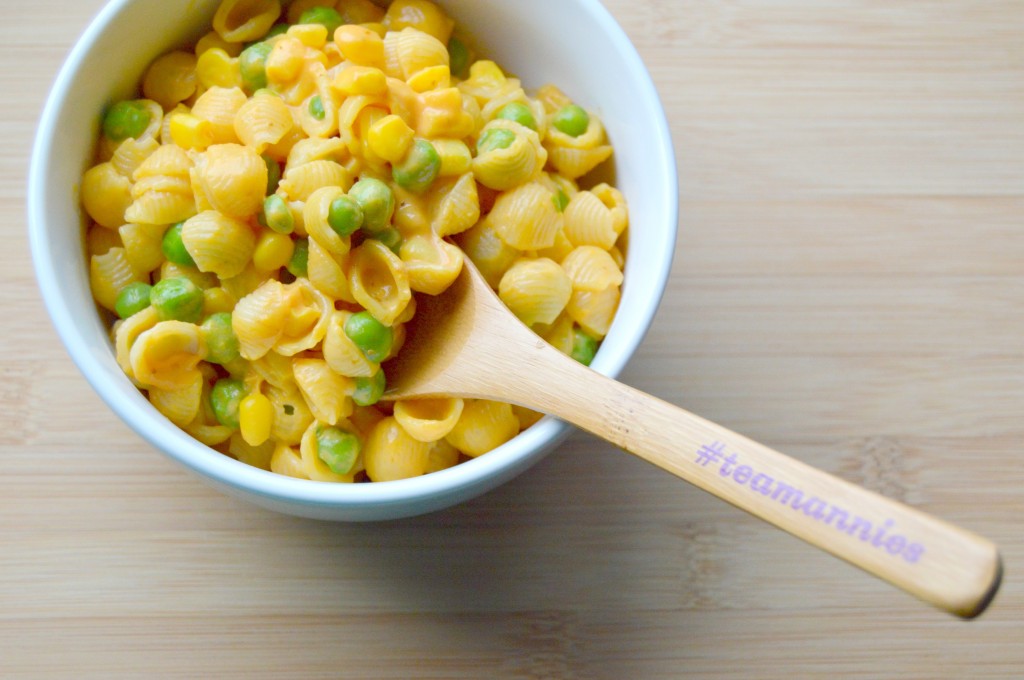 This bowl, however, was much healthier than the macaroni and cheese I ate fifteen years ago.  I guess that makes me a healthy big kid!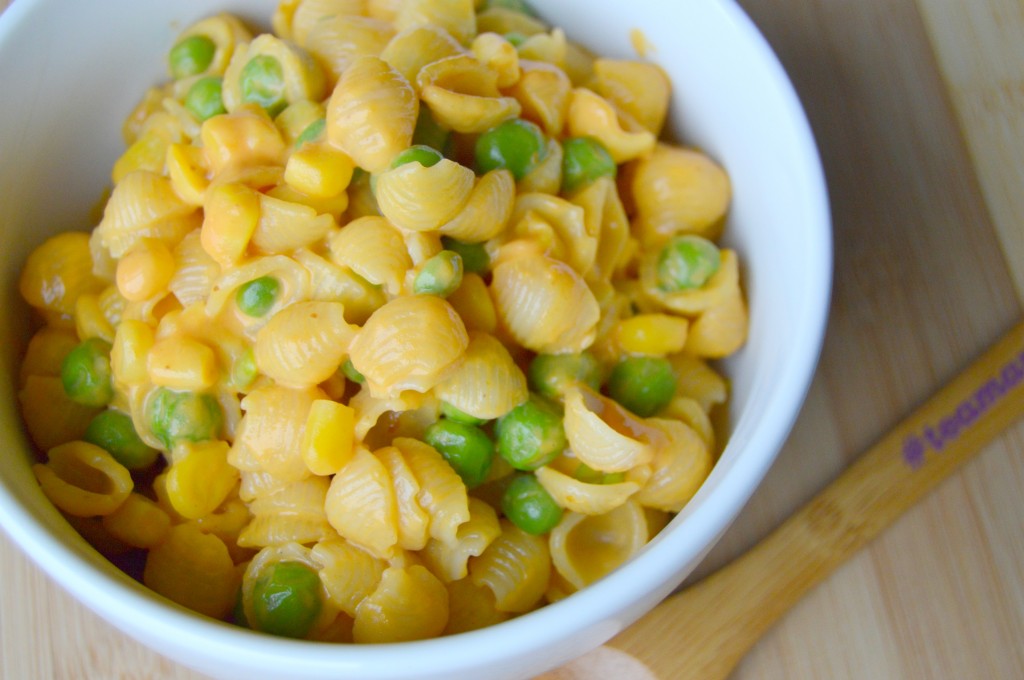 Have you tried adding veggies to your macaroni and cheese?  What is your favorite addition?
If you like what you see with this one, please pin it on Pinterest and share it on Facebook and Twitter with the buttons below!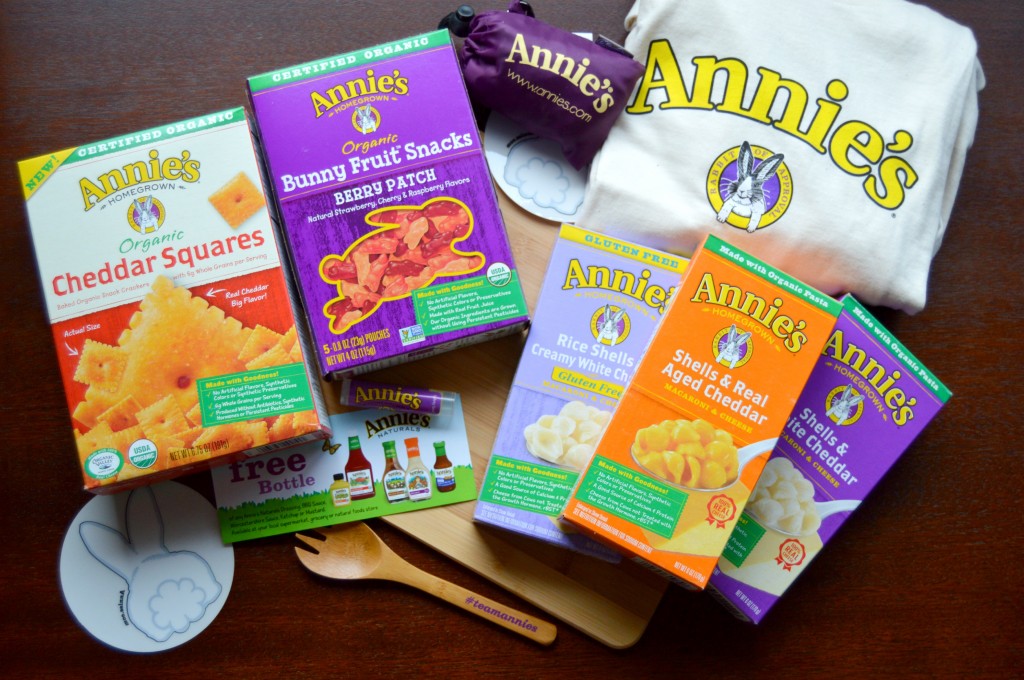 This Giveaway is Now Closed
Now as if a big 'ole bowl of macaroni and cheese wasn't good enough, Annie's wants to share the cheesy goodness with one of you!  Annie's sent me everything above and one lucky winner will receive this fun giveaway package, too!  The giveaway items include:
Three boxes of Annie's Homegrown Macaroni and Cheese
Annie's Homegrown Organic Cheddar Squares
Annie's Homegrown Organic Bunny Fruit Snacks (my co-workers and I loved these!)
One coupon for a free Annie's Naturals condiment
Annie's t-shirt
Annie's chino bag
Annie's spork
To enter, please leave a comment answering the following question:
"Have you ever tried an Annie's product? What did you think?"
The giveaway will be open until 11:59 p.m. CT on Friday, September 19th.  Good luck!
Do you love Annie's Homegrown products?  Join Team Annie's here! #TeamAnnies