A delicious vegetable cornbread utilizing Summer and Fall produce.  It is the perfect dinner side dish.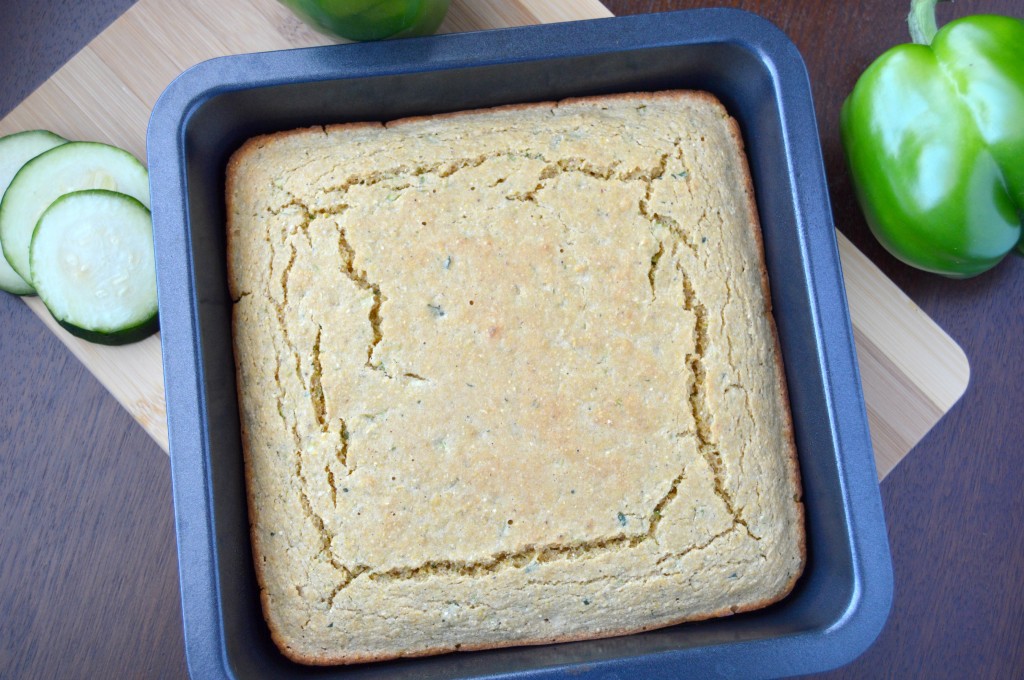 I know the title says "Summer," but hear me out.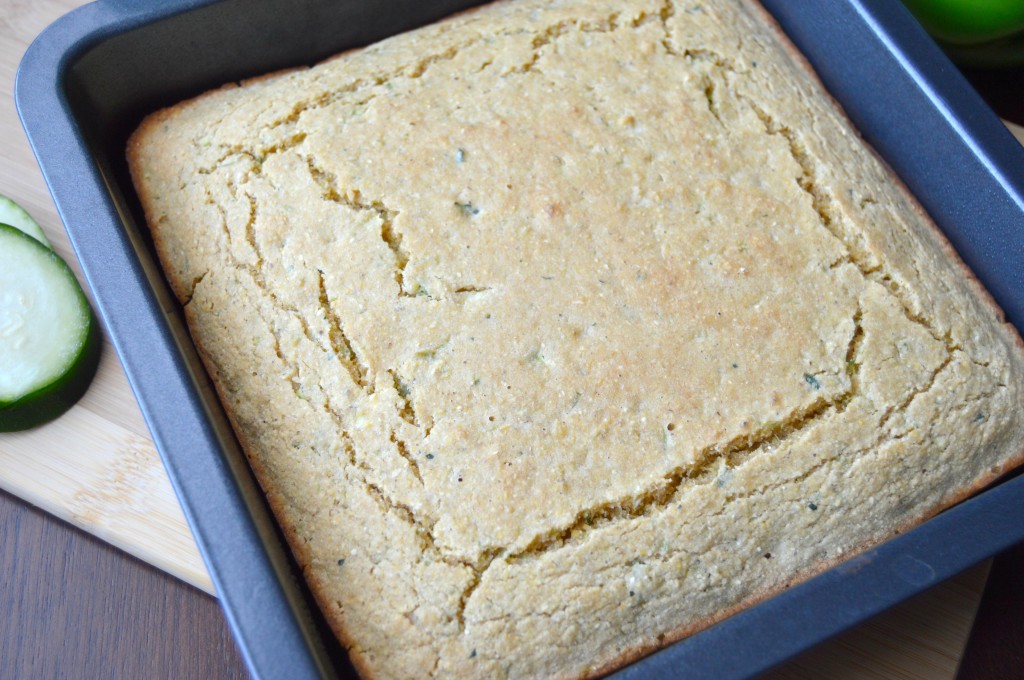 This cornbread recipe utilizes fresh produce from your Summer garden, but it also happens to be produce that is available year round.  Anything "Summery" just sounds extra appealing to me.  Plus, we still officially have a good week left of Summer, right? 😉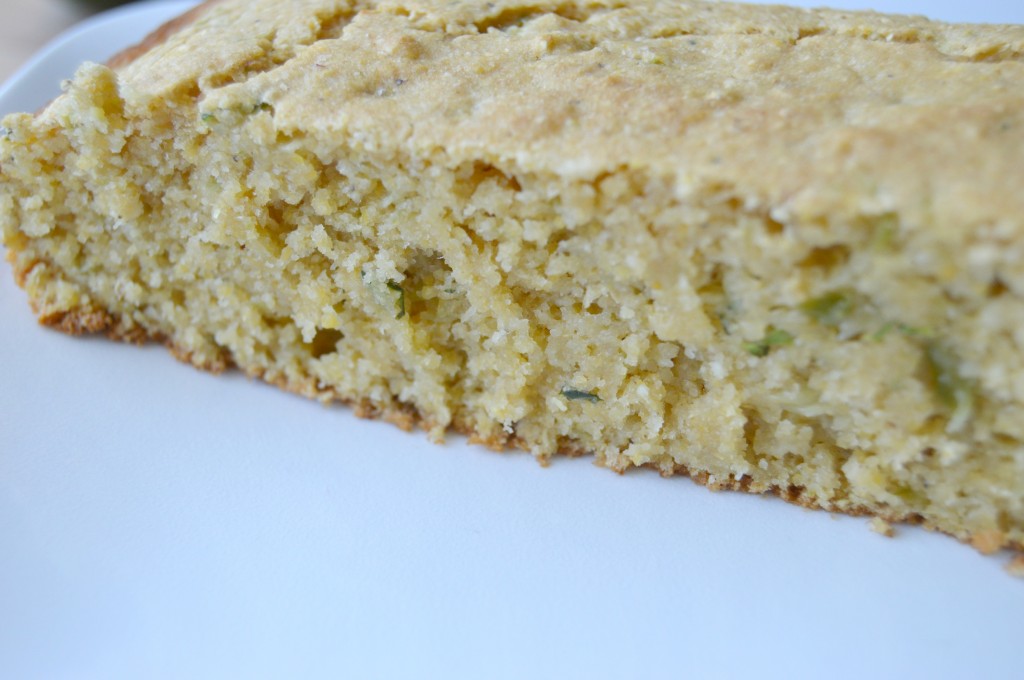 I am a major cornbread lover, especially when paired alongside chili and my favorite soups.  The only problem, though, is that it is actually quite difficult to find a good boxed or homemade cornbread recipe that is both vegetarian and vegan.  Many boxed recipes contain animal lard, while homemade recipes almost always call for milk and/or honey.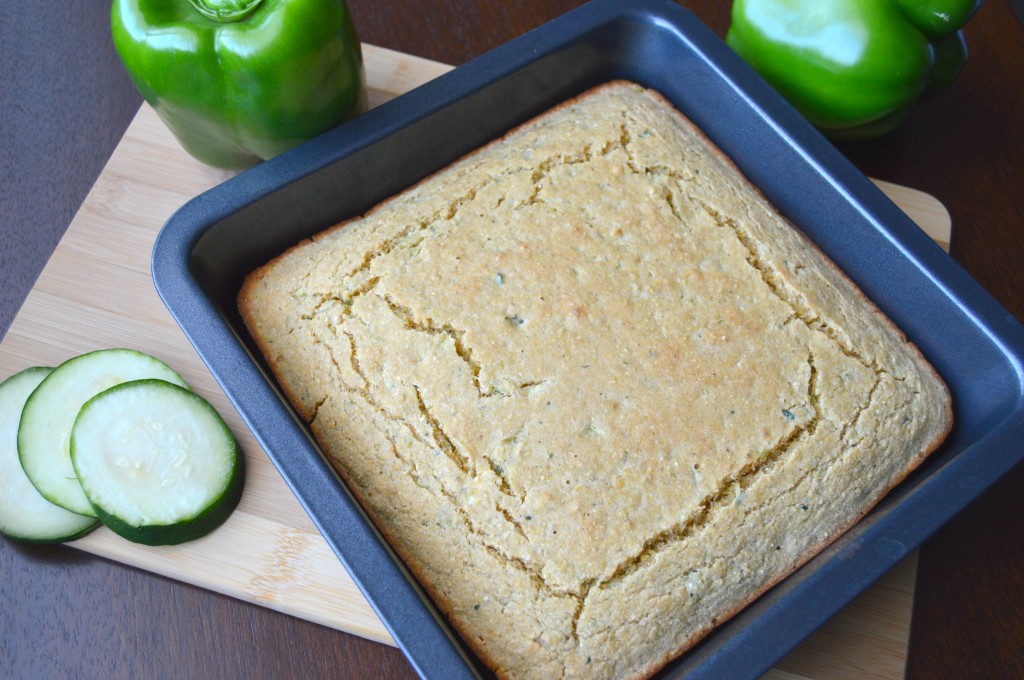 Not this one!  This homemade cornbread is both vegetarian and vegan, is made with minimal ingredients, and is a bit jazzed up with the addition of two of my favorite Summertime vegetables: zucchinis and green peppers!
We eat zucchini bread for breakfast and dessert, so why not eat it in our cornbread?  And I am sure you have heard great things about jalapenos in cornbread.  This one is slightly different with the utilization of green peppers- though I am sure both jalapenos or serranos would be delicious too!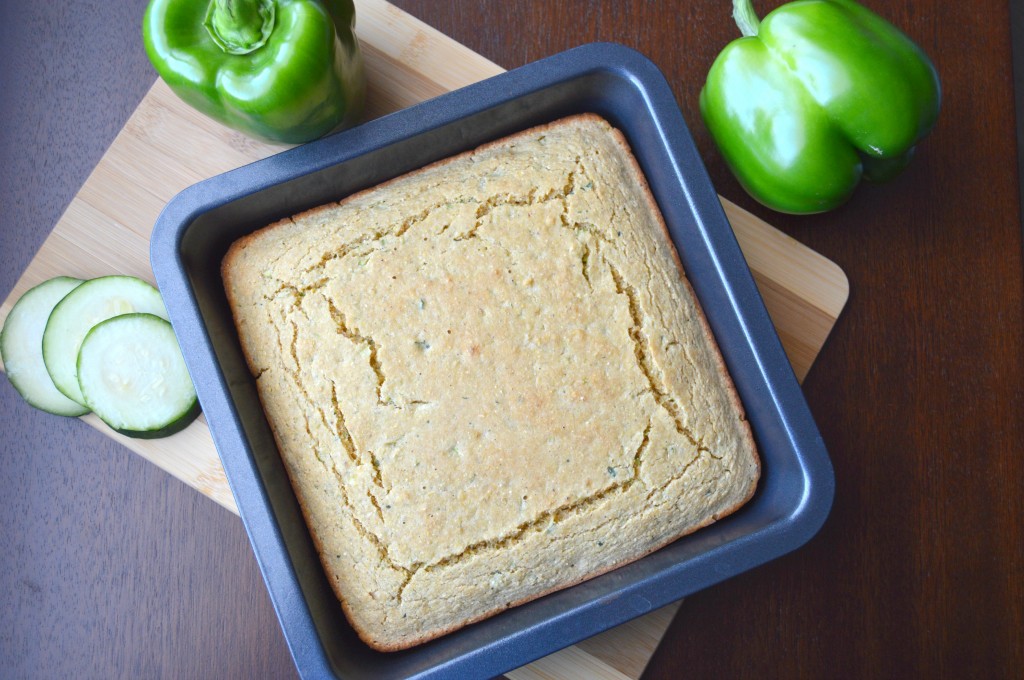 Summer Vegetable Cornbread
Vegan
Adapted from this recipe. 
Servings: 9
Ingredients
1 cup cornmeal
1 cup whole wheat pastry flour
2 TB coconut sugar
1 TB baking powder
1/2 cup shredded zucchini (about 1/2 of a small zucchini)
1/8 cup green bell pepper, finely diced
1 cup unsweetened vanilla almond milk
1/4 cup unsweetened natural applesauce
1/4 cup pure maple syrup (not pancake syrup)
Directions
1. Preheat oven to 400 degrees F.  Spray an 8 x 8 baking dish with olive oil cooking spray.  Set aside.
2. In a large bowl, combine cornmeal, flour, sugar, and baking powder.  Mix well.
3. Stir in zucchini and bell pepper.
4. Add milk, applesauce, and maple syrup.  Stir until well-combined.
5. Pour into baking dish and bake, uncovered, for approximately 20 minutes.  Ensure that a toothpick comes out clean when inserted into the center.  Set aside to cool or eat it right out of the oven (highly recommended).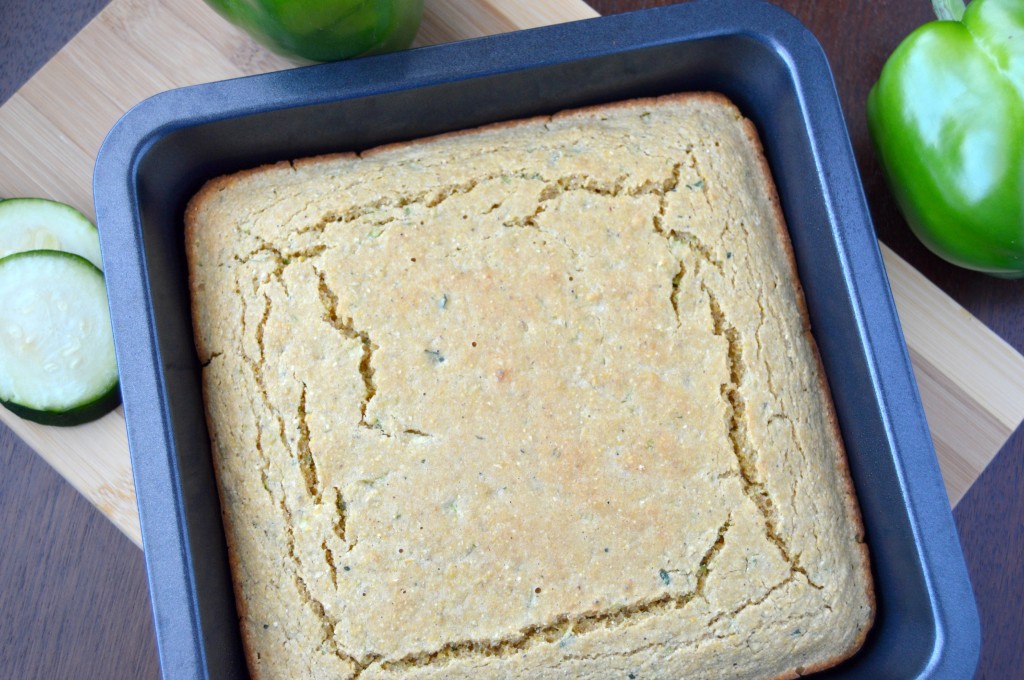 As I mentioned above, this is the perfect accompaniment to your favorite bowl of soup.  And now that Fall and Winter are right around the corner, soup and cornbread are something that I want to be eating on a weekly basis.  I love me some good 'ole original cornbread, but it is nice to mix things up every now and then.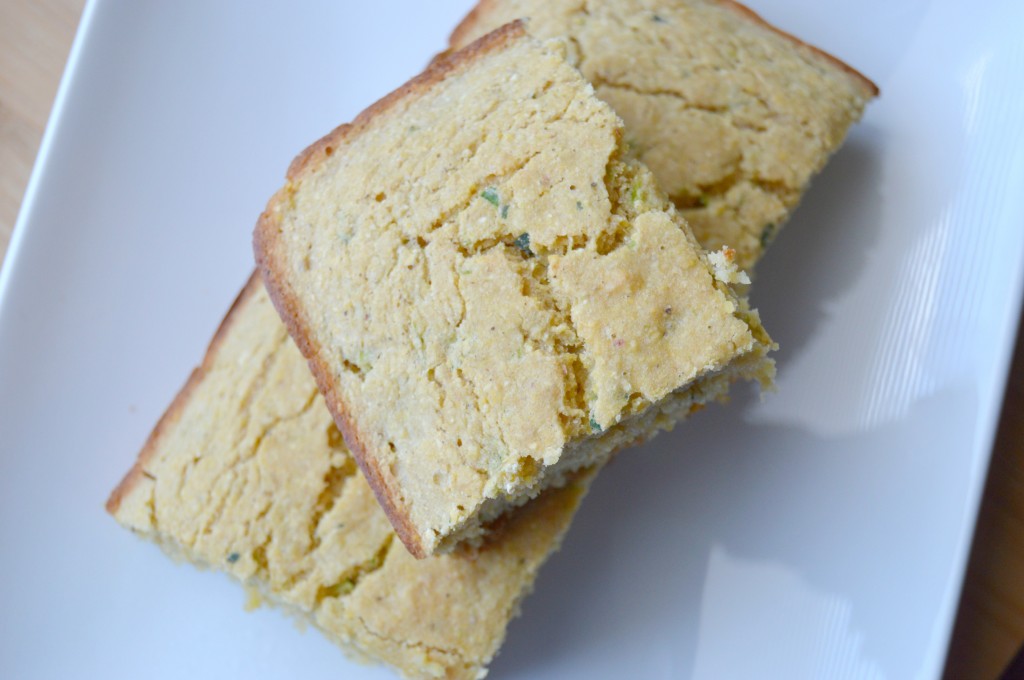 Normally I would recommend eating one slice at a time.  But hey, if you want to go for three then that is totally your business.  I definitely won't judge!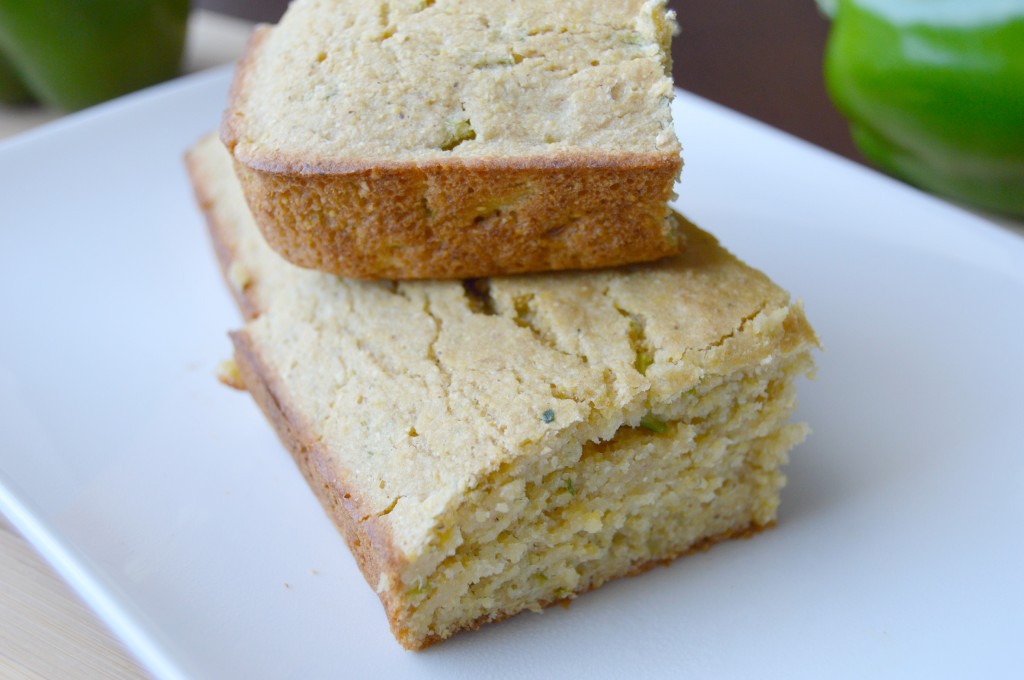 Is anyone else a major lover of the edge pieces?  It's strange because I really don't like edge pieces for cake or brownies.  But give me an edge piece of cornbread and I am a happy girl!
Do you like what you see?  Please share on Pinterest, Facebook, and Twitter using the buttons below!  You are definitely going to want this cornbread recipe in your arsenal for the coming bitter cold months.