I love Hawaiian pizza.
I also love warm pineapple…
and tempeh on sandwiches…
and grilled cheese sandwiches…
and pretty much anything and everything that is sweet and savory.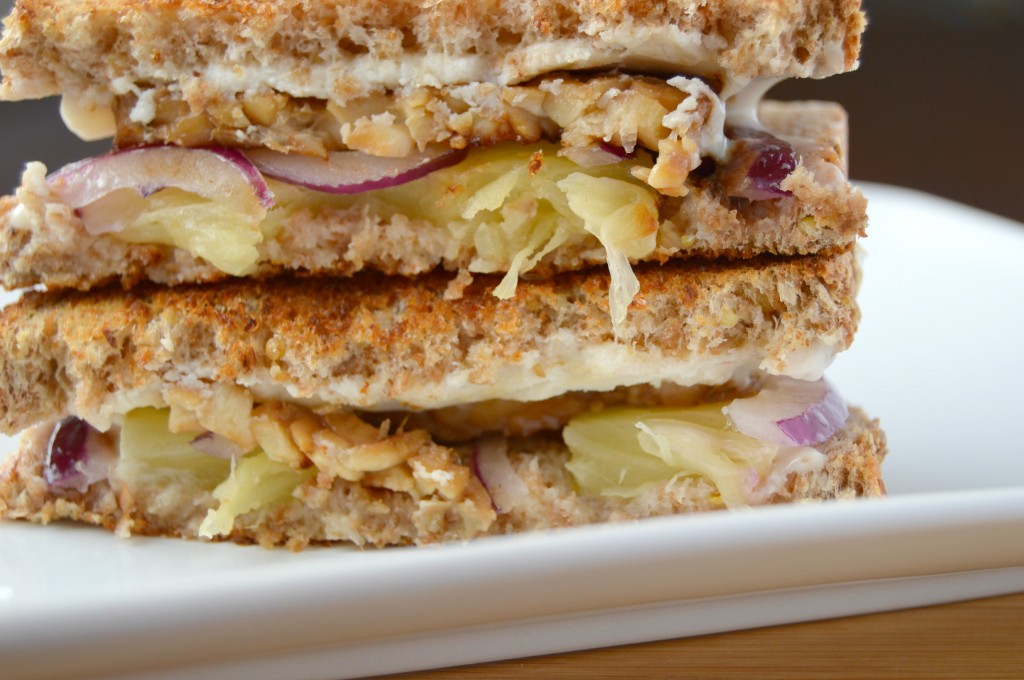 And it turns out that when you add all of those things up, you get an awfully tasty Hawaiian pizza-inspired vegan grilled cheese sandwich.
I am definitely not complaining about that.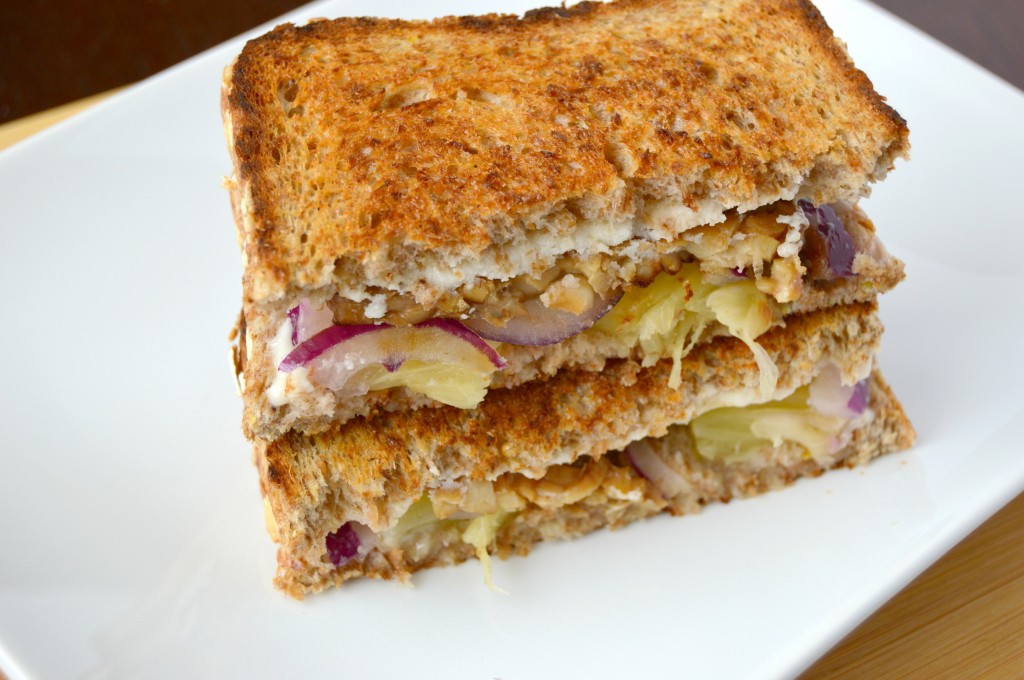 Besides, traditional grilled cheese sandwiches are so ten years ago.  Ahh heck, who am I kidding?  I just ate one a couple of months ago.  I guess grilled cheese sandwiches are one of those things that you just never grow out of.  But that does not mean that we cannot make them a bit more sophisticated from time to time, now does it?  Well, that is if grilled cheese sandwiches can even be sophisticated.  I suppose I have never been one to strive for a "sophisticated" life, so I'm thinking I'm good to go on a lifetime of grilled cheese sandwiches- traditional or not.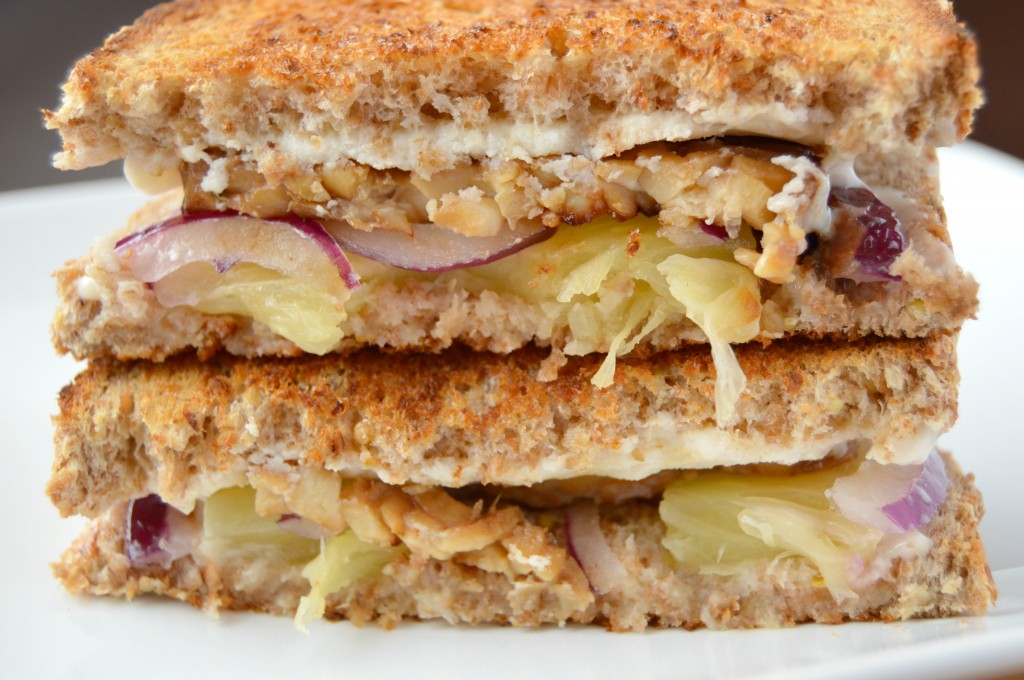 Hawaiian Grilled Cheese Sandwich with Tempeh
Vegan
Servings: Makes 1
Ingredients
1/8 cup Bragg's Liquid Aminos or coconut aminos
1/8 cup teriyaki sauce
1/8 cup water
4 slices of tempeh (about 1/5 of an 8 ounce package)
coconut oil spray
2 pieces whole wheat bread
1 to 2 TB coconut oil
1 slice vegan cheese (I like Daiya brand)
1/8 of a small red onion, sliced
1 pineapple ring
Directions
1. Combine Bragg's, teriyaki sauce, and water in a small bowl.  Whisk together.  Add tempeh slices and marinate for at least one hour in the fridge.
2. Once the tempeh has been in the marinade for at least an hour, remove it and sautee it over medium heat on the stove top in a pan that has been sprayed with coconut oil cooking spray.  Cook for approximately 8 to 10 minutes, flipping once halfway through, or until golden brown on both sides.  Remove from the heat and set aside.
3. Heat a small pan or griddle over medium heat.  Spread the coconut oil on one side of each slice of bread.
4. Place one slice of bread (coconut oil side down) into the pan.  Top this slice of bread with the vegan cheese, cooked tempeh, onions, and pineapple.
5. Top the sandwich with the second slice of bread, keeping the coconut oil side facing up.
6. Turn the heat down to medium low and cover the pan with a lid (this helps the "cheese" melt more easily).  Cook for approximately 5 minutes, or until the bottom piece of bread is golden brown.  Flip and continue coooking the second side for an additional 3 to 5 minutes.
Cut and serve alongside your favorite fruit or veggie.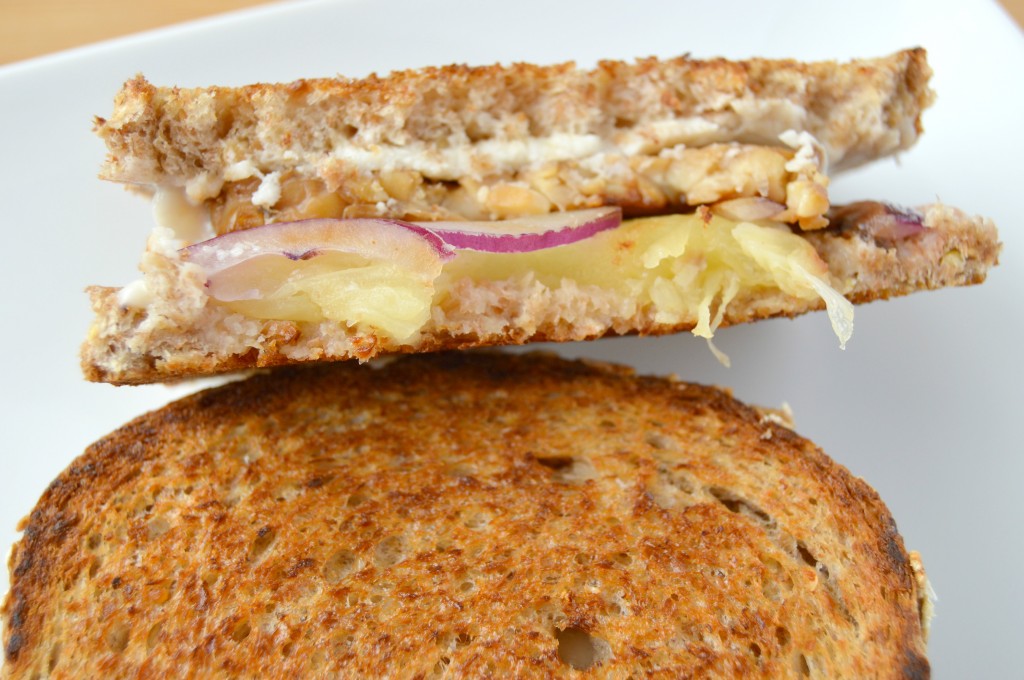 There I go again with the non-diagonal grilled cheese cutting.  I'm not sure what is wrong with me, but I think I must be losing my mind.  Somebody needs to come over and start cutting my sandwiches for me.  Mom, are you available?
Oh, and for the FYI, you are going to want to dip this sandwich in barbecue sauce.  It takes it from good to soooo good.
It may not be your "traditional" grilled cheese sandwich, but I happen to think that is a great thing!  Sweet and savory all the way!
Does anyone have any fun weekend plans?
My boyfriend will be in town for the next five days and I am beyond excited about it!  We have plans at the lake with Erin, Joanna, and their husbands tomorrow, a brewery tour sometime this weekend, and the rest of the time should be spent eating at delicious Omaha restaurants and relaxing.  It sounds like the perfect weekend to me!  Let's hope this one goes by so, SO slowly!