This Sweet and Sour Lentils recipe contains the perfect combination of sweetness to sourness and packs a punch with nutritious vegetables, fruit, legumes, and whole grains.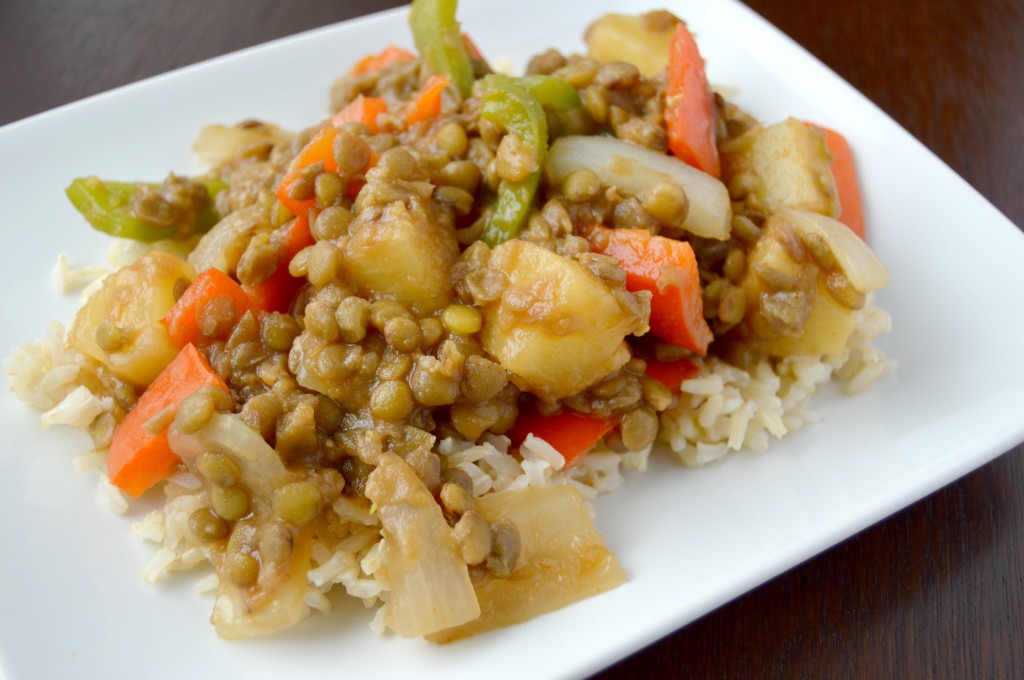 I am still majorly going strong on the sweet and sour kick.  It's really quite funny, actually, because I refused to eat sweet and sour sauce as a child.  My how things have changed… and, generally speaking, for the better!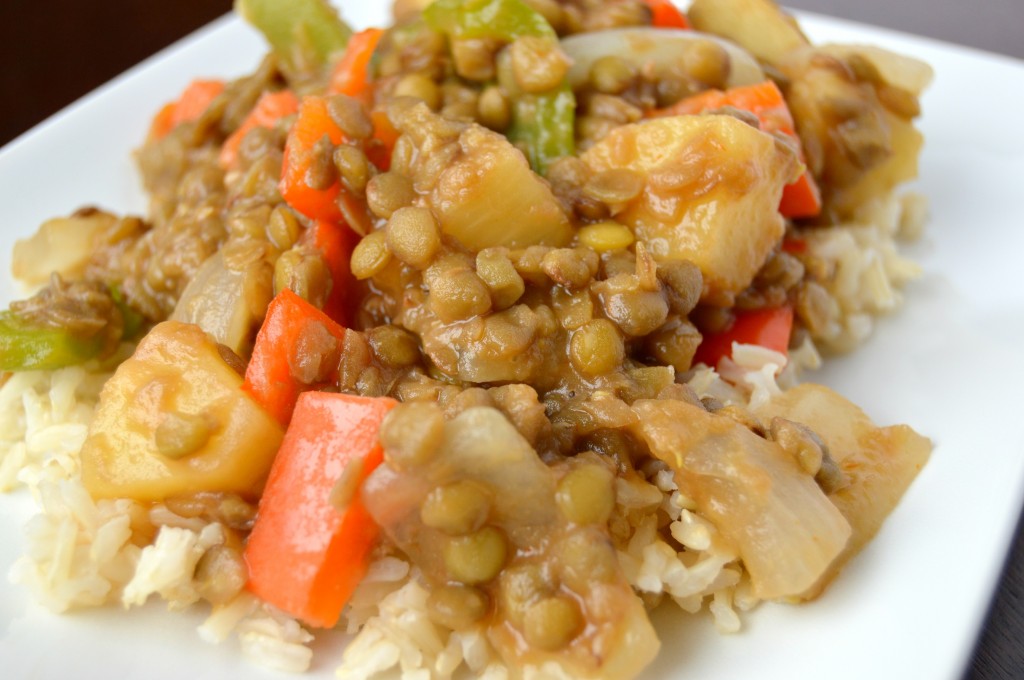 I can pretty much promise that you will no longer ever find me saying no to this or to anything that has "sweet and sour" in the title, as long as it is vegetarian, that is!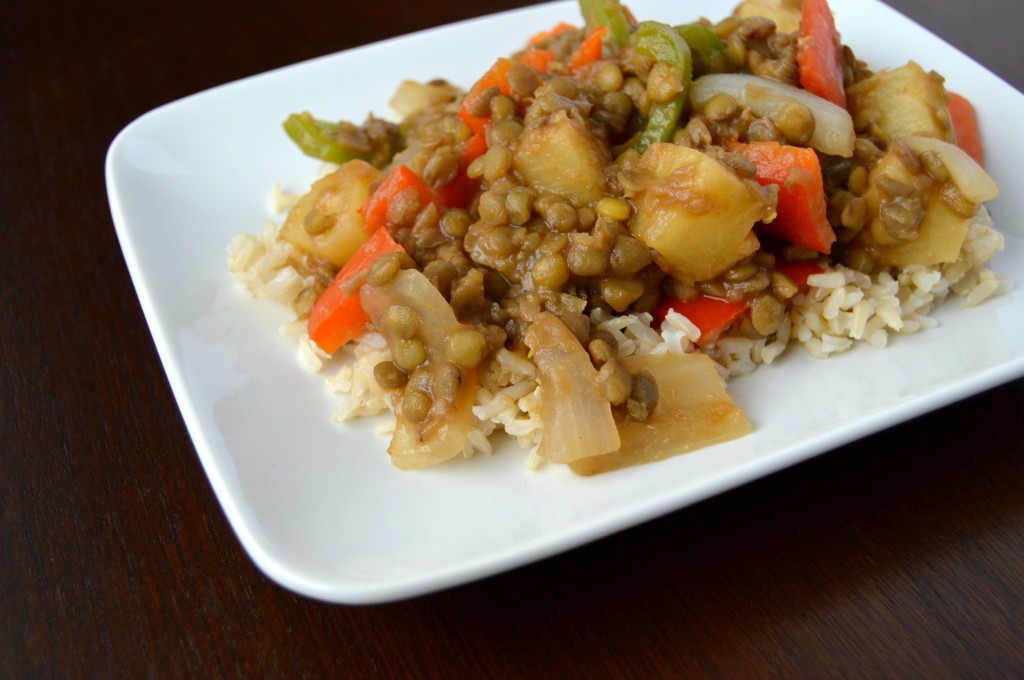 I have "sweet and soured" vegan meatballs.  I have "sweet and soured" tempeh.  I have even "sweet and soured" chickpeas and pizza.  And when I decided to create this dish, I was honestly a little bit baffled that I had not yet put the sweet and sour twist on a major staple in my diet and one of my most favorite foods: lentils!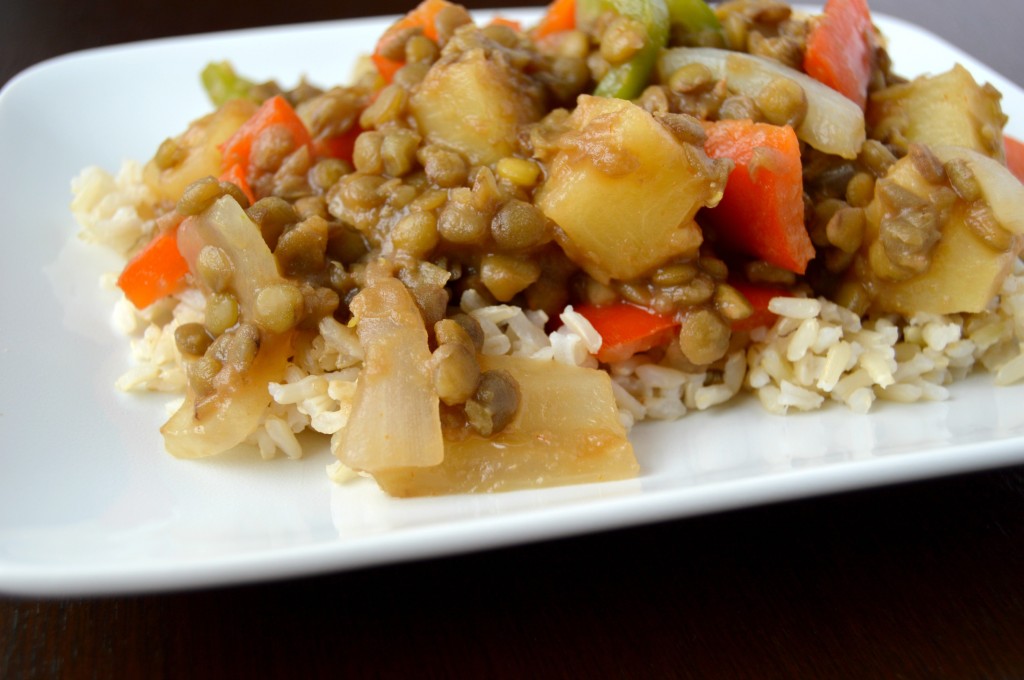 If you thought lentils were boring in the past, I am pretty confident that your mind will be changed with this one.  There is nothing boring about this dish!  Trust me, your tastebuds are going to thank you for making this.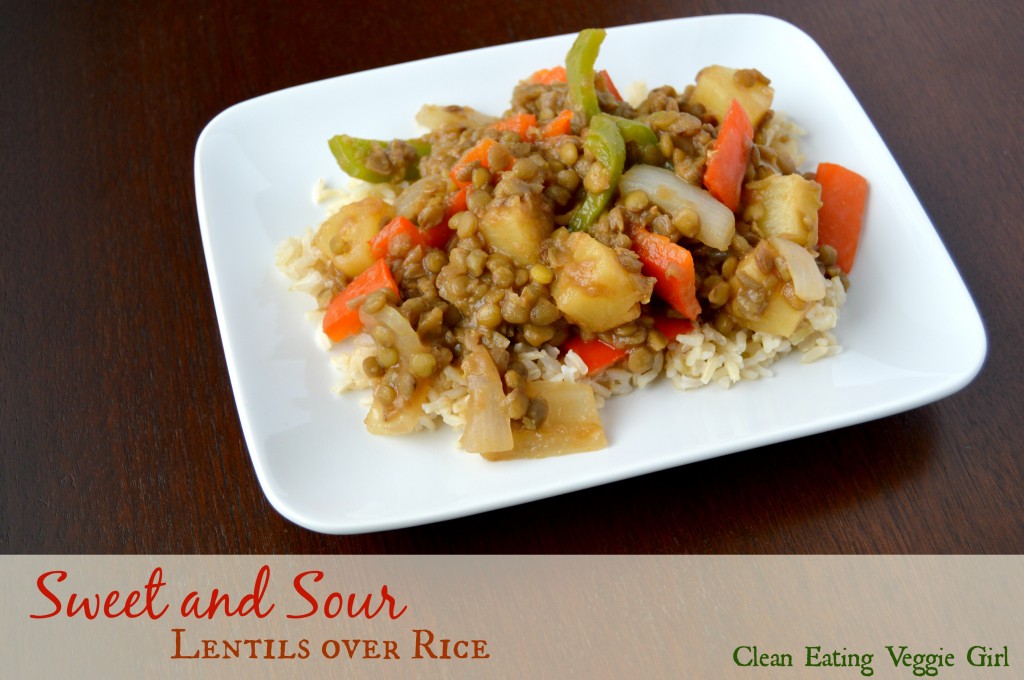 Sweet and Sour Lentils over Rice
Serves: 3 to 4
Ingredients
1 cup dry green lentils
2 1/2 to 3 cups vegetable broth or water (for cooking lentils)
3 TB seasoned rice vinegar
3 TB Bragg's Liquid Aminos (or low-sodium soy sauce)
3 TB ketchup
1/2 tsp ground ginger
2 tsp brown sugar
8 oz can pineapple chunks in natural juices, drained with juices reserved
water, for cooking
1 red bell pepper, sliced
1 green bell pepper, sliced
1/4 yellow or white onion, sliced
1 TB cornstarch + 2-3 TB cold water, mixed well
cooked whole brown rice
Directions
1. Cook lentils in water or vegetable broth according to package directions.  Set aside.
2. Combine vinegar, Liquid Aminos, ketchup, ginger, brown sugar, and pineapple juice in a small bowl.  Whisk until well-combined.  Set aside.
3. Line a large skillet with a thin layer of water.  Heat over medium-high heat, or until very hot.  Once hot, lower the heat to medium and add peppers and onions to the pan.  Cook for 8 to 10 minutes, or until softened.  Add additional water, as necessary.
4. Add cooked lentils and pineapple to the skillet.  Stir until well-combined.
5. Lower the heat to medium-low and add sweet and sour sauce mixture.  Stir in cornstach and water mixture to thicken the sauce.  Continue simmering the lentil mixture for 3 to 5 minutes, or until the sauce has thickened to your liking.  Add additional cornstarch and water if desired.
6. Serve over warm cooked rice.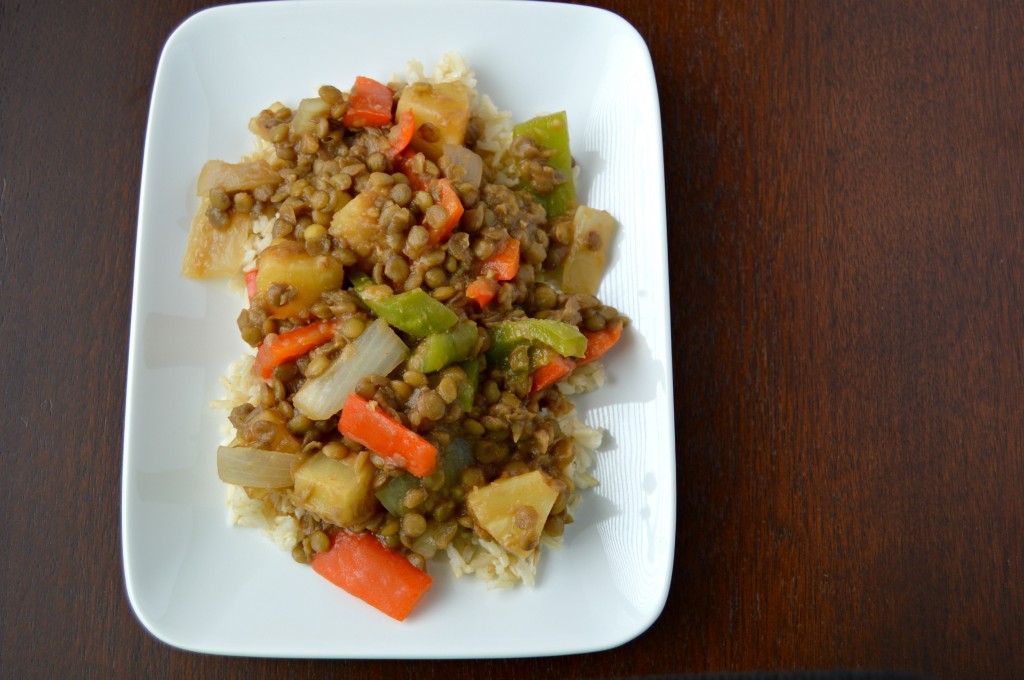 Sure take-out is easy, but this is simple, inexpensive, homemade, and delicious.  I promise this will make you think twice about taking the "easier" route.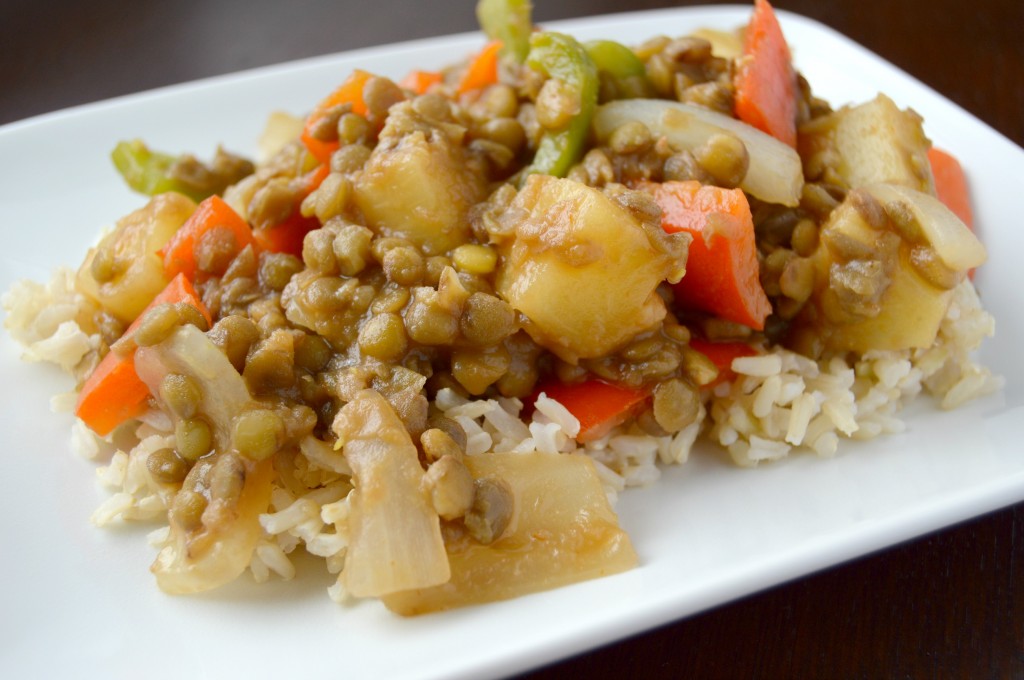 This dish has the perfect balance of sweetness, sourness, and spiciness to fit and satisfy any palate.  I bet even my 10 year old self would like this if she could go back and give it a try!  Gosh, there are a ton of foods that I wish my 10 year old self could go back and try.  I was missing out on a lot of good food back in those days.
As mentioned above, check out some of my other sweet and sour recipes here:
Sweet and Sour Tempeh
Sweet and Sour Chickpea Pizza
Sweet and Sour Meatball Subs