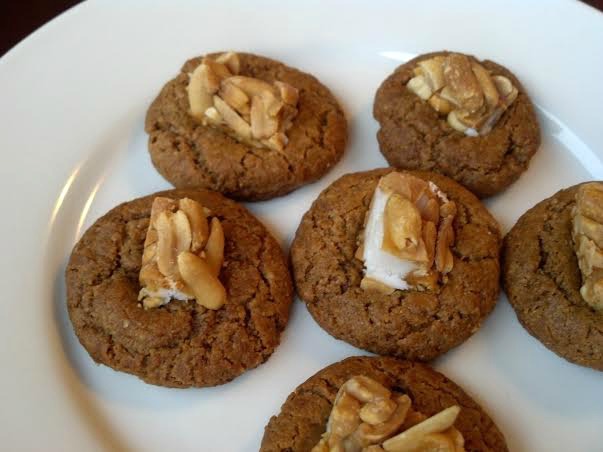 YUM, right?
Right!  These babies are tasty!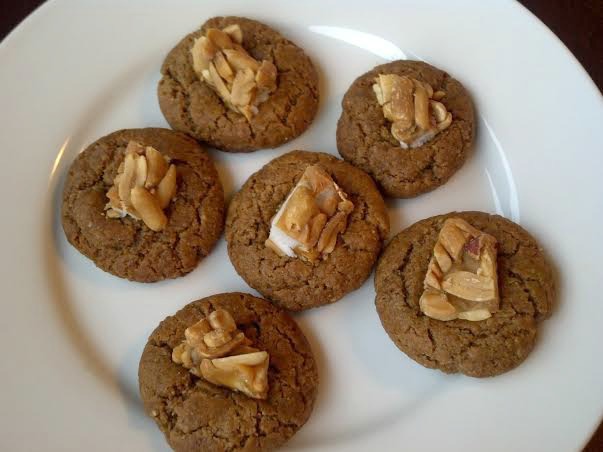 You have probably noticed that I am not much of a baker.  I tend to stick with creating vegetarian and vegan breakfasts, lunches, and dinners.  On occasion I will throw in a smoothie or a nut butter here or there, but desserts have never really happened…until now.  To be honest, I am not very good at baking.  Baking is a bit too exact for me, and developing creative vegan desserts is not my forte.  This past weekend, however, I was forced to get my creative baking juices flowing a bit.
Joanna invited me to her home for a Happy "Blogidays!" holiday party for the Omaha Bloggers group.  I could have brought one of my go-to holiday desserts- peanut butter blossoms- but I decided to mix things up.  Now don't get me wrong, peanut butter blossoms still hold a big piece of my heart, but I decided to go a bit nontraditional for this occasion.  So what did I come up with?  A vegan cookie that I then "non-veganized" by adding a candy bar to ;).  Hey, it's all about moderation, right?  But if you want to keep it all vegan then leave off the Salted Nut Roll.  Trust me, these are tasty all on their own.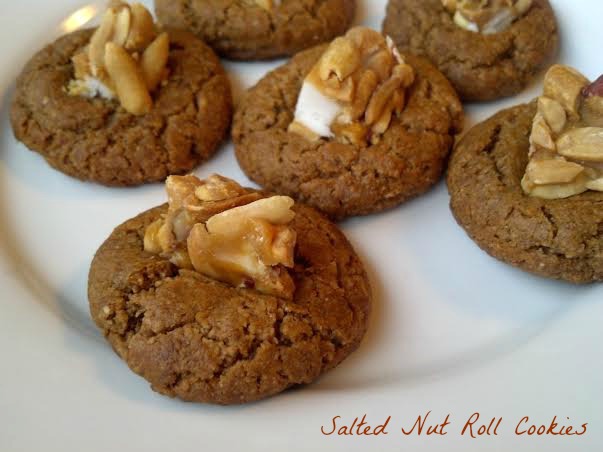 Almond Peanut Butter Cookies + Salted Nut Roll Cookies
Adapted from these cookies.
Servings: Makes about 20 cookies
Ingredients
1/2 cup whole wheat pastry flour
1/2 cup coconut sugar
1/4 cup light brown sugar
1 tsp baking soda
1/2 tsp baking powder
pinch fine sea salt
1/2 cup almond butter*
1/2 cup peanut butter*
1/4 cup + 1 TB unsweetened applesauce
1 tsp pure vanilla extract
*I used natural nut butters so they were a bit more liquidy than some conventional store-bought brands.
Optional:
2 1.8 oz Salted Nut Roll candy bars
Directions
1. Preheat oven to 350 degrees F.
2. Place all dry ingredients into large mixing bowl.  Stir until well-combined
3. Mix in wet ingredients.  Stir until well-combined.
4. Refrigerate the dough for at least one hour.
5. Roll dough into 1-inch balls and place onto a cookie sheet.
6. Bake for approximately 8-10 minutes, or until slightly golden brown.  I always "under-cook" mine a bit because I love soft cookies.  Plus, since the dough is vegan you do not have to worry about raw eggs.
7. If making the Salted Nut Roll version, cut each candy bar into 10 pieces while the cookies are baking.  Once the cookies are baked, immediately place a piece of candy bar onto the center of each cookie and press down lightly.
8. Let the cookies cool for 5 minutes on the cookie sheet and then move to a cooling rack.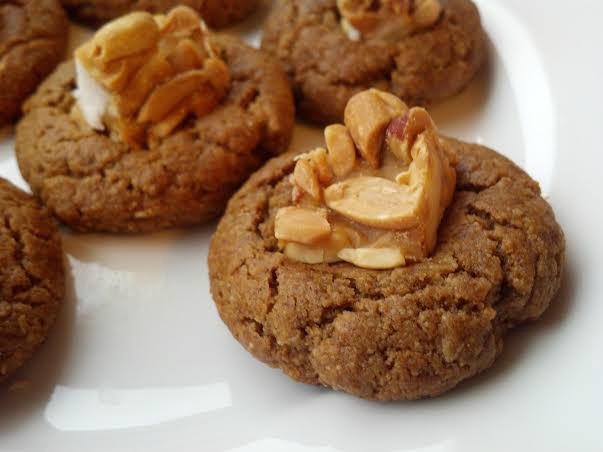 9. Taste-test for quality control while they are warm.  Warm cookies are theeee best!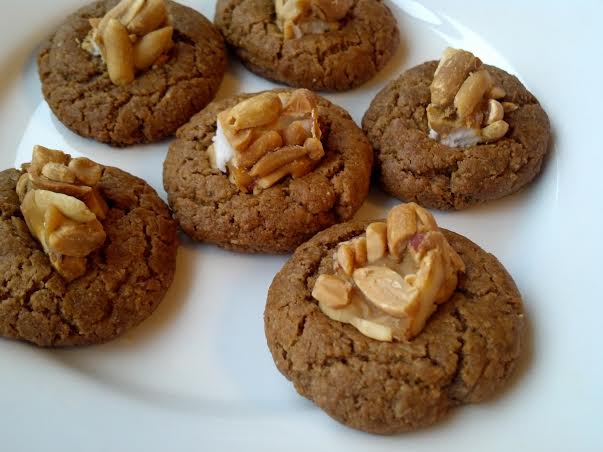 10. Plate up the rest and serve them to your friends, family, and co-workers.  Or, keep them all for yourself! 😉
There was quite the spread at the party.  Tons of cookies, cupcakes, bars, crackers, bread, cheese, and drinks!  Trust me, nobody was going hungry here.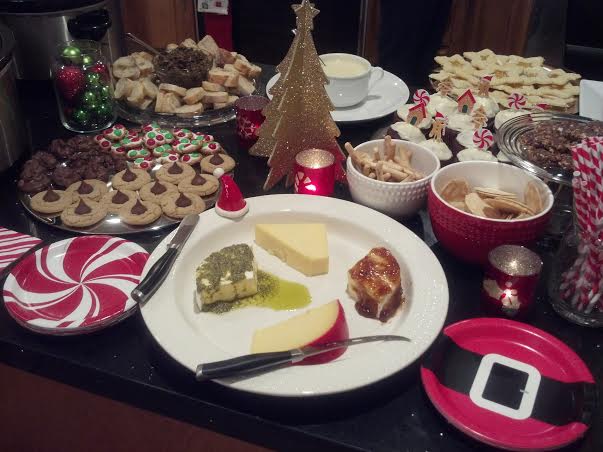 Joanna even made me some vegan cookies, too, which was super thoughtful!  Tasty vegan cookies?  Yes, please!  Though I definitely snuck in a couple of non-vegan ones too ;).
What is your favorite holiday cookie?