Meatloaf, smeatloaf!  Who needs it when you can have lentil loaf?  You may think I'm being a bit facetious with that comment, but I am 100% dead serious here, people.  Lentil loaf is where it's at!  I definitely no longer miss meatloaf like I used to since I discovered lentil loaf.  I have cooked up The Happy Herbivore's recipe for lentil loaf in the past, but this time I decided that I needed to come up with a fall-themed loaf.  Enter: butternut squash!  If you're looking for a seasonal, comforting, and cozy meal, then this was made for you.
By popular demand from my fellow foodies, it is finally time for me to share the recipe!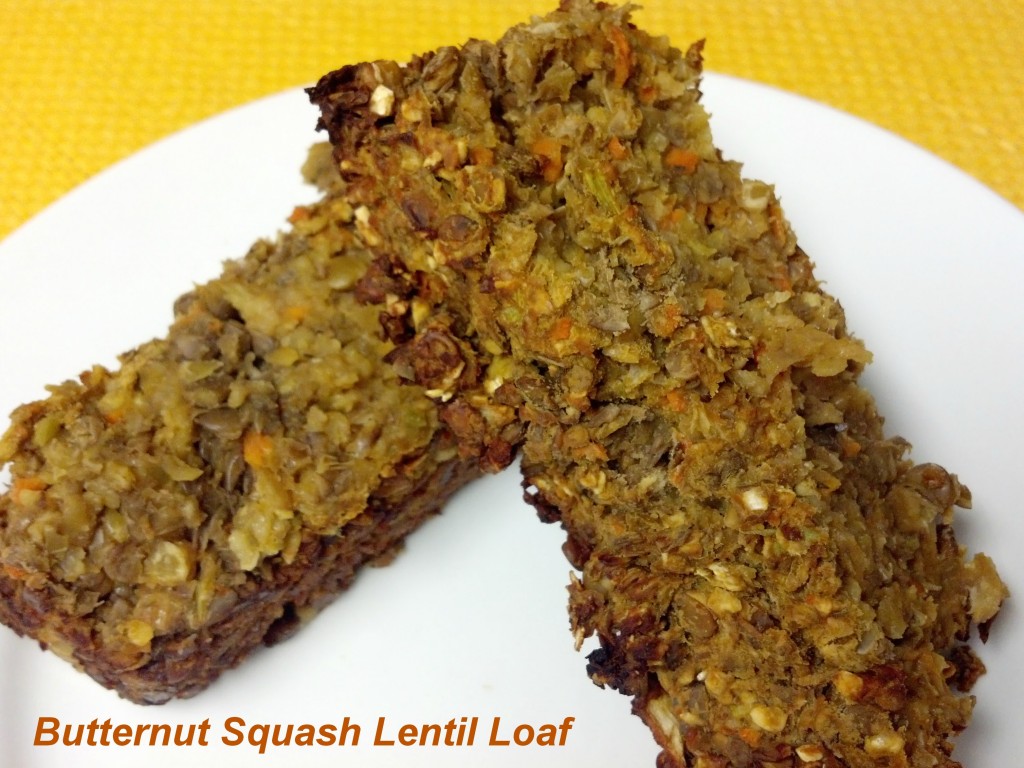 Butternut Squash Lentil Loaf
*Adapted from The Happy Herbivore
Servings: 3 to 4 (3 for me!)
Ingredients
1 cup dried green lentils
2 to 2 1/2 cups vegetable broth
olive oil cooking spray
1 small yellow onion, roughly chopped
2 medium carrots, peeled and roughly chopped
2 stalks celery, roughly chopped
2/3 cup pureed butternut squash (I used canned from Whole Foods)
1 TB barbecue sauce
2 TB ketchup
2 TB yellow mustard
2 TB Bragg's Liquid Aminos (or low-sodium soy sauce)
2 TB nutritional yeast
1 TB Italian seasoning
1 cup quick (instant) oats
Directions
1. Cook lentils in vegetable broth according to package directions.  Set aside to cool.
2. Preheat oven to 350 degrees F.  Spray loaf pan with cooking spray and set aside.
3. Place onion, carrots, and celery into food processor and process until fine (but not pureed).  If you do not have a food processor, you can dice the vegetables very finely.
4. Place the lentils into the food processor and process briefly until the lentils are somewhat pureed, but pieces of the lentils remain.  Again, if you do not have a food processor, you can mash the lentils with a potato masher.
5. Combine the vegetables, lentils, squash, barbecue sauce, ketchup, mustard, Bragg's, and seasonings in a large bowl.  Stir until well-combined.
6. Stir in quick oats.
7. Spoon the mixture into the loaf pan.  Bake, uncovered, for 50 to 60 minutes, or until it firms up and becomes crispy.
8. Let the lentil loaf sit for approximately 10 to 15 minutes before slicing into it and serving.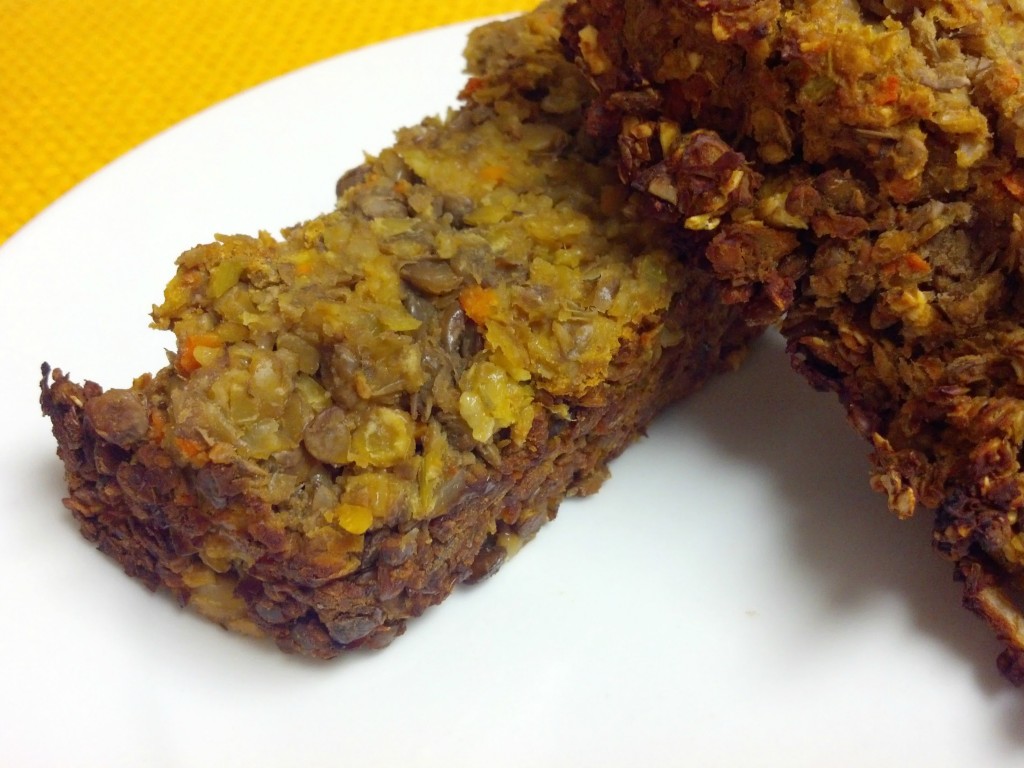 Look at those protein-packed lentils, colorful and tasty vegetables, and that perfectly crispy crust.  This lentil loaf has the texture of meatloaf and the taste of heaven! 😉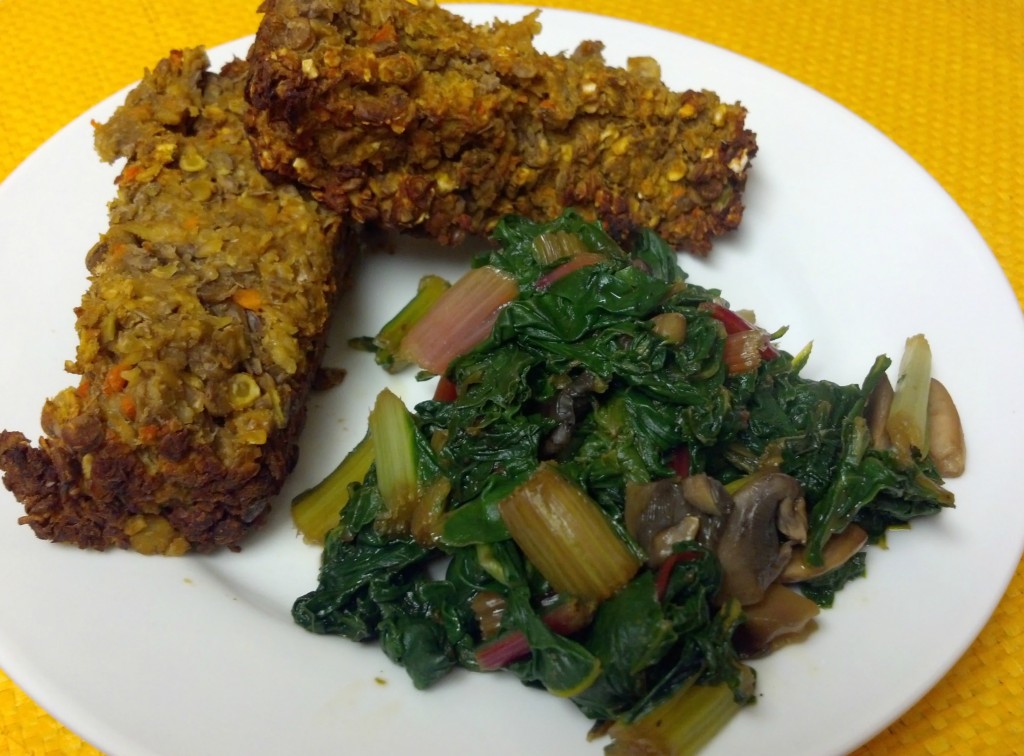 I served my Butternut Squash Lentil Loaf with a side of sauteed rainbow chard and mushrooms.  This was the perfect complimenting side dish to the lentil loaf.  Ahh, I just love Fall foods!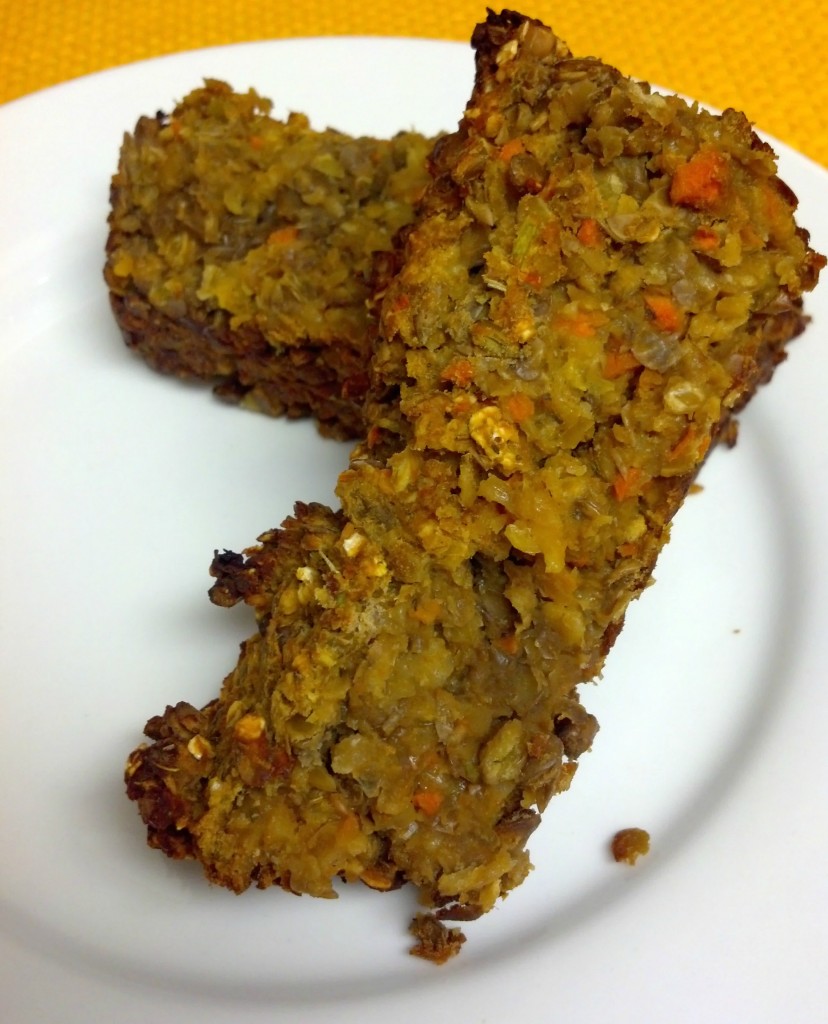 I loved this Butternut Squash Lentil Loaf A LOT.  So much, in fact, that I am planning to cook this for my main course on Thanksgiving Day.  It is so good that I am pretty certain I will even have my parents loving this one.
Oh, and since some of us cannot go through a whole pan in one sitting (though I was tempted ;)), it is important to note that this reheats beautifully.  You can even freeze it, too!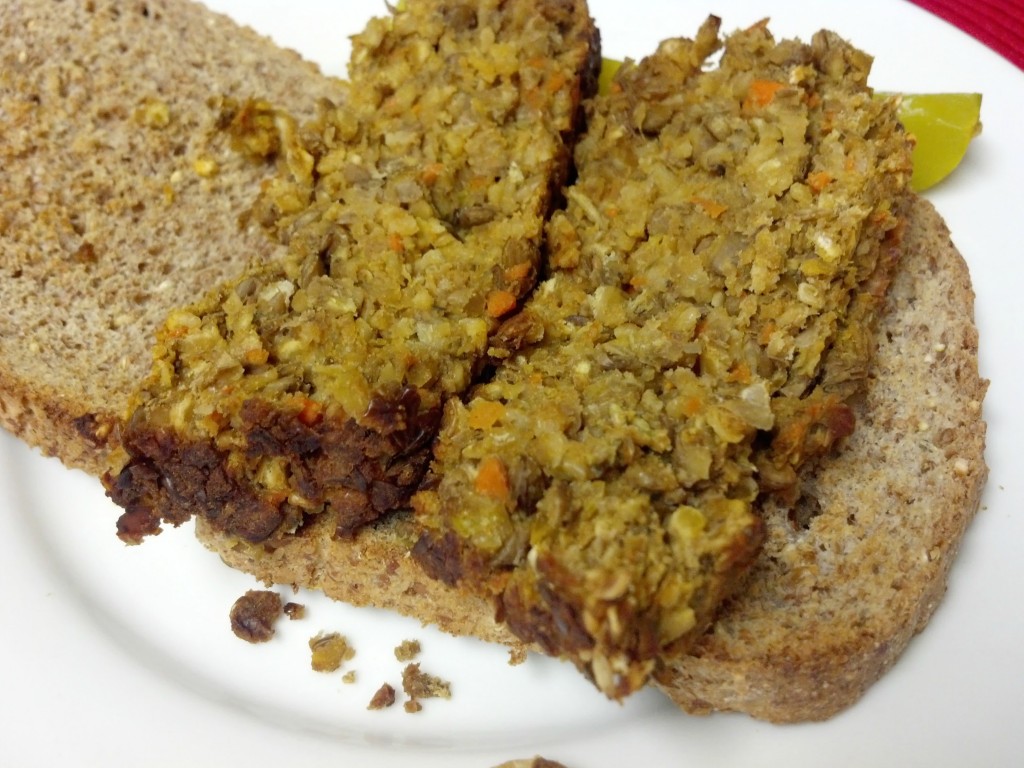 I served my leftovers in the form of a sandwich (think meatloaf sandwich).  I toasted up two slices of Ezekiel bread, topped them with the lentil loaf…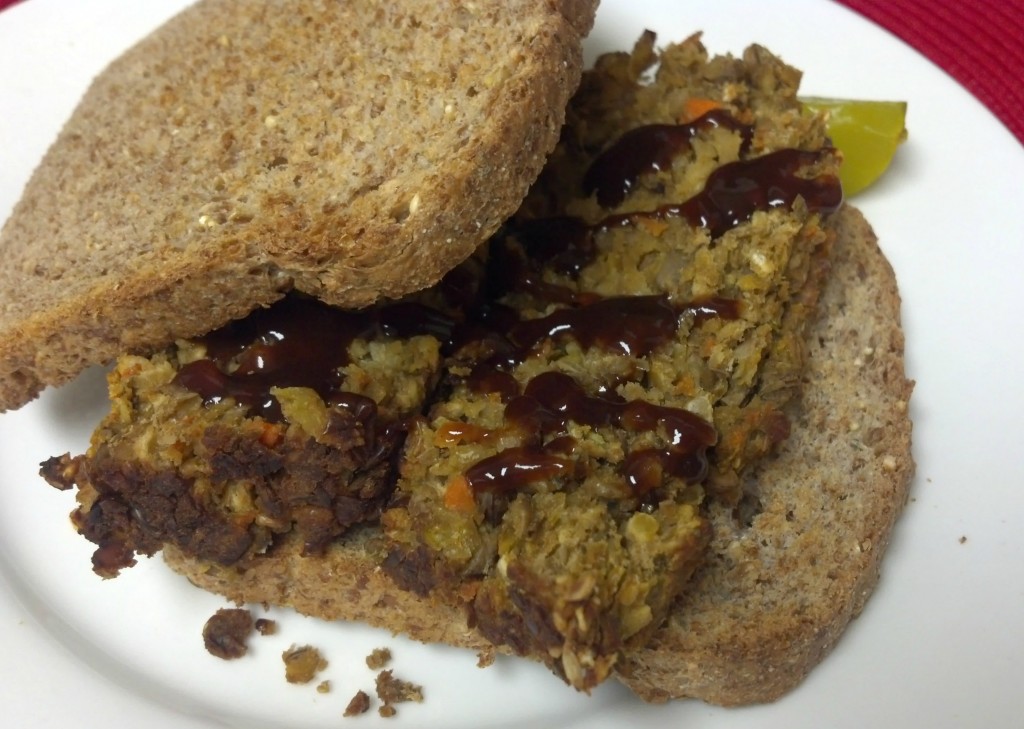 …and drizzled on the all-too-important barbecue sauce.  Oh, and I served it with a pickle spear too…obviously!
Whether you eat this by itself or as a sandwich, I am pretty positive that you are going to love this one.  Meatloaf lover or not, the lentil loaf is a major winner, especially with the added taste of Fall from the squash.  You can never have too much squash, right?  Or at least I hope not because I have been adding it to anything and everything lately.  Now I just wish that I had more of this leftover since it makes for the perfect cozy dinner on a chilly night.  I guess I'll just have to wait until Thanksgiving…or maybe sooner ;).